September, 18, 2014
Sep 18
8:00
AM ET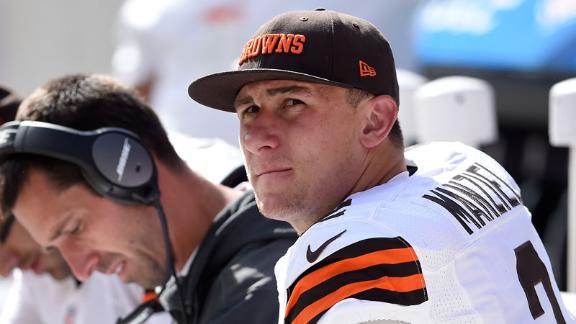 The
Cleveland Browns
ended an 11-game losing streak to the
Baltimore Ravens
in November. That was the first time
Joe Flacco
had lost to the Browns.
The Browns are coming off an emotional and exciting last-second
26-24 win
against New Orleans in Week 2. Baltimore is coming off a dominant
26-6 win
against the Steelers on Thursday night, giving them three extra days off for this game.
The Browns have a chance to make a statement that they belong in the AFC North, and the Ravens have a chance to show that this division belongs to them or the Bengals.
ESPN Ravens reporter Jamison Hensley and Browns reporter Pat McManamon discuss a few key elements of Sunday's 1 p.m. ET game.
McManamon:
It's an obvious but important question: What is the state of Baltimore's running game at this point of the season?
Hensley:
It's not as bad as you would think for a team that just cut the second-leading rusher in franchise history. The combination of
Bernard Pierce
and
Justin Forsett
is more than serviceable.
These running backs also complement each other. Pierce's strength is power running and getting yards between the tackles. Forsett is more explosive and is at his best when he reaches the edge. They have combined for 239 yards against the Bengals and Steelers. No one is suggesting the Ravens have a top-10 rushing attack. It was only a season ago that Pierce averaged 2.9 yards per carry and Forsett ran the ball six times. But the Ravens are going to rely on them against the Browns because they have historically grinded out yards in Cleveland. In six games there, the Ravens have averaged 160 yards rushing.
Pat, the Browns' track record with handling success is not very strong. Is this team more equipped -- from the head coach to the locker room -- to deal with a big win against the Saints and put together another strong performance against the Ravens?
McManamon:
On paper, the Browns should have the elements to prove they are more equipped to handle a big win, but it remains an unknown until they actually do it. The message Monday morning during the team meeting from coach Mike Pettine was blunt: Don't screw this up. Pettine said a mature team does not get caught up in one win; it turns quickly to the next game. Pettine reminded the team that though they could be 2-0, they also could easily be 0-2. Players seem to like Pettine's straightforward approach. He doesn't dance around topics, merely says it like it is. That should help.
What also should help is the Browns have leadership from guys such as
Karlos Dansby
and
Donte Whitner
.
Joe Thomas
can help, as can
Brian Hoyer
, but both are a little softer spoken. The Browns have had leaders before, but never people like Whitner -- a guy who will challenge teammates and get in their face a la Ray Lewis if need be.
The bottom line is the Browns almost beat Pittsburgh on the road and did beat New Orleans at home. They are good enough to win right now because they are getting good quarterback play the last six quarters. But they have to play. The last thing they need to do is get caught up in the success of one win -- not when wins have been so few and far between.
Do the Ravens expect any kind of hostile reaction this weekend? Not only is it Cleveland -- and we both learned this offseason that the
anger remains from the Art Modell era
-- but it's the first road game since the team (mis)handled the Ray Rice situation.
Hensley:
Like you said, Pat, it wouldn't be a trip to Cleveland without some hostility. To a large portion of the Browns fan base, the Ravens still represent the team that was stolen away. The Rice saga provides the Dawg Pound with another reason to vent anger at the Ravens. But if last week's game against the Steelers is any indication, this will be a nonfactor. The Ravens had every excuse to lose to Pittsburgh, from the players' emotional fatigue in losing Rice to the distraction from the national media onslaught. This situation has forced the Ravens to take a bunker mentality.
Playing on the road will be a different test, but it was going to be a difficult challenge anyway. The Ravens lost six of eight games on the road in 2013, including their first loss in Cleveland since 2007.
Many in Baltimore know about running back Terrance West. He played high school football in the city and went to college at nearby Towson. What has stood out the most about West in the season's first two weeks?
McManamon:
His lack of fear. The Browns threw him in the fray as a rookie behind
Ben Tate
, and when Tate hurt his knee, they made West the starter with no hesitation. West responded with 168 yards in two games, a 4.8-yard average, one touchdown and a nifty end zone shimmy shake on top of it. West is finding that the opposition is not like he saw at Towson, but he has played well. Most important, he has done a more than adequate job in blitz protection, an area of the offense many rookies find tough to learn. West and
Isaiah Crowell
are two rookie backs who are not playing like rookies.
Baltimore stuffed Pittsburgh pretty well last Thursday and always seems to be stronger and more physical than the Browns. Is this Ravens defense as physical and effective as they all have been?
Hensley:
The talk throughout training camp was about how this Ravens defense was going to be the fastest in memory. Instead, the Ravens have pounded offenses in the first two games with physical play. Defensive tackles
Haloti Ngata
and
Brandon Williams
have stuffed the run inside.
Elvis Dumervil
has bulled his way past blockers. Cornerback
Jimmy Smith
has turned into a shutdown corner with his ability to jam receivers. And safety
Matt Elam
has made an impact by hitting running backs and receivers alike.
These are the reasons why the Ravens have allowed one touchdown in the first two games. And that one touchdown was the result of backup cornerback
Chykie Brown
getting beat on a 77-yard pass to
A.J. Green
. The Ravens' defense will get better if cornerback
Lardarius Webb
can return Sunday after missing the first two games with a back injury. Everyone expected this Ravens defense to be younger and more athletic than recent ones. What has really stood out has been the defense's intensity, especially when backed inside its own red zone.
The Browns have certainly invested in their defense in recent years, and it's showing early this season. What changed from the dismal first half in Pittsburgh to the strong past six quarters?
McManamon:
The easy answer is attitude. At halftime in Pittsburgh, the Browns got sick and tired of being sick and tired. They have given up 27 points in the last six quarters after giving up 27 the first two.
A combination of factors come into play. The defense has talent. But in the first half in Pittsburgh, instead of trusting the talent, they were flying out of position and trying too hard. Since then, they have followed the mantra of doing your job and trusting your teammate. It's helped.
Second, Pettine sold the players on the chance of success with this Rex Ryan system. It's worked in Baltimore, New York and Buffalo, and the players see it can work in Cleveland.
Finally, the addition of Dansby and Whitner has played out well. Dansby is active all over the field, and Whitner is a steadying but challenging force. The combination of factors has combined for positive results through two games.