April, 16, 2014
Apr 16
4:29
PM ET
It has been widely and accurately reported that
Alex Mack
can void the final three years of his contract and become a free agent after two seasons with the
Cleveland Browns
.
Mack
But the Browns also can escape either of the final two years of his deal. So both sides have some leverage.
A close look shows that the
Jacksonville Jaguars
really gave the Browns little to consider about matching the offer. It pays Mack well for two years, but it has no signing bonus, and though Mack can leave after two years -- he'll be 30 at that point -- the team can also let him go after three and thus not pay the final two.
Mack did receive fully guaranteed salaries of $10 million and $8 million in 2014 and 2015, according to ESPN's Roster Management System.
He then can choose to stay or become a free agent again. What does he want to see these next two years that would keep him a Brown? Wins, he said.
If he stays, the third-year salary of $8 million is also fully guaranteed, which means he'd receive $26 million guaranteed.
After that, though, it's up to the team.
Mack is due a $2 million roster bonus in the offseason before 2016, and another $2 million before 2017.
If the Browns pay either roster bonus, they keep Mack and also pay him a $6 million salary, a relative pittance if they feel Mack's play warrants the roster bonus. That makes his salary-cap cost in both seasons $8 million.
But if they choose not to pay the bonus, the final two years or year would be wiped out and Mack would then become a free agent.
So Mack's deal could be five years, it could be three or four at the team's discretion, or it could be two years at his.
Total value of the deal if he stays all five years with the Browns: $42 million.
April, 16, 2014
Apr 16
10:00
AM ET
By
ESPN.com staff
| ESPN.com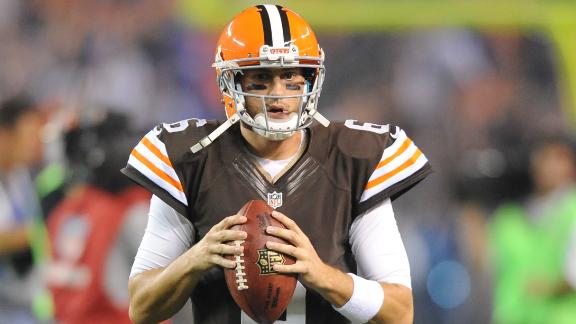 ESPN.com Browns reporter Pat McManamon discusses the team's plan with rehabbing quarterback
Brian Hoyer
.
April, 16, 2014
Apr 16
8:00
AM ET
Draft day looms ever closer. As it approaches, it seems appropriate to start your day with a tidbit or two each day on draftable guys -- with an eye toward those the Cleveland Browns might select. All information is courtesy of ESPN Stats and Information.
The best of the draftable quarterbacks against the blitz last season was Louisville's
Teddy Bridgewater
. He completed 70.1 percent of his 117 passes against the blitz, for an average of 11.0 yards per attempt. Teams blitzed him on 27.5 percent of his throws. Second was
Zach Mettenberger
of LSU (10.4 YPA), and third A.J. McCarron of Alabama (10.9 YPA). No other draftable quarterback had a yards per attempt above 10 against the blitz. When it came to being under pressure, Bridgewater again ranked highest. He completed 53.5 percent for 7.2 yards per attempt.
Blake Bortles
averaged 7.8 yards per pass, but he completed 50.7 percent.
Derek Carr
had the poorest percentage under pressure -- 30.9 percent.
Johnny Manziel
was at 44 percent.
April, 15, 2014
Apr 15
2:00
PM ET
Cleveland Browns
fans complained the past few years as the team sat idly by while free agency raged. The Browns fiddled while free agents burned holes in owners' pockets.
Or something like that.
Since the 2014 version of free agency began, the Browns have spent $55.8 million in guaranteed money.
That's the highest total in the AFC North, and following the matching of Jacksonville's offer to
Alex Mack
, ranks third in the league in guaranteed money spent since March 11.
Which means the Browns rank third to the Bucs and Broncos in guaranteed money, with most of it going to Mack ($18 million reported, though the number has not been confirmed), linebacker
Karlos Dansby
($12 million) and safety
Donte Whitner
($13 million). The Browns started free agency with a glut of cap space, and they've not been shy about using it.
And they've spend more than $50 million in guaranteed contracts without even addressing the quarterback position.
Second in the division in spending are the
Baltimore Ravens
at $36.3 million, though their total does not include re-signing
Dennis Pitta
just before free agency began. That signing brings the Ravens' guaranteed money total to $52.3 million -- still short of the Browns.
Most of Baltimore's money went to Pitta and offensive tackle
Eugene Monroe
($19 million).
Take away those two re-signings and Baltimore's guaranteed total of $18 million is more like a team that feels good about itself.
Same for the Bengals, a team that has made the playoffs three years in a row and feels it's close to something good. Cincinnati has spent just $7.3 million in guaranteed money, the fourth lowest total in the league.
Pittsburgh? The Steelers never go overboard in free-agent spending and this year is no different. Their total of $8.7 million is just ahead of Cincinnati.
April, 15, 2014
Apr 15
8:49
AM ET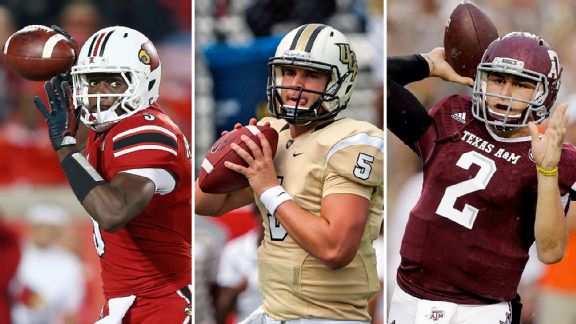 USA Today Sports, Getty ImagesTeddy Bridgewater, Blake Bortles and Johnny Manziel are options the Cleveland Browns will consider with their top pick in May's NFL draft.
And then there was one.
The
Cleveland Browns
' busy offseason leaves them having addressed the possible loss of
Alex Mack
(he stayed) and the departures of
T.J. Ward
and
D'Qwell Jackson
(
Donte Whitner
and
Karlos Dansby
). They added a running back (
Ben Tate
) and they added depth at several spots, including the offensive line (
Paul McQuistan
), receiver (
Andrew Hawkins
,
Nate Burleson
), tight end (
Jim Dray
) and cornerback (
Isaiah Trufant
).
On Monday, they even added the long-lost fullback, a guy the team did not give Rob Chudzinski a year ago.
Chris Pressley
is coming off a missed season due to ACL surgery so he is not a lock to make the team, but if he can give anything at all it's more than the Browns had a year ago.
All this does is set the Browns up to draft the way they want to draft, not the way they have to.
"[GM] Ray [Farmer] talked about that process of just stabilizing, leveling the ship," coach Mike Pettine told the gathered media at the NFL owners meetings.
Which basically leaves one spot to address: quarterback.
Yes, Virginia, there will be a new quarterback in Cleveland before training camp.
Probably two.
The team must add a veteran before the "voluntary" minicamp the end of the month. They can't go into camp with only two guys, especially because
Brian Hoyer
will probably be limited as he comes off knee surgery. Given that the market of veterans left are the Rex Grossmans of the world, the Browns also will add a quarterback in the draft.
When
is the million-dollar question.
If it's fourth overall, the choices remain the same three:
Blake Bortles
,
Johnny Manziel
or
Teddy Bridgewater
. If it's later, there is a bundle from which to pick.
"That's the position that needs to be addressed," Pettine said. "But we're not locked into, 'We're drafting a starter.'"
Which is good to hear.
Because if the Browns draft a guy to start and they force him in too quickly they'll be following the wash-rinse-repeat cycle that has contributed to so many problems since 1999. The challenge comes in managing the situation.
Because if the team selects a quarterback with the fourth pick, Hoyer will find out quickly what it's really like to play for his hometown team. Assuming he starts, the first time he has a two-interception, one-touchdown game in a 23-14 loss, the clamor will start from fans and media about the guy drafted fourth.
If it's Manziel, that clamor will be loud and ornery.
If it's Bortles, folks might be a little more patient because the word on him is he will need a year or two.
If it's Bridgewater, it's anyone's guess.
Then if the young guy plays the negativity will continue if he struggles.
This negativity has affected Browns quarterbacks since '99 – all the way back to Tim Couch and Kelly Holcomb. It's unrealistic to think it didn't, because quarterback is a confidence position. He who hesitates is lost. It may sound like an easy excuse, except it affects a player's psyche.
The spiral is almost natural. Young guy has to learn, to grow, but because he's learning he makes mistakes, which leads to criticism, which he says he doesn't hear but he does. Which leads to self-doubt, which leads to tentative play, which leads to more mistakes and more questions and clamor – and soon enough, the environment to succeed is damaged, which only exacerbates the issue.
There is the Bruce Arians argument, which says a team needs to pass-protect and run the ball to help a young quarterback, but if the guy can play he can play. But Bill Walsh, the great quarterback guru and leader of the
San Francisco 49ers
, once talked about protecting a young quarterback from a damaging environment. He talked almost emotionally, as if the damage to the player was almost permanent.
The word he used: traumatic.
The Browns have to be aware of this, and if they're not they need only look at their history since their return. The good thing is whoever plays will have a much fuller deck than many of his predecessors. That's the result of the offseason work.
But the Browns have saved the most important position for last.
How they handle it not only in the next two months but also through the entire 2014 season could have as much impact on the team as the selection itself.
April, 14, 2014
Apr 14
2:44
PM ET
Center
Alex Mack
channeled The Turtles on Monday.
He and the
Cleveland Browns
are simply "happy together" now that the Browns matched
Jacksonville Jaguars
' five-year offer sheet to the Browns center.
"Imagine you and me ... "
Mack termed all the reports that he preferred to be in Jacksonville mere positioning.
"Business is business," he said. "All I can say is I'm happy to be here. I'm excited to play football. I'm ready to go to work."
Mack said all the usual things about the free agent experience. It was interesting. The uncertainty was wearing. He's happy how it worked out. And yes, he's happy to be the highest paid center in the league.
"I work hard," Mack said. "I'm going to continue to do that."
Mack is right about that. He is a hard worker, and a valuable member of the Browns offensive line.
And, thanks to the work of Marvin Demoff, he has a five-year contract that he can void after two years to again pursue free agency.
"It gives me a lot of power as a player, which is exciting," Mack said. "That's something that may happen or it may not happen."
Mack said when he received the transition tag -- which allowed the Browns to match any offer he received -- he was sent scurrying to Wikipedia to find out what it meant. He added that he knew when he signed with the Jaguars he could wind up there, so he had to be happy with the thought of the Browns or Jacksonville.
In the two years he will be in Cleveland, Mack said he wants one thing: "To win games."
"I think about you day and night, it's only right ... so happy together."
April, 14, 2014
Apr 14
1:36
PM ET
The Cleveland Browns added the position player they lacked in 2013 when they signed fullback Chris Pressley to a one-year contract on Monday.
The Browns did not have a fullback a year ago, and in Pressley they add a 249-pound player who two years ago led the way for the Bengals' running game.
Pressley hurt his knee in the 2012-13 season finale, though, and missed the majority of the 2013-14 season.
The Browns had one or two yards to go on 97 plays in 2013, and they passed 40 times and ran 57. They converted the first down 58.8 percent of the time -- just below the league average of 60.7 percent.
Pressley gives offensive coordinator Kyle Shanahan the ability to use different personnel groups, assuming he makes the team. The team already had signed Jim Dray as an extra tight end.
April, 14, 2014
Apr 14
8:45
AM ET
Kevin Costner has done some great sports-related movies.
"Field of Dreams" and "Bull Durham" are both classics. ("He hit the bull. Guy gets a free steak.")
"Draft Day", which was recently released and is largely based in and shot in Cleveland, is not. Oh, it's an occasionally fun 109 minutes, with some laughs here and there and a very cool slide-screen way of showing two people talking on the phone. It also has some great shots of the town the Browns call home, which is always a boost to Clevelanders.
But from a football standpoint, it's illogical and implausible. A movie can be a good movie with some implausible elements if it's held together by a good story or great writing, which "Bull Durham" has ("A player on a streak has to respect the streak"). "Field of Dreams" has the implausible reality of folks flocking to a baseball diamond in a corn field and players from the Black Sox scandal appearing to play in said corn field, but it also has a great story built around the love of baseball and the relationship between a father and son.
[+] Enlarge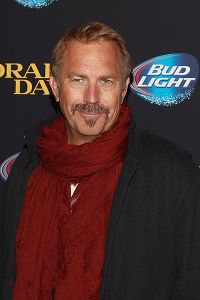 Donald Traill/Invision/APKevin Costner plays Browns GM Sonny Weaver in "Draft Day."
The story of "Draft Day" is flimsy at best. Though it ends with a touching moment, the story simply can't carry the illogical football tale (spoiler alert), which sees Browns GM Sonny Weaver (played by Costner) start the day of the draft by trading three of his future first-round picks and then seeing the team that acquired them trade them back.
Right.
Between, there's an owner talking to his GM at a shutdown water park, a common site for football executives to meet. (Come to think of it for the Browns ... )
The owner -- perhaps the best character in the movie, played by Frank Langella -- never takes off his sunglasses, even when he's inside.
And Costner and his front office dalliance, played by Jennifer Garner, have several meetings in a supply closet at the Browns headquarters. As if they think hiding there won't go unnoticed, except the dopey intern who knows nothing always manages to find them.
For Clevelanders, the best parts of the film are those scenes shot in Cleveland. Picking out the spots and seeing some of the inner workings of the team's facility are fun. But when a quick background shot is a highlight of the film, the film is lacking.
Thing is, Costner does a fine job as the GM. He comes across as a guy dealing with the pressures of his job and family while trying to keep the team on the right path.
But when a movie contrives its story to make a team do basic preparation for the draft on the day of the draft, it's a bit much. If Sonny Weaver had not done his homework on the star quarterback when he had the sixth pick in the draft, he probably shouldn't have been around to make trades on the day of the draft. Or if he'd had made a "splash" trade without being sure of the guy he traded for, well ...
The serious sports fan will notice all kinds of oddities like that, like the team allowing a player to march into the GM's office to trash it. No player could get away with that without the cleaning crew from "Monsters Inc." taking him away for disinfecting.
Maybe this movie is made for the not-so-serious sports fan, who will find the interplay, give-and-take and banter more informative. Maybe.
Costner took batting practice with the Indians last summer while he was in Cleveland to shoot the film. He very graciously stopped to meet the media and was more than cordial, engaging and fun. But in discussing "Draft Day," he said he wouldn't be doing a football movie, he'd be doing a love story with football around it. It was the same theme he adopted for "Field of Dreams" and "Bull Durham."
Except it didn't turn out that way. This movie is primarily about football, with small elements of a love story sprinkled in. The football stuff just doesn't add up.
On the star scale, "Draft Day" gets two.
On the when-to-view-it scale, it's definitely a "wait for Netflix" kind of film.
April, 11, 2014
Apr 11
4:33
PM ET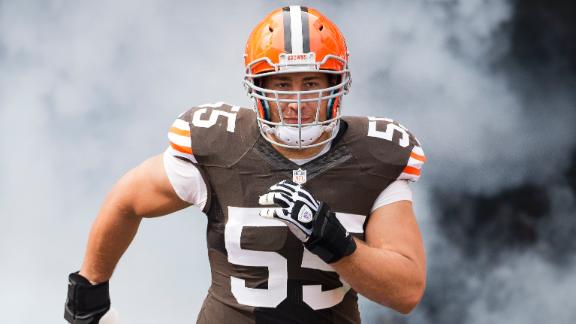 That was quick.
The
Cleveland Browns
didn't need to think much at all about matching the offer sheet the
Jacksonville Jaguars
gave center
Alex Mack
.
They decided before the end of Friday
to keep Mack with the Browns
. Apparently, owner Jimmy Haslam meant it when he said the team had no intention of losing Mack. So the center will stay in Cleveland on a five-year deal, which he can void after two years, that will pay him $10 million, $8 million and $8 million the next three seasons -- all guaranteed.
Mack was either going to wake up rich in Cleveland or Jacksonville. As it turns out, he's going to be rich with the team that drafted him.
He becomes the league's highest-paid center, which the Browns accept. And they accept it because he's been a good player for them for years, and because it continues a trend of keeping or adding players so the Browns can address the draft with the mindset of taking the best available player.
The Browns earned the fourth overall pick in the 2014 draft by being a bad team in 2013.
They didn't need to create more needs. They clearly believe they can swallow Mack's cost and still extend the contracts of veterans like
Joe Haden
and
Jordan Cameron
and
Josh Gordon
. As long as that's true, there's no reason not to keep a player if they like him. And the Browns clearly like Mack.
A week of talk and chatter simply went in a circle and wound up where it started, with Mack as the Browns starting center in 2014.
April, 11, 2014
Apr 11
4:04
PM ET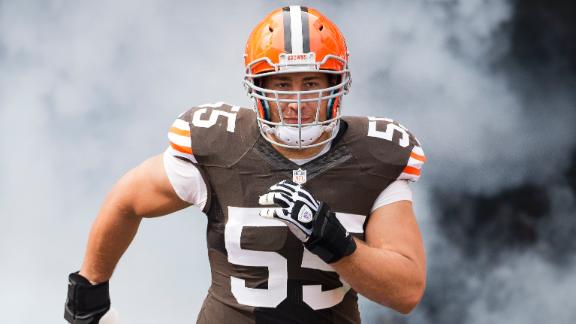 The Cleveland Browns matched the five-year offer sheet that center Alex Mack signed earlier Friday with the Jacksonville Jaguars.
The Browns had five days to match but did so in a matter of hours.
Terms of the offer sheet were not disclosed, but sources said the five-year deal is for $42 million with $26 million guaranteed.
Mack received the Browns' transition tag this offseason, giving the team a chance to match any offer the Pro Bowl center received in free agency. The Browns wouldn't have received a draft pick had they not matched the offer.
The contract has some unique elements -- most notably that Mack can void the final three years with the promise he will not receive the team's franchise or transition tag. So if Mack is unhappy after two years and wants out, he can void the deal.
The deal also includes a no-trade provision.
Mack would make $10 million this season, then $8 million in each of the next four seasons. The first three seasons, all $26 million worth, are guaranteed, meaning Mack has received the highest guarantee of any free agent this offseason.
April, 11, 2014
Apr 11
3:28
PM ET
The
Jacksonville Jaguars
gave the
Cleveland Browns
something to think about with the
five-year offer sheet
they gave center
Alex Mack
on Friday.
The Jaguars didn't make it impossible for the Browns to match the offer -- they have until Wednesday -- but they made it just tough enough that the Browns should think about what's best.
Mack
It's still likely the Browns match; it's simply not optimum to create a new hole on the offensive line.
But ... guaranteeing a center $26 million is not a gimme. In most NFL boardrooms, that's too much money for that position. In the Browns, though, it may not be. Because Mack is a good player who fits in the Browns offense.
Still, an average of $8.667 million (guaranteed) for the next three years puts Mack in rare company.
The money figures to be the main sticking point in the discussion.
The fact that Mack can void the deal after two years is also an issue since he can then re-enter free agency. But at that point he'll be 30-years-old with seven years of wear and tear on a center's body.
The contract also gives him some control over his future. He can't be traded, can't be given the franchise tag and he can walk away after two years and choose another team.
If he does void after two years though, the $8 million "guarantee" in Year 3 drops off the Browns' ledger.
This decision comes down to whether the Browns view Mack as valuable enough to make him the highest-paid center in the league, and to put him second on the team in average salary per year.
He's a good player.
He's been a good Brown.
Now the team has to decide if he's been good enough to warrant $18 million the next two seasons, or even $26 million over the next three.
April, 11, 2014
Apr 11
12:47
PM ET
Cleveland Browns transition-tagged center Alex Mack has signed an offer sheet with the Jacksonville Jaguars, the Jaguars announced Friday.
Terms were not disclosed, but sources said the deal is for five years and $42 million with $26 million guaranteed.
The Browns have five days to match. They are expected to do so.
The contract has some unique elements -- most notably that Mack can void the final three years with the promise he will not receive the team's franchise or transition tag. So if Mack is unhappy after two years and wants out, he can void the deal.
The deal also includes a no-trade provision.
Mack would make $10 million this season, then $8 million in each of the next four seasons. The first three seasons, all $26 million worth, are guaranteed, meaning Mack has received the highest guarantee of any free agent this offseason.
April, 11, 2014
Apr 11
8:54
AM ET
Ten random thoughts on
Alex Mack
's expected signing of his offer sheet from the
Jacksonville Jaguars
today, which would make this an "Alex Mack First and 10":
A lot of contract numbers have been leaked. While the numbers are all consistently close, I'm waiting to pass judgment on the deal until the actual numbers are known. I've seen too many contracts reported as worth $50 million when the last year of the $50 million was a $24 million salary that was never expected to be paid in the first place and only put in the deal to make the player and agent feel good about getting $50 million.

[+] Enlarge

Ron Schwane/USA TODAY SportsRegardless of which team veteran Alex Mack plays for in the 2014 season, he's poised to be the NFL's highest-paid center.

That being said, there are nine more items to fill here so ... If the deal is as reported -- five years, $42 million, $18 million guaranteed the first two years -- it's a bit of a head-scratcher. Why Jacksonville would think that would scare the Browns into not matching is puzzling.

This is why I want to see the actual numbers. Because as reported, it's kind of a "Huh?" offer to a transition player.

Mack made the system work. Or his agent did. Regardless of where he plays, Mack will be the league's highest-paid center. That's a good offseason.

Which reminds me of one of my favorite stories about contracts, way back when baseball's arbitration system first began. Pitcher Dave Stewart was one of the first cases, and he lost. His comment after: "No problem. I was either going to wake up rich, or richer."

I'm not convinced Mack prefers to play in Cleveland anymore. The fact that he will sign with an organization that has struggled as much as the Jaguars have indicates he's ready to move on. That being said, if Mack returns I would not expect him to sulk. He's been a pro since he arrived, and if it turned out he'd be rich in Cleveland as opposed to Jacksonville, there would be no reason to wonder about his commitment or effort. He'd remain a pro.

If the Browns do choose to match, they'll have the core of their line for the next few years with Joe Thomas, Mack and Mitchell Schwartz in the fold. Yes, I said Schwartz. He's better than he's given credit for. Perhaps the Browns might wish to send the Jaguars a box of candy and a thank-you note.

Mack also becomes the second-highest-paid player on the team, behind Thomas. This is the argument against matching. With guys like Josh Gordon and Jordan Cameron ready to be extended, and with Joe Haden at the head of the line, making the center that wealthy goes against the grain. Former NFL lineman Ross Tucker summed it up this way for the Sporting News: "It's not a difference-making position that has a huge impact on wins and losses." (LeCharles Bentley would no doubt disagree.) Consider that Mack's transition cost is more than $10 million. A respectable-to-good center or guard (with John Greco sliding to center) would cost half that much. Mack is a good player, but the sky won't fall if he's not a Brown this season and beyond.

Ask most anyone about building a team and they'll say the most important position is the guy who throws the ball, followed by the guy who stops the guy from having the ball caught, followed by the guy who can get to the guy throwing the ball, followed by the guy who protects the blind side of the guy throwing the ball, followed by the guy who catches the ball. The order may change from team to team depending on talent, but that's the general list. That's a roundabout way of saying the list does not include a center.

So the Browns have to ask: Does it make sense to pay a center that much when they have so many of the "prime" positions lined up for extensions or deals in the future? Imagine, too, if Brian Hoyer proves to be the real deal. He is on the second of a two-year contract.