College Basketball Nation:

100213 Forde thoughts
February, 13, 2010
2/13/10
10:32
PM ET
Ten o'clock thoughts:
DeMarcus Cousins gave us a glimpse of what makes him both overpowering and maddening during the first half against Tennessee. He's the best offensive rebounder in the country -- and perhaps the most immature player in the country, too.

I believe he's Kentucky's best player. He can get his hands on anything that comes off the glass, which is why the argument that he's dependent upon fellow freshman John Wall to get him the ball is a fallacy -- Cousins gets the ball for himself off missed shots.

But Cousins also is addicted to cheap and silly drama -- throwing elbows, talking trash, arguing with officials. He was T'd up yet again in the first half against the Volunteers along with J.P. Prince. If he doesn't think opposing players and fans are going to continue to work on his hair-trigger temper, he's fooling himself.
Tennessee is outmanned, banged up, on the road -- and right in the game. Give the Volunteers credit for moxie, but you still have to wonder about their horrendous shot selection. If they continue to jack up long 3s early in the shot clock, they'll get run out of the gym eventually.
Kentucky has seen all kinds of zone this season without it costing them. But zones from better teams could be another matter. The Wildcats struggled in the first half against the Vols' zone and surely will see more of them as their SEC schedule stiffens down the stretch.
Good stuff from the ACC tonight, particularly Georgia Tech-Wake Forest (won by the Demon Deacons) and Virginia-Virginia Tech (won by the Hokies). It's not a very good league by its own lofty standards, but it is a competitive one. ACC tournament should be a big ball of messy fun.
Western Kentucky crushed Arkansas-Little Rock on the road, continuing to pull out of a midseason tailspin in which it lost six of seven games. The perennial mid-major power will finish in the middle of the Sun Belt pack in the regular season but figures to be dangerous in the league tournament.
Oregon State, which lost by 51 points to Seattle, won at Arizona. The Pac-10 is amazingly mediocre.
February, 13, 2010
2/13/10
8:34
PM ET
Eight o'clock thoughts:
Xavier comes much closer to punching an NCAA ticket with a big victory at Florida. The Musketeers had a week to stew on their beatdown at Dayton and came out flying in Gainesville. But most impressive was the fact that Xavier lost its big lead and never folded. Rookie head coach Chris Mack called a good timeout at the 10:32 mark of the second half with the game tied, and his team responded with a 12-2 run and kept the lead the rest of the way.

You also have to enjoy a solid senior like Jason Love. "Senior" can be a dirty word in the quixotic world of college basketball these days, but he's a success story. The post man has improved his scoring from 6.7 points as a junior to 11 as a senior, and his rebound numbers from 5.9 to 8.4. Against the Gators, Love had 20 points and 10 rebounds, showcasing his growth over his career.
The SEC was supposed to be much improved this year -- and I bought the hype -- but it's still nothing special. Kentucky is easily the best of the bunch, with Vanderbilt and Tennessee following, but after that it's a muddled mess. The SEC West might not have a single NCAA team in it.
Wayne Chism is going to test his injured ankle pregame to see whether he can go against Kentucky. If Chism isn't 100 percent, Tennessee has no chance in Rupp Arena. Even with him, the Volunteers might not have a chance.
When compiling my potential home-underdog upset list earlier today, I should have paid more attention to the Colonial Athletic Association. James Madison (3-11 in the CAA coming into the game) knocked off VCU (9-5 coming in). And William & Mary is up 14 at halftime on Northeastern, which entered the contest 12-2 in the league.
February, 13, 2010
2/13/10
6:35
PM ET
February, 13, 2010
2/13/10
4:57
PM ET
Four o'clock thoughts on Saturday's action:
February, 13, 2010
2/13/10
2:48
PM ET
Two o'clock thoughts on today's action:
Despite Andy Katz' dulcet tones, Connecticut-Cincinnati was unwatchable. And it now seems completely fair to declare the Huskies done for the year. If their response to the return of Jim Calhoun to the sideline is a 48-point effort at home (UConn's worst scoring effort since 2002), this team's issues run far deeper than which guy is standing on the sideline.
That said, a Big East road victory should restore a glimmer of home to the Bearcats. If they can follow that up with a win at South Florida Tuesday, then hold serve at home against Marquette and DePaul, that assures Cincy of at least a .500 league mark. With neutral-court wins over Vanderbilt and Maryland, Mick Cronin's team would at least be in the argument.
Talor Battle might be the closest thing in the nation to a one-man gang. The Penn State guard had 30 of the Nittany Lions' 54 points against Michigan State, five of their 23 rebounds and five of their 12 assists. Nothing new there: Battle is the only player on a big-six conference team to lead his team in all those categories and steals. He should consider suing for lack of support.
Duke has been absolutely on point in ripping Maryland through the first half, but the most impressive thing I've heard about Cameron Indoor Stadium Saturday is former Duke assistant Pete Gaudet's presence for Mike Krzyzewski's 1,000th game as a head coach. Gaudet was the guy who took over during K's Dark Period in the mid-90s, when back surgery and other issues forced him from the sideline. When K made sure Duke's sorry record during that time wound up on Gaudet's permanent record instead of his, it set the stage for an acrimonious parting between the two. Good to see they have apparently mended fences.
Gary Williams looks displeased on the Maryland sideline. How uncharacteristic.
Oklahoma is one of the biggest disappointments this year. They haven't shown the maturity to handle expectations without the Griffin brothers to provide both star power and leadership. Another signal that all is not well in Norman came when the Sooners suspended freshman big man Tiny Gallon and did not take him on their trip to Stillwater to play Oklahoma State.
Also not a great sign for Michigan State that the Spartans left guard Korie Lucious home in East Lansing for failing to meet academic requirements. Time for everyone to be locked in on taking care of their business -- on the court and off -- until your season is over.
February, 13, 2010
2/13/10
11:58
AM ET
Today is post-up-in-front-of-the-TV time for me. And since there is nobody around to call me for three seconds, I could be here all day.

Let's start the basketball marathon by throwing out five things I'll be looking for today:

1) Does the upset rash spread? Friday night was crazy: Penn shocking Cornell, Niagara shocking Siena and Pittsburgh coming back late to tie West Virginia in regulation and then win in triple overtime. Common denominator: Home underdogs ruled the day. With that in mind, here are some potential home-cooked upsets for Saturday: Cleveland State over Butler; Bradley over Northern Iowa; Stanford over Washington; Utah over New Mexico.

2) Do we get any clarity in the Atlantic Coast Conference? It's been a scrambled season in the ACC, but we might have a more defined pecking order after this weekend. Duke and Maryland, co-leaders in the loss column, play at 1 p.m. ET in Durham. Virginia (5-3 in the league) visits rival Virginia Tech (6-3) at 8 p.m. ET. Georgia Tech (5-5) tries to rebound from a bad loss to Miami by knocking off Wake Forest (7-3) in Winston-Salem, also at 8 p.m. ET. Clemson (5-5) tries to win two games in a row for the first time since mid-January against the Hurricanes at noon. And in what might be a sign of the apocalypse, North Carolina and North Carolina State have a 4 p.m. ET pillow fight in Raleigh for sole possession of last place.

3) Will anyone kill their resume? Few teams can win their way into the NCAAs today, but some could pull a Louisville vs. St. John's and play their way out of it. Borderline teams that need to avoid damaging losses today include: Richmond at St. Bonaventure; Dayton at Saint Louis; Marquette at home against South Florida; Mississippi State at home against Auburn; and staggering Texas at home against Nebraska.

4) Will Jim Calhoun's return revive Connecticut? The Huskies slid into NIT range by losing seven of their last 10 -- most of those losses coming without their Hall of Fame coach, who was on medical leave. He returns today when UConn hosts similarly desperate Cincinnati. If the Huskies are going to 180 their way back into the Big Dance, it must start today.

5) How does it go when Bruce Pearl and John Calipari reacquaint, this time as league rivals? The two had some bitter battles when Calipari was at Memphis, both on the court and in recruiting. Now that Cal has moved north to Kentucky and added clout, how will Pearl and his Tennessee Volunteers respond today in Rupp Arena? Tennessee was smoked twice last year by a dreadful UK team; this one is clearly much better.
February, 13, 2010
2/13/10
12:34
AM ET
Friday night usually only matters twice a year in college basketball:
1) The first weekend of the season, when schools are generally trying to avoid Saturday conflicts with football.
2) The postseason, when conference and NCAA tournament games are being played.
[+] Enlarge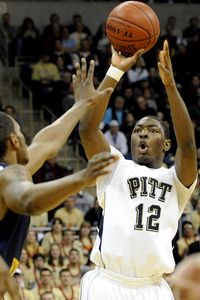 AP Photo/Don Wright Pitt's Ashton Gibbs scored 24 points in a triple-OT victory over No. 4 West Virginia on Friday.
Not so this year. We have just completed the freakiest February Friday ever, with notable upsets in triplicate. It demands some attention and analysis, and perhaps some smelling salts.
We had a Friday in which a 3-15 team (Penn)
laid a 15-point smackdown on a ranked 20-3 team
(Cornell) that was favored by 17 points. That's certainly the biggest league upset of the year nationwide. Might be the biggest upset, period.
We had a Friday in which a struggling team in the lower half of the Metro Atlantic Athletic Conference (Niagara)
rose up and took down the 14-0 big dog of the league
(Siena) by 13 points. That reverses an 18-point loss last month.
And to top it off, we had two ranked rivals from the Big East exchanging huge shots and huge mistakes through three dramatic overtimes (
Pittsburgh 98, West Virginia 95
).
Earlier this week,
I wrote about
the eight teams trying to get through conference play unbeaten. That number already is down to six after the losses by the Big Red and the Saints – teams I thought were among the most likely to run the league table.
The upsets derailed the considerable momentum of both Cornell (eight-game winning streak shot) and Siena (15-game winning streak, longest in the nation, done). It also cast doubt upon both the Big Red and the Saints as potential NCAA at-large teams. Neither team has a victory over an RPI top-50 opponent and now each has a fresh loss that will hurt their own RPI numbers.
Both can still earn automatic bids, of course – Siena by winning the MAAC tourney at home and Cornell by winning the Ivy regular season. But the Saints, who struggled to beat Fairfield at home earlier this week, might now seem mortal to their league brethren. And the Big Red now sits in second place in the Ivy behind 5-0 Princeton – though the two still meet twice.
But instead of solely examining the damage to the losers, we should take a moment to appreciate what the winners did.
Penn threw a 15-0 haymaker at Cornell to open the second half and pull away. Niagara put a 24-3 run on Siena during a five-minute stretch of the second half to do the same.
At Penn, school president Amy Gutmann went into the postgame locker room to congratulate the team. This might have been the victory that gives interim coach and former Quaker hero Jerome Allen a solid chance at the job on a full-time basis.
Allen was elevated from assistant when the school surprisingly fired Glen Miller after a 0-7 start. The record got to 0-10 before the Quakers finally got in the win column – but now they've won three of their last four, including this absolute stunner, rallying around a guy who had zero coaching experience before joining the staff in September.
Allen and his staff had a smart, slow-the-tempo plan that included doubling Cornell star center
Jeff Foote
every time he caught the ball.
"This was a 54-possession game," Penn assistant John Gallagher said. "For us to win any game, it's got to be played between 54 and 65 possessions. Anything over that, we will not win. We ended up controlling tempo."
They also ended up shooting the lights out. A team that entered the game shooting 39 percent from the field, 29 percent from 3-point range and 74 percent from the foul line went 56 percent, 52 percent and 82 percent, respectively.
Among the heroes for the Quakers was guard
Zack Rosen
, who had 22 points, five assists and three steals. The previous two games, Penn's leading scorer had two assists and 13 turnovers. This bounce-back performance illustrated the sophomore's character.
"He's a great leader," Allen said. "He wins every sprint. Whatever you ask him to do, he does it. I think every coach in America would love to have a guy like that on their team."
Problem is, there is literally no time to celebrate in the Ivy League. Teams play back-to-back games on Friday and Saturday, and the Quakers went quickly Friday night into a meeting to preview their game against Columbia.
"I told them, 'You guys got about 30 minutes to enjoy the victory,' " Allen said. "I really wanted them to stay in the moment, because it is a big deal. But my job doesn't allow that."
Niagara at least has a day between games to savor beating Siena. The two have had a lively rivalry in recent years as the premier programs in the MAAC, but the Purple Eagles have dipped below .500 in league play this season and were no match for the Saints on the road last month.
But Joe Mihalich's team rose to the occasion at home, in a game I targeted Tuesday as Siena's biggest threat to running the MAAC table.
For a long time, it looked as if the upsets in the Ivy and the MAAC were the dominant Friday storylines. Then Pitt and West Virginia played a game that conjured memories of the Syracuse-Connecticut six-OT game from last year's Big East tournament.
Neither team gave up – which was wise, because neither team would shut the door on the other.
Pitt was down seven points with 45 seconds left in regulation, but WVU all but quit playing and allowed the Panthers to hit enough shots to force overtime. Then Pitt gave
Truck Bryant
an open 3 in the final three seconds of the first overtime while up three. (Choosing not to foul in those situations never fails to amaze.) And the Panthers compounded that in the second OT by fouling
Da'Sean Butler
on a 3 while leading by three in the final 25 seconds.
That's how you get to triple OT. Once there, Pitt finally stopped the madness – though not before giving West Virginia another shot at a tying 3 in the final seconds. But the fatigued basketball gods spoke: "No, send that shot off the rim and let's save a little something for Saturday."
A day that has a hard act to follow.