College Basketball Nation:

5 Things to Love/Hate
March, 15, 2010
3/15/10
2:15
PM ET
It hasn't even been 24 hours since we saw the selection committee's 2010 tournament bracket, and already the complaints have codified into consensus. Complaining about the bracket -- about the bubble, especially -- is a yearly tradition in the days after Selection Sunday. Frankly, it gets a little tired.
This year feels different. Because the bubble was so unusually soft this season, the usual gripes about first few teams left out of the tournament are non-starters. Instead, complaints about the makeup of the bracket, from imbalanced regions to mis-seeded teams, are this year's major concerns. Whining about the bubble is so last year. Whining about seeding? Hot and getting hotter!
[+] Enlarge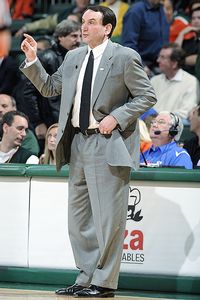 Richard C. Lewis/Icon SMISome say Mike Krzyzewski's Blue Devils got an easier path to the Final Four than overall No. 1 seed Kansas.
So, in the spirit of
Silky Johnston
and the great diabolical haters of our time, here's a list of the five things to most disdain about this NCAA tournament. Hate! Hate! Hate! Hate!
1. The South. You too, Duke.
Kentucky, Syracuse, and Kansas -- especially Kansas -- can kick off this year's hate-fest for us. All three supposed No. 1 seeds were given more difficult regions than Duke, which should have been the fourth No. 1 seed. Heck, I still think West Virginia deserved that fourth No. 1 after winning the Big East tournament. Instead, No. 1 overall seed Kansas was stuck in a brutal landmine of tourney-proven coaches and elite guard talent. Kentucky got the toughest No. 2 seed in its bracket in West Virginia. Syracuse will likely have to beat a startlingly low-seeded No. 8 Gonzaga team as soon as this weekend. Duke's No. 8 seed, meanwhile, is Cal, a drastically overseeded bunch. Duke's No. 2 is Villanova, an undersized, defensively weak squad that faded down the stretch in the Big East season. The No. 4 seed in Duke's bracket is Purdue, which without
Robbie Hummel
might not survive its matchup with sexy No. 13 pick Siena.
This is a horrifically imbalanced region, one that makes you wonder if the committee took a moment before finalizing the bracket to step back, look at the big picture, and scratch their heads one final time. Really? You want to make marginal No. 1 Duke's road that easy? Seeding the bracket is tough, but come on. The South reeks of a committee that lost the forest for the trees, and Kentucky, Syracuse and Kansas -- especially Kansas -- will suffer. So much for being the overall No. 1. If we can't reward Kansas for its excellence with something better than this, then the anti-expansion folks' main point is officially moot. The regular season
doesn't
matter.
2. The greatest 8/9 matchup ever. And by "greatest" I mean "greatest opportunity for a two-hour nap."
OK, so 8/9 games aren't exactly the tournament's bread and butter. They usually feature two very average big-six teams. I get that. But No. 8 Texas vs. No. 9 Wake Forest might be the most uninspiring 8/9 game in recent memory. Neither team has beaten anyone worthwhile for months. After going 17-0 and rising to No. 1 overall in the polls, Texas lost nine of its last 16, fell all the way out of the Top 25, and saw its head coach reveal that he really doesn't care all that much about winning national championships. Texas is an inordinately talented team that has managed to do nothing with that talent for the past two months. It's depressing.
Then there's Wake Forest, which lost five of its last six -- including games to NC State, North Carolina and Miami -- and is limping into the tournament as badly as any team in the country. Again: depressing.
Put these two teams together, and you'll get two things. The first: lots of potential NBA players on the court at the same time. The second: some truly uninspired basketball. Thanks, but I'll pass.
3. Splitting sevens and 10s.
Last night there was some brief discussion about the selection committee pairing too many non-BCS schools against one another in the first round. I don't think this was a strategy so much as an unlucky consequence of a hastily assembled bracket, but there are at least two games where it seems a fair criticism. Those games: No. 7 Richmond vs. N0. 10 St. Mary's in the South and No. 7 Oklahoma State vs. No 10 Georgia Tech in the Midwest. Why not switch the No. 10s there, sending Georgia Tech to Providence and St. Mary's to Milwaukee? This swap would prevent a non-BCS matchup in the first round and cut down on travel for the Gaels without accentuating anyone else's frequent flier miles. Why pit two major conference teams like Georgia Tech and Oklahoma State in the first round when you have two quality non-BCS schools to split between them? Why force non-BCS teams to eliminate one another? I can understand not wanting to swap seeds to fulfill an unofficial tournament consideration like the vague little guy vs. big buy thing, but if the solution is right there in front of you, with the seeds all the same and travel a non-issue ... well, why not?
4. Oh, and those No. 8 seeds.
This is partially covered in note No. 1 about the South, but look at these No. 8 seeds: California, Texas, UNLV and ... Gonzaga? One of these things is not like the other. Hint: It's Gonzaga. Sure, the Bulldogs were badly beaten in their conference title game, thus making them an at-large bid at the committee's mercy. Sure, as with the bubble teams left out of the tournament, it's hard to feel too bad for any team that didn't handle its business in the closing stretches of the season. But Gonzaga, with an RPI of 36 and a nonconference record of 12-3 seems insanely underseeded here. That feeling is accentuated when you look at its peers on the No. 8 line. What makes the seeding even worse is that because the committee thought Duke deserved a higher No. 1 seed than Syracuse, the Dukies drew Cal, by far the most overseeded of the No. 8s, while the Cuse will play a talented, deep, athletic Bulldogs team led by an experienced tournament guard in
Matt Bouldin
. (Not to mention that Kansas might get UNLV and Kentucky could play a lifeless but undeniably talented Texas team.) Ouch.
5. Villanova as a No. 2.
I promise, I set out to write this without harping on the South too much -- but I give in. It's impossible. Villanova as a No. 2 seed is questionable, but given the team's entire body of work, not to mention the eye test-friendly nature of any NCAA tournament team led by
Scottie Reynolds
, I can dig it. What I can't dig on is Villanova being the No. 2 seed in Duke's bracket, while Ohio State and West Virginia were sent to the same region as the top two teams in the committee's bracket, Kansas and Kentucky, respectively.
If the committee wants to argue that Duke is better than Syracuse, fine. Whatever. I disagree, and I think West Virginia deserved Duke's No. 1 seed, but
if Jim Boeheim isn't worried about it
, I can let it go. But what's mystifying is how you would possibly rank Ohio State and West Virginia -- two candidates for a top seed, both of whom won their conference tournaments to close the season -- lower than Villanova, which can boast neither. The imbalance here is stark. If seeds hold, the two best No. 1 seeds will play the two best No. 2 seeds in the Elite Eight. This is remarkably unfair to Kansas, Kentucky, West Virginia and Ohio State, all of whom
won their conference championships
and had their very impressive seasons rewarded with brutal paths to the Final Four.
In short, I hate the way the committee seeded the South, and I hate the way those seedings threw the rest of the bracket out of whack. You know, in case that wasn't clear. Yeesh.
March, 15, 2010
3/15/10
12:30
PM ET
There have been plenty of gripes about this year's bracket, and with good reason. I'll get to those in a little bit. For now, here's a quick list of things to love about this NCAA tournament field -- besides, of course, the fact that it's an NCAA tournament field. Man, the tournament is awesome. Anyway, let's do this:
1. Midwest Madness.
In so far as one can feel bad for a perennial power with the talent, size and depth of the
Kansas Jayhawks
, I feel bad for the Kansas Jayhawks. Bill Self's team was the best in the country from the beginning of the season to its end, and though the Jayhawks had the occasional stumble, they always had the feel of last year's North Carolina team -- a team smart enough, experienced enough, and deep enough to win the NCAA tournament with nary a realistic challenger.
On Sunday night, that prediction got a little hazier. To get to the Final Four, the Jayhawks will have to beat some combination of the country's best player (No. 2 seed Ohio State), one of its hottest, most balanced teams (No. 3 seed Georgetown), the co-ACC champions, featuring one the country's toughest guards (No. 4 Maryland), Tom Izzo (No. 5 Michigan State), Bruce Pearl (No. 6 Tennessee), and the lone Big 12 team to beat them, a team with arguably the best shooting guard in the country in
James Anderson
(No. 7 Oklahoma State). This is an absolutely loaded field, rife with experienced players and tourney-proven coaches, and if I were a Kansas fan I would totally put this in the "hate" category, especially given the comfortable region afforded the third No. 1 seed, Duke. But as a fan of college basketball in general? I can't deny how excited I am to watch this region play out. I still like Kansas to make the Final Four and win it all, but with this region, anything is on the table. Anything. Who wouldn't love that?
2. Sometimes, underseeding works out.
Continuing with the "things I could also hate" theme, I give to you No. 5 Temple vs. No. 12 Cornell. Both teams are badly underseeded here, especially Cornell, which nearly beat Kansas at the Phog, which dominated its season from start to finish. It's becoming common to say the Big Red aren't your typical Ivy League team, but it's true; few Ivy League teams have the luxury of a seven-foot center who wouldn't look out of place in any of the country's biggest, most talent-rich conferences. Meanwhile, Temple deserved more from the committee after winning the regular season and tourney titles in a very good Atlantic 10. Temple is a complete, balanced team, one of the best defensive squads in the country. Cornell is as scary a No. 12 seed as there is. It hurts to lose one of these teams in the first round ... but the process of losing either ought to be the best first-round game in the entire field. I'll take it, I guess. (Wait, is that not positive enough? OK, sorry -- I love it! Yay for good first-round games!)
3. Beware the Bears.
Expect Baylor to be a trendy Final Four pick. This is with good reason: The Bears enter the tournament with the fifth-highest points per possession efficiency mark in the country. Quite simply, the Bears make their shots, rebound their misses, and don't give enough away on the defensive end to offset that potent attack.
LaceDarius Dunn
and
Ekpe Udoh
form one of the best inside-outside tandems in all of college basketball. Coach Scott Drew is a name on the rise. And so on. But the best thing about the Bears in this tournament is their draw: Making it to the Elite Eight theoretically means beating No. 2 seed Villanova, easily the weakest of the No. 2 seeds, a porous defensive team that faded down the stretch in conference play. Nothing about Baylor's half of the South region looks particularly frightening. Drawing Duke as their region's No. 1 is likewise friendly. Duke is a very good team, but it's also a team that's banished its young reserves to the bench and played its starters an incredibly high percentage of minutes the last two months. Before this draw, Baylor was merely a sexy Elite Eight pick. After this draw, the Bears should be thinking Final Four. I am.
4. James Anderson vs. Evan Turner? Yes, please.
Q.V.
note No. 1.: "Midwest Madness." I've already gone through why the Midwest region is so very awesome, but this might be the best matchup in the entire bracket. (When you have to hedge that statement with something about
Greivis Vasquez
and
Sherron Collins
meeting on the other side, you know you have a loaded region.) Turner is without question the country's best player, a versatile point guard who does the majority of scoring -- heck, he does the majority of everything -- for his likewise efficient teammates. Turner is capable of taking over a game anytime he pleases. Same goes for James Anderson, a far less-heralded but nearly as effective scorer of the basketball. Anderson's offensive game used to be a tailored version of Turner's -- lots of drives, lots of curl-screens, lots of kicks to shooters. In 2010, Anderson added the 3-point shot to his repertoire, making him nearly impossible to stop. If both teams win their first round games -- Oklahoma State might have problems with Georgia Tech, mind you -- Anderson and Turner would meet in the second round Saturday in Milwaukee. One will be guarding the other for long stretches of that game, I'd expect. Don't miss it.
5. Fast-paced basketball in Oklahoma City.
And no, I'm not talking about the Oklahoma City Thunder. Rather, if seeds hold and No. 7 seed BYU takes down its rather fluffy No. 10 first-round matchup with Florida, the Cougars will not only have won their first NCAA tournament game in ages -- they will have set up a dream matchup with No. 2 seed Kansas State. At 72.9 possessions per game, BYU is the No. 12 team in the country in adjusted pace; Kansas State is No. 31 with 71.1. Both teams feature great guards in
Jimmer Fredette
and K-State's
Denis Clemente
/
Jacob Pullen
duo, and both teams thrive on beating their opponents down the floor and hitting shots in transition. There's no chance this matchup was intentional, but three cheers to the committee here. For sheer entertainment, this second-round game will be hard to top.