College Basketball Nation:

Brennan 032510
March, 26, 2010
3/26/10
1:34
AM ET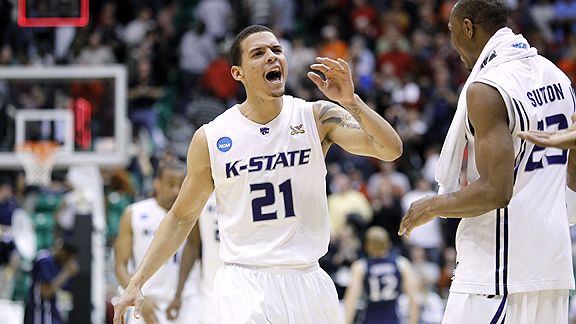 AP Photo/Paul Sakuma Denis Clemente (21) and Kansas State celebrated a double-overtime victory over Xavier on Thursday.
OK. Deep breaths.
The first night of the Sweet 16 is officially in the books, and it was officially awesome. Four games, one upset, one truly dominating performance by the tournament's new prohibitive favorite, and this year's best postseason game -- a Gus Johnson-narrated double-overtime thriller you can expect to see replayed more than once in the coming years. Let's see: Yep. That pretty much sums it up.
Alongside West Virginia's easy, ugly win over Washington,
Butler's unlikely victory over heavily favored No. 1-seed Syracuse led the night off
. That was a pretty fantastic start. But if you thought that was as good as the night was going to get -- this was not an unreasonable stance -- you were wrong. That's when Xavier-Kansas State happened.
Where to start? At the beginning, I suppose: Kansas State rushed out to an early lead, and for the first 12 minutes it looked like the Wildcats would handle X easily. But the Musketeers, led by
Jordan Crawford
, came storming back,
drawing the game even at the half
. Things didn't separate much after that, leading to a final sequence that would baffle even the most hardened of college basketball watchers. Up by three with a few seconds left, Kansas State tried to foul Xavier point guard
Terrell Holloway
. By the time the referees called the foul, Holloway was in the act of shooting, giving him -- yes, this was as unbelievable as it sounds -- three free throws to tie the game and send it into overtime. He made all three.
In overtime things got even crazier. Down three with 10 seconds left, Crawford made an absolutely nuts 35-foot 3-pointer to tie the game.
Denis Clemente
's speed drove him to a great look at the buzzer, which missed, sending the game to another overtime -- the first 2OT game in the Sweet 16 since 1997. XU guard
Dante Jackson
had a chance to tie the game late before Kansas State finally pulled away thanks to two clutch
Jacob Pullen
3s and a couple of key defensive stops. Just like that, the best game of the tournament was over.
The statistical wreckage: 83 possessions each. Offensive efficiency ratings of 119.1 and 118 for Xavier and K-State, respectively. Thirty-two points for Crawford; 26 for Holloway. Twenty-eight points for Pullen; 25 for Clemente; 21 for
Curtis Kelly
, whose low-post efficiency kept the Wildcats alive in the first overtime. All together, one very special win for Frank Martin and his team, who will advance to face the aforementioned
Butler Bulldogs
on Saturday night.
[+] Enlarge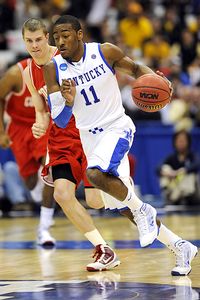 Richard Mackson/US PresswireJohn Wall had eight points and eight assists in Thursday's win.
OK. More deep breaths. Does that about cover it? Barely.
Then there was Kentucky-Cornell, which was,
despite the gulf in final score
, entertaining in its own way. The Big Red, buoyed by a rowdy crowd just 50 or so miles down the road from their home in Ithaca, N.Y., opened up a 10-2 lead in the first five minutes against the heavily favored Wildcats. For just a few minutes, it looked like Cornell could do to Kentucky what it did to Wisconsin and Temple before them.
Then reality set in. The reality was that Kentucky was ready for Cornell, ready for the Big Red's perimeter-reliant offensive attack. UK hedged every screen high, overplayed on every shooter, and was so much more athletic than Cornell that it could recover and prevent interior shots and drives even after playing the Big Red out to 30 feet. In 20 minutes of first-half basketball, Cornell scored 16 points, the victims of a 30-6 Kentucky run to close the half. Cornell finished with 45 points, the third-lowest total in the Sweet 16 since expansion in 1985. It was one of the best and most complete defensive performances you'll ever see, and it wasn't just thanks to athleticism and talent. The Cats were prepared. They executed a gameplan. They were much more than an amalgamation of talent. They were a team.
Tonight's late results mean a few things going forward. First among them: No. 1 Kentucky will play No. 2 West Virginia in the Carrier Dome Saturday night. Kentucky will have to finish much better against West Virginia, and it won't be able to get away with shooting 16-of-26 from the stripe. Likewise, WVU will have to clean up its turnovers. The Mountaineers are the first team since 1970 to win a game in the round of 16 or later despite committing at least 20 turnovers and shooting 40 percent or less from the field. It was a testament to Washington's own sloppy play that West Virginia wasn't challenged more Thursday night. That won't happen Saturday.
Of course, there's also the Kansas State-Butler matchup, which will be as great a contrast in styles as we've seen in the tournament so far. Butler prefers to slog it out; Kansas State loves to get up and down. It'll be a good one.
While we're here, a quick lament: Tonight's loss means we have to bid a fond tournament farewell to Crawford, who -- had his team won -- might have locked up tournament MVP honors after just three games. Crawford scored 28, 27, and 32 points, making big shot after big shot and beautiful play after beautiful play. What's more, Crawford's style is as freewheeling and fun to watch as any player's in the country. You never know what you're going to get -- a pretty pass, an icy old-school finger roll, or an double-onions-order 30-foot 3 to tie the game in overtime. Losing Crawford is a major blow for the sublime enjoyment of this tournament. It's a shame.
The good news? We get to keep Pullen. And
Gordon Hayward
. And
John Wall
. And
Da'Sean Butler
. And we have another night to do it all over again Friday.
Who needs deep breaths? Not me.
I don't know about you, but I'm ready for another lap.
March, 25, 2010
3/25/10
9:54
PM ET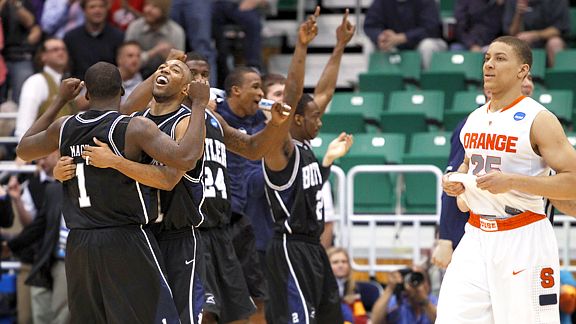 AP Photo/Colin E. BraleyButler celebrates an unexpected victory over Syracuse and Brandon Triche.
Really, it's our own fault. We should have known.
After four days of basketball that gave us a dozen thrilling games, a handful of Cinderellas, and one of the most shocking upsets of all time, we, the college basketball-watching masses, should have taken a long collective look in the mirror and admitted the cold, hard truth: We don't know anything. Instead, we went with what we thought we knew. Syracuse was too good. Butler didn't match up. If any game was ripe for a Sweet 16 upset, it was Saint Mary's-Baylor, or Cornell-Kentucky.
We were wrong. Again.
Butler wasn't blown out. It wasn't exposed by the bigger, badder, more athletic Orange. Quite the opposite: The Bulldogs came out of the gate hot, rode what looked to be a definitive Syracuse run, turned the game around in the last two minutes, and completely altered the look of the 2010 NCAA tournament. Again.
Syracuse will be kicking themselves for the loss, not only because Jim Boeheim's team was clearly the more talented, but also because outside of the first 10 minutes, Butler didn't even play all that well. The Bulldogs shot 40 percent from the field and 25 percent from behind the arc, 10 percentage points worse than their season average. If you had bet Syracuse fans that Butler would make one of every four 3-pointers it shot over that Orange zone, would score 63 points, and would win ... well, I'm betting Syracuse fans take that bet.
Masochist Syracuse partisans -- and guard
Andy Rautins
-- will especially obsess over the final five minutes of the game, when Syracuse had built a four-point lead and looked primed to finally assert its superiority. Then Rautins turned the ball over,
Ronald Nored
hit a 3 to cut the lead to one,
Matt Howard
scored inside, Rautins turned the ball over again,
Willie Veasley
hit a 3, and then bam: 58-54 Butler, just like that. Butler extended its lead to 61-54, and Syracuse never got close enough to pull even again.
It was a brilliant upset, not only because Butler looked the better team for much of the night -- credit Butler's defense, which was ferocious -- but because the Bulldogs flipped the script when it mattered most. They didn't cede to the athletic team running at them on every possession. They didn't shake their heads at what looked to be a focused Syracuse team closing the door down the stretch. They regrouped, made two huge shots and closed out a win that was rightfully theirs. You had to have seen the game to believe it -- and also to realize how unlikely it all seemed.
Tonight's other early game pitted one of the hottest teams in the country, Washington, against a West Virginia team reeling from the loss of its starting point guard and a not particularly pretty performance in a win over Missouri in the second round. West Virginia was still the favored team -- too much talent, too much height -- but the consensus had shifted. Washington could win this thing. West Virginia is vulnerable.
That consensus wasn't anywhere near as codified as Syracuse-over-Butler, but it existed. West Virginia proved it wrong.
Without
Darryl Bryant
, the Mountaineers weren't exactly careful with the ball -- they committed 23 turnovers and looked truly sloppy doing so -- but what West Virginia lacked in care it more than made up for with a smothering 1-3-1 zone defense and a typically prodigious number of offensive rebounds (18, to be exact). Washington was more than happy to help the cause, giving the ball away 22 times; it's an obvious point, but committing 23 turnovers isn't that big of a deal when your opponent gives all but one of them right back.
That said, this turnover thing is a concern for the Mountaineers going forward. West Virginia has won this year thanks to offensive rebounding and low turnover counts. If this is the way WVU will take care of the ball without Truck Bryant, well, that's a problem. Rather than a trend, maybe it was merely a symptom of an intentionally ugly, grind-it-out game with a pressing, harassing team. West Virginia, which will likely play Kentucky in the Elite Eight, won't have time to find out.
The real story from tonight's first session wasn't that West Virginia won ugly, though. It was that Butler won at all. It's official: Doubt Butler -- or any other supposed underdog in this tournament -- at your own peril. We ought to learn our lesson.