GatorNation: Muschamp on signing day
February, 6, 2013
2/06/13
5:30
PM ET
By
RecruitingNation
| ESPN.com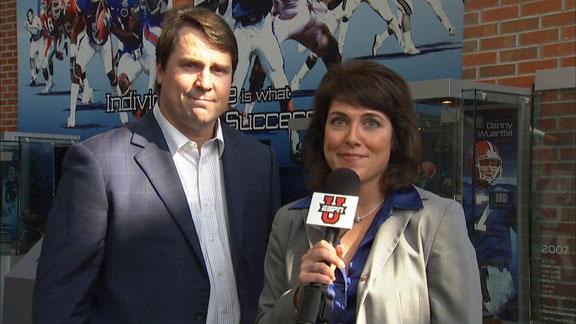 Cara Capuano interviews Florida coach Will Muschamp about the Gators' recruiting class. Muschamp says he is relieved the process is coming to a close, but he won't know until later in the year which players will be able to contribute as freshmen.
Improved UF offense expected vs. Idaho
Booger McFarland and Greg McElroy previewed Florida's offense going into season opener against Idaho.
Improved UF offense expected vs. Idaho
VIDEO PLAYLIST
FLORIDA FB RECRUITING SCORECARD
onlygators

OnlyGators.com


That's not gonna be good for business. RT @DanielM0828: South side of the field is getting flooded. #Gators http://t.co/75TIgUWk95
less than a minute ago

GatorZoneScott

Scott Carter


Thanks for all the questions, but still no word on how late they would start game, or if cancelled, if it could be rescheduled.
2 minutes ago

GatorZoneScott

Scott Carter


If you're watching the Auburn-Arkansas game on TV, rain is coming down here harder right now.
4 minutes ago

RobbieAndreu

Robbie Andreu


Earliest possible start time is now 9:27.
6 minutes ago

APMarkLong

Mark Long


Latest from Florida Field: Now, the earliest possible start time for Idaho-Florida game is 9:27 p.m.
9 minutes ago

GatorZoneScott

Scott Carter


Based on latest lightning strike, earliest possible start time now is 9:27 p.m. #Gators
10 minutes ago

GatorZoneNews

Florida Gators


Another strike at 8:37p. Game delayed until 9:27p. #UFvsIDA
10 minutes ago

GatorZoneScott

Scott Carter


I take back those tweets about rain letting up. Coming down hard again.
15 minutes ago

GatorZoneScott

Scott Carter


No clue right now...RT @Trivers22: @GatorZoneScott so would they play tomorrow if it get canceled?
16 minutes ago

GatorZoneScott

Scott Carter


It has, but perhaps not to point you would want to sit in it. RT @mrgator189: @GatorZoneScott we are in ODome, has rain let up?
21 minutes ago

APMarkLong

Mark Long


Best they've looked in months RT @ByTimReynolds: Congrats to the Gators on not giving up a point tonight.
23 minutes ago

GatorZoneScott

Scott Carter


A ton of questions about latest possible start time. No answer to that at this point. Not there yet.
25 minutes ago

samgenereux1

sam


This little man doesn't like the rain delay!!! @GatorZoneNews http://t.co/GuGUXuY9J0
27 minutes ago

GatorZoneScott

Scott Carter


#Gators S&C coach Jeff Dillman just came out to take a walk to midfield to check footing, Rain has at least let up.
28 minutes ago

kristenjean101

Kristen Bowen


In all kinds of weather🐊💙🔶😂 http://t.co/ugTs2Gx2MB
28 minutes ago

GatorZoneScott

Scott Carter


Most recent update has game starting shortly after 9 p.m. Probably will be later with way radar looks.
29 minutes ago

JeffBarlisESPN

Jeff Barlis


Another forecast says only 20 more minutes of lightning activity, so who knows? RT @theebigbossSS please tell me you're kidding
29 minutes ago

APMarkLong

Mark Long


Earliest Idaho-Florida game could start now is 9:04 p.m., but there's more rain and lightning on the way folks
29 minutes ago

UFPublicSafety

UF Public Safety


Additional Gator aider buses are about 30 minutes out to help assist people seeking trasportation
29 minutes ago

APMarkLong

Mark Long


Another ? we joked about. Guessing so RT @DerekBrian27: will the suspensions carry over if canceled? #Gators
31 minutes ago

GatorZoneNews

Florida Gators


Another strike at 8:13p. New estimated start time is 9:03p. #UFvsIDA
31 minutes ago

JeffBarlisESPN

Jeff Barlis


Hate to say this, but a check of the future radar seems to show storm cells in the area until about 10:15 p.m.
32 minutes ago

APMarkLong

Mark Long


Good question. We asked that earlier. No idea RT @brad_slagle: does Florida still have to pay the $975k if it is canceled and not played?
33 minutes ago

onlygators

OnlyGators.com


Not necessarily, no. RT @3ricaNicole3: @onlygators will they play this game no matter how late the start time?
38 minutes ago

GatorZoneScott

Scott Carter


Natural grass RT @Indy_Gator: @GatorZoneScott is the field turf or artificial
39 minutes ago

GatorZoneNews

Florida Gators


At least we got a few #GatorWalk & pregame photos before the storm started. #UFvsIDA. http://t.co/Wjz7l0uCCu http://t.co/TVLMQih5QX
40 minutes ago

APMarkLong

Mark Long


Starting to look shaky for sure RT @pat_dooley: There's a real possibility this game won't be played tonight.
40 minutes ago

APMarkLong

Mark Long


Doubt Idaho would come back RT @Morgan_Moriarty: Rescheduling. Both teams have bye weeks Oct. 25th.
40 minutes ago

JeffBarlisESPN

Jeff Barlis


Seriously, there is no way Florida can show off its shiny new offense when the field is underwater.
41 minutes ago

GatorZoneScott

Scott Carter


Some REO Speedwagon while we wait — Ridin' The Storm Out: http://t.co/MFXE2uEmjx
42 minutes ago

JeffBarlisESPN

Jeff Barlis


THIS IS WHAT GOD THINKS OF THE NO-HUDDLE SPREAD OFFENSE!
43 minutes ago

onlygators

OnlyGators.com


Florida-Idaho is now looking like it will definitely be a post-9 p.m. start. Will update again when it's about 30 mins away.
43 minutes ago

JeffBarlisESPN

Jeff Barlis


Hard to believe Todd Gurley was once something of an afterthought in recruiting. No. 22-ranked athlete in 2012 class: http://t.co/BYFmGRc5QO
44 minutes ago

GatorZoneNews

Florida Gators


Latest lightning strike: 8:03p. Est start time is now 8:53p. #UFvsIDA
46 minutes ago

APMarkLong

Mark Long


Just a half, though RT @tonyagolini: @Goldkamp247 @APMarkLong She's suspended for EMU.
46 minutes ago

APMarkLong

Mark Long


@Goldkamp247 baseball players do -- all the time!
46 minutes ago

onlygators

OnlyGators.com


The Swamp. Wet. (via @tankmurdock) http://t.co/0kOS2OVUU7
46 minutes ago

GatorZoneScott

Scott Carter


If this keeps up, a world record for weather tweets from a single sporting event might be set tonight at Swamp. #Gators
46 minutes ago

APMarkLong

Mark Long


@Goldkamp247 stupid protocol
47 minutes ago

APMarkLong

Mark Long


Did police really have to handcuff that girl who ran onto the field during this weather delay???? Ridiculous #Gators
48 minutes ago

ZachAbolverdi

Zach Abolverdi


Pouring in The Swamp now. #Gators https://t.co/kxLsYqOGX1
48 minutes ago

APMarkLong

Mark Long


If the Gators really want a fan initiative, they'd send Chris Leak & Mike Pete out to do some on-field slip & slide
50 minutes ago

GatorZoneFB

GatorZone Football


Really admire the #Gator fans cheering through the rain. Really coming down now. https://t.co/ehmmLh3GrQ
50 minutes ago

JeffBarlisESPN

Jeff Barlis


I'm just going to assume this thunderstorm is the death rattle of the #Gators' 2013 season.
51 minutes ago

GatorZoneScott

Scott Carter


One those classic Florida thunderstorms…Pouring rain but kudos to those still in stands…going to see if @GatorZoneChris will go talk to them
52 minutes ago

APMarkLong

Mark Long


Ok, NOW it's actually pouring in the Swamp. And this rivals 1995 Tennessee-Florida rain http://t.co/mnPZaxFyLW
52 minutes ago

JeffBarlisESPN

Jeff Barlis


Respect to the Florida fans dancing in this downpour.
53 minutes ago

GatorZoneScott

Scott Carter


The rain is here... http://t.co/51HwblcYps
about an hour ago

JeffBarlisESPN

Jeff Barlis


I'm on my fourth peanut butter cookie. RT @slynhiggins you might need carbs for energy to stay up for the game!
about an hour ago

APMarkLong

Mark Long


Earliest Idaho-Florida game can start now is 8:42 -- and that's if the lightning stops now, which it won't
about an hour ago

GatorZoneNews

Florida Gators


Another strike detected at 7:52p. 8:42p is the newest projected start time. #UFvsIDA
about an hour ago

GatorZoneScott

Scott Carter


It's coming…plenty of lightning around, one burst of rain so far...RT @njnovo: @GatorZoneScott doesn't look stormy
about an hour ago

GatorZoneFB

GatorZone Football


Latest strike hit at 7:44, so push back time to approximately 8:34. #UFvsIDA
about an hour ago

GatorZoneNews

Florida Gators


Want to get out of the rain? Head to the @OConnellCTR, gate one. Plenty of room! #UFvsIDA
about an hour ago

GatorZoneScott

Scott Carter


View of a stormy Swamp...#Gators http://t.co/tX6dZEXsDe
about an hour ago

JeffBarlisESPN

Jeff Barlis


Hope you don't have any late-night plans, #Gators fans. We're gonna be here a long time.
about an hour ago

WRUFWeather

WRUF Weather


Alert: Gator fans, please stay indoors and away from trees if you can. Lightning is increasing with this storm. #UF http://t.co/nNoOfntmer
about an hour ago

GatorZoneScott

Scott Carter


Latest update has last lightning strike pushing back kickoff to approximately 8:21 p.m. As they say, a fluid situation.
about an hour ago

GatorZoneFB

GatorZone Football


RT @GatorZoneNews: Another strike detected at 7:31p. Earliest start time is in 50 minutes. #UFvsIDA
about an hour ago

JeffBarlisESPN

Jeff Barlis


I'll be here all night folks. I can't go back to the food line. It's practically all carbs!
about an hour ago

GatorZoneNews

Florida Gators


Another strike detected at 7:31p. Earliest start time is in 50 minutes. #UFvsIDA
about an hour ago

JeffBarlisESPN

Jeff Barlis


-@derekwillis Hah, yeah, we're talkin about last year's #Gators during this rain delay. I mean, lightning couldn't strike twice, could it?
about an hour ago

UFPublicSafety

UF Public Safety


Lots of room to take shelter from the weather for fans in the Stephen C. O'Connell Center (Gate 1) #UFvsIDA http://t.co/2RCzZFxngS
about an hour ago

APMarkLong

Mark Long


kudos to UF students for showing up early & staying in rain & lightning. then again, they're supposed to be smart, right? #Gators
about an hour ago

GatorZoneScott

Scott Carter


Will check on that...RT @SWGator12: @GatorZoneScott - how late will they actually accept for a kickoff? 10:00Pm?
about an hour ago

GatorZoneNews

Florida Gators


Another strike was detected at 7:15p. That translates to a 30 minute delay from the time of strike. #UFvsIDA
about an hour ago

GatorZoneScott

Scott Carter


More lightning, plus thunder has pushed back start to at least 8:05…We're thunderstruck for real...youtube.com/watch?v=9SMBjV…
about an hour ago

onlygators

OnlyGators.com


RT @LandonWatnick: Tentative start time is 8:05 p.m. if this dies down. #Gators
about an hour ago

APMarkLong

Mark Long


Last weather delayed game at Swamp was vs Western Kentucky in 2007. Game delayed more than an hour & called with 8:23 left
about an hour ago

RobbieAndreu

Robbie Andreu


Potential new start time is 8:05 p.m.. That is being optimistic.
about an hour ago

GatorZoneScott

Scott Carter


More lightning, plus thunder has pushed over back to at least 8:05 start…We're thunderstruck for real...https://t.co/YVB4UpszFm
about an hour ago

GatorZoneFB

GatorZone Football


And another lightning strike at 7:15, pushing start to 8:05
about an hour ago

JeffBarlisESPN

Jeff Barlis


Student section appears to be cheering lightning and thunder now. #Gators
about an hour ago

GatorZoneNews

Florida Gators


This is what Gators do during a rain delay. #ItsGreatUF #UFvsIDA https://t.co/NUd8hphsET
about an hour ago

gatornaught88

Brandon Flynn


@GatorZoneScott Scott we have done it in Tampa http://t.co/4WYdnCtFMz
about an hour ago

APMarkLong

Mark Long


No amount of rain at The Swamp compares to the Tennessee-Florida game in 1995. Anyone else remember that one? Thx @Matt_HayesSN
about an hour ago

GatorZoneScott

Scott Carter


It's everywhere...RT @AuburnTigers: Stadium has about cleared out due to lightning. Looking east from SW ramps: http://t.co/CbUmP39CAE
about an hour ago

JeffBarlisESPN

Jeff Barlis


So, what do you guys want to do while the 2014 season is delayed by rain? What's that? You want to talk about last season some more?
about an hour ago

APMarkLong

Mark Long


It's officially raining (pouring) at Florida Field
about an hour ago

JeffBarlisESPN

Jeff Barlis


Here comes the rain ...
about an hour ago

APMarkLong

Mark Long


Gators evacuated football players about 30 minutes ago. They evacuated cheerleaders and band just now. #priorities
about an hour ago

GatorZoneNews

Florida Gators


Another lightning strike hit at 7:03pm. There will be a 30 minute delay of game + 10 minute pregame warmups + pregame activity. #UFvsIDA
about an hour ago

GatorZoneNews

Florida Gators


We're honored to receive the 2nd place @LSDirectorsCup. #ItsGreatUF http://t.co/JRidffqpv4
about an hour ago

GatorZoneFB

GatorZone Football


The latest lightning strike is now 7:03, which gives us an estimated start time of 7:43. #UFvsIDA
about an hour ago

JeffBarlisESPN

Jeff Barlis


Tonight? RT @ESPNU: Still to come tonight on @ESPNU: #IdahovsUF http://t.co/FLPlbcLyZz
about an hour ago

JeffBarlisESPN

Jeff Barlis


Fun follow this season for #Gators fans with a sense of humor — @Bryan_Holt, who recently retired from the media. #SmartGuy
about an hour ago

onlygators

OnlyGators.com


RT @WRUFWeather: Update: cell approaching #UF now should pass through by approx 7:50. Lightning possible until then. http://t.co/qZHaN1Hr8C
about an hour ago

JeffBarlisESPN

Jeff Barlis


Yep, I'd say Todd Gurley is a pretty strong candidate for a helmet sticker. Who else ya got?
about an hour ago

JeffBarlisESPN

Jeff Barlis


Hey #SEC fans, I'll be handing out helmet stickers for Week 1. Tweet me your nominees and why.
about an hour ago

APMarkLong

Mark Long


Todd Gurley on kickoffs is the dumbest and smartest thing Mark Richt has done this season
about an hour ago

JeffBarlisESPN

Jeff Barlis


Todd Gurley. That is all.
about an hour ago

GatorZoneScott

Scott Carter


For live updates during game, here is a running story from @GatorZoneChris: http://t.co/vm4WpsMTiE
about an hour ago

GatorZoneScott

Scott Carter


Due to more lightning, start time now pushed back to approximately 7:33.
about an hour ago

GatorZoneFB

GatorZone Football


There was another lightning strike at 6:43 pm. There will be a 30 min delay + 10 min for pregame warmups + time for pregame activities.
about 2 hours ago

JeffBarlisESPN

Jeff Barlis


Another lightning strike, another delay. #Gators #IDAHOvsUF
about 2 hours ago

APMarkLong

Mark Long


Just had another lightning strike within 8 miles at 6:43 p.m., so another delay for Idaho, Gators
about 2 hours ago

EmmittSmith22

Emmitt Smith


Let's go #Gators! http://t.co/NbfneH9mxI
about 2 hours ago

GatorZoneFB

GatorZone Football


Due to a lightning strike within 8 miles, there is a min. 50 minute delay (incl. warmups). If no more strikes, estimated start is 7:18.
about 2 hours ago

JeffBarlisESPN

Jeff Barlis


Estimated start time for #IDAHOvsUF pushed back to 7:18 pm due to lightning strike in the area. Any more lightning will mean more delays.
about 2 hours ago

APMarkLong

Mark Long


Idaho-Florida game delayed at least until 7:18 pm, and that's if no more lightning within 8-mile radius
about 2 hours ago
SEC SCOREBOARD
Saturday, 8/30
Thursday, 8/28
Sunday, 8/31
BLOG ARCHIVE:
CATEGORIES: