Video: Les Miles at media day
July, 19, 2013
Jul 19
10:00
AM ET
By
RecruitingNation
| ESPN.com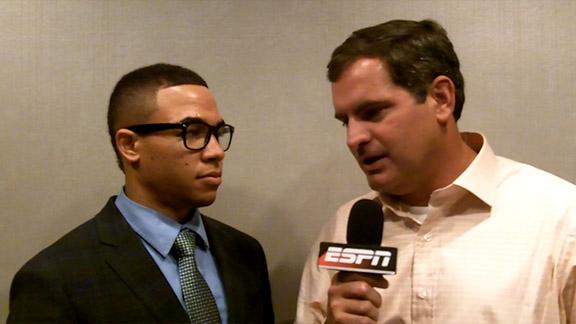 Edward Aschoff and Mark Schlabach report from SEC media days, where LSU coach Les Miles continued to share his argument against the 6-1-1 scheduling format.
LSU Bulks Up 2014 Recruiting Class
LSU added No. 3 ILB Clifton Garrett this week and now boasts the No. 11 class. Garrett would be the Tigers' first inside linebacker signee since the 2012 class.
LSU Bulks Up 2014 Recruiting Class
VIDEO PLAYLIST
LSU FB RECRUITING SCORECARD
lsubuzztap

LSU Tigers Buzz


The Times-Picayune >> Three LSU players are unlikely to travel to the Outback Bowl http://t.co/RROpHwNkZB
2 minutes ago

lsubuzztap

LSU Tigers Buzz


The Times-Picayune >> LSU survives a late Texas Tech surge for a 71-69 win http://t.co/QEEinot2qb
2 minutes ago

lsubuzztap

LSU Tigers Buzz


LSU Tigers (Official Site) >> Men's Basketball Holds Off Texas Tech, 71-69 http://t.co/w7jhXSUl6d
6 minutes ago

lsubuzztap

LSU Tigers Buzz


LSU Tigers (Official Site) >> Gymnastics Wraps Up Fall with Intrasquad Meet http://t.co/2JAKnwcFhM
6 minutes ago

lsubuzztap

LSU Tigers Buzz


LSU Tigers (Official Site) >> Leong Leads Divers on Final Day at Alabama http://t.co/UxSkr1vP0C
6 minutes ago

lsubuzztap

LSU Tigers Buzz


LSU Tigers (Official Site) >> Bregman, Nola Named Preseason All-Americans http://t.co/Vz0eVtRim3
6 minutes ago

lsubuzztap

LSU Tigers Buzz


LSU Tigers (Official Site) >> Beckham Named a FWAA First-Team All-American http://t.co/icBDQCCw3P
6 minutes ago

LSUsports

LSUsports.net


Quick recap, stats, video from @LSUbasketball win at Texas Tech http://t.co/3UMdEogSsl
20 minutes ago

LSUsportsNEWS

LSUsports News Feed


Men's Basketball Holds Off Texas Tech, 71-69: LUBBOCK, Texas – Anthony Hickey poured in 11 of his team-leading... http://t.co/H8vZXdl0lJ
20 minutes ago

LSUsportsNEWS

LSUsports News Feed


Gymnastics Wraps Up Fall with Intrasquad Meet: BATON ROUGE – In front of a lively crowd of 1,200 fans inside t... http://t.co/3CSEg8xHUr
21 minutes ago

LSUsportsNEWS

LSUsports News Feed


Leong Leads Divers on Final Day at Alabama: TUSCALOOSA, Ala. -- On the last day at the Alabama Diving Invite, ... http://t.co/YL6W8Oj0rR
21 minutes ago

LSUsportsNEWS

LSUsports News Feed


Bregman, Nola Named Preseason All-Americans: BATON ROUGE, La. – LSU junior pitcher Aaron Nola and sophomore sh... http://t.co/ofSVVQCZhD
21 minutes ago

LSUsportsNEWS

LSUsports News Feed


Beckham Named a FWAA First-Team All-American: DALLAS – LSU wide receiver/return specialist Odell Beckham Jr. a... http://t.co/AEsGAgis2W
21 minutes ago

Sheadixon

Shea Dixon


RT @LSUCoachMiles: #Geaux Buga Nation !!!
29 minutes ago

LSUSportsNow

LSU Sports Now


Three LSU players won't travel to the Outback Bowl http://t.co/77UUXG1Nrj
30 minutes ago

LSUSportsNow

LSU Sports Now


LSU survives a late Texas Tech surge for a 71-69 win http://t.co/WT75CsDFCq
30 minutes ago

LSUSportsNow

LSU Sports Now


LSU's Aaron Nola and Alex Bregman are named preseason All-Americans http://t.co/HZhShmX0kP
30 minutes ago

LSUCoachMiles

Les Miles


#Geaux Buga Nation !!!
41 minutes ago

LSUsports

LSUsports.net


RT @LSUBasketball: Texas Tech misses a three-pointer at the buzzer, LSU hangs on and wins 71-69.
50 minutes ago

RandyRosetta

Randy Rosetta


FINAL SCORE: LSU 71, Texas Tech 69 http://t.co/DG2oQfuYGw
54 minutes ago

RandyRosetta

Randy Rosetta


#LSU survives, 71-69, as Turner's 3-pointer from the right corner clangs off the rim as time expires. Tigers grit it out, improve to 7-2.
54 minutes ago

RandyRosetta

Randy Rosetta


Equally bad possessions by both teams, and now #LSU-Texas Tech are down to 10.2 seconds to go, with the Tigers up 71-69.
about an hour ago

RandyRosetta

Randy Rosetta


#LSU 71, Texas Tech 69 | 1:19 2nd half http://t.co/FOuDyjvDQR
about an hour ago

LSUSportsNow

LSU Sports Now


Fansided Podcast: Heisman Fallout, Texas Candidates and Recruiting Updates http://t.co/SyLawf9ksq
about an hour ago

LSUSportsNow

LSU Sports Now


Football Writers Tab LSU's Beckham 1st-Team All-American http://t.co/NWHqY0QfRJ
about an hour ago

RandyRosetta

Randy Rosetta


#LSU 66, Texas Tech 61 | 4:39 2nd half http://t.co/uPsh9bCyaZ
about an hour ago

RandyRosetta

Randy Rosetta


#LSU 63, Texas Tech 57 | 7:43 2nd half http://t.co/7Ms1IVnRDq
about an hour ago

lsubuzztap

LSU Tigers Buzz


The Times-Picayune >> LSU's Aaron Nola and Alex Bregman are named preseason All-Americans http://t.co/Er2YEU53F5
about an hour ago

RandyRosetta

Randy Rosetta


There goes Jarell Martin to the bench with his 4th foul -- on the offensive end. Both of #LSU's star rookies will cool their heels.
about an hour ago

ScarboroughMike

Mike Scarborough


Lots of Hootie Jones discussion in the TigerBait #LSU recruiting chat tonight. Plus a new probable's list shared.... http://t.co/PbCfdY8kJM
about an hour ago

RandyRosetta

Randy Rosetta


#LSU 56, Texas Tech 51 | 11:41 2nd half http://t.co/dzsois9jGu
about an hour ago

RandyRosetta

Randy Rosetta


Now Jordan Mickey will get a lot more rest as he gets No. 4 with 12:37 to go. #LSU PG Anthony Hickey got his 3rd moments ago as well.
about an hour ago

RandyRosetta

Randy Rosetta


#LSU 51, Texas Tech 47 | 15:32 2nd half http://t.co/l5F31TC4y3
about an hour ago

RandyRosetta

Randy Rosetta


#LSU freshman Jordan Mickey gets third foul 17 seconds into the second half.
about an hour ago

RandyRosetta

Randy Rosetta


#LSU freshman gets third foul 17 seconds into the second half.
about an hour ago

RandyRosetta

Randy Rosetta


#LSU coach Johnny Jones sends his five starters back out to start the second half. Everybody but Andre... http://t.co/3A1dkKF5O7
about an hour ago

RandyRosetta

Randy Rosetta


#LSU-Texas Tech halftime stats http://t.co/bJomu9pWRi
about an hour ago

RandyRosetta

Randy Rosetta


HALFTIME: #LSU 44, Texas Tech 39 http://t.co/BB8HWMk2fA
about 2 hours ago

RandyRosetta

Randy Rosetta


So the toteboard now reads 7 #LSU players with 2 fouls, including every starter but Andre Stringer.
about 2 hours ago

RandyRosetta

Randy Rosetta


#LSU 37, Texas Tech 33 | 3:19 1st half http://t.co/rkbiNChxgg
about 2 hours ago

LSUSportsNow

LSU Sports Now


Odell Beckham, Jr. Named to the FWAA All-American First-Team http://t.co/XeqWqgzkt6
about 2 hours ago

LSUSportsNow

LSU Sports Now


Forbes: LSU Tigers Football as 4th Most Valuable College Football Team http://t.co/bR4TlI8zvm
about 2 hours ago

LSUSportsNow

LSU Sports Now


LSU at Texas Tech | In-game updates http://t.co/Ss3rwx84iT
about 2 hours ago

RandyRosetta

Randy Rosetta


Now Anthony Hickey has 4 fouls for #LSU. Four starters and Morgan on the bench. Tigers need to adjust and quickly.
about 2 hours ago

RandyRosetta

Randy Rosetta


Well, add JOB to the list of #LSU players with 2 fouls. Tigers just trying to survive until halftime now.
about 2 hours ago

RandyRosetta

Randy Rosetta


#LSU 29, Texas Tech 21 | 7:56 1st half http://t.co/lqjQcvYC5K
about 2 hours ago

RandyRosetta

Randy Rosetta


Foils starting to pester #LSU. Mickey, Martin and Morgan all have 2 with 8:43 to go in the 1st half.
about 2 hours ago

RandyRosetta

Randy Rosetta


#LSU 21, Texas Tech 14 | 11:57 1st half http://t.co/7J3TJPRpD3
about 2 hours ago

RandyRosetta

Randy Rosetta


#LSU's Jordan Mickey gets tagged with his second foul @ the 13:42 mark. John Odo in to replace him.
about 2 hours ago

LSUSportsNow

LSU Sports Now


LSU's Hill has curfew extended to 11 p.m. http://t.co/cq0isyhGMU
about 2 hours ago

RandyRosetta

Randy Rosetta


#LSU 13, Texas Tech 7 | 15:40 1st half http://t.co/5F0SlXcNWq
about 2 hours ago

RandyRosetta

Randy Rosetta


#LSU clad in purple and Texas Tech in the home whites. http://t.co/IG184XSUaB
about 2 hours ago

RandyRosetta

Randy Rosetta


#LSU starters vs. Texas Tech http://t.co/YTZ3gv3vyp
about 2 hours ago

lsubuzztap

LSU Tigers Buzz


The Shreveport Times >> LSU's Hill has curfew extended to 11 p.m. http://t.co/RTasaczlMs
about 2 hours ago

lsubuzztap

LSU Tigers Buzz


The Times-Picayune >> LSU at Texas Tech | In-game updates http://t.co/F3HUpN7RXv
about 3 hours ago

ScarboroughMike

Mike Scarborough


TigerBait's #LSU recruiting and football chat is starts at 8 p.m. We answer your questions for a solid hour. $... http://t.co/AoehHOuHnD
about 3 hours ago

LSUBeatTweet

Glenn Guilbeau


JEREMY HILL GETS CURFEW EXTENDED TO 11 p.m. http://t.co/jtAg4OsEfb
about 3 hours ago

RandyRosetta

Randy Rosetta


#LSU at Texas Tech | In-game updates http://t.co/sLVXrNfCwg
about 3 hours ago

ScarboroughMike

Mike Scarborough


BEST DEAL OUT: Enter promo code Holiday99 when buying an Annual TigerBait subscription & get $99 for #LSU gear!... http://t.co/8Za0bXg9ok
about 3 hours ago

LSUBeatTweet

Glenn Guilbeau


TIGERS COULD GET ONE BACK FROM BAMA: Neville High (Monroe) S Hootie Jones de-commits from Tide. http://t.co/vdCxD1OVal
about 3 hours ago

RandyRosetta

Randy Rosetta


#LSU-Texas Tech in-game updates http://t.co/TmlJ7Xj53s
about 3 hours ago

LSUSportsNow

LSU Sports Now


LSU's Odell Beckham Jr. picks up another All America honor http://t.co/arx2MUMKVV
about 3 hours ago

LSUSportsNow

LSU Sports Now


LSU commitment Ed Paris named finalist for Lockheed Martin Defensive Back of the Year Award http://t.co/8PxXU5vLeS
about 3 hours ago

LSUSportsNow

LSU Sports Now


LSU the nation's fourth most valuable college football program, Forbes Magazine says http://t.co/dbHOaXNq08
about 3 hours ago

LSUSportsNow

LSU Sports Now


Travin Dural said playing behind Odell Beckham Jr. and Jarvis Landry was a valuable learning experience: Video http://t.co/GVGFYwsXjc
about 3 hours ago

lsubuzztap

LSU Tigers Buzz


The Times-Picayune >> LSU's Odell Beckham Jr. picks up another All America honor http://t.co/YDgkIctJi2
about 3 hours ago

lsubuzztap

LSU Tigers Buzz


The Times-Picayune >> LSU commitment Ed Paris named finalist for Lockheed Martin Defensive Back of the Year Award http://t.co/ilQsH5uQ6C
about 3 hours ago

LSUSportsNow

LSU Sports Now


Football Wreiters Tab LSU's Beckham 1st-Team All-American http://t.co/b8e7ZH7w8Q
about 4 hours ago

LSUSportsNow

LSU Sports Now


Basketball Makes First Trip to Texas Tech in 53 Years http://t.co/MlhjYlkCau
about 4 hours ago

LSUSportsNow

LSU Sports Now


LSU Football Fourth in Forbes 'Most Valuable' List http://t.co/9iRWbFjOK7
about 4 hours ago

lsubuzztap

LSU Tigers Buzz


The Shreveport Times >> Forbes ranks LSU No. 4 most valuable football program http://t.co/fkOu0PfLjQ
about 4 hours ago

LSUSportsNow

LSU Sports Now


Forbes ranks LSU No. 4 most valuable football program http://t.co/X9rxpi0WdY
about 5 hours ago

LSUSportsNow

LSU Sports Now


LSU Target, 4-Star Safety Laurence "Hootie" Jones Decommits from Alabama http://t.co/bc1MYAKxoD
about 5 hours ago

LSUSportsNow

LSU Sports Now


Source: Eugene leaves team (judge reviews Hill's probation) http://t.co/RaSpdD4y4q
about 5 hours ago

LSUSportsNow

LSU Sports Now


Leonard Fournette Gives The Prep Player of the Year Award to His Rival http://t.co/NoclQsCPhi
about 5 hours ago

ScarboroughMike

Mike Scarborough


#LSU's Odell Beckham Jr. named to 70th Annual Football Writers Association of America's first team All-American team as a kick returner.
about 5 hours ago

LSUtigers

LSU Tigers Football


Four-star DB Hootie Jones steps back from Bama http://t.co/DKco9Mz57C - @SECfootball @SDS
about 5 hours ago

lsubuzztap

LSU Tigers Buzz


And the Valley Shook >> Hootie Jones De-Commits From Alabama http://t.co/muK7GXk5Jy
about 5 hours ago

LSUfball

LSU Football


.@Forbes voted #LSU as the fourth most valuable college football team with a worth of $105 million. http://t.co/oOzhs0xsJp
about 5 hours ago

LSUSportsNow

LSU Sports Now


LSU recruiting and football chat http://t.co/JKtKEOv7Vi
about 5 hours ago

lsubuzztap

LSU Tigers Buzz


The Times-Picayune >> LSU the nation's fourth most valuable college football program, Forbes Magazine says http://t.co/VuduLRx2Ym
about 5 hours ago

lsubuzztap

LSU Tigers Buzz


The Times-Picayune >> Travin Dural said playing behind Odell Beckham Jr. and Jarvis Landry was a valuable http://t.co/8ZZcnKN3Bs
about 5 hours ago

lsubuzztap

LSU Tigers Buzz


The Times-Picayune >> LSU wide receiver Travin Dural hoping to make more big plays | Notebook http://t.co/lYalogsOft
about 5 hours ago

lsubuzztap

LSU Tigers Buzz


LSU Tigers (Official Site) >> LSU Football Fourth in Forbes 'Most Valuable' List http://t.co/OKGMl295kP
about 5 hours ago

LSUSportsNow

LSU Sports Now


LSU wide receiver Travin Dural hoping to make more big plays | Notebook http://t.co/W69OI6owZV
about 6 hours ago

LSUSportsNow

LSU Sports Now


Hootie Jones De-Commits From Alabama http://t.co/FYdERNCQyp
about 6 hours ago

LSUSportsNow

LSU Sports Now


LSU Mailbag: LSU basketball outlook, football coaching considerations and more http://t.co/e447ohdvhj
about 6 hours ago

LSUSportsNow

LSU Sports Now


Hootie drops his pledge http://t.co/ZidennXYtl
about 6 hours ago

LSUsportsNEWS

LSUsports News Feed


LSU Football Fourth in Forbes 'Most Valuable' List: BATON ROUGE – Forbes Magazine has ranked the LSU football ... http://t.co/ZzMjuieH2B
about 6 hours ago

RandyRosetta

Randy Rosetta


RT @RachelW504: .@RandyRosetta & I tackle reader questions on this #LSU mailbag;check it out & send questions to lsumailbag@nola.com: http:…
about 6 hours ago

LSUBonnette

Michael Bonnette


Here's more on @LSUfball ranking No. 4 in Forbes most valuable football teams list for 2013 http://t.co/IOx6Wdv7fD
about 6 hours ago

lsubuzztap

LSU Tigers Buzz


The Times-Picayune >> LSU Mailbag: LSU basketball outlook, football coaching considerations and more http://t.co/FM8YQ2F5qR
about 6 hours ago

lsubuzztap

LSU Tigers Buzz


The Times-Picayune >> Neville safety Laurence 'Hootie' Jones decommits from Alabama via Twitter http://t.co/ZSzRhlde38
about 6 hours ago

lsubuzztap

LSU Tigers Buzz


Tigers Sports Digest (Scout) >> Hootie drops his pledge http://t.co/3a1lLNwe7r
about 7 hours ago

LSUSportsNow

LSU Sports Now


Hootie Jones de-commits from Alabama http://t.co/v1BzLHJ3Tg
about 7 hours ago

LSUSportsNow

LSU Sports Now


Neville safety Laurence 'Hootie' Jones decommits from Alabama via Twitter http://t.co/sLdFs8QJOX
about 7 hours ago

LSUmiketiger

Mike the Tiger


RT @chfshirleychung: @CarrieMashaney @StephanieCmar @nina_compton @BravoTopChef are we ready to go back to college again?#dormlife visit @L…
about 7 hours ago

ESPNLSU

ESPN LSU


Laurence Jones decommits from Alabama http://t.co/XxLb089Yi0
about 7 hours ago

dandydonlsu

Dandy Don LSU Sports


Hootie Jones has decommitted from Alabama.
about 7 hours ago

ScarboroughMike

Mike Scarborough


#Rivals100 safety Laurence "Hootie" Jones of Monroe-Neville tweeted that he has decommitted from Alabama citing,... http://t.co/qvySBrOVo9
about 8 hours ago
SEC SCOREBOARD
Saturday, 12/21
Monday, 12/23
Tuesday, 12/24
Thursday, 12/26
Friday, 12/27
Saturday, 12/28
Monday, 12/30
Tuesday, 12/31
Wednesday, 1/1
Thursday, 1/2
Friday, 1/3
Saturday, 1/4
Sunday, 1/5
Monday, 1/6
BLOG ARCHIVE:
CATEGORIES: