Watch: Craziest recruiting offers
January, 25, 2013
1/25/13
5:42
PM ET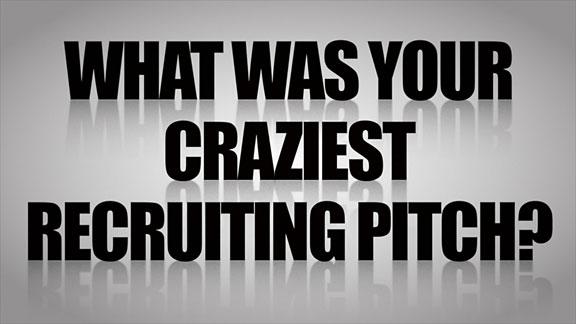 We asked a host of top recruits in the country -- including
Christian Hackenberg
-- what some of the craziest offers they received during their recruitments were. The answers ranged from cars, to twins, and everything in between.
Penn State/Big Ten reporter
Covers Penn State and Big Ten.
Joined ESPN in 2012.
Graduate of Penn State University and Columbia University.
Penn State Clips Boston College In OT
Christian Hackenberg connected with Kyle Carter for a 10-yard touchdown in overtime to lift Penn State to a 31-30 win against Boston College in the New Era Pinstripe Bowl.
Penn State Clips Boston College In OT
VIDEO PLAYLIST
Penn State Clips Boston College In OT

Penn State Clips Boston College In OT

Christian Hackenberg connected with Kyle Carter for a 10-yard touchdown in overtime to lift Penn State to a 31-30 win against Boston College in the New Era Pinstripe Bowl.

Franklin Reflects On Team's OT Bowl Win

Franklin Reflects On Team's OT Bowl Win

Penn State head coach James Franklin talked about his team's effort after the Nittany Lions beat the Boston College Eagles 31-30 in overtime.

4Q PSU Sam Ficken 45 Yd Field Goal

4Q PSU Sam Ficken 45 Yd Field Goal
PSU FB RECRUITING SCORECARD
GregPickel

Greg Pickel


James Franklin confirms my suspicion: Jordan Lucas sat out the first quarter for a violation of team rules. Was late for curfew.
7 minutes ago

TLdlevarse

Derek Levarse


Franklin on Eugene Lewis: "We think he's got a lot of ability. ... I'm excited b/c there's a lot of room for growth in his game."
8 minutes ago

TLdlevarse

Derek Levarse


Franklin clarifies that Hamilton fought through hamstring injury over the last few games of the season.
9 minutes ago

ESPNJoshMoyer

Josh Moyer


Franklin said Jordan Lucas sat out the first quarter because he broke team rules. Missed curfew; JF said he was visiting family.
9 minutes ago

Ben_Jones88

Ben Jones


Jordan Lucas didn't play in the first quarter because he missed curfew visiting with his family this week.
9 minutes ago

TLdlevarse

Derek Levarse


Franklin on Lucas: "It wasn't a big deal. he showed up a few minutes late for curfew. He was visiting family in New York."
9 minutes ago

BSDtweet

Black Shoe Diaries


Lucas sat out the first quarter for a violation of team rules. He was a few minutes late for a curfew after visiting his family.
9 minutes ago

TLdlevarse

Derek Levarse


Franklin said Lucas missed the first quarter for violation of team rules.
10 minutes ago

TLdlevarse

Derek Levarse


Franklin on PSU: "We've been fractured in the last 3 years. But experiences like this have restored the hope. Everyone has a part in that."
10 minutes ago

ESPNJoshMoyer

Josh Moyer


JF: "I think we've been fractured. We've been fractured for the past 3 years. But experiences and games like this have restored the hope."
10 minutes ago

BSDtweet

Black Shoe Diaries


"We've been fractured in the past three years, but games like this restore the hope... The sky is very high for Penn State."
10 minutes ago

Michael_Mauti

Michael Mauti


FICKEN.. Wow. Great day for the seniors at PSU. What a way to end it!! #WEARE
11 minutes ago

MathMeetsFball

John Urschel


Congrats to my boys at PSU! So proud!
12 minutes ago

Tali43

Adam Taliaferro


To all the Penn State seniors that stuck with PSU through the tough times-much respect and appreciation 4 all of you! http://t.co/20p4d99CiD
12 minutes ago

ESPNJoshMoyer

Josh Moyer


Franklin says that DaeSean Hamilton had hamstring issues the past few weeks, which allowed Godwin to get more time. Big game for Godwin.
13 minutes ago

BSDtweet

Black Shoe Diaries


"DaeSean Hamilton has had a pulled hamstring for the last three or four weeks."
13 minutes ago

Ben_Jones88

Ben Jones


Franklin says Hamilton has had a pulled hamstring for the past few weeks.
13 minutes ago

TLdlevarse

Derek Levarse


Franklin says DaeSean Hamilton played with a pulled hamstring, which he suffered with for the last 4-5 weeks.
13 minutes ago

JeffRice247

Jeff Rice


JF: "Ficken has probably been our best offensive weapon all year long. Sam has been as consistent as any player in our program."
14 minutes ago

BSDtweet

Black Shoe Diaries


James Franklin just gave an amazingly dismissive response to a "Yankees Magazine" writer who asked if this was a walk-off.
14 minutes ago

ESPNJoshMoyer

Josh Moyer


Franklin on Sam Ficken: "He's probably been our best offensive weapon all year long. He really has."
16 minutes ago

TLdlevarse

Derek Levarse


Franklin on Ficken: "He's been our best offensive weapon all year long. ... Sam has been as consistent as any player in our program."
16 minutes ago

BSDtweet

Black Shoe Diaries


CJF credits BC's motion on offense as throwing the run D off guard.
16 minutes ago

TLdlevarse

Derek Levarse


Franklin on his D: "Early on they had us thinking and not playing as fast. ... We didn't need to make elaborate calls. Let's let them play."
17 minutes ago

ESPNJoshMoyer

Josh Moyer


James Franklin: "I love Christian Hackenberg. I wouldn't trade him for anybody. ... I will fight and defend him to the end."
17 minutes ago

audsnyder4

Audrey Snyder


"I love Christian Hackenberg," Franklin said. "I wouldn't trade him for anybody. I think he has a bright future."
18 minutes ago

Ben_Jones88

Ben Jones


"I will defend him till the end" James Franklin on Hackenberg
18 minutes ago

TLdlevarse

Derek Levarse


Franklin on Hack: "I love him and I wouldn't trade him for anybody. I will fight and defend him to the end."
18 minutes ago

GoPSUJeff

Jeff Nelson


James Franklin on Kyle Carter OT touchdown catch: "That was a huge catch and he came through for us."
18 minutes ago

TLdlevarse

Derek Levarse


Franklin on Carter: "Really happy for him, happy for our whole team. I wouldn't trade that catch for 20 other catches in the season."
20 minutes ago

Yankees

New York Yankees


Sam Ficken, who used Derek Jeter's locker in the clubhouse, delivers the #walkoff in overtime. #PSUvsBC http://t.co/Zs3JbjiA4d
20 minutes ago

C_AdamskiTrib

Chris Adamski


James Franklin: "We have a way of starting the season in a dramatic fashion and ending the season in a dramatic fashion."
20 minutes ago

BSDtweet

Black Shoe Diaries


"The future is very, very bright here." Says every win "until eternity" is on the backs of the seniors.
21 minutes ago

ESPNJoshMoyer

Josh Moyer


Franklin says they started the season in dramatic fashion - and ended the same way. From Dublin to NY. "Who would've drawn it up like that?"
21 minutes ago

BSDtweet

Black Shoe Diaries


Franklin: "It wasn't always easy, but we persevered and we stuck together and that's who we are." http://t.co/CgX4k4ArYr
21 minutes ago

JeffRice247

Jeff Rice


Franklin: "We have a way of starting a season and ending a season in dramatic fashion."
21 minutes ago

PennStateFball

Penn State Football


Poetry. @MLB: Sam Ficken uses Derek Jeter's locker, delivers #walkoff in @PinstripeBowl. Of course he did. http://t.co/gy9WDEiewd
23 minutes ago

Lions247

Lions247


#PennState claws back for overtime win in Pinstripe Bowl http://t.co/IGqSuJqSyN via @247Sports
23 minutes ago

psufootball

Penn State football


Grade the Lions: Penn State vs. Boston College in the Pinstripe Bowl http://t.co/x6fX0F6YAn
26 minutes ago

SPianovich

Stephen Pianovich


Years were continuously up-and-down, but Penn State ended every sanctions era season with an uplifting victory.
27 minutes ago

NamelessRanger

#1 terry stotts fan


Now it's officially basketball season FYI
29 minutes ago

PennStateFball

Penn State Football


#WeAre @PinstripeBowl Champions! http://t.co/WMSraB3MLb
30 minutes ago

ALynch_22

Akeel Lynch


Pinstripe Bowl Champions!! "You'll never play in post season game if you stay at PennState." they said... Great to be back.
31 minutes ago

BSDtweet

Black Shoe Diaries


Hey guys, guys:Remember Akeel Lynch's run?That was so awesome
31 minutes ago

PennStateFball

Penn State Football


#WeAre @PinstripeBowl Champions! http://t.co/WMSraB3MLb
32 minutes ago

_goldenboy6

Malik Golden


Right back like we never left #NewEra
32 minutes ago

BSDtweet

Black Shoe Diaries


Way to battle, Hack. RT @PinstripeBowl: The MVP is @chackenberg1
34 minutes ago

ESPNJoshMoyer

Josh Moyer


What a crazy game ... RT @ESPN_BigTen: Instant analysis: Penn State 31, Boston College 30 (OT) http://t.co/g0dYbr42na
37 minutes ago

ScottPaterno

Scott Paterno


Pitt fans trolling is like Notth Korea threatening America.
38 minutes ago

TLdlevarse

Derek Levarse


Addazio rattles off four other near-misses in games before this one: "Those games are all right there. And we've gotta take them."
38 minutes ago

ESPNJoshMoyer

Josh Moyer


Addazio is talking about the rebuilding process and how the OL needs to be overhauled.PSU might know a thing or two about that ...
39 minutes ago

BSDtweet

Black Shoe Diaries


Addazio: "We just lost a game we didn't need to lose." He's fired up. Were I a BC fan, I'd be thrilled to have this dude as my coach.
40 minutes ago

OnwardState

Onward State


Sam "Mr. Automatic" Ficken leaves the field for the final time in a Penn State jersey. Thanks for everything, Sam. http://t.co/3164ZWHWSa
41 minutes ago

CollegeGameDay

College GameDay


#PinstripeBowl was a crazy one as Penn State beat Boston College 31-30 in OTThis TD clinched the Nittany Lions win http://t.co/vR06Y1MwnI
41 minutes ago

TLdlevarse

Derek Levarse


Addazio: "We gave away a lot of plays. Picks we gave away. We didn't make enough plays as a whole. Had a chance to close the game out."
42 minutes ago

anthonyfera58

Anthony Fera


Happy for my boy @sficken1 for shutting up everyone that hated on him a few years ago. Congrats to the PSU football team! #PinstripeBowl
42 minutes ago

ESPNJoshMoyer

Josh Moyer


Addazio: "Must've been a helluva game to watch."
43 minutes ago

TLdlevarse

Derek Levarse


Addazio: "We just lost a game we didn't need to lose."
43 minutes ago

Ben_Jones88

Ben Jones


The culture comment, for the record, was largely in the context of the seniors who opted to tough out the sanctions instead of leaving
44 minutes ago

TLdlevarse

Derek Levarse


Addazio: "We've got a team that battles. Great foundation. We've gotta learn to close out and finish games. That's the next step."
44 minutes ago

NotCarlotta

Cari @ BSD


Franklin, crying, to the fans left in the stadium: "You want to talk about culture? THIS is culture!"
44 minutes ago

ESPNJoshMoyer

Josh Moyer


Addazio: "We've got some issues we need to fix in the kicking game. Obviously that goes without saying."Says that's why he went a lot on 4th
44 minutes ago

GoPSUTony

Tony Mancuso


Sam Ficken ends his career in the most deserving way possible. What a @PinstripeBowl game in New York!! 31-30 Lions! http://t.co/wOTddcTzxL
45 minutes ago

TLdlevarse

Derek Levarse


Addazio said he kept going for it on fourth down during regulation because of his shaky kicking game.
45 minutes ago

GregPickel

Greg Pickel


"We started with those issues, we ended with those issues. It's my job to get it fixed," Steve Addazio on missed XP/kicking issues.
45 minutes ago

CoachFish_RipIt

Charlie Fisher


What a big time effort by @chackenberg1 to get it done. @KCarter_87 @sficken1 magic. Could not be happier for a team. Well deserved.
45 minutes ago

BSDtweet

Black Shoe Diaries


PINSTRIPE BOWL CELEBRATION THREAD http://t.co/I9QVtuLZYM
45 minutes ago

CoachFish_RipIt

Charlie Fisher


What a big time effort by @chackenberg1 to get it done. @KCarter_87 @sficken1 magic. Could not be happier for a team. Well deserved.
45 minutes ago

GoPSUTony

Tony Mancuso


Sam Ficken ends his career in the most deserving way possible. What a @PinstripeBowl game in New York!! 31-30 Lions! http://t.co/wOTddcTzxL
46 minutes ago

TLdlevarse

Derek Levarse


Addazio: "We've had a lot of problems this year on extra points. We started with those issues and we ended with those issues."
46 minutes ago

BSDtweet

Black Shoe Diaries


Addazio: "They made one more play than we did." http://t.co/oxT1Xk8Mzz
46 minutes ago

GregPickel

Greg Pickel


"Obviously Penn State made one more play than we did tonight," a clearly drained Steve Addazio said.
47 minutes ago

TLdlevarse

Derek Levarse


A muted Steve Addazio: "Guess people got their money's worth tonight."
47 minutes ago

SPianovich

Stephen Pianovich


Kyle Carter's game-tying TD was his first score since his game-winning TD against Illinois last season. That's efficiency.
48 minutes ago

Ben_Jones88

Ben Jones


Penn State's win means the program exits the sanction era with a 22-16 record and three straight seasons over .500
49 minutes ago

Ben_Jones88

Ben Jones


Penn State's win means the program exits the sanction era with a 22-16 record and three straight seasons over .500
49 minutes ago

BobbyFlo7

Bob Flounders


Christian Hackenberg (371 yards, 4 TDS) is the Pinstripe MVP
50 minutes ago

Ben_Jones88

Ben Jones


"You want to talk about culture?" James Franklin screams into the mic at midfield. "This is culture."
50 minutes ago

psufootball

Penn State football


.@PinstripeBowl: Recap as Penn State knocks off Boston College in overtime http://t.co/Fvm0YMp43v
51 minutes ago

GoPSUsports

Penn State Athletics


.@PennStateFBALL wins the 2014 @PinstripeBowl!!!!!!! http://t.co/DCw6103AaP
51 minutes ago

BWISnyder

Ryan Snyder


They said "that was the only flag the center judge threw all game" lol
52 minutes ago

ESPN_BigTen

ESPN BigTen


Instant analysis: Penn State 31, Boston College 30 (OT) http://t.co/YVVCIkYBe6
53 minutes ago

TLdlevarse

Derek Levarse


Think Christian Hackenberg needed that month off? Finished 34-of-50 for 371 yards and four TDs. All broke or tied PSU bowl game records.
53 minutes ago

BWISnyder

Ryan Snyder


I just listened to two members of the chain gang rip the on field referee for that personal foul on Gaia.
53 minutes ago

BSDtweet

Black Shoe Diaries


I love you guys.
54 minutes ago

SPianovich

Stephen Pianovich


The prophecy must be fulfilled! http://t.co/JiSe3VQ3Xu
54 minutes ago

TasteMyCoffey

Sierra Coffey


Thank you @sficken1 !!! 🔵⚪️🔵 #kickinwithficken #WeWonThePinstripeBowl #PSUvsBC @psufootball http://t.co/v1Ap4maofK
about an hour ago

TLdlevarse

Derek Levarse


Penn State tied the program record for largest comeback in a bowl game, erasing a 14-point deficit in the fourth quarter.
about an hour ago

Ben_Jones88

Ben Jones


Hackenberg finishes the game 34-for-50 for 371 yards and 4 TDs. Penn State opens at Temple in 2015 and then 5 straight at home.
about an hour ago

zmills720

Zack Mills


Soooooooooooooo happy for Mr. Ficken. Congrats sir! #weare
about an hour ago

TLdlevarse

Derek Levarse


Players now in foul territory down the first baseline to slap hands with fans along the front row.
about an hour ago

penn_state

Penn State


RE97PECT RT @ChrisOttoLNP: Not sure Derek Jeter is worthy of Ficken's Yankee Stadium locker.
about an hour ago

SPianovich

Stephen Pianovich


Penn State players celebrating atop the Yankees dugout with fans, Kool & The Gang is playing, the whole nine. http://t.co/mykmvnzxJY
about an hour ago

TeddyGreenstein

Teddy Greenstein


Hope PSU media relations chief Jeff Nelson is ok. Franklin just squeezed the beejeezus out of him.
about an hour ago

Michael_Mauti

Michael Mauti


FICKEN.. Wow. Great day for the seniors at PSU. What a way to end it!! #WEARE
about an hour ago

TLdlevarse

Derek Levarse


PSU players dive over top of Yankees dugout roof to celebrate with fans in the stands.
about an hour ago

KevinHornePSU

Kevin Horne


The line on Wikipedia that says "Penn State never had a losing season as a result of the NCAA sanctions" is something to be damn proud of.
about an hour ago

BSDtweet

Black Shoe Diaries


.@bcinterruption sorry
about an hour ago

Thee_AR15

Allen Robinson


Supa six #werk
about an hour ago

Tali43

Adam Taliaferro


Ending the season just like we started it #PSUUUUU
about an hour ago
BIG TEN SCOREBOARD
Saturday, 12/27
Saturday, 12/20
Monday, 12/22
Tuesday, 12/23
Wednesday, 12/24
Friday, 12/26
Monday, 12/29
Tuesday, 12/30
Wednesday, 12/31
Thursday, 1/1
Friday, 1/2
Saturday, 1/3
Sunday, 1/4
Monday, 1/12
BLOG ARCHIVE:
CATEGORIES: