Early look at the Ohio State Buckeyes
July, 26, 2013
7/26/13
11:00
AM ET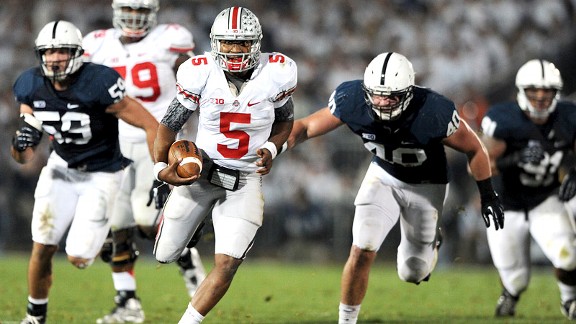 Patrick Smith/Getty ImagesBraxton Miller ran for 134 yards and accounted for three touchdowns vs. Penn State last season.
Every weekday over the next two weeks, NittanyNation will take a closer look at a different game this season and how the matchup stacks up for PSU. Up today: Ohio State.
This is the most difficult game on Penn State's schedule -- and for good reason.
To continue reading this article you must be an Insider
Insider
College Football Top Plays: Week 13
Check out the top plays from Week 13 of college football.
College Football Top Plays: Week 13
VIDEO PLAYLIST
PSU FB RECRUITING SCORECARD
Ben_Jones88

Ben Jones


That's as clean of a block as you'll get, but credit to the refs for not calling a foul preemptively.
about an hour ago

11W

Eleven Warriors


DAMN RT @WorldofIsaac You won't see a better block in college basketball this year. https://t.co/x3t3DAqHcw
about an hour ago

Ben_Jones88

Ben Jones


It appears that Rutgers basketball might have a hard time in the Big Ten this year.
about an hour ago

BSDtweet

Black Shoe Diaries


Penn State vs. Akron Final Score: Lions Storm Past Zips in Second Half, Move to 5-1 http://t.co/nKis7agxN5
about 2 hours ago

Ben_Jones88

Ben Jones


For those of you who didn't see DJ Newbill slice through an entire defense, you should: http://t.co/1SGGbxUtoe
about 2 hours ago

Ben_Jones88

Ben Jones


Who just mistakenly said "squeeze the balls" during a press conference? This guy.
about 3 hours ago

BSDtweet

Black Shoe Diaries


D.J. Newbill will shake everyone: https://t.co/5csu3r6C1k
about 3 hours ago

GoPSUTony

Tony Mancuso


Running Blog from tonight's @PennStateMBB win over Akron & some post-game quotes. Big 2nd half from the Lions: http://t.co/qbWuRmS0Og
about 3 hours ago

Ben_Jones88

Ben Jones


Pat Chambers says that Johnson "injury" was dehydration related. Has been sick past few days.
about 3 hours ago

Ben_Jones88

Ben Jones


DJ Newbill's last four games for Penn State: 35,26,22 and now 29 points.
about 3 hours ago

Ben_Jones88

Ben Jones


In other news Penn State shot 63.3% from the field in the second half.
about 3 hours ago

GoPSUTony

Tony Mancuso


Penn State shot 64 percent in the second half.
about 3 hours ago

Ben_Jones88

Ben Jones


Sounds like Johnson turned an ankle during the postgame celebration.
about 3 hours ago

GoPSUTony

Tony Mancuso


Penn State's defense was tremendous in the second half. Akron shot 60% in the first half. Akron was 7-for-33 in the final half.
about 3 hours ago

PennStateMBB

Penn State Hoops


#PSUMBB improves to 5-1 on season with 78-72 win over Akron after trailing by as many as 14. Return to action Fri @ Bucknell. #relentless
about 3 hours ago

BSDtweet

Black Shoe Diaries


D.J. Newbill had 29-5-5 on 8-12 shooting. Hello @B1GMBBall, are you listening now?
about 3 hours ago

BSD_Eric

Eric Gibson


DJ Newbill with 29 points on 12 shots (7-9 from 2PA), 5 rebounds, 5 assists.
about 3 hours ago

Ben_Jones88

Ben Jones


Not sure what happened but John Johnson getting helped off the court. http://t.co/nbEM3e82TY
about 3 hours ago

GoPSUJeff

Jeff Nelson


Entertaining game in BJC as @PennStateMBB (5-1) clamps down in 2nd half, erases 13-point halftime deficit to beat Akron, 78-72.
about 3 hours ago

BSDtweet

Black Shoe Diaries


Taylor blocks Robotham and John Johnson seals it with a layup. Final score: Penn State 78, Akron 72. PSU overcame a 13-point halftime lead.
about 3 hours ago

GoPSUJeff

Jeff Nelson


Entering game in BJC as @PennStateMBB (5-1) clamps down in 2nd half, erases 13-point halftime deficit to beat Akron, 78-72.
about 3 hours ago

psufootball

Penn State football


With Commonwealth Court trial looming, parties in Penn State sanctions case will try again for a "diplomatic… http://t.co/YejcjF4PV7
about 3 hours ago

GoPSUTony

Tony Mancuso


FINAL: @PennStateMBB knocks off Akron, 78-72. Superb second half from PSU on both ends. Newbill had 29 & was clutch at the line late.
about 3 hours ago

Lions247

Lions247


#PennState defeats Akron 78-72 in Bryce Jordan Center to improve to 5-1.
about 3 hours ago

BSDtweet

Black Shoe Diaries


Newbill makes both free throws to give Penn State a 76-72 lead. 15 seconds left.
about 3 hours ago

Ben_Jones88

Ben Jones


DJ Newbill's last four games for Penn State: 35,26,22 and now 28 points.
about 3 hours ago

BSDtweet

Black Shoe Diaries


Never easy, is it?
about 3 hours ago

Ben_Jones88

Ben Jones


To their credit, a usually unconscious Jordan Center crowd is into the action tonight.
about 3 hours ago

GoPSUTony

Tony Mancuso


46 seconds to go. Penn State holding a 73-70 lead over Akron. PSU ball out of bounds.
about 3 hours ago

BSDtweet

Black Shoe Diaries


Akron hits a three to make it 70-65 with 1:40 left to play. Big free throws coming down the stretch for Penn State.
about 4 hours ago

BSDtweet

Black Shoe Diaries


D.J. Newbill just shook Akron out of every shoe they've ever owned. He's got 26. cc: @B1GMBBall
about 4 hours ago

Ben_Jones88

Ben Jones


DJ Newbill just mixtaped an entire defense and then John Johnson euro-stepped for a bucket. Penn State up 8
about 4 hours ago

BSDtweet

Black Shoe Diaries


Akron's press giving PSU some issues but a blocking foul bails the Lions out. Newbill sinks both free throws to make it 66-62, 4:19 left.
about 4 hours ago

BSDtweet

Black Shoe Diaries


Akron hanging in with 5 minutes left. 64-60, both teams in the bonus.
about 4 hours ago

Ben_Jones88

Ben Jones


After giving up 45 points in the first half, Penn State has held Akron to 3 made field goals in the second half with 5 minutes to play.
about 4 hours ago

Ben_Jones88

Ben Jones


Jordan Dickerson with 4 blocks tonight in 16 minutes of play. Working hard even on plays where he isn't directly involved.
about 4 hours ago

BSDtweet

Black Shoe Diaries


Jordan Dickerson's fourth block of the night leads to a pull-up three from D.J. to give Penn State a 63-56 lead.
about 4 hours ago

GoPSUTony

Tony Mancuso


Complete turn of events offensively for both teams this half. Akron 3-20 this half (17-29 in the 1st). PSU is 11-17 (12-35 in the 1st).
about 4 hours ago

nfl

NFL


Ranking the Rookie WR Class (via @CoachBillick)10. @Thee_AR159. @ThaBestUNOFULL: http://t.co/gQwaUnJ7iu http://t.co/Blu9zsDjMB
about 4 hours ago

maddyyypryor

Maddy Pryor


Oh and Donovon Jack did this. http://t.co/WQ3wb6awnS
about 4 hours ago

BSDtweet

Black Shoe Diaries


Time for the yearly PSA: it's spelled "Donovon," not "Donovan."
about 4 hours ago

BSDtweet

Black Shoe Diaries


Donovon Jack has those volleyball hops. Throws it down two-handed from the block to give PSU their largest lead of the night, 58-54.
about 4 hours ago

Ben_Jones88

Ben Jones


Penn State on a 26-9 run but only up 4. See first half for explanation.
about 4 hours ago

GoPSUTony

Tony Mancuso


Great spin-move feed and a flush from Donovon Jack hands @PennStateMBB its largest lead of the night, 58-54 with 8:26 to go. 26-9 run.
about 4 hours ago

GoPSUTony

Tony Mancuso


Very entertaining 2nd half in the BJC. PSU opened on a 16-0 run (Led by 3). Akron answered with a 7-0 surge. 11:35 to go - Akron 52, PSU 48.
about 4 hours ago

BSDtweet

Black Shoe Diaries


Aww, Akron scored. Two quick buckets and the Zips regain the lead 50-48. 12:50 to play.
about 4 hours ago

ESPNRadio1450

State College\'s ESPN


Akron finally stops the 16-0 run and we are all tied up with 13 minutes left to play.
about 4 hours ago

BSD_Eric

Eric Gibson


Dickerson has absolutely negated Akron's 2-point dominance here in the first 6 minutes of the first half. He's been the difference.
about 4 hours ago

Ben_Jones88

Ben Jones


Penn State goes on a 16-0 run to open the second half.
about 4 hours ago

BSDtweet

Black Shoe Diaries


[refusing to tweet about Akron's scoreless half]
about 4 hours ago

GoPSUTony

Tony Mancuso


Penn State much more active on the defensive end to start the half. Akron 0-6 from the floor this half after shooting 60% in the first.
about 4 hours ago

Ben_Jones88

Ben Jones


Jordan Dickerson is confidence and consistency away from being a good 7-foot asset for Penn State.
about 4 hours ago

BSDtweet

Black Shoe Diaries


A 9-0 run to start the second half cuts Penn State's deficit to four! This team is going to drive you insane all season long.
about 4 hours ago

Ben_Jones88

Ben Jones


Penn State opens the second half with 9-0 run.
about 4 hours ago

GoPSUTony

Tony Mancuso


Fantastic start for the Lions out of the break. 9-0 run in the opening 1:53 to trim Akron's lead down to 45-41. 18:07 to play.
about 4 hours ago

BSDtweet

Black Shoe Diaries


brb calling a social worker http://t.co/Unaa768ypD
about 4 hours ago

BWISnyder

Ryan Snyder


I got Wings Over tonight for the first time in a couple years. What was I thinking waiting that long??? Smh.
about 4 hours ago

Ben_Jones88

Ben Jones


Akron shooting almost 60% from the floor. That will need to change if Penn State is going to win the basketball game
about 5 hours ago

PancakeCatapult

Toyota Jackson


[smacks Penn State basketball across the nose with a rolled-up newspaper]
about 5 hours ago

BSDtweet

Black Shoe Diaries


[shivers down the spine] RT @BSD_Eric: Akron scored 1.33 PPP that half. That's Bucknell-esque. 67.2% eFG%
about 5 hours ago

BSDtweet

Black Shoe Diaries


Penn State down 13 at half to Akron, 45-32. But hey, at least we're not Rutgers!
about 5 hours ago

GoPSUTony

Tony Mancuso


Halftime in the BJC: Akron 45, Penn State 32. Superb half from the Zips offensively (59% shooting). Newbill had 14 pts, Taylor had 8.
about 5 hours ago

BSDtweet

Black Shoe Diaries


It's 36-26 Akron with three minutes to play in the first half. http://t.co/OerH5grKZk
about 5 hours ago

Ben_Jones88

Ben Jones


Akron's Kwan Cheatham is very good at shooting the basketball as a large human.
about 5 hours ago

TLdlevarse

Derek Levarse


Ouch // RT @slmandel Ohio State announced that suspended DE Noah Spence has been declared permanently ineligible by the Big Ten.
about 5 hours ago

BSDtweet

Black Shoe Diaries


Uh, hello there. Penn State is involved in a basketball game right now, but it's probably best we don't talk about it.
about 5 hours ago

GoPSUTony

Tony Mancuso


D.J. Newbill well on his way to an efficient night…12 pts on 4-7 from the field and 4-5 from the foul line. Akron up 28-18.
about 5 hours ago

Ben_Jones88

Ben Jones


Nobody knows why or what exactly happened but everyone got a technical and both teams made their free throws. So life goes on.
about 5 hours ago

sficken1

Sam Ficken


Couldn't be more excited to have this guy back with us for senior day #keiser #thatsmybrother http://t.co/6pRH2IwFW1
about 5 hours ago

PennStateFball

Penn State Football


The Nittany Lion Class of 2014 brought superlatives back to senior year! Stay tuned this week for the results. http://t.co/6ouIO6z786
about 5 hours ago

Ben_Jones88

Ben Jones


Ask @SPianovich points out, Akron coach Keith Dambrot coached LeBron in high school. LeBron is not in or near the game tonight.
about 5 hours ago

PennStateFball

Penn State Football


The Nittany Lion Class of 2014 brought superlatives back to senior year! Stay tuned this week for the results. http://t.co/6ouIO6z786
about 5 hours ago

Ben_Jones88

Ben Jones


Jordan Dickerson with a block and rebound. Gets a big cheer from the crowd. Penn State needs him to make those plays.
about 5 hours ago

bigtenconf

Big Ten Conference


Coach Jerry Kill on #Gophers playing for a chance to represent the West in #B1GFCG. For more: http://t.co/2yqLFTxVQ9. http://t.co/QQrw5d0hKh
about 5 hours ago

ESPN_BigTen

ESPN BigTen


Big Ten bowl projections: Week 13 http://t.co/ELuWTMmtZi
about 5 hours ago

Ben_Jones88

Ben Jones


Akron players don't seem to have agreed on which uniform they're wearing tonight. http://t.co/rmSbNejVqr
about 5 hours ago

BSDtweet

Black Shoe Diaries


YAY HOOPS: Penn State vs. Akron Open Thread http://t.co/z4y8M7jwGS http://t.co/xA1BYsD7dU
about 6 hours ago

ESPN_BigTen

ESPN BigTen


Playoff breakdown: If the games were today http://t.co/LtwktZo0cz
about 6 hours ago

Ben_Jones88

Ben Jones


Still just waiting for an 8 team playoff.
about 6 hours ago

slmandel

Stewart Mandel


Long specifics that they consider a "bad" loss as one to a sub-.500 team. Said doesn't necessarily agree with Ohio St-Va Tech as an example.
about 6 hours ago

penn_state

Penn State


.@JordanCenter lit up for tonight's @PennStateMBB game. Tip off at 8: http://t.co/8bTZfqodxl http://t.co/9N7jzzDmSo
about 6 hours ago

Ben_Jones88

Ben Jones


At the BJC for Penn State/Akron. Tip set for 8:02. Zips pretty solid squad.
about 6 hours ago

GoPSUTony

Tony Mancuso


Less than 30 minutes from @PennStateMBB - Akron in the BJC. Tip at 8:02. LIVE BLOG: http://t.co/qbWuRmS0Og
about 6 hours ago

psufootball

Penn State football


Penn State faces in the crowd from Illinois, November 22, 2014 http://t.co/YvFoPLITkg
about 6 hours ago

247Sports

247Sports


Latest College Football Playoff Top 25 released http://t.co/oRsjdhCBvs http://t.co/dlXZUS885J
about 6 hours ago

Lions247

Lions247


College Football Playoff Top 25 1. Alabama 2. Oregon 3. FSUMore: http://t.co/1rFUnWQQZ0 http://t.co/MCtZH3gmSu
about 6 hours ago

ESPNU

ESPNU


Here is how the @CFBPlayoff bracket looks now http://t.co/wni69XjRbM
about 6 hours ago

BruceFeldmanCFB

Bruce Feldman


New CFB Playoff Rankings: 1. #Bama 2. #Oregon 3. #FSU 4. #MissSt. 5. #TCU 6. #OhioSt 7. #Baylor 8. #UCLA 9. #UGA 10. #MIchSt
about 6 hours ago

TLdlevarse

Derek Levarse


Franklin on Prep's Joe Holmes: "He's 5-foot-9, 265 pounds. But I tell you what — his attitude, his approach has earned everyone's respect."
about 7 hours ago

TLdlevarse

Derek Levarse


Franklin gives some praise to Scranton Prep freshman walk-on Joe Holmes for his work on scout team: "He's done an unbelievable job for us."
about 7 hours ago

TLdlevarse

Derek Levarse


Tuned in late but Franklin on radio, raves about redshirting RB: "Johnathan Thomas is a house right now. Guys don't want to tackle him."
about 7 hours ago

GoPSUJeff

Jeff Nelson


James Franklin previews Senior Day clash vs. No. 10/8 Michigan State:http://t.co/gZua1V5UiI
about 7 hours ago

PennStateFball

Penn State Football


Tune in for the Penn State Football Radio Show tonight at 6 - @coachjfranklin will be live from Damon's Restaurant. http://t.co/aznRjAvXqY
about 7 hours ago

bigtenconf

Big Ten Conference


We're on Snapchat, are you? Don't miss out on any snaps this season & add us at bigtenconf. http://t.co/vcaRNuq0AP
about 7 hours ago

PennStateFball

Penn State Football


Tune in for the Penn State Football Radio Show tonight at 6 - @coachjfranklin will be live from Damon's Restaurant. http://t.co/aznRjAvXqY
about 8 hours ago

GoPSUTony

Tony Mancuso


Not too late to get to the BJC. @PennStateWBB / @PennStateMBB doubleheader begins at 5:30. $5 tickets.
about 8 hours ago

GoPSUJeff

Jeff Nelson


James Franklin on senior DE C.J. Olaniyan: "He's not afraid to speak his mind, which I respect and appreciate."
about 8 hours ago

BSD_Eric

Eric Gibson


Oak Hill Academy, featuring PSU commits Josh Reaves and Joe Hampton, will be on ESPN on 1/10 and ESPNU 1/19.
about 9 hours ago

BWISnyder

Ryan Snyder


CITTTEEHHHHH!!!! hahaha. Good for them. They needed that big time. That'll make the group more interesting too. #ChampionsLeague
about 9 hours ago

PennStateFball

Penn State Football


There's still time to submit questions for @coachjfranklin ahead of today's radio show at Damon's Restaurant (6pm) http://t.co/9uxAFuVJGj
about 9 hours ago
BIG TEN SCOREBOARD
Friday, 11/28
Saturday, 11/29
BLOG ARCHIVE:
CATEGORIES: