July, 29, 2014
Jul 29
2:36
PM CT
The
Dallas Mavericks
signed former
Atlanta Hawks
forward
Ivan Johnson
, the team announced Tuesday.
Most of Johnson's veteran-minimum salary is not guaranteed, a source said.
The 6-foot-8, 255-pound Johnson will compete for a roster spot after playing in China last season. He started for the Mavs' Las Vegas Summer League team this month, averaging 7.8 points and 3.8 rebounds in 20.8 minutes per game.
In two seasons with the Hawks, Johnson averaged 6.5 points and 3.9 rebounds in 15.8 minutes per game.
Johnson is the 16th player on the Mavs' roster. The team can carry 15 players during the regular season.
July, 29, 2014
Jul 29
11:48
AM CT
The
Dallas Mavericks
believe forward
Al-Farouq Aminu
is one of the best bargains of the summer.
Aminu, 23, officially signed with the Mavs on Tuesday. It's a two-year deal for the veteran's minimum with a player option for the second season.
That's tremendous value for a player who was the eighth overall pick in the 2010 draft and started in New Orleans the last two seasons.
[+] Enlarge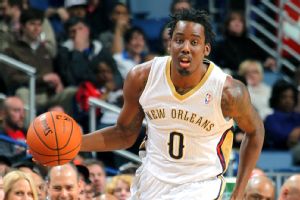 Layne Murdoch Jr./NBAE/Getty ImagesThe Mavs expect Al-Farouq Aminu to be a key rotation player right away at both forward positions.
The Mavs don't view Aminu as a reclamation project like
Brandan Wright
, another former eighth overall pick, was when he arrived in Dallas on a minimum-salary deal a few years ago. They expect the 6-foot-9 Aminu, a phenomenal athlete with limited offensive skills, to be a key rotation player right away at both forward positions.
The Mavs also believe Aminu, who has career averages of 6.5 points and 5.5 rebounds, can blossom as a role player on the Mavs.
"He's still a young player," coach Rick Carlisle said. "I feel like he's got big upside and skill. We've got to get him better. His outside shooting can improve, but we've got to put him in position to play to his strengths now."
Those strengths offensively are rebounding, running and finishing. He's a poor shooter (29.2 percent from 3-point range for his career), but the Mavs are confident that Carlisle can figure out how to make Aminu a useful offensive role player.
If that happens, the Mavs expect Aminu to emerge as an elite defender. Given his length (7-foot-3 wingspan) and athleticism, his Synergy Sports defensive stats from last season were surprisingly mediocre. One Mavs source said he thought the Pelicans crushed Aminu's confidence and killed his energy by essentially demanding that he not shoot the ball.
The expectation is that Aminu, who still led NBA small forwards in rebounding percentage for the second consecutive season, will be mentally recharged by joining the Mavs, giving him the opportunity to contribute to a playoff team for the first time in his career. The hope is that Carlisle will get more out of Aminu than his previous coaches have.
If Aminu is the same player he was for New Orleans, he's still a great value for the minimum. But the Mavs believe Aminu can be much better than that.
July, 29, 2014
Jul 29
10:45
AM CT
When the question of "Who got better this summer?" was posed at the NBA Summer League in Las Vegas earlier this month, there was an easy answer: the Cleveland Cavaliers. By signing LeBron James, the Cavaliers landed the offseason's biggest prize.
Finding other teams that improved was more challenging.
To quantify my answer, I turned to the wins above replacement projections I previously used to rank this summer's top free agents. They incorporate both my box score ratings for next season from the SCHOENE projection system and ESPN's real plus-minus ratings, adjusted for age. For each team, I added up these projections for players lost and added via free agency and trades.
These team ratings don't include the draft and are still a work in progress. In particular, the final two top free agents on the market -- Eric Bledsoe of the Phoenix Suns and Greg Monroe of the Detroit Pistons, both restricted -- will swing things when they sign new contracts. Nonetheless, this method offers a good snapshot of which teams have helped themselves the most heading into the 2014-15 season via free agency and trades and which lost the most talent.
Here's a look at the five biggest winners and five biggest losers of the NBA offseason according to WARP projections.
---
Biggest improvements
Key addition: LeBron James
Key losses: Luol Deng, Spencer Hawes, C.J. Miles
The Cavaliers lost a pair of starters acquired midseason in Deng and Hawes. They added the best player in the NBA. James alone is projected for 21.1 WARP next season, making it somewhat surprising Cleveland isn't projected to improve more. Blame gutting the bench to make room for James' maximum salary. Officially signing Mike Miller (1.2 WARP) will help a little. Adding Kevin Love (14.6, fourth in the league) would help a lot, no matter the package the Cavaliers send in return.
July, 27, 2014
Jul 27
9:32
AM CT
After the
Dallas Mavericks
secured free-agent SF
Chandler Parsons
this offseason, the writing appeared to be on the wall for verteran SF
Shawn Marion
: if he intends to play again in the NBA, it won't be with the Mavs.
To continue reading this article you must be an Insider
July, 25, 2014
Jul 25
8:54
PM CT
The
Dallas Mavericks
do not have a pure power forward on the roster other than
Dirk Nowitzki
. They do not consider that to be a problem.
It's been that case for several years, with
Shawn Marion
sliding over a spot for most of the minutes when Nowitzki rested. Marion's tenure in Dallas has almost certainly ended, but the Mavs have several players on the roster they believe are capable of playing quality minutes at power forward.
Coach Rick Carlisle, who would like to cut Nowitzki's minutes down to 30 per game if possible (the 36-year-old played nearly 33 in 2013-14), listed
Chandler Parsons
,
Al-Farouq Aminu
,
Jae Crowder
and
Richard Jefferson
as the primary candidates. He's also open to the idea of giving
Brandan Wright
more minutes at power forward, although Wright's career has been redefined in Dallas an athletic center who thrives with floor-spacers around him.
"I don't see us having a problem of finding a guy who can play that position effectively," Carlisle said. "It's a matter of figuring out who plays well with who, getting the right guys on the floor together."
Parsons played some small-ball power forward for the
Houston Rockets
and will continue to do so for the Mavs. He presents a major matchup problem for the opposing defense when he plays that position. He has struggled defending bigger power forwards in the post, which is part of the reason he's emphasizing strength training this summer.
However, Parsons might not necessarily play the majority of the power forward minutes when Nowitzki is off the floor, as Marion did.
Carlisle sounded especially intrigued by the idea of Aminu, an extraordinary athlete who is 6-foot-9 with a 7-foot-3 wingspan, at power forward. He sees Aminu, who agreed to a two-year deal with the Mavs for the veteran's minimum with a player option for the second season, as someone who can mitigate some of the things the Mavs will miss absent Marion.
The Mavs believe Aminu has elite defensive potential. He has proved to be a premier rebounder, leading the league's small forwards in rebounding percentage the past two seasons.
"He's played mostly the 3 so far in his career, but I really feel like the 4 is a better position for him," Carlisle said. "Those backup Dirk minutes are going to be a possibility for him to really bring a different dimension."
July, 25, 2014
Jul 25
11:43
AM CT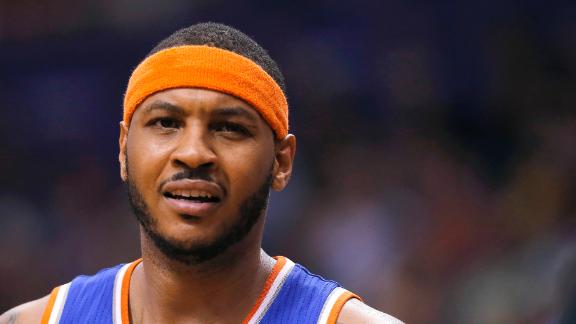 LAS VEGAS -- Carmelo Anthony said it was not the money, but instead his confidence in team president Phil Jackson and his belief that the New York Knicks "aren't that far away from contending for an NBA title," that made him opt to remain in New York instead of signing with the Chicago Bulls.
"I want to win. I don't care about the money," Anthony told ESPN.com. "I believe Phil will do what he has to do to take care of that.
"I don't think we're that far away," he added. "People use 'rebuilding' too loosely."
In what were believed to be Anthony's first public comments since agreeing to a five-year deal worth $124 million earlier this month, he told ESPN.com that the decision was so agonizing in the final days that he could not watch TV or go on the Internet.
"It was overwhelming," Anthony said. "It was stressful in the final days, one of the hardest decisions I've ever had to make."
Anthony said, though, it ultimately came down to New York and Chicago.
"I was flip-flopping," he admitted. "It was hard. It was Chicago, but then after I met with L.A., it was L.A. But it came back to Chicago -- and was pretty much always Chicago or New York. That's a situation where I could have walked in now to an opportunity to compete for the next however many years."
But the 30-year-old Anthony said he is invigorated to work with a new team president in Phil Jackson and a new coach in Derek Fisher.
"It's a matter of me believing in the organization, believing in Phil," Anthony said. "I wanted to go somewhere where I can end my career."
July, 24, 2014
Jul 24
5:56
PM CT
Veteran point guard Jameer Nelson signed with the Dallas Mavericks, the team announced Thursday.
The Mavs signed Nelson with the cap-room exception, giving him a salary of $2.73 million this season. Sources told ESPN's Marc Stein that Nelson signed a two-year deal with a player option to return to free agency next summer. His salary next season would be $2.86 million if Nelson opts to return to the Mavs.
"I feel like this team is really good," Nelson said Thursday on ESPN Dallas 103.3 FM. "I've been watching the Mavs from afar for my entire career. I admire what they've done over my 10 years and even before that. The organization, from everyone I know, is top of the line."
Nelson, 32, a one-time All-Star, spent the first 10 seasons of his career with the Orlando Magic before being waived on June 30. The Magic must pay Nelson $2 million this season, the guaranteed money from the final year in his deal with the Magic.
The 6-foot, 190-pound Nelson has career averages of 12.6 points and 5.4 assists per game. He averaged 12.1 points and 7.0 assists last season.
The Mavs plan to use Nelson as part of a three-man rotation at point guard along with Devin Harris and Raymond Felton, with those three players also seeing spot duty at shooting guard behind Monta Ellis.
July, 24, 2014
Jul 24
3:38
PM CT
[+] Enlarge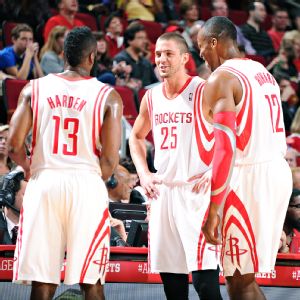 Bill Baptist/NBAE/Getty ImagesNew Maverick Chandler Parsons has had his fill of jabber coming from the Rockets, the latest from James Harden.
A long-distance exchange of words between Chandler Parsons and James Harden is heating up the rivalry between the Houston Rockets and Dallas Mavericks.
Parsons, who left Houston to sign a three-year, $46 million deal with Dallas as a restricted free agent, took offense to former teammate Harden opining that Dwight Howard and Harden are the Rockets' stars and the rest of the roster is made up of role players.
"Dwight and I are the cornerstones of the Rockets," Harden said while appearing at a charity event in the Philippines, according to The Philippine Star. "The rest of the guys are role players or pieces that complete our team. We've lost some pieces and added some pieces.
"I think we'll be fine next season."
During an appearance on the "Jay Mohr Sports" show on Fox Sports Radio, Parsons reacted strongly when told what Harden reportedly said.
"That's a pretty ridiculous statement if he meant that," Parsons said. "That's part of the reason I wanted to go to Dallas, because I'm ready for that next step. I'm ready for a bigger role, and I'm ready for more leadership.
"If anybody should understand that, it's James, because he was in the same situation in Oklahoma City and then he got his chance to come to Houston and shine. I'm not real sure what that means."
Parsons, 25, averaged 16.6 points, 5.5 rebounds and 4.0 assists per game to help Houston win 54 games last season.
In Harden's third NBA season, he averaged 16.8 points, 4.1 rebounds and 3.7 assists as Oklahoma City's third option behind Kevin Durant
July, 24, 2014
Jul 24
10:40
AM CT
Dallas Mavericks owner Mark Cuban posted a video to Instagram of him taking his first steps a day after having his right hip replaced.
24 hours after a total hip replacement taking my first steps. Why did I wait so long to do it !... http://t.co/ao9yOsW1qU

- Mark Cuban (@mcuban) July 24, 2014
This is the second total hip replacement that Cuban, 55, has undergone. He had his left hip replaced in 2007, months before participating in the ABC show "Dancing With the Stars."
Cuban suffers from osteoarthritis, a painful disease that affects millions. Osteoarthritis causes protective cartilage on the ends of bones to wear down over time. Cuban exercises on a regular basis, routinely conducting interviews from the StairMaster in the Mavericks' weight room before home games.
July, 23, 2014
Jul 23
9:04
PM CT
Forward Al-Farouq Aminu has agreed to a two-year deal with the Dallas Mavericks with a player option for the second season, agent Raymond Brothers said.
The Mavs could only offer Aminu, the eighth overall pick in the 2010 draft, the veteran's minimum.
The 6-foot-9, 215-pound Aminu, 23, has averaged 6.5 points and 5.5 rebounds in four seasons for the Los Angeles Clippers and New Orleans Hornets/Pelicans. He averaged 7.2 points and 6.2 rebounds for New Orleans last season, when he was primarily a starter.
Aminu, who has twice had 16-point, 20-rebound performances against the Mavs, will provide depth for Dallas behind small forward Chandler Parsons and power forward Dirk Nowitzki.
July, 23, 2014
Jul 23
2:40
PM CT
The planned signing of point guard
Jameer Nelson
is not a sign that the Mavs will try to push
Raymond Felton
out the door.
That comes straight from owner Mark Cuban, who offered an emphatic "no" when asked whether the Mavs would look to move Felton, who was acquired along with center
Tyson Chandler
in last month's six-player trade with the
New York Knicks
.
"We like him and think he will have a great year," Cuban told ESPNDallas.com via the Cyber Dust messaging app. "Do quote me on that."
The Mavs envision Nelson, Felton and
Devin Harris
all getting significant playing time at point guard and some minutes at shooting guard behind
Monta Ellis
, as well.
Nobody, least of all Felton, denies that the nine-year veteran point guard is coming off a dreadful season in New York. Felton averaged a career-low 9.7 points and a near-career-low 5.6 assists for a disappointing Knicks team that failed to make the playoffs in the weak Eastern Conference.
Felton, who has averaged 13.1 points and 6.5 assists during his career, dealt with injury issues (a groin strain) and off-court problems (a divorce and arrest on gun charges) last season. He's healthy now and hungry to prove himself again.
"Just to show everybody that I've still got it, I still can play," Felton said on a recent conference call with Dallas reporters. "I still can play the game at this level. I still play as an elite point guard at this level. That's just all.
"When you come off a season like I had last year, there's always a point where you've got to prove yourself coming back the next season. And trust me, I look forward to it."
So do the Mavs, Cuban insists.
July, 23, 2014
Jul 23
2:22
PM CT
Get ready to watch the
Dallas Mavericks
run and gun.
The Mavs are on the verge of signing former
Orlando Magic
point guard
Jameer Nelson
using the $2.7 million cap-room exception,
ESPN.com's Marc Stein reports
, giving Dallas three veteran point guards on the roster. (UPDATE:
Nelson signed on Thursday
.)
[+] Enlarge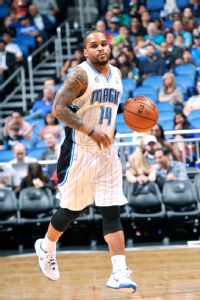 Fernando Medina/NBAE via Getty ImagesAdding Jameer Nelson to the mix should allow the Mavs to always have fresh legs at point guard.
The plan at this point, a source told ESPNDallas.com, is to rotate Nelson,
Devin Harris
and Raymond Felton at point guard and in spot duty behind
Monta Ellis
at shooting guard. The goal is to always have a fresh set of legs and an experienced hand at point guard, allowing the Mavs to play up-tempo the entire game.
That style of play fits the Mavs' personnel, particularly with Ellis and prized free-agent addition
Chandler Parsons
manning the wings. Ellis and Parsons both ranked among the league's top 20 in fast-break points last season, according to Synergy Sports stats. The Mavs have two big men in
Tyson Chandler
and
Brandan Wright
who can run and finish in transition. Power forward
Dirk Nowitzki
, 36, has never been known for his blazing speed, but he's a lethal 3-point threat as a trailer in transition.
Nelson, who averaged 12.6 points and 5.4 assists during his decade in Orlando, provides an element Dallas' other point guards lack with his perimeter shooting. That was a major need for the Mavs after they gave up
Jose Calderon
in the Tyson Chandler trade.
Nelson's 3-point accuracy dipped under 35 percent in each of the past two seasons for the rebuilding Magic, but it should trend significantly upward with the Mavs, considering the quality of his looks should be much better with the attention defenses give to the Nowitzki-Ellis-Parsons trio. Nelson is a career 37.4 percent 3-point shooter and has shot better than 40 percent from long range in four seasons, the last coming in 2010-11, when the Orlando offense revolved around
Dwight Howard
.
It'd be far too optimistic to expect Nelson, 32, to put up the kind of numbers he posted during his lone All-Star season six years ago. But, in a complementary role as part of a point guard rotation, the Mavs can rightfully anticipate very good return on the limited investment they intend to make in the veteran point guard.
July, 23, 2014
Jul 23
2:14
PM CT
[+] Enlarge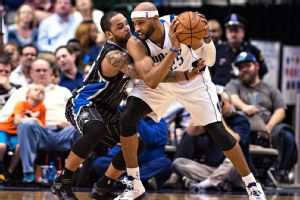 Jerome Miron/USA TODAY SportsBarring an unforeseen snag, Jameer Nelson will formalize a contract Thursday when he visits Dallas.
The Dallas Mavericks are closing in on signing former Orlando Magic point guard Jameer Nelson, according to sources briefed on the talks.
Sources told ESPN.com that Nelson and the Mavericks, barring an unforeseen snag, are on track to formalize a contract Thursday, when Nelson visits Dallas.
ESPN.com reported Tuesday that the Mavericks had arranged to fly Nelson into town for a face-to-face visit Thursday in the hopes of finalizing a deal via use of their $2.7 million room exception.
Dallas has been in the market for another veteran floor leader all summer to help fill the void created by Jose Calderon's exit in June. The Mavericks had to part with Calderon to reacquire center Tyson Chandler in a trade with the New York Knicks.
July, 23, 2014
Jul 23
12:15
PM CT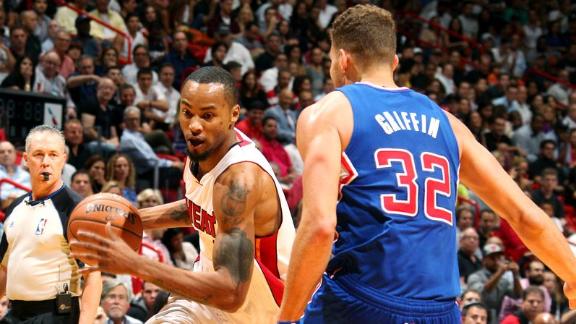 There is a void in the Mavericks' rotation after they voided Rashard Lewis' contract due to the discovery that the veteran forward needed knee surgery.
Dallas doesn't have a backup for Dirk Nowitzki.

The Mavs have gotten by in recent years without a true backup for Nowitzki by bumping
Shawn Marion
to power forward when the face of the franchise rested. The odds of Marion returning to Dallas are awfully slim at this point, but
Chandler Parsons
will play some power forward. Mavs officials have also mentioned that
Brandan Wright
will play more power forward than he has in the past few years.
Still, it'd be ideal to have a power forward with perimeter-shooting ability on the bench, giving the Mavs a backup for Nowitzki who wouldn't force fundamental changes to the offense when he's on the floor. That's why a healthy Lewis would have been a good fit for the veteran's minimum.
Some potential minimum-priced free agents who might be able to fill that role:
Charlie Villanueva: He was a disaster in Detroit after signing a five-year, $38 million contract, playing only 20 games in the final year of the deal last season. Maybe he'd benefit from a change of scenery. He's 6-foot-11, 232 pounds, turns 30 next month and has career averages of 11.5 points and 5.1 rebounds per game. He shot a career-best 38.7 percent from 3-point range in 2010-11, his last relatively productive season.
Earl Clark: The 6-foot-10, 225-pound Clark has played for five teams since the Phoenix Suns selected him with the 14th overall pick in the 2009 draft. His best season came as a part-time starter for the Los Angeles Lakers in 2012-13, when he averaged 7.3 points and 5.5 rebounds in 23.1 minutes per game. His career shooting percentages (40.4 from the floor, 33.1 from 3-point range) aren't exactly appealing.
Antawn Jamison: It's been more than a decade since Jamison's one-season stint in Dallas, when he earned the Sixth Man of the Year award. At 38, Jamison might not have any gas left in the tank. He averaged only 3.8 points and 2.5 rebounds in 22 games last season for the Los Angeles Clippers before being traded to the Atlanta Hawks before the deadline. The Hawks waived him and Jamison didn't get a job the rest of the season.
Al Harrington: At 34, the 6-foot-9 Harrington might be ready to make the transition to coaching after 16 seasons in the league. A career 35.2 percent 3-point shooter, Harrington averaged 6.6 points and 2.4 rebounds in 15 minutes per game for the Washington Wizards last season, playing in only 34 games.