October, 22, 2014
Oct 22
9:00
AM CT
Our series on breaking down the
Texas Rangers
position by position continues with a look at starting pitching.
Starters:
Yu Darvish
,
Matt Harrison
,
Derek Holland
,
Nick Martinez
,
Miles Mikolas
,
Martin Perez
,
Tanner Scheppers
and
Nick Tepesch
.
Most productive pitcher:
Darvish
Least productive pitcher:
Robbie Ross
Stat of note:
Wins above average for starters was minus-6.1
Outlook:
Injuries hampered the Rangers' entire 2014 season. The club's rotation compiled a 4.75 ERA, third-highest in baseball and the highest since 2008 (5.51). The Rangers used 15 different starters, tied with Colorado for the major league lead and tied for fourth-most in club history. Darvish, Harrison, Holland, Mikolas, Perez and Scheppers were all lost to injuries of some sort. It led to some younger pitchers, such as Martinez and Tepesch, and making up the bulk of the rotation for roughly four of the six months of the season. Darvish (1.261 WHIP) was lost for nearly two months with inflammation in his elbow and Holland was limited to just five starts after his recovery from knee surgery. The most consistent starter was
Colby Lewis
(10-14 in 29 starts), and he's a free agent. The club is in talks to bring Lewis back for 2015 and he'll be a stabilizing force on the back end, unless the club fails to obtain a No. 3 starter to help Darvish and Holland. There are some promising pitchers (Perez for one) who won't be available until later in 2015, and Harrison's career is in doubt as he tries to recover from back surgery. Ross was in the rotation but his struggles will push him back to the bullpen. Is
Lisalverto Bonilla
a possible starter? Maybe, especially after becoming the first Texas pitcher to win his first three starts. GM Jon Daniels said finding starting pitching is a priority in the offseason, and if that's the case, some young pitchers might not be around.
October, 21, 2014
Oct 21
12:00
PM CT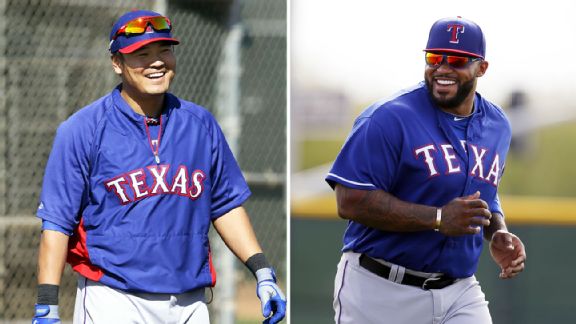 AP PhotosTexas is counting on Shin-Soo Choo and Prince Fielder to be healthy and make an impact in 2015.
Rangers GM Jon Daniels is pretty direct in his expectations for his club in 2015: Win. Rebuilding isn't an option.
In four consecutive seasons, the Rangers won at least 90 games. In that span, they also made it to the World Series twice.
In 2012,
Josh Hamilton
losing that fly ball in the California sun was symbolic of the Rangers' late season swoon.
The next season, a mid-September slump cost the the Rangers first-place and they tried to play catchup, but it was too late.
In 2014, after revamping the roster, injuries decimated the club.
What happens now?
The Rangers have a new manager and changes are likely coming to the starting rotation. They hope injured players, such as Prince Fielder and Shin-Soo Choo, recover and play a majority of the games in 2015. Daniels lost Ron Washington as his manager suddenly. He didn't want to seek a new manager, but when it happened, the GM said there was some excitement in the front office because someone new was joining the team.
"Somebody that can help us and re-establish a winning culture," Daniels said. "We had a rough year here, but this is a winning organization, a championship organization, and we want somebody that feels that passion for winning and can re-establish that after a rough year."
October, 21, 2014
Oct 21
9:00
AM CT
We continue our position series on the Rangers with a look at the outfield.
Outfielders:
LF/RF
Jim Adduci
, CF/LF
Michael Choice
, LF Shin-Soo Choo, CF
Leonys Martin
, LF
Daniel Robertson
and LF
Jake Smolinski
.
Most productive outfielder:
Martin
Least productive outfielder:
Choice
Stat of note:
Martin finished fourth in the big leagues with DWAR of 2.3.
Outlook:
Martin (career-high 194 total bases) improved as a center fielder and leadoff hitter (.298/.354/.391) yet there are still concerns. Ron Washington didn't trust Martin against left-handed pitching or as a leadoff man, Tim Bogar did. New manager Jeff Banister hasn't said where he'll place Martin. Choo (123 games) played through a bone spur and then an ankle injury the majority of the season. He was the leadoff man until his injuries forced him to the 60-day disabled list. Choo said he's willing to move down from the leadoff spot and also possibly move to right field, a position he's more accustomed to playing. If Choo moves to right, the Rangers might look to a player already on their roster or to free agency for left field. If the Rangers sign a corner outfielder, Adduci, Robertson and Smolinski will compete for the fourth outfielder spot. Ryan Rua is another possibility, but he looked shaky in the outfield at times last season. Robertson is a contact hitter and might have the lead as the No. 4 outfielder, but Smolinski, after recovering from his foot injury, hit the ball pretty well late in the season. Choice won a job in spring training but was demoted. Can Choice respond and make a push to earn a roster spot? Engle Beltre has battled through leg problems and his status is unknown at this stage of the offseason. He was rehabbing but then had to stop when more leg issues developed. He's a talented player who hit .292 in 92 games for Triple-A Round Rock in 2013 and the club still has hopes for him.
October, 20, 2014
Oct 20
6:50
PM CT
The
Texas Rangers
announced Monday night that
Tim Bogar
will leave the organization.
Bogar was hired after the 2013 season as bench coach and took over as interim manager when Ron Washington resigned in September. Bogar was considered the favorite to get the job full-time, but that position went to Jeff Banister, who was announced as the new manager Friday.
"Jeff Banister and I have both had discussions with Tim over the last few days as we began the process of putting a major league coaching staff together, and we have decided that it is best for us to go in another direction," Rangers general manager Jon Daniels said in a statement. "I have indicated to Tim that he has the option of accepting another position within the organization and, at present, he is going to look at other potential opportunities. I want to thank Tim for his contributions to the Rangers this past season, especially as interim manager under some very difficult circumstances."
Bogar went 14-8 in place of Washington and was praised for his work in communicating and trying different things with the lineup, such as having
Leonys Martin
lead off and mixing in different players in the No. 3 spot.
Bogar conducted exit interviews with several players after the 2014 season ended, leading to more speculation he would get the manager's job. Daniels said Banister simply won the job over Bogar, and that it wasn't due to any negative action on Bogar's part.
The Rangers are in Surprise, Arizona, this week, conducting interviews to finalize the coaching staff and to get Banister updated on several players in the Arizona Fall League.
October, 20, 2014
Oct 20
4:30
PM CT
According to the New York Daily News,
Texas Rangers
hitting coach
Dave Magadan
will not become the
New York Yankees
hitting coach.
Magadan had spoken with both New York teams about becoming their hitting coach.
Rangers officials had given their coaches an opportunity to look for other jobs until a new manager was hired. On Friday, Jeff Banister was named the new manager and he spoke with pitching coach Mike Maddux, bench coach
Tim Bogar
and Magadan about their futures.
Update:
Rangers officials, which include GM Jon Daniels and Banister, will meet with Magadan on Thursday in Surprise, Ariz., to talk further about his status.
The Rangers are hopeful to keep all three but have an understanding if Bogar leaves for another job. He was the interim manager and along with Maddux interviewed for the full-time manager job but didn't get it.
Bogar didn't return a call seeking comment.
With Magadan getting interest from several clubs, including the
New York Mets
and
Oakland Athletics
, the Rangers expressed interest in Chili Davis but he was hired by the
Boston Red Sox
.
Rangers GM Jon Daniels said he hopes to have Banister's coaching staff in place by November.
"I'm looking for men who want to have a passion for people," Banister said regarding what he's looking for in a coaching staff. "They're difference makers and they love to prepare and they love to be a the ballpark and ultimately they want to see the success of every individual player. They want to learn and they don't know it all and they're willing to make adjustments when needed but also are going to carry the model that the name on the front of the jersey means more than the name on the back of the jersey and that they're family men, because this is our family for seven months."
October, 20, 2014
Oct 20
2:25
PM CT
Over the weekend, the Boston Globe
reported
the possibility of Red Sox outfielder
Yoenis Cespedes
being on the trade block. Cespedes was part of the
Jon Lester
deal with Oakland at the trade deadline.
Oakland wanted to improve its pitching for the stretch run of the season and Boston needed a power hitter for the future. Lester will hit the free-agent market, as expected, and Cespedes might be leaving the Red Sox.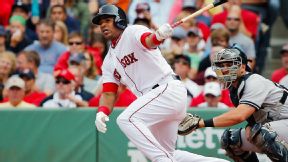 AP Photo/Winslow TownsonCould Red Sox slugger Yoenis Cespedes be a fit for the Rangers in left field?
Could the Rangers be a trade partner with the Red Sox?
Cespedes had a slash line of .296/.423/.719 in 213 plate appearances for the Red Sox last season and apparently is balking at moving to right field and wants to play left.
The Rangers, if a deal can be worked out, can accommodate Cespedes and move him to left field. Shin Soo-Choo, the Rangers left fielder in 2014, is a natural right fielder. Choo has 600 career games there and played right 12 times last season.
It seems Cespedes just wasn't happy in pressured-filled Boston. He had a 24-game stretch without a home run and just two RBIs in a 10-game period in September. He did finish the season with a hit in seven of the last eight games, with four multi-hit contests during that stretch.
October, 20, 2014
Oct 20
12:05
PM CT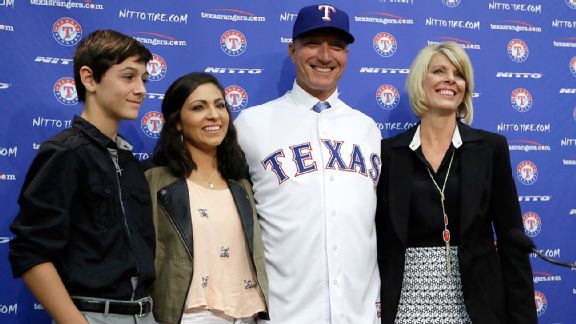 AP Photo/Tony GutierrezAfter battling health issues for many years, Jeff Banister knows what really matters in life.
New
Texas Rangers
manager Jeff Banister has the proper prospective on life. A two-game losing streak won't get him down too much.
Banister's life was shaped by growing up in La Marque, Texas, where he spent the majority of his time playing baseball and football and also battling health issues.
Banister lay in bed fighting bone cancer and osteomyelitis (an infection of the bone or bone marrow). Doctors told him paying sports was a remote possibility, but he kept dreaming that he would recover from the surgeries and chemo and be able to get out of bed and play ball.
"I guess my two parents instilled in me that you survive, that you push, that you endure, because the other option is not what I'm looking for," Banister said. "I will say that my experience, why my passion runs so deep for baseball, there were nights laying in a hospital bed knowing I wasn't going to get up and I couldn't leave the room, that one thing I could do is I could dream. I could think about and I could challenge myself that when I got out of the hospital I would continue to play the game of baseball."
Banister did get out of bed, fought cancer and was able to play college baseball for Baytown Junior College. He was good enough that a few big league scouts wanted to see him play.
A scout with the
New York Yankees
asked Banister to catch in a game. If he did well, maybe the Yankees would draft him.
In Banister's mind, that's what you do. You play hard and do what's asked. It's the way Banister's father, a high school football coach, taught him.
His mother did the same. Two educators, instilling family values in their son.
October, 20, 2014
Oct 20
11:00
AM CT
Today we begin our offseason Rangers position series with a look at the infield.
Infielders:
SS
Elvis Andrus
, 3B
Adrian Beltre
, 1B Prince Fielder, 2B
Ed Lucas
, 1B Mitch Moreland, 2B
Rougned Odor
, 2B Jurickson Profar, Utl
Adam Rosales
, Utl
Ryan Rua
and 2B
Luis Sardinas
.
Most productive infielder:
Beltre
Least productive infielder:
Fielder
Stat of note:
Odor's 8.0 AB/RBI ratio was third on the team.
Outlook:
Beltre (.324/.388/.492) was the MVP of the team but he can't be expected to carry the team offensively again in 2015. He needs Fielder (42 games) to return from neck surgery and Andrus (career-low .314 OBP, major league leading 15 CS) to have a much better season. Odor is the favorite to take over the starting job at second, don't count out Profar (shoulder) who is trying to recover from his injuries. Rua needs to find a home and will compete with Rosales as a utility man in 2015. It seems Rua (.740 OPS in 28 games) is a better hitter and that might give him an edge with new manager Jeff Banister wanting more power in the lineup. Moreland is in a similar situation as Fielder, a good power hitter, coming back from injury. If Moreland can produce, he becomes nice piece in the bottom of the lineup as a DH or first baseman.
October, 17, 2014
Oct 17
3:30
PM CT
ARLINGTON, Texas -- Tanner Scheppers threw a bullpen session Friday and is ahead of schedule in his recovery from elbow issues that plagued him last season, according to
Texas Rangers
GM Jon Daniels.
Scheppers, who was the club's opening day starter, didn't return in the 2014 season after being diagnosed with an inflamed right elbow in early June.
Scheppers was one of the Rangers' better setup men in 2013 but was moved to the rotation in spring training. He started four games before shifting back to the bullpen -- where he will find himself in 2015 -- and finished his season 0-1 with a 9.00 ERA in 23 innings.
Lewis negotiations ongoing:
Daniels said the club has exchanged contract numbers with the agent for free agent
Colby Lewis
. Lewis and the club both appear open to reuniting. Lewis finished 10-14 last season and was much better in the second half, showing the club he was fully recovered from hip and elbow surgeries.
Darvish MRI:
Rangers ace Yu Darvish will return to the U.S. in November for an MRI on his elbow. Darvish made his last start on Aug. 9 and was shut down for the rest of the season because of mild inflammation. If all goes well with the MRI, Darvish will resume his normal offseason pitching program.
Coaching staff update:
The Rangers will try to finalize the coaching staff in the next two weeks. Daniels said he expects the staff to be in place before the GM meetings, which are in early November. Jeff Banister has met with pitching coach Mike Maddux, hitting coach Dave Magadan and bench coach Tim Bogar about their statuses for 2015. Magadan has met with two other clubs about employment, and Bogar is trying to decide if he remains whether he will be a good fit. Maddux would like to stay with the Rangers. Banister remained on the Pirates' staff in 2011 after he was passed over for their managerial gig in favor of Clint Hurdle.
October, 17, 2014
Oct 17
3:20
PM CT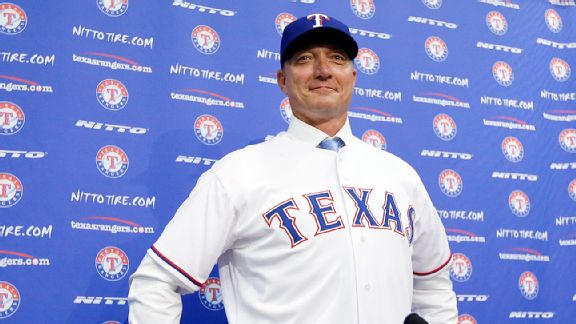 AP Photo/Tony GutierrezJeff Banister was introduced as the Rangers new manager Friday in Arlington.
ARLINGTON, Texas -- It's been a little more than a year since Nolan Ryan was involved in the decision making process for the
Texas Rangers
.
There were some ties to Ryan around the ballpark until Sept. 5, when manager Ron Washington stepped away for personal reasons.
With Jeff Banister taking over as Rangers manager Friday, it signaled a new beginning for the organization.

"Nolan has been gone a year and we have to go forward," Rangers co-chairman Ray Davis said Friday. "None of us wanted Nolan to leave, but he did. OK, he's working for the Astros. They're our enemy now. Now we have to put together an organization that can work together."
Others affiliated with Ryan are also gone from the coaching staff. Outfield/third base coach Gary Pettis appears headed to Houston.
Pitching coach Mike Maddux's status with the club wasn't solidified during Banister's talk with reporters Friday. It would be a surprise if Maddux didn't return, but the pitching coach is his own man, much like Banister.
GM Jon Daniels stressed during the nearly 40-minute news conference at the ballpark that Banister is his own man.
But this is Daniels' organization to run. Yes, he's got Thad Levine and others helping him make decisions, but nobody can point to rifts between Daniels and Ryan anymore.
"We don't have two camps now," Davis said.
October, 17, 2014
Oct 17
1:38
PM CT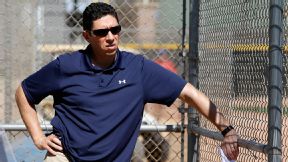 AP Photo/Tony GutierrezJon Daniels has been the Rangers' general manager since 2005, when he replaced John Hart.
ARLINGTON, Texas -- Texas Rangers co-chairman Ray Davis said he would like to extend the contract of general manager Jon Daniels by the time spring training starts.
Daniels has one year remaining on his contract and was given the lead role in hiring the franchise's 18th full-time manager over the past two months. The job went to Jeff Banister, who signed a three-year deal with a club option for a fourth season. The financial terms were not disclosed.
"We've been consumed for the last month on this, so [Daniels' extension] will fall in place," Davis said.
Daniels was promoted to president, baseball operations and GM in March 2013 as part of a restructuring of the front office which also saw Nolan Ryan taking on a lesser role.
Daniels, who was Baseball America's major league executive of the year in 2010, has been the team's GM since 2005.
"I love the organization and I love the community," Daniels said. "It's not really something for me to think about."
October, 17, 2014
Oct 17
12:19
PM CT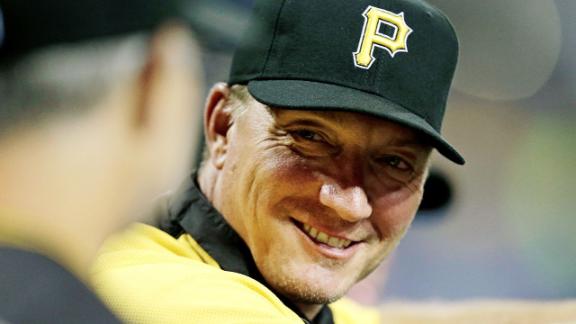 ARLINGTON, Texas -- Nearly eight years ago, Texas Rangers general manager Jon Daniels hired a fairly anonymous third-base coach to be a first-time manager.
Daniels took the same approach with his second manager, hiring a fairly anonymous bench coach to his first managing job.
He can only hope Jeff Banister does as good a job on the field as Washington, who resigned last month, did in becoming the Rangers' all-time leader in wins (664) and games (1,275) and guiding the club to a couple of World Series appearances.
There's no guarantee Daniels will get an opportunity to hire a third manager, so he needs Banister to work.
A lot of times GMs seek out polar opposites of the previous manager, but that's not the case with Banister.
He has a similar philosophy to Washington when it comes to being aggressive on the bases, though he doesn't want the recklessness the Rangers have displayed the last couple of years. And he won't be bunting as much as Washington early in the game because he'll be playing for a big inning.
But what really drew Daniels to Banister was his authenticity, the same trait that drew Daniels to Washington.
Banister spent the first 10 minutes of his news conference speaking from his heart and without notes in a gray suit with light blue pinstripes and matching argyle socks.
He beamed with pride as he talked about his wife and kids and their family journey as he went from minor league ballplayer to big league coach to major league manager.
Banister laughed without hesitation as he remembered his mom scoring the ballgames he played as a youth, something he expects her to keep doing now that he works in Arlington.
And when he was asked about the only hit of his big league career, which occurred in his only at-bat, Banister didn't hide his emotions.
October, 17, 2014
Oct 17
10:00
AM CT
We conclude our Burning Questions series for the
Texas Rangers
by looking at the starting rotation.
Now that we know who the manager is, Jeff Banister, we can no longer speculate. Well maybe we can still do that, in terms of what the team will do.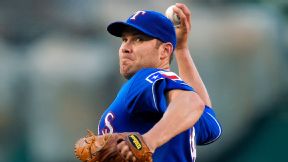 AP Photo/Mark J. TerrillWill the Rangers sign free-agent pitcher Colby Lewis to a new deal?
GM Jon Daniels said the club is making starting pitching its No. 1 priority, but the payroll -- $133.5 million last season -- will stay in the same range.
Will the Rangers be able to go after top-tier free-agent pitchers
Jon Lester
,
Max Scherzer
and
James Shields
? Probably not unless something changes with the ownership's stance on adding a high-priced free agent.
The Rangers can look at
Justin Masterson
, who after his trade to St. Louis compiled a 7.04 ERA in nine games/six starts. Masterson won 14 games in Cleveland in 2013.
Brandon McCarthy
, after a 3-10 start in Arizona, was traded to the
New York Yankees
and he excelled with a 2.89 ERA and a 7-5 mark.
Those two seems fair to explore from a financial standpoint.
Right-handed starter
Colby Lewis
(10-14 in 2013) is a free agent. When the season ended, Daniels said he had preliminary talks with Lewis' agent about a new contract.
October, 16, 2014
Oct 16
7:15
PM CT
With the
Texas Rangers
officially hiring Jeff Banister as their manager Thursday, it means the coaching staff is in a fluid situation.
One thing we know is Triple-A manager Steve Buechele will keep his job in Round Rock but could be promoted to the big club after an impressive interview with club officials.
[+] Enlarge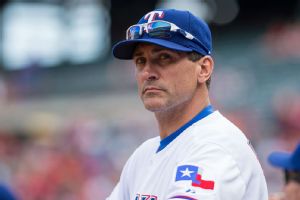 Jerome Miron/USA TODAY SportsTim Bogar wasn't selected to become the Rangers' permanent manager, but GM Jon Daniels said he was open to Bogar returning to the staff.
As for Tim Bogar, the bench coach who took over for Ron Washington in September, his status is unknown. General manager Jon Daniels said Bogar interviewed well for the manager's job though wasn't hired.
Daniels said he was open to keeping Bogar on the staff.
"I think the next steps with him and everybody on the staff is to have Jeff be able to connect with them and spend some time with them," said Daniels, who informed Bogar on Thursday morning he wasn't getting the job. "It's a situation where everybody involved going forward is in a good spot and everyone feels it can be productive individually and for the Rangers. I have no problem with him being on the staff."
Pitching coach Mike Maddux, who also interviewed for the managerial position, worked in the Arizona Fall League for the Rangers and would like to stay. Daniels said those decisions will be worked out between him and Banister.
Meanwhile, third-base coach/outfield coach Gary Pettis is in serious talks to join the
Houston Astros
. Nothing has been finalized, but Pettis' contract expires at the end of October.
Hitting coach Dave Magadan has spoken to both New York baseball clubs about taking the same position. Nothing is finalized with Magadan's status, either.
The Rangers, however, are interested in speaking with
Oakland Athletics
hitting coach Chili Davis, and talks with him might increase now that Banister has been hired.