March, 13, 2014
Mar 13
2:28
PM ET
By
Peter Gambaccini
| Runner's World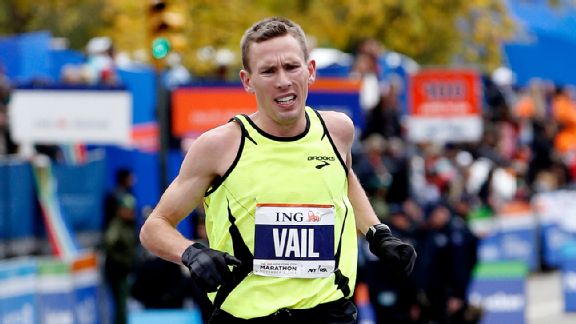 AP Photo/Kathy WillensRyan Vail isn't going to let anything keep him from running the London Marathon
One question we've never asked ourselves, because, honestly, it's never come up, is "what happens when an elite distance runner gets called to jury duty when he's supposed to be out of the country for one of his biggest paydays of the year, and court officials just aren't buying his excuse?"
It's probably happened before, though, and it's happening right now to Ryan Vail, who was the top American in the 2013 New York City Marathon at 2:13:23.
Vail, who ran a career best of 2:11:45 in Fukuoka in 2012, is an elite entrant in April 13 London Marathon. He'll be leaving for Europe and will be leaving for Europe on April 3, heading first to the home of his wife's family in Prague and then moving on to London.
Problem is, Oregon's Multnomah County, which includes the city of Portland, wants him to appear for jury duty on April 10.
Vail Tweeted on March 10 that "the excuse that I'll be out of the country for the London Marathon was denied for jury duty … guess they'll have to arrest me when I return."
Well, it probably won't come to that, but Vail is not atypical of itinerant professional runners who make a living journeying to faraway places for racing and training.