December, 12, 2013
Dec 12
4:34
PM ET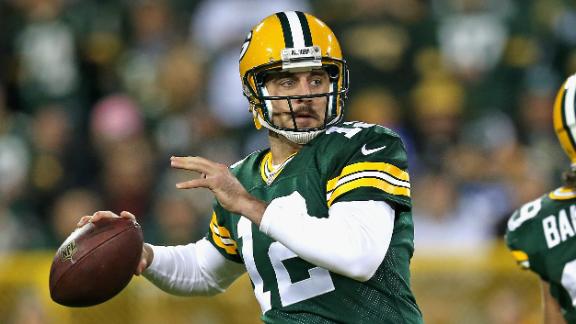 GREEN BAY, Wis. -- The Aaron Rodgers watch will continue for at least one more day.
Whether it stretches into next week likely will depend on what happens at the Green Bay Packers' practice on Friday.
Rodgers took some snaps during 11-on-11 drills during Thursday's practice, the first time he has done so in pads since he broke his collarbone on Nov. 4, but still has not been medically cleared to play Sunday at the Dallas Cowboys.
"If I'm going to play Sunday, I'm going to need to take the majority of the reps tomorrow," Rodgers said after Thursday's practice.
He said he is holding out hope he could return for Sunday's game but in order for that to happen, the team doctors will need to do another scan of his left clavicle. He has not had one since Dec. 3, and that did not show enough healing for him to be cleared. Team physician Dr. Pat McKenzie typically examines injured players on Wednesdays and Fridays.
"I think there's more to it than that," Rodgers said. "But I would guess there would have to be another scan for me to be on the field."
Last week, pain also was an issue when he practiced. After last Wednesday's session, he reduced his workload the rest of the week and by Friday did very little in practice. That did not appear to be the case so far this week. Rodgers took the first snap during at least one practice drill on Thursday. That was significant because the starting quarterback typically takes the first rep of every drill.
Rodgers said he felt better after his two practice sessions this week than he did last week.
December, 12, 2013
Dec 12
4:08
PM ET
December, 12, 2013
Dec 12
2:25
PM ET
GREEN BAY, Wis. –
Green Bay Packers
quarterback
Matt Flynn
was at his best last Sunday when he got the ball out quickly.
On many of his 24 completions in the 22-21 win over the
Atlanta Falcons
, Flynn hit his primary receiver and did so within the 2.5-second window that coach Mike McCarthy likes to see the ball come out.
It was when Flynn had to go through his progressions that things broke down.
[+] Enlarge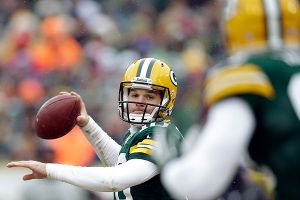 AP Photo/Tom LynnPackers QB Matt Flynn will be aiming to get rid of the football quickly against Dallas on Sunday.
That's an area where Flynn must improve this week if he ends up starting Sunday's game at the
Dallas Cowboys
. He took the majority of the starter's reps in practice on Wednesday although in a surprising development,
Aaron Rodgers
worked with the No. 1 offense for the first time since he broke his collarbone on Nov. 4. Then on Thursday, Rodgers appeared to
increase his workload
.
Nevertheless, Flynn said he will continue to prepare as if he is starting on Sunday, and part of that preparation includes being more decisive when his primary target is not open.
"I'd have to go back and analyze it, but I can think of a number of [completions] that weren't [Flynn's primary receiver]," Packers offensive coordinator Tom Clements said. "But I don't know what the percentage is."
Flynn has been sacked 12 times in the past two games, and several of them should be charged to him. On 10 of his 12 sacks, he held the ball for 2.6 seconds or longer, according to ProFootballFocus.com. Flynn's average time in the pocket is 2.81 seconds compared to 2.67 for Rodgers, according to PFF.
"A lot of those sacks were, a lot of that was on me," Flynn said. "I think that will start cleaning up the more comfortable I get with what we're trying to do offensively and the routes and things like that. I think I was getting hung up on a couple receivers and didn't get [through] all progressions. So a lot of that's on me. I've got to do a better job and take a lot of fall for that."
Flynn might have it easier this week against the Cowboys, who have the NFL's worst defense and worst passing defense. They also are 31
st
out of 32 teams in sacks per pass play.
Cowboys defensive coordinator Monte Kiffin has pressured with five or more defenders on only 21.4 percent of opponent dropbacks this season, according to ESPN Stats & Information. By comparison, Packers defensive coordinator Dom Capers has sent five or more pass-rushers on 38.2 percent. The Cowboys also rank 31
st
in the league in ESPN Stats & Info's disrupted dropback percentage (13.2), which is a combination of sacks, passes defended, interceptions and batted balls.
Flynn has been most productive when coach Mike McCarthy has given him the green light to run the no-huddle offense. The Packers made liberal use of that during both of Flynn's appearances at Lambeau Field – the Nov. 24 tie against the
Minnesota Vikings
and last Sunday's win over the Falcons. That seemed to help Flynn's rhythm and timing.
But McCarthy did not use it at all in the Thanksgiving loss at Detroit. That's not to say he can't – or won't – use it on the road this week in Dallas, but it's more difficult to do when crowd noise is a factor.
"I thought the no-huddle start was great, the early production [against the Falcons]," McCarthy said. "We did a lot of good things. I think we got out of it what we wanted to. As far as doing it on the road, it differs each and every place. Last time we were in that building [for Super Bowl XLV] it was pretty loud. But I don't have a feel for being an opponent [of the Cowboys] down there. So all the feedback, obviously it's a very large stadium, so that's all part of our plan."
December, 12, 2013
Dec 12
1:40
PM ET
GREEN BAY, Wis. --
Green Bay Packers
quarterback
Aaron Rodgers
, outfitted in full pads, took the first rep during at least one drill during Thursday's practice.
Rodgers
That's the first time he has done that since he returned to practice from his collarbone injury. The first rep in each period typically goes to the starting quarterback. Rodgers took that snap during a quarterback-running back handoff drill early in practice.
However, Rodgers and
Matt Flynn
appeared to split reps evenly during the portion of practice that was open to reporters.
A couple of things were noteworthy:
No team (11-on-11) periods were conducted during the portion open to the media, and those are the snaps that matter most.
Rodgers handed off several times with his left hand, which is the side of his fractured collarbone.
Rodgers is expected to speak to reporters after practice, so we may have a better idea then how he felt. He previously said he experienced some pain and discomfort while practicing last week.
There were no other changes
from Wednesday's practice
. Still out were running back
Eddie Lacy
(ankle), linebacker
Brad Jones
(ankle), linebacker
Jamari Lattimore
(knee), linebacker
Mike Neal
(abdomen) and defensive end
C.J. Wilson
.
Receiver
Randall Cobb
, who is eligible to come off the temporary injured reserve list this week, still has not returned to practice, making it unlikely he would play on Sunday against the
Dallas Cowboys
.
December, 12, 2013
Dec 12
11:45
AM ET
GREEN BAY, Wis. -- The
winter weather that hit NFL games
last Sunday in Philadelphia, Baltimore, Pittsburgh, Washington and Green Bay served as a reminder of what could happen during Super Bowl XLVIII at MetLife Stadium.
To be sure, the Super Bowl likely will never come to Green Bay.
Sitton
But snow in four Northeast NFL cities should at least make us think about what impact weather could have on the NFL's most important game, which this time around will be played at the outdoor home of the
New York Giants
and
New York Jets
.
ESPN.com's Kevin Seifert
addressed that topic
, and with the help of our team of NFL Nation reporters, several players and coaches around the league weighed in.
Opinions varied -- from guys like Giants quarterback
Eli Manning
and
Detroit Lions
coach Jim Schwartz, who said they hoped weather would not be a factor in the game; to guys like
Pittsburgh Steelers
safety
Troy Polamalu
and
Philadelphia Eagles
defensive back
Cary Williams
, who think the idea of a snowy Super Bowl is great.
I asked one member of the Packers for his take on the subject. Here's what left guard
Josh Sitton
had to say:
"I think it's awesome. I mean, football originated to be played outside. I think it would be cool. I say that obviously being a little biased, because I play up here. So if we were to be in that game, I would certainly like it. I don't know how I'd feel if I were on a team from the South or something."
December, 12, 2013
Dec 12
10:00
AM ET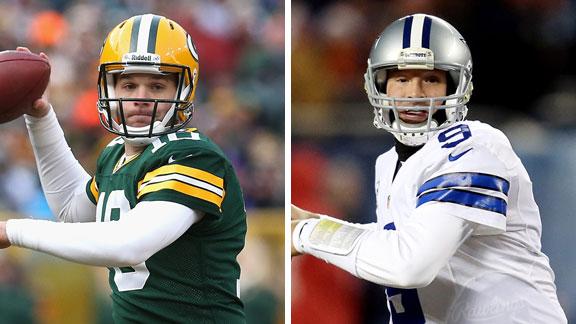 IRVING, Texas -- The
Green Bay Packers
and
Dallas Cowboys
are two of the most storied franchises in NFL history, but with three games to play in the 2013 season both are on the outside of the playoff chase and in need of a win.
The Packers have fallen on hard times without
Aaron Rodgers
but won last week against the
Atlanta Falcons
. The Cowboys are coming off a humiliating loss to the
Chicago Bears
and have a short week to get ready.
ESPN.com Packers reporter Rob Demovsky and Cowboys reporter Todd Archer debate the matchup in this week's Double Coverage.
Archer:
I'll skip the "What's Aaron Rodgers status?" and ask about Ted Thompson's approach to the backup quarterback. The Cowboys pay
Kyle Orton
a lot of money to hopefully never throw a pass. Is there any regret form the Packers that they did not have a better backup quarterback situation behind Rodgers, considering their struggles without him?
Demovsky:
Thompson admitted at the end of training camp that he probably should have signed
Vince Young
much earlier than he did, although after watching Young for about a month, I'm not sure he would have been any better had the Packers signed back in the spring. Where they probably erred was in not drafting a quarterback. They overestimated what they had in
Graham Harrell
and B.J. Coleman, and neither one developed enough. When Ron Wolf was the GM, he made it a regular practice to draft a quarterback in the middle-to -late rounds. Not all of them worked out, but guys like
Ty Detmer
,
Mark Brunell
,
Matt Hasselbeck
and
Aaron Brooks
all came up through the Packers' system.
Packers defensive coordinator Dom Capers said
Tony Romo
is "playing probably as good as he has in his career." Do you agree with that assessment?
Archer:
I'd agree with that, sure. It's hard to argue against his numbers. He has 3,244 yards passing with 27 touchdowns and seven interceptions. He's taking care of the ball. He had one really careless throw and it cost the Cowboys big-time in their loss to the
Denver Broncos
. Romo gets most of the blame for the December/January woes this team has had, but in his last 16 games he has 34 touchdowns and seven picks. It's hard to play better than that. But you know what? He has to. This defense is so bad that Romo has to be nearly perfect. There can be no poor drives. If they don't get points they at least need to chew up time because there's not an offense the Cowboys can slow down right now.
When the Packers won Super Bowl XLV at AT&T Stadium they were able to overcome so many injuries, especially on defense as we talked about. The difference this year is Rodgers missing time, but is there anything more to it than that?
Demovsky:
They did end up with 15 players in injured reserve in their Super Bowl season, and then during that game itself they lost
Charles Woodson
to a broken collarbone. But you know what? This defense played fine early this season and even during the stretch
Clay Matthews
missed because of his broken thumb. Capers said last week that losing Rodgers had nothing to do with the Packers' defensive slide, but I'm not buying it. The Packers' defense got four turnovers in the Thanksgiving game at Detroit and still got walloped 40-10 because the offense couldn't do a darn thing with them. To be sure, there are issues on defense. Their failure to address needs at safety has hurt them up the middle, where their inside linebackers also haven't played well enough.
It sounds like Monte Kiffin is already taking heat, but how much of it is personnel? When I saw Packers castoff
Jarius Wynn
playing Monday night against the Bears, to me that was a red flag that there are talent issues, perhaps some of them caused by injuries.
Archer:
There are talent issues and there are depth issues. Blame the owner and GM who constructed this team. Blame the coaches -- Kiffin and Rod Marinelli -- for saying the line was a position of strength. The Cowboys thought they had pieces to fit Kiffin's scheme at the start of the year.
DeMarcus Ware
has not been DeMarcus Ware in part because of injuries, but he acknowledged he has to play better.
Bruce Carter
was supposed to be the ideal weak-side linebacker and he just has not made any plays. The corners are more man corners and Kiffin has tried to play more man but all of them --
Brandon Carr
,
Morris Claiborne
and
Orlando Scandrick
-- have had issues.
Sean Lee
has been hurt and could miss Sunday's game with a neck injury. He's been good but the defense has been lit up with him on the field, too. It's just a mess. Until Jerry Jones realizes he needs better players, not necessarily better schemes, it will be a mess.
Let's stick with the defensive coordinators. From the outside looking in, it appears Capers is catching a lot of grief too. Are the Packers committed to the 3-4 regardless or could they pull a Dallas and move to a 4-3 in the future?
Demovsky:
When the cornerstone of the defense is Matthews, an outside linebacker, I would think they'd have to stick with the 3-4 even if they part ways with Capers, which I'm not sure will happen anyway. Mike McCarthy has continually praised Capers and the defensive staff. It's probably more about personnel. They need a few more playmakers to help out Matthews. They haven't gotten enough production from their defensive front. I'd look for an overhaul in personnel more than a coaching change.
Knowing the temperature in the Cowboys locker room like you do, how do you think they will react to getting steamrolled Monday night? Is this a group that will fight? Or will they pack it in?
Archer:
This is where I have to give Jason Garrett credit. This team has fought. Maybe they didn't fight all that much in the losses to New Orleans and Chicago, but they have not packed it in. You saw the last time the Cowboys packed it in in 2010 at Lambeau Field when Wade Phillips was the coach. The Cowboys lost 45-7 and were completely disinterested. Phillips was fired the next day and Garrett took over. There is some gumption to this team. They do work hard. They do the right things. I'll say it again: Most of it is a talent issue. I'd expect the Cowboys to come out with the effort Sunday because they're still very much in the playoff chase. But do they believe they can really make a run? I don't know about that.
December, 12, 2013
Dec 12
8:00
AM ET
A roundup of what's happening on the Green Bay Packers beat.
GREEN BAY, Wis. – The NFL released the latest totals from fan voting for the Pro Bowl, and eight Packers players were in the top 10 at their positions. However, none was ranked better than fifth.
Here's how the Packers were represented:
Aaron Rodgers was fifth among quarterbacks with 430,042 votes despite not having played since Nov. 4 because of his broken collarbone. Peyton Manning of Denver not only led the quarterbacks but also was the overall top vote-getter with 1,093,691 votes.
Rookie Eddie Lacy was ninth among running backs with 248,210 votes. Marshawn Lynch of Seattle led the position group with 745,286 votes.
Jordy Nelson was ninth among receivers with 295,509 votes. Calvin Johnson of Detroit was first with 739,701 votes.
John Kuhn was fifth among fullbacks with 112,600 votes. Mike Tolbert of Carolina was first with 324,223 votes.
Josh Sitton was 10th among guards with 112,753 votes. Zane Beadles of Denver was first with 184,801 votes.
Clay Matthews was eighth among outside linebackers with 127,289 votes. Tamba Hali of Kansas City was first with 265,222 votes.
Mason Crosby was sixth among kickers with 68,087 votes. Stephen Gostkowski of New England was first with 177,009 votes.
Jarrett Bush was fifth among special-teams players 71,808 votes. David Bruton of Denver was first with 109,243 votes.
The Packers did not have anyone in the top 10 among tight ends, centers, tackles, defensive ends, defensive tackles, inside linebackers, cornerbacks, safeties or punters.
Fan voting continues
through Dec. 26 at 6 p.m. ET. Pro Bowl players are determined by a vote among fans, players and coaches. The selections will be announced on Dec. 27.
For the first time in the Pro Bowl, players will not be divided by conference. There will be a draft during the week leading up to the game, which is Jan. 26 in Honolulu, Hawaii.
In case you missed it on ESPN.com:
Elsewhere
:
At ESPNWisconsin.com, Jason Wilde writes that receiver Randall Cobb, who is on the temporary injured reserve list, has been cleared to run for the first time since he fractured his tibia on Oct. 13.
In the Green Bay Press-Gazette, Pete Dougherty writes that whoever plays quarterback for the Packers on Sunday – Rodgers or Matt Flynn – will face one of the NFL's worst defenses in Dallas, and Weston Hodkiewicz's notebook led with the story of offensive lineman JC Tretter's unlikely journey to the active roster after ankle surgery in the offseason.
In the Milwaukee Journal Sentinel, Tom Silverstein writes that despite the fact that Rodgers did more than was expected in practice, there were still more questions than answers about his status, and Tyler Dunne writes that Flynn is preparing like he is going to play.
December, 12, 2013
Dec 12
3:00
AM ET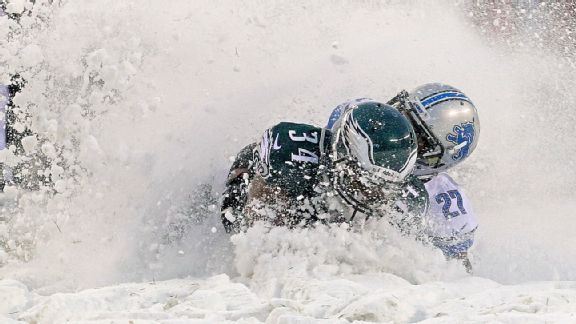 Hunter Martin/Philadelphia Eagles/Getty ImagesGlover Quin (27) of the Detroit Lions falls down in the snow near Bryce Brown (34) of the Philadelphia Eagles on Dec. 8.
If you're dreaming of a white NFL Christmas, I say bah humbug.
You sing, "Let it snow!" I say let it go.
For me, watching football played in the snow is abominable, as in snowman.
During Sunday's early games played in the Northeast and Midwest, it once more hit me like an avalanche why I have long wished every National Football League game were played in a climate-controlled dome:
I can't stand seeing the great game of football reduced to an unwatchable joke by snowstorms. Or driving rain. Or howling wind chill.
That's right, Frosty: I have long believed every NFL team should play inside, even in San Diego and Miami -- at least with a retractable roof. One day, I believe, every team will.
You harrumph and say, "We purists believe football was meant to be played in the elements!" Yeah, maybe in the late 1800s. Give it up, Trapper John. We have indoor plumbing now -- and indoor football that makes the wintertime experience far better for players and fans alike. What beats a Super Bowl in the Superdome? Why should "real men" and "real women" suffer frostbite to support their teams?
Trust me, you cannot love football any more than I do. I'd like to think I'm a modernized purist. I just want to see the greatest players in the world be able to prove who's best in perfect conditions. Please, let's lock out Mother Nature.
December, 11, 2013
Dec 11
10:17
PM ET
The Green Bay Packers are no strangers to taking the long-shot road to victory under the guidance of Mike McCarthy. They took this path in 2010 on the way to becoming only the sixth club in NFL history to win the Super Bowl after making the playoffs as a wild card.
With a 6-6-1 record and Aaron Rodgers possibly out for Week 15 and maybe even longer, it certainly looks as if it will take a similar long-shot path for the Packers to make the playoffs in 2013 (which likely would require them to win the NFC North). However, the truth of the matter is it won't take a miracle for this to happen.
And if it does happen -- and Rodgers is in the lineup for the postseason -- Green Bay could be the most dangerous team in the NFC playoffs.
It all starts with the fact that every facet of this team has the ability to be dominant under the right circumstances.
To continue reading this article you must be an Insider
December, 11, 2013
Dec 11
6:50
PM ET
GREEN BAY, Wis. -- Many have weighed in on whether
Green Bay Packers
quarterback
Aaron Rodgers
should play or will play again this season after breaking his collarbone on Nov. 4.
But few have the insight that
Dallas Cowboys
quarterback
Tony Romo
has on the subject.
Romo
Rodgers
Romo broke his collarbone on Oct. 25, 2010, and did not return the rest of that season. Romo's injury occurred in the same spot as Rodgers' -- the left clavicle -- but was worse because it was displaced, meaning the two ends of the bone were separated from each other. Rodgers sustained a non-displaced fracture.
"I was doing everything I could to get back out there," Romo said during a conference call Wednesday with reporters at Lambeau Field. "I know Aaron's doing the same thing. You also have to be smart about it. If he's been feeling good for a couple of weeks, then I think that's something where you could really have a chance to say his re-injury factor has gone down. And if that's the case, you might be able to go."
But Rodgers felt pain as recently as last week. He said during his ESPN Milwaukee radio show on Tuesday that he experienced
more discomfort than expected
when he practiced last Wednesday.
He returned to practice on Wednesday and although coach Mike McCarthy said Rodgers did not look like he was in pain, that might not be known until Thursday, when Rodgers speaks to reporters.
"If you're feeling it at all, you can't come back and play," Romo said. "But even more so than that, even when you get relatively where you feel like it's pain free, it still doesn't mean you're ready to play just because it's such an easy thing to hurt again.
"And it's a little different in the sense that if you come back right when you feel like you're healthy, there's just so many cases of people come down with another collarbone injury, the same one just re-injuring it. That really plays a big role in determining when you come back, and [it's] always an injury that you almost have to wait longer than initially diagnosed, typically, because it's just the re-injury factor alone plays such a high role."
Romo said doctors initially told him it would take six to eight weeks to heal. Rodgers has mentioned the same timeline several times. Sunday's game at Dallas would mark the six-week mark since Rodgers' injury.
However, Romo said it took more like nine or 10 weeks for his to fully heal.
The Cowboys never brought Romo back that season. It was an easy decision because they were out of playoff contention.
The Packers are in a different situation. Heading into Sunday's game, they are only one-half game out of first place in the NFC North with just three games remaining.
"I think in our case a lot of it was dependent upon where we were and what position we were in and if we had the opportunity to continue to play," Romo said. "We didn't that year, so it made the decision easier on the doctors, I think."
December, 11, 2013
Dec 11
4:45
PM ET
GREEN BAY, Wis. -- Thanks to
Green Bay Packers
tight end
Andrew Quarless
, we know that quarterback
Aaron Rodgers
took
snaps with the starting offense
Wednesday.
Rodgers
While
Matt Flynn
still took the majority of the starter's reps and at this point is planning to start Sunday's game against the
Dallas Cowboys
, it represented a significant step for Rodgers in his recovery. How his collarbone feels Thursday will dictate his activities for the rest of the week.
"We'll see how he is tomorrow," Packers coach Mike McCarthy said after Wednesday's practice. "We'll set a plan for him again tomorrow."
Rodgers is expected to hold his weekly news conference Thursday.
Meanwhile, receiver
Randall Cobb
, who has been on the injured reserve/designated to return list since Oct. 15 because of his fractured tibia, still has not returned to practice. He is eligible to return to game action this week, but that appears unlikely.
"Randall is doing more, he's doing more in his rehab," McCarthy said. "He's progressing, looks good. He's starting to bounce around. He definitely took a step."
Running back
Eddie Lacy
won't practice until Friday at the earliest because of the sprained ankle he sustained Sunday against the
Atlanta Falcons
. Lacy finished the game after getting re-taped but if he can't play this week,
James Starks
would be the starter, and it could mean the recently signed
Kahlil Bell
would be the backup. Bell was inactive against the Falcons.
McCarthy said he did not have major concerns about inside linebackers
Brad Jones
(ankle) and
Jamari Lattimore
(knee) despite the fact that neither practiced Wednesday.
Receiver
Myles White
, who was
placed on season-ending injured reserve
Tuesday, said he injured his knee on his third-quarter catch against the Falcons. White said he has a partially torn meniscus but will not need surgery.
Here's the full injury report:
C Evan Dietrich-Smith (knee/ankle, limited participation in practice)
LB Brad Jones (ankle, did not practice)
RB Eddie Lacy (ankle, did not practice)
LB Jamari Lattimore (knee, did not practice)
OLB Mike Neal (abdomen, did not practice)
OLB Nick Perry (foot, limited participation)
QB Aaron Rodgers (collarbone, limited participation)
DE C.J. Wilson (ankle, did not practice).
December, 11, 2013
Dec 11
2:30
PM ET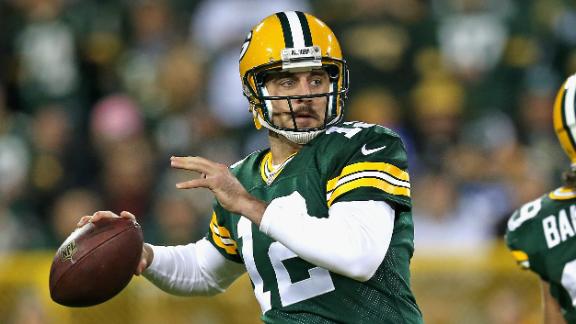 GREEN BAY, Wis. -- Nearly every time there's
an update
on Packers quarterback
Aaron Rodgers
and his broken collarbone, the name Brett Favre comes up.
On Wednesday, a Twitter follower responded to a tweet about what Rodgers did in practice by saying: "Favre would've started 4 weeks ago."
No, he would not have.
Rodgers
Not if he were playing for the Packers in 2013.
Maybe Favre forced his way on the field a week after he sprained his ankle in 1995 to throw five touchdowns against the
Chicago Bears
. And it's possible it was his call to play with a broken thumb in 1999, but that preseason injury clearly impacted his performance during that mediocre season. Favre had myriad injuries – and played through almost every one of them – but he never broke his collarbone.
Times have changed, and team doctors – especially in Green Bay – have more say now than they did then. That they have taken a cautious approach with Rodgers has been a wise move. If the doctors clear him to return, then coach Mike McCarthy should let him play – regardless of the circumstances surrounding the playoffs. But the medical standard should be the same no matter if the Packers are in playoff contention or not.
A top personnel executive from another NFL team told me shortly after Rodgers broke his collarbone on Nov. 4 that he thought Rodgers would not play the rest of the season. He made that assessment based on the fact that one of his players sustained a similar injury and missed more than two full months.
Now, if you want to argue that Favre would never have sustained the injury Rodgers did, that might be more valid. Favre might be physiologically superior to Rodgers – and most other NFL quarterbacks --and therefore was impervious to some of the injuries that befell others. As much as anything – toughness included – that allowed him to make those 297 consecutive starts.
Favre's streak ended because of a shoulder injury that, believe it or not, caused him pain and discomfort.
"I won't play again if I can't feel my hand," Favre said when his streak ended in 2010. "I think it would be foolish to even consider playing if you don't have total feeling in five fingers."
Just like it would be foolish to bring back Rodgers before tests showed his broken collarbone had sufficiently healed and before he was able to perform his job without intense pain.
Let's say the Packers would have put Rodgers back on the field last Sunday against the
Atlanta Falcons
. Would his collarbone have survived the blindside hit
Matt Flynn
took when he was sacked by an unblocked
William Moore
, who jarred the ball loose?
Maybe, but it was a chance not worth taking.
December, 11, 2013
Dec 11
1:40
PM ET
GREEN BAY, Wis. --
Green Bay Packers
quarterback
Aaron Rodgers
continued to work with the backup centers during individual drills at Wednesday's practice just like he did last week.
But unlike last week, he did more throwing on the run.
At one point, Rodgers scrambled to his left and threw a sharp pass to
Jordy Nelson
along the sideline. Rodgers said he experienced pain his collarbone after last Wednesday's workout, so how he feels after this latest session will help determine when he can return from his Nov. 4 injury.
While Rodgers worked with backup lineman
J.C. Tretter
and practice-squad lineman Garth Gerhart,
Matt Flynn
took snaps from starting center
Evan Dietrich-Smith
.
Running back
Eddie Lacy
, who finished Sunday's win over the
Atlanta Falcons
after he sprained his right ankle in the second quarter, was not practicing during the portion that was open to reporters.
Others not practicing were: linebacker
Jamari Lattimore
(knee), linebacker
Brad Jones
(ankle), outside linebacker
Mike Neal
(abdomen) and defensive end
C.J. Wilson
(ankle).
Receiver
Randall Cobb
, who is eligible to come off the injured reserve-designated to return list this week, was not practicing. Cobb was scheduled to test his fractured tibia in a workout on Tuesday.