March, 13, 2014
Mar 13
10:30
AM ET
ESPN draft analyst Mel Kiper Jr. has been consistent in which player he believes the
Jacksonville Jaguars
are going to take with the No. 3 pick in the upcoming draft.

In his first mock draft he predicted the Jaguars would bypass a quarterback and instead select defensive end
Jadeveon Clowney
.
In his second mock draft he had the Jaguars taking ... Clowney.
We'll find out if he has changed his mind in his
third mock draft

when it is released late Thursday morning.
The Jaguars had one of the least-talented rosters in 2013 and general manager David Caldwell and coach Gus Bradley still have a lot of work ahead before that improves. They have needs everywhere, but the two biggest are undoubtedly quarterback and pass-rusher, and it seems likely the Jaguars will take one of those two positions with their first pick.
The team signed quarterback
Chad Henne
to a two-year contract on March 7 and Bradley promptly named him the starter for the 2014 season. He said the ideal situation would be for whichever quarterback the team drafted -- whether it was in the first round or later -- to spend time learning behind Henne. The young quarterback might not even take a snap in 2014.
That would seem to indicate the Jaguars won't be likely to take
Johnny Manziel
,
Teddy Bridgewater
or
Blake Bortles
in the first round. Players taken that high need to make an immediate impact, and that won't happen if they're sitting on the bench.
However, Clowney or linebacker
Khalil Mack
would instantly make the Jaguars better on defense. The pass rush has been among the worst in the league the past two seasons (51 sacks, including 20 in 2012) and Clowney is regarded as the best pass-rusher in the draft. Mack, who is a perfect fit for the Jaguars' hybrid end/linebacker spot, had one of the most impressive workouts at the NFL combine and is rising up draft boards.
However, the Jaguars do need help at receiver, too. Maybe
Sammy Watkins
could be the player Kiper believes the Jaguars will pick.
March, 13, 2014
Mar 13
8:00
AM ET
Toby Gerhart was naturally excited when he got the phone call that he was drafted. He was a bit surprised, though, when it was the Minnesota Vikings and not the Houston Texans, the team his agent had assured him had the most interest.
That surprise, though, is one of the reasons he's now a member of the Jacksonville Jaguars.
Gerhart spent the first four seasons of his career as Adrian Peterson's backup, which meant he didn't get much playing time: only 276 carries. That low mileage is one the things that made him
attractive to the Jaguars
as a free-agent replacement for Maurice Jones-Drew, writes the Florida Times-Union's Vito Stellino.
"I'm super excited," Gerhart said. "It's a chance to show what I can do."
Here are some additional pieces of Jaguars-related content from around the Web in our Reading the Coverage feature:
NFL.com's Bucky Brooks examines why Blaine Gabbert failed in Jacksonville and
whether he can resurrect his career
in San Francisco.
CBSSports.com's Pete Prisco gives the Jaguars' acquisition of linebacker Dekoda Watson
a B-
. He also puts out his
latest mock draft
, which has the Jaguars taking defensive end Jadeveon Clowney.
The T-U's Hays Carlyon writes that newly acquired guard Zane Beadles is
ready to take on a leadership role
along the offensive line. Carlyon also writes that cornerback Will Blackmon is
happy to return to a franchise that respects him
.
March, 12, 2014
Mar 12
7:00
PM ET
JACKSONVILLE, Fla. -- It appears the Jaguars may be tapping into the Seattle pipeline again.
Defensive end
Chris Clemons
, whom Seattle released on Wednesday afternoon, is apparently headed to Jacksonville for a visit, according to a report by NFL Network's Ian Rapoport. He has spent the past four seasons with the Seahawks and played under Jaguars head coach Gus Bradley when he was Seattle's defensive coordinator from 2009-2012.
The 32-year-old suffered a torn ACL during the 2012 playoffs but returned to play in 14 games in the regular season. However, he was clearly still affected by the injury. He had just 4.5 sacks last season after compiling 33.5 in the previous three seasons.
Clemons has 58 sacks and 13 forced fumbles in his nine-year career with Washington, Oakland and Seattle. He would bolster a Jaguars pass rush that has totaled just 51 sacks the past two seasons, including 20 in 2012.
The Jaguars signed former Seahawks defensive tackle
Red Bryant
last week.
March, 12, 2014
Mar 12
6:45
PM ET
JACKSONVILLE, Fla. -- The Jaguars were one of the league's more active teams in the first 24 hours of free agency, signing three new players and re-signing a key player in the secondary.
In the case of guard
Zane Beadles
, running back
Toby Gerhart
and linebacker
Dekoda Watson
, each fills an immediate need. That was what general manager
David Caldwell
and coach Gus Bradley had hoped to accomplish entering the week so they could have more flexibility in their approach in the draft.
Beadles, who will start alongside left tackle
Luke Joeckel
, is the first piece in the Jaguars' effort to rebuild the interior of the offensive line. Gerhart replaces
Maurice Jones-Drew
as the Jaguars' top back and Watson bolsters a pass rush that was among the league's worst the past two seasons.
"I think we've been active in looking at guys that can fulfill a role for us, but I don't think we've gone crazy," Bradley said. "I think Dave has done a good job with that. We're looking at sustaining this so make sure we get the right guys that we feel can help us."
The Jaguars aren't close to being done, either. Cornerback
Walter Thurmond
, receiver
Emmanuel Sanders
, defensive lineman
Ziggy Hood
, and defensive end
Willie Young
visited the facility on Wednesday. With the exception of Thurmond, each of those players also would fill an immediate need.
The Jaguars are hoping to add another guard or center, a bigger receiver, and more help along the defensive line. Defensive end
Chris Clemons
, who was released by Seattle earlier on Wednesday, is a possible target as well and he is reportedly going to visit Jacksonville.
Bradley said the Jaguars also plan to let the market stabilize over the next month and bargain shop for additional help. It worked successfully last season when the Jaguars added defensive tackle
Sen'Derrick Marks
on a one-year deal several weeks after free agency began. Marks had the best season of his career in 2013 and signed a four-year extension in December.
The team put a big emphasis on improving the defense last year, adding eight free agents on that side of the ball before the draft and then drafting five defensive players in April. This year the Jaguars are hoping to address the offense in free agency, although Bradley said the offensive talent in the draft is pretty strong.
If the Jaguars can add a receiver and at least one more offensive lineman, that will allow them to be more flexible in the draft. If they don't have to grab players at those spots in the higher rounds they can add an additional pass-rusher, a quarterback, a tight end, or a linebacker.
"I think we want to try to stay away from [having to draft for need] and fill in enough voids through free agency so we truly can stay with [drafting] the best available [player]," Bradley said.
March, 12, 2014
Mar 12
12:00
PM ET
JACKSONVILLE, Fla. –
Dekoda Watson
, who according to a Pro Football Talk report agreed to terms with the Jaguras on Wednesday, instantly upgrades the Jaguars' special teams and could end up being a valuable addition on defense as well.
Watson excelled on special teams during his four seasons with Tampa Bay but he started to find his way on defense in 2013 after he was moved into a hybrid outside linebacker/defensive end role. That's a key part of the Jaguars' defense.
Watson recorded a career-high 42 tackles in 15 games in 2013. He also had 2.0 sacks, one interception, a forced fumble, and a blocked kick. He started the season at strongside linebacker before defensive coordinator Bill Sheridan moved him to the hybrid role behind
Adrian Clayborn
.
ESPN Tampa Bay reporter Pat Yasinskas wrote in November that Watson was
thriving in the new role
, which should be encouraging for Jaguars fans because the team has just 51 sacks the past two seasons, including a league-worst 20 in 2012, and is desperate for pass-rush help.
The Jaguars have just two leos – their term for the position -- on the roster: third-year player
Andre Branch
and
Gerald Rivers
, an undrafted rookie the team claimed in December.
Jason Babin
, the team's sack leader in 2013 (7.5), voided the final two years of his contract and is a free agent, though there is a solid chance he'll return.
The 6-foot-2, 240-pound Watson is able to overcome his less-than-ideal size for the position with his speed. He ran a 4.56 40-yard dash at the NFL combine in 2010.
"I think what he gives is he gives really good speed off the edge," then-Bucs coach Greg Schiano told Yasinskas in November. "That's what we need to make sure he brings. When he gets out there, he needs to bring it."
March, 12, 2014
Mar 12
8:35
AM ET
JACKSONVILLE, Fla. -- The
Jacksonville Jaguars
were pretty active on the first day of free agency and first impressions of the moves general manager David Caldwell made are positive.
The Jaguars got the offensive lineman they wanted the most, added depth at running back with a low-mileage player and managed to secure a draft pick in exchange for one of the worst draft picks in franchise history. Not a bad first day at all.
Here are my initial thoughts on the moves the team made Tuesday:
Zane Beadles
was the Jaguars' top target at guard and they were able to quickly reach an agreement on a five-year, $30 million contract. Beadles is a good fit because he played in Denver's zone-blocking scheme during his four-year career. The Jaguars' offensive line struggled in the transition to zone blocking last season and eventually mixed in more man-blocking schemes as the season progressed. But the plan is to return to more zone blocking in 2014. Beadles will line up at left guard next to
Luke Joeckel
.
An elite running back isn't mandatory to win in the NFL any longer and most teams are using a committee approach. With the likely loss of
Maurice Jones-Drew
, the Jaguars needed to beef up an inexperienced group and the addition of former Minnesota running back
Toby Gerhart
will certainly help. He was a workhorse back at Stanford, rushing for 3,522 yards and 44 touchdowns in four seasons -- including 1,871 yards and 28 TDs as a senior. Minnesota drafted him in the second round in 2010 and he had just 276 carries in his four seasons as
Adrian Peterson
's backup. It's not a sexy signing but it gives the Jaguars a young back (he'll be 27) whose body hasn't taken a load of punishment. Gerhart isn't a breakaway threat but he is a move-the-chains type of back. Jaguars offensive coordinator Jedd Fisch consistently lamented the team's lack of success running the ball on first down last season because it didn't allow them to get into any kind of rhythm and forced them into too many third-and-long situations. Gerhart should certainly help there.
Blaine Gabbert
was a bust in Jacksonville. There's no other way to view it. The Jaguars traded up to select him No. 10 overall in the 2011 draft and they got 22 touchdown passes, 24 interceptions, and a 5-22 record in games in which he started. He clearly wasn't in the Jaguars' plans for the future and was heading for the waiver wire, yet Caldwell was able to work a trade with San Francisco and got the 49ers to give up a sixth-round pick this year and potentially another draft pick in 2015. A sixth-round pick isn't much but it gives the Jaguars a chance to draft a player who could potentially help them on the field this season. Gabbert wasn't going to be able to do that.
In an under-the-radar move, the Jaguars also re-signed cornerback
Will Blackmon
to a two-year contract. Blackmon had the best year of his career in 2013 but his real value is in the meeting room and locker room. The Jaguars have a young secondary and Blackmon quickly became the group's leader. Gus Bradley praised Blackmon's work with the young defensive backs and was an important part of keeping those players focused on Bradley's message of focusing on the process instead of victories.
March, 11, 2014
Mar 11
10:40
PM ET
JACKSONVILLE, Fla. --
Toby Gerhart
is exactly what the Jaguars were looking for in a running back.
He's young, turning 27 years old later this month.
Gerhart
He's got low mileage, with only 374 touches (276 carries, 77 catches, 21 returns) in five seasons with Minnesota.
And he's durable, missing just three games in his career and only two in the past three.
At 6-foot and 231 pounds, Gerhart is a physical, between-the-tackles runner who can give the Jaguars positive yardage on first down. That's where the running game was particularly ineffective, averaging just 3.4 yards per rush on first down. That was the third-lowest total in the league.
Gerhart averages 4.7 yards per carry in his career and averaged a career-high 7.9 yards per rush in 2013 working behind
Adrian Peterson
. He has rushed for 1,305 yards and five touchdowns on 266 carries and has never had more than 109 carries in a single season.
He's not necessarily a workhorse back, although that's what he was at Stanford, but he'll be the main part of a rotation that includes second-year backs
Jordan Todman
and
Denard Robinson
and fourth-year back
Delone Carter
.
The addition of Gerhart, who according to NFL.com's Ian Rapoport agreed to a three-year deal with $10.5 million ($4.5 million guaranteed), doesn't necessarily close the door on
Maurice Jones-Drew
's return. The team is still interested in bringing him back, but it obviously would be in a role in which he gets significantly fewer carries than he has since he became the team's feature back in 2009.
Since then he's had at least 234 carries in all but one season (he had 86 before missing the final 10 games in 2012) and has had 299 or more three times.
Jones-Drew shared carries with
Fred Taylor
during his first three seasons so it's not a situation he's unfamiliar with, but his return would depend on whether he'd be willing to do it again. Jones-Drew also is seeking at least a three-year contract and that's something the Jaguars may be hesitant to do.
March, 11, 2014
Mar 11
9:48
PM ET
JACKSONVILLE, Fla. -- The Jaguars announced they have agreed to terms with former Minnesota Vikings running back Toby Gerhart.
The Jaguars were in need of a No. 1 running back because they allowed Maurice Jones-Drew, the franchise's second-leading rusher, to become a free agent. Gerhart, who has rushed for 1,305 yards and five touchdowns in five seasons with the Vikings, is expected to be in Jacksonville on Wednesday.
The Jaguars also re-signed cornerback Will Blackmon to a two-year deal, Caldwell said.
The 29-year-old Blackmon played in 15 games (eight starts) with the Jaguars in 2013 and finished with 40 tackles, 1 interception, 2 forced fumbles and 1 fumble recovery. He played in 43 games in his first six seasons with Green Bay and the New York Giants. He signed as a free agent with Seattle on Feb. 13, 2013, but was released on Aug. 27.
Blackmon signed a one-year contract for $715,000 with the Jaguars the next day.
March, 11, 2014
Mar 11
9:35
PM ET
JACKSONVILLE, Fla. -- The Jaguars re-signing cornerback
Will Blackmon
to a two-year deal may fly under the radar nationally, but it's a key move that the team needed to make.
The 29-year-old Blackmon had the best season of his career in 2013, playing in 15 games (eight starts) and making 40 tackles with one interception, two forced fumbles and one fumble recovery after signing a one-year contract with the Jaguars days before the final preseason game.
Blackmon
But it's more than what he did on the field that makes him valuable. Coach Gus Bradley consistently praised Blackmon for his leadership in the meeting room and presence in the locker room. That's important because seven of the 10 defensive backs on the roster have two or fewer years of experience.
Cornerbacks
Dwayne Gratz
and
Demetrius McCray
were rookies in 2013. So were safeties
Josh Evans
and
Johnathan Cyprien
. Cornerbacks
Mike Harris
and
Jamell Fleming
and safety
Winston Guy
are entering their third seasons. Safety
Chris Prosinski
is entering his fourth.
Blackmon is entering his eighth season and cornerback
Alan Ball
, who signed last March, is entering his seventh.
Blackmon helped Gratz handle missing five games after suffering a high ankle sprain in the season opener. Evans was forced to play much more than anticipated after a concussion to
Dwight Lowery
and Blackmon helped him learn on the fly.
Blackmon may end up not being on the field as much in 2014, especially if the Jaguars sign cornerback
Walter Thurmond
, but it's still a valuable signing.
March, 11, 2014
Mar 11
8:15
PM ET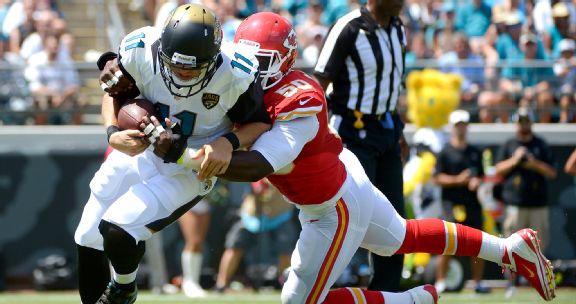 AP Photo/Phelan M. EbenhackBlaine Gabbert went just 5-22 as a starter in three seasons with the Jacksonville Jaguars.
JACKSONVILLE, Fla. -- The
Jacksonville Jaguars
are
Chad Henne
's team now.
General manager David Caldwell, head coach Gus Bradley and offensive coordinator Jedd Fisch are confidently putting the offense in Henne's hands. It's not exactly handing the keys to
Peyton Manning
or
Tom Brady
, but it is the correct move for the Jaguars to make.
That's why the team traded
Blaine Gabbert
to the
San Francisco 49ers
for a
sixth-round pick in the upcoming draft
and possibly a conditional pick in 2015. Caldwell said the move was more about the franchise's confidence in Henne than Gabbert's struggles.
"When we signed Chad, we made a commitment to give him a starting position and build around him," Caldwell said shortly after the trade was announced on Tuesday afternoon. "We felt like he was going to be a starter and there is a possibility we would draft a young quarterback in the draft somewhere along the line and he would come in and be the backup and learn behind Chad.
"That left Blaine to compete for that and I just felt like it was a good opportunity for us to move on and possibility get a draft pick for someone who can come in and help us this year instead of a backup quarterback."
Gabbert obviously wasn't in the team's plans once
Henne signed a two-year extension
last week. However, trading the former first-round pick is a shrewd move because Caldwell was able to get something for a player he was likely going to cut at some point. Plus, it frees up $3.82 million in cap space.
While the trade obviously excites fans that have been extremely critical of Gabbert, it also is an example of what can happen when you put a quarterback on the field before he's ready. Not only will he struggle, but it can set your franchise back years.
[+] Enlarge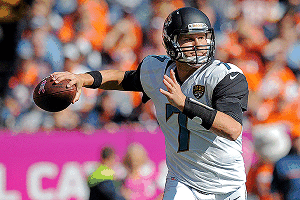 AP Photo/Jack DempseyChad Henne completed 60.6 percent of his passes last season for 3,241 yards. He had 13 touchdowns and 14 interceptions.
Caldwell and Bradley gave Gabbert every chance to succeed in their first season in Jacksonville. Despite Gabbert's poor play in his first two seasons -- 21 touchdowns, 17 interceptions, and a 5-19 record as a starter -- both gave him a clean slate in 2013. He played well enough in the preseason to win the starting job.
But injuries, as they did in his first two seasons, affected his progress. He suffered a fractured thumb in the second preseason game and played through the injury in the season opener before suffering a cut on his hand. He missed two games, came back in Week 4 and suffered a hamstring injury in Week 5. He never saw the field after that.
When he did play, he was awful, completing just 48.8 percent of his passes and throwing one touchdown and seven interceptions -- including three returned for touchdowns.
Henne didn't tear it up, but he was consistent and kept the offense out of bad situations. He made a handful of plays, including tossing the winning touchdown pass against Cleveland with 40 seconds remaining, and Caldwell believes with better offensive line play, more weapons, and another year in the offense Henne will be much better.
Caldwell didn't want to talk about why Gabbert didn't succeed in Jacksonville and that there is never just one person at fault in such a situation. He's right. There are two who bear more fault than anyone else: Jack Del Rio and Gene Smith.
Smith traded the Jaguars' first-round pick (No. 16) and second-round pick (No. 49) to Washington to move up six spots to take Gabbert with the 10th overall pick in 2011. The Jaguars' starter that season was supposed to be
David Garrard
, who was in the fourth-year of an seven-year, $60 million contract, but in a surprise move the team released Garrard just five days before the 2011 season opener.
Luke McCown
started the first two games, but Del Rio made the switch to Gabbert for the final 14 games. The 6-foot-4, 235-pound Gabbert clearly wasn't ready to be the team's starter and he never seemed to recover.
He went 5-22 as a starter and the team has won just 11 games in Gabbert's three seasons.
Caldwell has had nothing but praise for Gabbert, especially in the way he handled being demoted, and said he likes the former Missouri standout. That's partly why he sent him to San Francisco. He knows GM Trent Baalke, it's a stable organization, and there's no pressure.
"I know we're sending him to a good situation," Caldwell said. "That's what I told him at the end of the year. I said, 'If something did come about, I [would] try to send you to the best situation possible.'"
It turned out that way -- for Gabbert and the Jaguars.
March, 11, 2014
Mar 11
5:27
PM ET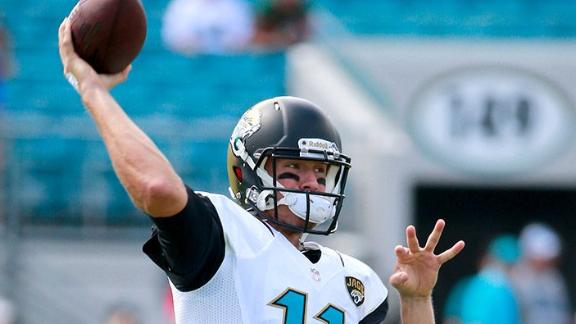 JACKSONVILLE, Fla. -- The Jacksonville Jaguars have finally given up on quarterback Blaine Gabbert.
The No. 10 overall pick in the 2011 draft never became the franchise quarterback former general manager Gene Smith envisioned when he traded two picks to get him and on Tuesday the Jaguars traded him to San Francisco for a sixth-round pick in this year's draft and a possible conditional pick in 2015.
"We have a good relationship with San Francisco and it was a good opportunity for the Jacksonville Jaguars to increase our stock in the draft but it was also a good opportunity for Blaine to get a fresh start," Jaguars general manager David Caldwell said. "I know they're excited about having him and it's a good move for all parties involved."
Caldwell said he and San Francisco general manager Trent Baalke discussed Gabbert as a player while the teams were in London in late October and had follow-up discussions at the NFL combine in February. Caldwell said Baalke called on Saturday and made an offer.
"We thought highly of Blaine as an early entry into the 2011 NFL Draft," Baalke said in a statement. "He is a high-character individual that will be given every opportunity to develop within our system and we are looking forward to working with him."
Caldwell said he spoke with Gabbert's agent Monday night and to Gabbert on Tuesday morning.
"I know you guys [in the media] are hard on him at times, but he's been great for us," Caldwell said. "In my time here he's been a great teammate. His teammates like him. Our coaches liked him. I liked him. I have nothing but respect for Blaine and how he went about his business this year and how he worked and how he competed."
Gabbert's career in Jacksonville has been anything but smooth. Smith traded the Jaguars' first-round pick (No. 16) and second-round pick (No. 49) to Washington and took the former Missouri quarterback with the 10th overall pick in 2011. The Jaguars' starter was supposed to be David Garrard
March, 11, 2014
Mar 11
4:50
PM ET
JACKSONVILLE, Fla. -- The
Jacksonville Jaguars
took the first step toward rebuilding the interior of their offensive line pretty quickly in free agency by reaching an agreement with former
Denver Broncos
guard
Zane Beadles
.
Beadles
The deal, according to ESPN's Adam Caplan, is worth $30 million over five years with $13 million guaranteed.
The offensive line was the Jaguars' top priority in free agency because of the retirement of center
Brad Meester
and the release of right guard
Uche Nwaneri
last week. The team obviously wanted an upgrade over
Will Rackley
,
Mike Brewster
,
Jacques McClendon
and
Drew Nowak
.
It's a good move by Jaguars general manager David Caldwell. The 6-foot-4, 305-pound Beadles is a tough, durable player who has started 62 of a possible 64 games in the regular season since the Broncos selected him in the second round of the 2010 draft. The Broncos led the NFL in total offense and were 15th in rushing (117.1 yards per game) last season.
UPDATE:
Jaguars general manager David Caldwell said Beadles was the team's primary offensive line target.
"He's very intelligent, he's very competitive and he's very smart," Caldwell said. "We did a lot of work on him in Atlanta when he was coming out. He's had a heck of a career to-date. I think he's played in every game possible in his four years in Denver. He played in the Pro Bowl in 2012. He's a guy with a proven track record. He's still only 27 years old. He's very passionate about football. I think he checks the box for everything we look for in a player and I think you guys know what that is in this culture."
Beadles, who will play left guard, is a good fit for the Jaguars because like the Broncos they also use a zone-blocking scheme.
Interior offensive line is the Jaguars' biggest need after quarterback and pass-rusher. The group struggled early in the 2013 season with the transition to a zone-blocking scheme and the Jaguars eventually mixed back in some man-blocking schemes.
The strength of a team's running game comes from the center and two guards and those spots weren't very productive in 2013. The Jaguars finished 31st in the NFL in rushing (78.8 yards per game) and running back
Maurice Jones-Drew
's 3.4 per-carry average was the worst of his career. Meester was in his 14th season and not playing at the same level as he had in the past several seasons. Nwaneri played through torn cartilage in his knee in 2012 and dealt with the lingering effects from the injury in 2013 and Rackley battled a knee injury throughout the 2013 season.
March, 11, 2014
Mar 11
4:45
PM ET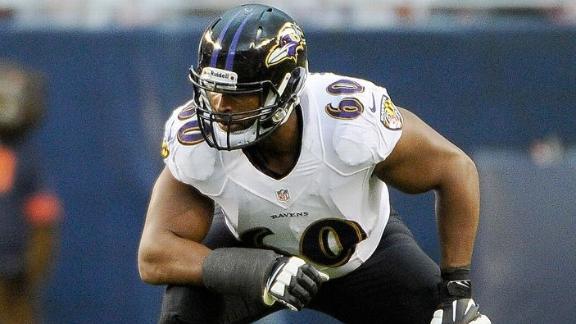 The Baltimore Ravens and left tackle Eugene Monroe have agreed to terms on a five-year deal worth $37.5 million, sources confirmed to ESPN.
Monroe was considered the second-best offensive tackle available in free agency, behind Branden Albert.
"I was pretty confident that it would work out wherever it did, but definitely we had confidence that things could work out here," Monroe said. "And I'm glad they did."
A first-round pick in 2009, Monroe played his first four seasons with the Jacksonville Jaguars before the Ravens traded a fourth- and a fifth-round pick for him in October.
Known for his athleticism and consistency, Monroe was a major upgrade over Bryant McKinnie for the Ravens. After the season, coach John Harbaugh said there was no question that Monroe is the team's long-term answer at left tackle.
"It was obvious [I wanted to stay]," Monroe said. "This is home pretty much, especially for my wife who is from here. And my folks are right up the road. You can't beat that, especially having kids and having been down in Florida the past four years."
March, 11, 2014
Mar 11
4:07
PM ET
ESPN.com news services
The Jacksonville Jaguars and free-agent guard Zane Beadles have agreed to terms on a five-year, $30 million deal with $13 million guaranteed, a league source told ESPN NFL Insider Adam Caplan.
The Jaguars needed to address the interior of the offensive line in free agency because of the retirement of center Brad Meester and the release of right guard Uche Nwaneri last week.
Beadles, a second-round pick in 2010, didn't miss a game with the Denver Broncos -- 64 in the regular season, six in the playoffs. He started all but two of those games.
The Broncos tried him at tackle initially -- Beadles started the first six games of his career at right tackle before starting at left guard for the last eight games of the 2010 season. He started at left guard thereafter.
He is a smart player and moves fairly well. The Broncos were not expected to make any significant move to re-sign him because they are looking for more power in the middle of the formation.
ESPN.com Jaguars reporter Michael DiRocco and Broncos reporter Jeff Legwold contributed to this report.