August, 27, 2014
Aug 27
9:12
AM PT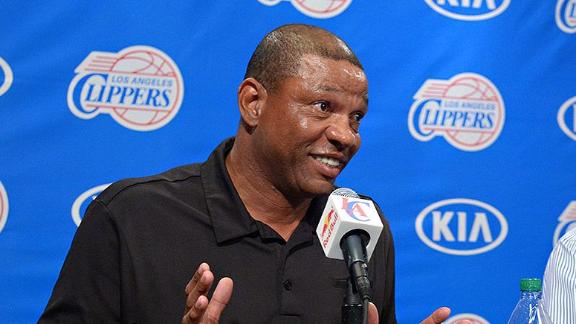 LOS ANGELES -- Doc Rivers has agreed to a contract extension with the Los Angeles Clippers that will keep him with the team through the end of the 2019 season, the team announced Wednesday.
Rivers, who joined the team last year, will continue to serve as its head coach and president of basketball operations during the duration of the deal. Terms of the extension were not disclosed, but Rivers had two years remaining on the three-year, $21 million deal he signed last year when he came to Los Angeles from the Boston Celtics.
"This is an important day for this organization," Clippers owner Steve Ballmer said in a statement. "I am excited to work with Doc for a long time as we build a championship culture that will deliver results both on and off the court. Not only is Doc one of the best coaches and executives in the game, but he continually embodies the hard core, committed and resilient character and winning culture that the Clippers represent. It was one of my top priorities to ensure that he was firmly in place as the long-term leader of this team."
Rivers had told Clippers interim CEO Dick Parsons that he was considering leaving the team if Donald Sterling remained its owner. Parsons testified as much during a probate hearing in Los Angeles that eventually paved the way for Sterling's wife, Shelly, to sell the team to Ballmer for $2 billion.
"Steve has shown a clear and determined desire to make the Clippers one of the most elite, first-class and championship organizations in all of professional sports," Rivers said. "We know we have work to do to get there, but I am motivated by the challenge and thankful for the opportunity to stand together with Steve as we continue to move toward our goal of winning an NBA title."
August, 26, 2014
Aug 26
5:55
PM PT
By
Ethan Sherwood Strauss
| ESPNLosAngeles.com
August, 26, 2014
Aug 26
1:39
PM PT
The deal
Clippers get: Guard Carlos Delfino, center Miroslav Raduljica, their own 2015 second-round pick
August, 26, 2014
Aug 26
12:29
PM PT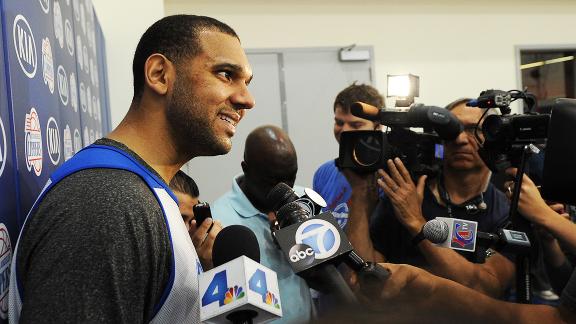 LOS ANGELES -- The Los Angeles Clippers have traded Jared Dudley and a 2017 protected first round pick to the Milwaukee Bucks for Carlos Delfino, Miroslav Raduljica, and a 2015 second round pick.
The Clippers had tried to trade a package of Dudley and a first round pick multiple times this offseason in the hopes of acquiring a swing man and/or a big man and will get both in the deal from Milwaukee.
Delfino missed last season after suffering a fractured bone in his right foot during the 2013 playoffs with the Houston Rockets. He signed a two-year, $6.5 million contract with the Bucks last offseason and was hoping to return last season before needing additional surgery.
The 31-year-old shooting guard/small forward averaged 10.6 points and 3.3 rebounds for the Rockets during the 2012-13 season but was a regular starter the previous three seasons with the Bucks where he started 159 games and made 178 appearances.
Raduljica, 26, is a 7-foot, 250-pound center who averaged 3.8 points and 2.3 rebounds in 48 games, including two starts, last season.
The Clippers had high hopes for Dudley after trading Eric Bledsoe and Caron Butler in a three-team deal that netted them J.J. Redick and Dudley last summer. Dudley, however, struggled and had the worst shooting season of his career.
August, 25, 2014
Aug 25
9:59
AM PT
New
Los Angeles Clippers
owner Steve Ballmer drew comparisons to Mark Cuban with his high-fiving, chest-bumping, shouting introduction to the franchise's fan base last week.
The scene came as no surprise to the
Dallas Mavericks
owner, whose enthusiastic exhibitions had been unique among the NBA's owners.
"I've known Steve for a long time, going back into my twenties, and he's always been this way," Cuban said during an appearance on ESPN Dallas 103.3 FM's "The Afternoon Show with Cowlishaw and Mosley" last week. "So this isn't Steve Ballmer getting hyped just for the Clippers. This is just the way he is. He's going to be great for the league.
"You know, in reality, I already know, knowing him, he's going to be a lot calmer than I am. He's great hyping people up in a sales environment, but it'll be interesting to see him during a game. I hope he's crazy, but I'm not expecting it."
Ballmer, who paid $2 billion to buy the Clippers from disgraced former owner Donald Sterling, has been welcomed into the NBA ownership fraternity. That wasn't the case when Cuban brought the Mavs in 2000 and showed up to games acting like a maniac in T-shirts and jeans.
"I just wish he would have been around to give those speeches when I first came in, seen the response by all the old-timers when I came in," Cuban said. "When we were in Reunion Arena, I used to run up and down the aisles trying to exhort people to cheer and to stand up. I mean literally, I was running up and down the aisles I was so pumped up and so excited.
"I remember going into a board of governors meeting and one of the old-school guys -- I won't name him; he's since passed away -- said, 'You haven't done shinola in this league. You need to sit the eff down and shut the eff up. I never want to see you or hear from you again.' And David Stern literally had to tell him to calm down. Then he said something else, and I said, 'Well, such and such ...' and [Mavs CEO/president Terdema Ussery] taps me on the shoulder and said, 'You just got his name wrong.' It would have been interesting to see what it's like just to have Steve's energy."
August, 20, 2014
Aug 20
9:19
AM PT
August, 18, 2014
Aug 18
7:24
PM PT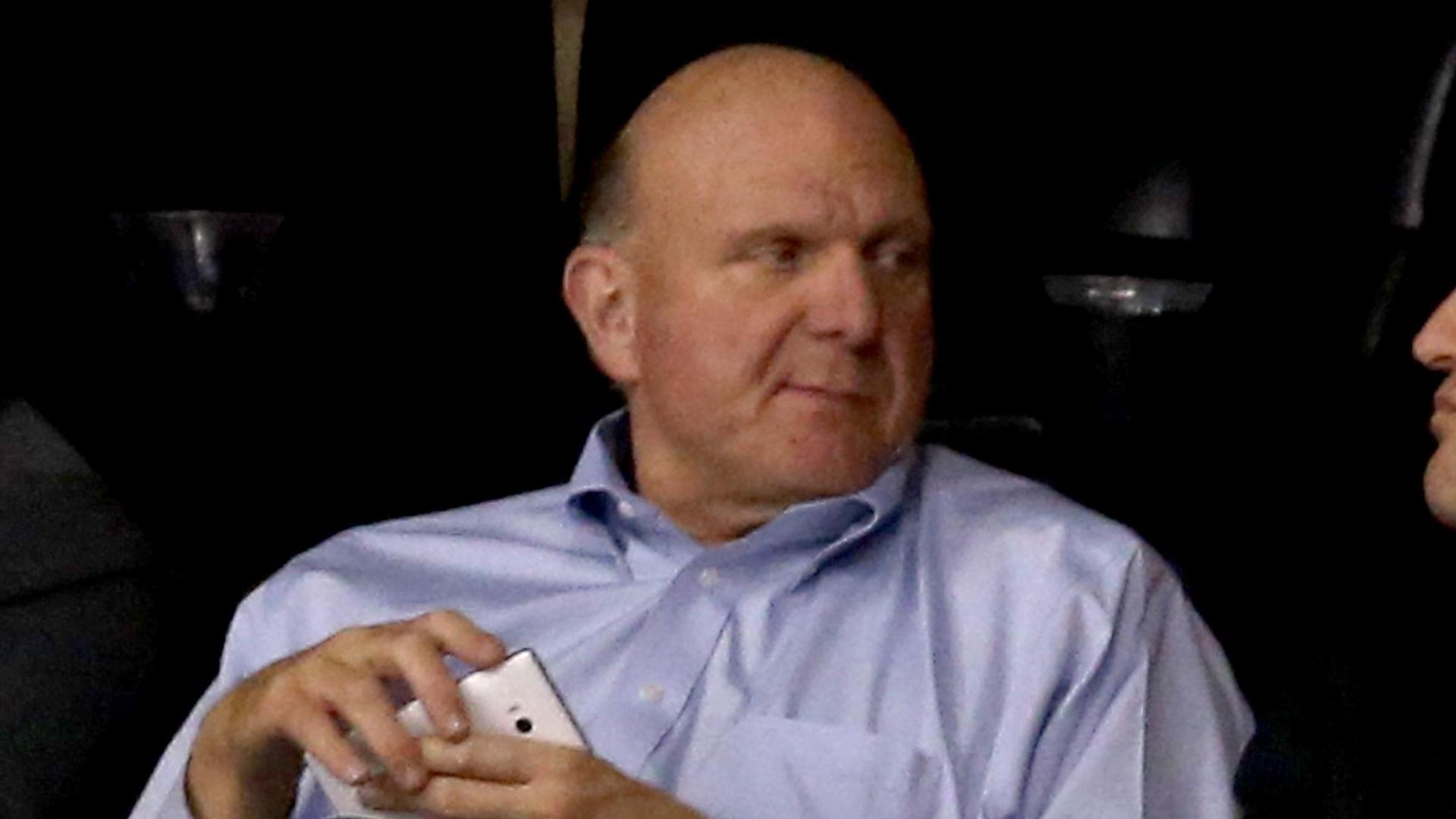 LOS ANGELES -- The Clippers have been in Los Angeles for 30 years, but for the first time since they moved north from San Diego in 1984, they finally feel like a team Los Angeles can embrace.
And for the first time in the past three decades, Clippers fans can be proud to put on their team's gear without making apologies for their lousy owner or their lousy history or the lousy product on the court.
The shirts handed out to fans at the team's rally to introduce Steve Ballmer as the new Clippers owner read, "It's A New Day." But it seems more like a long overdue rebirth of a franchise.
Four months after the darkest period in the history of a franchise littered with dark periods, the Clippers finally have a reason to celebrate and rejoice in a new beginning.
Clippers coach and president of basketball operations Doc Rivers said he has witnessed a transformation of the faithful.
"The Clippers fans, to me, has been a group ... [that says], 'Shh, I'm a Clippers fan,'" Rivers said. "It's like now they can actually say it and be proud of it. And I'm very happy for them."
Nearly 5,000 fans showed up to Staples Center on Monday afternoon for a rally to welcome Ballmer, who ran through the crowd after being introduced to Eminem's "Lose Yourself" and high-fived and chest-bumped everyone in sight before jumping around on stage. It was a scene reminiscent of his viral videos on YouTube and something Clippers fans will get used to seeing on game days.
"I like to sit near the action," said Ballmer, who will be courtside at Clippers games. "It's more fun. That was the No. 1 piece of input I got last night at dinner with Doc, some of the coaches and players. We were all debating where the best place is to sit. Of course, none of them have to sit there, just me."
August, 18, 2014
Aug 18
2:12
PM PT
Associated Press
LOS ANGELES -- Sweating, clapping and shouting until he was nearly hoarse, Steve Ballmer introduced himself to Los Angeles Clippers fans at a rally on Monday celebrating his new ownership of the NBA team.
The former Microsoft CEO made his way through the crowd inside Staples Center to Eminem's "Lose Yourself," exchanging high-fives and chest-bumping as he took the stage in front of 4,500 fans.
Ballmer paid a record $2 billion for the team in a sale that was confirmed by a judge last week. The name of disgraced former owner Donald Sterling, who controlled the team for 33 years before being banned for life by the NBA for racist remarks, was never uttered during the event.
"We're looking forward," Ballmer proclaimed, having removed his blue Clippers hat. "Everything is about looking forward."
Ballmer's fervor was in stark contrast to Sterling, who never spoke to the media and was famously frugal when it came to spending on the team during decades of losing -- despite having amassed a fortune through real estate.
"Today is about this other guy who just happened to have two billion dollars in his pocket," coach Doc Rivers joked on stage. "I asked him are you sure it went through and he said, 'I know my bank account is minus two billion so I know something went through.' "
Ballmer gave out his email address during the televised rally and was quick to assure fans he won't move the team to Seattle, where he's lived for 34 years. He was nearly an NBA owner last year before league owners chose to keep the Kings in Sacramento, rather than allow them to be sold to a group that included Ballmer and moved to Seattle.
"I love Los Angeles," he said. "Yes, I live in Seattle. We're not moving the Clippers to Seattle for a hundred reasons."
Ballmer used a microphone, but his booming voice easily filled the arena without it. He prowled the stage and gestured to make his points in the enthusiastic style he was known for among Microsoft employees.
"We're going to be bold. Bold means taking chances," he said. "We're going to be optimistic. We're going to be hard-core. Nothing gets in our way, boom! The hard-core Clippers, that's us."
August, 18, 2014
Aug 18
6:16
AM PT
Do you know the last NBA champion that had its point guard lead the team in wins above replacement player (WARP)? It was the 1990 Detroit Pistons, led by Isiah Thomas. Perhaps it's no coincidence that teams like Phil Jackson's Bulls and Lakers, which decentralize the playmaking role, have dominated the annual title chase. Nevertheless, 20 of next season's top 50 players by projected WARP are point guards. Championship trends aside, it's a point guard's league.
Starting Monday with point guards, over the next week we'll rank players by position according to forecast WARP, which is perfect for this kind of exercise because it accounts for a player's efficiency, volume of production and team context. This also means that injury and age played a part in the rankings, so notable veteran point guards who suffered injuries last season, like Rajon Rondo, Derrick Rose, Tony Parker, are absent from the top 10. (A complete explanation can be found at the bottom of this page; last year's point guard rankings can be found here.)
Here are the projected top 10 point guards for the 2014-15 NBA season, followed by the next five and an overview of why some notable PGs fell outside the top 10.
PG | SG | SF | PF | C
---
Paul
Projected 2014-15 WARP: 17.8 | Win%: 73 percent
Paul topped these rankings last season and, really, why would things have changed? His 14.2 WARP was held down by the 20 games he missed, but still ranked eighth in the league. Over the last three years, his 48.2 WARP ranks in the 99th percentile. Paul still hasn't enjoyed the magical kind of playoff run that would be the icing on the cake of a historically great career. He'll be 30 by the end of the coming season, but given Paul's floor-based skill set, there is no real need to start talking shrinking windows of opportunity. Paul does it all, he does it consistently and he does it on both ends of the floor.
To continue reading this article you must be an Insider