February, 25, 2015
Feb 25
10:55
PM PT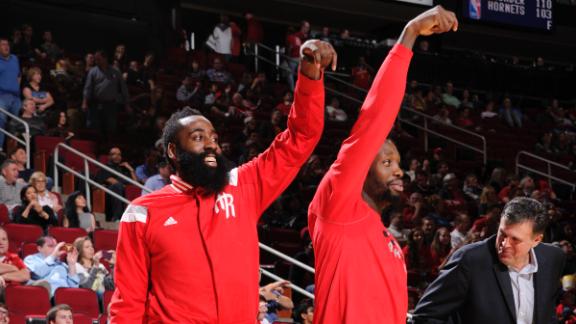 HOUSTON -- James Harden limped out of the Houston Rockets' locker room on Wednesday night, a sprained right ankle the reason for his Fred Sanford-like walk.
It was a typical night for the NBA's leading scorer: Get knocked down, find your shot, help others and win.
Harden finished with 21 points but missed his first six shots of the game to do it, in the Rockets' 110-105 victory over the Los Angeles Clippers.
"Just missing my shots [and] I had a couple of catch-and-shoot opportunities that I missed, and I'm not really worried about it," Harden said. "I'm not just a scorer, I'm a playmaker as well so having 10 assists out there, getting my guys involved, doing whatever it takes to win basketball games, that's what's important."
It was the first time this season the Rockets had beaten the Clippers in three meetings and forward Donatas Motiejunas said psychologically it was important to finally beat them considering the two teams would meet if the playoffs started today.
Coach Kevin McHale changed the practice habits. Instead of focusing on what the Rockets do, he wanted his team to worry about the Clippers and the matchup problems they present.
The biggest matchup problem was on Harden. Clippers coach Doc Rivers sends two and three defenders at Harden, holding his average to only 12.5 points per game in the first two meetings between the teams this season. Harden was shooting 33.3 percent from the floor and was 0-for-11 from 3-point range in two games against the Clippers.
February, 25, 2015
Feb 25
10:36
PM PT
HOUSTON -- When Doc Rivers waived
Jordan Farmar
and traded
Reggie Bullock
and Chris Douglas-Roberts to acquire
Austin Rivers
last month, he didn't do so just to be reunited with his son and upgrade the backup point guard position on his team.
He wanted to create roster flexibility. He wanted to open up a couple of roster spots going into the trade deadline so he could go after players to bolster the
Clippers
' roster heading into the playoffs.
"I think it will be an active buyout season," Rivers said at the time he made the moves. "We'll see. Maybe more so than last year."
Last season the Clippers were able to add
Glen "Big Baby" Davis
and
Danny Granger
after the trade deadline and during the "buyout season." This season they've struck out and missed so far on every veteran they targeted.
They reached out to
Josh Smith
after the
Detroit Pistons
waived him, but he opted to sign with the
Houston Rockets
.
They recruited
Kendrick Perkins
hard after the
Utah Jazz
bought him out and before he decided to join
LeBron James
and the
Cleveland Cavaliers
.
They had their sights set on
Kevin Garnett
and
Tayshaun Prince
before both were traded back to their original teams at the deadline.
They still have an open invitation out to Ray Allen, but he appears content to stay retired.
Instead, the Clippers have used their extra roster spots so far to sign
Dahntay Jones
, who was signed for the rest of the season on Feb. 3 after signing two 10-day contracts, and
Jordan Hamilton
, who signed a 10-day contract on Monday. Neither played on Wednesday.
Not exactly the big moves Rivers anticipated making, but that hasn't changed his view of the Clippers.
"We like our team," Rivers said Wednesday. "We actually like our basketball team, and if we could add something that can help that, we will. What people don't understand is chemistry is so freaking important. Unless it's somebody you think is going to really change your team, this team was a couple bad plays in Game 6 away from the Western Conference finals last year. We lost some guys and added some guys, but we like our team."
The Clippers were two wins over
Oklahoma City
from playing
San Antonio
in the Western Conference finals, but they haven't exactly improved since then. They lost backup point guard
Darren Collison
, who sparked the Clippers to their comeback win over the Thunder in Game 4, in the offseason to the
Sacramento Kings
. They gave up a first-round pick to part with
Jared Dudley
, who is averaging eight points and three rebounds while shooting 49.3 percent from the field and 42.6 percent from 3 for
Milwaukee
this season. They signed Farmar to replace Collison, but he never fit in, and he's now playing in Turkey. They signed
Spencer Hawes
to a four-year, $23 million contract but he has been underwhelming at best, averaging 6.5 points and 3.8 rebounds while shooting 42.9 percent from the field and 32.8 percent from 3.
The Clippers could have probably used some help from the buyout market this season, certainly in light of
Blake Griffin
's elbow surgery, but simply haven't been as successful as they were last season.
"We just haven't been as active as we wanted to be," Rivers said. "We thought it would be more guys, to be honest, but it's not like we've been out there with a 'For Sale' sign."
Rivers not only swung and missed with the Farmar and Douglas-Roberts signings on the court but neither was a real good fit in the locker room, making Rivers more apprehensive than usual when pursuing players he doesn't personally know.
"You know a lot going into it. You really do," Rivers said. "There are some guys you'll take a risk on and some guys you just won't take a risk on. Let's just be honest: Guys who are out there, that's what you're trying to judge. You're trying to judge your locker room, too. If you have a veteran-laced locker room, you're probably willing to take more risk. If you don't, you're probably willing to take less."
Rivers would have loved to add Garnett, Perkins or Allen to the mix for the stretch run, but he also wasn't in the market to just add anybody when those possibilities failed to materialize as planned. He still thinks the Clippers will be able to compete for a championship as they are currently constructed.
"You look at San Antonio, they never [take risks in the buyout market], for the most part," Rivers said. "They've taken a couple, but one of the things [Spurs coach Gregg Popovich] believes in -- and I do, too -- when you start with your roster at the beginning of the year and your chemistry looks good, you should be very careful, even if it's a minor move with tweaking it. It's worked pretty well for him, so if I can follow that, I think it's probably a good idea."
February, 25, 2015
Feb 25
8:11
PM PT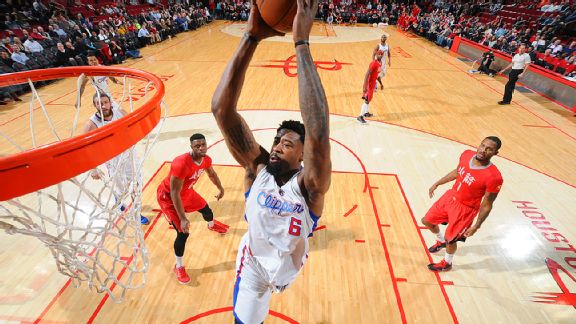 Bill Baptist/Getty ImagesDeAndre Jordan put on a show for 35 kids from his hometown of Bellaire, Texas, with 22 points and 19 rebounds.
HOUSTON -- The gaudy numbers that
DeAndre Jordan
has put up while
Blake Griffin
has been out have become commonplace.
He had 22 points and 19 rebounds on Wednesday in the Clippers' 110-105 loss to the
Houston Rockets
. He is averaging 19 points and 19.1 rebounds over the past six games without Griffin, and the Clippers have gone 4-2 without their star forward.
But there was only one number Jordan was thinking about before and after the game: 35.
Before every game Jordan tweets out, "#35 @TobiOye ..." He also has the name and number inscribed on wristbands he wears when he plays.
They pay tribute to Tobi Oyedeji, who was a standout high school basketball player from Jordan's hometown of Bellaire, Texas, and had committed four years ago to Texas A&M, Jordan's alma mater.
Jordan's younger brother Brett was Oyedeji's high school teammate, and Oyedeji was like an extended member of the Jordan family before he died in a car accident as he was driving home from Bellaire's prom night. He was just five days away from celebrating his 18th birthday.
On Wednesday Jordan honored Oyedeji by having 35 kids from Bellaire at the game.
"When I was little I really didn't get that opportunity I had to watch it on TV," Jordan said. "I feel like it's fun to have someone from the same city you're from or the same neighborhood you're from and grew up the same way you did [playing]. Everybody doesn't have to be an athlete but getting that perspective is fun."
For Jordan to keep Oyedeji's name alive and give 35 kids from their hometown a chance to experience their first NBA game is one of the highlights of the season for Jordan and something he says he will do for as long as he is playing.
"It means a lot to me," Jordan said. "Everything I do, I do it for 35. Especially to do it back here in Houston where we're both from is humbling."
February, 25, 2015
Feb 25
7:57
PM PT
Associated Press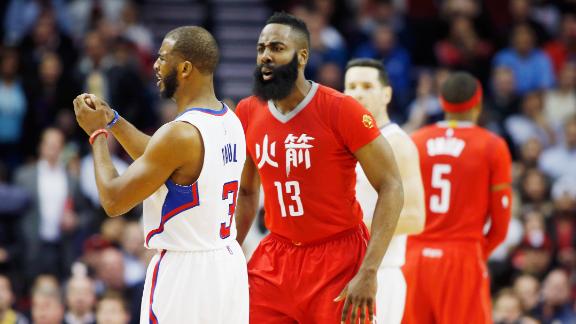 HOUSTON -- James Harden had 21 points, Corey Brewer scored 13 of his 20 points in the fourth quarter and the Houston Rockets snapped a six-game skid to the Los Angeles Clippers with a 110-105 win on Wednesday night.
It's Houston's first victory over Los Angeles since March 30, 2013 and just the second win in the past 13 meetings with the Clippers.
The Rockets opened the fourth quarter with a 15-1 run to take a 99-86 lead. With the second unit in, Brewer starred in that stretch, scoring 10 points, with two 3-pointers.
Houston didn't trail after that, but a 7-0 run by the Clippers got them within four points with 37.8 seconds left. Chris Paul fouled Harden hard after that and the two were separated after Harden stood inches away from him and yelled.
February, 25, 2015
Feb 25
12:00
PM PT
We're chatting at 2 p.m. ET.


February, 24, 2015
Feb 24
5:47
PM PT
[+] Enlarge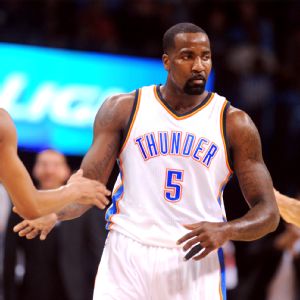 Mark D. Smith/USA TODAY SportsKendrick Perkins said he chose to join the Cavaliers for the opportunity to play with LeBron James.
AUBURN HILLS, Mich. -- Newly-acquired Kendrick Perkins suited up for the Cleveland Cavaliers for the first time on Tuesday against the Detroit Pistons.
But before he slipped on his new No. 3 uniform the center explained how his decision where to continue his career came down to either joining his former coach, Doc Rivers, and the Los Angeles Clippers, or joining his former AAU teammate, LeBron James.
"It was extremely hard," said Perkins who finalized his contract with Cleveland earlier in the day after agreeing to a buyout from the Utah Jazz on Monday. "(Rivers) was real honest with me, he told me, 'I think your best two situations right now is either us or Cleveland.' So I was like, Doc? Or I have a chance to go play with The King. Doc? The King? Uh, I choose The King."
James and Perkins teamed up in high school for the Oakland (Calif.) Soldiers AAU squad before having several postseason battles in the pros.
February, 24, 2015
Feb 24
2:49
PM PT
Associated Press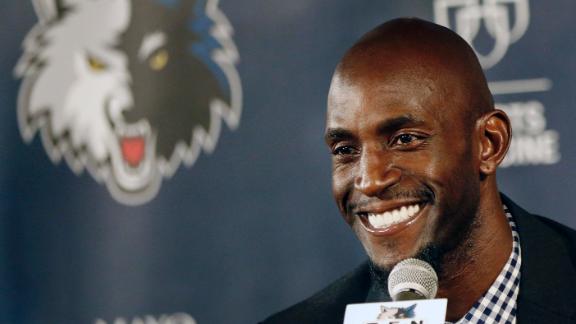 MINNEAPOLIS -- Kevin Garnett never wanted to leave Minnesota when the Timberwolves traded him to Boston nearly eight years ago, never wanted to jump from a sinking Celtics ship before Paul Pierce convinced him to follow him to Brooklyn two years ago.
And he sure didn't feel great about uprooting his family in the middle of a season when the prospects first arose to return to his beloved 'Sota last week.
Sitting at his Malibu home over the All-Star break, the only true superstar in Wolves history thought long and hard about what that move would mean. He thought about mentoring Ricky Rubio and Andrew Wiggins.
He thought about going back to the state where he was drafted and where he met his wife, setting down roots and one day following stars such as Michael Jordan and Magic Johnson into ownership. He thought about restoring a relationship with a franchise that was tattered when he was traded.
He was born in South Carolina, became a high school sensation in the Chicago area and a champion in Boston.
But for him, Minnesota will always be home. And in the end, that lure and the possibility of a much greater role down the road proved too great to resist.
"It's perfect," Garnett said on Tuesday at a re-introductory news conference that came five days after he was acquired from Brooklyn in a trade. "If you have a story, this is a fairy tale. This is a perfect ending to it. This is how you want to do it."
For Garnett, it actually may be the beginning.
February, 24, 2015
Feb 24
1:04
PM PT
The
Los Angeles Clippers
signed free-agent forward Jordan Hamilton to a 10-day contract, the team announced Tuesday.
Hamilton, 24, averaged 18.1 points, 7.6 rebounds and 3.6 assists in 27 games for the Reno Bighorns of the NBA D-League.
Clippers coach Doc Rivers had said the Clippers were in market to add a player with
Blake Griffin
sidelined for another two weeks.
Hamilton was originally drafted by the
Dallas Mavericks
with the 26th overall pick in the first round of the 2011 draft and traded to the
Denver Nuggets
on draft day. He has career NBA averages of 5.8 points and 2.8 rebounds in 13.3 minutes over 126 games with Denver and the
Houston Rockets
.
February, 23, 2015
Feb 23
11:54
PM PT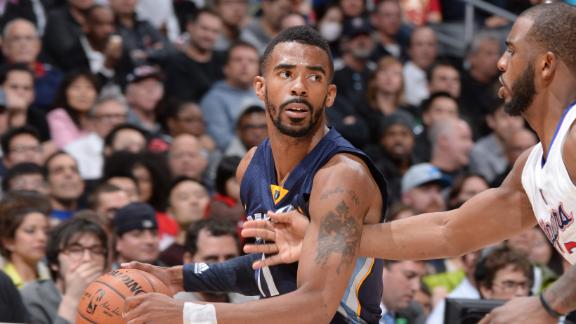 LOS ANGELES --
Chris Paul
's head was still down.
Almost 30 minutes after his turnover in the final seconds on Monday's game against the
Memphis Grizzlies
prevented him from attempting a game-winning shot, he still would not look up as he sat in front of his locker.
While players around him dressed, Paul couldn't take his eyes of the tablet he was holding, which was replaying the final seconds of the game and his agonizing turnover.
As he watched the final possessions of the game,
Glen Davis
came over to offer some words of encouragement, as did assistant coach J.P. Clark, but all Paul could do was shake his head as he watched the video of
Mike Conley
stealing the ball from him and sealing the Grizzlies' 90-87 win over the Clippers.
It was a tough loss, but no one took it harder than Paul, who refused to put the tablet down and take off the ice packs wrapped around his knees and leave the locker room as most of his teammates already had.
[+] Enlarge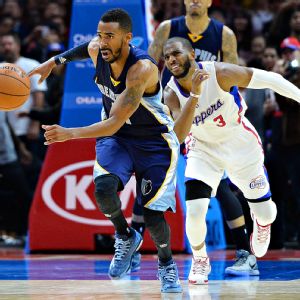 Jayne Kamin-Oncea/USA TODAY SportsChris Paul appeared poised to pull out the victory before Mike Conley stole away his chance.
"I was looking at it and the play before that I probably had
Spencer Hawes
I could have hit and J.J. [Redick] rolled up and took a tough shot," Paul said.
But it was Paul's turnover, coming with 1.9 seconds left and the Clippers down by one, that continued to gnaw at Paul after he got dressed. Redick had just gotten the rebound after a
Zach Randolph
miss with 14.8 seconds left. But without a timeout, the plan was essentially to give the ball to Paul and let him do his thing on a night when he had 30 points and 10 assists.
"The last play, I just turned the ball over," Paul said. "All I kept thinking about is if I was at home watching this game, I'd say this dummy didn't even get a shot up. In that situation you have to at least give yourself a chance."
With no timeouts, Paul admits it wasn't an ideal end-of-game situation but shook his head at the fact he didn't at least get a shot off.
"We gave ourselves a chance, we had the ball and you have to at least get a shot up and not a turnover, so that's on me," Paul said. "I'll look at the game again tonight, but tomorrow I have to get past it and get ready for a tough Houston team and a tough road trip."
This wasn't the way the game was supposed to end for Paul. Against one of their biggest rivals and with
Blake Griffin
still sidelined for another couple of weeks, Paul put the Clippers on his back. He scored 19 points in the first half when no other players in the game had more than seven. He was all over the court, diving for loose balls and getting on players for not hustling back on defense.
"My coaches always talk to me about being aggressive," Paul said. "I tried to have that mindset of staying downhill. They usually play back and that was what was open early."
Doc Rivers, one of the best coaches in the league at drawing up a play out of timeout, said he didn't think the Clippers played with offensive discipline the entire game but was particularly frustrated with the play in which Paul turned the ball over. Not because he wasn't able to draw up a play or even because of the turnover, but because the lack of spacing on the floor ultimately helped lead to the turnover.
"There was just no spacing," Rivers said. "It was a random play because we didn't have a timeout. It was a fast break for the most part, but I thought our spacing was horrendous and I told our guys that after the game. They didn't really force the turnover, but the fact that their guys were standing at the elbows I thought affected the way Chris had to attack."
Paul continued to think about his turnover and the final seconds of the game long after it was over and after every player in the locker room was asked about. It was the kind of moment he has relishes being in, though he has recently had difficulty shining in. As he left Staples Center on Monday he said he would watch the game again and plan for a different result when the Clippers meet the Grizzlies in Memphis on Friday.
"You play the whole game to get in those situations," Paul said. "You try to thrive in those situations and for that to happen is tough but you have to look at it, learn from it and make sure it doesn't happen again."
February, 23, 2015
Feb 23
10:09
PM PT
Associated Press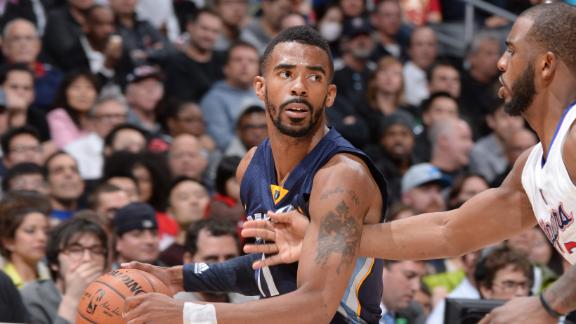 LOS ANGELES -- Mike Conley scored 18 points, Jeff Green added 16 and the Memphis Grizzlies hung on to beat the Clippers 90-87 Monday night, ending Los Angeles' four-game winning streak.
Marc Gasol added 14 points and Zach Randolph had 10 rebounds as the Grizzlies improved to 15-3 since Green joined the team on Jan. 12. They won using balanced scoring with no one getting 20 points.
Memphis led by eight before the Clippers scored seven in a row to close to 88-87, but Chris Paul lost the ball and Conley was fouled. He made both and the game ended with Matt Barnes throwing the ball into the hands of Courtney Lee.
Paul had 30 points and 10 assists for the Clippers, with Jamal Crawford scoring 15 points off the bench.
February, 23, 2015
Feb 23
10:07
PM PT
LOS ANGELES -- The
Los Angeles Clippers
and
Memphis Grizzlies
haven't played each other in the postseason in almost two years but there is always a heightened level of intensity when the two teams face each other.
The coaches and many of the players have changed since they last played in the playoffs but the emotions and dislike between the two teams can still be felt as strongly now as ever. Monday was the latest chapter in the rivalry as
Mike Conley
stole the ball from
Chris Paul
in the closing seconds as Paul attempted to get to the basket for a game-winning shot, down by one. Instead Conley would hit two free throws and the Grizzlies beat the Clippers, 90-87.
"We've played against each other twice in the playoffs so with the remnants of the guys who are still there that always brings extra stuff," Clippers coach Doc Rivers said. "It just does. It's the same thing with us and Golden State now. When you go through a seven-game series with each other there's never any love lost after that. There just isn't. That's just the way it works. It's probably good."
Rivers knew before the game that it could be a struggle to score against the Grizzlies as they ended up with their second lowest point total of the season.
"I don't mind if the game is played with emotion, that's not too bad," Rivers said. "What we don't want to get into is a game where you're putting your hands on each other and it's like mud wrestling. I think they would enjoy that and we don't want to play that way. They say styles make fights and when we play that's a very good example of that. It's like Sugar Ray [Leonard] and [Roberto] Duran and I know who [we] have to be. In the second fight, not the first fight."
The loss snapped the Clippers' four-game winning streak without
Blake Griffin
, who had the stitches in his right elbow removed and was cleared to work out on Monday. He is still expected to miss another two weeks and will not be with the team as they play the Grizzlies in Memphis later this week and try to start a new winning streak without him.
"We've adopted this one-game attitude. That's the only thing we can do," Rivers said. "We can't look ahead. We're not deep enough to do that right now so we try to focus on the single game."