April, 21, 2014
Apr 21
10:12
AM PT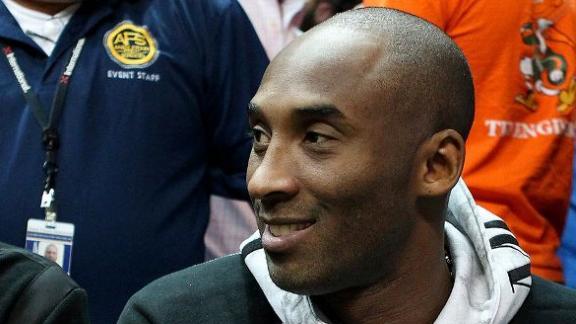 Los Angeles Lakers guard Kobe Bryant began an intense six-month training program with an early-morning workout Monday, sources with knowledge of the situation told ESPN.
Bryant has been cleared for running and shooting as he returns from a broken bone in his left lateral tibial plateau that caused him to miss all but six games this season. He has been ramping up his activity level the last few weeks and was confident about pushing harder after receiving positive feedback during a consultation last week with the doctors in Germany who previously performed the platelet-rich plasma treatment known as Orthokine on his knees.
Bryant visited the doctors while he was in Europe on a short trip with his family last week, sources said.
The Los Angeles Times reported that Bryant left for that European trip a few days before the end of the Lakers' season.
"First of all, I did not know he was leaving town. Second of all, I think it's a bigger story to everybody here than it really is to us," Lakers general manager Mitch Kupchak said of Bryant's trip at exit meetings on Friday. "We had a tough year. Kobe's had a really tough two years. He's had two career-threatening injuries. He's had to live through the season that we had to live through together. This is his 18th year in the NBA. Although I haven't spoken to him in the last day or two, I understand leaving town he is going to see his medical consultant in Europe. So, all things considered, to me, it's not that big of a deal."
April, 20, 2014
Apr 20
1:30
PM PT
April, 18, 2014
Apr 18
3:15
PM PT
[+] Enlarge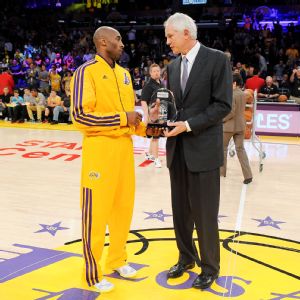 Noah Graham/NBAE/Getty ImagesLakers GM Mitch Kupchak says Kobe Bryant is on the same page with the team after the worst season in franchise history.
LOS ANGELES -- Kobe Bryant looks to be having an excellent anniversary trip in Paris, judging by the photos posted on his wife's Instagram account, but on the off chance he happened to be watching Lakers general manager Mitch Kupchak's 45-minute news conference Friday to close the worst season since the franchise moved to Los Angeles, there was something Kupchak really wanted him to understand.
"I've already used the word patience I think once or twice, so if [Bryant] is in Europe watching this, I'm sure he's saying, 'Why is Mitch using the word patience?'" Kupchak said. "He's not the most patient person in the world. And that's never going to change.
"Because of that, we've been to the Finals a bunch of times and we've won five championships. So, it's hard to criticize him.
"We want the same thing. We both want to win as much and as soon as possible. But it takes an organization a long time to get in the position that we're in where we have options financially going forward for the next year or two or three and we just have to make wise decisions using that space. If you don't make a wise decision, then you can set yourself back 6-7 years, and we don't want to do that."
April, 18, 2014
Apr 18
3:13
PM PT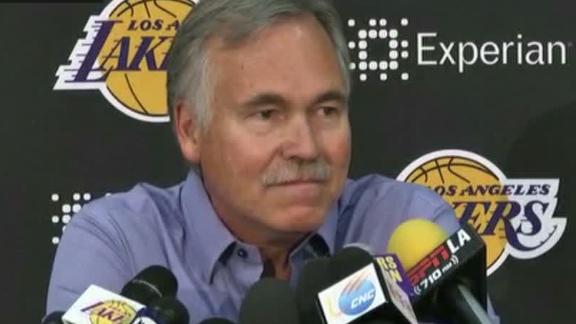 EL SEGUNDO, Calif. -- The worst season in Los Angeles Lakers history ended. Two days of exit interviews ensued. And Mike D'Antoni walked out of the Lakers' practice facility Friday with his job as the coach of the league's marquee team still in place.
"He's under contract for two more years," Lakers general manager Mitch Kupchak said of D'Antoni, who is set to make $4 million next season, with a team option to retain him in 2015-16. "If anything changes, we'll let you know."
Kupchak said that he, D'Antoni and Lakers vice president of player personnel Jim Buss will huddle in the near future to review the season after D'Antoni takes some time off with his family for the Easter holiday. The GM made it clear in advance of that review that he doesn't peg the season's struggles on D'Antoni's coaching.
"Under the circumstances, I'm not sure anybody could have done a better job than he did," Kupchak said.
D'Antoni, who has gone 67-87 (.435) with the Lakers since being hired to replace Mike Brown at the beginning of last season, said speculation about his job status was to be expected.
"I think every coach should be under scrutiny, and they're under it even if it goes well," D'Antoni said, alluding to the record 12 coaches who were fired after last season. "There will come a day where you sit down with management, see where they want to go, and try to get on the same page, whatever page that is. That hasn't been decided today."
Whatever does happen, D'Antoni said he has no regrets about his time as the 24th coach in Lakers franchise history.
"I think anytime the Lakers call, anyone would take this job," he said.
April, 18, 2014
Apr 18
3:08
PM PT
By ESPNLosAngeles.com
ESPNLosAngeles.com

Steve Nash
talks about his appreciation for the fans in Los Angeles despite the Lakers' struggles and discusses with former teammate
Dirk Nowitzki
if he should keep playing. The two reminisce about the time they had together on the
Dallas Mavericks
, speculate about what would have happened had they stayed teammates, and talk about the times they've played against each other.
More from
Grantland
.
April, 18, 2014
Apr 18
2:06
PM PT
While it is widely believed that the New York Knicks have already made the decision to move on from coach Mike Woodson, sources tell ESPN The Magazine's Chris Broussard that nothing will be announced this weekend.
Woodson's fate is likely to be announced early next week.
Sources close to the situation told ESPN that Woodson is "bracing" for the worst, especially after the Knicks conducted exit interviews with players Thursday without the coach present.
It is thought, however, that Woodson has not been told of his fate.
A league source told ESPNNewYork.com's Ian Begley that Woodson is not interested in having a face-to-face meeting with team president Phil Jackson until he gets further clarification on his status.
Jackson and Knicks owner James Dolan addressed the Knicks after their final game Wednesday, a Knicks player confirmed to ESPN New York on Friday night.
Jackson commended the team for its effort and complimented Woodson but made it clear there would be personnel changes this summer, the player said.
"He credited Woody," the player said. "But he also said that there's going to be changes, some of us won't be in this room next year."
The player said Jackson told the Knicks that they owed a lot of gratitude to Woodson. The player also said Jackson said the team needed to start "thinking differently" and thinking about "what we can do to contend" for a title.
Dolan, who told staffers on the eve of the season that he thought the Knicks could contend for an NBA title, told the players Wednesday that he was "disappointed by the season, that he had higher expectations," the player said.
"He said we left the fans wanting more," the player said.
The player said Dolan added that the Knicks "have to start thinking about a championship, and he told us that it starts [Thursday]. It was a great speech."
April, 18, 2014
Apr 18
12:30
PM PT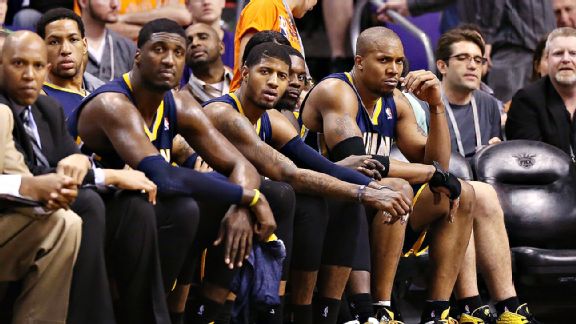 Christian Petersen/Getty ImagesThe Pacers were lucky to hang onto the top seed. How long will they manage to last in the playoffs?
Let's start here: When did it really begin to fall apart for the Pacers?
That's question No. 1. As the NBA prepares itself for its annual entry into Season 2, there are questions that are always left unanswered. In the case of the Indiana Pacers -- who have now generated more unanswered questions than any playoff team in the NBA -- there are so many questions it is almost impossible to know where to begin. What caused the Pacers' spiral? What effect will it have on them once the playoffs begin? Can they recover?
It's not at all as if the Pacers are alone. Far from it. Every team has lingering and irritating questions that they are distancing themselves from or in search of solving. Most won't. The attempt here is not to so much answer these questions as much as it is to acknowledge their presence. (It's become well known over the years that once the playoffs begin a whole new set of unanswered questions will surface.)
And it's usually the team that has separated itself from or escaped all unanswered questions as the team left standing in the end.
April, 17, 2014
Apr 17
11:02
PM PT
April, 17, 2014
Apr 17
5:57
PM PT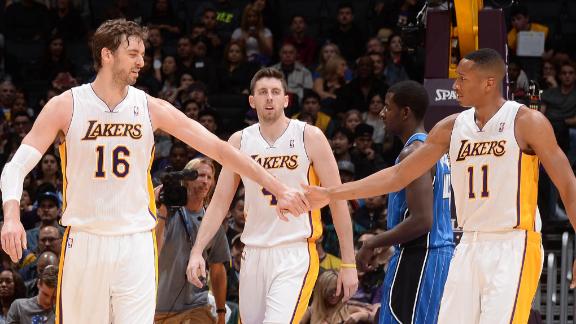 EL SEGUNDO, Calif. -- As Steve Nash and Pau Gasol pondered their NBA futures following exit interviews with the Los Angeles Lakers on Thursday, both expressed uncertainty about the months to come.
Only their reasoning was vastly different.
Nash, under contract with the Lakers for next season for $9.7 million, is sure he will be back in Los Angeles. But after playing just 15 games this season because of persistent nerve root irritation in his back and hamstrings, the point guard doesn't know how effective he can be.
"They can't rely on me, frankly," said Nash, already the league's oldest active player at 40 years old. "Hopefully I come back and play 82 games next year and the sky's the limit, but they can't rely on me. We don't know what I'm going to bring."
Gasol, who will become an unrestricted free agent for the first time in his 13-year career come July 1, is sure he still has "another good five years" left to play. But with the Lakers currently employing a coach whose style doesn't suit his game and the team in the middle of a rebuild, the big man doesn't know how much he wants to remain a Laker.
"I'm going to listen closely to what the Lakers will have to offer and say about the team's situation and position at the time," Gasol said. "We know what it is today, but we don't know what it is going to be July 1. See how the draft is going to play out, who they are going to end up drafting. Things like that that can have an impact or an effect on the structure of the team."
Gasol also told Yahoo! Sports he would be open to reuniting with New York Knicks president Phil Jackson, who previously coached the Lakers to five NBA titles.
April, 17, 2014
Apr 17
10:07
AM PT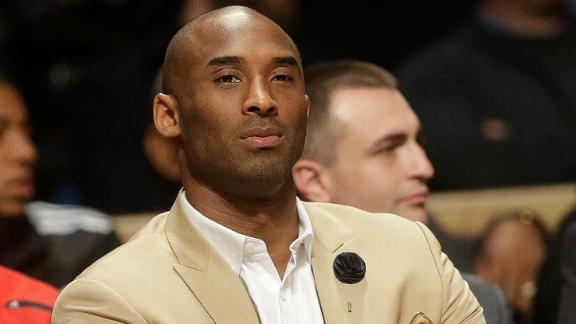 A documentary on the life and career of Los Angeles Lakers star Kobe Bryant will air this fall on Showtime.
In the past, Bryant has resisted projects that demand an all-access look into his life, choosing to keep the methods behind his success mysterious. But with his career threatened by an Achilles injury last spring, and the knowledge that his time in the NBA is coming to an end within a few years, he changed his mind.
The feature-length documentary is executive produced by Bryant and director Gotham Chopra, whose work also includes an upcoming ESPN 30 for 30 film "The Little Master."
"As a lifelong Boston Celtics fan, never did I imagine I would collaborate with Laker great Kobe Bryant," Chopra said in a statement. "Kobe's quest for greatness transcends rivalries and I'm excited by his and Showtime's willingness to go down this rabbit hole together. I'm confident audiences will be intrigued by what comes out the other side."
Bryant has granted the production access to his daily life and private training sessions, which will intensify next week after he returns from an anniversary trip to Europe. He has also allowed the crew to follow him to business meetings as he prepares for life after basketball.
In an exclusive interview last month with ESPN.com's Darren Rovell, Bryant revealed that he has formed a company called Kobe Inc., and is building a team around him to start new businesses and evaluate investing in others. Bryant's first investment was with upstart sports drink Bodyarmor.
April, 17, 2014
Apr 17
8:32
AM PT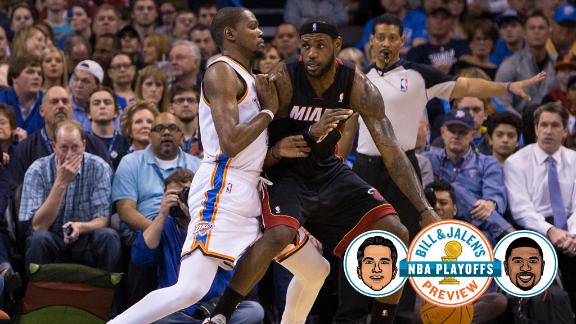 LeBron James once again has the NBA's best-selling jersey, but Kevin Durant is as close as he has ever been to the top, finishing the regular season in second place for the first time.
The rankings are based on sales during the season at NBAStore.com, figures that were released by the league on Thursday.
Despite playing in only six games this season, Kobe Bryant still finished third in jersey sales. Chicago Bulls guard Derrick Rose, who played in only 10 games, finished fourth, and Golden State Warriors guard Stephen Curry rounded out the top five.
Thanks in part to James, who has finished with the top-selling jersey in six of his 11 seasons in the league, the Heat are the best-selling team. The Lakers, Knicks and Celtics finished second, fifth and sixth in merchandise sales, respectively, despite all missing the playoffs.
One surprise name on the list is San Antonio Spurs center Tim Duncan, who squeaked into the top 15 at No. 14. It's the first time Duncan has been in the top 15 since 2007.