April, 17, 2014
Apr 17
10:55
PM PT
April, 17, 2014
Apr 17
5:59
PM PT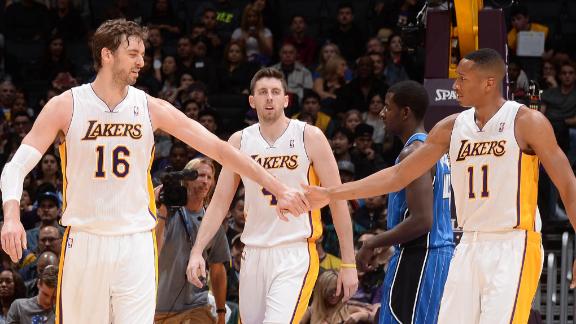 EL SEGUNDO, Calif. -- As Steve Nash and Pau Gasol pondered their NBA futures following exit interviews with the Los Angeles Lakers on Thursday, both expressed uncertainty about the months to come.
Only their reasoning was vastly different.
Nash, under contract with the Lakers for next season for $9.7 million, is sure he will be back in Los Angeles. But after playing just 15 games this season because of persistent nerve root irritation in his back and hamstrings, the point guard doesn't know how effective he can be.
"They can't rely on me, frankly," said Nash, already the league's oldest active player at 40 years old. "Hopefully I come back and play 82 games next year and the sky's the limit, but they can't rely on me. We don't know what I'm going to bring."
Gasol, who will become an unrestricted free agent for the first time in his 13-year career come July 1, is sure he still has "another good five years" left to play. But with the Lakers currently employing a coach whose style doesn't suit his game and the team in the middle of a rebuild, the big man doesn't know how much he wants to remain a Laker.
"I'm going to listen closely to what the Lakers will have to offer and say about the team's situation and position at the time," Gasol said. "We know what it is today, but we don't know what it is going to be July 1. See how the draft is going to play out, who they are going to end up drafting. Things like that that can have an impact or an effect on the structure of the team."
Gasol also told Yahoo! Sports he would be open to reuniting with New York Knicks president Phil Jackson, who previously coached the Lakers to five NBA titles.
April, 17, 2014
Apr 17
10:07
AM PT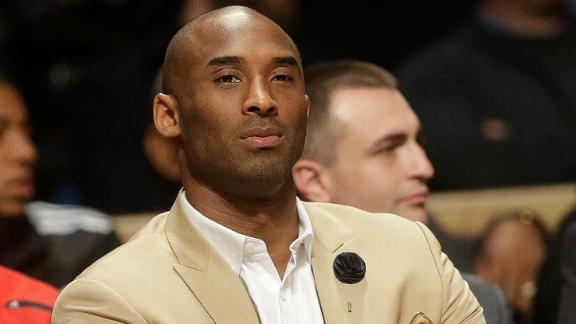 A documentary on the life and career of Los Angeles Lakers star Kobe Bryant will air this fall on Showtime.
In the past, Bryant has resisted projects that demand an all-access look into his life, choosing to keep the methods behind his success mysterious. But with his career threatened by an Achilles injury last spring, and the knowledge that his time in the NBA is coming to an end within a few years, he changed his mind.
The feature-length documentary is executive produced by Bryant and director Gotham Chopra, whose work also includes an upcoming ESPN 30 for 30 film "The Little Master."
"As a lifelong Boston Celtics fan, never did I imagine I would collaborate with Laker great Kobe Bryant," Chopra said in a statement. "Kobe's quest for greatness transcends rivalries and I'm excited by his and Showtime's willingness to go down this rabbit hole together. I'm confident audiences will be intrigued by what comes out the other side."
Bryant has granted the production access to his daily life and private training sessions, which will intensify next week after he returns from an anniversary trip to Europe. He has also allowed the crew to follow him to business meetings as he prepares for life after basketball.
In an exclusive interview last month with ESPN.com's Darren Rovell, Bryant revealed that he has formed a company called Kobe Inc., and is building a team around him to start new businesses and evaluate investing in others. Bryant's first investment was with upstart sports drink Bodyarmor.
April, 17, 2014
Apr 17
8:33
AM PT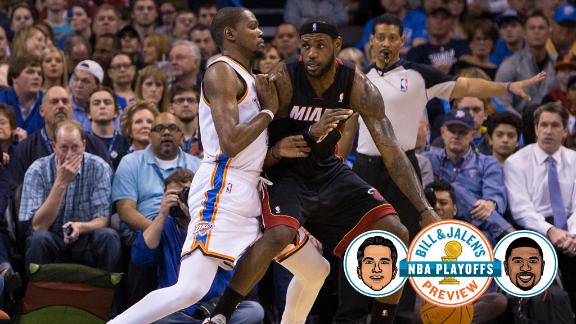 LeBron James once again has the NBA's best-selling jersey, but Kevin Durant is as close as he has ever been to the top, finishing the regular season in second place for the first time.
The rankings are based on sales during the season at NBAStore.com, figures that were released by the league on Thursday.
Despite playing in only six games this season, Kobe Bryant still finished third in jersey sales. Chicago Bulls guard Derrick Rose, who played in only 10 games, finished fourth, and Golden State Warriors guard Stephen Curry rounded out the top five.
Thanks in part to James, who has finished with the top-selling jersey in six of his 11 seasons in the league, the Heat are the best-selling team. The Lakers, Knicks and Celtics finished second, fifth and sixth in merchandise sales, respectively, despite all missing the playoffs.
One surprise name on the list is San Antonio Spurs center Tim Duncan, who squeaked into the top 15 at No. 14. It's the first time Duncan has been in the top 15 since 2007.
April, 17, 2014
Apr 17
1:44
AM PT
.329
-- The Lakers' final winning percentage -- after going 27-55 -- was the worst in the history of the team since the franchise moved from Minneapolis to Los Angeles.
2
--
Pau Gasol
passed
Detlef Schrempf
to become the second-highest scoring European player in NBA history (
Dirk Nowitzki
) with an 18-foot jumper against Brooklyn in November. Gasol finished the season with 16,576 points, ranking him 89th overall on the all-time scoring list.
3
-- The number of times the 40-point plateau was reached by a Lakers player this season with
Jodie Meeks
scoring 42 in a win against the
Oklahoma City Thunder
and
Nick Young
hitting for 40 and 41 in two games in April.
4
-- The number of eligible players the Lakers ended up with in a game against Cleveland after they had a limited roster because of injuries and after
Chris Kaman
and
Robert Sacre
fouled out.
7
-- Young had seven four-point plays this season, tying him with
Kyle Korver
for the NBA lead while setting a new Lakers franchise record.
8
-- The number of players to set new career-high scoring games for the Lakers this season including Meeks (42 points),
Jordan Farmar
(30),
Jordan Hill
(28),
Xavier Henry
(27),
Ryan Kelly
(26),
Kent Bazemore
(23),
Kendall Marshall
(20) and Sacre (15).
9
-- The Lakers failed to sell out Staples Center for nine of their 41 home games this season. Their streak of 320 consecutive sellouts (playoffs included) was snapped in November.
14
-- Marshall was second in the league with nine games of 14 assists or more this season.
Chris Paul
was first with 10.
19
-- L.A. set a franchise record for most 3-pointers in a regulation game, making 19 against the
Sacramento Kings
in February.
35
-- The number of different starting lineups the Lakers used in 82 games this season.
40
--
Steve Nash
, the oldest active player in the league, turned 40 on Feb. 7, scoring a season-high 19 points during a 112-98 win over Philadelphia on his birthday.
48
-- The number of points the Lakers lost to the Clippers by in March, the biggest blowout loss in franchise history.
51
-- L.A. set a team record for points in a quarter, hanging 51 in the third quarter of a blowout win over the
New York Knicks
in March.
319
-- Lakers players missed 319 games combined because of injury this season, which led the NBA.
408
-- Over a three-game span in early March, the Lakers allowed New Orleans to score 132 points, the L.A. Clippers to score 142 points and Denver to score 134 points. The 408 points combined accounted for the most porous three-game stretch of defense the team has ever allowed.
10,335
-- Nash moved up to No. 3 on the all-time assists list by registering his 10,335th assist of his career, passing Mark Jackson.
$172,055
-- The amount of money
Kobe Bryant
made per minute played this season after only appearing in 177 minutes over six games.
April, 16, 2014
Apr 16
11:29
PM PT
SAN ANTONIO -- The
Los Angeles Lakers
won on Wednesday, bookending the season with a win over the league's No. 1 team in the
San Antonio Spurs
much the same way they started things off with a surprising win over the
Los Angeles Clippers
on opening night.
You wouldn't know it from talking to Mike D'Antoni after the game. The coach stood in the cramped AT&T Center hallway outside the visitor's locker room looking as glum as Eeyore, sounding as beaten as an old rug.
[+] Enlarge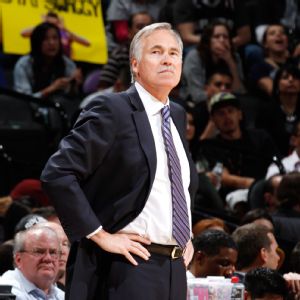 Chris Covatta/NBAE via Getty ImagesMike D'Antoni had nothing but good things to say about his players after the end of a tough season for the Lakers.
His team did everything he always asked them to do. They shared the ball, with eight out of the nine players to get in the game scoring in double digits. They outrebounded with hustle and heart, even though they were undersized. They spaced the floor, giving their shooters the room and rhythm necessary to go 11-for-27 on 3-pointers (40.7 percent).
It was beautiful basketball, a real life interpretation of the vision how D'Antoni believes the game is meant to be played.
And it cloaked D'Antoni in melancholy as it played out, making him wonder if this would be it for him. Maybe he should take it in one last time, make like Walter White as he revels in the perfect functionality of his lab equipment in his final moments.
It's no secret that his coaching seat has gotten mighty warm in the last couple of months. From the Lakers stumbling to a 27-55 record, the worst season in the history of the franchise since the team moved from Minneapolis to L.A., to
Kobe Bryant
-- whose relationship with the coach has deteriorated to the point where the two rarely speak to each another -- openly questioning whether D'Antoni should be retained or not, it wouldn't shock anyone if the Lakers showed him the door as they go into one of the most important summers they've ever had.
Yes, the Lakers owe D'Antoni $4 million for next season and yes, several Lakers players --
Jodie Meeks
,
Nick Young
,
Kent Bazemore
, even
Jordan Hill
-- had career years playing in his system.
But sometimes there needs to be a scapegoat, and in a league that saw 12 of its head coaches fired last season -- including several who led their teams to the playoffs -- the coach is usually the one to go.
April, 16, 2014
Apr 16
7:32
PM PT
SAN ANTONIO -- How does that saying go again?
Don't cry because it's over, smile because it happened?
Or in the
Los Angeles Lakers
' case, there were surely plenty of fans smiling Wednesday night because their dismal 2013-14 season is finally over.
They were a team that just couldn't get things right this season all the way to the bitter end, when all that was left to play for was draft seeding -- and they even messed that up with a two-game winning streak to finish things.
Before the Lakers knocked off the league's No. 1 team in the
San Antonio Spurs
on Wednesday (albeit a Spurs team that did not dress
Tim Duncan
and played
Tony Parker
only 16 minutes), coach Mike D'Antoni was asked to reflect on the season that went awry.
"It's something that -- we could have played better, obviously, but I don't know if we were good enough to win," D'Antoni said. "They tried their best. They were in a horrible situation. They were in a tough situation to start with, then it got horrible on them. But, I think overall, they competed."
For the nine guys still standing from the Lakers' 15-man roster, there was something to feel good about, at least knowing that they at least made their coach's claim ring true.
Time will tell just how much competing all the way to the end will hurt them when the draft lottery results are revealed next month, however.
How it happened:
The Lakers saw their 13-point first-half lead disappear by intermission, but they were able to build their balloon back to 11 heading into the fourth. L.A. was able to keep its cushion large enough that
MarShon Brooks
played nine minutes in the final frame.
What it means:
It's over. It's all over. The Lakers can only go up from here.
Hits:
All five Lakers starters and eight of the nine players who got in the game overall scored in double digits, with
Jordan Hill
leading the charge with 18 points and 14 rebounds.
Wesley Johnson
(11 points, 10 rebounds) and
Kendall Marshall
(15 points, 11 assists) also chipped in with double-doubles.
L.A. had just nine turnovers.
Misses:
Johnson shot just 5-for-17 from the field.
Stat of the game:
319. With both
Steve Nash
and
Chris Kaman
joining
Kobe Bryant
,
Pau Gasol
,
Kent Bazemore
and
Xavier Henry
on the injured list for the season finale, the Lakers' season total for combined games missed because of injury rose to a staggering 319.
Up next:
An offseason rife with question marks. What will become of D'Antoni? Where will their spot end up being in the draft lottery? Whom will they select with their pick? How many out of their 12 free agents will be back on the team next season? Will Bryant return healthy? How about Nash? Will he retire? What will the Lakers do with all that cap space they've hoarded? How long will it take for this franchise to get back on track?
April, 16, 2014
Apr 16
7:29
PM PT
Associated Press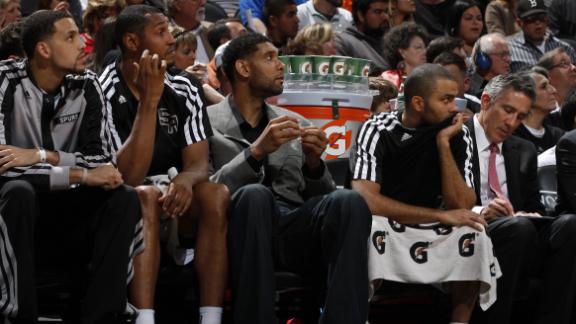 SAN ANTONIO -- Jordan Hill had 18 points and 14 rebounds and the Lakers closed their worst season since they moved to Los Angeles with a 113-100 victory over the San Antonio Spurs on Wednesday night.
Nick Young scored 16 points and Kendall Marshall added 15 points to help Los Angeles close the season with a two-game winning streak.
The Lakers (27-55) are expected to look dramatically different next season after finishing with their worst record since moving to Los Angeles.
Kawhi Leonard had 14 points to lead San Antonio, which did not have anyone play more than 27 minutes. The Spurs (62-19) had an opportunity to match their best record, but opted to rest in preparation for defense of their conference title.
April, 16, 2014
Apr 16
3:04
PM PT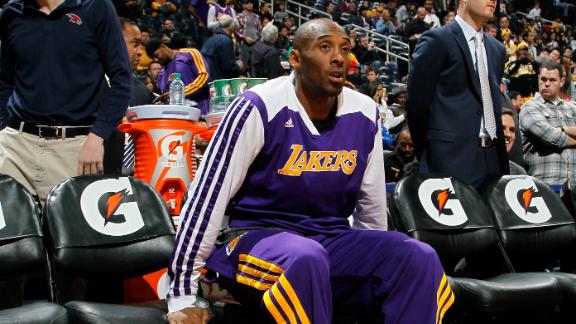 Kobe Bryant has been cleared to resume running and shooting and will begin an intense, six-month training program next week upon his return from a short family trip to Europe, sources with knowledge of the situation told ESPN.
Bryant has been ramping up his activity level in recent weeks as he continues to recover from a fracture in his left knee suffered during the Lakers' victory Dec. 17 at Memphis, just six games into his return from a ruptured Achilles.
While he is in Europe, Bryant will visit the clinic in Germany where he had the platelet-rich plasma treatment known as Orthokineon on his knee, according to a source.
The visit to the clinic is a check-up to ensure all is structurally sound with his knee before he resumes intense training.
Bryant has rarely traveled with the team or appeared in public since, preferring to focus on his rehabilitation instead of a team wrapping up the worst season in Lakers history. He vented his frustrations with the team's struggles when he was declared out for the season in mid-March. He made his feelings known on Twitter on Wednesday:
S*** season. Flush it. Forget it #amnesia Next Season will be epic #blackout #bussfam

- Kobe Bryant (@kobebryant) April 16, 2014
April, 16, 2014
Apr 16
10:36
AM PT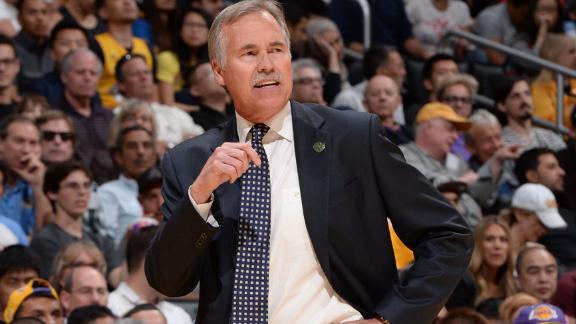 SAN ANTONIO -- The Los Angeles Lakers played their final game of the worst season in franchise history on Wednesday against the San Antonio Spurs, a 113-100 win. Will it also be the final game of Mike D'Antoni's tenure with the team?
The coach says his future is still undetermined.
"The next step will be to sit down with Jim [Buss] and all them and Mitch [Kupchak] at the end of the year and talk things out, see where things are," D'Antoni said after shootaround Wednesday morning.
D'Antoni is scheduled to have his exit interview with team management Friday. He has one year remaining on his contract worth $4 million, plus the Lakers have an option for the following season. Kupchak, the team's general manager, told USA Today last week that no decision has been made about retaining D'Antoni.
"No. No," Kupchak said. "In fact, I told Jimmy, let's get to the end [of the] season, take some time off ... then review the season."
While Kupchak preached patience, D'Antoni said he was unaware of any extended timeline for a decision on his fate.
"We haven't talked," D'Antoni said. "So that will be done in the next couple days and then we'll just see."
Guard Nick Young, who has the inauspicious distinction of being the team's leading scorer in such a lackluster year, said D'Antoni didn't have a chance to succeed.
"I think he handled everything well," Young said. "He came in on a bad situation -- getting picked over Phil Jackson. He already had a target on his back. So I think he handled all that well. From the boos and 'Fire D'Antoni!' I think he still comes in here with a smile and you can't ask for nothing more from Mike D'Antoni."
No matter what happens against the Spurs, the Lakers (27-55) have already assured themselves the worst season in the 66-year history of the franchise. When asked what he would remember about the season, D'Antoni replied, "Nothing," in deadpan fashion before elaborating.
"You forge individual relationships that have been great," D'Antoni said. "Watching Robert [Sacre]
April, 16, 2014
Apr 16
9:56
AM PT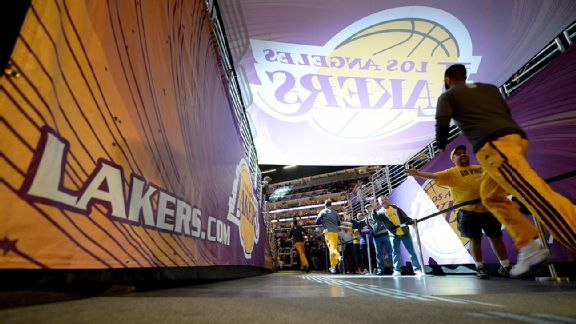 Noah Graham/NBAE/Getty ImagesWith their dreadful season all but over, the Los Angeles Lakers now must face the long road ahead.
Pau Gasol has been in a bad way for the past few weeks. Vertigo might seem like a fancy word for dizzy, but anyone who has ever suffered from it knows the truth.
It's scary. Up is sideways. Down is backward. After an hour, all you want is to make the spinning stop.
"It feels like you're seasick," Gasol said on his walk out of Staples Center after a recent game, "like you're floating in a cloud."
His eyes were glassy. Staying upright wasn't easy. A security guard walked with him, just to make sure.
There is a clarity that forms in desperate moments like this, a distillation of what matters and what doesn't. After the worst season in Los Angeles Lakers history, one that's left everyone in the franchise and the city feeling as dizzy as Gasol, this feels like one of those moments.
The Lakers have missed the playoffs just three times in the past 30 years, but they've never bottomed out with as little to build back up with as this season.
"Things didn't work out," Gasol said as he stopped for a moment to steady himself. "It's not just about talent sometimes. It's about getting your pieces to work together in one direction and having good chemistry, and obviously it didn't happen.
"I'm not big on thinking on what if. Things happen, and then you just move on."
How the Lakers do that, how they move on and use this moment, will set the course of their future for years to come.