March, 22, 2015
Mar 22
2:56
AM ET
LOS ANGELES -- Ask him where his MVP trophies are and Steve Nash isn't so sure.
Invite him to go back and figuratively rewrite the ending to the playoff heartbreak of his choice, just for the sport of it, and Nash says there's no need.
Remind him of that Sports Illustrated cover, on which he's bouncing giddily alongside Dwight Howard and a headline proclaiming how much fun was in store, and Nash can only acknowledge that "nothing worked out the way we intended it to work out."
"It wasn't as much fun as we thought," Nash said with a chuckle meant as much as anything to convey chagrin.
Yet it's not just imaginary do-overs that he shuns. He's not looking for sympathy or convenient alibis, either.
Or your validation.
[+] Enlarge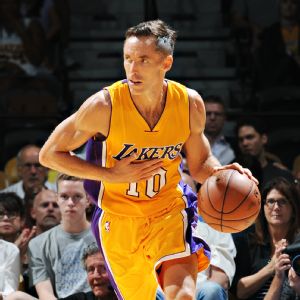 Noah Graham /NBAE via Getty ImagesSteve Nash bid adieu to the NBA as the No. 3 all-time assist leader.
He insists he can live with every barb about these three lost seasons with the Lakers -- just as he's always said he can take those no rings cracks -- because he remains convinced coming to L.A. was the best way to properly cap nearly two decades of playing NBA basketball the way he imagined his net-circling hero Wayne Gretzky would have.
Nash firmly believes stepping into the cauldron of title-or-bust expectations in Hollywood, after the offensive revolution that sprouted in the desert and his time with the Phoenix Suns had come to an end, was the only way to play out his (mostly) storybook career.
"I had incredibly high hopes coming here," Nash said as part of a 45-minute conversation Friday in his living room, some of which you might have already seen on SportsCenter.
"I wanted to do great things in this city," he said. "And it didn't happen. But a big part of why I came here was because I wanted to be in the fire. I wanted to be judged. I wanted to be under pressure in my last chapter. I didn't want to fade off.
"And in some ways, I got bit by that. But that's what I wanted. That is the way to end your career ... [playing with] the most risk and the most reward. I accept it. It's been a great experience, regardless of the noise out there."
Nash insists, furthermore, that the static about how little his battered body allowed him to give the Lakers in exchange for a three-year contract worth nearly $28 million and the four draft picks they surrendered in a sign-and-trade with the Suns actually only exists on Twitter and sports talk radio.
"If you live online," Nash said, "you'd think I'm a pariah in the community."
The reality?
"Lakers fans have been unbelievable to me in person," he said. "I've never had a Lakers fan or a person in Los Angeles say a negative thing to me in two-and-a-half years. The opposite. People have been so supportive, so respectful."
Those people apparently know the truth: how Nash worked harder in his rehab efforts over an 18-month period, after suffering career-altering nerve damage in a collision with Portland's Damian Lillard in his second game as a Laker, than he did at any point in his gym rat life.
You should also know, if you haven't already read Nash's explanation on the matter, that he has essentially been retired since it was announced in October that he would be forced to sit out the entire 2014-15 campaign. The reason his retirement wasn't formally announced then? Lakers officials asked him to delay the news he broke Saturday so they could try to trade his expiring, $9.7 million contract for an asset with more staying power.
The silver lining there, of course, is Nash has had some time to get used to the idea of telling the world what only family, friends and confidantes have known all season.
"I actually feel like I'm doing great," Nash said. "The saving grace for me is that the mornings I wake up and say, 'I want to play today. Can I still do it?' ... it takes me about 30 seconds to realize, 'You can't do it.' So the answer was made for me. I just cannot do it anymore.
"I had to just be honest and accept the fact that I can rehab this way for the next 10 years, and I'm not going to be in a position to help the team. So that saves me. That makes it bearable. That's made me, in some ways, kind of move past it.
"There is going to be a transition here where I'm gonna have to become someone else, do something else, and that's going to be tricky. I don't want to underestimate that. But I feel pretty good about it."
How could he not, really?
As we covered in this cyberspace in October, when we published our first farewell to Captain Canada -- knowing then, as he did, the end had arrived -- Nash essentially suffered a broken back in a pickup game in Dallas before his first real game as a Maverick. He overcame that injury and myriad complications it spawned, after the very long odds he overcame in the first place just to make it all the way to the NBA from a remote outpost in a hockey country, to earn eight All-Star invites, uncork four of the 10 recorded 50/40/90 seasons in league history, finish third all-time in assists behind John Stockton and Jason Kidd and, yes, win the back-to-back MVP awards in Phoenix to a) become the only player ever shorter than 6-foot-6 to do so and b) earn the slick nickname of Two-Time.
When his body finally gave in, Nash happened to be the only 40-year-old you could find on the NBA map.
As a bonus, in case he needs the pick-me-up, Nash can console himself with the knowledge that at least one pretty good basketball team still covets his services. League sources told ESPN.com earlier this month that LeBron James' Cleveland Cavaliers -- who happen to have two of the biggest Nash admirers on Earth in their front office, in David Griffin and former teammate Raja Bell -- let it be known to longtime Nash agent Bill Duffy that they would love to give the old man a whirl as a short-minute backup to Kyrie Irving if Nash wanted to seek a buyout after the trade deadline from whoever had him at that point.
No chance, though.
He only wanted to come back -- and go out -- as a Laker. He says he's going to live where he is now "forever" and hoped he could give the locals something -- anything -- to repay the Lakers for bringing him to town and giving him the chance to stay near his three children, who all go to school mere steps from Nash's house.
"In preseason, I did everything right," he said. "I had a good camp. I came in maybe in the best shape on the deal. I played one preseason game and felt decent. I thought maybe I could get better from here. The next morning, I woke up, and I was a mess. … I just had to come to the realization that if I'm lucky, I'd play in 10 games this year.
"I think I can [still] have a great game. But I can't do it more than once or twice a month."
Instead, he's forced to satisfy his competitive urges with the copious amounts of soccer he plays with former pros such as NBC Sports commentator Kyle Martino, his role as a rehabbing mentor to injury-tortured U.S. national teamer [and ESPN FC commentator] Stu Holden and the occasional morning invites to duck out and play beach volleyball.
He also watches copious amounts of soccer -- "Every Spurs, Barcelona and [Vancouver] Whitecaps game" -- and actually has a variety of jobs, thanks to his philanthropic work with the Steve Nash Foundation and the $5 million it has raised to get critical needs sources to children, his many filmmaking endeavors alongside cousin Ezra Holland, and his role as general manager of Canada's national basketball team.
Which makes him Andrew Wiggins' boss of sorts.
"I don't know that Andrew needs much of a push," Nash said. "We're just lucky he's Canadian."
Besides tracking Wiggins and the influx of highly drafted Canadians in recent years -- naturally sparked in part by the NBA interest he generated back home -- Nash lists Irving and Steph Curry as his favorite point guards to watch in the modern game.
On this particular afternoon, though, Nash only has eyes for his kids. When the interview ends and the crew finishes packing up its cameras, there are five of them under one roof: Nash's 10-year-old twin daughters, Bella and Lola, 4-year-old son, Mateo, and two neighborhood friends.
The mood could not possibly stay heavy once Mateo strolled upstairs to inform Dad that this particular Friday at school was "Happiness Day."
In all the years I've covered Nash, from closer range than I ever had a right to expect or deserve, I only know of him crying twice.
I saw it with my own eyes at the 2000 Olympics in Sydney, which Nash to this day refers to as the pinnacle of his career, when he bolted off the floor in tears after a quarterfinal loss to France left the Cinderellas from Canada one win shy of the medal round.
The only other instance, which occurred out of public view, is said to have happened after a heated scolding from Don Nelson during Nash's nightmarish debut season with the Mavericks, when he went to his then-coach seeking help and wound up getting berated to a degree that left Nash shattered. Of course, if you read Nash's "I'm retiring" letter to his fans Saturday, you know how big an impact Nellie's tough-love approach had on Nash's subsequent success.
But that's it. That's my list. Beyond that, I can only repeat what I wrote six months ago: Nash is as glass-half-full as anyone I've ever met.
Inside or outside sports.
Somewhat fearful of the unknown in his next life? Of course.
Emotionally distraught by a run of health misfortune as a Laker, a run that has been thickly caked on top of the string of postseason daggers he ingested as a Sun?
Try philosophical.
"I don't hide from that: I didn't win a championship," Nash said. "If that forms people's opinions of my career or legacy or value, that's their opinion. That's not my responsibility.
"I don't get caught up in legacy or where I fit in [when it comes to the point guard pantheon]. ... If I leave anything behind, I hope it's that I was a great teammate and a great competitor. If a championship is a huge component in your [definition of] success, that's fine. But it doesn't affect how much I enjoyed my career. I'll always be disappointed I didn't win a championship, for sure, but there's a lot more to life as well.
"I lost the [last] battle, but I fought the battle. That's what matters most."