October, 22, 2014
Oct 22
6:35
PM ET
DAVIE, Fla. -- The
Miami Dolphins
(3-3) completed their second practice in preparation for Sunday's game against the
Jacksonville Jaguars
(1-6).
Here is the full injury report for Miami:
Limited participation
: S
Jimmy Wilson
(hamstring), LT
Branden Albert
(elbow), TE
Charles Clay
(knee), CB
Cortland Finnegan
(neck), WR
Brandon Gibson
(hamstring), CB
Brent Grimes
(groin), C
Samson Satele
(hamstring), TE
Dion Sims
(stinger)
Full participation:
LS John Denny (knee), LB
Philip Wheeler
(shoulder)
Analysis:
The Dolphins are in very good shape as every player on the roster participated Wednesday in their full-padded practiced. Wilson was the only major injury concern. He missed last week's game against the
Chicago Bears
with a hamstring injury. But Wilson returned on Wednesday, which bodes well for his chances of playing Sunday. Grimes (groin) and Sims (stinger) were both injured against the Bears, but the ailments do not appear to be serious.
October, 22, 2014
Oct 22
4:00
PM ET
DAVIE, Fla. -- His nickname is "Shoelace." But to the
Miami Dolphins
,
Denard Robinson
is the dynamic player their defense must be wary of when they travel to face the 1-6
Jacksonville Jaguars
.
The Deerfield Beach, Florida, native is finding his way at the NFL level. Jacksonville, for the first time in Robinson's career, gave the versatile player 22 carries at running back, and he produced a career-high 127 rushing yards and a touchdown in an upset win over the
Cleveland Browns
.
Robinson played quarterback at the University of Michigan. He was drafted in the fifth round in 2013 despite not having a set position. Jacksonville only would label him an "offensive weapon," as Robinson played receiver, Wildcat quarterback and now running back in the past two years.
"He's a football player. That's the one thing you've got to be impressed about him," said Dolphins head coach Joe Philbin. "That's a term we like to use around here. I think he's tough, he's a hard guy to bring down. I like the way he plays the game."
Robinson looked the part of an NFL running back last week. He averaged 5.8 yards per carry against Cleveland and grinded out those yards. Robinson's longest rush was for 20 yards.
Jacksonville asked Robinson to put on weight in the offseason and he hasn't lost his speed.
"I put on 15 pounds just to be able to take the pounding and just take the hits. ... be able to make guys miss and be able to deliver a blow sometimes," Robinson explained on a conference call with the Miami media Wednesday. "That's the reason why I put on the weight. They asked me to do that, and I was down for it."
The Dolphins (3-3) are making it a point not to overlook the Jaguars this week. Jacksonville's offense is ranked 28th, near the bottom of the league. But Robinson is one of the few offensive players who can break open the game for the Jaguars.
Look for Miami's defense to key on Robinson and potentially stack the box more than usual with a rookie quarterback (
Blake Bortles
) under center.
"He can definitely take it to the house. We saw that at Michigan," Dolphins outside linebacker
Jelani Jenkins
said of Dennard. "He will run it 80 yards easily. But he put on weight and most of that has to do with his heart and passion for the game and to keep fighting."
October, 22, 2014
Oct 22
1:30
PM ET
DAVIE, Fla. -- The
Miami Dolphins
(3-3) practiced Wednesday in preparation for their upcoming game against the
Jacksonville Jaguars
(1-6).
Wilson
Here are notes from Wednesday's practice for Miami:
The Dolphins received some good injury news with safety and nickel corner Jimmy Wilson returning to practice. Wilson missed last week's game with a hamstring injury. He is the team's top defensive back off the bench and looks poised to return on Sunday.
This also was the first full-padded practice for Dolphins defensive end Dion Jordan. He returned from suspension this week. Miami's coaching staff is trying to figure out if Jordan is ready to return to the field or if he needs more time. Jordan showed good "punch" and quickness going through position drills during the portion of practice open to the media. Miami could activate Jordan later this week if the team feels he's ready to play.
Overall, the Dolphins are very healthy going into Sunday's game. There are no major injury concerns so far this week. Barring a last-minute injury, Miami should be going into Jacksonville close to full strength.
October, 22, 2014
Oct 22
12:00
PM ET
The
Miami Dolphins
received
a bonus player
on defense this week when former No. 3 overall pick
Dion Jordan
returned from suspension. Jones missed the first six games of the regular season following dual suspensions for violating the NFL's policies on performance enhancers and substance abuse.
Jordan has immense physical talent. However, the Dolphins have struggled to find a consistent position for the former 2013 first-round pick.

That brings us to our latest poll question: What is the best position this season for Jordan?
Miami has options with 10 games remaining in the season. Jordan must first round into "football shape." But he's 24 years old and that shouldn't take long. Miami (3-3) is eligible to activate Jordan as early as this Sunday's game against the
Jacksonville Jaguars
(1-6).
Should Jordan stay at defensive end? This is his natural position from college and Miami's coaching staff has been staunchly against moving Jordan. Miami has a wealth of starting and backup defensive ends, which will make it hard for Jordan to work his way up the depth chart.
What about outside linebacker for Jordan? This is an area that's hurt the Dolphins due to injuries and poor play. Jordan has the athleticism to run and cover tight ends. He just needs some seasoning. Should Jordan take playing time away from
Philip Wheeler
?
Finally, should Jordan play both positions or on special teams? Using our SportsNation poll, vote on what position Jordan should play this season. You can share your thoughts in the comment section below or send me a message via
Twitter @JamesWalkerNFL.
October, 22, 2014
Oct 22
10:00
AM ET
By
ESPN.com staff
| ESPN.com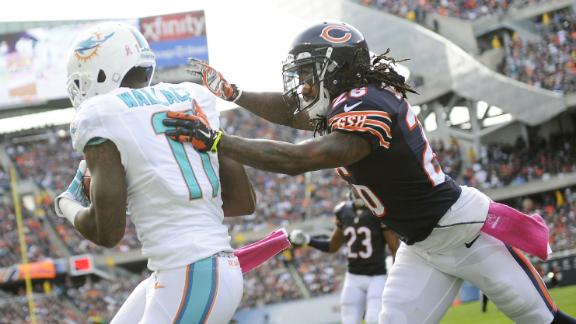 ESPN Dolphins reporter James Walker says extra effort is one reason
Mike Wallace
is on pace for a career season in receptions and touchdowns.
October, 22, 2014
Oct 22
9:30
AM ET
Associated Press
[+] Enlarge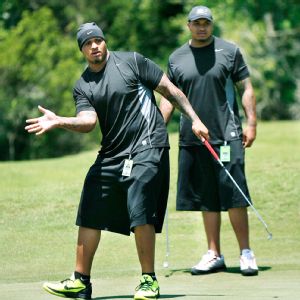 Stephen M. Dowell/Orlando Sentinel/MCT via Getty ImagesMaurkice Pouncey, left, and his brother, Mike, at a charity golf tournament in 2011.
MIAMI -- The attorney for NFL offensive linemen Mike and Maurkice Pouncey says no charges will filed against the twin brothers stemming from a July altercation at a Miami Beach nightclub.
Lawyer Jeffrey Ostrow said in an email Wednesday that Miami-Dade County prosecutors informed him the brothers won't be charged in the fight at Cameo nightclub.
Maurkice Pouncey plays center for the Pittsburgh Steelers, and Mike Pouncey plays center and guard for the Miami Dolphins. Both played college football at Florida.
Three people have sued the Pounceys for civil damages, claiming they harassed one person with homophobic remarks and physically attacked him. Another person claims she was beaten when she tried to intervene.
Ostrow says the claims are false and are being made solely for attempted financial gain.
October, 22, 2014
Oct 22
7:37
AM ET
Here are the most interesting Miami Dolphins stories Wednesday from around the Web: Morning take: Jones had a stellar game against the Chicago Bears last week where he led Miami with seven tackles and an interception. He's been a strong addition for the defense following a four-game suspension.
Morning take: The Dolphins had high hopes for Turner and Smith when they were acquired in the offseason. However, injuries and having veterans in front of them kept Turner and Smith on the bench.
Morning take: Jordan is coming off dual suspensions that cost him six games this season. Jordan must prove that he has his life in order and he's ready to produce.
Morning take: This year has been a roller-coaster ride for Miami's third phase. The Dolphins have made great plays on special teams and awful plays. Building consistency is key.
October, 21, 2014
Oct 21
5:16
PM ET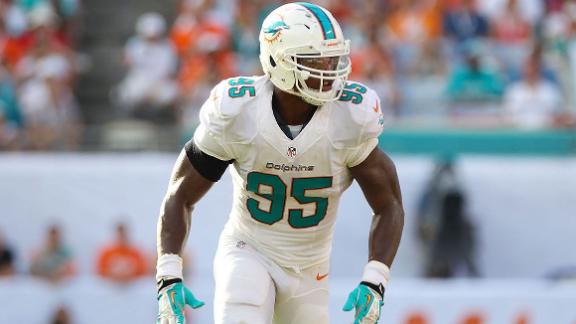 DAVIE, Fla. -- Miami Dolphins defensive end Dion Jordan joined the team Tuesday for the first time since serving his six-game suspension for violating the NFL's performance enhancing and substance abuse policies. The last time Miami's players and coaches saw Jordan in the locker room was on Aug. 28, following the team's preseason finale against the St. Louis Rams.
Jordan returned to the team humbled and said he's "blessed" and "thankful" for the Dolphins accepting him back on the team.
"My main concern was to take care of myself so I can be a better person for myself, my family and the guys I'm in this locker room with," Jordan said. "That's what's important at the end of the day. Secondly, I'm making sure I'm mentally able to do my best and perform at the highest ability that I know I can."
Jordan, 24, must turn his career around quickly if he's going to stay in Miami long-term. The No. 3 overall draft pick in 2013, Jordan was a major disappointment as a rookie, recording just 26 tackles and two sacks.
Now there are off-field questions regarding Jordan after dual suspensions for performance enhancers and substance abuse that cost him six games this season. Although it is unknown what caused the two positives tests, Jordan said he spent time getting his life in order and that Dolphins fans "should be confident I'm drug-free."
"It's definitely a lesson learned," Jordan said. "I'm human just like everybody else here. I made a mistake."
October, 21, 2014
Oct 21
4:30
PM ET
The
Miami Dolphins
have been on a roller coaster to start the season. They have yet to win two games in a row, and Miami has found itself at .500 nearing the midpoint of the season.
However,
ESPN.com's Power Rankings
panel was impressed with Miami's 27-14 victory over the
Chicago Bears
(3-4). The Dolphins won their second road game of the year with a complete performance on both sides of the football and jumped five spots to No. 18 this week. Miami was ranked 23rd last week.
The Dolphins have their highest ranking since Week 2, when Miami was ranked No. 15 in the rankings. That was when Miami came off a win against the
New England Patriots
. Since then, Miami has been up and down.
Dolphins head coach Joe Philbin said the time is now for the team to get on a roll and finally establish some consistency. Miami has a good opportunity to win two games in a row for the first time this season against the lowly
Jacksonville Jaguars
(1-6) on Sunday.
October, 21, 2014
Oct 21
2:37
PM ET
DAVIE, Fla. -- The
Miami Dolphins
(3-3) held their first practice of the week Tuesday in preparation for Sunday's game against the
Jacksonville Jaguars
(1-6).
Here are some notes and observations from Miami's practice:
Jordan

Former No. 3 overall pick Dion Jordan returned to practice Tuesday. Following a six-game suspension, this was the first time Jordan put on a Dolphins uniform since the final preseason game Aug. 29. Jordan worked with the defensive line and on special teams in the early portion of practice open to the media. Miami's coaching staff said they must see where Jordan is physically before determining his role.
Dolphins backup safety Jimmy Wilson did not practice in the portion open to the media. Wilson missed his first game of the season last week with a hamstring injury. Backup safety Michael Thomas replaced Wilson in the nickel.
Miami Pro Bowl cornerback Brent Grimes practiced Tuesday, which is good news considering he did not finish Sunday's game against the Chicago Bears.
October, 21, 2014
Oct 21
11:00
AM ET
A weekly look at what the
Miami Dolphins
must fix:
This is a difficult week to nitpick the Dolphins (3-3) following a complete, four-quarter performance in a
27-14 victory
over the
Chicago Bears
. However, the Dolphins did allow a season-high four sacks on quarterback
Ryan Tannehill
, and that is a concern heading into Sunday's game against the
Jacksonville Jaguars
.
The good news for Miami is it's easy to identify the issue. Bears defensive tackle
Jeremiah Ratliff
was a one-man wrecking machine. Ratliff had his way with Miami's center (
Samson Satele
) and guards (
Daryn Colledge
and
Mike Pouncey
) on his way to a career-high 3.5 sacks. The Dolphins had communication issues up front and must do a better job of picking up stunts moving forward. Opponents have been stunting Miami's offensive line the past few weeks with mixed results. But overall the pass protection for the Dolphins has been much improved compared to last season, when they allowed a franchise-record 58 quarterback sacks.
The Jaguars (1-6) finally got their first victory last week against the
Cleveland Browns
. Jacksonville will enter this game with a little momentum and feeling good about itself. If the Dolphins allow the Jaguars to disrupt and get hits on Tannehill, Jacksonville has another shot to pull off an upset.
October, 21, 2014
Oct 21
10:01
AM ET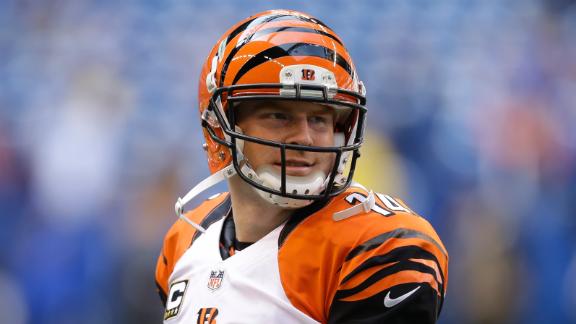 Let's take our weekly deep dive into the Sunday performance of five NFL quarterbacks, using data supplied by analyst Jacob Nitzberg via ESPN Stats & Information. After all, the numbers don't always speak for themselves. (For all Inside Slant posts, including the weekly QB Report,
follow this link
. For a full statistical breakdown of all NFL quarterbacks, see
ESPN.com's QBR page
.)
WEEK 7
CMP: 18
ATT: 38
YDS: 126
PCT: 47.4
TD: 0
INT: 0
WHAT YOU MISSED
Through three quarters of a 27-0 loss to the Colts, Dalton averaged a staggering 1.96 yards per attempt (49 yards on 25 attempts). He converted only one first down via pass (on 11 attempts) and his third-down QBR was 3.9 (out of 100). And the Bengals went three-and-out on each of their first eight drives, the highest consecutive total in a game since 2011, according to the Elias Sports Bureau. Why did this happen? It's likely that Dalton missed receiver A.J. Green -- he completed only two passes of at least 10 yards downfield, his lowest total of the season -- but this might be one occasion where we credit the opposing defense. Of Dalton's 20 incompletions, nine were pass breakups by the Colts, tied for second-most in a game this season. The Colts also managed to put Dalton under duress on 29.3 percent of his dropbacks, his most in a game in the past two seasons, even though they blitzed less frequently than usual (33.3 percent versus 39.8 percent). Finally, the Bengals managed a season-low 1.0 yards before contact per rush against the Colts' defense. First contact came at or behind the line of scrimmage on six of their eight first-half rushes. In other words, the Colts beat the Bengals up front.
FINAL ANALYSIS
Surely this game wasn't Dalton's finest moment and he could have played better. But more often than we care to admit, it's not just about what you did. Based on these numbers, the Colts deserve much credit for Dalton's bad day.
WEEK 7
CMP: 27
ATT: 42
YDS: 344
PCT: 64.3
TD: 2
INT: 0
WHAT YOU MISSED
Total QBR was designed to provide more context and breadth to a quarterback's evaluation than simply passer rating. So it's worth digging into why Luck had a 105.7 passer rating after a 344-yard day but only an average 49.2 QBR. Nearly two-thirds of his yardage total (215 of 344) came after the catch, and 38 of his 42 attempts traveled less than 15 yards downfield. In fact, 28 of Luck's passes traveled 5 yards or less downfield -- one short of his career high. So when you look to dish out credit for those yards, a majority should go to Luck's receivers. QBR also attaches weight to individual plays, and both of Luck's touchdown passes came in the second half -- during which the Colts maintained a double-digit lead thanks to their defense. In the first half, meanwhile, Luck had thrown incomplete on all four of his third-down attempts. He took two sacks on third down as well.
FINAL ANALYSIS
By no means did Luck play poorly Sunday. But not every 344-yard performance is the same. In this case, QBR leads us in different directions than simply the quarterback when digging deeper into the reasons for the Colts' success.
WEEK 7
CMP: 17
ATT: 31
YDS: 205
PCT: 54.8
TD: 2
INT: 1
WHAT YOU MISSED
The Chargers turned away noticeably from what has worked best for them in 2014, a contributing factor in their loss to the Chiefs. Rivers threw the fewest number of passes within 5 yards of the line of scrimmage -- eight -- in any game this season. He completed five of them, also a season low. All told, those passes represented a season-low 25.8 percent of his total attempts, and Rivers averaged 2.5 yards per attempt on them. The latter was his lowest figure in a game in seven years. Meanwhile, Chargers receivers, who have excelled after the catch, were stymied by the Chiefs' defense. They totaled 28 yards after the catch, the second-fewest in a game this season and the second-fewest by a Chargers team since at least the start of the 2006 season. How did the Chiefs accomplish this relative shutdown? They blitzed on only 9.1 percent of Rivers' dropbacks, the smallest percentage he's faced in a game since the start of the 2012 season, and played coverage the rest of the time.
FINAL ANALYSIS
It would be premature to suggest the Chiefs "solved" the Chargers' efficient offense. But their approach made sense and kept Rivers from getting into his usual rhythm.
WEEK 7
CMP: 19
ATT: 22
YDS: 255
PCT: 86.4
TD: 3
INT: 0
WHAT YOU MISSED
Rodgers' 19 completions in 22 attempts translated into an 86.4 completion percentage, his career-best mark in a start. And on the strength of a 59-yard touchdown pass to receiver Jordy Nelson, Rodgers also averaged 11.6 yards per attempt -- the third-highest mark in his career for a game he threw at least five passes. After the Nelson touchdown, Rodgers didn't throw another pass that traveled at least 15 yards downfield until his final throw of the game. Two throws of 15-plus yards in a start are tied for the second-fewest in his career. Since telling Packers fans to "R-E-L-A-X" prior to Week 4, Rodgers leads the NFL with 13 passing touchdowns and a 93.2 QBR. His completion percentage jumped from 62.7 to 70.6 during the past four weeks, in part because he has cut back on under- and overthrows. He averaged 6.7 inaccurate throws prior to "R-E-L-A-X" and 4.25 since. Rodgers has an NFL-high nine passing touchdowns in the red zone since that point and also has been more successful in targeting receiver Randall Cobb. They connected for a completion on 14 of their first 21 targets this season but have now hit on 20 of their past 25, for 320 yards and five touchdowns.
FINAL ANALYSIS
Rivers and Peyton Manning have received most of the quarterback headlines this season, but for the past month, neither has played as well as Rodgers. Sunday's game capped a remarkable four-week stretch even by his standards.
WEEK 7
CMP: 25
ATT: 32
YDS: 277
PCT: 78.1
TD: 2
INT: 0
WHAT YOU MISSED
Much was made of Tannehill opening the game with 14 consecutive completions. He finished the first half with a 93.3 completion percentage, the highest for a quarterback in a game this season. But it's worth pointing out that all but one of those 14 completions traveled less than 15 yards downfield. Overall, Tannehill attempted just three passes that traveled at least 15 yards downfield -- his fewest in a game this season. In other words, Tannehill and the Dolphins were on board with an NFL trend that recognizes how easy it can be to complete short passes. Tannehill was accurate in his own right, however; only two of his incompletions were judged in video review to be over- or underthrown. That's the lowest such figure of his career. The Dolphins gained 84 rushing yards on 17 zone-read plays, including a 30-yard run from Tannehill on fourth-and-1. That success helped Tannehill complete 11 of 13 play-action passes. He had entered the game with the eighth-lowest completion percentage (60.8) on play-action throws in the league.
FINAL ANALYSIS
Tannehill had an accurate day and the Dolphins provided him a smart game plan. The Bears' defense has been atrocious at times this season, and Tannehill's 15-for-18 performance against their standard rush is a strong indicator of the Bears' ineffectiveness. Regardless, this type of quick-hitting passing game should be one Tannehill can sustain against other opponents as well.