March, 2, 2015
Mar 2
8:00
AM ET
MINNEAPOLIS -- We're continuing our look at the
Minnesota Vikings
' free agent needs today, with an analysis of the position that has commanded plenty of attention in early draft projections for the Vikings. They have some young options at wide receiver, but they don't know yet if any of them is a top target for
Teddy Bridgewater
. Finding a No. 1 wideout is certainly an item that should be on the Vikings' to-do list.
Wide receiver
Patterson
State of the position:
The Vikings began last season planning to have
Cordarrelle Patterson
,
Greg Jennings
and Jerome Simpson as their top three receivers. By the end of the year, only Jennings was still a part of that pecking order. Simpson was released in September, after another run-in with the law, and Patterson's second season was a disappointment that ended with him on the bench. Simpson's release cleared the way for the addition of
Charles Johnson
, whom offensive coordinator Norv Turner recently called the Vikings' best wideout, and Johnson could turn out to be the split end of the future. Jennings also was productive at the end of the season, and third-year wideout
Jarius Wright
had his best season. But Patterson's future remains cloudy, and it's not clear yet if the Vikings have a bona-fide playmaker at the position.
Draft vs. free agency:
There's enough star power in the draft, and some depth behind it, that the Vikings might be best-served by staying away from the flashy, but expensive, options in free agency. West Virginia's
Kevin White
shot up the draft board with his impressive combine performance, to the point where he might be the first receiver taken. He'd be the kind of tall, strong option that would fit nicely in Turner's offense, but two former companions of Bridgewater's -- high school teammate
Amari Cooper
and college teammate DeVante Parker -- could go in the top half of the first round, too. If the Vikings pass on a receiver at No. 11, they could look at players like Auburn's
Sammie Coates
(with whom they visited at the combine) or Arizona State's
Jaelen Strong
. Oklahoma's Dorial Green-Beckham has a skill set reminiscent of
Calvin Johnson
, though off-the-field concerns have reportedly already led several teams to rule him out. If the Vikings want a receiver in the first three rounds, though, they could find as many as a dozen players who deserve to be drafted there.
Cream of the crop:
Dallas'
Dez Bryant
will command the headlines, though the Cowboys could put the franchise tag on him by Monday. Denver is also expected to put the franchise tag on
Demaryius Thomas
, which would leave Green Bay's
Randall Cobb
as the top player on the market. Cobb is only 24, but could re-sign with the Packers, and fits best as a slot receiver.
Other options:
The depth of this free agent group leaves a number of other impressive options in the free agent market. Philadelphia's
Jeremy Maclin
is only 26, and is one of the best vertical threats in the game. Baltimore's
Torrey Smith
is another 26-year-old with deep speed.
Michael Crabtree
is 27, and an underwhelming season (68 catches, 698 yards) could depress his market. Players like
Brandon Marshall
,
Mike Wallace
,
Vincent Jackson
and
Anquan Boldin
could be available if their teams decide to part ways with them. And if the
New York Jets
decide to part ways with him, there's always
Percy Harvin
-- though we'd lay quite a bit of money against the odds of a pull-your-No.-12-jerseys-out type of reunion. As a whole, there are plenty of teams getting production out of young receivers, which means some of the veterans on the market could be more affordable. But the Vikings might be best off by finding their own receiver in the draft.
Growth from within:
The Vikings have sent more than a few not-so-subtle messages to Patterson that he needs to put in the work to get better this offseason. If he can figure out the nuances of playing receiver in the NFL, he might solve a big part of their problem. Johnson figures to get better after more time with Bridgewater, and Wright seems to be turning into an effective slot receiver. Even
Adam Thielen
showed flashes at the end of the season, getting open against the Dolphins before catching a 44-yard touchdown pass against the Bears in the season finale. Jennings will be 32 in September, and carries an $11 million cap figure into next season. But if the Vikings can get another young wideout, and coax some more improvement from the players on their roster, they could have a nice stockpile of weapons for Bridgewater without a need to break the bank in free agency.
March, 1, 2015
Mar 1
12:32
PM ET
February, 27, 2015
Feb 27
3:15
PM ET
By
Robert Demovsky
| ESPN.com
The
Minnesota Vikings
will have a new starting left guard next season.
They released veteran
Charlie Johnson
on Friday. The ninth-year pro had spent the last four seasons as a starter in Minnesota.
The move frees up $2.5 million in salary-cap space for the Vikings this season. Johnson was scheduled to be paid a base salary of $2.45 million plus a $50,000 workout bonus. All of that will be wiped off the Vikings' books. Because he did not receive a signing bonus when he did his most recent contract – a two-year deal last offseason – there will be no dead money counting against the cap.
The Vikings had $17.6 million in available salary-cap space before Friday's move, according to ESPN Stats & Information salary data.
Johnson, 30, started all but three games over the last four seasons for the Vikings. He spent the first five years of his NFL career with the
Indianapolis Colts
, who picked him in the sixth round of the 2006 draft.
There's no clear-cut replacement for Johnson, although
Joe Berger
, who started parts of last season at right guard in place of the injured
Brandon Fusco
could get a shot at the job. However, Berger is scheduled to become an unrestricted free agent next month. The Vikings also have
David Yankey
, a fifth-round pick last season who could not get on the field as a rookie.
It all could point to the Vikings drafting Iowa tackle
Brandon Scherff
with the 11th overall pick and moving him to guard.
February, 27, 2015
Feb 27
2:04
PM ET
By
Nicole Elliott
| ESPN.com
[+] Enlarge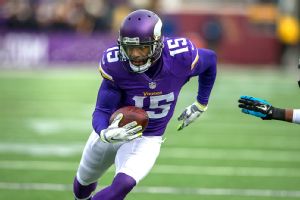 Bruce Kluckhohn/USA TODAY SportsEarly in his NFL career, wide receiver Greg Jennings broke into the league with Brett Favre and the Green Bay Packers. Now, the 31-year-old Jennings suits up for the Minnesota Vikings.
How have you been spending your offseason?

I have been spending my offseason with my kids. Being able to take them to school, pick them up from school. Engage with them in their daily activities, homework and what not. The things that I don't really have the opportunity to do during the season. And then just resting. But I am a big-time family guy, so I spend a lot of time with my kids and my wife.
With your strong family values, what do you feel is the most important aspect of maintaining a strong family unit?

I think the most important aspect is relationship and communication. In being engaging when you are around one another. I literally tell my wife this all the time, that when I am spending time with my children, that I want them to know that they have my undivided attention. That I am completely engaged in whatever it is that we are doing because I feel that I will get the most out of them and they will get the most out of me.
So it is really the quality of time and not so much the quantity. I like to have both, but the quality is definitely the most important part when raising children. Being a part and involved in what they are doing.
February, 27, 2015
Feb 27
8:45
AM ET
The book is called
Everybody Fumbles
.
Published in 2014, it is the ultimate statement by Earnest Byner, the former
Cleveland Browns
running back involved in the play that has gone down in Browns history as merely "The Fumble."
[+] Enlarge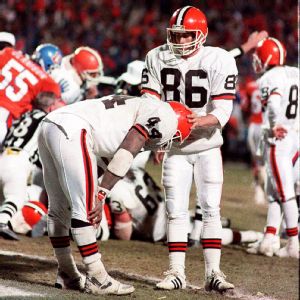 AP photo/Mark DuncanEarnest Byner's fumble in the 1988 AFC Championship Game haunted him for over a year until he left Cleveland.
Byner's miscue at the goal line late in the January 1988 AFC Championship Game in Denver came as he was about to score to tie the game. It still hurts Browns fans, and it left Byner feeling like he was drowning.
But in time he recovered.
Byner now wants to make sure another player does not go through what he did for as long as he did. Byner watched the end of this season's NFC Championship Game and saw the
Green Bay Packers
'
Brandon Bostick
misplay an onside kick, helping Seattle complete an improbable comeback.
When Byner heard Bostick talk after the game and then a couple of days later, saying that he had let an entire team and fan base down, Byner knew he had to reach out -- even though he had never met Bostick and had never talked to him.
"I didn't want him to feel like he was alone," Byner said in a phone interview on Thursday.
Bostick made Byner's role clear in
a first-person story written on SI.com on Thursday
, a story in which Bostick revealed he still lives with his mistakes and that he received death threats on Twitter.
"Sometimes I wake up in the morning and it's the first thing on my mind," Bostick wrote. "There are nights when I dwell on it before falling asleep. Sometimes the thought creeps up on me when I'm lifting weights, or eating dinner, or sitting on my couch at home."
"That's one of the reasons I'm calling him and we're talking," Byner said. "I'm trying to make it so it's not a difficult process for him."
Bostick was supposed to block on the kick and let teammate
Jordy Nelson
catch the ball. Instead, Bostick tried to catch it and lost it.
Byner heard Bostick's anguish after the game and reached out through Packers assistant coach Sam Gash, who played for the Ravens when Byner was an assistant coach in Baltimore.
[+] Enlarge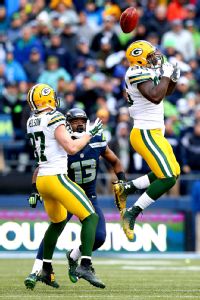 Photo by Ronald Martinez/Getty ImagesEarnest Byner reached out to Brandon Bostick immediately after the tight end botched the onside kick in the NFC title game.
"With the way social media is now, the weight and how much he hears it, it all happened to him a lot quicker than it did me," Byner said. "It took me four or five months. It made me struggle after four or five months."
Byner would hear people yell, "Hey don't fumble." He'd hear other barbs, snide remarks. He'd notice people looking at him, then looking away. He felt love from many Browns fans, but the weight from the negative, he said, became heavier every day.
"It was almost like a drowning," Byner said.
Byner played for the Browns for one season after the fumble but was not himself. He said it took a trade to Washington to bring him out of his dark state.
"It took a spiritual conversation for me to actually get past the fumble," Byner said. "I'm not preaching to [Bostick]. But to me the spiritual impact is crucial. The spirit has a way of freeing you up a lot."
Since then, Byner has helped several players in several sports. Bostick is the latest, as the two have talked several times since the championship game. The ex-Brown feels that Bostick will benefit from being released by Green Bay. Going to Minnesota will help him start fresh.
"The next step," Byner said, "is to get together. I need to look him in his eyes. I need to feel what he's feeling. That way I can make a difference in the process. Not just that process, but in his life. Because the better the person, the better the player you will have."
As Byner says when describing his book on a video on his website
earnestbyner21.com
: "Mistakes are critical to learning, understanding what happened and how it happened. And being able to go to the next level. Being able to ultimately become a champion, not just in sports, but also in life."
February, 27, 2015
Feb 27
8:00
AM ET
MINNEAPOLIS -- We're continuing our look at the Vikings' free agent needs today with our first trip to the offensive side of the ball. The Vikings' offensive line struggled last season, even before it was decimated by injuries. And as much attention as was paid to left tackle
Matt Kalil
last season, the spot next to him might be more ripe for an upgrade.
Left guard
State of the position:
The Vikings ensured their line would remain intact for a third consecutive season when they brought
Charlie Johnson
back on a two-year deal. But Johnson flailed in pass protection, allowing five sacks (according to Pro Football Focus) and frequently pressure when he and Kalil struggled to pick up blitzes. Johnson has no guaranteed money on his 2015 deal, and while the Vikings haven't indicated what they play to do with the 30-year-old, it seems reasonable to expect a change here.

Scherff
Draft vs. free agency:
There are enough options in the rookie class that the Vikings might be comfortable with avoiding a big expense in the draft. Numerous mock drafts have them taking Iowa tackle
Brandon Scherff
, who might be able to move inside and anchor the left side of the line with Kalil. LSU tackle
La'el Collins
could do the same, and with as much money as the Vikings already have committed to their line, they might understandably be leery about another big expense for the group.
Cream of the crop:
Denver guard
Orlando Franklin
figures to command lots of interest if he reaches the open market, though it's worth remembering how many offensive linemen look better with
Peyton Manning
orchestrating things behind them. San Francisco guard
Mike Iupati
's name comes up in fan questions quite often, and while Iupati would give the Vikings another mauler opposite
Brandon Fusco
, his flaws in pass protection might diminish how well he'd fit in Norv Turner's offense.
Other options:
Cincinnati guard
Clint Boling
played every snap for the Bengals last season; he gave up only three sacks last season, and has shown he can handle defensive tackles in the running game. He could be a good bargain for the Vikings, compared to what it would cost to sign Franklin or Iupati, and doesn't turn 26 until May.
Growth from within:
David Yankey
looked like he could be a steal when the Vikings took him in the fifth round last spring, but the common reason offered for Yankey's absence as a rookie -- that he needed to get stronger -- was a bit concerning, considering his size and his reputation as a road grader at Stanford.
February, 26, 2015
Feb 26
2:32
PM ET
February, 26, 2015
Feb 26
11:47
AM ET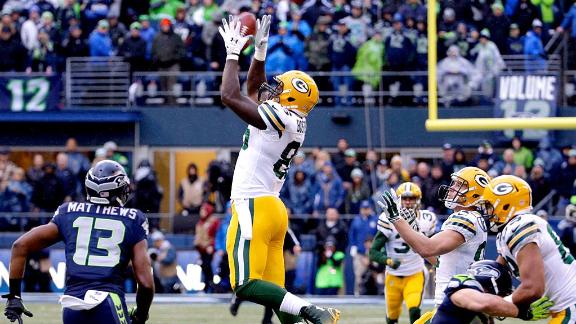 GREEN BAY, Wis. -- Former Green Bay Packers tight end Brandon Bostick said he received death threats after he botched the onside kick recovery in the NFC Championship Game against the Seattle Seahawks and that a former NFL player who went through something similar has helped him deal with it.
"I knew it was a key mistake that cost us a trip to the Super Bowl," Bostick wrote in a first-person account for The MMQB website. "But, with all due respect, I think the media kind of took it and ran with it. I became the singular scapegoat. Social media didn't help, either.
"I don't know how many death threats I received, but there have been a lot. I still haven't read most of the messages that people sent me, but I want to so I can deal with the consequences and use it as motivation. But it is physically impossible for me to read every troll's comment; the volume is simply too much. So their comments sit there, untouched, maybe forever."
Bostick, a seldom-used backup, was supposed to block on the play to allow sure-handed receiver Jordy Nelson to recover the kickoff that would've given the Packers possession with a 19-14 lead and just over two minutes remaining. Instead, Bostick tried to catch the ball, and the Seahawks recovered en route to a 28-22 overtime victory on Jan. 18.
He said was surprised to receive a phone call from former NFL running back Earnest Byner, whose fumble in the 1987 AFC Championship Game cost the Cleveland Browns a trip to the Super Bowl.
"Byner called me out of the blue, and now we talk about once or twice a week," Bostick wrote. "His biggest advice: Face your mistake, don't run from it."
Less than a month later, Bostick was released by the Packers and claimed off waivers by the Minnesota Vikings
February, 26, 2015
Feb 26
8:00
AM ET
MINNEAPOLIS -- We'll continue our look this morning at the
Minnesota Vikings
' needs, and some players that could fit those needs at a number of different price points. The Vikings spent plenty of time interviewing linebackers at the NFL scouting combine, and rumblings around the league had them looking at linebackers in free agency, too. They might start by attending to a long-standing hole in the middle.
Middle linebacker
McClain
State of the position:
It's been in flux, to some degree, since E.J. Henderson last played for the Vikings in 2011, and this year isn't much different.
Jasper Brinkley
is set to hit free agency after the Vikings brought him back on a one-year deal last season. He rarely stayed on the field in passing situations, and the Vikings have stated they'd like to find a three-down player at middle linebacker. Whether they'll find one or not remains to be seen, but they certainly did their due diligence on linebackers at the scouting combine, and rumblings around the league have the Vikings on the hunt for one in free agency, too.
Draft vs. free agency:
This isn't a deep draft at linebacker; a subpar combine performance might leave Mississippi State's
Benardrick McKinney
available in the second round, and Miami's
Denzel Perryman
could be a good option in the second round (or with another trade back into the last half of the first round). There isn't much of a supply of three-down linebackers in free agency, either, so the Vikings could find themselves trying to piece things together with plenty of nickel coverage again next season.
Cream of the crop:
It's hard to find one player who sticks out above the rest, but Cowboys linebacker
Rolando McClain
might be the best fit if the Vikings are content with a run-stopping specialist. He had an impressive season in Dallas, leading the league in run stop percentage, according to Pro Football Focus, and while he has a history of injuries, he's still only 25 and could solidify the position for the next few years if the Vikings were to keep him around.
Other options:
Buffalo's
Brandon Spikes
is another solid tackler who spent last season in one of the league's best run defenses. Like McClain, he'd probably come off the field in passing situations, but he'd help against the run. It's also worth remembering a linebacker from coach Mike Zimmer's past: Cincinnati's
Rey Maualuga
, who played well in 2014 when he wasn't dealing with a hamstring injury. He spent the first five years of his career with Zimmer, and would already know the Vikings' defense if he came to Minnesota. He wouldn't be a three-down solution, either, but he'd be able to step right in to the scheme.
Growth from within:
Michael Mauti
plays with the violence the Vikings want in their linebackers, and had some good moments on special teams, but his ability to stay healthy is always a concern. Short of giving one of their outside linebackers a shot in the middle -- or bringing Brinkley back -- the Vikings could be looking outside their roster for a middle linebacker next season.
February, 25, 2015
Feb 25
11:00
AM ET
MINNEAPOLIS -- Now that we're less than two weeks from the start of the new league year, we're going to spend some time looking at the
Minnesota Vikings
' needs, and some players that could fit those needs at a number of different price points. General manager Rick Spielman and coach Mike Zimmer had said they identified eight spots they want to upgrade before next season.
The word in league circles is that the safety spot next to
Harrison Smith
and middle linebacker are at or near the top of the Vikings' list, and a number of the other spots should be relatively easy to figure out. We'll get started today with safety, and take a look at seven other spots in the next couple weeks:
Safety
State of the position:
While Harrison Smith played at a Pro Bowl level in 2014, the Vikings never seemed completely settled on a player to line up next to him.
Robert Blanton
won the job out of training camp and played adequately, but missed some tackles after taking poor angles, and lost the starting job to
Andrew Sendejo
at the end of the season. If the Vikings can find another high-end safety to put next to Smith, they'll have a dynamic foundation for their defense.

Collins
Draft vs. free agency:
Alabama's
Landon Collins
is the top safety in the draft class, but he could turn out to be better as an in-the-box player than an open-field safety. Considering how much the Vikings like to move Smith around, they could use a safety who excels in the open field. Ole Miss'
Cody Prewitt
got some attention from the Vikings at the combine after impressing during Senior Bowl practices, but his coverage skills would need some refinement. Zimmer talked about his reluctance to stock the roster with free agents, but all things considered, this could be a position where it's worth spending some money.
Cream of the crop:
New England's
Devin McCourty
is expected to be the top safety on the market, and he'd be a fantastic fit for the Vikings; he made the Pro Bowl as a rookie cornerback in 2010, is one of the best coverage safeties in the game and would be right at home as the lone deep safety in situations where Smith is playing near the line of scrimmage. He'll command big money if the Patriots let him hit the open market, but if the Vikings want to splurge, McCourty would be a great candidate.
Other options:
Denver's
Rahim Moore
is another impressive coverage safety (his gaffe in the 2013 AFC playoffs notwithstanding). He recovered from the compartment syndrome that nearly caused him to lose a leg, and he showed impressive range as a deep safety in 2014.
Louis Delmas
played in the same scheme in Miami that the Vikings use in Minnesota, and while he's recovering from a torn ACL, he could be worth a gamble if the Vikings think he can return in time to contribute.
Growth from within:
The Vikings drafted cornerback Antone Exum with plans to convert him to safety, and after a year mostly playing special teams, he could get a longer look during organized team activities this spring. He's got the size and range to be an intriguing option. Blanton enters a contract year after his first season as a starter, and will be fighting to keep a first-team job in 2015.
February, 24, 2015
Feb 24
4:15
PM ET
Take a listen to this week's NFL Nation TV podcast as the crew breaks down the lessons it learned from last week's NFL combine in Indianapolis, as well as the latest in the push for bringing the NFL to Los Angeles.
Host Paul Gutierrez (
San Francisco 49ers
reporter) and co-hosts Coley Harvey (
Cincinnati Bengals
reporter) and Mike Wells (
Indianapolis Colts
reporter) are joined by four other NFL Nation reporters.
Eric Williams (
San Diego Chargers
reporter) joins to give an idea of how feasible it would be for the Raiders and Chargers to share a stadium in Southern California. Pat Yasinskas (
Tampa Bay Buccaneers
reporter) discusses why he thinks
Jameis Winston
is all but a lock to be the No. 1 overall pick in the draft. Rich Cimini (
New York Jets
reporter) breaks down which direction the Jets will go with the No. 6 overall draft pick. Will they go with a quarterback? Defense? Receiver? Paul Kuharsky (
Tennessee Titans
reporter) weighs with his thoughts on where the Titans will turn at No. 2 if Winston is off the board.
Be sure to watch NFL Nation TV live on ESPN.com at 1 p.m. ET/10 a.m. PT each Tuesday, and be sure to give the show's a podcast a listen following each taping.