What you need to know about CFB's Top 16
August, 12, 2014
8/12/14
8:30
AM ET
By
ESPN.com staff
| ESPN.com
Have you watched the video headlining this post? If not, check it out. Because if you weren't ready for college football already, you will be then.
But who are we kidding? Of course you're ready for college football. After seven
grueling
offseason months, actual games are almost here.
So with just 16 days left until Texas A&M and South Carolina kick things off on the SEC Network,
@ESPNStatsInfo
has compiled a few things you should know about each of the top 16 teams in
ESPN's preseason Power Rankings
.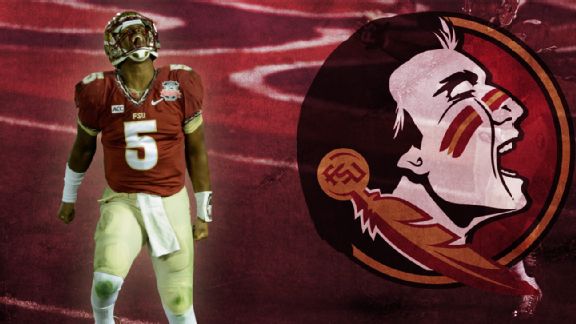 ESPN Illustration
1. Florida State Seminoles
Florida State will almost assuredly be No. 1 when the AP preseason poll is released Sunday. FSU has been ranked preseason No. 1 five times in school history. The last time? The Seminoles won the national championship in 1999.

Heisman-winning quarterback Jameis Winston threw 40 touchdown passes last season, most by any freshman in FBS history.

The Noles outscored their opponents by 39.5 points per game last season, the best differential for any FBS team since Houston bested opponents by 39.9 in 1989.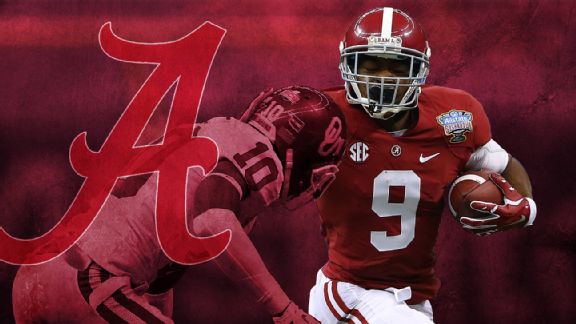 ESPN Illustration
2. Alabama Crimson Tide
Since the bowl era began in 1936, Alabama has won 10 national titles, most of any FBS team.

The Crimson Tide have been in the preseason top 5 each of the last five years, tying the longest streak in school history (1978-1982). Expect that record to be broken when the AP poll is released this weekend.

The Crimson Tide continues to dominate in recruiting, Alabama signed five of the ESPN Recruiting Nation's 15 five-star recruits in the 2014 class, most by any FBS school.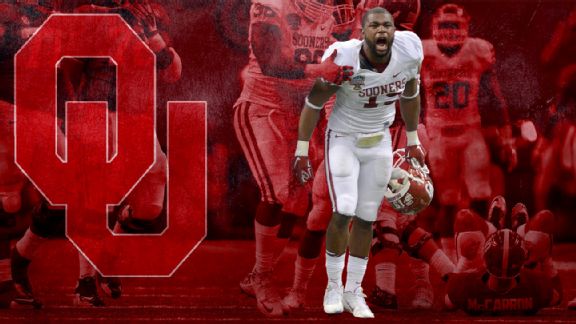 ESPN Illustration
3. Oklahoma Sooners
Oklahoma has gone 14 seasons without losing consecutive regular-season games.

Since Bob Stoops took over as head coach in 1999, OU has never gone longer than two years without winning a Big 12 championship. Baylor is the league's defending champ.

The Sooners have been ranked in the AP preseason top 10 in 13 of the last 14 seasons -- and are expected to be once again this season.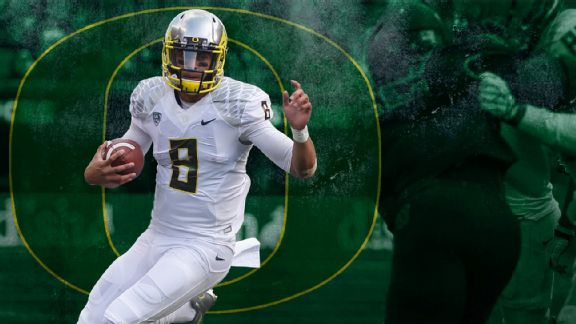 ESPN Illustration
4. Oregon Ducks
Oregon joins Alabama, Nebraska and LSU as the only teams to win at least nine games in each of the past five seasons.

Ducks' quarterback Marcus Mariota led FBS with an 89.5 Total QBR in 2013. His 88.7 career-QBR is the best of any QB since 2005

Mariota has thrown a touchdown in 26 consecutive games. Only Marshall's Rakeem Cato has a longer active streak (32).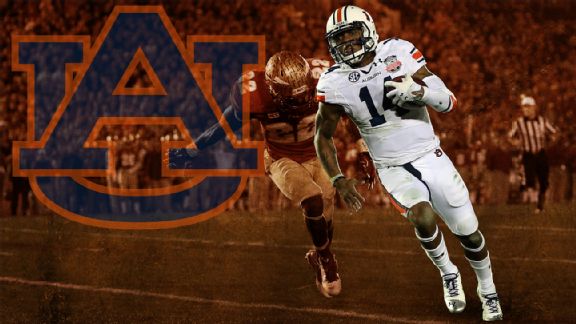 ESPN Illustration
5. Auburn Tigers
Auburn, which finished 12-2 in 2013, has won 10-plus games in back-to-back seasons just once in school history (1988-1989).

If the Tigers begin the season in the AP top 5, it'll mark the first time that's happened since 2006.

No quarterback finished the season hotter than Nick Marshall, whose 88.3 total QBR in the final eight games was the best in FBS during that span.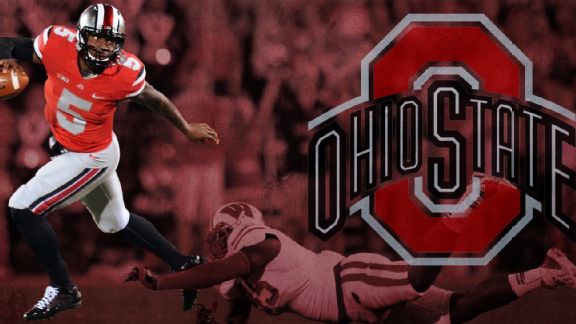 ESPN Illustration
6. Ohio State Buckeyes
Quarterback Braxton Miller is 11 wins away from passing Art Schlichter as the winningest quarterback in Buckeyes' history.

The last eight times Ohio State has been ranked in the preseason top 6, the Buckeyes have finished the season somewhere inside the top 12.

OSU gained at least five yards on 55 percent of its carries last season, the highest percentage in the nation.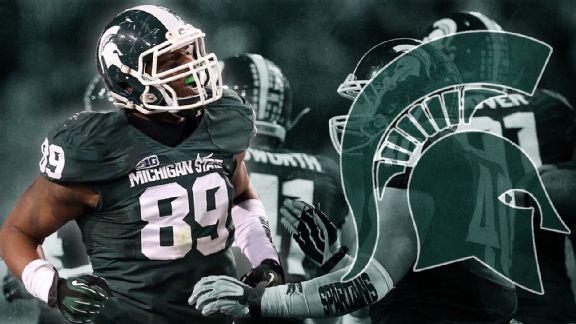 ESPN Illustration
7. Michigan State Spartans
Last season, Michigan State's defense allowed opponents to complete a mere 23.4 percent of their passes of 15-plus yards, best in the nation.

Running back Jeremy Langford has rushed for more than 100 yards in eight of his last nine games, and averaged 61 rushing yards after contact last season.

In the last 14 times the Spartans have been ranked in the preseason, they've finished the year unranked 12 times.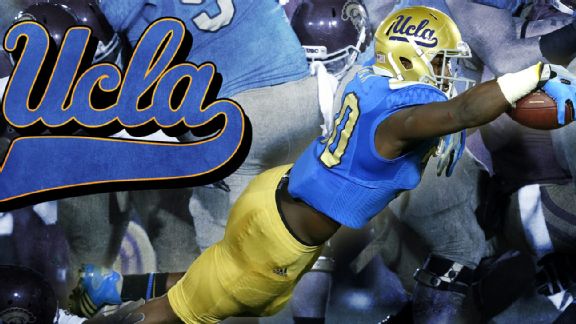 ESPN Illustration
8. UCLA Bruins
In 2013, Myles Jack became the first player in Pac-12 history to win Offensive and Defensive Freshman of the Year.

Quarterback Brett Hundley completed 67.2 percent of his passes in 2013, the highest percentage of any returning quarterback in the Big 5 conferences.

On the flip side, Hundley has been sacked 87 times the last two seasons, 17 more than any other FBS player.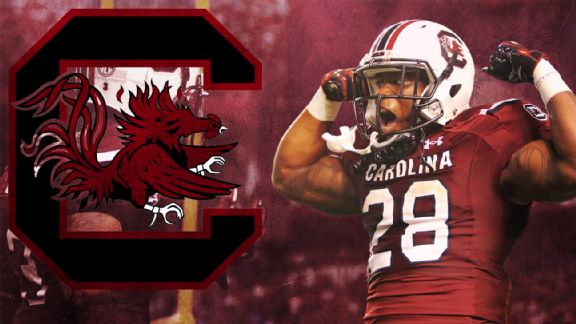 ESPN Illustration
9. South Carolina Gamecocks
The Gamecocks have started and finished in the AP top 12 in each of the last three years.

South Carolina lost Jadeveon Clowney to the NFL, but the Gamecocks had a better defensive rating in the three years prior to Clowney than they had in three years with him.

South Carolina finished last season ranked fourth in the AP poll, its best ranking in school history.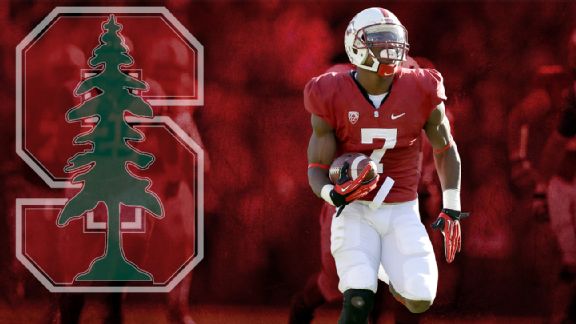 ESPN Illustration
10. Stanford Cardinal
Stanford will appear in the preseason rankings for the fourth straight year, tying the best streak in school history (1969-1972).

Quarterback Kevin Hogan has posted an .842 win percentage as Stanford's starting quarterback, including a 10-1 mark against AP top-25 opponents.

The Cardinal has finished in the Top 11 in each of the last four seasons.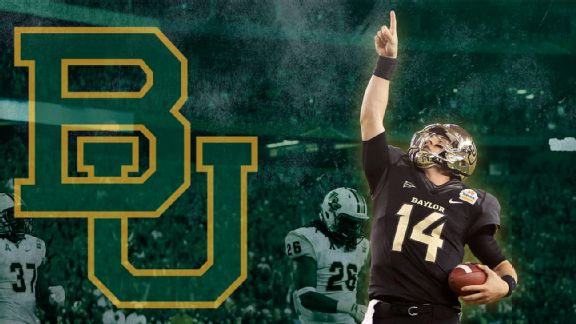 ESPN Illustration
11. Baylor Bears
Baylor averaged 52.4 points per game last season, third-most in modern college football history.

In 2013, the Bears' offense scored 60 touchdowns in drives lasting less than two minutes -- nine more than any team has over the last 10 seasons.

Baylor hasn't been ranked in the AP preseason poll since 1986. That will change come Sunday.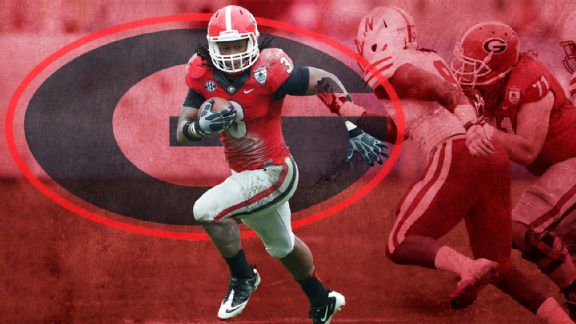 ESPN Illustration
12. Georgia Bulldogs
This will be the 12th straight year Georgia is ranked in the AP preseason poll (2002 was the last time the Bulldogs were unranked heading into the season).

Todd Gurley set a UGA freshman running back record with 17 rushing touchdowns in 2012 and followed it up with 10 more touchdowns in 2013.

Georgia was one of six teams last season to pass for at least 4,000 yards and rush for at least 2,000. Those six teams averaged 10.5 wins. UGA won eight.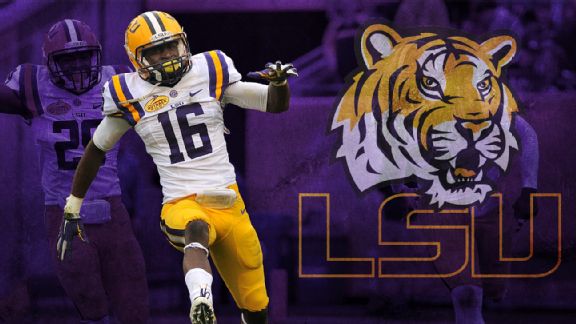 ESPN Illustration
13. LSU Tigers
LSU has had 18 players drafted by the NFL in the last two seasons, including a nation-high nine in 2014.

The Tigers have been ranked in the AP preseason poll in each of the last 12 years and are a virtual lock for No. 13.

LSU signed running back Leonard Fournette, the No. 1 overall recruit in the 2014 ESPN 300.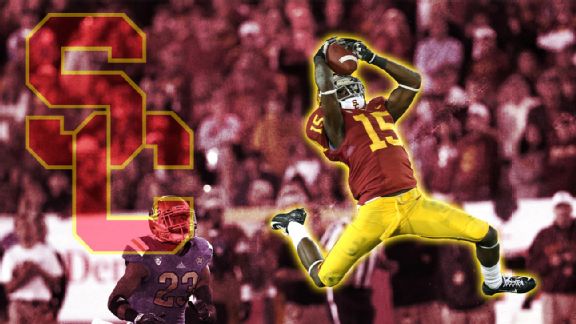 ESPN Illustration
14. USC Trojans
USC won four BCS bowls with Steve Sarkisian as an assistant coach. He returns this year as head coach.

In 2013, USC's quarterbacks threw six interceptions in the first five games but finished the year strong, only throwing three picks in the last nine games.

The Trojans return Nelson Agholor, who is the nation's second-leading punt returner and contributed 56 catches and 1,444 all-purpose yards last season.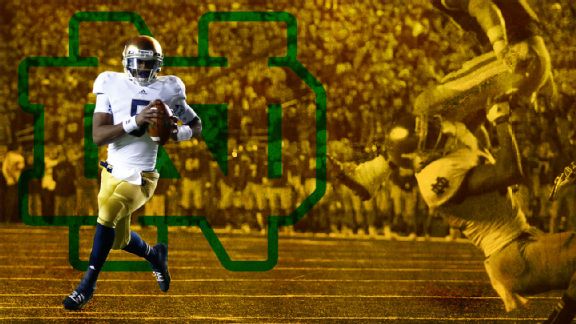 ESPN Illustration
15. Notre Dame Fighting Irish
Notre Dame welcomes back quarterback Everett Golson, who has been gone for 19 months, but owns a perfect 11-0 regular season record with the Fighting Irish.

The Irish have 21 wins in the past two seasons, the most in back-to-back seasons since 1992-93 under Lou Holtz

Six of the last nine times Notre Dame has been ranked in the preseason, it has finished the season unranked.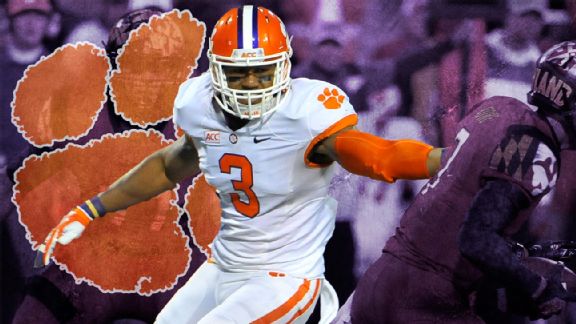 ESPN Illustration
16. Clemson Tigers
Quarterback Cole Stoudt replaces Tajh Boyd, who won 32 games for the Tigers, tying him as the winningest quarterback in school history.

Clemson returns all four of its starting defensive linemen, who combined to record 28 sacks in 2013, fifth-most among Power Five conference teams.

In each of the last two years, Clemson has begun and finished the season ranked. Prior to 2012, the Tigers hadn't been ranked to start the year since 2000.