August, 1, 2014
Aug 1
10:00
AM ET
WHITE SULPHUR SPRINGS, W.Va. -- Defensive end
Cameron Jordan
had a breakout season in 2013, making his first trip to the Pro Bowl, racking up 12.5 sacks and being widely recognized for his role in the
New Orleans Saints
' defensive revival.
Jordan
But, Jordan said, "It wasn't good enough."
"It's one thing to have a good year like I did last year. But it has to be better. Everything that the team does has to be better because clearly it wasn't enough to get to the Super Bowl," said Jordan, who insisted Thursday that he was more driven than ever this offseason, increasing his daily workouts.
"I just feel like I want it more," Jordan said. "I'm bitter."
Jordan, 25, has always stood out as arguably the most playful personality on the Saints' roster. So it was interesting to see him talk so openly and seriously about his passion for the game during a lengthy conversation with the media on Thursday -- as The Times-Picayune's Katherine Terrell did a good job of
pointing out
.
Jordan said that playful energy carries over onto the field, as well.
He joked that "monster" line-mates such as
Akiem Hicks
and
Brodrick Bunkley
are far more serious and intense on the field, and they do a lot of grunting -- a strategy that certainly helps them get the job done, too.
But Jordan said he's out there having fun every time he gets a chance to hit the quarterback, experiencing "pure bliss" because he loves playing football so much.
Jordan said he's working to become as fast as
Junior Galette
and as powerful as Hicks. In the meantime, he relies on his boundless energy.
"At some point in the game, you're gonna succumb," Jordan explained. "You're going to know that I'm going to be better than you. At some point in the game, you're going to be tired and you're going to look over and I'm still going to have energy. That's the point.
"Somewhere in there I'm wearing you down until you have nothing left. And I want that."
July, 31, 2014
Jul 31
7:30
PM ET
WHITE SULPHUR SPRINGS, W.Va. -- A daily review of the hot topics coming out of
New Orleans Saints
training camp:
The intensity cranked up Thursday as a few fights nearly broke out during practice. The biggest skirmish was between running back Khiry Robinson and linebacker Curtis Lofton that actually had to be broken up by quarterback Drew Brees. The two briefly wrestled and went to the ground, with Lofton getting a hold of Robinson's hair before Brees stepped in. Some offensive and defensive linemen also got into a few shoving matches, including one with defensive end Cameron Jordan and offensive tackle Tavon Rooks. "He was wearing a white jersey … and got in the way," Jordan deadpanned. "Today we just decided to set that tone early on. Even in walk-through it got a little rowdy with the defensive line going through bags. It was just one of those days that (players) should have their mind right, and if they didn't have their mind right, they got their mind right."
Cornerback Patrick Robinson continued his outstanding performance in camp. He made a diving interception against Brees when he cut in front of intended receiver Andy Tanner -- believed to be Brees' first pick in team drills so far in training camp. Robinson also had an aggressive pass break-up in team drills. My two biggest question marks this year were Robinson's health and his confidence level. Both look great, and his athleticism has never been questioned. So he indeed has a shot to push veteran Champ Bailey for the No. 2 cornerback job.
Stop me if you've heard this before, but receivers Brandin Cooks and Nick Toon also looked great during practice. Both have looked terrific throughout camp. Cooks made a series of nice catches -- including a diving snag of an overthrown ball by quarterback Logan Kilgore at the end of practice. Toon's highlight was a deep catch from Brees behind Bailey and safety Kenny Vaccaro. Although Toon did have one drop Thursday (a rare miscue this camp), coach Sean Payton singled him out after practice unsolicited, saying he's having a "fantastic camp."
The same three guys remained out with injuries (Ben Grubbs, Kenny Stills and John Jenkins). Payton still declined to get into any specifics on Grubbs' injury but said he should be back within a day or two. "We are just resting him. He's working through a few things." Bailey was not in attendance during the Saints' afternoon walk-through, but it's unclear if that was injury-related. He didn't appear to get hurt during practice. No update was available since Payton only talks after the morning practice.
The Saints have another normal schedule Friday, with an 8:50 a.m. ET practice followed by a 4:30 p.m. walk-through. They will hold a scrimmage Saturday at 8:50 a.m. before taking a day off on Sunday.
July, 31, 2014
Jul 31
7:15
PM ET
WHITE SULPHUR SPRINGS, W.Va. –
New Orleans Saints
owner Tom Benson is doing fine after being treated Tuesday for dehydration, according to team spokesman Greg Bensel. Benson was in attendance at both of the Saints' practices Thursday.
"He is doing great," said Bensel, who said via email that Benson was "treated briefly for dehydration and has had issues with [the mountain] altitude – but doing fine!"
The story was first reported by New Orleans' WGNO-TV, which said that Benson went to the emergency room at a local West Virginia hospital and was given fluids before being released.
Benson, 87, was also taken to an emergency room in Atlanta in May during the NFL owners meetings to be evaluated for a possible concussion after stumbling and hitting his head. But he was also deemed OK after that incident. Benson was still recovering from a minor knee surgery at the time and tried to rush back to be in attendance for New Orleans' Super Bowl bid.
July, 31, 2014
Jul 31
5:25
PM ET
WHITE SULPHUR SPRINGS, W.Va. –
Marques Colston
's numbers dipped below his standard last season.
But even though he turned 31 years old this summer, I genuinely don't expect the start of a steep decline for the New Orleans Saints' longtime go-to receiver.
The main reason for optimism? Hearing the way Colston keeps talking so excitedly about his improved health.
As I mentioned earlier this summer, the soft-spoken Colston is the last player who would ever be accused of hyperbole or overexaggeration. So you have to take notice when he keeps saying things like, "It's a totally different ballgame" while describing the way he feels in camp.
[+] Enlarge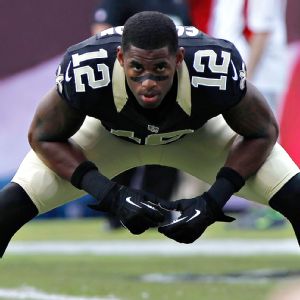 Kim Klement/USA TODAY SportsMarques Colston isn't pushing too hard in camp, saving himself for when the games matter.
"It's a totally different experience for me just being able to really rest and come into the season healthy," said Colston, who said the nagging foot injury that he had been battling for the past two years is now not an issue.
Colston has been limited throughout practice sessions as a way of keeping him fresh heading into his ninth season. But he said he's feeling great. And that was the No. 1 priority for Colston after last season, in which he battled foot, knee and back injuries at different times.
Colston wound up catching 75 passes for 943 yards and five touchdowns in 15 games played. But as coach Sean Payton pointed out Thursday, Colston finished strong late in the season – capped by 11 catches, 144 yards and a touchdown in the playoff loss at Seattle.
"I really just came out of that season knowing that I had to get healthy coming into this season," Colston said. "Numbers really don't make a difference to me. We didn't end up where we wanted to ultimately, and that is really what I took out of the season more than anything else."
Colston, who is the Saints' all-time leader with 607 catches, 8,337 receiving yards and 63 touchdowns, hasn't exactly discovered the same fountain of youth as teammate
Drew Brees
. Colston said he doesn't plan to still be playing until he's 45 years old – though he promised to still be watching as a fan.
And Colston has talked before about being aware of his mortality because of the business side of the NFL. He is due to make $5.6 million in salary and bonuses this year, $7 million in 2015 and $7.8 million in 2016.
But Colston said it's not time to worry about any of that stuff yet.
"When it is time to hang them up, I am pretty sure I will know and everyone else will know. But it's surely not that time yet," Colston said. "I am going to continue to grind."
July, 31, 2014
Jul 31
4:15
PM ET
WHITE SULPHUR SPRINGS, W.Va. – If anyone is having more fun at training camp than the
New Orleans Saints
'
Drew Brees
and Sean Payton, it's hard to tell.
Brees tweeted out a picture Thursday of what he described as Payton's "payback" -- a Rogaine logo on Brees' jersey in place of the usual Chevron sponsorship logo on each practice jersey.
What's wrong with this picture?! Sean Payton got me this morning. #Payback pic.twitter.com/vvcnqLnj1I

— Drew Brees (@drewbrees) July 31, 2014
It was a shot at Brees' receding hairline (the one part of Brees' body that admittedly doesn't make him feel like
a 25-year-old
). It was also redemption for the Chevron patch that was sewn onto Payton's T-shirt before the first practice.
That competitive spirit is also on display after every practice when the quarterbacks get together for various inventive passing challenges. They have become must-see viewing, especially now that Brees has begun narrating them for the team's website.
Payton and the offensive coaches occasionally join in – like he did for
this recent competition
inspired by the former television show, "American Gladiators."
Others have involved throwing deep balls from a nearby balcony or replicating a skeet-shooting trip they took when they first arrived in West Virginia.
"It's a group effort," Brees said when asked how they come up with the challenges. "But we try to incorporate something that happened in practice that day. For example, we had a quarterback competition out there that involved throwing on the run. We missed a couple of throws on the run [in that day's practice], so obviously it's something we've got to work on. But we can have fun with it too, so we made a competition out of it, set up some bags and throw at them. There's going to be a winner and three losers."
July, 31, 2014
Jul 31
3:45
PM ET
WHITE SULPHUR SPRINGS, W. Va. – The guy generating the most buzz at
New Orleans Saints
camp this summer has been rookie receiver
Brandin Cooks
– and rightfully so.
But a player who quietly seems to be drawing the same level of excitement within the Saints' organization is second-year left tackle
Terron Armstead
.
The supremely athletic big man has looked outstanding at times, especially during run-blocking drills on Thursday. And from talking with folks, I think the expectation is that he could not only be solid in his first full season as a starter – but ultimately develop into a really special player.
[+] Enlarge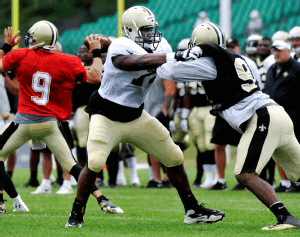 Michael Shroyer/USA TODAY SportsDrew Brees said that the confidence of Terron Armstead, center, is ideal for a left tackle.
Coach Sean Payton agreed with that assessment, though he didn't get carried away.
"Yeah. We're not ready to put him in Canton yet. But he's very athletic, and I would agree. He's got a lot of the traits that you would look for at that position," said Payton, who was impressed with how quickly Armstead matured after being thrown into the starting lineup in Week 16 last season.
"I think in a short period of time, Carolina [in Week 16], and then on to the next week, you saw a rookie player begin to emerge," Payton said. "And by the time we were into the postseason, you began to see a player that was playing with confidence. And now clearly you're seeing that. Now he knows what to do. He's very athletic. And to his credit, he has made the adjustment and done a great job of competing. So that's been a good sign."
Armstead (6-foot-5, 304 pounds) admits he is most natural as a run-blocker after making the transition from Arkansas-Pine Bluff to the NFL last year as a third-round draft choice. And that has been evident on several plays.
But he has also looked pretty good in one-on-one pass-rush drills, even though another dynamic athlete,
Junior Galette
, has been giving him all he can handle.
And I'll credit colleague Gus Kattengell for pointing out Armstead's role in one of the biggest highlight plays of camp – Cooks' screen-pass touchdown earlier in the week. On replay, you can see that Armstead helped clear Cooks' path with a dominant seal block against safety
Rafael Bush
.
"You love everything you see. Not only just his talent, but you see it in his eyes," Saints quarterback
Drew Brees
said. "You see guys that when there is a big challenge ahead of them, you sense some fear, you sense some nerves. What I see with him is intensity and confidence, and that is what you love to see in a left tackle, ready for any type of challenge."
Other players have noted Armstead's confidence level, as well, including recently signed veteran center
Jonathan Goodwin
, who said, "You come in here and see his demeanor, he doesn't look like a second-year player."
And I feel like I've seen a much more confident version of Armstead in media interviews, dating back to the beginning of the offseason.
But when I asked Armstead about that Thursday, he said "comfort level" might be a better term than confidence.
"I've always had confidence. I wanted to start right away in Week 1 last year," Armstead said, even though he admits he probably wasn't ready.
"It's definitely night and day [from the start of last year's training camp]," said Armstead, who added that the game quickly started to slow down for him with each passing start he made at the end of last season.
"The terminology from Drew my first snap, I could've swore he was speaking Chinese or Spanish or something," Armstead cracked.
Armstead's athletic ability has always been "off the charts," as Goodwin put it. He ran the fastest 40-yard dash time by an offensive lineman in the history of the NFL scouting combine (4.71 seconds) and registered a vertical leap of 34.5 inches.
But Armstead is hardly relying on that.
Right tackle
Zach Strief
said Armstead's work ethic is impressive. He watches a ton of film and picks the brains of veterans. Armstead even reached out to former Saints Hall of Famer Willie Roaf (a Pine Bluff native) to talk shop and pick up some pointers this summer.
"He's still very young," Strief said. "But all the things you'd say that you want to see him do, he's doing them."
July, 31, 2014
Jul 31
8:00
AM ET
Thanks for submitting your questions to me on Twitter during the
New Orleans Saints
' first off-day in training camp. And
check here for live updates
as the team gets back on the practice field today at 8:50 a.m. eastern time.
@MikeTriplett Ok, you've seen him in coverage Is Champ Bailey stiff in the hips? Struggling in coverage? Thanks

— dOMe_inate (@WhoDatWarriors) July 30, 2014
@MikeTriplett:
This was a hot topic this week after The MMQB's Greg Bedard observed that
Champ Bailey
looked "extremely average" to him when he visited Saints camp and said it wouldn't be a shock if Bailey doesn't make the team.
First of all, I don't share that opinion. I'm not saying Bailey has blown me away with his athleticism or speed. And I still think he'll have to prove he deserves the starting job over
Patrick Robinson
(who has maybe been even more impressive so far in camp) and
Corey White
. But Bailey has never stood out to me as looking especially stiff or slow. He seems to be moving around well, and he's shown some playmaking instincts a couple times.
More importantly, from what I've been told, the Saints seem to be pleased with Bailey so far. They obviously had a specific vision in mind for him when they added him, knowing full well that his skill set and athleticism had diminished. The Saints are very high on "ball skills" and still feel Bailey can win battles for the ball in the air in tight spaces. So I think he's still the guy to beat for that No. 2 cornerback job.
However, I also wouldn't totally dismiss what Bedard wrote, for two reasons. One, Bedard is a longtime NFL writer who has seen a lot more of Bailey in past years than I have. So he's in a better position to compare how Bailey looks now against how Bailey looked in the past.
And two, Bailey could indeed be in jeopardy if he doesn't win a starting job. It wouldn't make a ton of sense for the Saints to keep Bailey around as a backup since they use safety
Rafael Bush
in their nickel packages and Bailey wouldn't be much of an asset on special teams like White is, for example.
@MikeTriplett I Just read an article about the possibility of Champ getting cut & while I dont believe that, who could we surprisingly lose?

— Ric Sincere (@bornsincere7) July 30, 2014
@MikeTriplett:
Piggybacking off of what I just said, the veterans who could be "surprise cuts" are usually the ones who might get beaten out for a starting job and wouldn't serve much purpose as backups if they don't play special teams.
Think Jon Stinchcomb or Alex Brown (both of whom got cut in training camp) or Scott Shanle (who became inactive every week after losing his starting job) in recent years.
For now, I don't have any of those types of surprise cuts in my 53-man roster projections because I haven't seen any reason to cut any of the Saints' vets from last season. But if you had to look at the type of player who could be in jeopardy if he doesn't win a starting/rotational role, you'd look at guys such as Bailey, Robinson, center
Jonathan Goodwin
, receiver
Robert Meachem
, or the veteran linebackers since there are so many guys battling for roster spots at that position.
@MikeTriplett What 3rd string guys have looked good? Who are some less obvious UDFAs who look like they could potentially crack the roster?

— Hedgery (@Hedgery) July 30, 2014
@MikeTriplett:
Since I haven't cut any veterans yet on my projected 53-man roster, I also haven't added any undrafted rookies yet. But there were two guys that I almost added in the latest edition -- safety
Pierre Warren
from Jacksonville State and tight end
Nic Jacobs
from McNeese State.
Warren
has been widely recognized
for making a lot of big plays in practice in recent days. More importantly, he clearly did something early on to gain the trust of the coaches, since he's run with the second string ahead of other roster hopefuls all summer. The key for Warren, however, will be how he handles special teams in the preseason games.
Jacobs, meanwhile, has turned my head because he moves so well for his massive size (6-foot-5, 269 pounds). I could see the Saints finding a role for a big blocking tight end with growth potential.
Receivers
Brandon Coleman
and
Seantavius Jones
have looked good at times. But receivers always seem to shine in training camp, and they've got a lot of veterans ahead of them. Some of the linebackers have flashed at times, such as
Todd Davis
,
Marcus Thompson
and
Kasim Edebali
. But that's an even deeper position.
I also like what I've seen from center
Matt Armstrong
and quarterback
Logan Kilgore
, though they're probably more practice-squad material.
And if there's someone I didn't mention, it doesn't mean they're struggling. It just means there are 90 guys out there on the practice field, and it's hard to get eyes on everybody consistently.
@MikeTriplett After Brees, I feel like Armstead may be the "MVP" in the sense that losing him to injury=huge dropoff in wins. Agree?

— no lemonade (@nolemonade) July 30, 2014
@MikeTriplett:
I'd still rank guys such as
Jimmy Graham
,
Cameron Jordan
,
Keenan Lewis
and a handful of others higher. But I do see your point. The Saints are really counting on
Terron Armstead
to continue developing (he looks like he could be a really special player). And from the little I've seen so far, backup
Bryce Harris
looks a lot more polished as a run-blocker than pass protector on the left side.
I'm planning to write something on Armstead in the next day or two. I'm expecting a really nice Year 2 leap from him, and I think the Saints are, too.
July, 30, 2014
Jul 30
4:00
PM ET
WHITE SULPHUR SPRINGS, W.Va. --
New Orleans Saints
quarterback
Drew Brees
looks around the field and the locker room this summer and recognizes more new faces around him than ever before.
But Brees said as much as he misses longtime teammates like
Lance Moore
and
Darren Sproles
, he also feels rejuvenated by developing that "same trust and ESP" with new, young teammates.
Brees is certainly excited by his newest toy, rookie receiver
Brandin Cooks
, whom Brees has been
connecting with for some big plays
on almost a daily basis. But he also mentioned young receivers like
Nick Toon
and
Kenny Stills
the other day when he was asked what keeps training camp feeling fresh for him year after year.
"When you look at my eight years in New Orleans, so many of those years with our skill-position guys were
Marques Colston
, Devery Henderson, Lance Moore,
Robert Meachem
, right?" Brees said. "Those were the kind of big four for seven years. And now, obviously, two of those four are gone and now you have these young guys that are here to take their place. There is that period of time where they rejuvenate me, they get me excited to come to work every day. To work with these guys, to try to build that same trust and ESP as we think about this system and where we are trying to take this offense. That is the fun part for me."
Brees said he's especially noticed that transition this year across the field, where he was used to seeing guys like
Will Smith
,
Jabari Greer
,
Roman Harper
,
Jonathan Vilma
and
Malcolm Jenkins
for years.
"[They] were huge parts of this team for a really long time, certainly big influences in the locker room and that kind of thing. But that just opens up opportunities for other guys," Brees said. "I think the thing that's been most exciting for me is watching these young receivers develop and knowing that you're going to get more opportunities, you're going to get more time. They're not just sitting back watching, they're going with the second unit. They're getting thrust into the action here. I'm getting a lot of time with them during practice, after practice. You can see the development and that gets you excited."
July, 30, 2014
Jul 30
2:40
PM ET
WHITE SULPHUR SPRINGS, W.Va. --
New Orleans Saints
defensive coordinator Rob Ryan already proved how much he loves to feature safeties in his versatile defense last year. The Saints spent about 75 percent of their snaps in nickel defense -- almost always using three safeties on the field at once.
Now Ryan has even more ammo to work with after the Saints added three-time Pro Bowl safety
Jairus Byrd
in free agency to pair with returning young players
Kenny Vaccaro
and
Rafael Bush
.
When asked how much input he had in the Saints signing Byrd to a six-year, $54 million contract, Ryan said, "Uh, that is absolutely zero. But I was happy. That one came from much higher up than me, but I was ecstatic when I heard the news."
The Saints were most attracted by Byrd's ball skills and his ability to force turnovers. His 22 interceptions rank second in the NFL over the past five seasons.
"I think he's got unique ball skills. If that ball hits his hands, he is going to catch it," Ryan said. "But also with that, he is very smart. He can put himself into plays."
I asked Ryan if Byrd "freelances" from time to time to wind up with so many picks.
"I think that one thing with turnovers in the National Football League, these are the best quarterbacks in the world. You have to play your technique. You have to be disciplined," Ryan said. "But there comes a time and point where every turnover is made where a guy has to just go make it. And he's been great all through his career. He's played corner in college. I mean, he just has unique ball skills. And so did his father (longtime former NFL standout Gill Byrd)."
Ryan has always gushed with praise for second-year Saints safety Vaccaro as well. Last season, Ryan said he believed the
Seattle Seahawks
'
Earl Thomas
was the best free safety in the NFL, but Vaccaro was the best "overall safety" because of his versatility.
And Ryan also raved Tuesday about the hard-hitting Bush, who has played a big role both on defense and special-teams coverage for the past two seasons.
"Oh, he's very important. He's an excellent football player," Ryan said of Bush, who was re-signed by the Saints as a restricted free agent after they matched a two-year, $4.5 million contract Bush signed with the
Atlanta Falcons
.
"The Falcons did us a favor by giving him such a low offer," Ryan said. "That's great. We got him for two years. Thanks."
July, 30, 2014
Jul 30
12:30
PM ET
WHITE SULPHUR SPRINGS, W.Va. -- It's still too early in
New Orleans Saints
training camp to judge exactly how they plan to split the workload among their deep running back corps.
Thomas
My best guess is that
Mark Ingram
and
Khiry Robinson
will split carries pretty evenly in base packages and early downs, while
Pierre Thomas
lines up more with the nickel offenses (sort of the old
Darren Sproles
role). That would make sense, since Thomas is both the best pass-catcher and the best pass-protector of all the Saints' running backs.
Saints quarterback
Drew Brees
offered some lofty praise of Thomas' versatility Tuesday when asked if throwing the screen pass to Thomas is one of his favorite plays.
"Yes. He's one of the best screen runners there is, ever," Brees said. "He does such a great job of timing, setting up his blocks, just hitting those seams and hitting the sidewalk. He does a phenomenal job at it.
"You see these young guys (Ingram, Robinson and
Travaris Cadet
) starting to pick up on a little bit of those traits, too. Sproles was great at it. But Pierre can do everything. He's the best all-purpose back in the league in my opinion. Run, pass, screen game, pass protection ... you name it, he can do it."
July, 30, 2014
Jul 30
10:00
AM ET
By
ESPN.com staff
| ESPN.com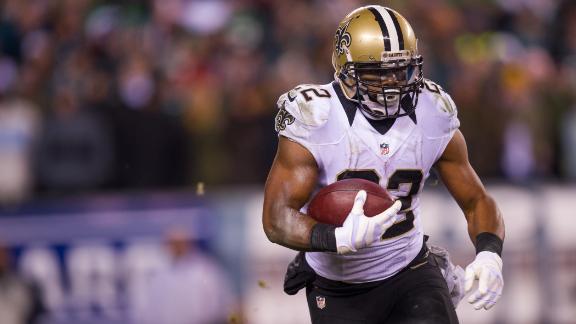 ESPN.com
New Orleans Saints
reporter Mike Triplett says the most noticeable difference in the run game is the amount of confidence coaches and players have after finishing strong last season.
July, 29, 2014
Jul 29
7:00
PM ET
WHITE SULPHUR SPRINGS, W.Va. -- A daily review of the hot topics coming out of
New Orleans Saints
training camp:
Another day, another "wow" moment for rookie Saints receiver Brandin Cooks. At some point, I'm going to have to borrow a Sean Payton term and start "de-recruiting" Cooks instead of continuing to pump him up. But that's hard to do when he keeps making eye-popping plays. This time Cooks took a screen pass from Drew Brees and shot past a couple hapless defenders for a touchdown. Cooks also showed off some receiving skills on a nifty back-shoulder catch from Brees, among other highlights. "That was awesome. ... I think that just gives you a taste of what we have in him," Brees said of the screen play. "(Some people) are straight-line fast but not real quick or they have long strides or short-area quickness but not long speed. This guy has it all. He's got short-area quickness, great transition ability and phenomenal straight-line speed."
Fellow receiver Nick Toon has also continued to impress throughout training camp. The third-year pro sprung free for one deep ball and went up high to pluck another pass out of the air. It was just another typical practice for Toon this summer as he has probably racked up more catches in team drills than any receiver in camp. ... Of course Toon has looked good in training camps past, and his job this year will be to prove that it can translate onto the field. But Brees, for one, sees Toon playing more "natural" with more "confidence."
I've said over the past couple days that 1-on-1 pass-rush drills are my favorite individual segment in camp. But I specifically like watching the daily battles between guard Jahri Evans and defensive end Akiem Hicks. They're both so strong, it's like the irresistible force vs. the immovable object. Credit Evans for holding his own so far in a drill that's designed to favor the defense, but they both look good.
Safety Jairus Byrd wasn't the only one back from injury Tuesday. Receiver Robert Meachem (back) and offensive tackle Tavon Rooks (back) also returned from injuries. … Among other highlights from Wednesday's session: an interception by cornerback Terrence Frederick on an overthrown deep ball by Luke McCown; a huge run block by right tackle Thomas Welch that upended safety Vinnie Sunseri; and a great pass break-up deep down the field by Corey White against QB Ryan Griffin at the end of practice.
No practice Wednesday. Players will have their first off-day of camp after five straight days of practice. They'll be back on the field Thursday morning.
July, 29, 2014
Jul 29
4:32
PM ET