December, 12, 2013
Dec 12
4:20
PM ET
EAST RUTHERFORD, N.J. --
Jason Pierre-Paul
may play again this season, despite the
New York Giants
being eliminated from playoff contention.
Pierre-Paul has missed the Giants' past two games due to a shoulder injury, and has not practiced yet this week. But on Thursday he scoffed at the notion of going on injured reserve.
"I'm never gonna shut it down," Pierre-Paul said. "If I can go, I'm gonna go. There's no point in shutting it down. If I can still help my team win football games, that's what I'm gonna do."
Pierre-Paul
Pierre-Paul rode an exercise bike on the sideline during the portion of Thursday's practice open to the media. Afterward he said his shoulder is "getting better, day by day." But when asked about his status for Sunday's game against the
Seattle Seahawks
, he responded, "I don't know yet."
On the bright side, he also said his shoulder will not require surgery in the offseason, just rest.
It's been a disappointing season for Pierre-Paul, who has just two sacks, two years removed from finishing fourth in the league with 16.5. The Giants as a team are second-to-last in sacks with 25, behind only the
Jacksonville Jaguars
(23).
Pierre-Paul missed most of training camp recovering from back surgery, returned for Week 1, but never got on track. He also suffered a knee injury in Week 4 against the
Kansas City Chiefs
, and then injured his shoulder in Week 10 against the
Oakland Raiders
. He played through those two injuries before finally sitting out the past two weeks -- the first two missed games of his four-year NFL career.
There's little sense in playing a banged-up Pierre-Paul in the final three games of the season, with the Giants having nothing on the line save for pride. Rookie defensive end
Damontre Moore
, who has shown flashes of potential on special teams, has gotten 32 defensive snaps the past two weeks with Pierre-Paul out. Why not continue to feed Moore more game experience?
That said, Pierre-Paul is saying and doing the right things at this point. He talked about "doing it for your brothers" on Thursday and trying to set a good example, showing no quit.
The bottom line is, the Giants desperately need a healthy and productive Pierre-Paul next season -- the guy who posted 16.5 sacks in 2011, not the guy who has 8.5 combined in 2012 and 2013.
"I'm not ready to shut it down yet," Pierre-Paul reiterated. "It's not my call or whatever. But if I can still go out there and help my team win, that's what I'm gonna do. And then look forward to next season and come back really healthy, probably the healthiest I've ever been in my life."
December, 12, 2013
Dec 12
3:45
PM ET
EAST RUTHERFORD, N.J. -- No matter how tough the opposing defense, by Thursday the
New York Giants
' offense is focusing on something about that defense it thinks it can exploit. So while the Giants know the
Seattle Seahawks
have as good a defense as any team in the league, they're more focused on what they might be able to do than what they won't.
[+] Enlarge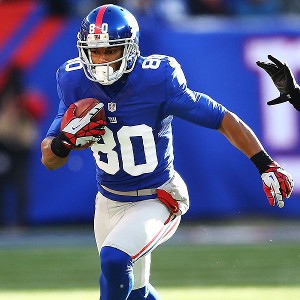 Al Bello/Getty ImagesWill Victor Cruz get one-on-one opportunities against Seattle's secondary?
"Some of the things they do should give us some chances," offensive coordinator Kevin Gilbride said Thursday. "Guys we have who are always clamoring for one-on-one opportunities, they're going to get them."
The guy who most fits that description this year is wide receiver
Victor Cruz
, who is 27 yards shy of his third straight 1,000-yard season but doesn't have a touchdown since September and has struggled to be as productive and explosive this year as he was in the last two.
"There's no question that we haven't been as effective in some of the other spots, so teams are gearing up to see where Victor is," Gilbride said. "And we've gotten a lot more doubles."
Gilbride wasn't naming names, but everyone knows that wide receiver
Hakeem Nicks
and tight end
Brandon Myers
have been disappointments this year as receivers. As the year has gone on and Nicks has consistently failed to play like his old self on the outside, Cruz has seen a lot more coverage. He says he takes it in stride.
"It's tough overall, having to face a double-team, having to face a lot of attention throughout the year," Cruz said. "But it's something you've got to battle and deal with. You want to call yourself an elite receiver in this league, it's something you've got to do."
Cruz says he takes it as a compliment that opposing coaches are scheming for him and concentrating extra attention his way. As for what Seattle will do, he's hopeful but not certain.
"I've seen them double (Falcons tight end)
Tony Gonzalez
a bunch, and a few other guys," Cruz said. "So we'll see if they do it. They're pretty much locked into a playoff spot, so I don't know if they'll be as risky as they might have been earlier in the season."
Even if he does see single coverage, it won't be easy. Seattle's defensive backs are some of the biggest and most physical in the league, led by 6-foot-3 cornerback
Richard Sherman
. Gilbride is preparing his receivers to take a physical beating Sunday.
"You've just got to prepare them to realize what they're in for," Gilbride said. "Guys are going to be up in your face, grabbing you, holding you. And if you think it's all going to be called and that's the solution to the problem, you're going to be sorely disappointed, because they have mastered the art."
The Giants are out of the playoff hunt. The Seahawks have clinched their spot and are almost certain to get the NFC's No. 1 seed. The individual matchups on the field will be worth watching Sunday, though, and the way the Giants' struggling passing game attacks Seattle's famed secondary will be as interesting as anything. Who knows? Maybe it's the week Cruz gets going.
December, 12, 2013
Dec 12
12:55
PM ET
EAST RUTHERFORD, N.J. -- Cornerback
Corey Webster
and defensive end
Jason Pierre-Paul
were on the exercise bikes while their
New York Giants
teammates participated in the portion of practice open to the media on Thursday. Safety
Cooper Taylor
was not present.

Webster has been practicing on a limited basis due to his ankle injury but has not played since Oct. 27, and the fact that he worked some Wednesday but didn't appear to be working Thursday bodes ill for his chances of playing Sunday against the Seahawks. It's possible he's played his last game as a Giant. And it's certain that he's not making things easy on his agent.
Pierre-Paul has missed the past two games with a shoulder injury, and during recent weeks there have been times when he wasn't present at practice at all. So the fact that he's out there, wearing a jersey and pedaling a bike, could be counted as progress. Or it could be a sign he had nothing else to do. Either way, since it's been so long since he's practiced, it's hard to envision Pierre-Paul playing Sunday even if he's able to get back on the practice field Friday. He may have played his final game of the season.
Defensive tackle
Cullen Jenkins
, who missed Wednesday's practice with various leg injuries, was back at practice Thursday. So was cornerback
Terrell Thomas
, who sits out every Wednesday to rest his surgically repaired knee.
And running back
Brandon Jacobs
, who was placed on season-ending injured reserve Tuesday, had surgery Wednesday on his knee. The team said Jacobs had cartilage grafting to repair osteoarthritis, which obviously sounds awful and difficult to come back from.
December, 12, 2013
Dec 12
10:00
AM ET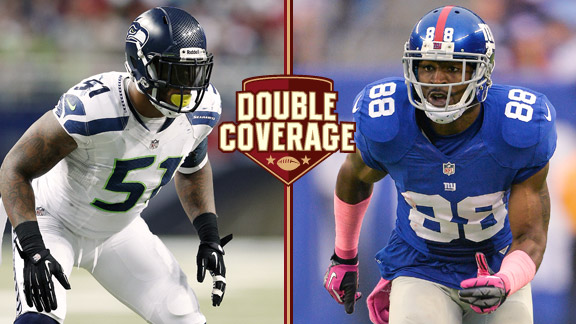 AP PhotoBruce Irvin and the Seahawks are beatable on the road. Can Hakeem Nicks and the Giants win?
The 11-2
Seattle Seahawks
have had their playoff spot wrapped up for a couple of weeks already and have their eyes on the top seed in the NFC. The 5-8
New York Giants
were eliminated from playoff contention Sunday and openly admit that they're playing for pride from this point forward. These two teams meet Sunday at MetLife Stadium -- a place the Seahawks hope to return to in early February for the Super Bowl.
ESPN.com Seahawks reporter Terry Blount and Giants reporter Dan Graziano break down the matchup between the league's best team and one of its most disappointing teams.
Graziano:
Terry, let's start with Seattle's exciting young quarterback. The Giants this year have seen
Terrelle Pryor
,
Cam Newton
and
Robert Griffin III
, who are the only quarterbacks with more rushing yards than
Russell Wilson
has. From your standpoint, what sets Wilson apart from those other mobile quarterbacks?
Blount:
Dan, there are so many intangibles about him that defy description. Some obvious ones are his character, his attention to every detail in his preparation and his underrated skills as a passer. But more than anything else, Wilson has the unusual ability to perform at his best when things appear to be at their worst. I've never seen him rattled, and he rarely makes a careless mistake. He has led the team to nine game-winning drives in his short career, and he almost did it again Sunday at San Francisco. As for his mobility, one thing that clearly sets him apart is his ability to make accurate throws downfield while he's running in either direction.
Speaking of quarterbacks,
Eli Manning
got off to a really rough start this season. What happened, and where is he now compared with seasons past when he was playing at a Pro Bowl level?
Graziano:
Manning's biggest problem at the start of the season was his protection. The offensive line, never great to begin with, was hit with injuries to key starters and never got the kind of blocking help it received in past years from supplemental positions like running back and tight end. Manning has already taken more sacks (33) than he has ever taken in a full season, and there are three games to go. He also had no running game whatsoever for the first half of the season until
Andre Brown
got healthy. And top wide receiver
Hakeem Nicks
has had an awful season in the final year of his contract. Manning obviously could play better, and he'd admit he has missed his share of throws. But I think he's a quarterback who really needs to be comfortable with his surroundings, and this year that hasn't been possible for him.
The Seahawks are so dominant at home, but while they've been good on the road they are clearly not
as
good. We know about the home crowd and the advantage it gives them, but are there on-field things they don't do as well on the road?
Blount:
One noticeable difference in the past three road games is that Wilson hasn't run much because defenses are trying to keep him in the pocket. Wilson had one carry for 2 yards last week at San Francisco, and only 38 yards on seven carries in the past three road games combined. They won two of those three games, however. Still, after Wilson ran for 102 yards at Indianapolis in Week 5 (ironically, one of Seattle's two road losses) teams have focused on not allowing him to beat them with his feet. He's running well at home (he rushed for 47 yards against New Orleans two weeks ago) but not so much on the road.
If the Giants pull off the upset Sunday, they'd send a message that despite a disappointing season, they still have the ability to get it done against the best of the best. Do you get the sense that they'll have a little added fire against a team that many people believe is Super Bowl-bound?
Graziano:
I do. A few of the Giants have already talked about that in the wake of the loss Sunday that eliminated them from postseason contention. There's a lot of talk around East Rutherford about "playing for pride," and that's not hollow with this group. They held together after the 0-6 start and have been professional in their play and their preparation since. This isn't a team that has or will quit on its season. It's just a team that's not very good. I don't think they have the personnel to hang with the Seahawks on Sunday, but if they lose it won't be for a lack of effort.
They do have a tendency to seek and drum up external motivation, and Seattle's excellent record will provide some of that. Tom Coughlin said Monday that they looked forward to measuring themselves against a team like this. The only dissenter so far is wide receiver
Victor Cruz
, who said he'd be "even more disappointed" if the Giants won this game, since it would tell him they had the capability to play with top teams all year and just didn't.
San Francisco had a strong game on the ground Sunday, and the Giants' run game has been considerably better in the second half. Is it possible to run on the Seahawks, or was that a one-game fluke by
Frank Gore
?
Blount:
Some Seattle fans might say it was a one-play fluke, the 51-yard run by Gore on the final drive that set up the game-wining field goal. Take that off the table and the Seahawks did OK against the 49ers' rushing game. However, one stat is a little scary. Of San Francisco's 163 yards on the ground, 137 were before contact, including Gore's big run. The Seahawks have been up and down on this all season. They held
Adrian Peterson
to 65 yards and allowed only 30 yards rushing at Arizona, but also had back-to-back games in which they allowed 200 yards rushing. Now they have to get it done without linebacker
K.J. Wright
, who had 80 tackles this season. He's out with a broken foot. It's hard to predict, but the Seahawks are so focused on the pass rush that they can get burned sometimes on the ground.
The Giants have struggled to stop the run, and
Marshawn Lynch
is one of the best backs in the league. I'm guessing the Seahawks are going to give him the ball early and often, especially if the weather is bad. Will the Giants load the box to try to stop Lynch?
Graziano:
Actually, stopping the run is one of the few things the Giants have done well. They've held down some top backs, such as Peterson,
LeSean McCoy
,
Alfred Morris
and
Eddie Lacy
. Until the Chargers got 144 yards on 40 carries against them Sunday, this had been a fairly consistent strength. So they'll be keyed on Lynch for sure.
Before the Packers game a few weeks ago, I asked
Justin Tuck
if Lacy reminded him of anyone. He said, "a bigger Marshawn Lynch," and then complained that they had to deal with Lynch again a few weeks later. They stacked the box against Lacy that day, but they weren't scared of
Scott Tolzien
's ability to beat them downfield even if they used single coverage on his receivers. Wilson is likely to make them think twice about committing as much to the run as they did that day, and they'll likely rely on the guys in their strong defensive-tackle rotation to get off of blocks better than they did in San Diego.
December, 12, 2013
Dec 12
8:00
AM ET
Your daily morning check-in on news and notes about and of interest to the New York Giants
The news of the day:
Will the Giants be ready for the Seahawks when the best team in the NFC comes to MetLife Stadium on Sunday? Justin Tuck thinks so, because they don't want to be embarrassed, and the Seahawks are the
kind of team that can embarrass you
if you're not careful. This is part of the reason the Giants have
no plans
to audition younger players to evaluate them for the future at the expense of players they feel offer them the best chance to win.
Behind enemy lines:
Seahawks coach Pete Carroll said Sunday's 19-17 loss to the 49ers in San Francisco has
renewed his team's focus
. It came after Seattle had won seven in a row, and Carroll said because it was a close loss to a division rival it helps him drive home a point about the importance of doing the little things.
Around the division:
Wednesday was a bizarre day even by Redskins' standards, as Mike Shanahan announced that Robert Griffin III would be benched for the final three games of the regular season and replaced as starting quarterback by Kirk Cousins. All three men spoke to the media, and
it was something
.
Around the league:
My weekly plug for
my MVP Watch column
, if you'd care to read it. This week's is set to some holiday music. I hope you enjoy.
December, 11, 2013
Dec 11
4:30
PM ET
EAST RUTHERFORD, N.J. -- Once the postseason is no longer a feasible goal, some teams will use the final games of their season to play some of the younger, more inexperienced players on their roster to see how they're developing and whether they can be a part of the plans for the coming offseason. The
New York Giants
, who were eliminated from playoff contention Sunday, have no such plans.
"We're going to try to play the best we can and win with the roster that we have," Giants coach Tom Coughlin said Wednesday, clearly annoyed by the premise of the question. "If the opportunity is there, then so be it. But that's not going to be the No. 1 thought on our minds."
[+] Enlarge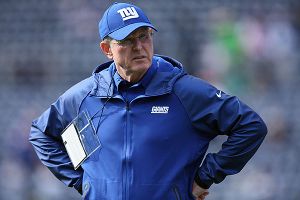 Jeff Gross/Getty ImagesDon't look for Giants coach Tom Coughlin to empty his bench during the season's last three weeks.
Coughlin and the Giants believe in developing players a certain way, and he mentioned that he's able to evaluate his bench players by watching them perform on special teams. He feels it's important to play the final three games of this season honestly and try to win all three of them, and he'll only alter his lineup if he believes the alteration is to that end.
"Those people who are playing have earned their right to play," Coughlin said.
He also asked for specific examples of players who might conceivably see more playing time for future-evaluation purposes, and several of the reporters in attendance obliged. Coughlin was asked about:
Tight end
Adrien Robinson
: "He was hurt for a long time. He's practiced for a few weeks now. He did a nice job of being a scout squad tight end for
Antonio Gates
a week ago. He's improved from that I can tell on special teams and if he can continue to improve, perhaps that opportunity will come."
Guard
Brandon Mosley
: "Well, he's been the XO tight end, did a nice job with that the other day. Hopefully you noticed that. And again, if the opportunity presents itself, so be it. But who would you like me to take out?
James Brewer
is also getting playing time, if you haven't noticed. He hasn't had a whole lot of time and he's getting playing time and he is responding, so I'd like to see Brewer continue to get better, too."
(Editor's note: The obvious answer from fans to "who would you like me to take out?" is right guard
David Diehl
. But it's obvious by this point that the Giants won't consider that.)
Quarterback
Ryan Nassib
's chances of being issued a uniform and joining the active roster one of these weeks, if not actually playing: "Not at this point in time. He's done very well as a scout team player. He's taking all these running quarterback roles and done a great job with it, played some safety, done a lot of good things. He's a very good, very sharp kid. Works his tail off, knows what his spot is, he's in that room with those guys and he's like a sponge, that's what the intent was."
So those are the answers in case you've been wondering. Nassib said he was going to play
Russell Wilson
on the scout team this week as the team gets ready for Seattle, and that's been his role for much of the year. It's unlikely to change, as the Giants obviously aren't going to sit down starter
Eli Manning
and
Curtis Painter
has been working as the backup all year and would therefore deserve first crack at the job even if they did.
Basically, the Giants believe they have a means of developing their back-of-the-roster players and evaluating that development. It's tough to figure out which guys they view as actual prospects and which they view as roster-filler. But it's tough when the players in question don't play. Brewer, for instance, was supposed to have been a worthy starter by this point but doesn't appear to be one. The Giants have a lot of offensive line questions to answer in the offseason, and it would be interesting to see what they have in someone like Mosley. But they're not going to weaken their chances to win one of these games just to see someone like Mosley in a game. That's not the way they do it.
December, 11, 2013
Dec 11
3:35
PM ET
EAST RUTHERFORD, N.J. -- Defensive end
Jason Pierre-Paul
, who has missed the last two
New York Giants
games due to his shoulder injury, did not practice with the team Wednesday as his status for the final three games of the season remains in doubt.
"It's as always," Giants coach Tom Coughlin said when asked what the plan was for Pierre-Paul. "What are the medical people telling me? How good does he feel? Where is his confidence level? Physically, strength, how much strength is there? Can he defend himself? Can he do the things that he has to do in order to play? Once those questions get answered, maybe I can help you a little bit better, but right now, even though he's very optimistic right now, I look at the sheet and he's not going today."
Defensive tackle
Cullen Jenkins
also missed practice Wednesday with shin and quadriceps injuries. Safety
Cooper Taylor
sat out with the hamstring injury he suffered in Sunday's loss in San Diego. Cornerback
Terrell Thomas
got his weekly Wednesday off to rest his surgically repaired knee. And cornerback
Corey Webster
was listed as a limited participant as he continues to deal with an ankle injury.
Cornerback
Prince Amukamara
, oddly, was listed on the pre-practice injury report due to an illness, but he did in fact practice with the team and was not listed on the injury report the Giants issued after practice. So he seems good to go.
December, 11, 2013
Dec 11
3:27
PM ET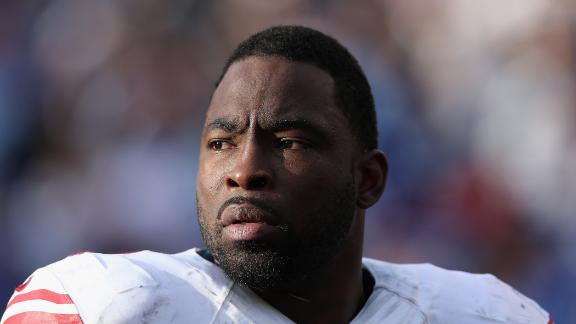 EAST RUTHERFORD, N.J. -- They're eliminated from playoff contention with three weeks to go, but Justin Tuck and the New York Giants won't want for motivation when they host the NFC-leading Seattle Seahawks on Sunday.
"The last thing you want to be is embarrassed," Tuck said after practice Wednesday. "And this is a team that, if you're not ready to play, they will embarrass you ... and then laugh at you about it."
In other words, the Giants are well aware of both how good the Seahawks are and the swagger with which they carry themselves.
Led by vocal cornerback Richard Sherman, the Seahawks (11-2) are one of the most openly confident teams in the league, and their performance this season backs the confidence up.
Someone jokingly suggested to Tuck that the primary thing on the Seahawks' minds when they get to MetLife Stadium might be what it would be like to return for Super Bowl XLVIII.
"I don't necessarily blame them if that's the case," Tuck said.
The Giants, 5-8 and playing uphill since losing their first six games, have been talking a lot this week about how much they have left to play for even though the playoffs are no longer attainable.
Coach Tom Coughlin continues to stress that the focus needs to be on the game at hand, rather than on feeling sorry for themselves or making plans for the offseason. He and the players believe that an opponent the quality of Seattle will help them maintain that focus.
December, 11, 2013
Dec 11
1:05
PM ET
EAST RUTHERFORD, N.J. -- The Super Bowl 'countdown clock' that
New York Giants
' GM Jerry Reese hung in the team's locker room on the first day of training camp when he said everybody in the organization was "
on notice
" appears to have been taken down.
Not actually a "clock," but rather a piece of paper that was changed every day to reflect the number of days remaining until the Super Bowl was to be played in the stadium across the parking lot, it was not on the bulletin board Wednesday morning when reporters walked past the locker room on the way to practice. The Giants were eliminated from postseason contention with their loss Sunday to the Chargers in San Diego, so the number of days left until this year's Super Bowl is no longer a relevant piece of information for them unless they're planning on going and sitting in the stands.
The Giants lost their first six games of this season, eradicating realistic chances of making the postseason. But the mediocre state of the NFC East allowed them to stay mathematically alive while winning five of their next six. But their loss Sunday, coupled with victories by the Eagles, Cardinals and 49ers, assured that they cannot qualify for this year's playoffs. Giants coach Tom Coughlin, already grumpy Wednesday morning after answering questions about whether younger players will get playing time the rest of the way so the team can evaluate them for the future, was asked whether he planned to remove the clock.
"I don't know," Coughlin said. "I didn't put it up, so I'm not taking it down."
December, 11, 2013
Dec 11
12:00
PM ET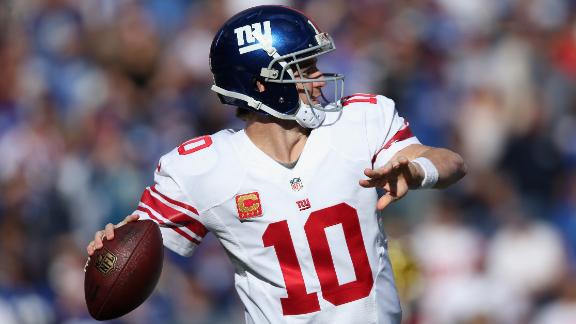 Giants reporter Dan Graziano says the Giants, who have been eliminated from playoff contention, will have something to prove when the NFC-leading Seahawks visit MetLife Stadium.