August, 29, 2014
Aug 29
4:30
PM ET
EAST RUTHERFORD, N.J. --
New York Giants
coach Tom Coughlin has been answering a lot of questions about the poor performance of his team's passing game this preseason. And after reviewing film of the fifth preseason game, he seemed to have a fresh explanation for
Eli Manning
's struggles.
Manning
"Did we have a game where we just sat back and threw it? Not really," Coughlin said in a conference call Friday. "And that was because last year, we were so poor in the run game that it ruined our balance and we turned the ball over a ridiculous amount. So we didn't want to get away from our run game."
Coughlin said it's possible they could or should have stressed the passing game more in the preseason, and he said he expects things will look better "once we zoom in on an all-encompassing game plan."
Other notes from Coughlin's day-after conference call:
August, 29, 2014
Aug 29
3:45
PM ET
EAST RUTHERFORD, N.J. -- After a preseason in which the
New York Giants
' first-team offense failed to impress in five games, quarterback
Eli Manning
maintains that he's not worried and that the new offense is supposed to take even more time to come together than it's had so far.
Manning
"I think we're still trying to get it exactly the way we want it," Manning said Friday. "It's a work in progress. There's definitely room for improvement, and that will be a season-long situation, which I think is normal. That's not a bad thing. I think we have to know what we do well and where we need to make our improvements and be harsh on ourselves to make those improvements."
The Giants will practice four more times before their Sept. 8 "Monday Night Football" opener against the Lions in Detroit. They don't have much time to be a work in progress if they want to avoid losing games in September.
"Don't get me wrong. We're ready for Week 1," Manning insisted. "But as a season goes on, you're always looking to improve. You don't want to alarm people and say, 'We've got to get better.' That's just part of it. We're going to keep getting better, but we still can go out there and be successful and do the things to win games but still strive to make improvements on offense."
Manning pointed to some positives he said he saw in the preseason, including a relative lack of turnovers and the fact that they won all five of their games. He said new offensive coordinator Ben McAdoo, who's calling plays for the first time in his career, has been "decisive" with it and the process has been smooth, and he's looking forward to a real regular-season week of game-planning for the Lions. His hope and belief is that everything will look better now that the games count.
August, 29, 2014
Aug 29
3:05
PM ET
EAST RUTHERFORD, N.J. -- The New York Giants have a decision to make on linebacker
Jon Beason
by Saturday's 4 p.m. ET deadline for final roster cuts. If Beason is to come off the Physically Unable to Perform list, he'll have to do so before the deadline and count against the team's 53-man roster. Asked whether that will happen, Beason said Friday, "Hopefully," and then left the locker room without speaking further.
Beason
The Giants' plan as of now is to activate Beason, who missed all of training camp with a foot injury but believes he'll be healthy enough to practice next week and play in the Sept. 8 Monday Night season opener in Detroit. That plan could change between now and 4 p.m. Saturday depending on how he feels and possibly some other decisions, but as of now it looks as though Beason will be available to the Giants in Week 1, even if he's not healthy enough to start and play as much as he normally would.
In other Giants news:
August, 29, 2014
Aug 29
10:00
AM ET
One final projection of the
New York Giants
' 53-man roster before the final cuts are made Saturday:
QUARTERBACKS (2)
The Giants went into training camp hoping Nassib would beat out
Curtis Painter
for the backup quarterback job, and he clearly did. Not that they don't like Painter, but they didn't like carrying three quarterbacks last year and they won't do it again.
RUNNING BACKS (3)
Either
Kendall Gaskins
or
Michael Cox
could make it as a fourth running back, and I think the Giants would prefer to carry four. But the injury situation on the offensive line likely means they have to carry an extra player there, and this is the spot they have to take from.
FULLBACK (1)
Henry Hynoski
has this spot locked up if he's healthy, but the shoulder injury that knocked him out of Thursday night's preseason finale could give it to Conner, who's stuck around all camp as a strong fallback option.
WIDE RECEIVERS (6)
Parker makes the team as the sixth wideout because (a)
Marcus Harris
is on IR, (b)
Mario Manningham
didn't show enough to make it and (c) he can return punts, and right now Beckham and
Trindon Holliday
can't because they have hamstring injuries. Holliday's lack of training camp practice time likely knocked him right off the team.
TIGHT ENDS (4)
I believe they will keep and use all four of these guys, though they'll have to rotate them in and out depending on situations. None has emerged as the do-it-all tight end they were hoping they'd find in camp.
OFFENSIVE LINEMEN (10)
Geoff Schwartz
's injury has created a real mess here, as he projects to miss a significant amount of time due to a dislocated toe and could start the season on short-term injured reserve. The most likely scenario is that Richburg ascends the starting left guard role, but Mosley remains a question mark at right guard, which is why Reynolds (who can play center or guard) enters the picture here. Jerry is either the starting right guard if Mosley can't go or else at least a more valuable reserve. Brewer, who once appeared gone for sure, becomes more valuable as an all-around backup if he can return to practice this week following a back injury. And the missed opportunity for
Eric Herman
, who is suspended for the first four games for a drug violation, looms even larger. I don't think they keep 10 offensive linemen long-term, but they may have to at the beginning of the season.
DEFENSIVE LINE (9)
Kuhn's leg injury, should it linger, could open up a spot for a defensive end such as
Kerry Wynn
to make the team. Bromley has looked surprisingly good in games so far and could slide in for Kuhn in the defensive tackle rotation for the short term.
LINEBACKERS (6)
It sounds as though Beason will be ready to start the season, which makes you wonder whether they might keep only five. If they do, the final cut is either Paysinger or Herzlich, who missed Thursday's preseason finale with a shoulder injury.
CORNERBACKS (5)
It helps the numbers that
Jayron Hosley
will be suspended for the first four games of the regular season for a drug violation. If he does make the team, the Giants will have to clear a spot for him in Week 5. This group could also swell if the Giants decide they need to keep sixth-round pick
Bennett Jackson
for special teams. It's going to be tough to make the Giants' roster as a corner this summer, though Amukamara's groin injury could result in a short-term spot opening.
SAFETIES (4)
Cooper Taylor
's toe injury landed him on injured reserve. That's unfortunate for Taylor, but it helps Berhe and likely helps someone at another position, such as Adrien Robinson at tight end. The Giants like to have a balanced roster -- 25 offensive players, 25 defensive and three specialists -- but that's not a requirement.
SPECIALISTS (3)
Sure things, all.
August, 29, 2014
Aug 29
12:30
AM ET
By
Mike Mazzeo
| ESPNNewYork.com
EAST RUTHERFORD, N.J. -- Super Bowl XLVI hero
Mario Manningham
's second stint with the
New York Giants
may turn out to be a short one.
Manningham
Final roster cuts must be made by Saturday at 6 p.m. ET, and Manningham didn't do anything to distinguish himself in Thursday night's preseason finale against the
New England Patriots
.
The 28-year-old wide receiver was on the field for just four plays before leaving with a left calf injury.
Asked if he had done enough to make the final 53-man roster, Manningham responded, "I don't know. We'll see."
Manningham said he heard something pop during warmups, but didn't think it was anything serious. Manningham added that it had nothing to do with his surgically-repaired left knee. "I'll be all right," he said. "But it was really frustrating being that this was the last preseason game."
With younger wideouts
Corey Washington
and
Preston Parker
, whom can both contribute on special teams, impressing during the preseason, Manningham needed to do something special on Thursday. But it didn't happen.
The Giants had signed Manningham to a one-year contract back in March hoping that he could revert back to being the type of impact player he was during his first stint with the team.
Manningham gained a spot in Giants' lore forever with his 38-yard sideline catch late in the fourth quarter of Super XLVI that helped set up the championship-winning touchdown.
Manningham left for San Francisco in the offseason, but tore the ACL and PCL in his left knee on Dec. 23, 2012. He hasn't been the same player since.
Head coach Tom Coughlin said fullback Henry Hynoski suffered some sort of rotator cuff injury but didn't have any further details because he hadn't seen the doctor's report yet. Offensive lineman Eric Herman, who is suspended the first four games of the regular season, got rolled up on and was seen coming out of the X-ray room after the game.
August, 28, 2014
Aug 28
11:55
PM ET
EAST RUTHERFORD, N.J. -- Tom Coughlin had said his starting offense would play 15 to 18 plays in Thursday night's preseason finale, but they'd only played eight after two possessions and Coughlin decided that was enough.
"If they wanted to play more," the head coach of the
New York Giants
said, "they should have made some first downs."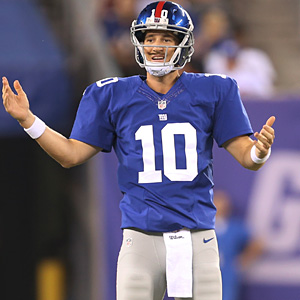 John Minchillo/Associated PressEli Manning and the Giants' first-team offense looked confused again Thursday night.
A fitting epitaph for a five-game preseason in which the Giants won all five games but felt good about none. Starting quarterback
Eli Manning
played in all five of the games and ended up 20-for-41 for 188 yards and a touchdown. The first-team offense showed some decent signs of being able to run the ball effectively, but the passing game showed nothing but confusion.
After an offseason that brought a new offensive coordinator, a new system and at least six new starters on the offensive side of the ball, the preseason ended with a creepy feeling that very little has been solved. Coughlin locked in Thursday night on a first-quarter Manning incomplete pass intended for
Rueben Randle
.
"Again, the missed connection between Rueben Randle and Eli," Coughlin said. "'I thought this, he thought that...' Everybody in this room is tired of hearing that stuff. There's no place for that."
That was supposed to be last-year stuff. And the source of Coughlin's frustration is that these five preseason games -- as well as the practices that surrounded them -- did little to convince anyone that the last-year stuff had been left in 2013. The pass protection is still a question mark, Manning's not on the same page as his receivers, and now there are no more exhibition games left and only 10 days until the first game that counts.
"There are things we've got to improve on," Manning shrugged. "But that's why we have another week of practice."
The Giants don't sound worried, and maybe that's because worry isn't going to do them any good at this point. The season's going to start whether they're ready or not, and it's going to start without anyone convinced the offense is going to click right away. Just because they haven't proven anything on the field that would give them confidence doesn't mean they can afford to go into the season without it.
"You have to have confidence," Coughlin said. "We've had preseasons before where we haven't had a lot of numbers with our first offense. Hopefully, we can carry over."
There's a lot of hope around these parts. A lot of relatively blind faith in the ability of these players to perform better in the real games than they did in the fake ones. The one encouraging thing is that the Giants' belief in themselves seems sincere. They do not appear discouraged.
"It was the right route. It just wasn't timed right," Randle said of the play that angered his coach. "I guess he was expecting me to run it quicker since it was press. I'm pretty sure, with something simple like that, we can get it fixed. Not that big of a deal."
The regular season will offer the Giants a chance to prove that their brave preseason talk has been accurate. And it'll do that soon. Rookie offensive lineman
Weston Richburg
, pressed into duty this week as the starting left guard in place of the injured
Geoff Schwartz
, might have summed it all up when asked if he was ready to handle that job.
"I don't have a choice," Richburg said.
Ready or not, here the season comes. The Giants believe they're ready, even if they haven't proven it.
August, 28, 2014
Aug 28
10:30
PM ET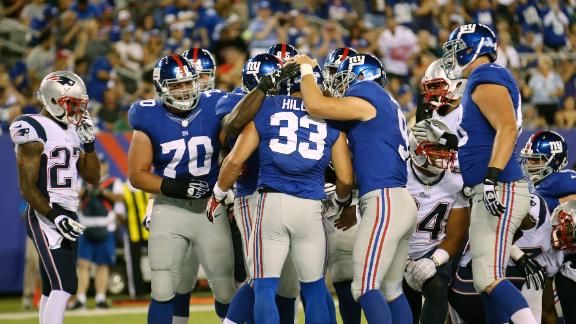 EAST RUTHERFORD, N.J. -- Five preseason games weren't enough for
Eli Manning
and the
New York Giants
' passing game to show anything, and they will go into the regular season still wondering about the state of their offense.
Manning was 1-for-4 in two series in Thursday's
16-13
victory over the Patriots. The Giants finished the preseason 5-0, but Manning finished the preseason 20-for-41 for 188 yards and one touchdown across the five games. The Giants have looked all right at times running the ball this summer, but overall the passing game has looked well out of sync and the new Ben McAdoo offense continues to look like a work in progress.
Here are some other thoughts on the Giants' final preseason game of the year:
August, 28, 2014
Aug 28
12:00
PM ET
The
New York Giants
(4-0) and the
New England Patriots
(2-1) conclude their 2014 preseason schedules Thursday at 7:30 p.m. at MetLife Stadium.
1. How will Eli Manning look in his final tune-up?
Starting quarterbacks in the NFL typically play in three preseason games. This will be Manning's fifth of this preseason, and the main reason is that he and the first-team offense haven't looked sharp in any of the first four. The Giants' first-team offense has run the ball well in spurts, but the passing game has looked a mess except for the final drive of the first half of Friday's game against the Jets. Manning, his receivers and his pass protection will want to show in the first couple of drives against the Patriots that they're in sync to an extent they have not been throughout this training camp and preseason.
2. Can the offensive line keep Manning clean?
The pass protection has been a major issue in every game thus far. Left tackle
Will Beatty
has looked very shaky in his first two games and will try to show he's knocked the rust off after an offseason spent rehabbing a broken leg. Rookie
Weston Richburg
replaces the injured
Geoff Schwartz
at left guard while
John Jerry
replaces the injured
Brandon Mosley
at right guard. The offensive line continues to be a trouble spot loaded with question marks, and the extent to which this new group of five can play together and keep the Patriots' pass rush away from Manning will determine a lot about how the Giants' offense looks.
3. Final decisions at wide receiver.
The Giants are looking for playmakers at the wide receiver position. Fourth-quarter preseason star
Corey Washington
could get a chance to show what he can do earlier in the game. Veteran
Mario Manningham
has this one final chance to prove he's healthy and explosive enough on the outside to merit a roster spot.
Jerrel Jernigan
has been coasting through camp as a guy who assumes he has a roster spot locked up, but the Giants would very much like to see him perform the way he did last December, even for one drive. Lots still to sort out at these positions with a week and a half to go.
August, 27, 2014
Aug 27
2:30
PM ET
The
New York Giants
play all three of their division road games in a four-week stretch on the
schedule
from Sept. 25 to Oct. 19. They're at Washington, home vs. Atlanta, at Philadelphia and at Dallas, which leads right into their Week 8 bye. Because what ensues is a Colts/Seahawks/49ers meat grinder, it's crucial for the Giants to play well on the road against their division opponents before the bye if they want to avoid getting buried in the standings for the second season in a row.
Complete Giants season preview
.
August, 27, 2014
Aug 27
9:00
AM ET
Our man Mike Sando polled 30 NFL "insiders" -- coaches, GMs, personnel directors, etc. -- and
ranked the 32 NFL head coaches

. New York Giants coach Tom Coughlin came in at No. 5 on the list:
"He is every bit as solid as Belichick," said a former GM who placed Coughlin in the top tier. "He has done it over time and been very consistent. You can say he is old-school, but I think he appeals to young guys. He is very sound. Nothing falls through the cracks. These guys at the top, if I were with them, I would spend not a single minute worried about whether we were coached right or had everything covered."

Coughlin
You can go look at the list if you like and quibble about whether Coughlin should be ranked higher or lower. But the ranking and assessment are both high compliments and Coughlin deserves to be considered one of the very best in the league. Coughlin's presence as the Giants' coach is, in fact, the main thing holding me back from making a truly dire prediction about the Giants' 2014 season.
As bad as things may look from a personnel standpoint on offense -- and they do look bad -- I think 2013 proved that the Giants' floor is pretty high as long as Coughlin is the coach. They started 0-6 last year and still managed to finish 7-9, mainly because Coughlin managed to keep them focused and intense at a time of the year when other teams who were out of it had given up. They won games in November against teams that had to play backup quarterbacks against them, and they won games in December against teams that had quit.
Now sure, when they ran up against contenders like Seattle and San Diego last December, Coughlin's Giants were completely overmatched and got crushed. They simply weren't good enough to compete with those teams. But in weeks when their roster was good enough to compete with its opponent, they more or less won the game. And I think that's a testament to coaching.
So as you head into 2014 as a Giants fan, worried about any number of justifiably worrisome things, one of the aspects of the team that should give you hope that it can't possibly be a total disaster is the head coach, who remains one of the best in the business.
August, 26, 2014
Aug 26
4:30
PM ET
EAST RUTHERFORD, N.J. --
Mario Manningham
was not one of the 15 players on
the cut-down list
Tuesday when the
New York Giants
reduced their roster from 90 to 75 players, but that doesn't mean he's making the team. The Giants still have a lot of sorting out to do at the wide receiver position before final cuts are made Saturday, and Manningham and his balky knee still have to show they belong.
Manningham
"He's had some spurts the last couple of weeks where he's done some things on the practice field, but it hasn't carried over into games," Giants coach Tom Coughlin said after Tuesday's practice. "He'll get another chance."
The Giants used Manningham a fair bit with their first-team offense in Friday night's preseason game against the Jets, and they're likely to give him a good look in Thursday's preseason finale against the Patriots. First-round pick
Odell Beckham Jr
. missed all of training camp with a hamstring injury and is unlikely to be ready for the Sept. 8 season opener, camp star
Marcus Harris
was placed on injured reserve Tuesday and there remain some open spots on the roster at wide receiver.
"Any of the guys who are left know it goes from 75 to 53," Coughlin said. "You're ending up in a numbers game, and it is competitive."
Victor Cruz
,
Rueben Randle
and Beckham are sure things to make the roster at wide receiver.
Jerrel Jernigan
, who's been running with the first team in Beckham's place all summer, looks like a strong bet as well, especially since he's Cruz's primary backup at the slot receiver position. Undrafted rookie
Corey Washington
has caught a touchdown pass in each of the Giants' first four preseason games and has obviously helped his cause.
Preston Parker
, who caught 40 passes for the Tampa Bay Buccaneers in 2011 but was out of football last season, appears to be the primary punt returner right now with Beckham and
Trindon Holliday
hurt, and that could help him earn a spot as a wide receiver as well.
Julian Talley
also survived Tuesday's cuts and therefore remains a candidate to be kept.
The Giants are likely to keep four tight ends when they cut the roster to 53 on Saturday, which might make it tough to keep six wide receivers, but if they need Parker for punt returns (or as a reserve wideout) while Beckham gets healthy, they may not have a choice.
Regardless, the numbers game doesn't seem to favor Manningham unless he blows the Giants away with a strong showing Thursday night. Maybe the fact the opponent is the Patriots, the team against which Manningham's career highlight came, will inspire him before it's too late.
August, 26, 2014
Aug 26
3:20
PM ET
EAST RUTHERFORD, N.J. --
New York Giants
coach Tom Coughlin said rookie
Weston Richburg
and veteran
John Jerry
would start at left guard and right guard, respectively, in Thursday's preseason finale against the Patriots. Richburg is replacing
Geoff Schwartz
, who will miss at least a few weeks, if not more, with a toe injury he suffered in Friday's preseason game. Jerry is replacing
Brandon Mosley
, who has missed the last three days of practice with a back injury.
"He's up and moving, so obviously that's a good sign," Coughlin said of Mosley, who's been the first-team right guard since
Chris Snee
retired on the eve of training camp.
Jerry
Mosley's injury has offered a fresh chance for Jerry, who missed the start of camp following spring knee surgery and hasn't shown much. If he looks good Thursday night, there's certainly a chance he could steal the job from Mosley. It's also possible that Richburg will lock down left guard in Schwartz's absence and that Schwartz could play right guard upon his return.
The Giants got
good news
Tuesday when they learned Schwartz would not need surgery, but it remains unclear how much time they can expect him to miss.
"He's very optimistic, and hopefully that's going to mean the recovery will be as fast as possible," Coughlin said of Schwartz. "Obviously, we can't rush him back. It certainly would be good to get him back as soon as possible, but it's not going to be easy."
In other Giants injury news:
First-round pick Odell Beckham Jr. and kick returner Trindon Holliday missed practice again with hamstring injuries. Tackle Charles Brown and tackle/guard James Brewer sat out with shoulder and back injuries, respectively.
Cornerback Prince Amukamara is making good progress in his return from a groin injury, but he won't play Thursday night.
Running back Peyton Hillis appeared to be practicing in full. Hillis missed a few weeks of camp with an ankle injury but has returned to practice this week. He made a nice juggling catch on a wheel route with Jacquian Williams covering him in practice Tuesday.