November, 21, 2014
Nov 21
7:31
PM ET
GREENBURGH, N.Y. – If all goes as expected, the Knicks will have
Jose Calderon
back in the lineup on Saturday against the
Philadelphia 76ers
.
Calderon went through a full practice on Friday and the Knicks hope their point guard wakes up without any setbacks on Saturday morning.
"We tried to run a little bit harder yesterday, do some full-court stuff and sprints and conditioning at the same time," said Calderon, who has been sidelined by a calf injury since the beginning of the season. "It felt good today, I was able to jump with the team and play with them for a little bit."
Andrea Bargnani's return seems a bit more uncertain. Bargnani, who has been out with a hamstring injury since the preseason, went through a limited practice. Knicks coach Derek Fisher said Bargnani hasn't done a lot of contact yet in practice.
"There was some today but not at a place where you can just put him out there and not be fully concerned whether or not he can handle everything going on," Fisher said. "But he is trying his best to get back and we will just continue to monitor him day to day."
The Knicks (3-10) can use the reinforcements. They've lost nine of their past 10 games and certainly want to avoid defeat at the hands of the Sixers, who were 0-11 going into Friday night's game against Phoenix at home.
Fisher isn't concerned with the Knicks potentially overlooking the lowly Sixers.
"Not from what I saw," Fisher said. "Guys showed up today ready to go to work. I don't think we can look at ourselves as better than anyone. We are fighting and scrapping hard to become better ourselves.
"We are in no position to judge and until we show up and we start winning, we can't lift our nose at anybody."
Calderon's return could lift the Knicks' spirits and chances. He's the team's starting point guard and he showed an ability to run the triangle smoothly at times during the preseason.
"I talk to my teammates, I listen to coaches, I see what they're (saying) in timeouts, just trying to get ready, try to be active," Calderon said. "It's gonna take a while, I'm going to make mistakes, but it's different when you (finally) have a uniform on."
"I have to be myself," Calderon added. "I've played 10 years now, I gotta try to get everybody organized, I gotta pass the ball, shoot when I'm open, try to make everybody feel a little bit comfortable out there. So that's what I can do, and try to be 100 percent every night to try to turn this around."
Fisher would not say whether Calderon will start if he is available on Saturday.
"We don't want to put too much pressure on Jose individually," Fisher said in general when speaking about Calderon's health. "He looked good today, he's moving well.
"Any time you can add a good veteran presence, a guy that understands the game and even as he's learning exactly what to do just like everybody else is, he still has a feel for how to play that, I think, helps to be a good symbol of composure, poise and leadership out there on the floor."
November, 20, 2014
Nov 20
2:22
PM ET
By
Ian Begley
| ESPNNewYork.com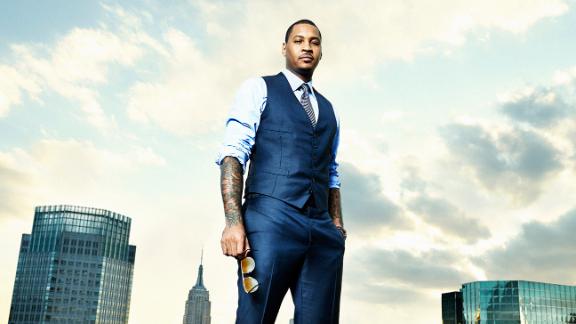 New York Knicks
star
Carmelo Anthony
doesn't want his legacy to be defined solely by wins and losses -- he wants to be known as more than a basketball player when his career ends.
"What I really want is a bulletproof legacy," Anthony told ESPN The Magazine. "How can I be known for being a visionary, for being truly great?"
The Magazine has a fascinating look at Anthony's business pursuits, his long-term goals and the legacy he'd like to leave.
He told the Magazine he doesn't like being defined by the success or failure of his team.
"People say every year is the one that will determine if I'm great or terrible, if I've met expectations or been a disappointment," Anthony says in the story. "To be honest with you, I'm tired of it."
To read the full story and see the video of Anthony's interview, click here and here.
Question: How would you define Carmelo's legacy at this point?
You can follow Ian Begley on Twitter.
November, 19, 2014
Nov 19
10:42
PM ET
By
Ian Begley
| ESPNNewYork.com
If you didn't know any better, you'd think the
New York Knicks
were tanking this season.
The Knicks lost in embarrassing fashion to one of the worst teams in the league on Wednesday night, falling 115-99 to the
Minnesota Timberwolves
.
The Knicks fell to 3-10 with the loss and have dropped nine of 10. The Timberwolves snapped a five-game losing streak with the blowout win.
Embarrassing defense:
During their five-game losing streak, the Timberwolves lost games by an average of 18 points. They'd given up and average of 135 points over the previous two games.
But the Knicks made them look like a decent defensive team.
New York allowed Minnesota to hit 49 percent from the floor and 50 percent from beyond the arc.
Kevin Martin
scored 37 points on 14-of-20 shooting.
The Timberwolves entered the game averaging five made 3s per. Against the Knicks, who have been torched from beyond the arc this season, the Timberwolves hit 11 of 22 3s. Martin, who supposedly had flu-like symptoms earlier in the game, knocked down seven of his 11 attempts.
Nothing from SG:
The Timberwolves were shorthanded on Wednesday as three starters (
Ricky Rubio
,
Nikola Pekovic
and
Thaddeus Young
) were out with injury. But New York couldn't take advantage, in part because of a lack of production from shooting guard.
Iman Shumpert
missed 10 of 11 shots. Shumpert,
J.R. Smith
and
Tim Hardaway Jr.
combined for 12 points on 4-for-19 shooting.
Bright spots:
Carmelo Anthony
had 20 points on 7-for-10 shooting and Amar'e Stoudemire added 19 points, hitting seven of nine shots. Both stars sat out the entire fourth quarter after New York fell behind by 26.
Question: What's the one thing the Knicks need to do to turn this season around?
You can follow Ian Begley on Twitter.
November, 19, 2014
Nov 19
10:35
PM ET
Associated Press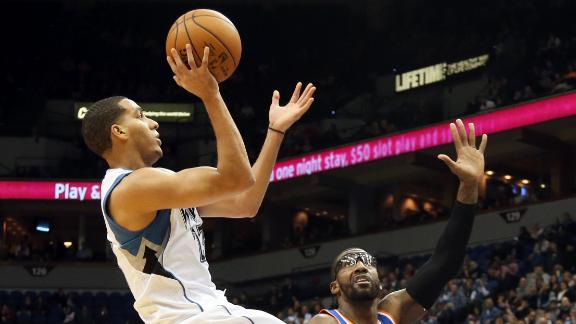 MINNEAPOLIS -- Kevin Martin shook off an illness to score 37 points, and the Minnesota Timberwolves, missing three starters, beat the New York Knicks 115-99 on Wednesday night.
Martin tied a career high with seven 3-pointers and Shabazz Muhammad had 17 points and eight rebounds for the Wolves, who were missing Ricky Rubio, Thaddeus Young and Nikola Pekovic. Rubio and Pekovic were out because of injuries and Young was away because of the death of his mother.
Carmelo Anthony had 20 points and Amare Stoudemire added 19 for the Knicks. But New York had nothing else on the second night of a back-to-back following a loss in Milwaukee.
Anthony and Stoudemire combined to shoot 14 of 19 and the rest of the Knicks were just 20 for 50.
November, 19, 2014
Nov 19
10:48
AM ET
By
Ian Begley
| ESPNNewYork.com
Here's how J.R. Smith summed up the New York Knicks' effort in the first half against the Milwaukee Bucks on Tuesday night: "Really embarrassing."
The Knicks lost to the Bucks 117-113, allowing them to score 66 points in the first half. The Bucks hit six of their first nine 3-pointers and went on a 30-9 run in the second quarter.
Smith said Knicks coach Derek Fisher had to remind his players to play with some intensity in the locker room at halftime, according to reports.
That didn't sit well with Smith.
"Coach challenged us at halftime to go out there and play hard and see what happens. For some reason, it's something we have to be reminded of, to play hard, which is really embarrassing at some point because you're a professional athlete," Smith said. "People pay a lot of money to come watch us play. Competing shouldn't be an issue. So they came out and ... that second quarter, they just kicked it into another gear. For some reason, we just wait until we're down and just start playing, and we can't do that."
Milwaukee entered play Tuesday with the lowest shooting percentage on 3-pointers in the NBA. But the Bucks hit 53 percent of their 3s against New York (9-for-17), which is an
ongoing issue
for Fisher's club.
Smith said the Knicks didn't react well to the Bucks' hot shooting.
"They were getting a lot of wide-open shots. We just have to be mentally tougher than what we were -- putting our heads down and quote-unquote bad body language and stuff like that," Smith said. "Whenever they score, we just have to understand that they're professional just like we are. People are going to score points, it's just a matter of how we react to it. We couldn't get stops in the crunch and we just have to do a better job of that."
The Knicks fell to 3-9 with the loss and have dropped eight of their last nine games. They play at the Minnesota Timberwolves on Wednesday.
Question: Do you agree with J.R. Smith? Was the Knicks' lack of effort on defense embarrassing Tuesday night? How can they solve their issues on defense?
Note:
You can listen to Knicks vs. Timberwolves starting at 7:30 p.m. on 1050 AM.
You can follow Ian Begley on Twitter.
November, 19, 2014
Nov 19
1:02
AM ET
Associated Press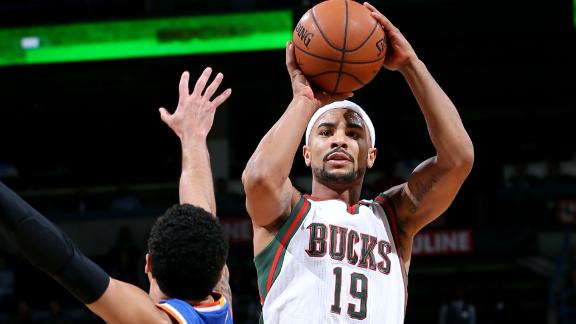 MILWAUKEE -- Knicks forward Carmelo Anthony is playing with a sore left knee, and he aggravated the injury during New York's 117-113 loss Tuesday night to the Milwaukee Bucks.
Anthony returned to the locker room for a couple of minutes in the second quarter to get his left knee retaped. Anthony said he aggravated the knee issue after hitting the floor while scrambling for a loose ball.
Anthony said his knee has been sore since New York's 95-90 win Oct. 30 at Cleveland. He said after Tuesday's game that he has had tests and that he knew "what's going on with it."
Anthony scored 26 points against the Bucks. Coach Derek Fisher said he didn't know whether it was "anything major" and that he thought Anthony would be OK.
"We played a lot of games in a short time, and you know Melo's obviously carrying a big load," Fisher said. "I'm sure he'll be OK. We'll keep an eye on him and make sure he's good, though."
Anthony played 37 minutes Tuesday night, shooting 10-of-17 from the field.
"The tape job that I had kind of got wet a little bit. I started feeling it a little bit after that. We cut the tape off on the bench, and I just started feeling a little bit more pain," Anthony said. "It felt better once I got it retaped."
The Knicks gave Anthony a five-year, $124 million contract in the offseason to stay in New York.
"It's been sore since maybe the Cleveland game," Anthony said. "I've had some tests. I really don't know exactly what's going on with it -- I mean, I know what's going on with it. But like I said, for me it's just a matter of just not kind of thinking about and playing through it."
The Knicks got starting guard Iman Shumpert
November, 19, 2014
Nov 19
12:07
AM ET
By
Ian Begley
| ESPNNewYork.com
Much of the early-season conversation surrounding the
New York Knicks
has been about the triangle offense.
But offense wasn't the issue on Tuesday night.
The Knicks' defense -- or lack thereof -- led to their loss against the
Milwaukee Bucks
.
[+] Enlarge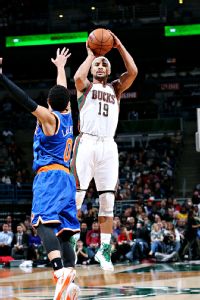 Gary Dineen/NBAE/Getty ImagesThe Bucks shot 9-of-17 from 3-point range against the Knicks on Tuesday.
And it continued an alarming trend for this team.
The Knicks entered play Tuesday ranked with the worst perimeter defense in the NBA, allowing opponents to hit 42 percent of their 3-pointers.
They didn't do anything to improve that number on Tuesday night.
The Bucks, who entered the game with the lowest 3-point field goal percentage in the NBA, hit six of their first nine 3s. Many came off of strong dribble penetration. Milwaukee knocked down 53 percent of its threes over the course of the game.
This is the kind of performance Knicks fans might have to get used to.
Derek Fisher said earlier this week that he'd like the Knicks to prioritize paint defense and transition defense over defending the 3-point shot.
"We talk to our guys a lot about the fact that I think the 3-point shot is being analyzed so much as one of the most efficient ways to win," Fisher said on Sunday. "... And so we've kind of, I think, gone in to this emergency state of being afraid of teams shooting 28-foot shots as though that was going to beat you."
Fisher believes that opponents "won't beat" the Knicks from beyond the arc.
"What they'll do is that they'll beat you getting to the rim, getting points in transition," he said. "If we don't have our defense in and compact they're going to get to the foul line."
You can make an argument that the defensive philosophy isn't all that important for the Knicks this season. They might just not have the personnel to play strong defense.
With
Tyson Chandler
on the roster, New York finished 24th in defensive efficiency last season.
Chandler is now in Dallas and, outside of
Iman Shumpert
and
Samuel Dalembert
, the Knicks don't have many players with a strong defensive pedigree.
So it's not all that surprising that the Knicks rank 25th in points allowed per possession.
But it's fair to wonder if Fisher's approach to defending the 3-point arc will hurt the Knicks in the long run.
Last season, some of the most successful teams in the league defended the perimeter well.
Seven of the teams that ranked in the top 10 in opponent 3-point field goal percentage finished in the top six in their conference.
Conversely, only two of the teams that finished in the bottom 10 in opponent 3-point field goal percentage made the playoffs. The Knicks were among the eight teams in that group to miss the playoffs. Will they meet the same fate this season thanks to their leaky perimeter defense?
Question:
What do you think is the Knicks' biggest issue on defense this season? Do you agree with Fisher's strategy on defending the perimeter?
You can follow Ian Begley on Twitter.
November, 18, 2014
Nov 18
10:53
PM ET
Associated Press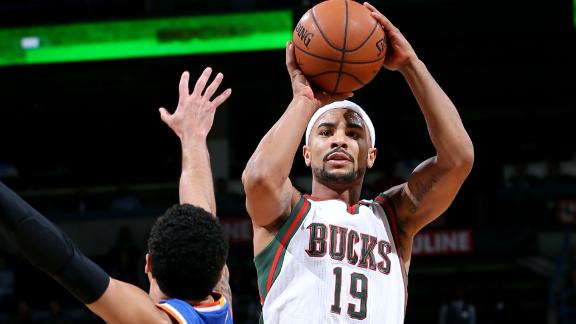 MILWAUKEE -- Ersan Ilyasova had 20 points, and the rebuilding Milwaukee Bucks climbed above .500 for the first time in more than a year by fending off the New York Knicks for a 117-113 victory Tuesday night.
Zaza Pachulia added season highs of 14 points and 13 rebounds for the Bucks, who improved to 6-5 on the year. It was the first time the team had a winning record since March 20, 2013, when it was 34-33.
New York cut a 26-point deficit to 115-113 with 7.9 seconds left, but Milwaukee managed to hold on.
Carmelo Anthony had 26 points for the Knicks, and Tim Hardaway Jr. scored 24.
The balanced Bucks had seven players score in double figures.
November, 18, 2014
Nov 18
4:03
PM ET
By
Ian Begley
| ESPNNewYork.com
New York Knicks
rookie
Cleanthony Early
will undergo arthroscopic surgery this week to remove a loose body in his right knee, the team announced Tuesday.
The loose body was revealed by an MRI, the team said. Early will be re-evaluated in one month to determine a timetable for his return to the court.
Early, who was selected by the Knicks with the 34th pick in the 2014 NBA Draft, averaged 2.7 points and one rebound in 7.7 minutes in the first 11 games.
Early played a mostly limited role for New York early in his rookie season.
November, 17, 2014
Nov 17
7:05
PM ET
By
Ian Begley
| ESPNNewYork.com
GREENBURGH, N.Y. --
New York Knicks
forward
Andrea Bargnani
participated fully in practice on Monday and may make his season debut on Saturday against the
Philadelphia 76ers
.
Bargnani, who has been sidelined since the Knicks' second preseason game with a hamstring injury, is schedule to scrimmage later this week. If all goes well, the power forward may suit up on Saturday.
[+] Enlarge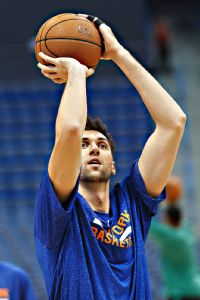 David Butler II/USA TODAY SportsAndrea Bargnani (hamstring) could return as early as Saturday.
"Whenever he's back, his versatility is huge for us on both ends of the floor," Knicks coach Derek Fisher said after Monday's practice. "I think he can guard multiple positions and offensively he can play multiple positions. He's another guy on the floor that defenses have to think about how they want to cover him. He makes the game easier for Carmelo [Anthony], J.R. [Smith], Iman [Shumpert]. So we're excited to get him back soon hopefully, and start to kind of rebuild our team again once we get some guys back out there."
It will be interesting to see how Bargnani's return impacts the Knicks' lineup.
Jason Smith
,
Quincy Acy
and
Amar'e Stoudemire
have taken turns starting at power forward in the first 11 games.
It looks like Bargnani will take the floor before
Jose Calderon
. The point guard has missed all 11 games due to a calf injury. He practiced at half speed on Monday.
Iman Shumpert
, who has missed most of the past two games with a hip contusion, will test his injury during shootaround before Tuesday's game against the
Milwaukee Bucks
. He hopes to play.
Melo on finger-pointing:
Last season, the Knicks suffered through losing streaks of nine and seven games en route to a 47-loss season. All of the losing led to finger-pointing and infighting in the locker room, according to Shumpert. Echoing comments Shumpert made earlier this week, Carmelo said on Monday that this season's team has handled losing differently thus far.
"It's a different environment, atmosphere," he said. "Last year, we lost some games, had a couple of losing streaks, and the air got sucked out of the room. Everybody wasn't happy to come in here last year and practice on a day like this.
"This year, we lost seven in a row and everybody still had the same mentality and the same attitude -- to come in here and get better and be positive about the situation and remain confident. And that's what I'm seeing now with these guys."
Anthony didn't want to talk about any "finger-pointing" in the Knicks' locker room, saying that he tried to stay away from any "negativity" last season.
"I know when you're losing games and you're having the season like we had last year, the negativity can easily seep up in the locker room, seep up with the players," he said. "You have side conversations with different players, guys will start grouping up and pointing fingers and stuff like that, but I didn't see it because I kind of shied away from all of that. I had to be the one to stay positive and try to stay focused in that situation."
Melo appreciates Fisher's vibe:
Fisher's positive spin on the Knicks' loss to the
Utah Jazz
last Friday was met with derision in some corners. But Anthony appreciated Fisher choosing to stay positive during the Knicks' seven-game skid.
"It trickles down to us as players to know that we can rely on somebody through thick and thin whether times are tough or not they're going to remain the same, they're going to remain positive throughout the situation and believe in us as players," Anthony said.
Amar'e eyes movie role:
Amar'e Stoudemire is in his last season of the five-year contract he signed with the Knicks in 2010. He wants to play beyond this contract. Once he decides to retire, Stoudemire may pursue opportunities in the movie industry.
Stoudemire has a producer credit and a cameo role in the feature film "Beyond the Lights."
"I really enjoyed the process," he said recently. "This is something I'm serious about."
You can follow Ian Begley on Twitter.