December, 28, 2014
Dec 28
1:04
AM ET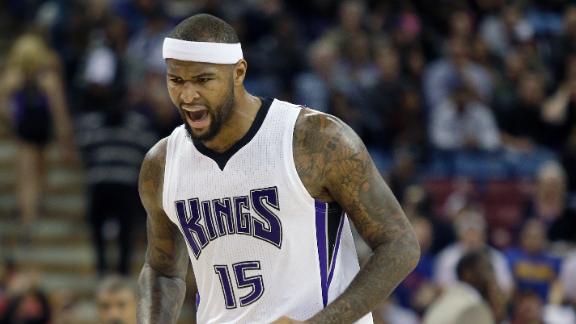 The
New York Knicks
put up a decent fight on Saturday night. But in the end, the result was the same: another disappointing loss in this disaster of a season.
New York trailed by 15 in the first quarter but battled back to force overtime only to fall short against
DeMarcus Cousins
and the Kings, 135-129.
Cousins crushed the Knicks for much of the game, finishing with 39 points, 11 rebounds and four assists.
Carmelo Anthony
had 36 points and 11 rebounds for the Knicks, who have lost seven straight and 17 of their last 18.
At 5-27, the Knicks are off to the worst 32-game start in franchise history.
Disaster on "D":
The Knicks only had nine active players on Saturday due to injury. But they couldn't blame injuries for their downfall on Saturday. Defense was the bigger issue.
Sacramento hit 55 percent of its shots, including an eye-popping 69 percent in the first quarter. Sacramento put up 38 in the first quarter. New York has allowed more than 30 points in its last three first quarters.
In addition to Cousins,
Rudy Gay
(29 points) and
Darren Collison
(27) also torched the Knicks.
Cole World:
One bright spot for the Knicks?
Cole Aldrich
had a fantastic game. He had 18 points and seven rebounds in 24 minutes. Aldrich made 8 of 9 shots and seems to be taking minutes away from
Samuel Dalembert
, who started the season as the starting center.
It will be interesting to see if
Derek Fisher
gives Aldrich more minutes in games to come.
December, 28, 2014
Dec 28
12:54
AM ET
Associated Press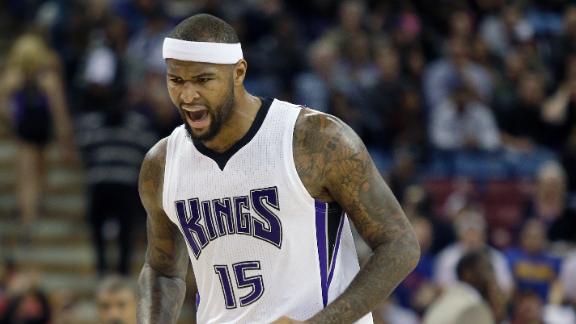 SACRAMENTO, Calif. -- DeMarcus Cousins scored nine of his season-high 39 points in overtime in his return from a stomach ailment, and the Sacramento Kings handed the New York Knicks their seventh straight loss, 135-129 on Saturday night.
Rudy Gay scored 29 points and Darren Collison added 27 points, 10 assists and a tiebreaking 3-pointer late in overtime for the slumping Kings. Sacramento had lost seven of its previous eight games, including four of five under interim coach Tyrone Corbin. But a matchup with the NBA's second-worst team helped reverse that slide.
Carmelo Anthony scored 36 points for the short-handed Knicks, who dressed only nine players in losing for the 17th time in 18 games.
December, 27, 2014
Dec 27
4:34
PM ET
NEW YORK -- Amar'e Stoudemire will miss Saturday's game against the
Sacramento Kings
due to knee soreness, the
New York Knicks
announced.
There's reason to be concerned whenever Stoudemire feels soreness in his knees because the 10-year veteran has a long history of knee issues.
Derek Fisher said on Thursday that Stoudemire had felt soreness in his knees in recent days. Stoudemire has missed two of the Knicks' last three games to rest his knees. Saturday will mark the third game in four that Stoudemire has missed.
"The last few days he's a had a little bit of soreness. Nothing crazy but enough for us to want to make sure that we're being smart," Fisher said Thursday before Stoudemire played 22 minutes against Washington.
Stoudemire played through soreness against the Wizards, scoring just six points on 2-for-6 shooting.
He has averaged 26.4 minutes per game this season -- his highest per-game average since 2011-12.
"When his minutes jumped up the past few weeks, recovery was tougher for him," Fisher said.
The Knicks have no minutes limit for Stoudemire this season. But instead have planned rest days for him throughout the year. He was supposed to have a rest day last Thursday against Chicago. But with Carmelo Anthony out for that game, Stoudemire decided to play. He then sat for the next two games.
So the idea that Stoudemire is feeling soreness in his knees at this point is distressing for the Knicks. Stoudemire is no stranger to knee issues.
In a 12-month period ending last offseason, Stoudemire had three procedures on his knees.
Stoudemire's latest flareup comes at a tough time for the club.
The Knicks are already without
Quincy Acy
against Sacramento due to suspension, so they will have to rely more on
Samuel Dalembert
,
Cole Aldrich
and
Jason Smith
on the front line against the Kings.
The team may get
J.R. Smith
back for the Sacramento game. He is listed as questionable due to a plantar fascia injury. Smith has missed eight straight games due to the injury.
December, 26, 2014
Dec 26
3:02
PM ET
NEW YORK -- As
Quincy Acy
and
John Wall
got into a heated exchange on Christmas Day, a handful of Wizards jumped in to break things up and pull the players apart.
Acy's Knicks teammates weren't as quick to get involved.
This was
pointed out
on social media in the aftermath of the incident.
Some concluded that this was a sign of the Knicks having poor team chemistry. Others said the Knicks were right to avoid escalating the situation.
After the game,
Carmelo Anthony
was asked why some of the Knicks didn't get involved in the Wall/Acy skirmish quickly, as the Wizards did.
"You can't do that now," said Anthony, who tried to calm Acy down in the aftermath of the incident. "Guys on the bench can't do that, they can't move. I saw our coaches holding them back. I saw the guys on the court, anytime you're running to a large group of people, something can happen. I wasn't going to allow myself to run up to a group of people in the circle and now something happens to me, now I've got to worry about what I might do or what I'm capable of doing. I'd rather just get Quincy out of there and walk away from it while they're trying to figure out what's going on."
Anthony is no stranger to altercations at Madison Square Garden. As a member of the
Denver Nuggets
in 2006, he was involved in a
brawl with the Knicks
that resulted in Anthony being suspended for 15 games for throwing a punch.
Acy
was suspended one game
for his role in the incident and will miss Saturday's game against the
Sacramento Kings
. Wall was fined $15,000.
The Knicks fell to 5-26 with the loss -- the worst 31-game record in franchise history.
Question:
What do you think about the Knicks not getting involved to break up the Wall-Acy skirmish? Were the smart not to get involved or was this a sign of poor team chemistry?
December, 26, 2014
Dec 26
12:04
PM ET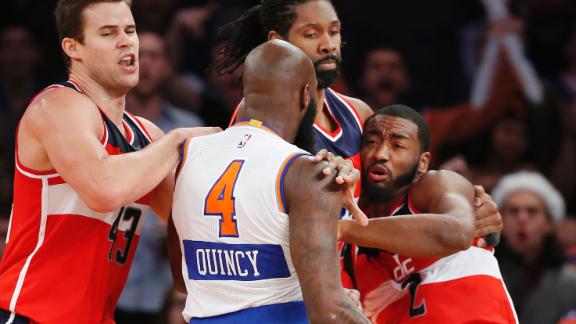 New York Knicks forward Quincy Acy has been suspended one game and Washington Wizards guard John Wall was fined $15,000 by the NBA on Friday for their roles in a Christmas Day scuffle.
The NBA said in a statement Friday that it decided to suspend Acy because his act initiated the confrontation. The league said it fined Wall because his actions escalated the incident.
Acy shoved Wall when the Wizards guard had the ball with 5:31 to play in Washington's 102-91 victory. Wall retaliated with a shove, and things escalated from there. It was unclear whether Acy threw a punch during the skirmish, but both players had to be separated by teammates.
Both Acy and Knicks coach Derek Fisher said Thursday that Acy did not throw a punch at Wall.
"I didn't throw a punch. I got up and reacted, then I just grabbed him," Acy said.
Acy received a flagrant foul 2 and was ejected from the game. Wall was issued a technical foul.
On Thursday, Acy said that he didn't expect to be suspended.
"I hope not. What was done wrong?" he said.
Acy explained that he was trying to foul Wall to stop the play because Knicks guard Pablo Prigioni was on the ground and his team was down a man on defense.
"It was just a foul. If somebody has a fast break and you step up and grab them, it's the same concept," Acy said.
December, 25, 2014
Dec 25
6:38
PM ET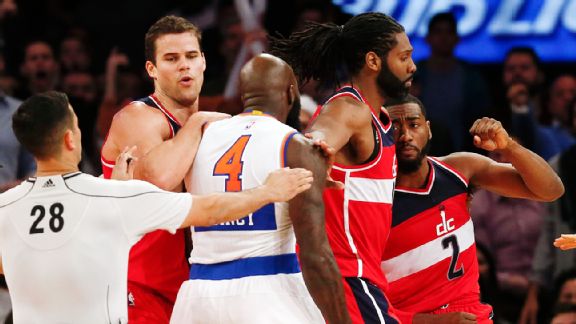 Jeff Zelevansky/Getty ImagesThings got heated on the Christmas Day court ...
NEW YORK -– Derek Fisher's first Christmas as a head coach went a lot like many of the first 30 games of his coaching career.
He was dressed in a sharp blue designer suit and was cool, calm and collected.
Even when a skirmish broke out between
Quincy Acy
and
John Wall
in front of the Knicks' bench, Fisher stayed on the sideline while his assistants did a terrific job of making sure no Knicks ran onto the court.
At the same time, the Knicks on the floor didn't rush to Acy's aid when the Wizards came to Wall's defense. Sure, Acy started it with a hard foul, something the Knicks actually needed, considering how Wall shredded them for 24 points and 11 assists without the slightest resistance. Eventually
Carmelo Anthony
tried to calm and restrain Acy from escalating the situation.
While Fisher doesn't condone hurting an opponent or seeing a Knick ejected, the coach probably didn't mind seeing some fight from one of his players, even out of frustration. But he will need his players to be united and have one another's backs when a scuffle breaks out.
[+] Enlarge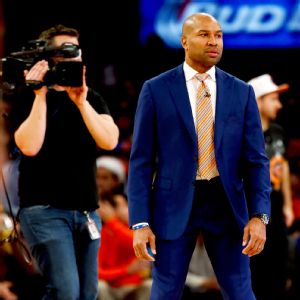 Jeff Zelevansky/Getty Images... but rookie coach Derek Fisher showed the poise of a veteran.
It's been an incredibly rough start for Fisher, and the Knicks need to show more fight. The Wizards handed them a 102-91 loss at the Garden on Thursday, and it didn't feel as close as the final score indicated.
Now Fisher and the Knicks are a dreadful 5-26, which isn't where they thought they would be at Christmas. The losses keep piling up like postholiday credit-card bills, and it feels like there's no end in sight to the Knicks' disaster of a season.
A few fans could be heard high up in the stands chanting "Fire Fisher" throughout the game. It was nothing more than a smattering. Still, people need to exercise patience with the rookie head coach like Nets ownership did with Jason Kidd last season at this time.
Last Christmas, the
Chicago Bulls
ripped through the Nets like a wrapped present en route to a 95-78 rout on national television. The Nets fell to 9-19 exactly one year ago after proudly touting their championship aspirations entering the season.
Kidd heard loud calls for his head from fed-up fans at Barclays.
After that debacle, Kidd -- who some thought was in over his head during his first two months on the job -- lit into his players in the locker room. Kidd called them out;
Kevin Garnett
stormed off, upset at some of his teammates' lack of fight; and the Nets looked like they were unraveling.
But after a turbulent 10-21 start, Kidd kept the team together and the Nets had a stunning turnaround, winning 33 of their next 46 games after Jan. 1.
It's highly unlikely we will see another post-New Year's surge like that with the Knicks. Fisher doesn't have a roster full of former All-Stars like Kidd did.
But Kidd is a clear example of why people should not rush to judgment on Fisher. Sure, Kidd's exit from Brooklyn was ugly, and as in any divorce, both sides played their part. But now in Milwaukee, Kidd has the baby Bucks at an unexpected 14-15 despite recently losing his prized rookie
Jabari Parker
for the season.
Kidd looks more comfortable in his second year as a coach, and it's easy to forget that at this time last year he was still figuring out little things, like when his team needed him to show more emotion on the sideline, or not to spill soda to buy time to draw up a final play with no timeouts left. Any mistake he made was played out on back pages or nightly highlight shows.
[+] Enlarge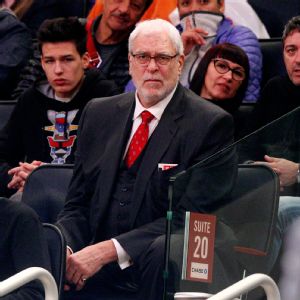 Brad Penner/USA TODAY SportsPhil Jackson watched from the stands as the Knicks fell to 5-26. But Jackson sees better things ahead for the 'Bockers.
Fisher, who had his own late-game timeout incident when an official didn't see him call for time late in one game, will also get more comfortable. And we have yet to see what he can do with more talent surrounding Anthony.
"You find out quickly you don't have the ball, so you can't take a charge, you can't come up with the steal," Kidd said during the preseason about what Fisher will learn in going from player to coach. "You might see someone who's open on the extra pass and you can't make the pass. You can only communicate it to them, show him, and hopefully at some point the trust and respect kicks in and they can kind of find it."
Like Kidd, Fisher has shown little frustration despite the losing.
"I never saw that," Anthony said when asked whether he has seen Fisher get frustrated or upset. "Of course he knows and is feeling [the tough losses]. ... Coach Fish is not a guy that will show frustration."
"And he is our leader. If he's discombobulated, then everybody is going to be discombobulated."
Thus far, Fisher has taken the Zen-like approach of his mentor and boss, Phil Jackson, and has shown little emotion. But he says that will change when needed.
"No, I have plenty of [emotion]," Fisher said. "It's just there are appropriate times to do it. ... Emotions during the game are already high enough. Oftentimes that's when you see confrontations between players and coaches.
"There are ways to be confrontational and let guys know how you feel without being angry and out of control. But as time goes on, the longer I'm here, the more you'll see."
Phil and Fisher have a plan. And Jackson will give his protégé all the support he needs.
The Knicks have to stick to Jackson's master plan even as the losses mount at a franchise-record pace. If the Zen Master gets things right, this Christmas will be the first of many Christmas games coached by Fisher for the Knicks.
Jackson tweeted that Santa will bring Knicks Nation "a better 2015 than 14."
"The effort and skill of our team will grow as the players learn how to play with and for each other," he tweeted.
The only way to see whether Fisher can turn this mess around this season or next is to emulate the rookie coach: stay calm and have patience.
December, 25, 2014
Dec 25
5:15
PM ET
NEW YORK -- There's a
New York Knicks
fan out there who lives and dies with the team, a fan who's been doing much more dying than living with this group.
Carmelo Anthony
has a message for that fan.
"I feel what the fans are feeling," Anthony said after the Knicks fell to 5-26 following a Christmas Day loss to the Wizards.
[+] Enlarge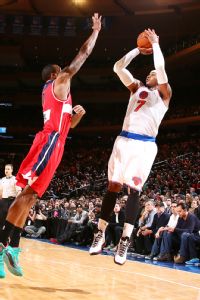 Nathaniel S. Butler/NBAE/Getty ImagesCarmelo Anthony put up a game-high 34 points on Christmas Day. But it wasn't enough.
"The fans are dying, we're dying. We're out there, we're not producing. We didn't expect, I didn't expect to be sitting at 5-26," he said. "So as much as I feel for the fans, I feel for us going through it, too. I don't expect nobody to feel sorry for us, I don't expect nobody to feel sorry for me."
The ones to feel sorry for here are the fans who pay attention to this team. They're investing time (and money) in a team that has lost 16 of 17 games. A team that has had separate losing streaks of six and 10 games. A team that has set a franchise record for consecutive home losses (eight) in a single season.
Even Anthony seems fed up with the inconsistency.
"We have spurts throughout the course of the game where we are showing something, showing that we're getting it and we're focused and we have the energy to go out and do it," Anthony said. "But there are times where we show that we're not even out there on the basketball court. ... We gotta start trying to put a whole game together."
That certainly didn't happen Christmas Day.
The Wizards jumped out to a 9-2 lead in the first quarter by hitting their first four shots. They had 34 points -- and an 11-point lead -- by the end of the quarter.
The Knicks trailed by as many as 22 and never seriously threatened Washington in the game -- except when
Quincy Acy
went after
John Wall
with 5:31 to play. That was the only time this Knicks team showed much fight.
"There are times throughout the course of the game where it seems like we're making strides and getting better," Anthony said. "And then there are times where it feels like we're not."
Not exactly what Knicks fans want to hear about a team that Anthony and president Phil Jackson thought had enough talent to make the playoffs when the season started.
Instead, the Knicks have the most losses in the NBA and are nine games back of eighth place in the Eastern Conference.
Jackson tried to give Knicks fans a reason to be optimistic when he tweeted on Christmas Eve that
2015 would be better than 2014
.
Anthony said Thursday he hadn't seen the tweet because he doesn't spend much time on Twitter these days.
But he rightfully pointed out that Jackson doesn't have much time between now and next year to make things better.
"2015 is in a couple of days," he said.
You can follow Ian Begley on Twitter.
December, 25, 2014
Dec 25
3:03
PM ET
By
ESPN Stats & Information
John Wall's performance in an easy
Washington Wizards
102-91 win over the
New York Knicks
was a picture of perfection, at least in one way.
The Wizards are 20-8, their third-best record through 28 games in team history. The Wizards started 21-7 in both 1968-69 and 1974-75.
Wall finished with 24 points, 11 assists and six rebounds. It was his ninth game with at least 20 points and 10 assists this season, the most of anyone in the NBA. (Next-most is
LeBron James
, who entered Thursday with six.) The Elias Sports Bureau notes that Wall is the first Wizards player to have a 20-point, 10-assist game on Christmas.
Wall's 51 points created was nearly 10 more points than his season average (42.3 points created per game). The Wizards are 10-1 this season when Wall scores 20 or more points.
How Wall got it done
The key to the game for the Wizards was how they fared when Wall took the ball to the basket. Washington shot a perfect 8-of-8 and scored 19 points on Wall's drives (all in the first three quarters). The 19 points were double what the Wizards have averaged scoring on Wall's drives.
Owning the paint
The Knicks entered the day allowing only 37 paint points per game, the fewest in the league. The Wizards burned them for 50 points in the paint, making 25 of 42 shots.
Washington's power forwards,
Nene Hilario
and
Kris Humphries
, combined to shoot 13-of-17. That included 7-of-9 shooting in the paint and 5-of-6 on midrange, straight-on jump shots.
The floundering Knicks
The Knicks set a dubious distinction in this game. They've lost eight straight home games in a single season for the first time in team history.
Carmelo Anthony
did score 34 points in defeat. He's scored at least 30 points in all four Christmas games in which he's played, but his team is 1-3 in those games.
Elias Sports Bureau Stat of the Day
The Wizards are 15-7 all time on Christmas. Their .682 winning percentage is the third-best of any team on Christmas, trailing the Trail Blazers (14-3) and the Heat (8-2).
December, 25, 2014
Dec 25
2:34
PM ET
Associated Press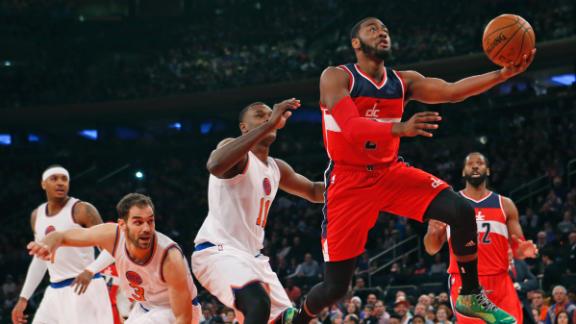 NEW YORK -- John Wall had 24 points and 11 assists, eluding the Knicks all day until getting knocked to the floor by a flagrant foul that sparked an altercation, and the Washington Wizards beat New York 102-91 on Thursday.
Wall toyed with the Knicks for 3 1/2 quarters, highlighted by a spinning, 360-degree layup, before Quincy Acy knocked him down with a forearm shove with 5:31 to play. Wall got up and pushed Acy, who responded with a punch that appeared to hit Wall behind the neck. Acy was ejected in the Christmas Day dust-up, and Wall received a technical foul.
Bradley Beal added 17 points for the Wizards, who had their top five of Wall, Beal, Paul Pierce, Nene and Marcin Gortat in the starting lineup for the first time this season.
Carmelo Anthony scored 34 points for the Knicks, who fell to 5-26 and have the most losses in the NBA. They have dropped six straight and 16 of 17.