February, 27, 2015
Feb 27
1:07
PM ET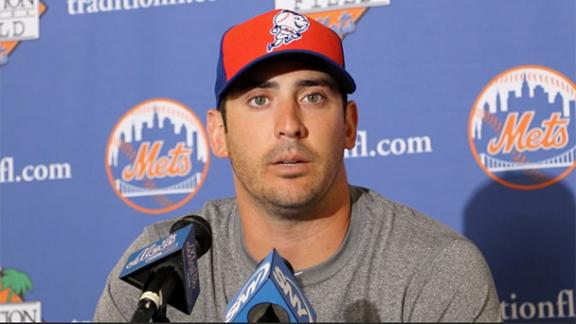 PORT ST. LUCIE, Fla. -- At 6-foot-6, top prospect
Noah Syndergaard
is not often the undercard. Yet that's exactly what Syndergaard found himself on a gray Friday morning at Mets camp.
Matt Harvey
attracted a sizable crowd as he warmed up on a side mound for his first time facing batters since Tommy John surgery. And when Harvey completed his warm-up pitches and headed to a field to throw batting practice, the crowd followed him, leaving Syndergaard to take the same mound that Harvey had occupied in relative solitude.
Harvey, who underwent Tommy John surgery on Oct. 22, 2013, proceeded to throw a total of 40 pitches to teammates, beginning with
David Wright
at 10:08 a.m., followed by
Michael Cuddyer
,
Curtis Granderson
and
Daniel Murphy
. The batters simply tracked pitches and did not swing.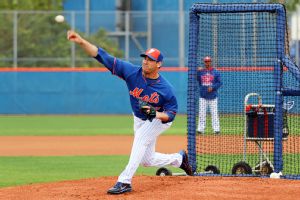 Adam Rubin/ESPNNewYork.comMatt Harvey faces batters Friday in Port St. Lucie.
Harvey expressed elation afterward and noted the different feel. He previously had been throwing mundane bullpen sessions along a strip of mounds, working alongside other pitchers. He described himself as "in compete mode" and "not holding back" on Friday.
"It was awesome," Harvey said. "Obviously throwing a bullpen on the '10-pack' with nine other guys is a different feeling than facing basically our 'Core Four,' or whatever you call it. You step in the box and you have David in there, it's a good feeling to have that and be back. I couldn't feel better. It was a good day.
"The biggest thing today is getting used to having somebody in there and getting that feel of somebody standing in the box. Obviously them not swinging, you don't quite get all the feel of what you need to work on or exactly what is working at the time and what isn't."
Harvey divided his workload into a pair of 20-pitch simulated innings. After each of those frames, he headed to the first-base sideline, as Syndergaard alternated with his own half-inning. Teammates greeted Harvey with high-fives both times he trotted off the field. The crowd cheered, too, an atypical occurrence at a generally sleepy camp. The large media contingent, which included the ESPN crew putting together an "E:60" special about Harvey to be televised April 4, chronicled Harvey's every move.
Harvey at one point asked Wright to contrast how he looked compared with two spring trainings ago at this point, when Harvey was preparing for what would be a dominant season until he was derailed by the ulnar collateral ligament tear.
"He had great feedback," Harvey said. "He felt it was very similar, if not better, than before. I think [with] the excitement of looking toward a full first season in 2013, I might have been a little more pumped up than I was today. But as far as location and the way things felt, it was pretty successful."
Said Wright: "I just saw a guy that was happy to be back out there. There's only so much you can tell from 20 pitches in February, standing in there just taking pitches. The biggest thing was it looked like the ball was coming out pretty free and easy. You could see the smile on his face from him being happy to be back out there. As a teammate and a friend, I was happy he was able to get back out there."
Terry Collins suggested the true milestone will come next Friday, when Harvey faces the
Detroit Tigers
in his first game since the elbow surgery.
"Obviously it will be an exciting day finally facing another team," Harvey said. "As far as mentality goes toward that, it's not a playoff game. It's still really working on your pitches. Really paying attention to what guys are swinging at and what guys aren't is the biggest thing. It'll be early March, so we still have a long way to go."
Collins noticed a difference between Harvey's first seven pitches and the final seven pitches of the batting practice session. Although there was no radar gun clocking Harvey's pitches, the manager estimated that Harvey's final pitch, a two-seam fastball, registered 94-95 mph.
After Harvey completed his second 20-pitch frame and again accepted congratulations from teammates, he jogged toward the Mets clubhouse. As Harvey jogged through the outfield, with his back to the spectators who had just watched his session, a photographer zoomed in and caught Harvey with his left hand giving a thumbs-up sign.
"You could tell he was really happy to be out there," said
Travis d'Arnaud
, who caught the session. "And you could tell all the fans were really excited to see him out there."
February, 27, 2015
Feb 27
9:46
AM ET
Bartolo Colon
for the Opening Day start against the
Washington Nationals
in D.C., multiple sources told ESPNNewYork.com.
The sources added that the Mets have narrowed the choices to Colon and one other pitcher, and that it's too early to decide which will get the assignment.
If it ends up being Colon, he would become -- at 41 years, 317 days old -- the oldest Opening Day starter in the majors since
Jamie Moyer
(43 years, 136 days) and
Randy Johnson
(42 years, 205 days) in 2006. He also would become the oldest Mets Opening Day starter ever, surpassing
Tom Glavine
in 2007 (41 years, 7 days).
Colon went 15-13 with a 4.09 ERA a season ago. He logged 200 innings for the first time since winning the AL Cy Young in 2005.
Colon has made six career Opening Day starts -- the most recent in 2006 with the Angels.
The Nats have not announced their Opening Day starter, but it may very well be debuting
Max Scherzer
.
PORT ST. LUCIE, Fla. -- Nothing is set in stone, but the Mets are strongly considering
February, 27, 2015
Feb 27
7:07
AM ET
PORT ST. LUCIE, Fla.
FIRST PITCH:
Matt Harvey
is scheduled to face batters on Friday at Mets camp. However, like Thursday's batting-practice sessions during the first full-squad workout, the hitters will be tracking balls and not swinging. So it really is a glorified session throwing off a mound, with position players happening to be standing in the batter's box.
Unfortunately,
the forecast
is for consistent rain in Port St. Lucie on Friday morning.
Friday's news reports:
• Harvey's first game since undergoing Tommy John surgery will
take place next Friday
. He is due to face the
Detroit Tigers
in a Grapefruit League game at Tradition Field, which SNY will televise.
Noah Syndergaard
will pitch after him that day.
Dillon Gee
will throw the first Mets pitch of spring training. He is due to start two days earlier, at ESPN Wide World of Sports against the
Atlanta Braves
on Wednesday. Check the full rotation schedule for the opening week of games
here
. Read more in
Newsday
.
• Harvey will be the subject of an E:60 special on his comeback from Tommy John surgery, which is expected to be televised April 4. Watch the moving trailer
here
.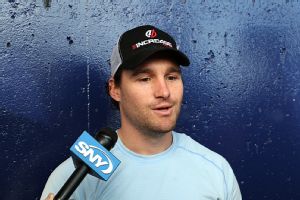 Adam RubinDaniel Murphy addresses his contract status Thursday at Mets camp.
•
Daniel Murphy
indicated he is willing to speak to the Mets in-season about a contract extension, but a team source told ESPNNewYork.com that
no talks are expected to occur
. Given their depth of upper-level middle-infield prospects, highlighted by
Dilson Herrera
, the Mets likely will let Murphy walk as a free agent next winter. Read more in the
Post
,
Record
,
Newsday
and at
MLB.com
.
• SportsCenter's bus tour of MLB camps stopped by Port St. Lucie on Thursday, with Karl Ravech and
Curt Schilling
on board. Watch a video interview produced by the SportsCenter crew with
David Wright
here
. Also, Schilling looks at what went wrong with Wright in 2014
here
, what the Mets can expect from Harvey
here
, the player to watch
here
, and the biggest keys to the season
here
.
• Jeff Passan
at Yahoo
chats with Harvey.
•
Lucas Duda
will
not be permitted to swing
for at least another week because of a strained intercostal muscle on his left side, Terry Collins said Thursday. Read more in the
Post
and
Daily News
and at
NJ.com
and
MLB.com
.
•
Bobby Parnell
faced batters
for the first time since his Tommy John surgery on Thursday.
• Newly installed commissioner Rob Manfred reiterated he has no problem with the Mets' finances. "I'm confident the Mets' finances are in acceptable condition, and that they have available to them the resources to field a very competitive club," Manfred told Steven Marcus
in Newsday
.
As for Fred Wilpon being named chair of MLB's finance committee, Manfred told the newspaper: "I think it's important to understand the role of the finance committee. It reviews very senior-level compensation and internal financial matters. Fred is a long-experienced businessman very capable of handling those matters, and this committee has nothing to do with any investment made by or on behalf of baseball. So I don't see the issues.''
•
Buster Posey
topped Wright in the finals
of MLB's "Face of MLB contest."
• Wright tells Matt Ehalt
in the Record
the Mets have expended enough hot air hyping the team. "It's one of those things where -- I've been guilty of this, too -- where you get confident in this group of guys and you're asked a question and you answer it honestly, and we've kind of talked a big game this offseason," Wright told Ehalt."It's now a matter of shutting up and going out there and playing. We've already done a pretty good job of, I think, publically expressing what we expect from ourselves this year, but it's enough of the talk. Now it's a matter of going out there and preparing for opening day." Read more in the
Daily News
.
• Collins said Thursday's speech before the first full-squad workout was not "rah, rah."
"I think he got his message across,"
Michael Cuddyer
told columnist Ken Davidoff
in the Post
. "I think everybody heard it. Short, sweet, to the point." Read more in the
Times
,
Post
and at
NJ.com
.
•
Johan Santana
's comeback bid continues. He
signed a minor-league deal
with the
Toronto Blue Jays
on Thursday. Santana, 35, has not appeared in a major league game since Aug. 17, 2012 as a Met.
• Marc Carig
in Newsday
profiles
Steven Matz
, the left-hander from Long Island whose early professional career was stalled by a length rehab from Tommy John surgery. One scout compared Matz to the Rays'
Matt Moore
. Another told Carig he resembles the Angels'
Tyler Skaggs
.
• Neil Best
in Newsday
has a Q&A with the SNY team, while Seth Everett
on his blog
chats with SNY field reporter Steve Gelbs.
• Jared Diamond
in the Journal
addresses how overworking in spring training can lead to injuries, and what the Mets will do to try to limit workloads.
• Sean Ratliff, the former Mets outfield prospect whose career was derailed by getting his in the eye with a baseball, is
back with the organization
as the hitting coach at Kingsport.
•
From the bloggers …
Faith and Fear
takes a deep dive into a vintage Shea Stadium Old-Timers' Day. …
Mets Report
asserts the club does not want Murphy back.
BIRTHDAYS:
Pete Smith turns 49. ... Anthony Seratelli, in Japan this season after playing a year ago with Las Vegas, is 32.
TWEET OF THE DAY:
He may not be the Face of MLB any longer, but David Wright is all smiles Thursday: pic.twitter.com/deu2rYHVPi

— Adam Rubin (@AdamRubinESPN) February 26, 2015
YOU'RE UP: How many wins will the Mets produce in 2015?
February, 26, 2015
Feb 26
6:43
PM ET
Associated Press
[+] Enlarge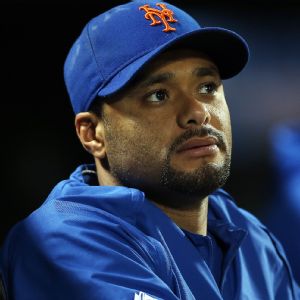 Elsa/Getty ImagesJohan Santana hasn't pitched in the majors since 2012 with the Mets.
DUNEDIN, Fla. -- The Toronto Blue Jays have signed two-time Cy Young winner Johan Santana to a minor league contract, hoping the former ace can make it back to the majors.
The Blue Jays announced the deal Thursday and invited him to big league spring training.
Santana turns 36 in March. He last pitched in the majors in 2012 with the New York Mets and has undergone two operations on his left shoulder in recent years.
Santana was in Baltimore's minor league system last year and tore his left Achilles tendon in June. He's made just one appearance since then, retiring six straight batters in January in the Venezuelan Winter League.
The four-time All-Star won AL Cy Young Awards with Minnesota in 2004 and 2006. He pitched the only no-hitter in Mets' history and is 139-78 lifetime with a 3.20 ERA.
February, 26, 2015
Feb 26
4:44
PM ET
February, 26, 2015
Feb 26
4:11
PM ET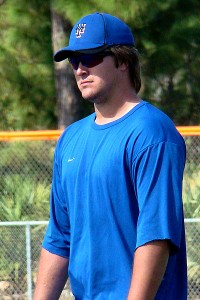 Adam RubinSean Ratliff, pictured in 2012 during his comeback attempt from a serious eye injury, has rejoined the organization as a coach.
PORT ST. LUCIE, Fla. -- Former Mets farmhand Sean Ratliff, whose promising minor-league career was derailed by a serious eye injury, is back with the organization. Ratliff, now 28, will serve as the hitting coach at short-season Kingsport.
Ratliff was drafted by the Mets in the fourth round in 2008 out of Stanford.
He hit .317 with 16 homers and 50 RBIs in 281 at-bats after a midseason promotion to Double-A Binghamton in 2010.
However, the following spring training, a scary incident occurred.
Ratliff, who was standing in the on-deck circle, was struck in the face during a Triple-A game in Jupiter, Florida, on a check swing off the bat of
Zach Lutz
. The blow broke six bones, nearly fully detached Ratliff's retina and left him immediately fearing he might lose his right eye.
Four surgeries later, Ratliff hoped to pick up where he left off in 2012. But he was forced to call it a career because his vision was not sufficient to compete after going 3-for-22 with Class A St. Lucie.
February, 26, 2015
Feb 26
2:02
PM ET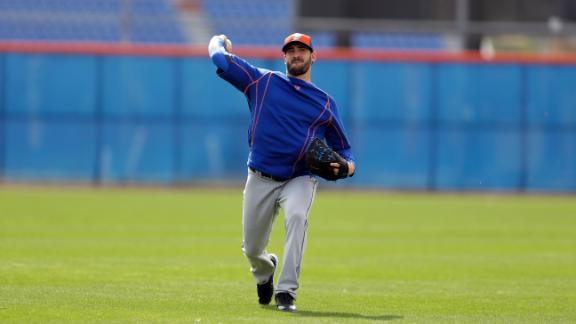 PORT ST. LUCIE, Fla. -- New York Mets right-hander Matt Harvey's first game since undergoing Tommy John surgery has been set for March 6, the team confirmed Thursday.
Harvey will face the Detroit Tigers in a Grapefruit League game at Tradition Field in Port St. Lucie, Florida.
Harvey's last game came on Aug. 24, 2013. He then was diagnosed with a torn ulnar collateral ligament in his pitching elbow and underwent elbow surgery two months later.
Harvey actually is due to face batters on Friday at Mets camp for the first time since the surgery, although the hitters will track baseballs but not swing because it is early in camp.
"How these things usually go is guys will stand in and kind of watch, monitor and track pitches -- which guys did last year," Harvey told ESPNNewYork.com, referring to late in the 2014 regular season as he was rehabbing. "I think once they start really getting the counts and have somebody behind there [umpiring], I think that's when [the significance] will start."
February, 26, 2015
Feb 26
1:43
PM ET