October, 17, 2014
Oct 17
12:00
PM ET
By
Mark Simon
| ESPNNewYork.com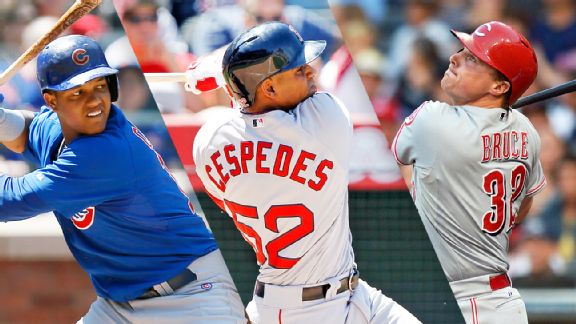 AP Images, US TODAY SportsThe Mets have young potential aces to deal and holes to fill. Hey, you never know.
The good thing for the Mets this offseason is that there are reasons for teams to talk trades with them. The Mets have a desirable commodity in young pitching talent and have a couple of apparent needs at shortstop and a corner outfield spot.
Who are the Mets' most likely trade partners this winter? Here's our best guess:
Cubs:
There is almost certainly a match here given that the Cubs have three young shortstops in
Starlin Castro
,
Javier Baez
and
Addison Russell
and are in need of young starting pitchers, having traded away
Jeff Samardzija
and
Jason Hammel
.
We're guessing the first name on Theo Epstein's mind when he reaches out to Sandy Alderson will be
Jacob deGrom
. If Alderson rebuffed that (and we're presuming he would unless
Jorge Soler
was also put on the table), the next logical targets would be
Zack Wheeler
and
Noah Syndergaard
.
There could be some variant of a Wheeler or Syndergaard for a shortstop deal on the table for both parties to ponder.
Diamondbacks:
The new Diamondbacks front office of Tony La Russa and Dave Stewart is familiar with Alderson, as the three were all integral parts of the
Oakland Athletics
in the late 1980s/early 1990s. New Diamondbacks manager Chip Hale was a third base coach for the Mets under Alderson as well.
Presuming those folks are on good terms, there could be a match here if the Mets have interest in shortstop
Didi Gregorius
(who isn't much of an upgrade over
Ruben Tejada
),
Nick Ahmed
(who hit .200 in a brief stint with the Diamondbacks) or
Chris Owings
(who had shoulder surgery after a promising rookie season).
Red Sox:
There is speculation that the Red Sox will look to trade outfielder
Yoenis Cespedes
, who has only one year remaining on his contract before hitting free agency. The Mets know Cespedes is comfortable in Citi Field from his Home Run Derby performance two years ago. He fits the Mets' needs to a T, though the contract situation would make us think he wouldn't be pursued unless he was viewed as the difference between making the playoffs and not.
Even if the Mets don't land Cespedes, there are other intriguing options. Joel Sherman of the Post got the Mets blogging community talking about the idea of trading
Bartolo Colon
for
Shane Victorino
.
The Mets could also aim younger and target
Jackie Bradley Jr
. or
Mookie Betts
, which would almost certainly require giving up young pitching.
Reds:
We mentioned in Thursday's post that
Jay Bruce
is a potential target. Bruce's numbers (.217 with 18 home runs) were similar to
Curtis Granderson
's in 2014, so the Mets would be buying low on someone who has two years (with an option) and more than $25 million left on his contract. It would also be interesting to see if the Mets were interested in Gold Glove-caliber shortstop
Zack Cozart
, though Cozart was arguably the least productive hitter in the majors last season.
Everybody else:
There are matches here and there with a bunch of teams. Perhaps there is one with the White Sox (whom we expect to be heavy spenders) for shortstop
Alexei Ramirez
, though Ramirez has only one year left on his contract. There is probably one with the Twins for an outfielder like
Oswaldo Arcia
, who is only 23 and might come cheaper than other high-end talent. But the Mets probably have more players the Twins want than the other way around. The Mets and Blue Jays have also made deals in the past, and though
Jose Bautista
might be too much to ask for, the Mets have the resources to give it their best shot.
Regardless, it figures to be a busy offseason. Now it's up to the action to match the talk.