20 questions: When will Mets spend again?
February, 6, 2013
Feb 6
11:30
AM ET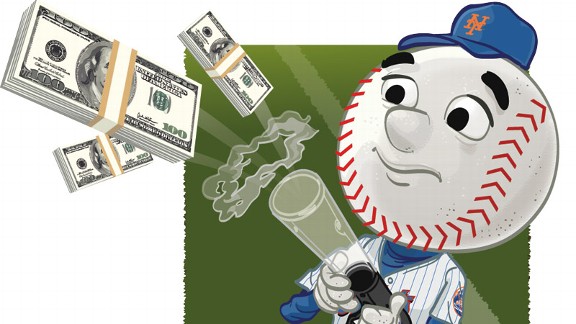 Illustration by Remie Geoffroi
The Mets became the final team in Major League Baseball to sign a free agent to a major league contract this offseason when
Shaun Marcum
recently came on board. And the payroll is a very un-New York-like figure -- less than $100 million, even if money deferred from
Jason Bay
's buyout and from
David Wright
's extension is still counted as part of 2013 spending.
So when will the Mets reengage in free agency and spend?
Sandy Alderson makes it sound like that point is coming soon -- heck, even potentially with
Michael Bourn
still this offseason.
For now, though,
Frank Francisco
remains the largest free-agent contract to which Alderson has committed in three offseasons as general manager -- two years, $12 million. The Mets are entering the second season of that deal, with Francisco due to make $6.5 million in 2013.
Alderson has now suggested on multiple occasions that the lack of spending is on him, not ownership. The reality of the situation is it is probably a blend of the two.
The GM clearly is averse to being super-aggressive in free agency, so you have to wonder if the Mets will ever land a premium free agent, given there seems to always be at least one super-aggressive bidder, and it's hard to picture Alderson becoming that GM.
Still, clearly there would not have been hesitancy to sign players such as
Scott Hairston
to two-year deals at relatively modest sums if the overall payroll was hovering in the $140 million range, as it has in the past.
"I don't think we intended to 'make the market' on free agents at the outset of this offseason. We were focused on David Wright and
R.A. Dickey
," Alderson said. "Those were guys that got most of our attention with respect to multi-year deals.
"And I think there is a general hesitancy, given where we are as a team, to become too active too early in free agency. We've got a lot of money coming off the books next year. However, there are targets of opportunity as well. And you have to be prepared to take advantage of what emerges from the market if you can where there's a fit both in terms of performance and position, and finances."
"What I think was interesting about this offseason is that so much money was spent on starting pitching that relief pitching almost became an afterthought as opposed to, let's say, the market for relief pitching last year. What we've tried to do is be somewhat patient but, at the same time, take advantage of what the market afforded us. So that's why we've added some relief pitching."
There are no games scheduled for today.