December, 21, 2014
Dec 21
10:31
PM ET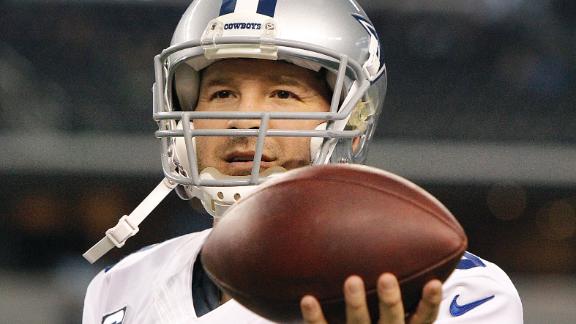 ARLINGTON, Texas -- When
Tony Romo
left AT&T Stadium on Sept. 7, the
Dallas Cowboys
quarterback felt doubt for the first time in his career.
He threw three interceptions in a 28-17 loss to the
San Francisco 49ers
. Maybe this was it for him. Maybe two back surgeries in less than a year were too much. How many 34-year-old quarterbacks get better after a diskectomy?
"I felt maybe I wasn't as good as I once was," Romo said in a moment of reflection after the Cowboys beat the
Indianapolis Colts
on
42-7
Sunday to clinch a playoff spot for the first time since 2009. "That was tough. I didn't physically feel right."
After that game, he promised that he would be better. Things would be different. It didn't really start to happen for him until he changed his practice schedule, sitting out Wednesdays from the second game of the season on.
The confluence of feeling as good as he has all season -- the back still nags him, as he also fractured two transverse processes and has had torn rib cartilage during the season -- came together with an historic game Sunday.
Romo completed 90 percent of his passes (18 of 20), a franchise record. He threw four touchdown passes and was not intercepted. He threw for just 218 yards, but it was enough to surpass Hall of Famer Troy Aikman for the most passing yards in franchise history.
He has 32,971 yards in his career and holds Cowboys records for passing yards and touchdowns.
"Statistics are just something that are part of the game, but we are all about winning and losing," said Romo, who completed 16 straight passes at one point. "At the same time it is always an honor any time you are just mentioned with Aikman or [Roger] Staubach or [Danny] White. It is just a fraternity of QBs that is special to be a part of."
As he spoke, Romo wore a T-shirt that read "Cowboys run the East," a nod to their NFC East title. In the previous three seasons, the Cowboys had T-shirts and hats ready for them if they had won Week 17 matchups against the
New York Giants
,
Washington Redskins
and
Philadelphia Eagles
. But they lost each one.
Romo did not play in the game against the Eagles last December because of the diskectomy. After his first game back this season, he questioned whether he could play at the highest level after telling everybody in the offseason that his best years were ahead of him.
Now, maybe they are.
"It's hard to play better than he played today," coach Jason Garrett said. "Great decisions. Great poise. Again and again and he delivered for us."
Romo's four touchdown passes went to four different receivers. It was fitting that he broke Aikman's record with a 25-yard TD throw to Witten down the seam that increased the Cowboys' lead to 35-0 with 4:41 left in the third quarter.
They were on the same bus to the team's hotel for their first rookie minicamp in 2003. They became best of friends off the field and nearly unstoppable on the field since Romo became the starter in 2006.
"We've been through hell and back together," Witten said. "To come back the other side on this day and to get a little bit of success and experience that, it was special for sure."
Nobody has defended Romo more than Witten. After every heartbreaking loss, Witten stood up for his quarterback and sometimes paid a price for it. When he realized that throw broke Aikman's record, he made sure Romo got the ball.
After the game, Romo wasn't quite sure where the ball was.
"We've got game balls stored away [at home]," Romo said, "and I'm sure we'll put them together some day so the kids can see their dad did something at one time."
Always knocked for his late-season performance, Romo is 3-0 this December. He has 10 touchdown passes and no interceptions. In his past 16 regular-season games in December and January, he has 39 touchdown passes and eight interceptions.
But because of the uniform he wears and the quarterbacks he follows in Cowboys history -- Staubach and Aikman are Hall of Fame quarterbacks – Romo needs more than just individual records to achieve a similar legacy.
"I'm going to say it one more time: Somehow, someway," owner and general manager Jerry Jones said, "he needs to have a Super Bowl by his name. He's that good."
NFC EAST SCOREBOARD
Saturday, 12/20
Sunday, 12/21