September, 16, 2014
Sep 16
8:00
AM ET
METAIRIE, La. -- Defensive coordinator Rob Ryan pointed the blame for the
New Orleans Saints
' 0-2 start squarely toward himself and the defense during an interview on the WWL Radio coaches' show on Monday night.
Like Sean Payton did earlier in the day, Ryan pointed to the defense's inability to finish and to assignment errors that have plagued the team in certain situations.
"Every two-minute situation we've had this year, we've blown," Ryan said, pointing to the end of both halves in Week 1 at Atlanta and the final drive in Sunday's 26-24 loss to the
Cleveland Browns
. "We want to be a great defense, and great defenses always finish. And that's something you just have to point the finger at us, and we have to get corrected."
[+] Enlarge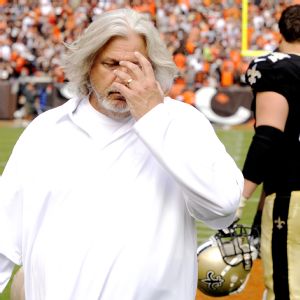 (Nick Cammett/Diamond Images/Getty Images"Every two-minute situation we've had this year, we've blown," Saints defensive coordinator Rob Ryan said.
Ryan said the defense has to do a better job of communicating. Obviously the most egregious example was a coverage breakdown on Cleveland's final offensive play, when cornerbacks
Keenan Lewis
and
Corey White
both covered the same receiver, leaving another wide open.
"These communication errors can't keep happening. Or we're just killing the team right now," Ryan said. "We know we're solely responsible for the two losses that we have. Our offense has been doing great, our special teams have been doing great.
"Hey, we have some good effort in places, and we've got some guys playing well. But as a unit that we take pride in, we've definitely failed us two weeks in a row."
When asked if the lack of practice time in the preseason for injured defensive backs like
Jairus Byrd
and
Patrick Robinson
is part of the problem, Ryan said nobody is saying that at all.
"We've limited our checks, and we still busted some things. So we can't have that. And that's not our style of play," Ryan said. "Right now, we need to develop our style of play and prove who we are. Right now we're not very good.
"We're gonna be great, we're gonna work at it. We've got the players, I know we've got the coaches here too. So together we've gotta do better quickly."
Some of the plays that irked both Payton and Ryan were obvious -- that final play and two pre-snap offside penalties (on Robinson in the first quarter and on
Kenny Vaccaro
on the final drive). It was Vaccaro's offside penalty that led to the moment when TV cameras captured Payton shouting and pointing at Ryan on the sideline.
Interestingly, both coaches also brought up a specific reference during their coaches' show interviews to a third-and-4 or third-and-3 play where the defense backed up and gave a receiver too much cushion.
Payton called it a "common sense thing we've got to correct." And Ryan said it was an "awareness issue you can't have," calling it "inexcusable" and "all on me."
Reviewing the tape, it appears that they might have been referencing a third-quarter play in which the Saints' defensive backs were still communicating right up until the snap as the Browns receivers motioned into a different formation, and Robinson backed up at the last moment before an easy 6-yard pass to
Miles Austin
.
Ryan was also asked about needing to get more of a pass rush out of the front four. He said that's absolutely needed, but he insisted he's confident the Saints can do that going forward.
And Ryan pointed out that the Saints defense wasn't exactly "gangbusters" in its first two games last year, despite a 2-0 start after two close victories.
Loomis' take:
Saints general manager Mickey Loomis also spoke Monday at the Greater New Orleans Quarterback Club. Loomis said, "There's no way to sugarcoat being 0-2," but he stressed that they have been total team losses and can't be pinned on any one unit, as chronicled
by The Times-Picayune
.