October, 1, 2014
Oct 1
8:00
AM ET
METAIRIE, La. -- That didn't take long.
After the best season of his career in 2013,
New Orleans Saints
defensive coordinator Rob Ryan is once again facing scrutiny just four games into the 2014 season -- at least outside of the team facility.
[+] Enlarge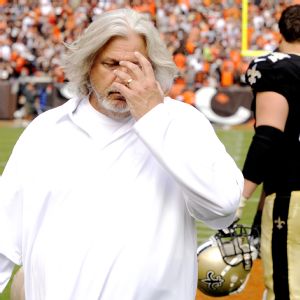 (Nick Cammett/Diamond Images/Getty ImagesYear two of the Rob Ryan defense has been a rough one thus far for the Saints, mimicking what's happened at Ryan's other stops.
The Saints (1-3) are ranked 29th in the NFL in yards allowed (396 per game), tied for 27th in points allowed (27.5 per game) and dead last in turnovers (1).
Inside the Saints' building, players and coach Sean Payton have continued to support Ryan. Cornerback
Keenan Lewis
offered the strongest possible endorsement Monday when he wasn't even asked about Ryan, saying, "We're gonna get it fixed. We've got the coaches, Coach Ryan's got all the faith, the best coordinator in the NFL. He's doing a great job. We just gotta listen, and we just gotta man up and get the job done."
Payton cut off a question when asked about Ryan not getting the same results as last season, saying, "Yeah, but that's 'we.' It's not any one individual. It's the Saints' defense. Sean Payton is not getting the same results as he did last year, and every player on this team is not getting the same results ... on defense."
However, a growing number of skeptics have pointed to Ryan's spotty track in previous stops with the
Dallas Cowboys
,
Cleveland Browns
and
Oakland Raiders
. ESPN scouting Insider Matt Williamson said this week that if Ryan -- son of Buddy, twin brother to Rex -- had a different last name, "I don't think he'd be a defensive coordinator in this league."
Media members in both Cleveland and Dallas (where the Saints have lost games this year) both suggested that Ryan's struggles are reminiscent of relapses that his defenses had in those cities.
ESPN Stats and Information produced a chart this week, pointing out that last year's Saints defense was Ryan's first since 2006 to rank better than 20th in the NFL in defensive efficiency (a formula that measures the value of each play, based on the situation and result).
It's worth noting, however, that whether Ryan is the cause or the effect, he hasn't been with many good teams during his career. Last year's Saints team was the first to finish with a winning record in Ryan's 11-year career as a defensive coordinator.
Personally, I disagree with Williamson's assessment. There is more to Ryan than his family ties. Ryan has one of the most infectious personalities of any coach I've ever been around.
I've talked with many of Ryan's current and former players and scouting analysts who admire his work ethic as a creative schemer and "film rat." Players in both New Orleans and previous stops have almost universally praised him as a guy they love to play for. There is no question that Ryan's ability to both motivate and innovate got the most out of the Saints' young talent during their unexpected rise to prominence last year.
Even Cowboys owner Jerry Jones, who fired Ryan after the 2012 season, said recently, "I think Rob's going to make a great head coach. I haven't seen anybody that is better in front of a team and better motivating than Rob Ryan."
But no one can dispute the fact that Ryan's defense needs to start producing better results on the field.
Injuries haven't been an issue this year, and talent shouldn't be either. Ryan is working with mostly the same players as last season, plus the addition of three-time Pro Bowl safety
Jairus Byrd
.
The Saints did let go of several veteran leaders (
Will Smith
, Jonathan Vilma, Jabari Greer,
Malcolm Jenkins
and
Roman Harper
). But while their leadership clearly seems to be missed, many of them played limited roles last year because of injuries.
Ryan himself hasn't shirked the blame. He isn't scheduled to meet the media until Friday this week to discuss the defense's latest setback, a 38-17 loss at Dallas. But Ryan made no excuses after the Saints' first two losses, saying it's "on me."
Ryan also simplified his scheme before Week 3, eliminating the heavy amount of checks and adjustments he likes to use in his defenses (an approach that has also drawn its share of criticism in previous stops).
"When I was hired, I came into something special here. And I'm not going to screw it up," Ryan said last week. "I'm going to work hard and make sure we get it right."