July, 29, 2014
Jul 29
9:00
AM ET
RENTON, Wash. -- The
Seattle Seahawks
needed
Marshawn Lynch
in order to reach the pinnacle of the NFL. The Seahawks do not need Lynch to stay there.
Lynch has been the heart and soul of the Seahawks' success for four seasons. Other than Mount Rainier, the two best known words in the Pacific Northwest are Beast Mode.
[+] Enlarge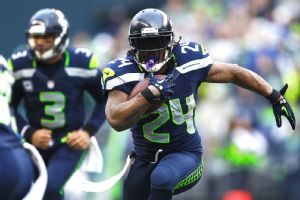 Joe Nicholson/USA TODAY SportsSeattle running back Marshawn Lynch has rushed for over 4,000 yards during the past three seasons.
It's an iconic term now to describe Lynch's relentless running style, a symbol of the physical presence he brings to a team that takes pride in its aggressive style of play.
But as good as he is and as much as Lynch has meant to this organization, they do not need him for the team to continue to play at a championship level.
Want a little statistic proof?
The Seahawks won the 2014 Super Bowl by 35 points over Denver on a night when Lynch rushed for 39 yards on 13 carries.

The Seahawks played seven games last season when Lynch rushed for less than 70 yards. They were 7-0 in those games.
That's not to downplay his contribution. Lynch has led the Seahawks to many important victories. He is a unique player and one of the best running backs in the NFL. But this team will keep winning without him, whenever that happens.
That's why Lynch made a mistake in holding out to try to force changes to his contract. And it's one reason his holdout could end soon, possibly Tuesday. The likelihood is this distraction will end soon and Lynch will be the team's starting running back again.
The Seahawks, however, have talented running backs waiting in the wings -- second-year player
Christine Michael
and third-year back
Robert Turbin
are more than capable of carrying the load for a team that emphasizes a run-first philosophy.
"Both of those guys are going to be tremendous backs for us," quarterback
Russell Wilson
said. "Obviously, we want Marshawn to come back. We love the guy to death and all the things that he does. We have tons of respect for how Marshawn plays. But at the same time, Robert and Christine will be ready to go, that's for sure."
Exactly how good Michael and Turbin can be is a bit of an unknown, but neither of them can be what Lynch has been. Lynch is a throwback to a bygone era, a relentless power runner who sacrifices his body to do whatever it takes to move forward. Former Houston Oilers running back Earl Campbell may be the best comparison to Lynch.
That style of running also takes a huge toll on a player's body. Lynch has rushed for 4,051 yards over the past three seasons while carrying the ball 901 times. No man can take that many hits and continue to play at a high level over the long haul.
It's been proven and is one reason the Seattle hierarchy is not inclined to give Lynch more money. General manager John Schneider and coach Pete Carroll made it clear last week that they expect Lynch to honor his four-year, $30 million deal, which has two years to go.
Neither side is all right or all wrong in NFL contract issues. For example, it's easy to say Lynch should honor his deal, but the team could release him after the 2014 season (a good possibility for salary-cap reasons) and owe him nothing on the final year of his contract.
So it's not unreasonable for Lynch to want more money or some type of guarantee on his 2015 salary. But his leverage isn't nearly as strong as he thinks. The Seahawks would move on without him if they had to without much concern.
"I feel good about it,'' cornerback
Richard Sherman
said Sunday. "I think [Lynch] will be fine. I think whichever decision he makes, I will be fine with. I'm sure he is in shape and can take his 300 carries and be our work horse. But if it's his time [to quit], then other guys will step up."
Sherman was speaking about the idea that Lynch might retire, not likely since it would cost him $6.5 million in salary and bonuses this season.
Wilson has spoken to Lynch on the phone and communicated via texts the past few days.
"He wants to play," Wilson said. "He loves playing. I hope that he comes back. He's a great football player and he can do so many great things for us. We love him in the locker room. We love him on game day. So we definitely want him back."
Of course they do. But this team has a quarterback who is starting his third NFL season and is well on his way to becoming one the league's top players. It has a receiving corps with a healthy
Percy Harvin
, one of the NFL's most explosive players. And it has young running backs capable of becoming 1,000-yard rushers.
All the Seahawks want Lynch to carry the load again this season, but they don't need him to carry it.

NFC WEST SCOREBOARD
Thursday, 9/4
Sunday, 9/7
Monday, 9/8