Dilfer likes Smith fit in Kansas City
February, 27, 2013
2/27/13
7:20
PM ET
ESPN analyst Trent Dilfer was teammates with fellow quarterback
Alex Smith
in San Francisco; last month, Dilfer said he thought Andy Reid and Kansas City would go after Smith because Reid has long liked Smith.
So it was no surprise Dilfer said Wednesday that he thinks the trade that will send Smith from San Francisco to Kansas City will be a good one for the Chiefs. Dilfer was on ESPN's "NFL Live" to discuss the matter.
Here is what Dilfer had to say about the deal:
On his first reaction to the trade:
"I think it's a very good fit, if that's the first question. Andy Reid wants to run an offense that's complex, that's based on quick decision-making, that takes a high level of functional football intelligence from the quarterback. I think Alex has all those things. I think one thing Andy's really wanted to do in his offense over the past few years that he hasn't been able to do is add a real line-of-scrimmage dynamic with a lot of checks, with protection, adjustments -- something that I would put Alex kind of in the master category in the NFL, in that category. He's a guy that can control the line of scrimmage as well as anybody in the league. So it gives Andy and (offensive coordinator) Doug Pederson a lot of versatility in what they can do offensively. And he's not going to be asked to throw the ball consistently down the football field, challenged with his arm; it will be more with his brain and the completion-passing game and managing the run game. Alex can do all those things very well."
[+] Enlarge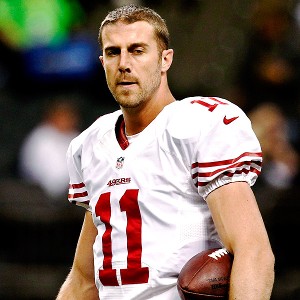 Derick E. Hingle/USA TODAY SportsAlex Smith's locker-room presence might be the best quality for Kansas City, Trent Dilfer said.
On the similarities of Reid's offense to Jim Harbaugh's system:
"Yeah, I think the difference ... will be that Andy's going to always run a pass-first offense. It's going to be pass-driven. There's going to be multiple formations. There's going to be a lot of what I call 'gimme completions' in Andy's offense. Every quarterback that's ever played for him loves it because you're guaranteed 10 completions before the game starts whether they're on screens or bubbles or slips or easy routes to the tight end or isolation routes in the back. So, Alex has never been able to play in that type of offense -- it's always something he's craved to do, even when we played together in San Francisco. We were always fighting for more first-down passing -- it's really the easiest. It's almost stealing in today's football to throw the ball on first down. Alex has never been able to do that consistently, and I think you'll see more of his skill set come out the more he's asked to do on early downs."
On whether people have forgotten how good Smith was playing before he lost his starting job in San Francisco:
"The last time I saw him play was on "Monday Night Football" (Oct. 29 at Arizona). I saw it with my own two eyes, and he was what, 18-for-19? That was pretty darn good. And that was one of the games the Niners came out and did throw the ball on some early downs in the first half and got some of those cheap completions, those 'gimme completions' I was talking earlier about. So Alex can do this. I understand why people are skeptical. I know Alex very well -- played with him, he's a very dear friend. Not only is he a talented football player and can play really good football for a team, he also adds kind of that bridge factor for any new head coach coming into a new organization. He'll be a coach on the field. He'll be a great leader in the locker room. He has a great deal of mental and physical toughness, which unless you're on a football team, you don't value nearly as much as we do. Alex will be a tone-setter for this new
Kansas City Chiefs
team. And I think that may be the most valuable thing he brings to this team, is a new mentality, a work ethic, a toughness from the quarterback position that they haven't had in a while."