Football journey: LeGarrette Blount
September, 7, 2013
9/07/13
5:00
AM ET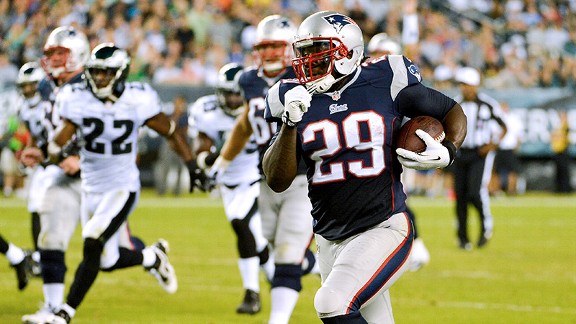 AP Photo/ Jim MahoneyRunning back LeGarrette Blount on playing for the Patriots: "It's really productive. I love it here."
(Every Saturday, as has been the case over the last few years, the "football journey" of one Patriots player will be highlighted as part of a regular feature.)
FOXBOROUGH, Mass. -- When 26-year-old running back
LeGarrette Blount
looks back on almost 20 years of playing football, he sums things up this way:
"It's been a long, fun, hard, complicated road. For a while it was a smooth road. Then it got a little bumpy. Then it smoothed out a little bit more for me."
Things are currently in the "smooth" category for Blount, who has carved out a spot on the
New England Patriots
' 53-man roster after being acquired from the
Tampa Bay Buccaneers
in a draft-day trade. He projects as a top backup to
Stevan Ridley
, and could also be used as a kickoff returner, which is unusual for a player who weighs 250 pounds.
Some of the bumpy parts of Blount's career are well documented, while he was
playing at the University of Oregon
and also in the NFL (
with Tennessee
and
with Tampa Bay
).
"You're going to have to overcome obstacles in any career, when you're thinking about starting at the age of 7 until now," he said. "I've overcome a lot of those obstacles. Hopefully I continue to do so."
It's been "so far, so good" for Blount in New England.
When he first started playing football:
"When I about 7 or 8, in Pop Warner, but it's called recreational football in Florida. The team was called Bennett's Glass. It was flag football. I had been used to playing tackle football with my friends, so my first play I got the ball and was trying to run everyone over. They were just moving out of the way. I was like 'this is easy.' Then I got back to the sideline and my coach was like 'You're not supposed to be running people over. This is flag football.' After that, I learned the ins and outs of it. It got really fun."
What led him to start playing football:
"In my hometown [Perry, Florida], my dad [Gary Blount] was a pretty big deal. His class went to the state championship a couple of times in a row. He was a middle linebacker and fullback, and everybody said to me, 'Are you going to be a football player like your dad?' I always watched football with him, and it just evolved from there."
If he was always a running back:
"I played quarterback throughout flag football. I played a little bit of quarterback in rec football and a tackle league. But from then on, I played running back, linebacker and safety."
Favorite players growing up:
"I didn't get to watch the Walter Paytons and the Gale Sayers' and guys like that. When I was growing up, it was Barry Sanders, Garrison Hearst, Terrell Davis and Jamal Anderson and those guys. I really liked watching Jamal Anderson. Also Jamal Lewis. Just to see the things they can do, that was exciting to me."
Favorite teams growing up:
"It was always the
Miami Dolphins
."
Top memories at Taylor County High School in Perry, Fla
.: "There were a lot. One game, the possibility was there to gain 500 yards, but there were 200-something yards called back. I ended the game with 300-something yards rushing and six touchdowns. I think I did it two games in a row. So that was probably one of the best memories I had, those two games."
Attending East Mississippi Community College and playing 17 games while rushing for 2,292 yards and 18 touchdowns:
"I went there because I wasn't eligible to go to a Division I [school]. I came out and my first year, I led the national junior college rankings in rushing and yards per game. That had me rated No. 1 going into my second season. I did it again my second season, and that's what ultimately got me to Oregon."
Enrolling at Oregon, where he played two seasons and rushed for 1,066 yards and scored 19 touchdowns in 16 games:
"They had this really good stable of backs. [Jonathan] Stewart had just left, but they still had Andre Crenshaw and Remene Alston and
Jeremiah Johnson
. I had just come in, and I think LaMichael [James] came in that year also, and
Kenjon Barner
. We did pretty well. Oregon was an amazing place. I love it there, and try to go back as much as possible. The facilities and the coaches, the players and the support you have from the fans and alumni … they never forget about you."
Entering the NFL as an undrafted free agent with the Tennessee Titans in 2010:
"It was hard trying to make a team. I made the official 53-man [roster], then I got released. I learned that you can't take things in this business personally. It's a business. You're going to develop friendships and relationships with people, but ultimately it's a business and everyone is out to keep their job. People have families, and you just have to understand that."
Summing up his three seasons (2010-2012) with the Buccaneers:
"The best year I had there had to be my first, rushing for [1,007 yards] as an undrafted free-agent rookie. It was a big deal for me in general, because I didn't know how many people had done it. Come to find out there was only one other guy who had done it, and I think it was Dominic Rhodes from the Colts. We went 10-6, so it was a successful season. That was my favorite part."
Being traded by the Buccaneers to the Patriots on May 10, 2013:
"My time in Tampa was done. It had got to the point where I wasn't playing that much in my last year there. It was kind of like 'What should we do here?' I signed with them and got traded to the Patriots, and I'm happy that Bill [Belichick] and Mr. Kraft liked me enough to gamble with that trade. It's been amazing since I've been here. I've loved every minute of it."
Summing up his experience with the Patriots:
"It's fun. You're going to work hard, you're going to get a lot done. It's really productive. I love it here."
Role models in his life:
"My role model growing up was my dad. From the first practice I had in football until I got to Oregon, he never missed one game. From 7 to however old I was when I got to Oregon, him and my mom [Barbara Bonner] didn't miss one game. They would drive back and forth from Perry [Florida] to Scooba, Mississippi every weekend to watch me play home and away games [with East Mississippi Community College]. That was a huge support system for me -- my mom, my dad and my sister [Tareaka Blount]."
What he loves about playing football:
"I'm a competitor. I love to compete. I hate to lose. I'm a big guy, and I love being physical. I love to take on the challenge of someone trying to tackle me when I'm doing everything I can to get away from them. You can't beat it."

NFL SCOREBOARD
Thursday, 8/28
WEEKLY LEADERS