Dan Graziano's MVP Watch
October, 16, 2013
10/16/13
12:16
PM ET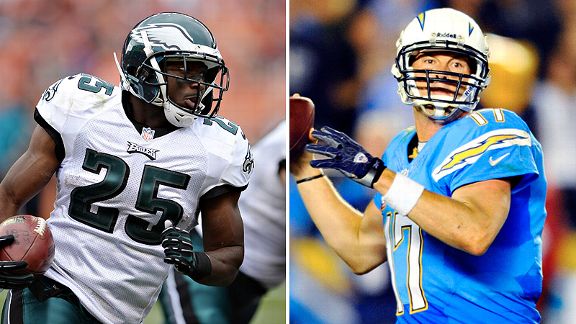 USA TODAY SportsAfter strong outings, LeSean McCoy and Philip Rivers return to the MVP Watch list.
The Watch is not a democracy. It is simply one individual's opinion, issued weekly, on the state of the race for the NFL's MVP award. It is not based on public opinion or reader reaction to the previous week's list. It is not interactive. But the Watch doesn't exist in a vacuum, either. And just because it won't be influenced by your opinions doesn't mean it can't hear them. So to that end, this week we present a couple of answers to some of the more common questions and concerns the Watch sees on Twitter each week.
Do you even watch the games?
Some of them, but there are so many. And the baseball playoffs are on, and there's "Boardwalk Empire" to catch up on and maybe "Homeland" to get to, although the second season was kind of lame ... anyway, yeah. Sure. Whenever possible.
Do you know anything at all about football?
Little bit. Can't use your hands, right, unless you're the goalie? Wait. What? This isn't Spain? Sorry. The Watch will have to get back to you on that.
Why isn't [player whose team has a losing record] on this list?
Because his team has a losing record, and players on teams with losing records don't win MVP awards.
The list should just be Peyton Manning and no one else.
Wouldn't be much fun that way, right? Remember fun?
Tom Brady? Are you serious?
Well, "serious" is something of a relative term in this particular weekly feature, but, yeah, sure. He's won it twice and plays quarterback for the New England Patriots. The Watch has made dumber bets.
Russell Wilson? Are you serious?
Now who's not watching the games?
Tony Romo? Are you serious?
Sensing a theme here. How about just getting to the list at this point? This has been fun, thanks.
CMP: 178
ATT: 240
PCT: 74.2
YDS: 2,179
TD: 22
INT: 2
ANALYSIS
The bottom-dwelling Jacksonville Jaguars dispatched, Manning returns this week to Indianapolis, where a neck-bearded Stanford whippersnapper who can make plays with his feet is threatening to make Colts fans forget all about Manning. Good thing the Colts lost Monday night in San Diego, or else the Manning-Andrew Luck storylines would be even more suffocating. As it stands, Manning will sigh and complain all week that no one's asking him about the Colts' defense when you know ... you know he's out to make it look as though he invented quarterback and Luck has never played it before. This is like the week he played his kid brother all over again, except against a good team this time.
CMP: 157
ATT: 237
PCT: 66.2
YDS: 1,958
TD: 14
INT: 5
ANALYSIS
He's still 5-1 and only 221 yards behind Manning, so, no, Brees isn't losing the No. 2 spot just because Brady beat his defense with a last-minute drive in Foxborough. What's Brees supposed to do? Run out there and play safety? Cut to a sad, angry Brees on the Gillette Stadium sideline, thinking, "Hmm. That's actually interesting. I could play defensive back. What's so hard about it anyway? Chase after better athletes and hope they only call pass interference one out of every four times? Maybe I'll try it. Couldn't do worse than my guys just did. Nah, forget it. I'll just make them feel even worse in practice this week than I usually do."
CMP: 118
ATT: 184
PCT: 64.1
YDS: 1,646
TD: 10
INT: 4
ANALYSIS
Wait. Randall Cobb is hurt? Wait. James Jones is hurt? And Greg Jennings is where? Minnesota, right. So Rodgers has to throw to Jermichael Finley and Jordy Nelson, which has the QB thinking it's 2011 again -- which is fine, except he's a bit distracted by the royal wedding and he's wondering what the heck is wrong with Charlie Sheen all of a sudden. But he's got this. Receiver flu is nothing Brady and Philip Rivers haven't had to overcome. This is where MVPs eat.
TACK: 24
AST: 1
SACK: 9.5
FF: 1
FR: 2
PD: 3
ANALYSIS
The Watch is thinking of just rotating Chiefs defensive players in and out of this spot every week until they lose a game. Tamba Hali. Eric Berry. Dontari Poe. Neil Smith. Buck Buchanan. You get the idea. ESPN Chiefs reporter/sensei Adam Teicher suggested Hali this week. Teicher also suggested running back Jamaal Charles, who truth be told has a more realistic chance to win MVP than any of them. But Houston has more sacks (9.5) than the Bears (8), Steelers (7) and Giants (5) do, and the Chiefs are allowing just 10.8 points per game. And you can't just completely ignore defense just because it's 2013 and no one plays it anymore.
CMP: 162
ATT: 223
PCT: 72.6
YDS: 1,847
TD: 14
INT: 5
ANALYSIS
Rivers orchestrated the most elaborate and successful game of keep-away in NFL history Monday night, stapling Luck to the sideline all night and kicking him clean off this list. You know that disappoints the Watch, who believes that in the future this will be called the Luck Award. But this is the present, and Rivers has the second-best passer rating in the league with receivers you have to admit you never heard of before Jon Gruden started telling you where they went to college.
ATT: 123
YDS: 630
AVG: 5.1
LNG: 41
TD: 3
ANALYSIS
From the transcript of Chip Kelly's latest news conference: Q: Chip, have you decided on a starting quarterback for this week's game? CK: "Are you guys aware that LeSean McCoy has 99 more rushing yards than any other back in the league?" Q: Chip, when Michael Vick gets healthy, will he start at quarterback or will Nick Foles? CK: "Did you guys see that one run McCoy had in the second quarter last week, where he shot sideways to get around the linebacker?" Q: Uh, Chip, if we can get back to the quarterback question ... CK: "Sorry to interrupt. Can you guys take a look at this picture I drew of me and LeSean eating ice cream together? Do you think he'll like it?"
CMP: 97
ATT: 158
PCT: 61.4
YDS: 1,254
TD: 8
INT: 4
ANALYSIS
He just wins the game. More or less every week. The numbers aren't where you'd like them to be for an MVP candidate, but the award is MVP, not MNP. With Wilson, it's as if he doesn't even arrive at the stadium until the start of the fourth quarter, riding to the rescue like an intellectual Shane Falco and computing the exact parameters of that week's game-winning fourth-quarter drive. Look at the stats, and you can't see what Wilson's doing on this list. Watch the games, and you see a quarterback who knows how to carry a team. Miles and miles and miles of heart.
CMP: 143
ATT: 217
PCT: 65.9
YDS: 1,630
TD: 12
INT: 6
ANALYSIS
The TV show "House" was about a brilliant, misanthropic surgeon whom no one could stand because he thought he was superior to everyone else, but he was perfectly situated in a place and a job that allowed him to do what he did best and succeed wildly. Marc Trestman's arrival in Chicago as head coach and the quick-strike offense he brought with him have turned Jay Cutler into the football equivalent of Gregory House. And Cutler is loving it.

CMP: 136
ATT: 239
PCT: 56.9
YDS: 1,480
TD: 8
INT: 4
ANALYSIS
The genius of Sunday's win was that he'd already lost the game twice. When Brady couldn't convert the fourth down with 2:46 to go, and the Saints kicked a field goal to go up four with 2:24 to go, and Brady then threw the interception with 2:16 to go, it was more or less time to watch the Sawx. But then he got the ball back with no timeouts and 1:13 to go and went 70 yards for the touchdown and you were like, "Oh, yeah, right. Brady." An extremely excited Rob Gronkowski has called 11 times and sent about 50 texts since that drive ended, but Brady is ignoring him now because enough already.
CMP: 153
ATT: 218
PCT: 70.2
YDS: 1,693
TD: 14
INT: 3
ANALYSIS
Romo is completing 70.2 percent of his passes. He has 14 touchdowns and three interceptions. His passer rating is third in the league behind Manning and Rivers. He is an elite performer playing at a high level for a team in a first-place tie. His schedule is such that he should have little trouble continuing to perform at a high level moving forward for a team that should contend for a playoff spot. The Watch sees all of this and would like to rank Romo higher. But remember that realistic chances to win the award factor in here, and you know they'll never vote for Romo because haven't you heard? He threw an interception late in the Broncos game.
.