NFL Nation:

2013 NFL Week 8 Double Coverage
October, 25, 2013
10/25/13
12:00
PM ET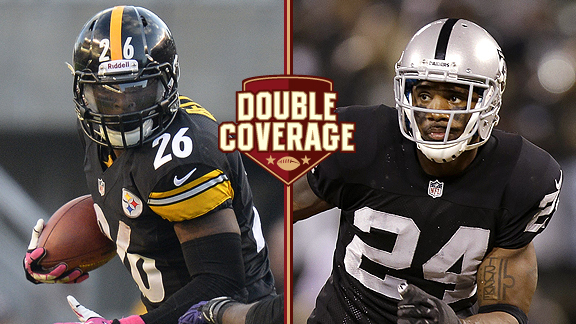 AP PhotoLe'Veon Bell has given the Steelers a running game while Charles Woodson and the secondary will need to try to generate some turnovers.
A cross-country rivalry as heated as it is old school is renewed between the
Oakland Raiders
and
Pittsburgh Steelers
on Sunday at the O.co Coliseum.
The Raiders (2-4) are coming off a much-needed bye week in which they were able to address their numerous injuries, while the Steelers (2-4) seem to have righted their ship with two straight wins after an 0-4 start.
ESPN.com Raiders reporter Paul Gutierrez and Steelers reporter Scott Brown break down the matchup:
Gutierrez
: Hey, Scott, there are several obvious storylines between these two old rivals -- the Immaculate DE-ception, as it's called in the streets of Silver and Blackdom, the Criminal Element, as Chuck Noll put it to George Atkinson and the Soul Patrol, the Raiders beating Cliff Stoudt to send Terry Bradshaw into retirement, etc. But now there seems to be another focal point rising: the emergence of Raiders quarterback
Terrelle Pryor
, a Steel City kid who grew up in nearby Jeannette and is a huge fan of the Steelers. He told me he was a big fan of
Ben Roethlisberger
and would have to tuck away his boyhood fandom feelings when facing the Steelers. So my question is this -- while we know Pryor is seen as a sort of tainted figure in Columbus, Ohio, how is he perceived in Pittsburgh? Remember, he initially committed to play college hoops at Pitt for Jamie Dixon.
Brown
: Wow, that seems like ages ago that Pryor was a Pitt basketball recruit, but he sure could play. His basketball and football exploits at Jeannette make Pryor one of the greatest athletes ever to come out of Western Pennsylvania. There are still a ton of people here rooting for him -- in almost every other game. Pryor's ties to the Steelers go beyond cheering for Roethlisberger. Pryor's mentor in high school was Roethlisberger's longtime backup,
Charlie Batch
, and the Steelers gave Pryor a look before the 2011 supplemental draft.
Pryor represents a completely different challenge than Baltimore's
Joe Flacco
-- whom the Steelers faced last weekend -- because of his athleticism. Pryor certainly isn't the passer Flacco is, but his running ability will tax the Steelers' defense like no quarterback they faced to this point. Pryor seems to be going through the normal ups and downs for a first-year starter at quarterback, and that leads me to two questions: Have the Raiders finally found a quarterback to build around, and what does Pryor need to do to beat the Steelers?
Gutierrez
: I've said it before and I'll say it again: If Pryor is not Mr. Right for the Raiders, he is most definitely Mr. Right Now. The Raiders have gone all-in with the man fans call TP2 -- even changing the offense to become more of a zone-read scheme to take advantage of his skill set. Quarterback coach John DeFilippo told me he actually wants Pryor to run more to take advantage of his natural gifts. And yet, there is no doubt the Raiders would love to have the prototypical pocket passer going forward. Pryor, it should be noted, is working hard to become that quarterback, which is one of the reasons he's been working with quarterback guru Tom House on his passing mechanics. If Pryor becomes a quarterback who can run, rather than a running quarterback who can pass, then yes, Pryor is the man for the Raiders going forward. To beat the Steelers, Pryor has to keep their defense off balance, and not get rattled like he did in Kansas City. Then again, much of that was because of his offensive line getting liquefied.
As such, it seems the Steelers have found themselves and gotten their legs under themselves with two straight wins. They get their groove back, or is it a lot of fool's gold?
Brown
: It is fool's gold if they don't find a way to solve the Raiders in Oakland. When the Steelers have been good they have always found a way to win games such as this one. That's not taking anything away from the Raiders, either. I think their defense has played well, Pryor has a ton of promise and the Coliseum is a tough place to visit. But the Steelers should have the clear edge in quarterback, and a veteran defense should be able to contain Pryor and force the first-year starter into a turnover or two. The Steelers have won their last two games because they have been able to run the ball, stay away from turnovers and not lean too heavily on Roethlisberger. Defensively, they have not given up the big play and have forced teams to kick field goals after they have driven into Steelers territory. I need to see the Steelers employ that same formula for another week before I am ready to say they have found their groove. The Raiders have been coming up with their share of takeaways, and my question is: Why have they been so successful in generating turnovers? Do they need to win the turnover battle by a decisive margin to beat the Steelers?
Gutierrez
: To quote Blackstreet, no diggity, no doubt (I know that's No. 1 on your iPod, right?). Here's the funny thing about the Raiders and takeaways -- they did not have a single interception until Week 5, against San Diego, when they picked off
Philip Rivers
three times. Oakland has not had one since (granted it has played only one game since, at Kansas City, and then enjoyed the bye). In fact, the Raiders have a turnover differential of zero, with nine takeaways and nine turnovers. Even coach Dennis Allen stressed this week to the media that the turnover battle was going to be huge. And really, it always is. But when you have little depth and are one injury away from catastrophe on the offensive line, turnovers can be that proverbial straw.
Speaking of which, the relationship between Roethlisberger and Todd Haley seemed to teeter on the brink last year. Now, in their second year working together, have quarterback and offensive coordinator found common ground?
Brown
: I'm not ready to say the two are golfing buddies yet, even though they would make a heck of a team in a better-ball event. But there appears to be a whole lot more trust and give and take between the two this year. Roethlisberger talked about it earlier this week when he successfully lobbied for the shovel pass that the Steelers installed for the Ravens game to go to tight end
Heath Miller
instead of a wide receiver. He said Haley has been receptive to those kinds of "tweaks," as Roethlisberger has been when Haley has wanted to make a change to a play. The best thing for their working relationship is if the Steelers continue to win, and I think we're finally seeing what Haley can do when he doesn't have one arm tied behind his back as a playcaller. That was the case at the beginning of the season because of injuries.
Darren McFadden
had a big game against the Steelers last year. Does he have another one in him or do the Raiders have too many issues up front to run the ball effectively against the Steelers?
Gutierrez
: Here's the thing about McFadden: He still has home run potential, but there are far too many O-fers mixed in there. Yes, he had a big day against the Steelers last year, rushing for 113 yards on 18 carries. But 64 of those yards came on one run, a play then-quarterback
Carson Palmer
audibled into and McFadden did not realize, and if you take out that one run, his career-low 3.3 yards per carry for the entire 2012 season drops to 2.9 yards. It's the same this season as 108 of his 267 rushing yards have come on four long runs against Jacksonville. Remove those bursts, and he's averaging 2.4 yards per carry. Unfair? Maybe. Small sample size? Yup. But you can make numbers do whatever you want, and with McFadden, who is in a contract year, he needs to be put in space to make plays. It's really that simple. A beat-up O-line is not going to help him, either.
.
October, 25, 2013
10/25/13
12:00
PM ET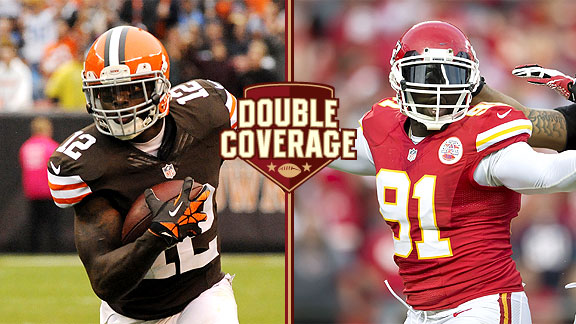 Getty ImagesJosh Gordon and the Cleveland offense have their work cut out for them against Tamba Hali and the undefeated Chiefs.
The 7-0
Kansas City Chiefs
are the NFL's last remaining unbeaten team and could use a victory over the
Cleveland Browns
on Sunday at Arrowhead Stadium. The Chiefs are one game ahead of the
Denver Broncos
in the AFC West race, and following a Nov. 3 game against the Bills in Buffalo, their schedule takes a decidedly more difficult turn.
The Browns rallied from an 0-2 start to win three consecutive games, but after losing quarterback
Brian Hoyer
for the season with a knee injury, they've lost two straight, allowing 31 points in each loss.
ESPN Chiefs reporter Adam Teicher and Browns reporter Pat McManamon discuss Sunday's game.
Teicher:
Browns coach Rob Chudzinski announced Wednesday
Jason Campbell
will take over for
Brandon Weeden
at quarterback. This is the third time in four weeks that the Chiefs will face an opponent starting a different quarterback than the week before. Against an aggressive defense that gets after the passer and creates turnovers like Kansas City's, will the Browns benefit from a change to Campbell?
McManamon:
In this case, the Browns might be better off pondering the single wing, because neither Campbell nor Weeden is especially adept at avoiding the rush. In many ways, this is the worst possible matchup for the Browns' quarterbacks. One hasn't played, and the other's confidence is lacking in a big way. Campbell is probably a little more mobile than Weeden, but that's because Weeden is more like the Statue of Liberty. The way the Browns are at quarterback, there's no reason to think the Chiefs won't add significantly to their sack total.
While we're discussing sacks and the Chiefs' defense, Adam, what is the key to that sacking onslaught this season? Is it players, new players, new scheme, speed, a combination of all or something different? Did you see this coming?
Teicher:
I can't say I saw this coming, but they had the pieces to have a strong pass rush. They just needed better direction, and they're getting that from Bob Sutton, their new defensive coordinator. They're creative with their blitzes but are getting pressure even when they send four or fewer players after the quarterback. The Chiefs have 35 sacks, and 24 have come when rushing four or fewer players. The key is nose tackle
Dontari Poe
, who is generating a nice, consistent push up the middle.
Tamba Hali
and
Justin Houston
are good edge pass-rushers, but the Chiefs have a lot of other guys capable of putting pressure on the quarterback. Neither inside linebacker
Derrick Johnson
nor strong safety
Eric Berry
blitz a lot, but they're effective when they do.
Statistically, the Browns look like they're playing good defense -- solid against the rush, opposing quarterbacks not lighting it up against them. So how is it they're allowing a little under 30 points over their past three games?
McManamon:
File this under the old "numbers can be deceiving" category. It's tough to say a team that has given up 24, 31 and 31 points in the past three weeks is playing good defense because points allowed is the single most important defensive statistic. The Browns' main problem is third downs. They can't get off the field. Overall, the Browns are tied with Seattle for the league lead in yards per play (4.5), but they are 29th in third downs (opponents converting 45.3 percent). Because of that, the Browns have 492 defensive snaps, fourth highest in the league. That's what happens when a team's offense is struggling and its defense can't get off the field.
Speaking of deceiving,
Alex Smith
completes 58 percent of his throws, 28th in the league. His yards per attempt ranks 29th (6.28). How are the Chiefs undefeated at this point with their quarterback so low in these important numbers?
Teicher:
That speaks to the strength of their defense. Defense has carried the Chiefs through these seven games, and offense has just been along for the ride. But for the Chiefs to remain undefeated much longer or go deep into the playoffs, those numbers have to improve. That's where the potential growth in Kansas City's offense lies, particularly with Smith's completion percentage. Smith doesn't throw a lot of passes way beyond the line of scrimmage, so his percentage should be much higher. He's certainly capable. He completed 70 percent for the
San Francisco 49ers
last year. Receivers aren't dropping a high percentage of passes. Protection has been a problem at times. He has had to unload before he's ready on a number of attempts. Another problem has been the inability of receivers to consistently get open.
Willis McGahee
leads the Browns in rushing but is averaging only 2.9 yards per carry. Does he have anything left at this point in his career, and can the Browns take some pressure off their quarterback Sunday by having a consistent running game against a defense that, despite the numbers, has played well against the run?
McManamon:
Not really on both counts. McGahee gives what he has, but there's a reason he was available to sign when the Browns traded
Trent Richardson
. McGahee has little speed; Norv Turner joked he could go outside as long as he starts inside. But he can burrow for 3 or 4 yards if he has to. The problem is how much he can play. He had 26 carries against Buffalo but just 21 the past two games combined. He hasn't averaged more than 3.7 yards per carry in a game this season. The other options are stretches:
Chris Ogbonnaya
's value is in pass protection, and
Fozzy Whittaker
is ... well ... Fozzy Whittaker. The Browns had their reasons for trading Richardson, but their lack of a legitimate running game will cost them as the season continues.
The Browns have had a revolving door with their coach. Why do you think Andy Reid's voice is being heard so well in Kansas City?
Teicher:
He walked in the door with some impressive credentials, better than those of any Chiefs coach since Dick Vermeil and just two players remain from Vermeil's time in Kansas City. So Reid immediately had everyone's attention. The other thing was that so many of the players were ready to be led in a positive direction. They were tired of losing and tired of people within the organization having different agendas and pulling in different directions. They were ready to buy into something positive. It helped Reid that the Chiefs had an easy early-season schedule and took advantage of it. I wonder how this would have gone had the Chiefs started losing games to some lousy teams right away.
October, 25, 2013
10/25/13
12:00
PM ET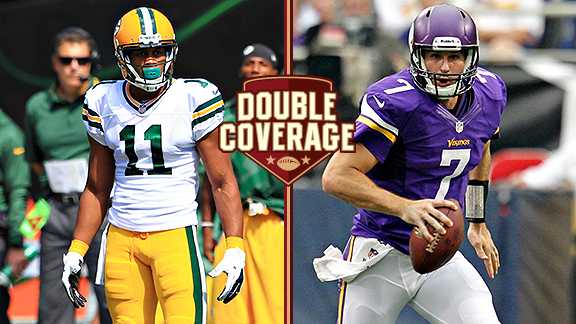 USA TODAY SportsPackers WR Jarrett Boykin came up big as an injury fill-in last Sunday; can Vikings QB Christian Ponder do the same against the Packers?
.
The
Minnesota Vikings
and
Green Bay Packers
will meet for the fourth time in 11 months on Sunday night at Mall of America Field, but things have changed quite a bit for both teams since they faced off in the wild-card round of the NFC playoffs last January.
Christian Ponder
will likely start at quarterback for the Vikings, but it might be a one-week engagement with
Josh Freeman
out because of a concussion.
Greg Jennings
became the latest Packer to switch sides in the rivalry. And
Aaron Rodgers
is relying as much on a nasty offensive line and a productive running game as he is on a receiving corps that's been hit hard by injuries.
As the Packers try to extend their lead in the NFC North and the Vikings try to get their season headed in the right direction following a 1-5 start, ESPN Vikings reporter Ben Goessling and ESPN Packers reporter Rob Demovsky got together to break down the matchup.
Ben Goessling:
Rob, one of these teams has the sixth-ranked rushing game and the third-ranked run defense in the league. And it's not Minnesota. Those two things have been fixtures for the Vikings for years, but they're struggling to open holes for
Adrian Peterson
, who has looked too anxious at times to turn everything into a big gain, and on a few occasions they've been whipped up front by opposing offensive lines. How strange has it been to watch the Packers play so physically, and what kind of an advantage will that create for them on Sunday?
Rob Demovsky:
It's like the Bizarro World around here. The Packers haven't run the ball this well in a decade, not since the days of Ahman Green. And they haven't had this kind of run defense since 2009, when they led the NFL in the category. But it's probably the way they have to win now, considering all the skill-position guys –
Randall Cobb
,
James Jones
,
Jermichael Finley
– they're missing on offense and all the pass-rushers –
Clay Matthews
,
Nick Perry
-- they're missing on defense.
I'm used to seeing the Vikings run the ball like crazy. Are the problems at quarterback the major reason the running game hasn't taken off, or are there other issues at work?
Goessling:
Ah, yes, the old U-71 package with Kevin Barry. And then they got gun-shy in the famous fourth-and-26 game against the Eagles. Sorry, I'm probably hitting some nerves for the Packers fans out there. Moving on …
It's hard to put a finger on exactly what hasn't worked for the Vikings this season, but I'd start with two guys they paid handsomely over the winter -- right tackle
Phil Loadholt
and fullback
Jerome Felton
. Peterson has done his best work running behind those two guys, but Loadholt hasn't been anywhere near the road grader he was last season, and Felton has had trouble as a lead blocker since returning from his three-game suspension at the beginning of the season. It also seems like Pro Bowl left tackle
Matt Kalil
and center
John Sullivan
(who was a Pro Bowl alternate) aren't playing at the same level they were last season. But yes, if the Vikings could throw the ball and make teams pay for putting nine men in the box, they'd have a little more margin for error. That's got to be on the quarterback situation; the Vikings spent plenty of money trying to upgrade their offense over the winter, but without a guy who can make it all go, it's not going to work.
Speaking of the guy who makes it all go for the Packers, am I right in assuming Rodgers is going to be hanging on tightly this week to what Greg Jennings said about him over the summer? Those two can play nice all they want with their comments, but Jennings' earlier remarks would seem like the type that would activate the famous chip on Rodgers' shoulder.
Demovsky:
It was funny, Rodgers talked at length this week about being focused on this game, this team -- and not about what anyone outside the organization (hint: Jennings) had to say. But when someone asked him how he could forget about that, he came back with a classic response. He said that he didn't say anything about forgetting, just focusing. Now, does this rival the intensity behind the 2009 games against the Brett Favre-led Vikings? Not even close. But knowing Rodgers, he'll have a little something extra for this one.
What's the feeling about Jennings' contributions so far? Do the Vikings feel like they're getting their $45 million worth?
Goessling:
Yikes. That does sound like a classic Rodgers response. And with the shape this Vikings secondary is in -- especially without safety
Harrison Smith
-- that might be bad news for defensive coordinator Alan Williams.
Coach Leslie Frazier has raved about what Jennings has meant to their receiving corps, the work he's done to mentor young receivers such as
Cordarrelle Patterson
and the time he's spent with Ponder. He's had moments, such as the short pass he turned into a 70-yard touchdown against the Steelers, when he's looked like the player he was in Green Bay. But it's hard to gauge exactly what he's done, because there's been so much uncertainty at quarterback. He's played with three starters in six games; he had the same number in seven seasons with the Packers. He's also so technical as a route-runner -- and so good in small spaces – that I think he's really at his best when he has a quarterback who understands the details in his game and can use those to exploit a defense.
Maybe Ponder can get closer to that on Sunday. He played one of his best games last December when the Vikings needed to beat the Packers for a playoff berth. Can he recreate that against what looks like a tougher defense, or will he struggle, especially now that it looks like
Casey Hayward
might be back?
Demovsky:
This is a much different defense than Ponder saw last season, even if Hayward doesn't return. The Packers are so much deeper in the secondary now with the emergence of
Davon House
, who had his first career interception Sunday against the Browns, and rookie
Micah Hyde
.
Sam Shields
has become their new shutdown corner, but that's not to say
Tramon Williams
still isn't a factor. He's actually playing some in the slot now, so it's a new role for him. As good as Hayward was last season, I'm not sure he's essential to their pass defense right now. The Packers have only three interceptions on the season, but I wouldn't be surprised if the floodgates open fairly soon.
One of the matchups I'm most interested in is
Jared Allen
against the Packers' new left tackle,
David Bakhtiari
. Bakhtiari has played well, especially for a rookie, but he hasn't yet had to pass-protect with the noise inside of a dome. And you know Allen will have some tricks for the rookie. How much do you think the Vikings will try to key on that matchup?
Goessling:
I'm sure they're hopeful it's a productive one for them. Allen hasn't looked like the same guy this season -- although he still is on pace for double-digit sacks -- and the Vikings have had enough trouble getting to the quarterback that they've had to blitz a little more, which typically isn't a smart strategy against Rodgers. But Allen always seems to do his best work against the Packers, particularly in the Metrodome, and if the Packers leave Bakhtiari alone against Allen, he could have his hands full.
See you on Sunday night, Rob. Soak up those Metrodome memories. With these two teams in this building, something interesting usually happens.
.
October, 25, 2013
10/25/13
12:00
PM ET
The
St. Louis Rams
landed a pair of prime-time home games this season, both against tough NFC West rivals.
Before the season, a Thursday night game against San Francisco and Monday night's game against Seattle represented opportunities for the Rams to make a statement that they were not to be forgotten in perhaps the league's toughest division.
Heading into Monday night, however, a game that once looked to be another brutal NFC West slugfest now appears to heavily favor the division-leading Seahawks.
The Rams and Seahawks kick off at 8:30 p.m. ET Monday from the Edward Jones Dome. ESPN Rams reporter Nick Wagoner and Seahawks reporter Terry Blount discuss this week's matchup.
Wagoner:
Out in the Pacific Northwest, there's been a lot of talk about
Percy Harvin
making his return. I know it was decided late in the week not to play him, but do you get the sense he's antsy to return?
Blount:
Nick, Percy practically is jumping out of his skin to return. He hasn't played a regular-season NFL game since Week 9 last season. He has looked good on the practice field, but the Seahawks' coaches are being cautious with their $67 million man.
The obvious first question from me is how much the Rams will miss
Sam Bradford
at quarterback? Can
Kellen Clemens
lead the team effectively, especially against a defense as daunting as the Seahawks'?
Wagoner:
Clemens is a pro's pro who will absolutely put in the work to be prepared for the Seahawks. That's never been the thing holding him back from producing. At this point in his career, he's never consistently thrown with accuracy or made enough plays to win a starting job or many games. He's 4-8 as a starter. What he can bring to the table in addition to his knowledge of the offense is the ability to scramble and extend plays with his legs. The key for Clemens will be avoiding mistakes and coming up with completions to keep the chains moving on third down. Realistically, though, it's probably going to be a long day for Clemens and the offense.
The Seahawks have gone through some major injury woes on the offensive line. Terry, how much of a concern is that and is that an area where the Rams' pass rush could help keep them in the game?
Blount:
The offensive line clearly is Seattle's one weak link. The pass protection has been awful, and
Russell Wilson
is taking way too many hits. He has been forced to run far more than he would like. The backup tackles haven't played well, and the starting guards haven't played all that well, either, in passing situations. But they are an effective line in run blocking, so the key for Seattle, as always, is to establish the running game with
Marshawn Lynch
and use play-action to slow down the pass rush.
Speaking of Lynch, he has rushed for more than 100 yards in his past three games against the Rams, and it appears St. Louis is struggling this season in stopping the run. Nick, what can the Rams do to control Lynch and improve their run defense?
Wagoner:
In many ways, the Rams' run defense is much better suited to take on a rushing attack such as Seattle's. Yes, San Francisco's power running game is similar to Seattle's, and the Niners had little problem running it at the Rams. But, it's still a better matchup than the zone-based schemes of teams such as Houston and Dallas, which ripped the Rams to shreds with simple cutbacks. Essentially, the Rams' defense is better off when it can line up and take on the man across from him rather than worrying about backside cuts and dealing with linemen at the second level. The Rams made some progress against Carolina on Sunday, creating at least a modicum of hope that the run defense is better. Still, I believe Lynch is the best back they've seen this year, and he'll likely still get his numbers. The key for the Rams is limiting big, long runs and making Lynch earn it.
On the other side, the Seattle defense doesn't seem to have many holes. And with Clemens starting at quarterback for the Rams, the matchup doesn't look good for St. Louis. Terry, do you see any weaknesses in Seattle's defense?
Blount:
It's a solid group with incredible depth. If there is a weakness, it's the fact the players will take chances at times, especially in the secondary, to try to come up with turnovers and big plays. It's a risk-versus-reward mentality, but an offense can burn them at times if they catch them in a safety blitz or one-on-one coverage with no help over the top.
It's going to be a crazy few days in downtown St. Louis with the World Series games being played Saturday, Sunday and Monday night. Nick, do you think the Monday World Series game at Busch Stadium will hurt attendance at the Seahawks-Rams game?
Wagoner:
That's probably putting it mildly. St. Louis is and always has been a baseball town first, so a Monday night game in May against the Marlins would hurt the attendance of any Rams game, but a World Series Game 5? Add in that the Rams are coming off a loss, sit at 3-4 and that many believe the season is lost because of Bradford's injury and you have a recipe for a lot of empty seats. When the Cardinals won the World Series in 2011, the 0-6 Rams hosted 5-2 New Orleans the day after the Cardinals clinched. With Tony La Russa and many players in attendance, the Rams stunned the Saints with a 31-21 victory. They did that with backup quarterback
A.J. Feeley
filling in for Bradford.
October, 25, 2013
10/25/13
12:00
PM ET
Already this season,
Denver Broncos
quarterback
Peyton Manning
has faced his younger brother, Giants quarterback
Eli Manning
, and has made his first visit to Indianapolis as an opposing player.
So, what's another reunion?
Washington Redskins
coach Mike Shanahan will stand on a sideline inside Sports Authority Field at Mile High for the first time since the Broncos fired him following the 2008 season. That ended a 14-year tenure as the head coach, which included two Super Bowl wins with current Broncos executive vice president of football operations
John Elway
as his quarterback.
The Broncos are 6-1, having suffered their first loss of the season against the Colts in Week 7. The Redskins (2-4) have won two of their last three after an 0-3 start. ESPN.com Redskins reporter John Keim and Broncos reporter Jeff Legwold break down this week's game:
Legwold:
John, we'll get to the football in a minute. Sunday's game is essentially unprecedented in that a coach is coming back to face the team with which he won a Super Bowl -- one that is now run by his former quarterback. How has Shanahan described all of this? And do you get any kind of sense it means any more to him than any other opponent?
Keim:
You probably know as well as anyone how Mike gets in these situations. He's talked about how important Denver is to him because he spent 21 years there, his kids were raised there and he still maintains a home in the area. But Shanahan is as competitive as they come, and there's no doubt his mindset is not on sentimentality, but on proving he should not have been fired in the first place. I remember hearing stories while he was in Denver about him, after winning the Super Bowl, showing reporters their newspaper clippings from early in the season. He coaches with a chip; it's what drives him to be successful.
I think Mike might feel better if the Broncos' offense wasn't playing so well. But have defenses started to attack them differently -- and with more success -- lately?
Legwold:
For all of their struggles this season -- and at 0-7, the Jaguars have had plenty -- it was Jacksonville's defense that opened the box a bit, and the Colts took that cue. It was the Jaguars, being such a heavy underdog, who played more aggressively on defense than any of the Broncos' first five opponents. Jacksonville's defensive backs were more physical with the Broncos receivers, and the Colts went to the next level with that. The Colts played in press coverage much of the time on the outside, matched up one-on-one on the Broncos wideouts, kept the two safeties deep and defended the run with seven in the box most of the night. Now, it is a testament to the Broncos offense that "holding" it to 33 points, as the Colts did, was a season low. But it is probably a template others will try to duplicate, at least until the Broncos show they have an answer.
To that end, how do you think the Redskins will attack Manning and the Broncos' wide receivers?
Keim:
They have to be aggressive, as they were against
Tony Romo
and against
Jay Cutler
, until he got hurt. The Redskins will not blitz every down by any means; they feel good about their ability to pressure with four -- thanks to having linebackers
Ryan Kerrigan
and
Brian Orakpo
and nose tackle
Barry Cofield
. But they will blitz from the slot and send the safety off the edge once in a while. Anything up the middle will come from the linebackers. What they've also tried to do the last couple weeks against very good receivers is jam them and disrupt timing. They won't do it every down; sometimes they'll do it at the line and sometimes they'll wait a couple yards. They will mix coverages; Washington uses a lot of three-corner, one-safety sets and that enables corner
Josh Wilson
to sometimes disguise his position. Will he be in the slot? Strong safety? That occasionally buys them time to get free on the rush. They will have a tough time against
Wes Welker
, as everyone does. But with issues at safety this week --
Brandon Meriweather
's suspension and
Reed Doughty
's concussion -- I think you have to mix it up. If they try to just play coverage against Peyton Manning, he will pick them apart. It's not their style to just sit back.
Are you surprised by what Denver's offense has done? If so, what surprises you?
Legwold:
I'm a little more surprised defenses were so passive early in the season in terms of how often they rushed Manning, especially after he simply torched coverage looks week after week. Despite the avalanche of touchdowns through the weeks, team after team chose coverage over pressure, and that's probably understandable, given Manning has routinely eaten up blitz packages like breath mints throughout his career. But until the Jacksonville game, defenses had rushed Manning with four or fewer on 70 percent of his dropbacks. The Jaguars and the Colts were more aggressive and had some success against a battered offensive line. There is a slight chance right tackle
Orlando Franklin
(knee) could be back this week -- that is the most optimistic scenario with the bye coming next week for the Broncos -- but left tackle
Ryan Clady
is on injured reserve. Manning has always been quick to adjust, so the Broncos will handle some things better than they did against the Colts. But when they're right and in rhythm, there are defensive coordinators who say the Broncos are as close to unstoppable as the league has to offer because they routinely have four pass catchers in the pattern who can consistently beat one-on-one coverages.
Staying on quarterbacks, the general feeling around the league seems to be that
Robert Griffin III
has been more himself over the last two games or so. Is that the case, or have the Redskins made some kind of adjustment to help him along?
Keim:
No, I think the adjustment has been more about Robert trusting his knee and feeling good enough to let loose again. The Redskins say there were runs for him in the game plan in the first couple weeks, but I think that was just lip service and a desire to try and con other teams. The reality is, Robert wasn't going to be running a lot early in the season. I also think Dallas and Chicago both played in a way that fed into his running: man coverage on the outside and a big focus on stopping running back
Alfred Morris
. The Bears played as if they had not seen the Dallas tape; there were times when most of the eyes were on Morris, a contrast to last season when they were more on Griffin. So he had to run more. But I really think this is about him feeling better -- not healthier, but just overall better.
Teams blitzed Griffin early in the season because he wasn't quite himself. They also played the zone read with a little more discipline (until last week). How do you think Denver will react to his style of play?
Legwold:
It's easy to forget in all that's happened all over the league since, but it was John Fox, former offensive coordinator
Mike McCoy
and current offensive coordinator Adam Gase who dropped the read option on the NFL in the 2011 season. The Broncos had
Tim Tebow
at quarterback then, and discovered he didn't function well in a traditional pro-style, dropback passing offense. So they unveiled the read option against the Raiders that season, won big and eventually made the playoffs at 8-8. The Broncos have since defended the look well, but Griffin will be the most explosive player they've seen running it. Defensive coordinator Jack Del Rio is aggressive and the Broncos like to try to force the issue.
Champ Bailey
won't play because of a foot injury, but Del Rio likes his other corners enough to play plenty of man coverages. They will likely use some sort of spy on Griffin in some down-and-distance situations, and take a measured approach in the pass rush so they don't get too deep into the backfield and give Griffin escape routes.
Staying with the Redskins' offense a little more, on the outside it looked as though there was at least a small rift between Griffin and both Mike and (offensive coordinator) Kyle Shanahan earlier this season. Was that the case, and if so, have they worked through it?
Keim:
A rift? Not sure if it went that far (though perhaps this is semantics), because that feels harder to repair. But there was definitely a little tension as the coaches and player sought to get on that so-called same page. From Griffin's perspective, what I've always heard is that it was a matter of him being able to trust his coaches -- that what they told him during the week would play out on Sunday. He needs to trust them. From Mike Shanahan's perspective, he always liked to let Griffin know who was in charge. For Shanahan, this is a business relationship, though Griffin seems to like having something more from those he works with. Shanahan only wants to win a Super Bowl. That's it. Griffin's dad didn't help the cause by talking about how his son shouldn't run the ball; the coaches would point out that Griffin's ability to run is why he was so good last year. He's not an accomplished passer yet and needs his legs to be dynamic. I've always felt this was an evolving relationship and one that could work. But I'll be curious to see what happens with it should the Redskins fail to turn their season around (and it becomes a disaster). Just keep in mind: Griffin is tight with the owner.
How did
Von Miller
look in his return and is he enough to save the Broncos' defense?
Legwold:
Miller looked like he had missed six weeks' worth of practice. At times he flashed his ability, but he also looked rusty and sluggish. Time will ultimately tell the tale, but it will be interesting to see if the extra 10-15 pounds he said he added in intense workouts during his suspension affect his play. His game before the suspension (for violating the league's substance-abuse policy) was predicated on speed off the ball, explosiveness and the ability to change direction at full speed, without losing any momentum toward the ball carrier. It was just one game, and publicly Fox keeps saying it will get better, but Miller did not consistently show that same explosiveness this past Sunday. Internally, some with the team are concerned Miller continues to avoid taking any full responsibility for what's happened. He is now in Stage 3 of the league's drug program, which means his next suspension is for at least a year,and he's tested up to 10 times a month for the remainder of his career. Yet he continues to say he doesn't have a substance-abuse problem or need any help in a treatment program. So, some are left to wonder how exactly he got all the way to Stage 3 without having a substance-abuse problem. Put it all together and Miller certainly does have question marks around him. On the field, though, the Broncos need him to be better than he was Sunday night if he's going to have the kind of defensive impact they hope to see.
In the end, with a 2-4 start, is Shanahan in any real trouble with owner Daniel Snyder if they don't rebound to make the postseason or at least be in the hunt down the stretch?
Keim:
I haven't heard Shahanan would be in that sort of trouble. I think it would take an outright disaster for anything to happen, and former Redskins tight end
Chris Cooley
, for example, recently said that Shanahan would return regardless (Cooley remains close to many in the organization). But the interesting part will be whether he gets an extension. Shanahan signed a five-year deal and has constantly said that owner Dan Snyder would give him all five; otherwise he would not have come here. But would he want to enter the last year of his contract without an extension? So there is a scenario under which Shanahan does not get fired, but presses Snyder for an extension. At that point, Snyder has a decision to make; if he doesn't grant the extension, then Shanahan could end up resigning. Once again, there could be offseason drama in Washington.
Do you view Denver as a legitimate Super Bowl contender, or do you have concerns that they're built more for the regular season than postseason success?
Legwold:
In the end, if they can avoid too many more major injuries, they'll have the offense to put themselves in the title hunt. The question will be, can they find enough defense from a unit that, somewhat surprisingly, hasn't performed nearly to the level of last season? Also, they have to play with a little more edge on offense. Receivers can't always be looking for a flag because there is some contact, and they can't react as poorly as they sometimes do after fumbles or other misfortunes. Just get back up and play. But it is a talented group who generally works hard across the board, and when it plays with purpose and toughness, it can be the best the league has to offer. It's a matter of keeping their eye on the ball, as it were, and closing the deal.
.
October, 24, 2013
10/24/13
12:00
PM ET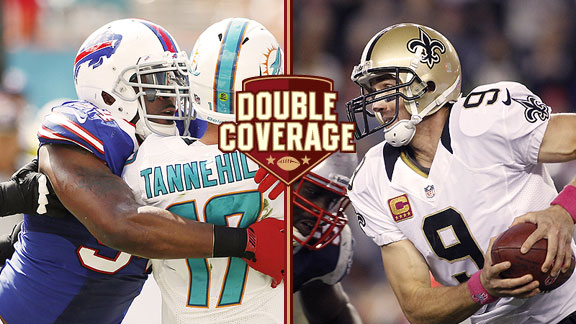 USA TODAY SportsMario Williams and the Bills' defense will attempt to slow down Saints QB Drew Brees.
The
New Orleans Saints
(5-1) are one of the NFL's most dominant home teams (3-0 this year, 32-11 since 2008). They've also won four straight games following bye weeks. So Sunday's matchup against the
Buffalo Bills
(3-4) certainly seems like a favorable one.
However, the Bills have proven to be a tough out. They're coming off of a 23-21 victory at Miami. All but one of their games has been decided by a touchdown or less. And they'll bring one of the NFL's most disruptive pass rushes into the Superdome, led by
Mario Williams
.
Injuries will be a key issue, especially on offense. Saints tight end
Jimmy Graham
(foot) and Bills running backs
C.J. Spiller
(ankle) and
Fred Jackson
(knee) all are battling ailments.
ESPN.com Saints reporter Mike Triplett and Bills reporter Mike Rodak break down the matchup:
Triplett:
I saw that Williams and the Bills' pass rush certainly delivered last week with a game-changing sack and forced fumble in the fourth quarter to beat the Dolphins. How good is that pass rush? And do you think the Bills' defense overall is capable of slowing down
Drew Brees
and the Saints' high-powered offense?
Rodak:
Mike, the pass rush has been the strength of what has been a banged-up defense. Williams has 10 sacks this season and the Bills are disrupting 20.1 percent of opponent dropbacks (measured by sacks, passes defensed, interceptions and batted balls), which is second to the 7-0 Chiefs (26.5 percent).
As for facing the Saints' offense, I think the Bills are better equipped for the challenge now than they would have been earlier this season. With
Jairus Byrd
and
Stephon Gilmore
back from injuries and being eased into action, the Buffalo defense will have its best playmakers on the field. Still, we're talking about a middle-of-the-pack defense that has yet to have everything click. The run defense has struggled and the Bills have shown a tendency to give up the big play at times. The Saints will have their chances.
I haven't had a chance yet to watch the Saints live this season, but I can tell you that those who were left in the Ralph Wilson Stadium press box two weeks ago had their eyes glued to that Saints-Patriots thriller. If the Saints pull that out, they're 6-0. Can we attribute their success early this season entirely to Sean Payton's return, or is there more to it?
Triplett:
Payton's return is a huge part of it. Essentially, the Saints have been proving that their 7-9 season in 2012 was a fluke. I think many people nationally forgot just how good this offense was in 2011, when Graham and
Darren Sproles
emerged as weapons for them. They went 13-3 that year and set the NFL record for yards gained. Now, they're back in their comfort zone with Payton back as one of the NFL's best game planners and motivators.
This year, the biggest surprise is how well the defense has been playing after such an abysmal performance in 2012. New defensive coordinator Rob Ryan, young pass-rushers
Cameron Jordan
and
Junior Galette
and the entire secondary have been huge for them. And I think it's legit.
Speaking of coaches, Mike, I have to ask about the impact Doug Marrone is making there. He has ties here after serving as Payton's first offensive coordinator and offensive line coach from 2006-08.
Rodak:
Indeed, Marrone does have ties to New Orleans, not only as a coach, but also as a player. He was asked about it Monday and, probably trying to keep the focus on this week's game, didn't wax nostalgic about his time there, but simply said it was a good experience in his progression to becoming an NFL head coach.
As far as what he has done in Buffalo, I'd say it's so far, so good. But naturally as a first-year coach, the jury is still very much out on him. A lot will depend on how
EJ Manuel
performs when he returns this season and then beyond. But most importantly, Marrone has been able to avoid distractions or controversy, like what we saw with the Greg Schiano-
Josh Freeman
situation after Schiano made the jump from the college game. This seems to be a tight-knit locker room and a team that has closely contested each of its games this season.
Mike, there's a pair of recent first-round picks in
Kenny Vaccaro
and Jordan who have helped anchor the new-look Saints defense under Ryan. Tell me about what they've done, but also about what holes on defense the Bills might exploit.
Triplett:
Jordan has been the Saints' defensive MVP so far. In fact, he was probably their defensive MVP last year, too. But this year he's starting to gain national attention for the impact he's making as a power pass-rusher and standout run defender. He's a big athlete at 6-foot-4 and about 290 pounds. So he's a good fit at 3-4 end but also at 4-3 end, where he's essentially lined up for most of this year since they play so much nickel and dime. Jordan has five sacks, a forced fumble and 24 hurries, according to Pro Football Focus.
Vaccaro, meanwhile, has been fun to watch since Ryan moves him around so much (deep safety, in the slot, blitzing, sometimes even at linebacker and corner). It's similar to the way the
Pittsburgh Steelers
use
Troy Polamalu
, though Vaccaro is obviously not at that level yet. He's still developing, but he's played almost every snap this year and has made several impact plays.
If the Bills' run game is going strong, that could give the Saints a few problems. Their run defense hasn't been their strength. But it's something they've been willing to sacrifice while making it a priority to prevent big plays. The Bills need to keep this game close so they're not forced to play catch-up -- which is no easy task. Do you think they've found some stability with
Thad Lewis
at quarterback? Or might we see
Matt Flynn
instead this week?
Rodak:
They've definitely found some stability with Lewis at quarterback. While I don't think there's much of a chance that Lewis remains the starter when Manuel returns, it's not a stretch to say that Lewis has actually played better than the rookie. He has shown better accuracy on some of his passes and also seems more willing to drive the ball downfield when he needs to. His statistics haven't blown anyone away -- he ranked in the bottom third of the NFL in QBR in each of his two starts -- but the Bills seem more than happy with what they're getting out of him.
Flynn was inactive Sunday against the Dolphins, six days after arriving in Buffalo. I think the Bills would ideally like to have him as their backup instead of undrafted rookie
Jeff Tuel
. But as far as surpassing Lewis, I think that would take a collapse by Lewis over the next few games and an impressive showing by Flynn in practice.
Mike, how do you see this game playing out? Do you expect Graham to be available for the Saints?
Triplett:
I think Graham will be highly questionable all week. I wouldn't be surprised at all if he's out or limited, which would obviously put a dent in the Saints' offense. But I still think Brees has enough weapons -- starting with Sproles,
Marques Colston
and
Pierre Thomas
in the passing game -- to move the ball and put up close to 30 points or more.
If New Orleans scores early and forces Buffalo to play catch-up, the Bills could really be in trouble. And if the Saints are the ones who have to play catch-up, they've proven they can do that. Buffalo's best chance is to control the clock with its run game, win the turnover battle and force the Saints to settle for field goals.
October, 24, 2013
10/24/13
12:00
PM ET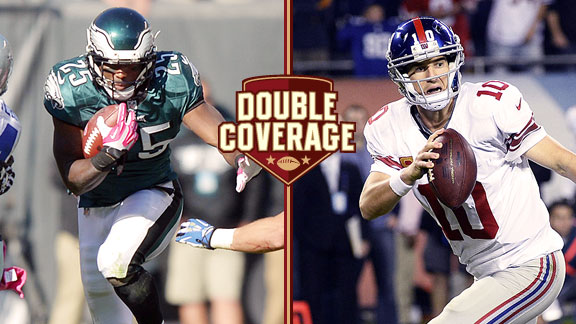 USA TODAY SportsA steady diet of LeSean McCoy will help keep Eli Manning and the New York offense on the sideline.
Just three weeks after the
Philadelphia Eagles
beat the
New York Giants
36-21 at MetLife Stadium, the NFC East rivals meet again Sunday. This time, the scene is Lincoln Financial Field, where the Eagles have lost a franchise-record nine consecutive games.
As he did last time,
Michael Vick
is expected to start at quarterback for the Eagles. Vick was injured before halftime of that game and hasn't played since. In his absence,
Nick Foles
led the Eagles to a decisive win in Tampa and an equally decisive loss to Dallas. Foles left that game with a concussion.
As he did last time,
Eli Manning
will start for the Giants. The Eagles intercepted Manning three times in the fourth quarter. Against the Vikings Monday night, Manning had his first game of the season without an interception, after throwing 15 in the Giants' first six games. All six were losses, which is probably not a coincidence.
Dan Graziano, who covers the Giants for ESPN.com, chatted with Eagles reporter Phil Sheridan about Sunday's game.
Phil Sheridan:
Now that the Giants have that elusive first win, is there a sense the season is salvageable?
Dan Graziano:
Phil, I really think the Giants have excelled at one thing this year, and that is keeping their focus on the week at hand and pushing the ugly, big picture out of their minds. They know they're in a huge hole at 1-6. If they stopped to think about it, they'd probably realize their chances of making it a season are impossibly low. But they're not stopping to think about it. They are enjoying the fact that they won a game for the first time since Week 17 of last year, and then they're locked in on trying to beat the Eagles and get another one. This is where Tom Coughlin's leadership shows, I think -- in the Super Bowl runs but also in a tough time like this, when it really is all about playing for pride, but over the years we've seen a lot of teams unable to do that when a season slips away. The Giants are unlikely to quit on their season, no matter how bad it gets, and that week-to-week focus is critical to that.
How about the Eagles? Ol' Mike Vick couldn't finish the game three weeks ago and hasn't played since, but it sounds like he's starting Sunday, right? Will he be at full strength and able to rip off those long runs that caused the Giants so much trouble the first time?
Sheridan:
I doubt Vick himself will know the answer to that one until he tries it, Dan. That's the thing about an injury like a hamstring or other pull. You can't be sure it's 100 percent until you do something that would make it pop again without popping it. Vick has been avoiding that while the injury heals. That question leads to the next point, which is that Vick running was about the only thing working for the Eagles in that game against the Giants. He couldn't get the passing game going and the Giants drew up the blueprint Dallas just copied to contain
LeSean McCoy
. So this shapes up as a tough test for Vick and the rest of the offense.
Speaking of that Giants' defense, it looked as if
Jason Pierre-Paul
had a little more bounce Monday night. How much better and healthier is that defense than it was even three weeks ago?
Graziano:
Pierre-Paul did look better in the first half, I thought. I thought the same thing in the first Eagles game. But we haven't seen him maintain it throughout a game yet, and regardless of how he looked Monday, he's still a player who has one sack in his past 14 games. The Giants need him to be great, and he hasn't been. They believe there's a week coming when he'll terrorize people again. They wish they knew which it was. The biggest difference, though, to me on the Giants' defense is new middle linebacker
Jon Beason
, who has really taken over as a leader and a playmaker the last two games since coming over in that trade from Carolina. Beason is getting the defense fired up before the game and lined up during it, and his performance so far really points to how glaring their need was for anything at all at linebacker. The whole defense is more energized and organized now, and they are doing a good job limiting opposing running backs, especially between the tackles. Vick and McCoy are going to have to find room outside if they're to pile up yardage.
How's that Eagles defense shaping up these days? I know they were happy when Eli Manning started throwing them the ball a couple of weeks ago in the fourth quarter, but they weren't much for stopping a weak Giants offense in the first three quarters. Are they improving on defense in Chip Kelly's first year?
Sheridan:
They were darn near respectable against the Cowboys Sunday. It's important to remember that the Eagles played the Broncos right before the first game against the Giants. Peyton Manning put up 52 on them. It was an Arena League game. The Eagles desperately needed to show some improvement. When Eli Manning hit on a couple of deep throws, it looked like another debacle in the making. That fourth quarter, and those three picks, helped a lot. The Eagles were fine against Tampa Bay, but that was against a rookie quarterback making his second start. So playing well against
Tony Romo
and
Dez Bryant
was a big step. They aren't going to scare anyone, but they can get some pressure on the quarterback, play the run reasonably well and are improving in the secondary. It remains a work in progress, but you can actually see the progress, which helps.
Seems like the Giants went ahead and grafted an entirely new running attack onto their offense since the last go-round. How effective have
Brandon Jacobs
and
Peyton Hillis
been? And has that helped Eli get the passing game going a little bit more effectively?
Graziano:
Well, Jacobs rushed for 106 on 22 carries in the loss to the Bears, but he and
Da'Rel Scott
hurt their hamstrings in that game, so they ended up signing Hillis last week and running him and rookie
Michael Cox
out there for their first carries of the season Monday. Figure
David Wilson
and
Andre Brown
were supposed to be the "co-starters" preseason, and they're down to their No. 5 and 6 running backs. I think the Jacobs game was a fluke against a bad Bears defense that has nothing on the defensive line right now, and while Hillis got some love Monday, they averaged only 2.0 yards per carry against the Vikings. The one thing that I think has come out of the past two games in terms of running backs is that Hillis looked like a good checkdown option for Manning catching passes out of the backfield. So many of Manning's issues this year come down, I think, to his insufficient comfort level in the pocket due to protection issues. Having a checkdown pass-catcher whom he trusts would be a helpful thing in terms of limiting turnovers.
And Manning cutting out the turnovers sure would put the Giants' fans in a better mood going forward. Speaking of which, what's the mood like around the Eagles in Philadelphia these days? The fans high on Chip Kelly? Skeptical? And ultimately, do you think they break their home losing streak against the last team they beat down there?
Sheridan:
I would say there is a fair amount of skepticism about Chipper right now. Not being Andy Reid only goes so far (especially when Big Red is Bigger, Redder and 7-0). Reasonable fans (there are a surprisingly large number of those here) expected it to take a little time to implement Kelly's plan. I think whatever doubts have crept in are due to Kelly himself: a silly two-point conversion try against San Diego, admitting he didn't know an injury/timeout rule, a truly dreadful offensive showing against the Cowboys, and so on. We just haven't been dazzled by the promised bells and whistles on offense. Still, there is a lot of curiosity about where this is going and what Kelly will do next. As for predictions, well ...
.
October, 24, 2013
10/24/13
12:00
PM ET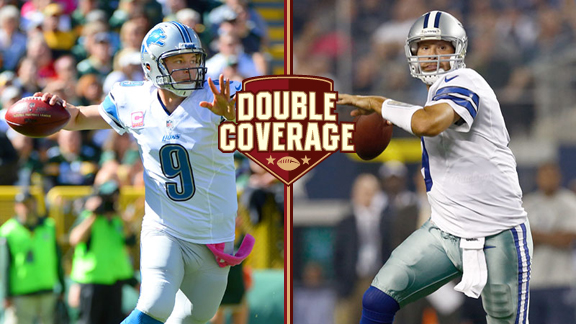 Getty ImagesBoth Dallas quarterback Tony Romo and Detroit quarterback Matthew Stafford have seen needed improvements in certain aspects of their games this season.
It is a matchup between two potential playoff teams and two of the best wide receivers in the game,
Calvin Johnson
and
Dez Bryant
.
But the Dallas-Detroit game on Sunday has other twists, too. For the Lions, Sunday is a chance to grab back some momentum from a strong start to the season. For the Cowboys, it could be a chance to widen their lead on their NFC East opponents.
Dallas NFL Nation reporter Todd Archer and Detroit NFL Nation reporter Michael Rothstein break down what you might see Sunday afternoon.
Rothstein:
Let's start here -- last week in Detroit there was a lot of discussion of
A.J. Green
and Johnson as two of the best receivers in the league. Now it is Bryant and Johnson this week. What is it that Bryant does that should really concern Detroit's cornerbacks, who let Green go for 155 yards Sunday?
Archer:
Bryant can go get the ball. He is virtually impossible to defend in the red zone (and sometimes he'll push off too), but cornerbacks just don't have a chance on him. He's a better route runner now than he was last year and the Cowboys are using him on more varied routes. When he came into the league he would make the spectacular play but couldn't make the boring play consistently. Now he's doing both. But his No. 1 attribute is his physical style. He will fight for the ball and fight for yardage. He's special in that regard.
The Cowboys have had
Brandon Carr
follow Demaryius Thomas,
Pierre Garcon
and
DeSean Jackson
the past three games. I'm sure they'll do the same with Calvin Johnson. When teams have matched up with Johnson like that, how has or hasn't it worked?
Rothstein:
There haven't been too many teams that have single-covered Johnson -- at least not for extended periods of the game. The closest would have been against Arizona in Week 2, but the Cardinals have
Patrick Peterson
and Johnson had six catches for 116 yards and a touchdown against him. Really, the only thing that has slowed Johnson this season was a knee issue that kept him out of the loss to Green Bay and limited him against Cleveland a week later. Not surprisingly, Johnson still draws a ton of attention with a safety rolling to him over the top.
What that has done is opened up the offense underneath for
Reggie Bush
and, to an extent,
Joique Bell
. When both are healthy and playing well, the Lions have had a pretty strong offensive threat from deep threats to short bursts. How does Dallas plan on dealing with that, especially considering
DeMarcus Ware
's questionable status?
Archer:
Running backs and tight ends have hurt the Cowboys in the passing game this year. The safeties have been only OK but are coming off a pretty good game at Philadelphia against
LeSean McCoy
, who's as shifty or more than Bush. The Cowboys had their best tackling game last season against the Eagles.
Sean Lee
and
Bruce Carter
have played better here lately and will be largely responsible for the backs, but safeties
Barry Church
and
J.J. Wilcox
will be a presence too. Losing Ware would be a big blow to a defense that has to get pressure on
Matthew Stafford
. The Cowboys have been rolling in new guys pretty much every week across the defensive line, and added Marvin Austin this week to help at tackle.
Speaking about the defensive line allows me to talk about Rod Marinelli. He has been nothing but great here with those no-name guys, but what's the feeling of him up there considering that 0-16 season?
Rothstein:
That was before my time -- I was still covering the Charlie Weis Notre Dame years when Marinelli was in Detroit -- but I can say I have not heard anything about that season in my short time here and most of the current team arrived in 2009 or later.
But the 0-16 season contributes to the typical angst the Lions fan base has over any success the team has -- as in waiting for the bottom to drop out. But most of this team is so new, there isn't much of that feeling. Plus, as injured receiver
Nate Burleson
said earlier this year, when you go to play in Detroit, you know there are going to be questions about losing streaks to be broken and demons to be exorcised.
Since we're chatting a little bit about defense,
Tony Romo
is being sacked on 6 percent of his attempts, so is Dallas' line doing a good job protecting him or are these more coverage sacks? What's going on with the protections?
Archer:
The line has improved a lot from recent years, especially in pass protection. They revamped their interior line with
Travis Frederick
, their first-round pick at center,
Ronald Leary
at left guard and
Brian Waters
, who did not play last season, at right guard. Tackles
Tyron Smith
and
Doug Free
are performing better than they did a year ago. Romo has taken a number of coverage sacks this year, and he's also elusive for a guy who does not appear to be the most athletic. He has terrific vision and a quick release that can bail him out of trouble. As strange as it sounds, I think Romo also has seen the value of taking a sack and not forcing a throw.
Let's stick with the quarterback play. Stafford is a Dallas kid, so we know his background. He likes to throw it around, but like Romo, his interceptions are down. Is he just being more careful with the ball or has the attack changed a little?
Rothstein:
Having Reggie Bush in the offense has allowed Stafford to throw the ball shorter more often and as an old coach I used to cover once said, "Short passes are happy passes." They are also more likely to be completed passes. Here's something to consider with Stafford as well. His numbers could be much better, but his receivers have dropped 6.9 percent of his passes. Hold on to even half those and he's completing around 65 percent of his passes this season. He also has gotten much better at throwing the ball away instead of forcing passes. That's been a big change. There is an accuracy component to it as well, but he isn't taking nearly as many downfield chances.
Speaking of semi-homecomings, you mentioned Carr earlier. Does this game mean more to him because he is coming home as he grew up and played his college ball in Michigan? And second thing on that, has Dallas changed a lot from last season or can a guy like
Kevin Ogletree
help this week?
Archer:
I'm sure it does but Carr will attempt to downplay it. He still carries that Grand Valley State/fifth-round pick chip on his shoulder even if the Cowboys gave him a $50 million deal last year as a free agent. He has done a terrific job here the past three weeks as we talked about earlier. Jason Garrett even went out of his way to praise Carr's work on special teams, so you can see the Flint in him hasn't left. As for the Ogletree angle, he had a hard enough time with the offense that I don't think he would help with the defense. The Cowboys have a completely different scheme from Rob Ryan's 3-4 to Monte Kiffin's 4-3. Ogletree will know some personnel, but the corners are playing a little different than they did a year ago so I don't think it will matter much.
I haven't asked about the Lions defense yet. Just by looking at the numbers they seem to be pretty good situationally: third down, red zone. Is that the wrong read here?
Rothstein:
The defense is kind of a little bit of everywhere. Great on third down over the first month of the season -- not as much over the past three weeks. Perhaps a corollary here is the defensive line not getting quite as much pressure on opposing quarterbacks the past three weeks as it did during the first month of the season. Red zone defense has been pretty good. Overall, it is a decent Lions defense.
DeAndre Levy
is having a Pro Bowl-caliber season at linebacker and the defensive line and safeties have been good. Cornerback has been a bit up-and-down, though.
My final question to you sticks with this theme. We touched on the Dallas offensive line earlier, but how do the Cowboys deal with
Ndamukong Suh
? He is a guy who can change games on his own.
Archer:
This is part of the reason why the Cowboys wanted Frederick, Waters and Leary. They're stout players. The Cowboys have not had much power in the middle and it has hurt the running game as well as pass protection. Suh, obviously, offers a different challenge. Waters has the strength necessary but he does not move like he did a few years ago. The Cowboys will give him some help but not all the time. And I think Romo can help out the line as well by getting rid of the ball quickly. The Cowboys only take a handful of downfield shots a game, relying mostly on underneath stuff to work their way down the field.
The Lions are 4-3 like the Cowboys and this is a huge game for both when you start thinking about December and playoff chases. You touched on this earlier, but is the town ready to get behind the Lions, especially because the Tigers aren't in the World Series and it's still early in the Red Wings' season?
Rothstein:
I think there is some of that, for sure, and I think there is the hope among the fan base that this year's Lions team is for real. But as I mentioned earlier, there is going to be that sense of dread -- which is why a win for Detroit on Sunday would really go a long way to bolster that fan base confidence. And probably to maintain the confidence in the locker room as well.
.
October, 24, 2013
10/24/13
12:00
PM ET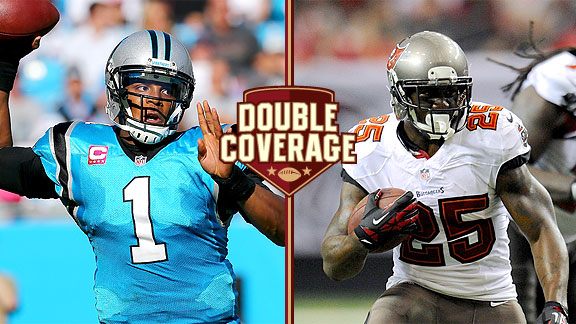 Getty Images, USA Today SportsCam Newton and Mike James will compete in a Week 8 NFC South matchup on Thursday.
The
Carolina Panthers
and
Tampa Bay Buccaneers
haven't been relevant on a national basis in a long time.
But, at least for one night, that will change. The winless Bucs host the Panthers (3-3) in a Thursday night prime-time game.
ESPN.com Buccaneers writer Pat Yasinskas and Panthers writer David Newton review the matchup:
Yasinskas:
David, Carolina coach Ron Rivera got off to 2-8 starts in each of his first two seasons before finishing strong. The Panthers have strung together a couple of wins. Are they coming together faster this year and do they have what it takes to make a playoff run?
Newton:
Not sure if it has to do with coming together faster as much as having more pieces to put it all together, combined with the understanding of what it takes. The addition of first- and second-round picks
Star Lotulelei
and
Kawann Short
at tackle has improved the defense substantially. The Rams tried to keep middle linebacker
Luke Kuechly
from being a factor last week with a special scheme, and the two rookies responded with a combined four tackles for loss and nine tackles overall.
Offensively, quarterback
Cam Newton
finally has gotten comfortable spreading the ball around to players such as
Ted Ginn Jr.
and
Brandon LaFell
, instead of relying heavily on wide receiver
Steve Smith
and tight end
Greg Olsen
. And Newton is playing at a level of consistency and confidence he hasn't had since his days playing at Auburn. The Panthers finally seem to have an identity on both sides of the ball, whereas the past two years they've been searching for one. That has raised confidence and created an attitude -- a belief -- that they can compete with anyone. It was there after they lost 12-7 to Seattle in the opener, but it took getting a few wins in a row for it to completely take hold.
Speaking of confidence, it can't be very high for the Bucs, who released franchise quarterback
Josh Freeman
a few weeks ago, and now apparently are without running back
Doug Martin
. Is this team in danger of besting -- if that's the way to put it -- the 1976 Bucs that went 0-14?
Yasinskas:
That's not out of the realm of possibility. It's tough to go winless. But, right now, I have a hard time envisioning the Bucs getting a win, because they appear to be in such disarray -- on and off the field. The Freeman saga and the repeated cases of MRSA have been a distraction; it seems like something new and weird is popping up every day. On the field, the Bucs are doing things such as committing 11 penalties in Sunday's loss to Atlanta. I've covered some bad football and some craziness through the years. But the Bucs are combining bad football with strange, off-the-field stuff more than I've ever seen, and there's no end in sight with speculation running rampant about the future of coach Greg Schiano.
The injury to Martin is just the latest stroke of bad luck, and it forces rookie
Mike James
into the starting lineup. Martin had been one of the few bright spots, and had the ability to take some of the pressure off rookie quarterback
Mike Glennon
.
Speaking of Glennon and pressure, I think Carolina's front seven is as good as any in the league. Do the Panthers even need to blitz or can they generate enough pressure with their front four?
Newton:
They'll blitz occasionally, but it'll be in strategic spots as you saw on the first play against St. Louis. Strong safety
Quintin Mikell
came in and tipped the pass as it left the arm of
Sam Bradford
, resulting in a pick-six for cornerback
Captain Munnerlyn
. The week before, linebacker
Thomas Davis
blitzed twice and went in basically untouched for sacks. They're aggressive, but smart with it.
You're right, though, the front four is playing extremely well. They're stuffing the run and forcing quarterbacks to throw faster than they want, which is allowing a secondary that was suspect two games into the season to make big plays.
Greg Hardy
has been a big part of that playing tackle, as well as his natural end position. He's way off the 50-sack goal he mentioned to you this summer, but opposing quarterbacks know he's there.
While we're on this topic, the Panthers have been particularly strong against quarterbacks who aren't mobile. That seems to be the case this week with Glennon. Is this a nightmare matchup for him, and how has he handled the pressure of starting so far?
Yasinskas:
Glennon has handled the pressure as well as you could hope for, under the circumstances. He has shown improvement each week, and he's a composed guy. But I think the matchup with Carolina could be his biggest test yet. He hasn't seen a pass rush such as Carolina's, and it doesn't help that the Bucs likely will be without injured guard
Carl Nicks
. Tampa Bay's offensive line hasn't played very well this season and that's a concern. Although Glennon has shown a bit more mobility than I thought he had, he still is pretty slow. That makes Carolina's pass rush scary.
Speaking of offensive lines, when I was still covering the whole NFC South back in the preseason, Carolina's offensive line was one of the team's biggest question marks. How has that unit performed?
Newton:
Amazingly, the O-line has held together pretty well, considering the loss of starting left guard
Amini Silatolu
. Sure, they've had their bad moments. The seven sacks surrendered against Arizona was the low point, but several of those you can blame on Newton for holding the ball too long. And they played well enough in the first half for Carolina to be up by two touchdowns, were it not for the dropped passes before everything fell apart.
If I'm the Panthers, I would be concerned with Tampa tackle
Gerald McCoy
. The Panthers have struggled against a couple of premier pass-rushers. Buffalo's
Mario Williams
and his 4.5 sacks in Week 2 come to mind. But it's hard to be too tough on this group since the running game has been one of the best in the league.
.
October, 24, 2013
10/24/13
12:00
PM ET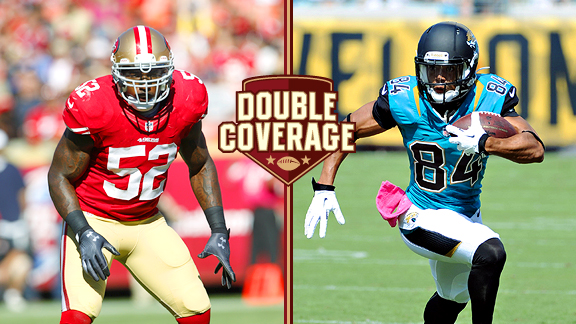 Getty Images, USA Today SportsPatrick Willis' 49ers meet Cecil Shorts' Jaguars in the second NFL game in London this season.
JACKSONVILLE, Fla. -- The
San Francisco 49ers
have righted the ship after a shaky start. The
Jacksonville Jaguars
are still sinking.
The teams going in opposite directions will meet Sunday in London's Wembley Stadium in the second of two NFL games being played in the United Kingdom this season.
The 49ers (5-2) have won four games in a row -- and scored at least 31 points in each of those games -- since starting the season 1-2. The Jaguars are 0-7 and are the first team since the 1984 Houston Oilers to lose their first seven games by double digits.
That makes Sunday's game look like a giant mismatch, yet the Jaguars were 28-point underdogs to the
Denver Broncos
two weeks ago but lost by only 16 points -- and trailed by just two at halftime.
ESPN.com Jaguars reporter Michael DiRocco and 49ers reporter Bill Williamson break down the matchup:
DiRocco:
The 49ers used the read-option the most they have all season against Tennessee in Week 7. Will that be a bigger part of the offense again as the season progresses?
Williamson:
Mike, I think it is going to be a week-to-week situation. The 49ers used the read-option seven times last week after using it a total of nine in the first six games. The 49ers saw they could exploit Tennessee's defense using it. I think we will see it again, but probably in more challenging games and only in certain situations, when the 49ers are confident it will work. We could maybe see it some in London, but I have a feeling it will be more like the first six weeks of the season.
Mike, if the 49ers do run a lot of read-option offense, do you think the Jaguars can handle it?
DiRocco:
Probably not. The Jaguars are last in the NFL in rushing defense (153.3 yards per game) and have given up a league-high nine rushing touchdowns. The defense's biggest problem against the rush is that it has given up a lot of explosive plays. Jacksonville has allowed an NFL-worst 10 rushing plays of 20 or more yards. Stopping the read-option is assignment football and the Jaguars' ends have not been as disciplined as needed. For example, Oakland's
Terrelle Pryor
ran for 50 yards in Week 2, including a 27-yard run in which the entire defensive front bit on the inside fake.
Bill, the Jaguars have had trouble with tight ends all season and now they face
Vernon Davis
. Who is the last team that's shut him down how?
Williamson:
Davis hurt his hamstring late in the Seattle game in Week 2. He was pretty well shut down in that game before getting hurt. He missed Week 3 against the Colts and then came back against the Rams. He's been good and he is healthy. If the Jaguars have trouble against tight ends, the 49ers will exploit it. Davis and quarterback
Colin Kaepernick
have a great chemistry going this season. The 49ers' coaching staff is great at exploiting weaknesses.
Mike, do you seeing this being a big problem for Jacksonville?
DiRocco:
Absolutely. Tight ends have combined to catch 42 passes for 401 yards and five touchdowns against Jacksonville this season. Depending on the defense called, the Jaguars will either have a safety or linebacker on the tight end. At times, the job has fallen to middle linebacker
Paul Posluszny
, who is very good against the run but not fast or quick enough in pass coverage. The Jaguars won't use the approach New England did against New Orleans standout
Jimmy Graham
-- the Patriots put their best corner,
Aqib Talib
, on him -- so I'd expect Davis to have chances to exploit some matchups with linebackers on Sunday.
Speaking of exploitation, the
Anquan Boldin
trade looked like a steal in Week 1. How is it regarded now?
Williamson:
Still, unabashed thievery. Sure, Boldin had 13 catches in the first week and a combined 21 catches in the following six. But the 49ers would be in trouble without Boldin. He had three circus catches at Tennessee and he's been the team's only reliable wide receiver with
Michael Crabtree
and
Mario Manningham
out. The 49ers would not be 5-2 without Boldin.
Mike, do you think the Jaguars will keep him in check Sunday?
DiRocco:
The Jaguars have done a solid job the past two weeks of playing umbrella coverage and making sure they don't give up deep throws. That does leave the short and intermediate routes open, though, and that's where Boldin thrives. He's a physical receiver and the Jaguars don't yet have the kind of personnel to match up with him. Coach Gus Bradley wants to build a secondary similar to the one he helped build in Seattle, which includes big, physical corners. The Jaguars still have work to do there, although rookie third-round pick
Dwayne Gratz
(5-foot-11, 201 pounds) is finally back from his high-ankle sprain.
.
October, 24, 2013
10/24/13
12:00
PM ET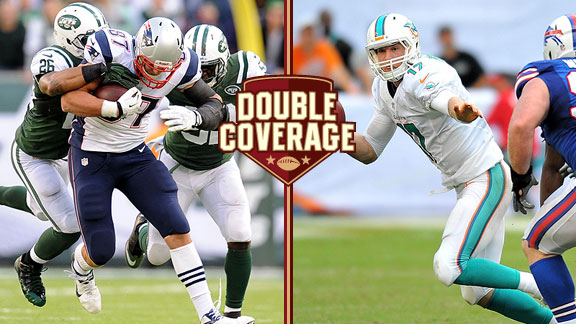 USA TODAY SportsRob Gronkowski's second game this season will be against Ryan Tannehill and the sliding Dolphins.
.
At the start of the 2013 season, a hot-button question was which AFC East team was closest to contending with the
New England Patriots
for the division championship. Most seemed to agree it was the
Miami Dolphins
, who were as aggressive as any NFL team in reshaping their roster in the offseason.
But through seven weeks of the regular season, the picture looks a bit different than many projected.
First, the Patriots' stranglehold on the AFC East doesn't seem as strong as it has been for long stretches since 2001, a span in which they have posted a 61-16 record against division foes. They are coming off a surprising 30-27 overtime road loss to the
New York Jets
to drop to 5-2.
Meanwhile, the Dolphins opened the year with three straight wins, but have slid back to the pack with three straight losses, the latest a surprising setback to the visiting
Buffalo Bills
this past Sunday 23-21.
Could the Bills and Jets be further along than the Dolphins? And are the Patriots suddenly vulnerable?
Those are topical questions to ask as the Dolphins prepare to visit the Patriots on Sunday (1 p.m. ET), and NFL Nation Dolphins reporter James Walker and NFL Nation Patriots reporter Mike Reiss help us break it down:
Reiss:
James, let's start by giving Patriots followers a feel for where things have broken down for the Dolphins.
Walker:
Where do I start, Mike? Not much has gone right for the Dolphins since their 3-0 start. The biggest problems have been on offense. With the exception of last week against Buffalo, the running game was non-existent. That made the Dolphins one-dimensional and very pass-heavy. That also let opponents know they can pin their ears back and get after the quarterback. Miami has allowed 26 quarterback sacks in six games, and a majority occurred in the second halves and fourth quarters when the Dolphins quit early on the running game. The lack of pass protection and an inconsistent running game put a lot of pressure on second-year quarterback
Ryan Tannehill
, who is trying too hard. He has seven turnovers -- five interceptions, two lost fumbles -- in the past three games. Tannehill has a lot of potential, but he's not ready to carry the Dolphins' offense by himself. The issues around him must improve, which is why the Dolphins traded this week for veteran offensive tackle
Bryant McKinnie
.
Mike, one of the biggest concerns for Miami this week is stopping Pro Bowl tight end
Rob Gronkowski
. How did Gronkowski look in his first game back and what do you expect in his second game?
Reiss:
Gronkowski was an immediate difference-maker, playing 51 of 79 offensive snaps (including penalties). So the first thing to look at this week is just his workload, which should gradually increase. When healthy, Gronkowski seldom comes off the field. As for his production, all we have to do is look at how many times he was targeted by
Tom Brady
against the Jets -- 17 times. And, of course, he finished with the eight catches for 114 yards. The Patriots are obviously a better team with Gronkowski, and it showed up Sunday, specifically in the red zone where the space gets tight. Tell us more about the Dolphins' defense and how they might defend him.
Walker:
My feeling is Miami will try to go conventional and let the linebackers and occasionally the safety cover Gronkowski. Dolphins safety
Reshad Jones
hasn't been great in coverage this season, but he's playing much better the past two weeks. I think the Dolphins should get creative with Gronkowski. One option is to have rookie defensive end and athletic No. 3 overall pick
Dion Jordan
line up on Gronkowski at times. Jordan is long, athletic and can be physical with Gronkowski at the line of scrimmage. That would be a good curveball. According to defensive coordinator Kevin Coyle, Miami's primary focus is not to worry about the receptions but to prevent the vertical plays. The Dolphins want to keep Gronkowski in front of them.
Mike, New England's defense started fast but has allowed 57 points in the past two games. Have injuries caught up with this group?
Reiss:
In a word, yes. It is still a good unit but naturally not the same without players like defensive tackle
Vince Wilfork
and linebacker
Jerod Mayo
, which has forced the coaching staff to shuffle things around. The Patriots were also without cornerback
Aqib Talib
on Sunday, and I think he's been their best defender this season. We'll see if he's back this week from a hip injury. Overall, it's still a well-coached unit and they create turnovers, as evidenced by their streak of 34 straight games with at least one. I'm sure one of the things that will be watched closely here in New England is what type of impact receiver
Mike Wallace
has on the game. Some followers of the team would have loved to see the Patriots sign him as a free agent, especially in light of the struggles the offense is having this season. How would you assess Wallace's impact in Miami? Are they happy with the signing?
Walker:
It's been a work in progress, Mike. The sense I get is it's still a feeling out process with the coaches in terms of how to use Wallace to the best of his abilities. He's a unique receiver with speed. Yet, the Dolphins don't have enough pass protection to allow Wallace to run enough "nine routes" down the field. It hasn't always been a match. But Miami is starting to do a better job of getting Wallace the football in other ways. The Dolphins have run more screens, slants and reverses to keep him involved. Wallace has had his best games this year when he gets a couple of receptions early. That's happened against Indianapolis and Baltimore, which were Wallace's two 100-yard games. If the Dolphins want to have a chance of pulling off the upset, they need at least one or two big plays from Wallace in game.
Finally, Mike, the Patriots are 5-2 but don't look as dominant as previous years. The Dolphins are struggling. But is the AFC East as a whole closing the gap on New England this year?
Reiss:
That's a good question, James, and I think this game Sunday will help us better answer it. The Patriots went down to the wire with the Bills in the season-opener and had two down-to-the-wire games with the Jets. If the same thing happens with the Dolphins, that would be some pretty good evidence to suggest that the gap in the division is indeed closing. And yet then, we are reminded of this time last year
when every team in the division was 3-3
and we thought the gap had closed. Turns out that wasn't the case. That's why I view things more through a short-term lens and spotlight this as an important game for the Patriots from an AFC East perspective as they could improve to 3-1 in the division, with division games remaining at the Dolphins (Dec. 15) and home against the Bills (Dec. 29).
.