NFL Nation:

2013 NFL Week 9 Double Coverage
November, 1, 2013
11/01/13
12:00
PM ET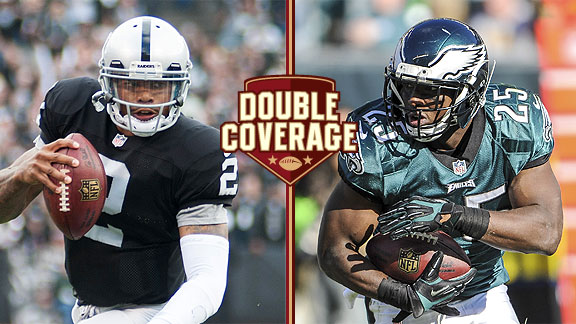 USA Today SportsEmerging Raiders QB Terrelle Pryor meets the NFL's leading rusher in the Eagles' LeSean McCoy.
The rebuilding
Oakland Raiders
were supposed to lay down for opponents this season. The retooled
Philadelphia Eagles
were supposed to revolutionize the NFL with their brand of offense. Both teams have dealt with crippling injuries while bucking expectations.
Meaning what, exactly? Well, Oakland (3-4) is looking to maintain momentum while the Eagles (3-5) are looking to break a two-game losing streak in which they've scored 10 points total.
ESPN.com Raiders reporter Paul Gutierrez and Eagles reporter Phil Sheridan break down the matchup at the O.co Coliseum, a venue in which Philadelphia is 0-3:
Paul Gutierrez:
Hi, Phil. Oakland is riding relatively high after
Terrelle Pryor
and the Raiders upended his childhood heroes last weekend in the
Pittsburgh Steelers
. Now the Western Pa. kid gets a shot at another team from his home state in the Philadelphia Eagles. He's sure to downplay any lingering feelings, but there's no downplaying the Eagles' quarterback situation. With
Michael Vick
and his strained left hamstring sidelined, how different is Chip Kelly's high-octane offense with
Nick Foles
at quarterback, or even rookie
Matt Barkley
, who was a Raiders target in the draft, under center than with Vick running things?
Phil Sheridan:
It's funny, Paul. If you ask Kelly or offensive coordinator Pat Shurmur, they swear blood oaths that the offense is exactly the same no matter who is playing quarterback. It sure doesn't look the same, however. Vick represents a running threat, obviously, that Foles and Barkley just don't. Defenses don't have to account for them when the Eagles run the read-option. But that doesn't mean the offense can't work without Vick. The offense had arguably its best complete game of the season against a pretty good Tampa Bay defense with Foles at the controls. He got the ball out quickly, made good reads and
LeSean McCoy
ran for 116 yards. If Foles is that guy Sunday, the Eagles' offense will be productive.
We all saw the highlight-reel run Pryor broke Sunday against Pittsburgh. Eagles defensive coordinator Bill Davis said he makes a coach say "Wow" a lot while watching the film. But how is Pryor developing as a complete quarterback?
Gutierrez:
The hot button topic in the Bay Area is this: Who is the bigger Raiders surprise thus far, Pryor or the defense, which has 10 new starters? Having seen Pryor's first NFL practice two years ago, and then watching him in the first OTA's this past spring, I'd say Pryor. He's always going to be a running threat -- he erased Bo Jackson's name from the Raiders record books with that 93-yard franchise-best gallop that had right guard
Mike Brisiel
calling him a "dadgum gazelle" -- but his development as a passer has been just as dramatic. True, offensive coordinator Greg Olson admitted the Raiders have changed the offense on the fly (remember, they acquired since-cut
Matt Flynn
to be the franchise QB) to become more zone-read oriented. Yet Pryor's pocket awareness has been a revelation for the Raiders. He still throws the occasional floater that begs to be picked, but he's also shown touch that did not seem possible two years ago. Much credit goes to Olson and QB coach John DeFilippo, but QB guru Tom House has also played a major role in getting Pryor's mechanics in check. But if one thing is off, the whole operation goes out of whack.
Jumping to the defensive side of the ball, the Eagles trading nose tackle
Isaac Sopoaga
to New England would seem, to the outsider anyway, as a sort of white flag being thrown up. Why is it not a sign a surrender?
Sheridan:
Sopoaga was one of a bushel of free agents signed when GM Howie Roseman knew he needed to facilitate a transition from a 4-3 to a 3-4. The Eagles just didn't have a nose tackle type on their roster at that point. They drafted
Bennie Logan
from LSU in the third round and have been pleasantly surprised by the play of
Cedric Thornton
and
Clifton Geathers
. Both of those guys are listed as ends, but Bill Davis moves his linemen around quite a bit. So I think the idea was just to go with the young guys and move the 32-year-old Sopoaga and his salary. Another way to put it: Sopoaga wasn't enough of a difference maker to qualify as a white-flag kind of transaction. He was a stopgap whose gap had closed.
While we're talking defense, you mentioned all the turnover among the Raiders unit. Eagles fans have seen that. How is that defense coming together and can it replicate the success the Giants and Cowboys had shutting down McCoy and, therefore, the entire Eagles offense?
Gutierrez:
Yeah, were it not for the development of Pryor, the Raiders' defense would be the talk in the streets of Silver and Blackdom. And to be fair, tongues are indeed wagging over this rebuilt unit. Consider: After strong safety
Tyvon Branch
went down to injury in Week 2, Oakland has 10 new starters on defense, and the only returner, defensive end
Lamarr Houston
, flipped from the left side to the right. And despite 10 new starters, the Raiders currently have the No. 10 overall defense in the NFL, No. 6 against the run. In fact, the Raiders are the only team to
not
allow a run of at least 20 yards. You could say defensive coordinator Jason "The Mad Scientist" Tarver was giving the finger to the entire league, rather than the refs on Sunday. But I digress ... Raiders coach Dennis Allen tracks what he calls "explosive plays," those that gain at least 16 yards through the air, at least 12 yards on the ground. The Raiders did not allow the Steelers a single explosive play on the ground. In fact, the Raiders have held three of their seven opponents to less than 40 yards rushing -- this after accomplishing that four times in the previous 10 seasons. So can the Raiders bottle up McCoy? Sure. Will they? That will depend on whether Foles can keep them honest through the air.
Speaking of being kept honest, Kelly set the NFL on its ear with his quick-strike offense, but it seems to have petered out a bit of late. Losing Vick to injury would seem to do that. And while it may be a small sample size, and perhaps a bit unfair, I wonder if Kelly is long for the NFL, or if his style of offense is better suited to college?
Sheridan:
Now that's the question that will define the Eagles as long as Kelly is here -- and longer, if he turns out to be another Steve Spurrier or Bobby Petrino. It would take time to recover from that. I'm not sure the answer is apparent yet. It is a small sample size, as you point out, but there is encouraging data in there, too. The Eagles became the first team ever to amass 425 or more yards in their first six games. The offense looked impressive for stretches. The past two weeks, it has been utterly terrible. That coincides with the injuries at quarterback. Vick pulled a hamstring. Foles played well for six quarters, then was just awful until being concussed against Dallas. The crash would be consistent with defensive coordinators figuring Kelly's offense out, but it could also be a result of the quarterback injuries. Or -- and this is the most likely theory -- Kelly does not have the quarterback he needs to win in the NFL and he's learning that the hard way. He seems like a smart guy. I think he can adjust and be successful. But I guess there is a chance he just doesn't like it here and wants to go back to the college game.
Here's a kind of big-picture question: The Eagles are struggling, but they have hope because their division is so bad. It's kind of the opposite for the Raiders, who are stuck dealing with 8-0 Kansas City and 7-1 Denver. What's the mood out there in the post-Al Davis era? Are fans and players feeling like there's a bright future or are the Raiders stuck in quicksand?
Gutierrez:
The mood, at the moment, is one of hope. Being competitive in every game but one -- the Monday Nighter at Denver -- as well as having a sudden Top 10 defense and Pryor, who is as popular here as any Raiders player in the past decade, will do that. Pryor predicted the playoffs after the loss in Kansas City. This week, he said the Raiders would get four wins, "easy," to equal last season's 4-12 mark. Sure, some have said such things in the past, but this feels like more than whistling past the graveyard. In fact, even as the Raiders sit at 3-4, fans are already angling to see where they stand from the second wild card standpoint. Premature, after 10 years of no postseason, let alone a winning record? Probably. But it answers your question ... the feeling among fans is there is a bright future, one that will glow brighter with every competitive game, let alone victory. And here's this to tie it all up: Pryor was Davis' last draft pick.
November, 1, 2013
11/01/13
12:00
PM ET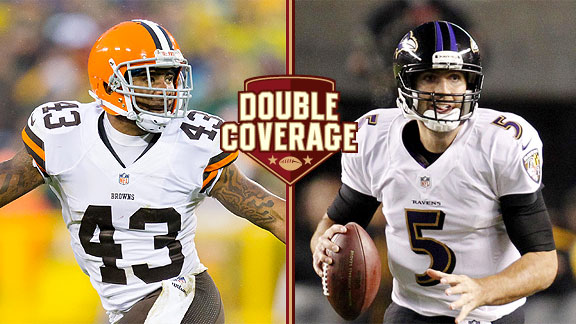 USA Today SportsThe Browns and T.J. Ward will try to snap an 11-game series slide against the Ravens and Joe Flacco.
.
The
Baltimore Ravens
have won 11 games in a row over the
Cleveland Browns
. That number is a measure not only of how good the Ravens have been since 2007 — the last time the Browns won in this series — but also how badly the Browns have struggled.
That 11-game win streak also is the longest current streak of regular-season wins by one team against another, according to the Elias Sports Bureau.
By ending that streak, the Browns would make a statement about themselves and their status in the AFC North. But the Ravens realize they will need to start righting themselves if they wish to have a chance to defend their Super Bowl title. Let's look ahead to the game with ESPN.com Ravens reporter Jamison Hensley and Browns reporter Pat McManamon.
Pat McManamon:
The Ravens won the first game between these teams this season, in Week 2, and since then the Browns have started three different quarterbacks. What about the Ravens has changed since the first time these teams met?
Jamison Hensley:
Pat, the problem for the Ravens is what
hasn't
changed. A big reason Baltimore is sitting at 3-4 is its inability to run the ball. The Ravens averaged 2.8 yards per rush against the Browns in Week 2, and they have averaged a league-worst 2.8 yards per rush for the season.
Ray Rice
injured his hip in the fourth quarter against the Browns, and he really hasn't looked healthy since. But Rice has a great track record when playing in Cleveland. It's like his home turf, based on the results. In five games there, Rice has averaged 127.4 yards rushing. His worst game was 89 yards.
Is there any shot of Rice getting back on track against the Browns?
McManamon:
The Browns are pretty good against the run. They give up 103.6 yards per game, good for 12th in the league. Three opponents have rushed for fewer than 100 yards, and last week they held the Chiefs'
Jamaal Charles
, second in the NFL in rushing yards this season, to 74 yards. That being said, if anyone is going to bust loose against the Browns, it would be Rice. He seems to salivate when he plays the Browns, especially in Cleveland -- where he's had games of 154, 89, 92, 204 and 98 yards in the last five seasons.
Let's flip to the passing game, Jamison. In his first start,
Jason Campbell
was surprisingly effective against the Chiefs' pass rush. He was able to make his reads and get rid of the ball in a hurry. Do you anticipate the Ravens coming up with anything to take advantage of Campbell, who is on his fourth team in eight seasons?
Hensley:
The Ravens were impressed by Campbell, but they were more impressed by the Browns' offensive line, which allowed just one sack against the Chiefs. Baltimore will find out if Cleveland's pass protection will hold up for a second week. The Ravens will likely use the same aggressive game plan that resulted in five sacks of
Brandon Weeden
in the earlier meeting with the Browns.
In addition to
Terrell Suggs
and
Elvis Dumervil
coming off the edges, the Ravens generated pressure by blitzing up the middle. Where the Ravens will really test Campbell is on third down. Baltimore has recorded 10 sacks on third down this season, fifth-most in the NFL. The last time the Ravens faced Campbell as a starter was 2008, but only two Ravens defensive starters from that game (Suggs and defensive tackle
Haloti Ngata
) remain on the team.
The bigger concern for the Ravens has been their inability to protect
Joe Flacco
. Has the Browns' pass rush lived up to expectations so far?
McManamon:
In general, no, but last Sunday, yes. The Browns got six sacks against a pretty mobile quarterback in
Alex Smith
. The catch is that whereas defensive coordinator Ray Horton went after Smith, he dialed back the blitzes the previous two weeks when he faced
Matthew Stafford
and
Aaron Rodgers
. The Browns have guys who can bring pressure in
Jabaal Sheard
,
Phil Taylor
,
Paul Kruger
(even with his low sack total) and rookie
Barkevious Mingo
. But against Green Bay and Detroit, Horton played coverage. Flacco isn't mobile, but he is smart and he's won a Super Bowl. It will be intriguing to see whether the Browns go after him or sit back.
Kruger is one of the departed Ravens from last season's Super Bowl champs. Which of those guys who left -- including the retired
Ray Lewis
-- do they miss the most?
Hensley:
The Ravens haven't really missed Lewis on the field.
Daryl Smith
, who replaced the longtime face of the franchise, has been the defense's top playmaker. The top four players that the Ravens miss the most (in no particular order) are wide receiver
Anquan Boldin
, safety
Ed Reed
, safety
Bernard Pollard
and center
Matt Birk
.
Boldin was a difference-maker on third down and in the red zone, two areas where the offense has struggled this season. Teams would likely take fewer deep shots if Reed were playing center field, and there's less of an intimidation factor on defense without Pollard. The biggest surprise is how much the Ravens have struggled without Birk. In his first season as the starting center,
Gino Gradkowski
is getting pushed back too often.
Speaking of changes, the Ravens didn't have to face wide receiver
Josh Gordon
last month because he was serving his two-game suspension. Can his impact change the Browns' fortunes against the Ravens?
McManamon:
Of course. Gordon is a talent. A big-time talent. At just 22, he's second in the league in yards per catch, and every touchdown pass in his career has been for at least 20 yards. It's no secret that the offense opened up for
Brian Hoyer
, in part because Hoyer played but also because he had Gordon back. That said, not even Gordon can overcome bad quarterbacking. He struggled when Weeden had his second chance because Weeden struggled. Campbell got him back in the offense. Baltimore must respect him.
.
November, 1, 2013
11/01/13
12:00
PM ET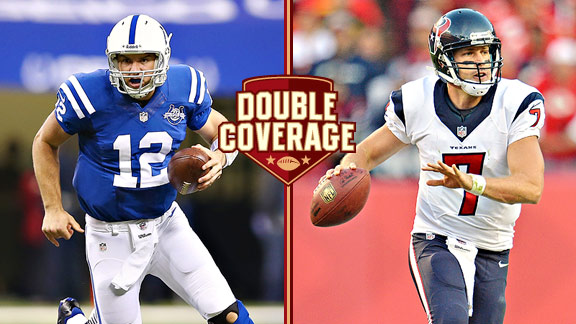 Getty ImagesAndrew Luck will be without Reggie Wayne and Case Keenum will be making his second NFL start.
During an unexpectedly poor showing in the first seven games of the season, the
Houston Texans
played only one AFC South opponent and beat that team.
That's the upside about the Texans' start. The downside for Houston is that during that malaise, the
Indianapolis Colts
returned to the top of the division and joined the league's elite. The Colts enter this game with a two-game lead over the
Tennessee Titans
, who are second.
Both teams come off a bye week that followed a game in which they lost an important veteran --
Brian Cushing
for the Texans and
Reggie Wayne
for the Colts. Both teams are now about to enter a stretch in which they play five divisional games. The landscape of the AFC South could change dramatically.
Colts reporter Mike Wells and I take a look at this week's matchup.
So Mike, how big of an impact will losing Wayne have on the Colts' offense?
Wells:
I think the Colts will be fine for now without Wayne. They'll still win the AFC South -- it helps having a two-game lead -- because there aren't any teams in the division that can close the gap and the Colts don't have a tough schedule the rest of the season. It's in the playoffs that the Colts will miss Wayne's leadership and playmaking ability. He's been quarterback
Andrew Luck
's security blanket the past two seasons. Wayne is irreplaceable in the locker room and on the field.
Speaking of impacts, what type of impact do you think quarterback
Case Keenum
will have on the Texans?
Ganguli:
Keenum opened up the Texans' passing game two weeks ago. They threw just one fewer deep pass in that game than they had in the four previous games combined. It's one area where Keenum is especially solid. He's also really impressed Texans teammates and coaches with his confidence, moxie (a word defensive coordinator Wade Phillips used) and poise. I would have excused him being rattled against a fierce Kansas City defense and crowd, but he wasn't. He was able to make plays off schedule. He completed 15 of 25 passes for 271 yards and one touchdown. It has seemed easy for him to step into a leadership role.
What kinds of challenges will the Colts' defense pose for Keenum specifically?
Wells:
You can expect linebacker
Robert Mathis
to be licking his chops with Keenum at quarterback. Mathis leads in the league in sacks with 11.5. He's one of the leaders for Defensive Player of the Year. Safeties
Antoine Bethea
and
LaRon Landry
, who are interchangeable, will try to confuse the young quarterback by disguising their coverage on him.
Vontae Davis
and
Greg Toler
are gambling cornerbacks, so expect them to try to make Keenum pay for every mistake he makes.
Is there one reason in particular that the Texans have struggled this season? Many people thought they would be Super Bowl contenders this season.
Ganguli:
There have been a few factors. Turnovers have been a big part of it. The Texans' turnover margin is among the worst in the NFL right now at minus-11. Two weeks ago against the Chiefs was the only game in which the Texans' turnover margin wasn't negative. They hadn't been creating many and had been giving up the ball to an excessive degree. One other key area to examine is the red zone. Offensively and defensively, it hasn't been especially productive for Houston this season.
Wrapping things up here, Luck is a familiar face around Houston, having played football at Stratford High School. He took a beating last time he came to Houston with
J.J. Watt
notching three sacks as the Texans clinched the division. How has his protection been this year and how has that impacted his performance?
Wells:
Improving the offensive line was at the top of the list for the Colts after Luck was sacked 41 times last season. They've been hit with some injuries along the line this season. Starting guard
Donald Thomas
was lost for the season in the opener with a torn quad and center
Samson Satele
has dealt with some injuries. Despite these issues, the Colts have done a better job of protecting Luck. He's been sacked only 15 times this season. But the Colts will have their hands full against a Texans defense that has "game-wreckers all over the place," according to coach Chuck Pagano. I can't let you get out of here without talking about running back
Arian Foster
. Why is he averaging only 77.4 yards a game this season?
Ganguli:
The Texans began the season limiting Foster's carries because he missed training camp while recovering from two injuries. The fact the Texans have found themselves in deep deficits has also hurt Foster's numbers. They just aren't running the ball as much as they did last season when they were playing with leads. He's had two 100-yard games this season and one 98-yard game. He rushed for 141 yards against the
St. Louis Rams
, which boosted his average. But the Texans' last game significantly depressed it. Foster gained only 11 yards after an early hamstring injury forced him from the game and limited him to just four carries.
November, 1, 2013
11/01/13
12:00
PM ET
On the day former
Chicago Bears
coach Lovie Smith got the job, he said that one of his priorities was to beat the
Green Bay Packers
.
First-year Bears coach Marc Trestman made no such promises about this rivalry, but it goes without saying that he's eager to end Chicago's six-game losing streak to the Packers.
The last time Chicago beat Green Bay was on Sept. 27, 2010, on "Monday Night Football." The teams meet again in prime time Monday night at Lambeau Field.
ESPN.com's Packers reporter Rob Demovsky and Bears reporter Michael C. Wright break down the matchup.
Rob Demovsky:
We all know how much Smith wanted to beat the Packers. He stated as much the day he got the head coaching job. What has Trestman's approach to this rivalry been like?
Wright
: Rob, my man, you know that rivalries have to cut both ways in terms of wins and losses for it to be truly considered a rivalry. Counting the postseason, the Bears have lost six in a row and nine of the last 11. So, if anything, this is more Green Bay dominance than a rivalry. But the interesting thing about Trestman is he's a guy who likes to compartmentalize everything. He looks at today rather than the past or the future. So while it sounds cliché, Trestman is looking at the Packers as just another opponent on the schedule. That's just the way Trestman likes to operate, and I think for him it sort of makes things easier.
I keep looking at Green Bay's sack numbers, and I'm a little surprised the club is still in the top 10 in sacks with
Clay Matthews
out the last three games and other key members of the defense missing time. What is Dom Capers doing over there schematically to keep up the production?
Demovsky:
I figured when Matthews broke his thumb, Capers would have to blitz like crazy. Now, he's picked his spots, but he hasn't gone blitz-happy like I thought he might. However, he has been sending different pass-rushers to keep offenses off guard. One game, against the
Baltimore Ravens
, linebacker
A.J. Hawk
came a bunch and sacked
Joe Flacco
three times. Also, they've finally found a defensive lineman with some rush ability in second-year pro
Mike Daniels
. Three of his team-leading four sacks have come in the past two games.
As long as we're on the topic of quarterbacks, in 2011, backup
Josh McCown
played a halfway decent game against the Packers on Christmas at Lambeau Field, but he threw a couple of interceptions. What do you expect from him this time around as he starts in place of the injured
Jay Cutler
?
[+] Enlarge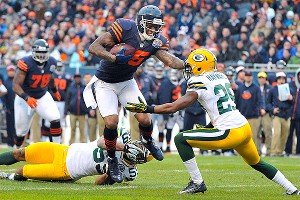 Rob Grabowski/USA TODAY SportsThe Packers have limited Brandon Marshall to 8 catches for 80 yards in their past two meetings.
Wright
: Believe it or not, I expect little to no drop-off from McCown in this game. The biggest difference between now and then is that in 2011, McCown joined the team in November, fresh from a stint as a high school football coach in North Carolina, and four weeks later became the starter. So he basically came in cold and still played relatively well. This time around, McCown has become immersed in the offense from the ground level, when Trestman first came on board, and even had some input as the team constructed the scheme. In fact, during the offseason, McCown was holding film sessions with all the club's new additions to teach everyone the new offense. So he's got complete mastery of the offense just like Cutler, which is why McCown came in against the Redskins and the offense didn't miss a beat. Obviously, McCown doesn't possess Cutler's arm strength. But he'll make up for that deficiency with anticipation. I'm quite sure the Bears won't scale down the offense to accommodate McCown at all, because they don't need to. So I expect McCown to play well. I'm just not sure Chicago's offense can keep up with Green Bay's in what I expect to be a high-scoring game.
Speaking of high scoring, the Packers put up 44 points on the
Minnesota Vikings
. How is Green Bay handling the preparation process for the Bears?
Demovsky
: Well, they certainly don't have as much time as the Bears do, considering the Bears are coming off their bye week. But the Packers have gotten themselves into a rhythm. They've won four in a row after their 1-2 start and look like a different team than they did the first three weeks of the season. Mike McCarthy probably doesn't get enough credit nationally, but show me another coach who has stared injuries in the face and hasn't blinked. What other team could lose playmakers like
Randall Cobb
,
James Jones
,
Jermichael Finley
and Matthews and still keep winning? That's a testament to the program he has established here. You can argue with some of his in-game coaching decisions, but you can do that with every coach. What you can't question, though, is the team's preparation.
The Bears, obviously, have had their share of injuries, too, losing Cutler and linebacker
Lance Briggs
. What's a bigger loss -- Cutler to the offense or Briggs to the defense?
Wright
: Well, Cutler's replacement is a veteran in McCown who has plenty of experience and a ton of weapons surrounding him on offense, while rookie
Khaseem Greene
will likely fill in for Briggs on a bad defense that will also feature rookie
Jon Bostic
in the middle. From my vantage point, losing Briggs is much more significant. The Bears have already proved to be horrible against the run (ranked 25th), and that issue certainly won't improve with two rookies at linebacker and a defensive line decimated by injury. It's also worth noting that Briggs made all the defensive calls and served as somewhat of a coach on the field for Bostic. Given that Green Bay seems to be running the ball so well, the current situation with Chicago's front seven could be devastating.
Now that the Packers are running the ball so well, how has that changed the way the offense is called? It seems Green Bay runs well regardless of which running back they line up in the backfield.
Demovsky
: It's remarkable -- and even a bit stunning -- to see
Aaron Rodgers
check out of a pass play and in to a run play at the line of scrimmage. That kind of thing hasn't happened around here in a long, long time -- probably not since
Ahman Green
was piling up 1,000-yard seasons nearly a decade ago. Teams no longer can sit back in a Cover-2 look and dare the Packers to run. Because guess what? The Packers can finally do it. It also has given the receivers more one-on-one opportunities, so it's helped the passing game, too. Right now, this offense almost looks unstoppable.
If the Packers keep playing like this, they might be tough to catch in the NFC North. What are the Bears' prospects for staying in the NFC North race until Cutler and Briggs return?
Wright:
To me, this game is the measuring stick for making that determination. But I'm not really confident about Chicago's chances, and that has more to do with the team's struggling defense than Cutler's absence. There have been conflicting statements made about Cutler's recovery time frame. Some teammates think he'll be ready to return by the time the Bears face Detroit on Nov. 4, while Trestman said the plan is to stick to the minimum four-week time frame prescribed by the doctors. Either way, if the Bears lose to the Lions you can kiss their prospects for the playoffs goodbye. The Bears might be able to afford a loss to the Packers because they'll face them again on Dec. 29. But a sweep by the Lions kills Chicago's chances to me because just from what we've seen so far, it appears one of the wild cards will come out of the NFC North with the other coming from the NFC West. Obviously it's too early to predict that, but that's the way things seem to be shaking out.
Without two of his top receivers and tight end Finley, Rogers still hit 83 percent of his passes against the Vikings. Is that success a product of the system, a bad Minnesota defense, or is Rodgers just that good at this point?
Demovsky
: The more I see other quarterbacks play, the more I'm convinced it's Rodgers. For example, seldom-used receiver
Jarrett Boykin
makes his first NFL start two weeks ago against the
Cleveland Browns
, and he ends up with eight catches for 103 yards and a touchdown. How many catches do you think he would have had if he were playing for the Browns that day? Their quarterback,
Brandon Weeden
, completed only 17-of-42 passes. That's not to minimize what Boykin did or what players like
Jordy Nelson
do week in and week out, but Rodgers is special, and special players elevate the play of those around them. Look at what
Greg Jennings
has done since he left for the Vikings. Now tell me the quarterback doesn't make the receiver, not vice versa.
Speaking of receivers, other than
Anquan Boldin
, who lit up the Packers in the opener at San Francisco, they've done a solid job shutting down other team's No. 1 receivers -- most recently Jennings and Cincinnati's
A.J. Green
. How do you think the Bears will try to get
Brandon Marshall
involved against what has been a pretty good Packers secondary?
Wright
: This question brings me back to the 2012 massacre at Lambeau Field on Sept. 13. The Packers bracketed Marshall with two-man coverage, and the Bears struggled tremendously. Shoot, cornerback
Tramon Williams
caught as many of Cutler's passes as Marshall, who finished the game with two grabs for 24 yards. Obviously, this offensive coaching staff is a lot different than last year's group. So the Bears will go into this game with a lot more answers for that coverage. I definitely see McCown leaning on Marshall and trying to get him involved as early as possible, but the only way he'll be able to do that is for the Bears to establish the rushing attack with
Matt Forte
so the quarterback can operate off play action. When the Bears go to Marshall early, expect to see a lot of short passes that will enable the receiver to gain some yardage after the catch.
Over the years, Green Bay has been pretty successful at limiting the impact of return man
Devin Hester
. So I was a little shocked to see the Packers give up a kickoff return for a touchdown to
Cordarrelle Patterson
. As you probably know, Hester is coming off a pretty strong return game against the Redskins. Do you think the Packers fix the problems they encountered last week, and minimize Hester's impact?
Demovsky
: Part of the Packers' problem on special teams has been that all the injuries have created a trickle-down effect. Here's what I mean: On the kickoff coverage until they gave up the 109-yard return to Patterson, they lined up six rookies, two of whom weren't even on the opening day roster. The Packers always have feared Hester, as they should, and in various games in recent years have shown they'd almost rather kick the ball out of bounds than give him any return opportunities. He's one of those special players who make rivalry games so entertaining.
November, 1, 2013
11/01/13
12:00
PM ET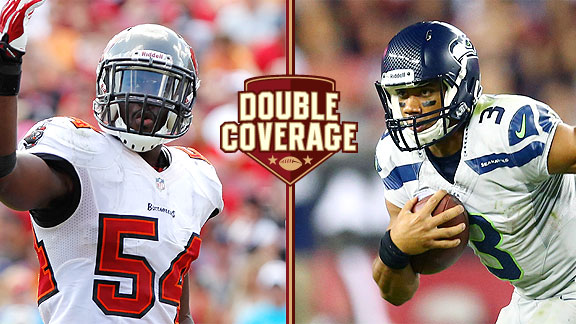 USA Today SportsThe key for Lavonte David and the Bucs is to try to pressure Russell Wilson and to attack a line that gave up seven sacks on Monday.
Despite getting outplayed in almost every statistical category Monday night at St. Louis, the
Seattle Seahawks
defeated the Rams 14-9 and reached the midpoint of the season at 7-1 after a rough stretch of four road games in five weeks.
Now Seattle returns to CenturyLink Field against the winless
Tampa Bay Buccaneers
, hoping to win at home for the 12
th
consecutive time. It looks like a mismatch, but so did the Rams game.
The Seahawks still have backups starting at both offensive tackle spots and now are missing receiver
Sidney Rice
, who tore an ACL on Monday night. Rice is in the last year of his contract with the team and probably has played his last game with Seattle.
Receiver
Percy Harvin
should return soon after undergoing hip surgery three months ago, but it probably won't be this weekend. Nevertheless, the Seahawks should win this game.
Blount:
Pat, a lot of people thought the Bucs would have a new head coach by the time the team got to Seattle, but Greg Schiano is hanging on. If Tampa Bay comes here and loses by a big margin, is that the end for him?
Yasinskas:
Terry, I've been pointing to the Seattle game for several weeks as a possible end for Schiano. I think he's still employed in large part because the Bucs are putting forth an effort. But I could see that changing on a long road trip against a good team and in a hostile environment. The interim route rarely works out well. But if this team lies down in Seattle, I can see ownership pulling the plug on Schiano.
Aside from the loss to Indianapolis, Seattle seems to have been nearly perfect. But there's no such thing as perfect in the NFL. What are the Seahawks' biggest weaknesses?
Blount:
Without question, it's the offensive line. It's not just weak right now. It's awful. Obviously, missing
Russell Okung
and
Breno Giacomini
is a big part of it, but having to go with backups at the tackle spots is not the only issue. Neither starting guard has played well, and center
Max Unger
, who had an arm injury earlier this season, hasn't played up to his Pro Bowl level of last year. It will improve when Okung and Giacomini get back in a few weeks, which will enable the Seahawks to move
Paul McQuistan
back to one of the guard spots instead of being out of position at left tackle. But it has to improve dramatically if Seattle hopes to live up to the Super Bowl expectations.
Pat, speaking of the Seattle line, it's obvious right now that the way to stop the Seattle offense is to load the box and blitz like crazy against the backup tackles, along with the rest of the offensive line that hasn't played well.
Russell Wilson
didn't have time to breathe at St. Louis. Do you see this as Tampa Bay's strategy on Sunday?
Yasinskas:
I think the Bucs will try a similar approach, but I'm not sure they'll have as much success as St. Louis did. The defensive line hasn't been generating much of a pass rush. Linebackers
Lavonte David
and
Mason Foster
have been effective as blitzers, and I think you'll see the Bucs use them as pass-rushers.
Terry, how much does losing Rice hurt the receiving corps?
Blount:
When Harvin gets on the field, assuming he's healthy, the Seahawks won't miss Rice. In fact, they'll be much better with Harvin's speed and versatility. Rice never has lived up to expectations here. He hasn't played nearly as well this season as receivers
Golden Tate
and
Doug Baldwin
. But if Harvin still isn't ready to come back, it hurts Seattle's depth at the receiver spot and enables any defense to use more double coverage on Tate and/or Baldwin. But this also could be an opportunity for
Jermaine Kearse
to shine. He's been a big surprise this season in limited play.
Pat, obviously, the Bucs aren't going anywhere this season. They spent a ton of money to bring in some top players on defense like
Darrelle Revis
and
Dashon Goldson
. What do you see as the team's goal for the rest of the season, and what do the Bucs hope to accomplish going forward in 2013?
Yasinskas:
It's been a hugely disappointing year for a team with eight players on the roster who have been to the Pro Bowl. This team's struggles aren't entirely due to a lack of talent. Schiano prides himself on being a disciplinarian, but this team has struggled with mental mistakes and penalties. The thinking is that playing smarter will translate into some wins. But those might be coming too late to save Schiano's job. There is a segment of the fan base that wouldn't mind seeing the Bucs go winless so that they get the first overall pick in the 2014 draft.
Terry, the Seahawks are third in the league in pass defense, and we've heard a lot about their secondary. Is rookie quarterback
Mike Glennon
walking into the ultimate ambush?
Blount:
That's what everyone thought Monday night for Rams backup quarterback
Kellen Clemens
, but he played pretty well most of the game. Clemens made two overthrows that became interceptions but came within one goal-line play of upsetting the Seahawks at the end of the game. The Seahawks do a great job of mixing things up and disguising coverages, but they do take chances to come up with turnovers. If Glennon doesn't recognize things quickly, they will make him pay.
November, 1, 2013
11/01/13
12:00
PM ET
By
Scott Brown & Mike Reiss
| ESPN.com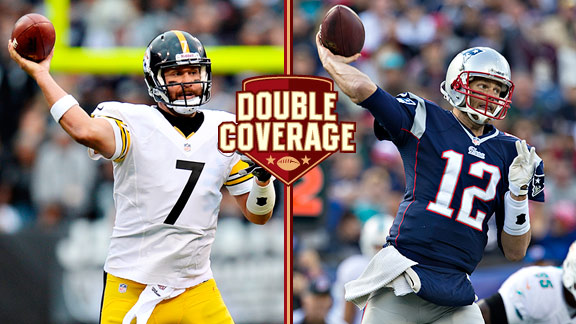 Getty ImagesBen Roethlisberger leads the struggling Steelers against Tom Brady and the injury-plagued Pats.
When the NFL schedule was released six months ago, an early November game between the visiting
Pittsburgh Steelers
and
New England Patriots
looked like it would be a clash between two of the top contenders in the AFC.
Yet as is often the case in the ever-changing NFL, it hasn't unfolded that way.
The Steelers (2-5) are starting games slow, and in turn, their season got off to slow start. Meanwhile, the Patriots are 6-2 but have looked like a 2-6 team at times.
Can the Steelers turn it around? Will the Patriots ultimately play more consistently and have the look of a contender?
ESPN NFL Nation reporters Scott Brown (Steelers) and Mike Reiss (Patriots) help us break it down.
Reiss:
Scott, take us inside the Steelers locker room for a feel on where things have gone wrong this season.
Brown:
I think the players are truly perplexed at how they have gotten to this point. Effort hasn't been an issue, and the Steelers have gone into the fourth quarter of every loss this season with a chance to win. Injuries have been a problem, but they can't be an excuse since most if not all teams have to overcome them during the course of the season.
The biggest problem has been the different units not playing well off one another for the most part this season. The offense couldn't do anything in the first two weeks of the season, but the defense kept the Steelers in both games. Two weeks later in London, the offense finally broke out but the defense couldn't stop
Matt Cassel
of all quarterbacks in a loss to the one-win Vikings.
The Steelers' 21-18 loss at Oakland offers a perfect summation of the kind of season they have endured. The defense played lights out in the second half after a shaky start.
Ben Roethlisberger
brought the Steelers back in the fourth quarter as he has done so many times throughout his career. In the end, the Steelers fell agonizingly short in large part because kicker
Shaun Suisham
, who had been automatic this season, missed a pair of field goals inside of 35 yards.
It seems like the Patriots have been just the opposite of the Steelers this season in that they find ways to win. I'm not sure many outside of New England can name the Patriots' wide receivers and the defense has had to overcome the losses of nose tackle
Vince Wilfork
and inside linebacker
Jerod Mayo
.
Mike, how are the Patriots doing it?
Reiss:
It's a question that even
Tom Brady
recently acknowledged was a good one, because it has looked ugly at times. If I had to sum it up, the answer would be that their depth players (e.g. rookie defensive tackles
Joe Vellano
and
Chris Jones
) have answered the challenge when pressed into bigger roles and the team has made the few critical plays in the crucial situations that often determine the outcome of games. Furthermore, their turnover differential is solid, as it usually is with this team. That's one of the big differences I noticed between the Patriots and Steelers -- the Patriots are plus-7 and the Steelers minus-9.
I know it's probably an unusual question, as punters aren't often a hot topic of conversation, but I'm sure Patriots followers are interested to hear about what unfolded with
Zoltan Mesko
, who punted in New England from 2010-2012. Also, maybe a little bit on receiver
Emmanuel Sanders
, whom the Patriots tried to sign to an offer sheet in the offseason as a restricted free agent that the Steelers matched.
Brown:
You knew Mesko had been served notice when Mike Tomlin said last week that the former Patriot needed to eliminate the one "junior varsity" punt he seemed to have a game. You knew he was in trouble when Tomlin gave him an earful as Mesko walked to the Steelers' bench after a 30-yard punt last Sunday in Oakland.
Some might argue he took the fall for the Steelers' third consecutive loss in Oakland since punters are so expendable, but Mesko didn't help himself with the inconsistent punting that ultimately earned him a pink slip.
Sanders has had his moments, but he has too frequently been what Tomlin would call just another guy. The fourth-year veteran is still without a 100-yard receiving game this season -- and his career. The Steelers should be getting more production from Sanders (31 catches for 396 yards), particularly with
Antonio Brown
drawing so much attention from opposing defensive backs. I'm guessing the Steelers now wish they hadn't matched the Patriots' offer to Sanders and taken a third-round draft pick for him.
Speaking of receivers, Mike, can you provide an update on
Danny Amendola
and how much of an impact he might make Sunday? Count me among those who just assumed that New England would be able to plug Amendola into
Wes Welker
's spot with little to no drop-off at slot receiver because of Brady's greatness.
Reiss:
Interesting thoughts on Mesko and Sanders. Mesko was a very popular player in New England and many were disappointed to see him lose a training camp competition to rookie
Ryan Allen
. The Patriots took some heat for that, as they did for not being more aggressive with their offer sheet to Sanders, who could be a Patriots target in free agency again this offseason.
As for Amendola, the big issue has been health, which is a knock against him that he's fought over his NFL career. He was sensational in the season-opener against the Bills, but injured his groin and was knocked out for the next three games. Then he came back for two games, but in the second contest suffered a concussion which knocked him out for another game. So he's only played four games this season, and the groin is probably something that's going to have to be managed throughout the season. In his first game back from the concussion this past Sunday, Amendola had three catches for 15 yards and played 39 of 65 snaps (including penalties). That number is likely to rise in the coming weeks, so he should be a bigger factor.
I'm thinking big-picture here, because one of the big questions here in New England has been when the Patriots' run of success might end. It seems like it's been talked about, on and off, since 2006. What are your thoughts about the Steelers along these lines? Are they positioned for success, or are we witnessing a franchise primed for a little slide?
Brown:
Rebuilding is a blasphemous term around a facility that displays six Lombardi Trophies in its library. The Steelers won't even use the word transition when talking about where they are as a team. That said, all signs point to the Steelers being in decline. They need to win six of their last nine games just to go 8-8, a record they deemed unacceptable after posting it last season.
Their defense isn't getting any younger and it's still too early to tell if youngsters such as outside linebacker
Jarvis Jones
and cornerback
Cortez Allen
will be difference-makers. I do think the Steelers have the most important piece in place as far as turning it around -- whether it is this season or in 2013. Roethlisberger is still in his prime, and if you have a quarterback in the NFL, you have a chance.
The Patriots have been masterful this season in finding ways to win, something the Steelers used to do with regularity. But are they legitimate Super Bowl contenders, and what do you need to see from them to believe that they are?
Reiss:
I wouldn't count them out, Scott. Bill Belichick and his staff have been coaching their tails off, and in the end, you have to give credit to the players for stepping up in the critical moments. It hasn't always looked pretty, but I see enough in the key areas -- such as turnover differential, adapting to elements, situational defense and the like -- to think this team will be a factor coming down the stretch. That's the thing about the NFL. It's not necessarily what you look like right now, it's what the picture will look like as we get to Thanksgiving and beyond, assuming you're still in the hunt. They've positioned themselves well at this point.
October, 31, 2013
10/31/13
1:00
PM ET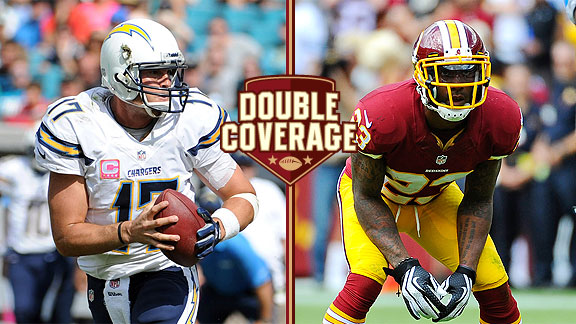 USA Today SportsDeAngelo Hall, right, and the Redskins' secondary will try to slow down Philip Rivers, who has completed a league-best 73.9 percent of his passes.
This isn't a compelling game when it comes to storylines. No big-name player is facing his former team. There's no grudge match. And, in fact, San Diego and Washington have played each other only three times in the past 14 years, and not since 2010.
Still, there is a lot going on in this game. If the 2-5
Washington Redskins
are intent on turning their season around, they need to win. Even in a bad division, a 2-6 record would be tough to overcome. At some point, teams just have to play well, and the Redskins must prove that can happen.
For San Diego, the Chargers' 4-3 start is a good one. However, if they want to stay in the AFC playoff race or remain a threat in the AFC West, they can't afford to lose to a sub-.500 team.
ESPN.com Chargers reporter Eric Williams and Redskins reporter John Keim break down this week's game:
Robert Griffin III
threw 20 touchdowns and just five interceptions in winning rookie of the year honors in 2012. This season, he's thrown nine touchdowns and eight interceptions through seven games. What has changed with his decision-making?
Keim
: Griffin is used to making big plays, and last year, a number of them occurred because of his legs, whether running or extending plays. But that's not always happening, and in games where his legs aren't a weapon, he has forced some throws. Not all the interceptions are his fault, of course, but in general, that's been a theme: forcing throws. Also, they're not able to use as much play-action throws as last year because of game situations, and when that happens, he and the passing game are very, very ordinary. They need to move defenders around, causing chaos in drops, with their zone-read fakes and play fakes. Denver also kept seven in coverage last week, and that's always trouble for a unit that has just one receiver who threatens a defense in
Pierre Garcon
(although tight end
Jordan Reed
does now, too).
Philip Rivers
' stock has dropped the past couple of seasons. But under a new coach, he's playing at a high level. Why?
Williams
: Coach Mike McCoy and offensive coordinator Ken Whisenhunt installed an up-tempo, no-huddle offense focused on the short passing game and getting the ball out quickly. The result has been better decision-making for Rivers. He leads the league in completion percentage this season at 73.9 percent, which is nearly 10 percent more than his career average (64.3). And his 111.1 passer rating (second in the NFL) is more than 15 points higher than his career rating of 95.6. San Diego's offensive line also has done an excellent job of protecting Rivers. The Chargers have allowed just 11 sacks through seven games, tied for second-best in the NFL.
Washington's defense is allowing 32.7 points a contest, second-worst in the NFL. Why is Jim Haslett's defense struggling to keep teams out of the end zone?
Keim
: The defense struggled mightily in the first four games but has mostly done its job in the past three games, when the Redskins have been hurt by special teams (two punt returns for a score; a 90-yarder to set up another one) and the offense (turnovers deep in their own territory; an interception return for a score). But this is not a top-level unit by any means. The Redskins' secondary has holes, especially at safety, and the linebackers, as a group, aren't great at coverage. But they've played the run better of late, and they're causing turnovers. They have two good but not great pass-rushers in
Ryan Kerrigan
and
Brian Orakpo
. They have a good nose tackle in
Barry Cofield
. So they have good parts. They played great for three quarters against Denver; alas, the game went four.
Why has the Chargers' pass rush been more productive lately?
Williams
: Defensive coordinator John Pagano has used some creative defensive fronts and exotic blitz packages to manufacture pressure. Along with that, the ability of interior defensive linemen such as
Corey Liuget
and
Kendall Reyes
to push the pocket inside have created one-on-one matchups for San Diego's inexperienced edge rushers. And guys such as
Thomas Keiser
and
Larry English
have taken advantage of their opportunities.
Speaking of opportunities,
Alfred Morris
has followed up an impressive rookie campaign by rushing for 565 yards and four touchdowns through seven games. He leads all running backs with a robust 5.23 yards per carry. How has Morris remained effective, even with Griffin struggling?
Keim
: Good question. Morris is better than he was a year ago, thanks to even better vision and stronger legs. Both qualities were good last year, too. Defenses have keyed more on him, knowing that on zone reads, for example, Griffin would not hurt them (until recently). Also, Denver rarely used an eight-man front against Washington in an attempt to play better in coverage. The Redskins usually receive good blocking from their tight ends and receivers, which helps Morris as well. And the line's continuity shows up in the run game. But Morris deserves a lot of credit. He's a patient runner who knows how to set up a defense, then cut back once it overcommits. Morris has proved this year that he's not a creation of the zone read. The key for Washington is giving him more carries; this season's high is 19. Last season he had 10 games with more than 19 carries. Of course, that stems from winning and being in control of games. The Redskins have done little of both this season.
Eric, do you believe in this team yet, or do you still see a lot of holes? If so, where?
Williams
: Offensively, San Diego has what it takes to make the playoffs in the AFC. The Chargers are one of the most balanced teams in the NFL. Rivers' ability to move the ball in the passing game has been nicely complemented by the emergence of bruising runner
Ryan Mathews
, who had back-to-back, 100-yard rushing games. But defensively, the Chargers remain a question mark, even though they have not allowed a touchdown in 11 quarters. The Chargers' defensive backfield has just two interceptions this season, and
Jarret Johnson
leads the team with just three sacks through seven games. The Chargers still lack elite playmakers on defense.
October, 31, 2013
10/31/13
12:00
PM ET
This hasn't been the best of weeks for
New York Jets
coach Rex Ryan. His defense was embarrassed this past Sunday in a 40-point loss to the
Cincinnati Bengals
, and now he has to regroup for the explosive
New Orleans Saints
. And, oh yeah, he has to face his twin brother, Rob, the Saints' defensive coordinator.
Forget the Ryan Bowl. This is the Desperation Bowl for the Jets (4-4), who face the Saints (6-1) Sunday at MetLife Stadium. ESPN.com Jets team reporter Rich Cimini and Saints team reporter Mike Triplett break down the matchup:
Cimini
: Let's start with the family ties, Mike. How do you think Rob is approaching this game? He and Rex are fiery competitors, and I'm sure Rob wants this game badly, especially since he's 0-2 against Rex and the Jets. I can tell you this much about Rex: He will try to downplay the whole brother thing, trying to keep the focus on the game. A few years back, when Rob was the
Cleveland Browns
' defensive coordinator, Rex showed up to his midweek news conference wearing a wig and pillow stuffed under his shirt, impersonating Rob. That won't happen again.
Triplett
: I don't expect those theatrics this week, either, since the Saints don't promote that kind of stuff. But clearly Rob is a guy who is not afraid to wear his emotions on his sleeve -- with the media or his players. So I'm sure they'll know how much it means to him.
He's 0-4 overall against Rex in their NFL careers, dating back to Rex's days with the
Baltimore Ravens
. Clearly, this is Rob's best shot yet, not only because of the Saints' dynamic offense, but because Rob has his defense playing great. They've really responded to his versatile schemes. Young pass-rushers
Cameron Jordan
and
Junior Galette
, in particular, are having a breakout season.
They'll obviously try to rattle rookie quarterback
Geno Smith
by mixing up looks and pressures. Rich, what do you expect out of him after one of his roughest performances?
Cimini
: The early trend on Smith is that he responds well to bad games, but this will be a tough assignment because the Saints are playing so well. He can get rattled when he sees a different look for the first time. It happened Sunday against the Bengals, who recorded two early sacks on safety blitzes from the slot. He didn't react well. He also has to do a better job with his eyes, looking off receivers. He has a tendency to stare down receivers, telegraphing his passes. It's one of the reasons he has three pick-sixes in the past two games. All things considered, he's showing gradual signs of improvement, especially in the area of ball security. He's not fumbling as much as he did early in the year.
What can you tell me about
Drew Brees
other than he's terrific and throwing for a lot of yards and touchdowns?
Triplett
: I see you've been studying up on Brees. He's coming into New York in a really good groove right now. He just threw for 332 yards and five touchdown passes Sunday against the Bills. And even when he hasn't had his best days, he has come up with big fourth-quarter rallies. He and coach Sean Payton are back in sync. Together they're so good at exploiting mismatches. This past Sunday, Brees completed passes to 10 different receivers. The fact that the Saints' defense is playing so well has really benefited Brees, too. He's not pressing as much as he did last year and trying to do everything by himself.
The tough thing about playing the Saints is trying to find guys who can cover unique matchup problems like
Jimmy Graham
,
Darren Sproles
,
Marques Colston
and others. Can the Jets do that?
Cimini
: No, Mike, I don't think they can. Without
Darrelle Revis
, the Jets' pass defense is struggling. Funny thing is, they're getting a better pass rush than previous years and the run defense is No. 1 in the league. In theory, those factors should help them against the pass, but they're not. They have too many vulnerable areas, especially in the secondary, and I don't see how they can cover Brees' many weapons. If it were just one or two threats, yeah, I think they'd be fine, but Brees distributes the ball so well.
Antonio Cromartie
, the Jets' No. 1 corner, is having an off year. Rookie
Dee Milliner
, benched against the Bengals in the second quarter, has been a disaster. Safety
Antonio Allen
had a nice game two weeks ago against
Rob Gronkowski
, but Graham might be a tougher assignment because of his athleticism.
To win the game, the Jets' young, talented defensive line needs to dominate. And I noticed the Saints had some pass-protection issues on Sunday. Are they vulnerable up front?
Triplett
: The Saints' offensive line hasn't been as good as years' past, but they're still pretty solid for a team that passes the ball so much. The game against Buffalo was probably a good approximation of this matchup. The Saints gave up four sacks and were flagged for three holding penalties. But Brees still had great time to throw on four of his five TD passes and escaped the pocket to throw the fifth one on the run.
The Jets' best bet against the Saints' offense will be to control the clock and keep them off the field. New Orleans' run defense is pretty middle-of-the-pack. Will their old friend
Chris Ivory
make them pay for trading him to the Jets?
Cimini
: It's an interesting possibility. Now that he's healthy, Ivory is becoming a bigger factor. He was huge two weeks ago against the Patriots, rushing 34 times for 104 yards. He didn't get many chances this past Sunday because they fell behind so early and had to abandon the running game, but I could definitely see him being a big part of the game plan. It's hard to ignore the fact that the Saints are allowing a league-high 4.8 yards per rush.
I had to laugh the other day when Ivory said this game has no special meaning to him. Of course it does. I remember having a chat with him in the preseason about his time with the Saints. He felt he never got a fair shake because of politics, the organization preferring drafted players over him. Now he gets a chance for a little payback. You already know this, Mike, but Ivory runs like he's trying to hurt people. Tough dude.
The one thing the Jets can't do is give up on the running game and start throwing, because it sounds like Jordan & Co. can really get after the passer.
Triplett
: It sounds like Ivory's tenure in New York has been a microcosm of his time in New Orleans. He had trouble staying healthy, but when he turned it on he was a force. He was very popular with the fan base here. So that will be a fascinating subplot. Interestingly enough, the Saints used the draft pick they acquired from the Jets to trade up for big nose tackle
John Jenkins
, who has been a key addition. Those two will get to meet head-to-head.
You're right about the Jets playing right into the Saints' hands if they're forced to abandon the run. Jordan and Galette are two bona fide playmakers. And the Saints aren't afraid to throw in some safety blitzes. They have 24 sacks this season, one fewer than the Jets.
Speaking of which, I just had a conversation with someone putting together a midseason All-Pro team. They had the Jets'
Muhammad Wilkerson
written in pen and were debating between Jordan and
J.J. Watt
for another D-line spot. What's made Wilkerson so special?
Cimini
: He's a three-down player who can play anywhere on the defensive line. He's listed as an end, but the Jets play multiple fronts and he lines up over the guard at times, even over the center in certain packages. Ryan has compared him to
Richard Seymour
and
Trevor Pryce
; Wilkerson is a 300-pound man who moves like a 275-pounder. He's very good against the run and he has improved as a pass-rusher, evidenced by his seven sacks, already a career high. He's the best player on the team and I'm sure the Jets will try to lock him up long term after the season.
We've talked a lot about the strengths of these teams. In closing, can you touch on a couple of weaknesses? Jets fans aren't too optimistic this week, Mike, so they need a little something to rally around. What have you got?
Triplett
: The Saints' biggest weakness has been running the ball. They've been better in recent weeks, but they're still inconsistent. So they might be pretty one-dimensional on offense against this Jets defense that's so good at stopping the run. Of course, the Jets will still have to slow down the Saints' passing attack. The defenses that have had the most success against New Orleans' passing game this year have been the ones that could get physical with receivers in man-to-man coverage and chip and jam at the line of scrimmage. And as we said, Brees has taken more hits than usual this year.
Also, the Saints' run defense hasn't been great this year. So if the Jets can keep the game close and stay patient with the run game, that's something they might be able to exploit. And if anyone knows Rob Ryan's weaknesses, it's gotta be Rex, right?
October, 31, 2013
10/31/13
12:00
PM ET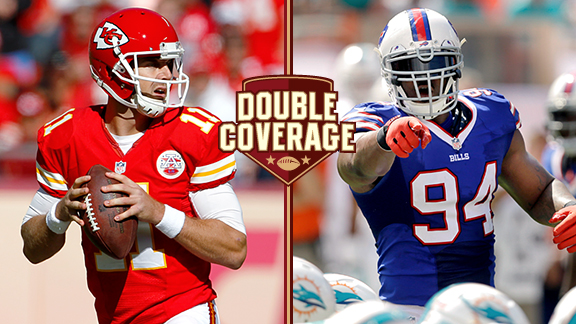 AP PhotosAlex Smith will face Mario Williams and a pass rush that have the second-most sacks in the league.
The 8-0
Kansas City Chiefs
have some big games upcoming, including showdowns for AFC West supremacy on Nov. 17 and Dec. 1 against the
Denver Broncos
. But first is Sunday's game against the 3-5 Bills in Buffalo.
ESPN Chiefs reporter Adam Teicher and Bills reporter Mike Rodak discuss the game:
Teicher
: With the exception of three lost fumbles, it looks like quarterback
Thad Lewis
is playing better than the Bills had a right to expect. For those of us who aren't familiar with his game, give us a little scouting report with regard to his strengths and weaknesses and things he might be able to do --
if he is able to play Sunday
-- that could give the Chiefs some trouble.
Rodak
: I think you nailed it. Even though Lewis is still in the bottom third of the league among quarterbacks, the Bills are more than happy with what they're getting from him. Most importantly, Lewis is a heady player with a real strong grasp of the offense. That's what impressed offensive coordinator Nate Hackett when they sat down with Lewis after
EJ Manuel
's injury and why they chose him. He's physically not the most gifted quarterback, but Hackett likes Lewis' arm strength. We've seen it on some deeper passes Lewis has completed in the past three games, and if he can get the protection, they're going to keep trying that. As a runner, Lewis isn't
Terrelle Pryor
, but he has the mobility to run the read-option the Bills like to mix in out of their no-huddle offense. The question is, how much will they run him? Lewis got drilled from behind on a designed run to begin the game Sunday, suffering bruised ribs, and his status against the Chiefs is still up in the air. If Lewis plays Sunday, the Chiefs shouldn't have to worry too much about him as a runner.
Adam, I'm sure you've been asked this plenty of times this season, but what has clicked for the Chiefs? Was it the move away from Scott Pioli and Todd Haley/Romeo Crennel to John Dorsey and Andy Reid, or were there personnel changes that made a bigger impact?
Teicher
: The coaching and administration moves were huge. For the previous four seasons the Chiefs had a lot of guys with their own agendas, pulling in different directions and focusing on things that didn't matter. Dorsey and Reid deserve a lot of credit for getting everyone to fall in line behind them. Everyone has the same goals now. Reid has persuaded some players to put aside personal goals for the greater good. A lot of Chiefs players were tired of the losing and the sideshow stuff and were ready to be led in a positive direction. Reid walked through the doors with some impressive credentials and they listened to him. As far as personnel changes, most of the Chiefs' better players are ones who were here when Reid and Dorsey arrived. The only new guy in what you could call a key role is QB
Alex Smith
. Otherwise, most of their key players (
Jamaal Charles
,
Branden Albert
,
Dontari Poe
,
Tamba Hali
,
Justin Houston
,
Derrick Johnson
and
Eric Berry
) have been around.
Smith was sacked six times against Cleveland last week and 24 times this season, so pass protection has been a problem for the Chiefs. The Bills are doing a good job getting after the opposing quarterback. What have teams done to try to counter
Mario Williams
, and do the Bills have anyone else consistently putting pressure on the quarterback?
Rodak
: I think the best job an opposing offense has done against Mario Williams was in Week 6, when the Bengals took down the Bills in overtime. They caught the Bills off guard by opting for a shorter passing game, forgoing the chance to attack a shaky (at the time) Bills secondary with
A.J. Green
. Instead,
Marvin Jones
had a 34-yard end-around run and a 42-yard catch-and-run in the first seven minutes of the game that set the tone. Williams finished with just one tackle and a half-sack, even with the extra period. The Bills don't have a player putting up 11 sacks like Williams, but their pair of defensive tackles --
Kyle Williams
and
Marcell Dareus
-- are among the better duos in the league. Each has four sacks. Overall, Mike Pettine's defense thrives on generating pressure from many different sources, including the defensive backs. Andy Reid is a veteran coach and knows his offense will have to be ready for the blitz from start to finish Sunday.
Adam, would you say the Chiefs are effective in spite of Alex Smith this season -- he has posted just an 82.1 QB rating -- or because of him? Is their success through the first half of the season sustainable even with Smith at quarterback?
Teicher
: There are things Smith can be doing better, but they're 8-0 because of him, not in spite of him. Among the things Smith has done exceedingly well are protect the ball and run from trouble. Smith has thrown only four interceptions, so he's not forcing the ball into tight situations or otherwise taking risks with it. He's fumbled just once, and the Chiefs even recovered on that one. For him to handle the ball on every offensive play and have only four turnovers is amazing. When he's been sacked, he's holding on to the ball. Smith is the Chiefs' second-leading rusher and has scrambled out of trouble a number of times. It's fair to say they wouldn't be 8-0 without his running ability. It's been that valuable. That said, Smith needs to complete a higher percentage of his passes. Right now, he's only at about 59 percent. Getting that into the low to mid 60s would make a big difference for the passing game. The Chiefs also have trouble getting touchdowns in the red zone. That can't all be blamed on Smith, but he can be more efficient inside the 20.
I can't figure out why the Bills aren't better defensively. They've been solid against the run, have strong pass-rush capability, create a good number of turnovers, yet still have allowed 20 or more points in every game. I know they've allowed some big pass plays. Is that the only reason they haven't been better defensively?
Rodak
: I think the big plays are part of it, Adam. The Bills have allowed 14 receptions of 35 yards or more, the most in the NFL. But the Chiefs have allowed 12, the second-most, so there's more to it than that. I think the first place to look is on the other side of the ball, where the Bills' offense averages just 27:41 in time of possession. That's the fourth-lowest mark in the league and is putting stress on the defense. The Bills have a creative mind in defensive coordinator Mike Pettine and talent at all three levels of their defense. But their offense, between injuries and inexperience, has been so ineffective at some stretches that the defense just can't hold up. This is a defense that has put pressure on opposing quarterbacks and forced some turnovers, but they'll need to prevent the big play and have their offense pick up some slack going forward.
Adam, what do you think it will take for the Chiefs to lose Sunday?
Teicher
: Opponents have started to give the Chiefs their best shots. Houston did two weeks ago and Cleveland did last week, and each team came close to knocking off the Chiefs at Arrowhead Stadium. So if the Texans and Browns can keep things close in Kansas City, it reasons that the Bills can beat them in Buffalo. The Chiefs have played the past couple of weeks, and particularly against Cleveland, as if they're weary of the burden of being the NFL's remaining unbeaten team. They took a 13-0 lead against the Browns, then looked like they ran out of energy. They'll need to bring more Sunday in Buffalo or they certainly could be in trouble. The Bills could make things easier on themselves by getting an early lead. The Chiefs have led much of the time this season and have been able to play the games on their terms. When they've been behind, it's never been by more than a touchdown. Kansas City has trailed in the fourth quarter in just one game, that being by four points early in the final period on Oct. 6 in Tennessee. That deficit didn't last long, so it would be interesting to see how they do if they need to play catch-up late in a game.
.
October, 31, 2013
10/31/13
12:00
PM ET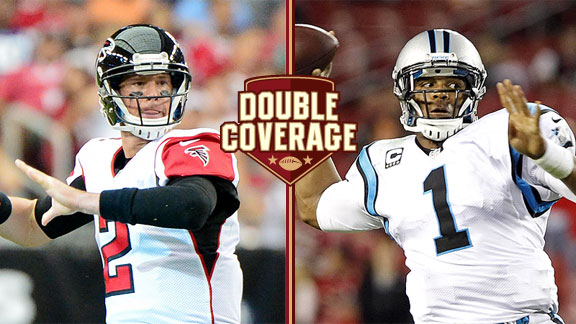 USA Today SportsCan Atlanta's Matt Ryan generate enough offense to beat Cam Newton and red-hot Carolina?
The
Carolina Panthers
and
Atlanta Falcons
are headed in opposite directions, and not the directions most would have predicted.
Carolina (4-3) has won three straight and four of its past five games to move into position for a playoff run. Atlanta (2-5), a preseason contender to represent the NFC in the Super Bowl, has lost four of its past five games.
ESPN.com Panthers writer David Newton and Falcons writer Vaughn McClure are here to break down Sunday's NFC South game at Bank of America Stadium:
Newton:
Vaughn, I know the Falcons have had a lot of injuries. Is their record really a product of that or are there much deeper issues?
McClure:
When you lose a player as dynamic as
Julio Jones
(foot) for the season and miss
Roddy White
(hamstring, ankle) for two games, it makes a drastic difference. Plus, the Falcons lost defensive end/linebacker
Kroy Biermann
(Achilles) for the season and have been without defensive leader
Sean Weatherspoon
(foot) since Week 2. So, yes, injuries have taken a toll.
That being said, a team with solid depth would be able to weather some of the storm. The Falcons don't have the type of depth they need, which has to be addressed in the offseason. Offensively, the lack of balance without a running game and the inconsistency of the line have hurt. Defensively, the Falcons have surrendered 11 plays of 40-plus yards. That's all a recipe for disaster. I'm sure
Cam Newton
is licking his chops, right?
Newton:
I don't know about licking his chops, but Newton's had an incredible run that has his confidence at an all-time high. Only San Francisco's
Colin Kaepernick
(94.1) and Cincinnati's
Andy Dalton
(89.2) have a higher quarterback rating than Newton (88.2) over the past three games. He's going through his reads better than ever and taking what the defense gives him instead of trying to force things.
I see no reason for that to stop this week against an Atlanta defense that has allowed opposing quarterbacks to complete 65 percent of their passes. But I suspect Newton would be confident going against the Falcons regardless, considering last year he passed for 502 yards and four touchdowns against them in two games. I'm sure he's wanting to make up for the late fumble that cost the Panthers a chance to sweep Atlanta, too.
While we're on quarterbacks, how has
Matt Ryan
handled being without most of his top weapons the past few weeks? Is it asking too much for him to carry the entire load?
McClure:
Yes, I think it is asking too much of Ryan. He had no issues two games ago against the lowly Buccaneers, when he completed 20 of 26 passes for 273 yards, three touchdowns and a career-high passer rating of 148.4. But on Sunday at Arizona, Ryan got pummeled by a relentless Cardinals pass rush that resulted in four sacks and 11 quarterback hits. There was a margin of error for Ryan with Jones and White on the field because both receivers can make great adjustments on the ball. Now, with the likes of
Harry Douglas
,
Drew Davis
and
Darius Johnson
, Ryan has to be flawless -- although at times Douglas has been sensational.
I give Ryan credit for keeping a positive outlook through it all, but he has to be frustrated. It doesn't look like things will get any easier against the Carolina defense, but what about the status of defensive end
Charles Johnson
?
Newton:
Johnson says it's 100 percent certain the mild groin strain won't keep him off the field on Sunday. He would have to be in a body cast not to play in this game. The Georgia native and former University of Georgia star gets up for the Falcons more than any team in the league. He had a single-game-best 3.5 sacks the first time they met last season and leads the team in sacks this season with six.
But as well as Johnson is playing, the Panthers don't need him to be spectacular like they have the past few seasons. The entire front seven if playing so well as a unit. it's really tough to single out any one player. It all begins with stopping the run, where Carolina ranks second in the league. Speaking of the run,
Steven Jackson
's first game back was less than stellar. Will he play a bigger role this week?
McClure:
He needs to, that's for sure. Jackson entered the Arizona game hoping to bring some balance back to the offense. Instead, the offense took a step back as Jackson rushed for 6 yards on 11 carries. Only Jackson knows if he was fully recovered from the hamstring injury that had sidelined him since Week 2. No one expected him to come back and immediately bust out for 100 yards, particularly against a top-10 run defense. But I think Jackson definitely expected more from himself. He needs to be able to pick up the tough yards and be the team's go-to guy in goal-line situations. We'll see if he does better against the Panthers -- if the Falcons can put themselves in position to score.
.
October, 31, 2013
10/31/13
12:00
PM ET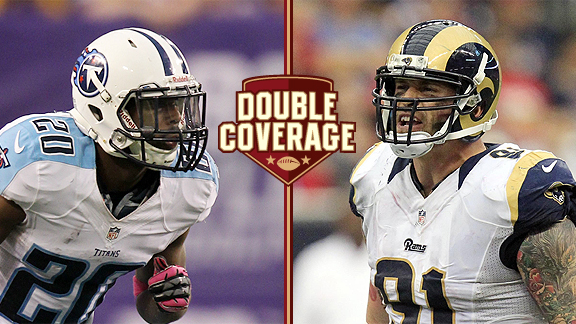 USA TODAY SportsTitans CB Alterraun Verner and Rams DE Chris Long are two of the league's best at their positions.
.
Any time the
St. Louis Rams
and
Tennessee Titans
meet, memories of Super Bowl XXXIV are sure to come to the fore. In one of the greatest Super Bowl finishes of all time, the Rams emerged with their lone championship during their time in St. Louis.
A lot has changed since, but neither team has managed to get back to the promised land and it seems like a long shot either will this season. This week, the Rams and Titans renew acquaintances at the Edward Jones Dome in St. Louis. ESPN.com Rams reporter Nick Wagoner and Titans reporter Paul Kuharsky discuss some things worth watching, including an interesting role reversal for one of the key figures in that Super Bowl.
Wagoner:
Well, it's pretty obvious what the big story is going to be this week. Jeff Fisher is facing his former team for the first time since taking over as the coach in St. Louis. As is to be expected, Fisher is downplaying that whole angle, but you were around him a lot in his years in Nashville. Do you expect Fisher to have a little something extra for his old team this week?
Kuharsky:
It would be so much better if it were in Nashville. Then we'd have the crowd reaction as a part of it, too. Still, it's intriguing. He will definitely have something (or some things) drawn up that he feels will uniquely exploit the schemes and styles of his former underlings Mike Munchak, Jerry Gray and Gregg Williams. If those things work, I'd expect Fisher will then talk about how one of his assistants who was once in Tennessee -- Chuck Cecil, Dave McGinnis or even Ray Sherman -- was instrumental in the design. Fisher didn't leave with hard feelings, and I believe he wishes the organization well. Still, any proud former employee in this sort of circumstance wants to outperform the former employer. He's talked about it meaning more for the guys on the roster who were once Titans.
Jared Cook
had a monster opening day but has been quiet since.
Cortland Finnegan
missed some time hurt. What's the status of those guys?
Wagoner:
Cook has really struggled dealing with teams giving him more attention and, more specifically, being physical with him at the line of scrimmage and downfield. He stopped on a route last week against Seattle, and it resulted in an interception. The Rams have gone back to more of a power running scheme that has also limited his snaps because he doesn't bring much to the table as a blocker. Finnegan won't say it, but I believe he was banged up at the beginning of the season; his first four games were downright brutal. He returned last week against Seattle, and for now he's working exclusively in the nickel as the team's third corner rather than just bumping inside in those situations. Given that he's only a little more than a year into a monster contract, it's hard to categorize him as anything but a disappointment for the price.
A lot will be made of the Fisher-Tennessee connection, but I'm more intrigued by the Gregg Williams situation. The way things went down with him and the Rams, and between Williams' son Blake and the Rams, had to have created some tension on all sides. What has Williams' impact been down there in Tennessee, and what exactly is his role?
Kuharsky:
By title, he's senior assistant/defense. In practice, he's not-quite defensive coordinator. Gray is still calling the plays, but Williams' influence is undeniable. This defense had no personality or attitude last season. Now it's the backbone of the team. It mixes it up and disguises its looks up front, it blitzes more often and it plays far more man-to-man.
Bernard Pollard
has been a great fit who has talked with swagger and backed it up. Some guys most people have never heard of -- defensive end
Ropati Pitoitua
and middle linebacker
Moise Fokou
-- have been very good additions. Williams certainly had a say in bringing those guys in. He has stayed in the background and seems comfortable there. I would imagine he and Gray are excited to put together a plan to make
Kellen Clemens
uncomfortable.
How do you think Clemens will respond in his second start since
Sam Bradford
went down?
Wagoner:
To paraphrase one of the great philosophers of our time, Mr. Dennis Green, Clemens proved last week against Seattle that he is what we thought he was. He's a tough, gritty, consummate professional who can occasionally extend plays with his legs and make something happen. He's also consistently inaccurate, a bit indecisive and has a knack for costly turnovers (though his two interceptions Monday night weren't completely his fault). Another week to work with the starters should help, but he was a bit sore after Monday night's game against Seattle. The Rams don't need him to throw for 300 yards and five touchdowns, but they do need him to convert in the red zone and not turn the ball over.
There are something like 16 players from the Fisher era remaining in Tennessee, one of whom is running back
Chris Johnson
. The Rams have been better defending the run the past two weeks, but they need to prove they can keep doing it. It appears Johnson has struggled after the team made efforts to help him in the offseason. What's going on with Johnson, and is he (and the Titans' offensive line) capable of taking advantage of the Rams' run defense?
Kuharsky:
The Titans are built on a philosophy of throwing it when they want to, not when they have to. That's a mistake because the revamped line and Johnson are not equipped to run it they way they think they can. Jets fans get a kick out of this, but to a large degree the Titans' hope things will get better comes from
Shonn Greene
. The bigger back was brought in as a compliment to CJ, but he got hurt in the opener and made it back only the week before the bye; he has hardly played. They need him to emerge and contribute. Based on current numbers, the Rams are the third-softest run defense the Titans will have seen this season. If they can't run Sunday, it will really speak to their issues.
Chris Long
and
Robert Quinn
looked really good against Seattle. Have they been giving everyone problems like that?
Wagoner:
Quinn certainly has. Through the first half of the season, he's really starting to realize his immense potential. I believe he's the Rams' best player right now, and have felt that way since the beginning of the season. He's an athletic freak who gives slower tackles problems. He feasts on inferior players, but he can get it done against good tackles as well. Long was banged up earlier in the season but has battled through it and is starting to find his stride. Given the situation on offense right now, the Rams need this duo to take over games on a regular basis and set the tone for a defense that, before last week, had largely disappointed this season.
.
October, 31, 2013
10/31/13
12:00
PM ET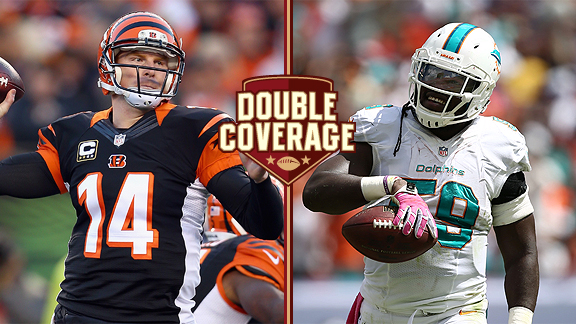 Getty Images, AP PhotoIt will be up to Dannell Ellerbe and the Miami defense to slow down Andy Dalton and the Bengals.
Two teams streaking in opposite directions will meet on Halloween night when the
Miami Dolphins
host the
Cincinnati Bengals
.
The Dolphins (3-4) enter this game on a four-game losing streak, while the first-place Bengals (6-2), one of the NFL's hottest teams, are on a four-game winning streak.
Will the Bengals continue their winning ways? Can Miami save its season at home? ESPN.com Bengals reporter Coley Harvey and Dolphins reporter James Walker weigh in:
James Walker:
Coley, I expect an entertaining game between these two teams. Not only do they match up well, but the fact that one team is so hot and the other can't buy a win makes it intriguing. This is a must-win game from Miami's perspective. This team could be on the verge of losing its confidence if things don't change soon. The Dolphins haven't won a game since Sept. 22, and each week it appears more challenging to get over the hump.
The Dolphins gave the
New England Patriots
their best shot this past Sunday by taking a 17-3 lead at halftime. Then, New England scored 24 unanswered points to deflate the Dolphins. That's a shot in the gut that could be tough to recover from on a short week. And it certainly didn't help when starting offensive tackle
Jonathan Martin left the team
.
I'm sure things are more rosy in Cincinnati. What's the mood of the Bengals entering Thursday night's game?
Coley Harvey:
Bengals fans are on Clouds 9, 10, 11 ... do they make a Cloud 100? Seriously, the Queen City is all abuzz about the statement
Andy Dalton
and
Marvin Jones
made in Sunday's 49-9 pummeling of the
New York Jets
. Not only does it appear that Dalton has found a nice mechanical passing rhythm, but he has been in better sync with his receivers. In the past three games alone, he has passed for 1,063 yards and 11 touchdowns. He connected with a minimum of seven receivers in each of those games.
Along with that offensive production, the defense has been pretty stout, as well. The Bengals haven't allowed a touchdown in two of their last four games. Those performances happened to come against AFC East teams (the Patriots and Jets).
So yes, plenty of reasons for people in southwest Ohio to be excited. But what about in South Florida? How are things there? I can't imagine the mood has been very peaceful since this collapse began. As a former Florida resident, I have tons of Dolphins fans for friends. I've had to talk several off the ledge recently.
Walker:
Many South Florida fans are glad it's basketball season. The Dolphins have frustrated football fans for so long that they are used to quickly turning the page when the Miami Heat get their season started. The defending NBA champs are now the biggest source of pride in Miami when it comes to sports. It's been a while since the Dolphins held that claim. The Dolphins are having trouble packing their stadium and will need to produce consecutive winning seasons for most fans to stay on board longer than a few games. It's a harsh sports town in that respect.
Another topic I want to touch on is the quarterbacks. Dalton has caught fire recently. Is this sustainable for the rest of the year or just a short-term fluke?
Harvey:
It's hard to tell, James. I get asked this very question or some variation of it every week, and just when I think he has hit his ceiling and played the best game he possibly could, Dalton comes out and rips off another impressive performance. I'm hesitant to say it's a short-term fluke now; I'm starting to think he's got something special going.
What has led to such solid, consistent play of late from him? If you ask the Bengals, they'll say it has to do with trust and confidence. Dalton feels much more at ease with knowing that any of his receivers, not just
A.J. Green
, will make big plays. Sunday's franchise-record four-touchdown effort from Jones showed just that. If I had to guess, though, I'd say Dalton just finally got fed up with all the negative press he had been getting. After posting a 29.7 QBR in the Bengals' 17-6 loss at Cleveland in Week 4, he took quite a beating. Since then, he has been a completely different player.
What has been
Ryan Tannehill
's issue of late? It's kind of surprising to see that
Mike Wallace
and
Brian Hartline
have only three touchdown receptions between them.
Walker:
Just like Dalton in Cincinnati, Tannehill also is a hot topic weekly in Miami. I don't doubt his natural ability. He has most of the things you look for in a quarterback: strong arm, good mobility, can throw on the run, steady demeanor. However, I'm starting to see some recurring weaknesses after 23 career starts that make me question Tannehill's long-term prospects. His pocket presence is subpar. He doesn't have a good feel or that sixth sense for the pass rush. That has led to Tannehill holding the ball too long and often taking clean shots, which have resulted in a team-high five lost fumbles. If Tannehill can learn how to slide in the pocket and feel the rush better, that will increase his chances of taking the next step.
But to some degree, it's also hard to fully evaluate Tannehill when he has been sacked 32 times and his rushing attack is ranked 23rd in the NFL. He isn't getting consistent help from his supporting cast.
Finally, the Bengals are much less dominant on the road than they are at home. What has been the difference and what has to go right Thursday for Cincinnati to improve to 7-2?
Harvey:
It is true that both of the Bengals' losses this season came on the road, but they came before the massive Dalton turnaround and at least one of them should have been a win. Down 24-21 and out of timeouts with just more than a minute to go in their season opener at Chicago, the Bengals' defense had just made a crucial third-down stop when middle linebacker
Rey Maualuga
got tangled up with a Bears offensive lineman. The lineman kept blocking after the whistle, Maualuga didn't like that and retaliated with a body slam. The refs saw the body slam and flagged him for unsportsmanlike conduct. Had that play not occurred, the Bengals would have gotten the ball back and might have been able to stage the type of last-minute rally that led to their last road win.
The other loss came when they just didn't show up at all at Cleveland in Week 4. While their recent road success -- games won in back-to-back weeks on field goals in overtime and as time expired in regulation -- is reason enough for Bengals fans to feel good about Thursday night's game, some are worried they'll see a flat Cincinnati team at Sun Life Stadium. The Bengals were beat up Sunday and are just hoping to survive this short week. Maualuga is one of four defensive starters who won't be playing in this game.
October, 31, 2013
10/31/13
12:00
PM ET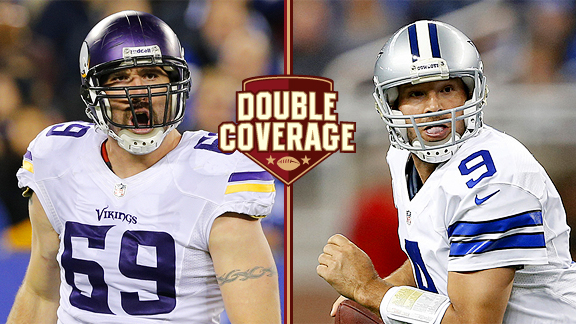 AP PhotoJared Allen's Vikings and Tony Romo's Cowboys match up on Sunday in a game where neither team looks like much of a playoff threat.
IRVING, Texas -- The
Dallas Cowboys
kick off the second half of their season at AT&T Stadium on Sunday against the
Minnesota Vikings
, who are still looking for their first win in the United States this season.
A playoff team a year ago, the Vikings have been one of the biggest disappointments in the NFL. At 4-4, the Cowboys are looking at their third straight 8-8 season under Jason Garrett.
ESPN.com Vikings reporter Ben Goessling and ESPN.com Cowboys reporter Todd Archer debate the game in this week's Double Coverage.
Archer:
I think a lot of people assumed the Vikings would be a serious playoff threat, but obviously that's not the case. How is it sitting with the veterans on the team like
Adrian Peterson
,
Jared Allen
,
Chad Greenway
and guys who have experienced success?
Goessling:
A lot of those players have been disappointed, but they all seem to be sticking behind coach Leslie Frazier, at least for now. There have been a few hints of discontent from players with the defensive scheme, but nobody seems to be quitting on the season. A lot of the problems are out of the Vikings' control, at least in the sense that they can do only so much with the roster they have. It's hard to win and have an open competition at quarterback at the same time. And the Vikings' moves in the secondary have backfired terribly. This hasn't been the same team without
Antoine Winfield
, and now that
Harrison Smith
is hurt, the Vikings have few playmakers on the back end of their defense.
Speaking of quarterbacks, it looks like
Tony Romo
is playing some of his best football this year. I suppose with him, we never really know what to think until the playoffs, but does it seem to you like he's turned any type of a corner?
Archer:
I think he's played at a higher level than most people want to say for the past few years, but he's been stuck with this tag that he can't shake until (if) the Cowboys make the playoffs and win a couple of games. This year, he has more say in the offense in terms of the game plan, so I think that has him feeling more weight to make the correct play and not be so much of a gunslinger. He's struggled the past three games with his accuracy, but he's made big plays and mostly stayed away from the bad ones. He remains creative when things break down, but he's also willing to take a sack or throw the ball away.
Peterson is coming home, so to speak. How have things been different for him this season after 2,000 yards last season?
Goessling:
He has been dealing with a minor hamstring injury for the past few weeks, but I think the biggest problem for Peterson has been the play of his offensive line. The group hasn't been anywhere near as good as it was last season at opening holes for Peterson, and fullback
Jerome Felton
has struggled to get into a rhythm after missing the first three games because of a suspension. At times, Peterson has looked impatient, wanting to make that one extra cut for a 60-yard run and winding up with a 2- or 3-yarder when the hole closes. He's also seeing more eight-man fronts than any other back in the league, and without a line that's able to handle the extra attention, Peterson isn't going to beat those defenses all the time. Even he isn't that good.
But maybe this is the week the Vikings can resurrect their passing game, playing against the worst pass defense in the league. Are the Cowboys so bad that they'll have trouble even with the Vikings' ensemble cast at quarterback?
Archer:
Unless
Christian Ponder
,
Josh Freeman
or
Matt Cassel
morph into Peyton or
Eli Manning
,
Philip Rivers
or
Matthew Stafford
, I can't see it happening, even as bad as the pass defense has been. When it has played against middling quarterbacks --
Alex Smith
(yes, I know he's 8-0, but he's not a great passer),
Sam Bradford
, a returning-to-health
Robert Griffin III
and
Nick Foles
-- the defense has looked good. When it has faced top passers, it has allowed the most 400-yard games in NFL history for a season -- in just eight games. Monte Kiffin's scheme is very basic and designed to not give up big plays, yet the Cowboys have given up a ton of big plays. They have missed
DeMarcus Ware
the past two games and will have a banged-up secondary Sunday. If Ware returns, that should help, but I think the biggest aid for the defense will be whomever Frazier picks to play quarterback.
For years, the strength of the Vikings D, to me anyway, has been the pass rush. Statistically, it's not very good, but is that a product of the secondary issues you talked about?
Goessling:
I'd say it's the other way around. The Vikings were certainly better in the secondary last year than they are this year, but they were helped out by the fact the front four was getting to the quarterback enough to keep teams from exploiting them in the passing game. This year, the Vikings have been done in by teams that can get the ball out quickly (the Lions and Packers, especially), and they just haven't gotten much push up the middle. Allen and
Brian Robison
are hustling, but they can do only so much when they're getting the bulk of opposing teams' attention. The Vikings still aren't a blitz-heavy team, but they have had to bring extra guys a little more often than usual this year and
Aaron Rodgers
burned them on a blitz Sunday. If Romo gets the ball out quickly, he should have plenty of openings. The good news for the Cowboys is A) the Vikings could have three defensive backs out with injury, and B)
Josh Robinson
will be on the field.
The week after the Vikings lost in the final seconds against the Bears, they got beat by the Browns at home. Do you expect any kind of shell shock from the Cowboys after that Matthew Stafford touchdown last week?
Archer:
I really don't. The Cowboys have had so many of these types of losses that they know how to bounce back. The bad thing is they have had to do this too often. We came up with
21 losses since 2005
that can be described as "crazy" with late-game shenanigans. The Lions loss was just another one to add to the list. The Cowboys lost a game in 2010 because they missed an extra point. They lost a game in 2008 in overtime on a blocked punt returned for a touchdown. And those both came at Arizona.
So the Cowboys somehow do a good job of compartmentalizing things and putting a bad week behind them. Garrett deserves some credit for that, I guess.