September, 30, 2014
Sep 30
2:13
PM ET
Justin Yoon
admits he's usually a really confident guy, but Monday afternoon at his Under Armour All-America Game jersey presentation he was the exact opposite.
When he had to give a short speech in front of family, friends and classmates during the presentation, Yoon said the emotion of being selected as one of the top high school football players in America caught up with him and suddenly he was speechless.
"I honestly couldn't even speak, I had so many emotions flowing through me," Yoon, who is a Notre Dame commitment and the No. 2 ranked kicker in the country, said.
Justin Yoon receives his #UAALLAMERICA jersey. https://t.co/ejy7LqFvFP

— RecruitingNation (@ESPNRNFball) September 30, 2014
"It kind of scared me at the first few moments. But I was finally able to handle the pressure. It was awesome that all of my friends came. Every one that has supported me and who I respect came by, so I'm very grateful to them. I appreciate everything they've done for me. I never ever thought I would be in this type of situation."
That's true, especially when you consider Yoon is still relatively new to the game of football.
The 5-foot-11, 183-pound Yoon said he always envisioned himself on the soccer pitch, instead of the gridiron. In fact, he didn't even start playing football until the eighth grade and once he did things just clicked.
"I didn't even know what football was," Yoon said. "I was kicking goal kicks, corner kicks and free kicks in soccer. That has really helped with my distance. After that the football coach saw me and told me to try it out. That's where it started.
"It's is a different ball and not just anyone can kick a football like they do a soccer ball, but for some reason it hit well with me. The football just really fit me. I'm not exactly sure how or why, but it just clicked right away. The transition from soccer to football was actually really smooth."
It was so smooth that Yoon quickly became one of the most heavily recruited kicking prospects in the country.
As a junior, he was nine of 11 in field goals with a long of 48 yards, and he also connected on 38 of 39 extra points. He was also impressive on his kickoffs, recording 38 touchbacks. Those numbers allowed him to pick up offers from Notre Dame, Boston College, Northwestern, Stanford and Texas A&M. He picked the Irish in June and hasn't looked back.
"Honestly, I never knew football could be that much of a big deal," Yoon said. "I was new to it. After all the offers and everything, I learned how big it was. It was immense. It's a huge deal. Since my freshman year, I thought I was doing all of this for fun. I just love kicking. I never knew it would help me have a better future. I'm grateful for it."
Yoon has big expectations for his time at Notre Dame.
"They asked me if I could start as a freshman, and I told them 'Yes.'" Yoon said. "So I'm looking forward to starting the season and seeing if I can make a contribution. But I have to compete. They're going to have other kickers there that are willing to fight for that spot, but I'll be fighting, too. I also want to be one of the better kickers in the country, and I want to win the Lou Groza Award."
But before he arrives in South Bend, he's looking forward to his time at the Under Armour Game. After injuring his back in the first game of his senior season, the week of practices and the game itself will be an opportunity to test himself under pressure.
"It'll be the first time I'll be kicking on national television," he said. "So there will be a lot of pressure with that, but I'll be ready for it. I promise I'll do better than when I had to give my speech at the ceremony."
September, 30, 2014
Sep 30
9:30
AM ET
Claim your spot on the couch now. Reserve your table at your favorite sports bar. Buy another TV. Do whatever you gotta do to make sure you don't miss a snap Saturday because this is going to be a good one.
College football has been a well-kept secret so far, as it has been hiding the true identities of teams. Not this week. It's time to play or go home. There are six games between ranked teams. Of the 17 undefeated teams remaining, eight play against each other this week. It's the most relevant weekend the sport has had in regard to the new College Football Playoff.
Here are the games you can't miss, ranked from
least
to most likely to affect the playoff:
No. 14 Stanford at No. 9 Notre Dame
-- Stanford already has one loss, and this is the second straight road trip for the Cardinal. If Stanford loses again, its playoff hopes will be in serious jeopardy but not over, given that it could still win the conference. This game should reveal more about Notre Dame's place in the playoff, as it will be the first ranked opponent for the Irish.
No. 4 Oklahoma at No. 25 TCU
-- ESPN's Football Power Index gives Oklahoma a 64 percent chance to win and predicts this to be Oklahoma's hardest remaining game -- slightly more difficult than Nov. 8 against Baylor. If the Sooners can't handle TCU, they'll be on the outside looking in.
No. 15 LSU at No. 5 Auburn
-- LSU gave Auburn its only regular-season loss the past year, but LSU has already lost to Mississippi State, which put the Tigers behind in the SEC West race. Considering the rest of LSU's schedule -- and the hole it's already in -- this is a must-win. For Auburn, this is a chance to erase some doubts and make a push from the bubble into the top four.
No. 6 Texas A&M at No. 12 Mississippi State
-- Two terrific quarterbacks will be on display in the Aggies'
Kenny Hill
and the Bulldogs'
Dak Prescott
, who both rank in the top 10 in total QBR. A&M's stock dropped a bit this past week after it needed overtime to beat Arkansas, but it could be a top-four team if it can survive the state of Mississippi the next two weeks.
No. 3 Alabama at No. 11 Ole Miss
-- This is the most interesting matchup of the day. Alabama ranks third in offensive efficiency, and Ole Miss ranks second in defensive efficiency. Neither team has played a ranked opponent, so there is still some margin for error, but the Tide have a chance to separate from the crowded West.
No. 19 Nebraska at No. 10 Michigan State
-- Surprise. The game with the biggest playoff implications is not in the SEC West. This Big Ten matchup could knock Sparty out of the playoff entirely. It's one thing to lose to Oregon; it's another to try to make the four-team playoff with two losses and your best win coming over Nebraska in the Big Ten title game. Conversely, a win in East Lansing could vault the Huskers into the playoff conversation. They're the only undefeated team left in the Big Ten, and the toughest game left on their schedule is against No. 17 Wisconsin. If Nebraska pulls off the upset, it's time to take it seriously as a playoff team.
September, 29, 2014
Sep 29
11:00
PM ET
Auburn hasn't been given too much of a chance to land coveted receiver
Christian Kirk
, but the Tigers' chances are better than most think. Plus, Michigan lost a key defensive recruit, and don't be surprised if more are to follow.
September, 29, 2014
Sep 29
9:00
AM ET
Brian Kelly was greeted in the locker room after Saturday's game by the surest sign his voice was getting through.
Notre Dame turned the ball over five times in a sloppy performance against Syracuse. The Irish's decorated quarterback,
Everett Golson
, was responsible for four of those giveaways. They still won anyway, 31-15, to improve to 4-0.
So when Kelly met his players afterward, the environment was considerably toned down, for his players knew that their performance was not up to par.
[+] Enlarge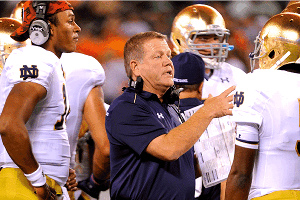 Rich Barnes/USA TODAY SportsBrian Kelly and Notre Dame will have to overcome Stanford's stellar defense on Saturday in order to remain unbeaten.
"Well, it's what you build your program on is a level of expectation that you know that you don't have to go in and deliver the message that's already pretty clear," the fifth-year Irish coach said Sunday. "If they were in there giddy and happy, I'd be a little bit concerned. I want them to enjoy the win, but I also want them to know that there's better football that needs to be played, and they knew that."
Especially this Saturday, when they get their first true measuring stick of the season. No. 14 Stanford is coming to town, a program that has served as somewhat of a measuring stick for No. 9 Notre Dame in the Kelly era. The Irish know that they cannot perform anywhere near the way they did against the Orange and expect to beat the Cardinal, who have one loss to their name.
Football teams play bad games, even the best ones. Especially at the college level. That Notre Dame got its stinker out of the way against a Syracuse team seemingly with zero interest in taking advantage of Irish miscues is a tremendous burden off the program's shoulders, and one it can waste little time thinking about this week.
"They're a very tunedin group to my message," Kelly said. "I always start with, 'You need to be excited about winning.' It's hard to win in college football, especially when you're playing Power 5 teams. Winning is difficult. Just look across the landscape of college football. We start always with that premise because if you can't enjoy winning, it doesn't mean as much.
"Then we get to the heart of it, is that you can't win consistently by turning the football over. You can't win consistently if you don't compete for the ball in the air. And we know that. That was a given. That conversation took place, but I know that when I walked in that locker room, those kids had already had that passing through their mind."
So they move on to Stanford, which enters Notre Dame Stadium with the nation's No. 1 overall defense, No. 1 scoring defense and No. 1 passing defense. Two years ago, in a somewhat similar scenario, an undefeated Irish team stopped a one-loss Cardinal team in an overtime goal-line stand very much symbolic of how far the program had come in three short years under this regime.
This year's team took four games to figure out its offensive line situation, another area Notre Dame can be glad it sorted out against Syracuse, before Stanford. It would help if the fate of the Irish's five suspended players — and whatever other micro and macro fallouts come from that — is decided as well.
MetLife Stadium marked the finale of an early-season slate that Kelly had deemed before the season as "manageable." When it was all said and done in New Jersey, getting out of this stretch alive was, in some ways, as relieving as it was exhilarating.
"You know, five years into your program, I think you walk in the locker room and you expect the kind of locker room that I got," Kelly said. "In the first year you don't know what to expect, and so you have to make sure that that message is heard loud and clear. I was not shocked about the way our kids handled themselves after the game."
The players received Kelly's message without him having to deliver it. All that awaits now is the season's biggest test.
September, 29, 2014
Sep 29
8:00
AM ET
So much of Virginia Tech's production has come from its freshmen. Just look at Saturday's 35-17 win over Western Michigan.
All four Hokies touchdowns were scored by first-year players. Fifteen of the team's 19 touchdowns on the season have been scored by freshmen.
So the news that came down Sunday about freshman running back
Shai McKenzie
had to be discouraging. McKenzie suffered a torn anterior cruciate ligament in his right knee,
as our Jared Shanker wrote
. This is the same knee that McKenzie injured in September of his senior year of high school last season. He had enrolled at Virginia Tech in the winter to help rehabilitate the knee.
McKenzie rushed for 87 yards Saturday before suffering the injury, helping a Hokies rushing attack as good as any in the last four years: Their 308 rushing yards were the most in a game since 2010, when they rushed for 317 yards against N.C. State.
Fellow freshman
Marshawn Williams
led the effort, tallying 119 yards on just 14 carries. He is also the team's leading rusher on the season, just edging McKenzie, 290-269, so Virginia Tech is not without weapons in the backfield.
Still, you have to feel for McKenzie after all the work he put in, and after all the early success he experienced in Blacksburg.
As for the rest of your ACC links ...
September, 28, 2014
Sep 28
8:00
PM ET
Another week in which the middle of the pack in the ACC took another big step backward but may have actually cleared up the bowl picture a bit. Miami and Clemson are on the rise, while Duke, Pitt and BC are headed in the wrong direction -- but as of now, they're all still on track to play in a bowl.

College Football Playoff:
Florida State
Capital One Orange Bowl:
Clemson versus Notre Dame*
Russell Athletic Bowl:
Louisville
TaxSlayer Bowl:
Georgia Tech
Belk Bowl:
Virginia Tech
Hyundai Sun Bowl:
Miami
New Era Pinstripe Bowl:
NC State
Military Bowl presented By Northrop Grumman:
Virginia
Duck Commander Independence Bowl:
Duke
Quick Lane Bowl:
Pittsburgh
BITCOIN St. Petersburg Bowl:
Boston College
* Note: Notre Dame is eligible for a bid to any ACC tie-in game unless it is selected for a New Year's Six game, which can include playing an ACC team in the Orange Bowl.
September, 28, 2014
Sep 28
12:35
AM ET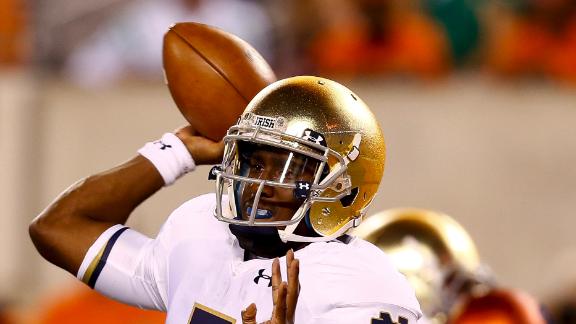 Notre Dame beat Syracuse
31-15
on Saturday night at MetLife Stadium in East Rutherford, New Jersey. Here's how the Irish got to 4-0:


How the game was won:
Good question. Notre Dame turned the ball over five times but still won by double digits. You don't see that every day, but it speaks to how great this young defense has been in Year 1 under new coordinator Brian VanGorder, as it gave Syracuse nothing offensively. Six of the Orange's points came on a pick-six. They had little else going for them from a scoring standpoint.
Gameball goes to:
Everett Golson
will get plenty of credit, and he deserves some of it: 32-of-39 passing for 362 yards and four touchdown passes. He completed 25 consecutive passes at one point, one shy of the FBS record. But he also had two picks and two lost fumbles, so we'll give this nod to sophomore
Will Fuller
, who had the game's first two touchdowns on consecutive plays in the second quarter and finished with six grabs for 119 yards.
What it means:
Notre Dame did not play very well on Saturday, but if you turn the ball over five times and still win -- fairly easily, at that -- you have to take the W and not look back. Teams play poorly, and they often suffer consequences for it. The Irish didn't, and they can go into the Stanford game 4-0, with a blank slate and thankful a sloppy performance such as this is in the past and they don't have a blemish to show for it.
Playoff implication:
No. 8 Notre Dame is still undefeated, so the Irish are certainly alive in this discussion. We will probably know more about them, however, after they face rival Stanford at home next Saturday. Again, they can be thankful they got this sloppy performance out of the way. But to say this looks like one of the four best teams in the country right now is probably a bit much as we move to October.
What's next:
Notre Dame has three games -- Stanford, North Carolina and at Florida State -- before its next bye. Syracuse's upcoming slate is actually less kind: Louisville, FSU, at Wake Forest, at Clemson. The Orange might have had their best opportunity to steal a tough game during this rugged stretch (sorry, Wake Forest) with five takeaways Saturday, but they will have to go back to the drawing board and see what they can get going offensively Friday against a Cardinals team that showed flaws in Saturday's win over Wake Forest.
September, 28, 2014
Sep 28
12:32
AM ET
By
ESPN.com staff
| ESPN.com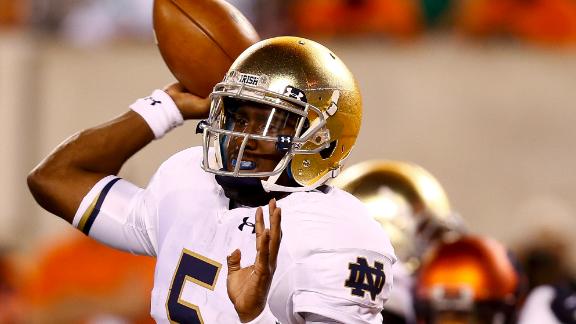 Everett Golson
threw for four touchdowns but also a pair of interceptions in Notre Dame's win over Syracuse.
September, 28, 2014
Sep 28
12:31
AM ET
By
ESPN.com staff
| ESPN.com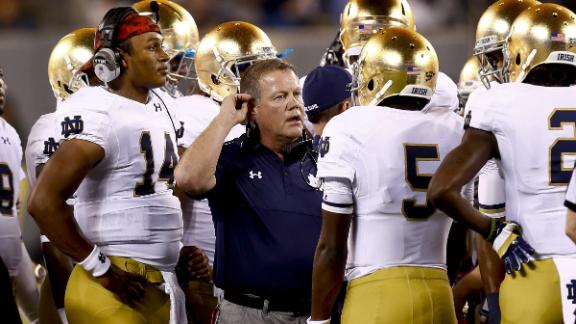 Coach Brian Kelly talks about Notre Dame's
31-15 win
over Syracuse, but he knows his team needs to clean up the turnovers heading into a showdown with Stanford.
First Month Standouts and Surprises
FBS INDEP. SCOREBOARD
Friday, 10/3
Saturday, 10/4