Notre Dame is 4-star Folston's new home
January, 2, 2013
1/02/13
6:20
PM ET
By
ESPN.com staff
| ESPN.com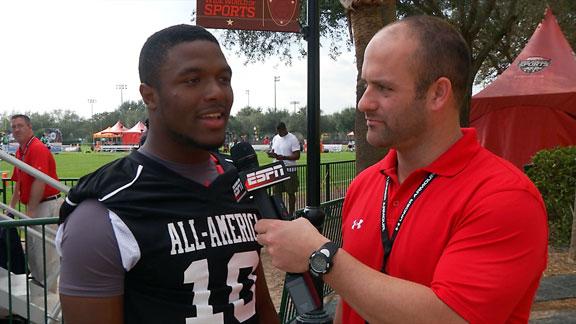 LAKE BUENA VISTA, Fla. -- ESPN 150 athlete Tarean Folston (Cocoa, Fla./Cocoa) has committed to Notre Dame. The 5-foot-9, 192-pound Folston chose Notre Dame over Florida State and Oregon.
Folston, the nation's No. 9 athlete, announced his decision today after Under Armour All-America Game practice at Disney's ESPN Wide World of Sports. The four-star prospect said the Fighting Irish fan base was a big reason he chose Notre Dame.
For Derke Tyson's full story on Folston,
click here

.
The latest from Gustin at The Opening
ESPN 300 athlete Porter Gustin (Salem, Utah/Salem Hills) took time out to talk recruiting and more with WeAreSC's Garry Paskwietz on Tuesday at The Opening.
The latest from Gustin at The Opening
VIDEO PLAYLIST
FIGHTING IRISH NATION RECRUITING NEWS
NOTRE DAME FB RECRUITING SCORECARD
Under Armour Men's Notre Dame Fighting Irish Grey On Field Football Tech Performance T-Shirt Shop »
LoriPuccinelli

Lori Puccinelli


@JustinTuck @DHendrickson41 @PeterAikenStern WE HEART TUCK!!!
10 minutes ago

FightingIrish

The Fighting Irish


SHARKNADO 3. http://t.co/rMXK1ZVdtT
about an hour ago

Matt_Fortuna

Matt Fortuna


10 minutes, $17 and four people later ... Dig in! http://t.co/H4UjEwGijU
about an hour ago

Matt_Fortuna

Matt Fortuna


Sharknado 2? Close. #Cubs with @JJStankevitz and @bendenkin http://t.co/RWZ0JrEik9
about an hour ago

FightingIrish

The Fighting Irish


Great job Kyle! "@kylebrindza: Student-Athlete Handbook & Planners are in! Made by yours truly. Thanks @NotreDameSWD http://t.co/dXg8NEt0Ci"
about 2 hours ago

NDMonogram

ND Monogram Club


So fresh, so clean. RT @NDAthEquipment: From concept to reality, the first @UnderArmour uniforms have arrived! http://t.co/VQlvnPY1zb
about 2 hours ago

NDJackNolan

Jack Nolan


6:08 pm, July 30 2014. ND Stadium looking good! http://t.co/tUvzPUrCbq
about 2 hours ago

FightingIrish

The Fighting Irish


Check out the songs that ND fans suggested for the @FallonTonight lip sync battle on @NDTheLeprechaun's @Spotify playlist #ACCvsFallon
about 2 hours ago

hansenNDInsider

Eric Hansen


Notre Dame live chat returned today. Here's the Memorex version, so to speak via transcript: http://t.co/bpwH7vhIDw
about 2 hours ago

FightingIrish

The Fighting Irish


ICYMI @theACCDN did a story on @NDTheLeprechaun and @Cuse's Otto's challenge to @JimmyFallon today- http://t.co/z0Cb2qNrbc#ACCvsFallon
about 2 hours ago

FightingIrish

The Fighting Irish


Don't forget, free shipping on orders over $50 this week at the online store, and 25% off shoes & backpacks http://t.co/NdERXqySfe#GetYours
about 3 hours ago

BrianHamiltonSI

Brian Hamilton


Whoa. #Marquette announces that Todd Mayo has left program to pursue pro career. Averaged 11 a game as a junior.
about 4 hours ago

BQ9

Brady Quinn


"@JeremyBloom11:Talking @Olympics, @nfl,startup life & the lessons learned along the way#MozCon - http://t.co/dp8ZbCVyiv"Jbloom crushing it!
about 4 hours ago

CoachBrianKelly

Brian Kelly


30 days till @NDFootball officially starts. Our tunnel run will be a little different. #GoIrishhttp://t.co/n1FaoN56Gj
about 5 hours ago

BenGolliver

Ben Golliver


John Calipari sandwich at USA Basketball http://t.co/Bw7FcJMi0v
about 5 hours ago

NDfidm

FIDM


Our final Notre Dame Stadium FieldTurf installation time lapse - field looks ready to go! http://t.co/aTATocIcBF @NDFootball
about 5 hours ago

NDfidm

FIDM


Our final Notre Dame Stadium FieldTurf installation time lapse - field looks ready to go! http://t.co/aTATocIcBF @NDFootball
about 5 hours ago

NDAthEquipment

Notre Dame Equipment


Custom cleats in for @NDSoccer to end the day. @UnderArmour hooked it up with Hybrid and FG ClutchFit's! #footwork http://t.co/77ku3yHftl
about 5 hours ago

TJamesNDI

Tyler James


#NotreDame still in consideration for five-star LB John Houston. RT @Official_John10: My Top 13 school http://t.co/eOvQ9cbAxn
about 5 hours ago

NDTheLeprechaun

The Leprechaun


.@JimmyFallon and Hashtag- Do you accept @Cuse Otto and my @FallonTonight Lip Sync Challenge? http://t.co/ooekws6fWP #ACCvsFallon
about 5 hours ago

TomLoy247

Tom Loy


#Bolt: #NotreDame makes the recent cut for a Five-Star linebacker from the West Coast. Details: http://t.co/nKdOkd5o8s via @BGInews (FREE)
about 5 hours ago

BrianHamiltonSI

Brian Hamilton


Devin Gardner feels he's been at #Michigan "like 98 years." He'll try to make a last one count, via @ChrisDJohnsonn: http://t.co/F4AUXAjwkY
about 6 hours ago

TomLoy247

Tom Loy


#Bolt: Top #Irish defensive back target sets #NotreDame official visit. http://t.co/wiUjHWuaAk via @BGInews (VIP)
about 6 hours ago

theACCDN

ACC Digital Network


What does this guy have to do with @jimmyfallon? Get all your answers here on #ACCNow--> http://t.co/C808nkeXas http://t.co/OqS7XOAIYY
about 6 hours ago

FightingIrish

The Fighting Irish


.@NDAthEquipment released pics of @NDSoccer's new @UnderArmour uniforms! What do you think? #TeamUA http://t.co/IvBgvkUNRe
about 6 hours ago

NDFootball

Notre Dame Football


Exactly one month from right now we'll be running out of this tunnel onto our new field! #GoIrish http://t.co/YYq1HBZdS3
about 6 hours ago

NDmbb

Notre Dame MBB


Did you miss @NDMikeBrey's 1st pitch at the @Silver_Hawks game last night?We have you covered!CLICK:http://t.co/ayL6FfxKAb
about 7 hours ago

BruceFeldmanCFB

Bruce Feldman


#Michigan QB Devin Gardner elaborates on the changes new #Wolverines OC Doug Nussmeier has made: http://t.co/I2XsTOPWCF
about 7 hours ago

Matt_Fortuna

Matt Fortuna


Four #NotreDame practices open to media, starting with Monday's opener at Culver. Brian Kelly speaks this Friday.
about 7 hours ago

NDfidm

FIDM


Follow us all next week with exclusive @NDFootball daily practice reports from Culver Military Academy. The 2014 season begins!
about 7 hours ago

NDfidm

FIDM


It is official - @CoachBrianKelly will kick off @NDFootball fall camp with a press conference live on @WatchND at Noon ET on Friday, Aug. 1
about 7 hours ago

BGI_DanMurphy

Dan Murphy


Brian Kelly will meet with the media to open the 2014 #NotreDame football season at noon this Friday (Aug. 1).
about 7 hours ago

FightingIrish

The Fighting Irish


.@NDmbb's Jerian Grant has returned to his team and @NotreDame.Hear him talk about the homecoming- http://t.co/7RhP22HrOP#NDFamily
about 7 hours ago

Matt_Fortuna

Matt Fortuna


Finding a starting QB remains atop Frank Beamer's agenda for the #Hokies this summer http://t.co/0NwWh0Hsna
about 7 hours ago

Sportsbeat960

Darin Pritchett


Former Bethel College pitcher Justin Masterson reportedly traded by Cleveland to St.Louis.
about 8 hours ago

BrianHamiltonSI

Brian Hamilton


Is Mark Richt a winner? A loser? The @ZacEllis story on the #Georgia coach entering his 14th year: http://t.co/iC2hfP6dKh #UGA
about 8 hours ago

FightingIrish

The Fighting Irish


.@TheACCDN picked up @NDTheLeprechuan and @Cuse's Otto's #ACCvsFallon challenge- http://t.co/z0Cb2qNrbcWhat do you say @JimmyFallon?
about 8 hours ago

theACC

The ACC


#ACCNow: @NDTheLeprechaun Starts #ACCvsFallon http://t.co/FKOqmvJhy4
about 9 hours ago

FightingIrish

The Fighting Irish


Today's #NDFollow for Twitter features @NDSoftball's gang. @NDCoachGumpf @2Ganeff and @LizzieLemire16 #NDFamily
about 9 hours ago

NDAthEquipment

Notre Dame Equipment


Take a look at the uniforms for @NDSoccer for 2014. Season can't come soon enough! @UnderArmour @Uniformswag http://t.co/UtSHKASHhm
about 9 hours ago

BrianHamiltonSI

Brian Hamilton


How USA basketball became the premier summer event for college coaches and recruits, via @SIPeteThamel: http://t.co/3OvZQJDFZP
about 10 hours ago

Matt_Fortuna

Matt Fortuna


Add #LSU/#Wisconsin to that 2016 Week 1 lineup. Holy smokes.
about 10 hours ago

FightingIrish

The Fighting Irish


RETWEET @NDTheLeprechaun's #ACCvsFallon @Spotify playlist if you want to see him and @Cuse Otto take on @JimmyFallon http://t.co/4EkXivwlrk
about 10 hours ago

Matt_Fortuna

Matt Fortuna


Forget next month. Can we just fast forward to 2016? #NotreDame at Texas, Clemson at Auburn, #UCLA at Texas A&M, #Alabama/#USC all on 9/3/16
about 10 hours ago

Matt_Fortuna

Matt Fortuna


#Clemson, #Auburn announce home/home for Sept. 3, 2016 (at AU) and Sept. 9, 2017 (at CU)
about 10 hours ago

FightingIrish

The Fighting Irish


.@NDTheLeprechaun released his @Spotify playlist of the fan suggestions for his and Otto's challenge to @JimmyFallon http://t.co/5EHEfGTuzg
about 10 hours ago

Matt_Fortuna

Matt Fortuna


DeVante Parker leads a #Louisville team looking to make its mark in Year 1 in the ACC http://t.co/mBXvJ8ngeU http://t.co/11egMMEC3x
about 10 hours ago

FightingIrish

The Fighting Irish


Thank you for all of your hard work! #NDFamily "@NDsoftball: Last day in the office for Dir. of Ops @jswhitty http://t.co/W1pjLoPshL"
about 11 hours ago

BGInews

Blue and Gold News


.@BGI_LouSomogyi previews the top five games of #NotreDame's 2014 season: http://t.co/BhEjFv1ALA
about 11 hours ago

NDCFIA

NDCFIA


The calendar for August is up! Come join us this month for a skate! http://t.co/eOhqjoWx7e
about 11 hours ago

hansenNDInsider

Eric Hansen


#NotreDame football live chat comes back to life at noon ET today at http://t.co/nNMrsPHmuA. We'll even give away a few NDInsider mags.
about 11 hours ago

FightingIrish

The Fighting Irish


.@NDFIDM's series on @NDmbb's Jerian GrantPart 1- http://t.co/SAUBgMH4AAPart 2- http://t.co/9NEUYPchIzPart 3 debuts at 3pm ET #NDFamily
about 11 hours ago

FightingIrish

The Fighting Irish


.@NDFIDM has been doing a 3 part series on the return of @NDmbb's Jerian Grant. If you've missed parts 1 & 2, catch up!
about 11 hours ago

Matt_Fortuna

Matt Fortuna


Today's ESPN #CFBRank: Nos. 60-51 http://t.co/mEfbebkkmz and Nos. 50-41 http://t.co/5nFNKrCh9a
about 12 hours ago

BrianHamiltonSI

Brian Hamilton


More Anya the Cat, less Going Veronica. Bo Pelini seeks to reshape image…or better yet get #Nebraska a title. Story: http://t.co/W3g1d7ROsf
about 12 hours ago

BrianHamiltonSI

Brian Hamilton


From #B1GMediaDay: #Iowa will be solid, but does schedule put them over the top in Big Ten West? Via @ChrisDJohnsonn: http://t.co/uMXiVL4ofG
about 12 hours ago

FightingIrish

The Fighting Irish


There's a new addition to the @NDBaseball program- HitTrax Technology! Learn more- http://t.co/XZy8yZXcIf #DomeBall #GoIrish
about 12 hours ago

DailyDomer

The Daily Domer


A big congrats to two athletes from @NotreDameRowing who are now world champs!http://t.co/rY1JK5GLBe http://t.co/atAvkKAq9N
about 12 hours ago

Geek_ND

Justin


Props to @NDfidm...just clicked a mobile -> desktop link while looking at an article...and it took me to the desktop version of the article.
about 13 hours ago

NDfidm

FIDM


3rd and final segment of our @ThatGrant22 return feature, back with @ndmbb and looking to the future - http://t.co/HSOdjZZ10W
about 13 hours ago

NDmbb

Notre Dame MBB


You knew @NDMikeBrey threw out the @Silver_Hawks 1st pitch, but did you know @GrantEl10 (Catcher) wore @googleglass? http://t.co/ayL6FfxKAb
about 13 hours ago

FightingIrish

The Fighting Irish


.@NDTheLeprechaun & Otto would love to battle @jimmyfallon on @FallonTonight when we come to New Jersey to play @CuseFootball! #ACCvsFallon
about 13 hours ago

FightingIrish

The Fighting Irish


.@NDTheLeprechaun is taking song suggestions until 11 am ET for the lip sync battle w/ @Cuse Otto vs @JimmyFallon! http://t.co/C96Rml04HT
about 13 hours ago

NDTheLeprechaun

The Leprechaun


I'm taking #ACCvsFallon song ideas until 11am ET. Can't wait to release the @Spotify playlist! Don't steal any of my songs @jimmyfallon
about 13 hours ago

gamedayND

Notre Dame Game Day


ONE MONTH til @NDFootball season starts AND we get to kick the season off @NotreDame #EnoughSaid #GoIrish #NDgameday
about 14 hours ago

RCPolar

Ryan Charles


So many girls want a guy to save them. One already did. 2000 years ago on the cross.
about 22 hours ago

Matt_Fortuna

Matt Fortuna


Outstanding RT @ArashMarkazi: Standing O for Vin Scully as his return for next season is announced. He waves at the fans and hugs his wife.
about 22 hours ago

Matt_Fortuna

Matt Fortuna


From Dallas to Dallas RT @CollegeGameDay: GameDay will be LIVE from Sundance Square for #FSUvsOKST! #GetUp4GameDay http://t.co/mEkbRJ3s69
about 23 hours ago

RocRedWings

Rochester Red Wings


Former Aquinas standout and current @FightingIrish defensive linemen @Who_GotJones94 throws out a 1st pitch tonight. http://t.co/oClJSNwFaL
1 day ago

tnoieNDInsider

Tom Noie


Connaughton is due back on campus Wednesday as #Irish hoops begin preparations for next week's foreign tour of Italy.
1 day ago

tnoieNDInsider

Tom Noie


Connaughton appeared in six games with four starts for IronBirds...finished with record of 0-1 in 14.2 innings.
1 day ago

tnoieNDInsider

Tom Noie


Connaughton worked a career-high 4.2 innings, all in relief, allowing no runs and one hit with two walks and two strikeouts.
1 day ago

tnoieNDInsider

Tom Noie


Former #NotreDame RHP and current small forward Pat Connaughton wrapped his minor-league stay Tuesday with Aberdeen (Md.) IronBirds.
1 day ago

BrianHamiltonSI

Brian Hamilton


More Anya the Cat, less Going Veronica. Bo Pelini aims to reshape image…or better yet get #Nebraska a title. Column: http://t.co/W3g1d7ROsf
1 day ago

FightingIrish

The Fighting Irish


Retweet if you would like to see @NDTheLeprechaun & @Cuse's Otto vs @JimmyFallon in a Lip Sync Battle #ACCvsFallon http://t.co/b6onKlENzW
1 day ago

d_TraNquill

?? Drue Tranquill??


Congrats to my teammate and big bro @K_Moore8 on having his son today🙏✊
1 day ago

FightingIrish

The Fighting Irish


Retweet if you would like to see @NDTheLeprechaun and @Cuse's Otto take on @JimmyFallon in a Lip Sync Battle! #ACCvsFall
1 day ago

EvanSharpley

Evan Sharpley


Former Notre Dame football players shed light on NCAA settlement | Latest News - Home http://t.co/ROe3AlsQOk
1 day ago

TJamesNDI

Tyler James


#NotreDame commits on three teams in @USATODAYsports Super 25 (1-Fertitta, 4-Guyton, 12-Crawford): http://t.co/5frsRiOEMq
1 day ago

Matt_Fortuna

Matt Fortuna


RT @ESPNU: More pics of the flooding at #UCLA (via UCLA Daily Bruin) http://t.co/HdHQTSL99u
1 day ago

FightingIrish

The Fighting Irish


Want a great activity for your little ones this fall? @NDmenSoccer & @NDSoccer games are great for the family http://t.co/ooLJHdtOmt
1 day ago

SInow

Sports Illustrated


UCLA's Pauley Pavilion, Drake Field flooded after huge water main break http://t.co/WyJZcgdrHl (photo @KariVanHorn) http://t.co/BoQfJalmWx
1 day ago

Matt_Fortuna

Matt Fortuna


DeVante Parker, #Louisville looking to make mark among ACC elite http://t.co/mBXvJ8ngeU http://t.co/wfr5l9kMF0
1 day ago

cam_ahmad1

Lil Curry


I just met @JustinTuck
1 day ago

FightingIrish

The Fighting Irish


Start @NDFootball's Shamrock Series game off to a running start! Sign up for the first ever #ShamrockSeries5k http://t.co/OAsvACnett
1 day ago

Matt_Fortuna

Matt Fortuna


Picking a favorite Seinfeld episode has to be like a parent picking a favorite child, but I do think "The Calzone" is vastly underrated.
1 day ago

FightingIrish

The Fighting Irish


.@NDTheLeprechaun & @Cuse's Otto are collecting song ideas for their @FallonTonight Lip Sync Challenge. Tweet your picks with #ACCvsFallon
1 day ago

BrianHamiltonSI

Brian Hamilton


More Anya the Cat, less Going Veronica. Bo Pelini looks to reshape image…or better yet get #Nebraska a title. Column: http://t.co/L5RPJTauxj
1 day ago

dennisdoddcbs

Dennis Dodd


Jake Heaps starting at Miami says something about Heaps, BYU, Kansas AND Miami. I just don't know what.
1 day ago

RocRedWings

Rochester Red Wings


Notre Dame starting DL Jarron Jones taking some cuts before heading to training camp #Wings #FightingIrish http://t.co/Trlt7rCvdA
1 day ago

LepLegion

Leprechaun Legion


ND Students! Its that time of year again where we are looking for a new Lep Legion shirt design! This shirt is... http://t.co/kRsgoFOqTq
1 day ago

LepLegion

Leprechaun Legion


Hey ND students! Its that time of year again where we need a new design for the Legion Shirt! Submit your design to http://t.co/il7aYglv46
1 day ago

GoIrishGlory

Sgt Shamrock


Alright guys. Tomorrow I should have the ND Fall Camp primer up on @DwnTheTunnel. Time to start the 2014 season. Going to be a fun year
1 day ago

FightingIrish

The Fighting Irish


Recap of our ESPYS adventure- http://t.co/Gh7AK1FES9#GoIrish
1 day ago

BrianHamiltonSI

Brian Hamilton


From #B1GMediaDay: #Iowa will be solid, but does schedule put them over the top in #B1G West? Via @ChrisDJohnsonn: http://t.co/uMXiVL4ofG
1 day ago

Matt_Fortuna

Matt Fortuna


Great story from @JShankerESPN on @GoPittFootball's Tyler Boyd, who retired from the diamond on top http://t.co/pd31cAkPqH
1 day ago

BGI_AndrewOwens

Andrew Owens


RT @rexpflueger_1: My top 5 schools: Notre Dame, Texas A&M, California Berkley, Washington St, and SDSU http://t.co/fs6jlImVpc
1 day ago

BGI_DanMurphy

Dan Murphy


#NotreDame hockey released its 2014-15 schedule Monday. Lots of good hockey coming to South Bend: http://t.co/l3RKyIumpn
1 day ago

gamedayND

Notre Dame Game Day


#Irish fans: Retweet if you want to see @NDTheLeprechaun take on @Cuse's Otto in a lip sync battle on @FallonTonight #ACCvsFallon
1 day ago
2014 FBS Indep. STANDINGS
FBS INDEP. SCOREBOARD
Friday, 8/29
Saturday, 8/30
BLOG ARCHIVE:
CATEGORIES: