Irish lead top non-BCS recruiting classes
February, 7, 2013
2/07/13
1:00
PM ET
By
ESPN.com staff
| ESPN.com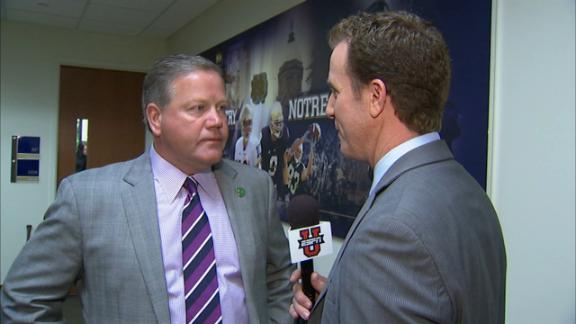 Notre Dame has had a championship level performance on and off the field this year. In its first top-5 class since 2006, the Irish loaded up on athletes on both sides of the ball, led by five-star outside linebacker Jaylon Smith, one of the country's top players and difference-makers, regardless of position.
Read
more from RecruitingNation

.
The latest from Gustin at The Opening
ESPN 300 athlete Porter Gustin (Salem, Utah/Salem Hills) took time out to talk recruiting and more with WeAreSC's Garry Paskwietz on Tuesday at The Opening.
The latest from Gustin at The Opening
VIDEO PLAYLIST
FIGHTING IRISH NATION RECRUITING NEWS
NOTRE DAME FB RECRUITING SCORECARD
adidas Men's Notre Dame Fighting Irish Navy Sideline Player Performance T-Shirt Shop »
Matt_Fortuna

Matt Fortuna


#NotreDame fans, @HannahStormESPN profiles @UnderArmour's Kevin Plank at 7 ET on In Focus http://t.co/cp034PUh8x
17 minutes ago

HannahStormESPN

Hannah Storm


Inside the @NotreDame war room at @UnderArmour tonight at 7 et with Kevin Plank #InFocus @notthefakeSVP @espngolic http://t.co/6AOEDFQnRg
53 minutes ago

BrianHamiltonSI

Brian Hamilton


Auto RT @JoanNiesen: Here is a story in which Peyton Manning tries to trick reporters into saying "blue balls." http://t.co/0CKhLVtAOt
about an hour ago

chriswolf95

Chris Wolf


@mikew654321 loving his new @UnderArmour @FightingIrish gear. PROTECT THIS HOUSE #I WILL #UAContest http://t.co/s1kawlIE3C
about 2 hours ago

gregauman

Greg Auman


Bucs have also put defensive end Ronald Talley on the non-football injured list. No word on what injury is or how it happened ...
about 2 hours ago

FightingIrish

The Fighting Irish


Honorable mention, with 27% of the vote for "ND Best Dressed" at the @ESPYS was @ShowtimeTate! http://t.co/QuhoXAKjSJ
about 3 hours ago

BrianHamiltonSI

Brian Hamilton


Via @si_ncaabb: #UNC will provide scholarships to former athletes who want to finish their degrees: http://t.co/Ueo8H1sDhB
about 3 hours ago

FightingIrish

The Fighting Irish


It's official! With 29%, #NDNation voted @SkyDigg4 "ND Best Dressed" at the @ESPYS #GoIrish http://t.co/wrYPGJylTQ
about 3 hours ago

FightingIrish

The Fighting Irish


10 mins until the #NDPhotoFaceOff closes for ND Best Dressed at the @ESPYS- http://t.co/lk6WzeH7li#GoIrish
about 3 hours ago

Real_Big_Red

Redmond Reilly


Protect this house #UAContest #IWILL @UnderArmour @FightingIrish http://t.co/8obT9Byibv
about 3 hours ago

NDFootball

Notre Dame Football


One of our good guys @joeschmidtiv nominated for the 2014 @Allstate @WeAreAFCA Good Works Team #uNDerConsideration http://t.co/4vi0PAZ6XQ
about 3 hours ago

BrianHamiltonSI

Brian Hamilton


#Illinois coach John Groce gets a one- year extension and raise. Contract now runs through 2019 at $1.7 million per year.
about 3 hours ago

Matt_Fortuna

Matt Fortuna


Our ACC Coastal Contenders series continues today with Georgia Tech. Why GT will/won't win it: http://t.co/ZAsy1c5QXi http://t.co/ssPHcdO4nX
about 4 hours ago

FightingIrish

The Fighting Irish


1 hour left to vote for ND Best Dressed at the @ESPYS! Who's your pick? http://t.co/lk6WzeH7li #NDPhotoFaceOffWinner announced at 4 pm ET
about 4 hours ago

hansenNDInsider

Eric Hansen


From Script Ohio to "Stripped "Ohio? MT @AP_Top25 Ohio State fires marching band director http://t.co/Ix1TvoNFIv #tOSU
about 4 hours ago

MarkMoses959

Mark Moses


Moses Show Thursday Guests: 315-@KrestACCWriter3, 415-@SpiritChuck, 430-@Matt_Fortuna & 530-@osmattmurschel. 3-6pm on @SportsRadio959
about 4 hours ago

mattcashore

Matt Cashore


The view down the tunnel has changed: http://t.co/CYsrmY6SVC
about 4 hours ago

BrianHamiltonSI

Brian Hamilton


Here's @lukewinn on the Global Squad, a team of international hoops prospects in search of scholarships this summer: http://t.co/g5jhkknGCS
about 4 hours ago

hansenNDInsider

Eric Hansen


#NotreDame football playing Navy at 8 pm ET on Nov. 1 (CBS-TV) keeps open the possibility of seven night games for the Irish in 2014.
about 5 hours ago

RickyWatters

Ricky Watters


Ricky Watters Jr performing Hotel California: http://t.co/HwdASFO8mX via @YouTube
about 6 hours ago

NDFootball

Notre Dame Football


Want to send a birthday shout out to our favorite Director of Media Relations, Michael Bertsch! Give him a follow @NDsidBertschy #NDFBFamily
about 6 hours ago

FightingIrish

The Fighting Irish


In honor of @NDsidBertschy's birthday, today's #NDFollow highlights our Media Relations staff! @NDHeisler @NDsidRuss @NDsidSean @Lchval
about 6 hours ago

Matt_Fortuna

Matt Fortuna


Video: #Duke LB Kelby Brown on building off last season and the program's recent strides http://t.co/9X4PtzJWx8 http://t.co/ZCTcX9njym
about 6 hours ago

clairesmc

Claire E. Shely


@Underarmour @FightingIrish protect this house #IWill #UAcontest http://t.co/m1gh9VPztP
about 6 hours ago

FightingIrish

The Fighting Irish


The winner's of the #UAContest Gold Box contest will be notified on Monday, but we will retweet some of our favorites #TeamUA
about 6 hours ago

FightingIrish

The Fighting Irish


Great ND gear, and a few @UnderArmour surprises #IWill #UAContest "@JoeFraser11: @FightingIrish What is in the gold box?"
about 6 hours ago

HannahStormESPN

Hannah Storm


@FightingIrish @_Breezy_Briii @ESPYS I vote Brianna! Hey check out the inside scoop on @UnderArmour @NotreDame tonight at 7 @espn #InFocus
about 6 hours ago

FightingIrish

The Fighting Irish


Not a #TeamUA member yet? Check out the @UnderArmour gear at the online store- http://t.co/NdERXqySfe #GoIrish
about 7 hours ago

FightingIrish

The Fighting Irish


Tweet @UnderArmour a pic of YOU in ND UA gear with "Protect This House #IWill #UAContest" http://t.co/ApeYEPIAVP to win a Gold Box #GoIrish
about 7 hours ago

FightingIrish

The Fighting Irish


Want to win one of @UnderArmour's ND Gold Boxes? Here's how... http://t.co/b8HDTR3j2E
about 7 hours ago

SInow

Sports Illustrated


Frank Caliendo reads @KingJames' homecoming announcement in Morgan Freeman's voice http://t.co/CcA3QELQbK http://t.co/uL9VVldB0f
about 7 hours ago

UnderArmour

Under Armour


Details on how to win a UA @FightingIrish Gold Box are up soon! #TeamUA
about 7 hours ago

Matt_Fortuna

Matt Fortuna


#NotreDame's Nov. 1 game at Navy at FedEx Field will air at 8 ET on CBS.
about 7 hours ago

Matt_Fortuna

Matt Fortuna


RT @CollegeGameDay: The artificial turf has been installed at Notre Dame Stadium (via @NDFootball) http://t.co/AAFQVKNEQ2
about 7 hours ago

FightingIrish

The Fighting Irish


Does @SkyDigg4 get extra points as ND Best Dressed because @Drake rocked her jersey at the @ESPYS? http://t.co/QEJyUyD52S #NDPhotoFaceOff
about 8 hours ago

BGI_AndrewOwens

Andrew Owens


#NotreDame announces the Nov. 1 Navy game will be broadcast at 8 p.m.
about 8 hours ago

FightingIrish

The Fighting Irish


Who had more suit game at the @ESPYS? @ShowtimeTate or Steve @NDLacrosse? You decide http://t.co/QEJyUyD52S #NDPhotoFaceOff
about 8 hours ago

BrianHamiltonSI

Brian Hamilton


Bluegrass Successor Series posts: Who replaces Calipari (http://t.co/5zKbzkIGkY) and Pitino (http://t.co/dBC4DJ2n4A) #Kentucky #Louisville
about 8 hours ago

FightingIrish

The Fighting Irish


Who looks more dapper in their tux? @MAX_sWELLy or Garrett from @NDFencing? You choose http://t.co/QEJyUyD52S #NDPhotoFaceOff
about 8 hours ago

BrianHamiltonSI

Brian Hamilton


The Tobacco Road Successor Series posts: Who replaces Roy (http://t.co/U71Ji73DBZ) and Coach K (http://t.co/44Wod8u0av) #UNC #Duke
about 8 hours ago

FightingIrish

The Fighting Irish


.@_Breezy_Briii & @HannahStormESPN both looked lovely in blue at the @ESPYS. Who gets your vote? http://t.co/QEJyUyD52S #NDPhotoFaceOff
about 8 hours ago

FightingIrish

The Fighting Irish


Many awards were given at the @ESPYS last week, but we know the Red Carpet is where the real action is. Did you vote? http://t.co/QEJyUyD52S
about 9 hours ago

DanWetzel

Dan Wetzel


Chuck Martin took a big pay cut to coach the worst team in college football. Column: http://t.co/A2nTETOLFO
about 9 hours ago

NDFootball

Notre Dame Football


What a beautiful sight #WeAreND #TurfWatch http://t.co/AT0Fpc54rl
about 9 hours ago

CoachBrianKelly

Brian Kelly


Q&A session at my @UnderArmour @ProCamps later 2day. We'll select questions from twitter to answer Use #AskBK and send them my way.
about 9 hours ago

FightingIrish

The Fighting Irish


We Are ND #TurfWatch http://t.co/dvx1DGFvF9
about 9 hours ago

TomLoy247

Tom Loy


#ThrowBackThursday: Post your favorite #NotreDame photo in this thread! Who's ready for football season!? http://t.co/7f2qyJByMe (FREE)
about 10 hours ago

TomLoy247

Tom Loy


#ThrowBackThursday: 5 is back this year! #NotreDame fans: You ready?! http://t.co/rDIFbcGvUM http://t.co/9gvmyrzfI8
about 10 hours ago

BGInews

Blue and Gold News


#ThrowBackThursday: 5 is back this year! #NotreDame fans: You ready?! http://t.co/LXiUhriqhw http://t.co/gF8JOL2Qkm
about 10 hours ago

TomLoy247

Tom Loy


5 recruits in 2016 that I would offer at #NotreDame if @CoachBrianKelly gave me the keys to the castle today http://t.co/CNq5T90ChX (VIP)
about 10 hours ago

BQ9

Brady Quinn


#BVD: 1 John 4:18
about 11 hours ago

JesusGraces

Got Jesus?


Don't lose hope. When you are down to nothing, God is up to something.
about 17 hours ago

JustinTuck

Justin Tuck


"@MilesBurris: Hey kids you want some popcorn 😂😂😂😂 @JustinTuck http://t.co/D78QBxRjNF"lol
about 17 hours ago

JennaFracassi

Jenna Fracassi


Throwback (almost Thursday) to the greatest, most amazing day of my life.....meeting THE @JustinTuck http://t.co/c5mjhevXZC
about 17 hours ago

Headoe40oz

Jerrad Oved


@JustinTuck Thanks for taking a picture with my sons..Good luck..#RaiderNation http://t.co/Q6BfeGcX8L
about 20 hours ago

PeteByrneWSBT

Pete Byrne


Former #NotreDame football player WIll Mahone sentenced to 10 days in Ohio + 1 year probation. http://t.co/wVHjmZswrz
about 21 hours ago

FightingIrish

The Fighting Irish


ICYMI we're having a #NDPhotoFaceOff celebrating our Irish at the @ESPYS!Get your votes in for ND Best Dressed- http://t.co/lk6WzeH7li
about 22 hours ago

JustinTuck

Justin Tuck


Yo @DuckDynastyAE is hilarious jack
about 22 hours ago

JustinTuck

Justin Tuck


#10 and counting. #TrainingCamp
about 23 hours ago

FightingIrish

The Fighting Irish


You have to vote Coach! https://t.co/5aTGK485sG "@IrishCoachIvey: CMON!!! You know @SkyDigg4 @ESPYS #bestdressed #ithoughtuknew🙌😁🍀"
about 23 hours ago

FightingIrish

The Fighting Irish


.@ShowtimeTate and @SkyDigg4 are tied for ND Best Dressed at the @ESPYS right now http://t.co/QEJyUyD52S What do YOU think? #NDPhotoFaceOff
about 23 hours ago

Matt_Fortuna

Matt Fortuna


RT @CoachBrianKelly: Pretty flattered to sign the Athlete/VIP wall @UnderArmour #GoIrish #IWILL http://t.co/y0u4YYbcjU
1 day ago

CoachBrianKelly

Brian Kelly


Pretty flattered to sign the Athlete/VIP wall @UnderArmour #GoIrish #IWILL http://t.co/GrdNPaAUlD
1 day ago

CoachBrianKelly

Brian Kelly


Unbelievable visit to @UnderArmour we got to see their @NotreDame war room. Time left to our uniform unveiling. http://t.co/6W7LhRMcm7
1 day ago

Matt_Fortuna

Matt Fortuna


Five-year anniversary of Mark Buehrle's perfect game. I'm sure he and Dewayne Wise are popping champagne after Robby Cano's hit.
1 day ago

BGInews

Blue and Gold News


ICYMI: Our August issue is available. Take a look at it and how to get your hands on one: http://t.co/VBGxZVPP0u http://t.co/n2H77qDM78
1 day ago

CoachBrianKelly

Brian Kelly


Just got to @UnderArmour campus. http://t.co/KiZ32tCtZw
1 day ago

Matt_Fortuna

Matt Fortuna


Think we can get #IfBartoloThrowsAPerfectGame trending? (Sorry, Mets fans.)
1 day ago

PeteByrneWSBT

Pete Byrne


#Bears GM Emery continues to praise Clausen's ability & intangibles.
1 day ago

BGInews

Blue and Gold News


ICYMI: @BGI_LouSomogyi breaks down the #NotreDame schedule into "musts," "bubbles" & "steals" http://t.co/cyFnVjQa7R http://t.co/BnFFVdS8ET
1 day ago

NDlacrosse

Notre Dame Lacrosse


Don't let Steve O'Hara lose 2 @hannahstormESPN, @SKYDIGG4 @showtimetate as Best Dressed ND Alum at ESPY's, vote here http://t.co/ulhdCNottZ
1 day ago

ForTheMen

For The Men


http://t.co/Ss18Gy2tKk
1 day ago

BrianHamiltonSI

Brian Hamilton


Who is Charlie Strong? The in-depth @SIPeteThamel story on the new #Texas coach: http://t.co/7tSRZtxks3
1 day ago

FightingIrish

The Fighting Irish


Voting for ND's Best Dressed at the @ESPYS will go until Thursday 4 pm ET http://t.co/QEJyUyD52S #NDPhotoFaceOff
1 day ago

FightingIrish

The Fighting Irish


.@NDFencing's Garrett McGrath rocked his tux at the @ESPYS. Does he get your vote? http://t.co/QEJyUyD52S #NDPhotoFaceOff
1 day ago

FightingIrish

The Fighting Irish


.@HannahStormESPN also earned a nod for ND Best Dressed at the @ESPYS. Will she get your vote? http://t.co/QEJyUyD52S #NDPhotoFaceOff
1 day ago

FightingIrish

The Fighting Irish


.@NDLacrosse's Steve O'Hara looked quite dapper at the @ESPYS. Will be get your Best Dressed vote? http://t.co/QEJyUyD52S #NDPhotoFaceOff
1 day ago

FightingIrish

The Fighting Irish


We think @SkyDigg4 has a strong case for ND Best Dressed at the @ESPYS. What do you think? http://t.co/QEJyUyD52S #NDPhotoFaceOff
1 day ago

FightingIrish

The Fighting Irish


.@NDMenSoccer's @MAX_sWELLy was also stylin' at the @ESPYS- will he be your ND Best Dressed? http://t.co/QEJyUyD52S #NDPhotoFaceOff
1 day ago

FightingIrish

The Fighting Irish


What about @NDFootball and @Lions @ShowtimeTate for @ESPYS Best Dressed? http://t.co/QEJyUyD52S #NDPhotoFaceOff
1 day ago

FightingIrish

The Fighting Irish


Will you vote for @Gatorade Athlete of the Year, @NDwbb's @_Breezy_Briii for @ESPYS Best Dressed? http://t.co/QEJyUyD52S #NDPhotoFaceOff
1 day ago

FightingIrish

The Fighting Irish


The Irish rocked the @ESPYS last week but now it's time to vote! Who wore it best? http://t.co/QEJyUyD52S #NDPhotoFaceOff
1 day ago

BGI_DanMurphy

Dan Murphy


And while I'm here, I guess I should say come read about Kendall Moore's role on the team this year(VIP): http://t.co/TiWIf3zAkF
1 day ago

BGI_DanMurphy

Dan Murphy


Sticking with turf news this week, here's what football at Fenway will probably look like in 2015. http://t.co/IpNFasnH38 (via @LTorbin)
1 day ago

RAIDERS

OAKLAND RAIDERS


The locker room is ready for #RaidersTC2014, presented by @theCaGuard. http://t.co/Kk86Utqu8T
1 day ago

ProFootballTalk

ProFootballTalk


Ryan Harris announces he's signed with Chiefs http://t.co/hV78JnE1ya
1 day ago

Matt_Fortuna

Matt Fortuna


Bill Snyder: Proof you can live to be a very good 74-year-old coach by eating @TacoBell (almost) daily. I smell an ad http://t.co/68DYBVCrKy
1 day ago

Matt_Fortuna

Matt Fortuna


Cases for/against each of the 6 ACC Coastal teams that received 1st-place votes. Today, #Duke: http://t.co/ncyMoGqLMl http://t.co/QDnVKiCGmt
1 day ago

RebeccaKOtto

Rebecca Otto


#RaiderNation check out @LaMarrWoodley and @JustinTuck as they study their film for @nflnetwork #TheSessions http://t.co/wkKL4VlEc0 #Raiders
1 day ago

BGInews

Blue and Gold News


Jonathon Bonner, a 2014 #NotreDame football signee, was impressive as a senior, but also as an 8th grader. http://t.co/Y8qsINh8L8 (FREE)
1 day ago

TomLoy247

Tom Loy


A look at Five Class of 2016 recruits that I would offer at #NotreDame if I were in charge: http://t.co/CNq5T90ChX via @BGInews (VIP)
1 day ago

BGInews

Blue and Gold News


RT @NDFootball: Last piece of the field to be put down. Next up- sidelines! #TurfWatch http://t.co/enof0OjKK2
1 day ago

TomLoy247

Tom Loy


Here's a Dual-Threat QB that I would offer at #NotreDame if I was in charge. http://t.co/CNq5T90ChX via @BGInews (VIP)
1 day ago

TomLoy247

Tom Loy


In time, I expect #NotreDame to offer the 2016 RB that I mentioned in the "Five To Offer" article: http://t.co/CNq5T90ChX @BGInews (VIP)
1 day ago

Matt_Fortuna

Matt Fortuna


RT @USC_Athletics: USC unveiled new helmets for the 2014 season at #pac12fb. Check them out here! http://t.co/gm8JSQ9Vt1
1 day ago

Matt_Fortuna

Matt Fortuna


Congrats Chris RT @MikeDeGeorge: Excited to welcome @ChrisYandle to the Flats! http://t.co/C57Shb7QQW #GoJackets #TogetherWeSwarm
1 day ago

BGInews

Blue and Gold News


Our August issue is available. Take a look at the issue and how to get your hands on one here: http://t.co/NINYW3GfSz http://t.co/EClHMttDHY
1 day ago

BGInews

Blue and Gold News


.@BGI_LouSomogyi breaks down the #NotreDame schedule into "musts," "bubbles" & "steals" here: http://t.co/nciHWP0bKm http://t.co/50xk3IXIu8
1 day ago

Matt_Fortuna

Matt Fortuna


RT @McMurphyESPN: NC State, West Virginia schedule home/home series source told @ESPN. 2018 at NCSU, 2019 at WVU
1 day ago

Matt_Fortuna

Matt Fortuna


My all-@theACC ballot was the same as the team announced today, though there were only 2 WRs spots. Tough for Tyler Boyd to be odd man out.
1 day ago
2014 FBS Indep. STANDINGS
FBS INDEP. SCOREBOARD
Friday, 8/29
Saturday, 8/30
BLOG ARCHIVE:
CATEGORIES: