Video: Eddie Vanderdoes to leave Irish?
May, 21, 2013
5/21/13
6:11
PM ET
By
ESPN.com staff
| ESPN.com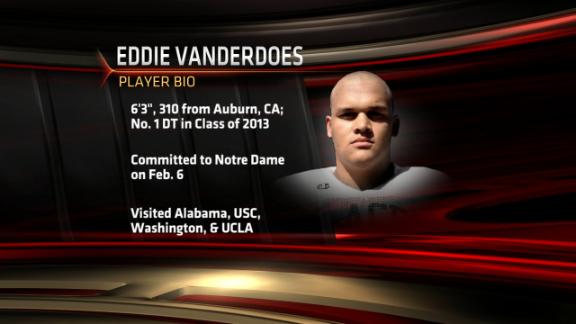 Tom Luginbill calls into "College Football Live" to discuss reports that Eddie Vanderdoes, No. 10 overall in the 2013 recruiting class, will ask for his release from Notre Dame.
The latest from Gustin at The Opening
ESPN 300 athlete Porter Gustin (Salem, Utah/Salem Hills) took time out to talk recruiting and more with WeAreSC's Garry Paskwietz on Tuesday at The Opening.
The latest from Gustin at The Opening
VIDEO PLAYLIST
FIGHTING IRISH NATION RECRUITING NEWS
NOTRE DAME FB RECRUITING SCORECARD
adidas Men's Notre Dame Fighting Irish Navy Sideline Coaches Polo Shop »
BruceFeldmanCFB

Bruce Feldman


#OU reviews report of 5-star freshman RB Joe Mixon accused of punching woman in the face: http://t.co/J4SHwRcnnw
about 3 hours ago

Matt_Fortuna

Matt Fortuna


RT @anthonyfenech: Derek Jeter throwback from the Free Press archives http://t.co/7kxGN5pJoo
about 4 hours ago

TomLoy247

Tom Loy


ICYMI: 2016 elite QB and 5-star recruit Malik Henry (@malik_henry16) will visit #NotreDame this fall. Details: http://t.co/rGs6Pt9ygk (VIP)
about 4 hours ago

SUBWAY

SUBWAY Restaurants


Best of luck to Famous Fans @RGIII, @JustinTuck, @itheeayb & all the pros headed to training camp this week! #TrainHardEatFresh
about 4 hours ago

TomLoy247

Tom Loy


A look at 5 local recruits in the 2016 class that I would offer at #NotreDame if Brian Kelly put me in charge http://t.co/QU5WflfPOt (VIP)
about 4 hours ago

TomLoy247

Tom Loy


Five recruits I would offer at #NotreDame in 2016: 3 from Ohio, 1 from Michigan, 1 from Illinois. http://t.co/QU5WflfPOt via @BGInews (VIP)
about 4 hours ago

FightingIrish

The Fighting Irish


We are so excited to have 2 of the best soccer teams in the country in @NDSoccer and @NDmenSoccer! Get your @NDTix- http://t.co/ooLJHdtOmt
about 8 hours ago

BGInews

Blue and Gold News


Player Projection: Mark Harrell http://t.co/TlDqELz7iU
about 8 hours ago

Matt_Fortuna

Matt Fortuna


Andrew Hendrix celebrating appropriately RT @MiamiRedHawks Happy National Thread the Needle Day from Miami Athletics https://t.co/HkTu9NMpQy
about 8 hours ago

Matt_Fortuna

Matt Fortuna


+1 RT @HKellenbergerCL: @MattBrownSoE is a really good follow heading into the season. Dude does his homework, so his words have meaning.
about 9 hours ago

Matt_Fortuna

Matt Fortuna


RT @FSU_Football: Head Coach Jimbo Fisher enjoying a Coke. All he needs is a bag of peanuts! #ShareACoke #Noles http://t.co/IoopTEuAdZ
about 10 hours ago

gamedayND

Notre Dame Game Day


50 days til #NDrunsIndy! You'll get an @UnderArmour race shirt and a finisher's medal (to be released soon!) Sign up! http://t.co/ocod4BgiCw
about 10 hours ago

Matt_Fortuna

Matt Fortuna


Why Miami will win the Coastal http://t.co/Pg5Jn3WRul via @JShankerESPN #Canes http://t.co/0soMpbwP6D
about 10 hours ago

gamedayND

Notre Dame Game Day


50 days til #NDrunsIndy! You'll get an @UnderArmour race shirt and a finisher's medal (to be released soon!) Sign up! http://t.co/ocod4BgiCw
about 10 hours ago

FightingIrish

The Fighting Irish


Get a running start on your #ShamrockSeries2014 by registering for the 5k the morning of @NDFootball v Purdue! http://t.co/OAsvACnett
about 11 hours ago

Matt_Fortuna

Matt Fortuna


#Clemson WR Charone Peake out first week of camp after surgery today for minor knee injury. Should be fine for Week 1 http://t.co/j8swCdcDV0
about 11 hours ago

BrianHamiltonSI

Brian Hamilton


Marcus Mariota, Brett Hundley, Sean Mannion… @LindsayRaeSI sees a Pac-12 about to be taken over by top QBs. http://t.co/WLvYxuFbzW
about 11 hours ago

BSUHardin

Brian Hardin


I promise this is last tweet about my twins turning 1, but fast forward to 5:15 mark to see the boys on @TheTodayShow http://t.co/uai1xjzCRD
about 11 hours ago

gamedayND

Notre Dame Game Day


So official. Happy and honored to be part of Team in Training's Champions Network! #GoTeam… http://t.co/LAm4tXcb5U
about 11 hours ago

CoachSamz

Doug Samuels


Dino Babers' idea of building a program includes his asst coaches lifting with players http://t.co/r9Ye3J72Ha http://t.co/X7tFNobnoe
about 11 hours ago

BrianHamiltonSI

Brian Hamilton


Prelude to…http://t.co/dsWHZAKJAD ? RT @WojYahooNBA: Sources: Patrick Beilein leaving Div II program to join Quin Snyder's staff with Jazz.
about 12 hours ago

Matt_Fortuna

Matt Fortuna


And I think the VTech crowd that assumes everything will be fine again now that Logan Thomas is gone is vastly oversimplifying things.
about 13 hours ago

Matt_Fortuna

Matt Fortuna


Heard from most non-Duke/Pitt fanbases about Coastal picks, which speaks to how open it is. Not a cop out to say nothing would surprise me.
about 13 hours ago

BSUHardin

Brian Hardin


I promise this is last tweet about my twins turning 1, but fast forward to 5:15 mark to see the boys on @TheTodayShow http://t.co/uai1xjzCRD
about 13 hours ago

MattSmithCFB

Matt Smith


Of @philsteele042's Top 7 WRs, Notre Dame will face 6: Agholor, Strong, Greene, Funchess, Montgomery, Parker. Good luck, KeiVarae Russell.
about 13 hours ago

NDBlogGonzo

Anna Gonzalez


I sat down with @MAX_sWELLy and he told me about his trip to the ESPYS last week. Read about it here: http://t.co/yoGcJg2eN2 #MaxAtTheESPYS
about 13 hours ago

BQ9

Brady Quinn


Bella getting loved on... http://t.co/Txj5Nk7ChG
about 13 hours ago

FightingIrish

The Fighting Irish


Today's #NDFollow goes out to @NDRecSports! Check out the Twitter accounts of @BengalBouts and @BarakaBouts #NDFamily #StrongBodiesFight
about 14 hours ago

Matt_Fortuna

Matt Fortuna


RT @mattcashore: What ND Stadium did on summer vacation: http://t.co/2Tqk7I2Vep
about 14 hours ago

ESPNRittenberg

Adam Rittenberg


Supreme confidence from Todd Graham about ASU this year. Expect this to be best team he's ever had, best offense. Could be scary for foes.
about 14 hours ago

JosinaAnderson

Josina Anderson


Video: "Finding an Edge." featuring @LaMarrWoodley & @JustinTuck. #Raiders http://t.co/mb3dFXlPjU
about 14 hours ago

BrianHamiltonSI

Brian Hamilton


Get to know the guy kicking everyone off his #Texas football team. Here's @SIPeteThamel on Charlie Strong: http://t.co/baHVRqezx9
about 14 hours ago

FightingIrish

The Fighting Irish


For your break, #HitPlay on @BengalBouts Beats @Spotify playlist http://t.co/GrVm4Jqr2TGet pumped for @MikeLeeBoxer's fight tonight!
about 15 hours ago

Matt_Fortuna

Matt Fortuna


And Nick Saban being afraid of Santa Claus growing up explains everything. Everything. http://t.co/o320Bo2zht
about 15 hours ago

Matt_Fortuna

Matt Fortuna


Cowherd getting Nick Saban to wear Luigi hat/take selfie is more impressive than the stunts Fallon gets celebs to do http://t.co/o320Bo2zht
about 15 hours ago

Everett_Golson5

Everett Golson


Love that feeling when the pilot says,"Next stop, Myrtle Beach, SC" #imcominghomeagain
about 15 hours ago

rallo_NDinsider

Curt Rallo


Could South Bend be home to a Cubs minor league team next season?: http://t.co/dTxgUXXp7V
about 15 hours ago

JustinTuck

Justin Tuck


"@ebenezersamuel: proof!! @notoriously @justintuck http://t.co/Qk1Md8ftwH"I gave a few pairs of those away about 4 years ago. Lol
about 15 hours ago

Matt_Fortuna

Matt Fortuna


#NotreDame makes it official, will open first week of camp Aug. 4 at Culver http://t.co/bj2nXaDemv
about 15 hours ago

ndwbb

NOTRE DAME WBB


THE FINAL HOUR of our #ndwbb video contest! If you haven't yet, vote for your favorite by tweeting Freshman, Sophomore, JR, or SR to @ndwbb
about 15 hours ago

BGInews

Blue and Gold News


RT @NDFootball: We will open 2014 training camp at @CulverAcademies on Aug. 4.-->http://t.co/QZcAkgrc7s http://t.co/7sg2F2Imbs
about 16 hours ago

MatthiasFarley

Matthias Farley


"Those who know Notre Dame, no explanation is necessary. Those who don't, no explanation will suffice ... http://t.co/VAI47x1Bbd
about 16 hours ago

FightingIrish

The Fighting Irish


Haven't joined #TeamUA yet? Take a look at the new @UnderArmour gear in the online store- http://t.co/LKOSV1MsXj#NDFamily #GetYours
about 17 hours ago

FightingIrish

The Fighting Irish


Want an @UnderArmour Gold Box? http://t.co/ApeYEPIAVPTweet a pic of you in UA ND gear w/ the caption "Protect This House #IWill #UAContest"
about 17 hours ago

gamedayND

Notre Dame Game Day


Which #NDgameday are you attending? Countdown the days, hours, minutes, and seconds with our game-by-game countdown! http://t.co/0NrII2mPjf
about 17 hours ago

FightingIrish

The Fighting Irish


Good luck to @BengalBouts alum @MikeLeeBoxer on his big fight tonight!In the Chicago area? Get tickets- http://t.co/Tr5ySVa6Tj#GoIrish
about 17 hours ago

NotreDameSWD

ND Student Welfare


To see the rest of the photos from this summer's Rosenthal Retreat, visit our Facebook page - https://t.co/1UsVTWJqBH
about 17 hours ago

Matt_Fortuna

Matt Fortuna


Silver lining to those late BJC starts? @BSiegristUSF securing the court for us for some late-afternoon media run. (OK, off to sleep now.)
1 day ago

Matt_Fortuna

Matt Fortuna


Up finishing work, see BTN's airing greatest game in BJC history—aka my intro to newspaper deadlines (darn 9pm tips) http://t.co/VBDpnuQFyu
1 day ago

chrisdraft

Chris Draft


Thanks @RAIDERS @Jones_Drew32 @JustinTuck @TrentEdwards5 for a great @NFLPlayerEngage #Respect discussion today
1 day ago

BrianHamiltonSI

Brian Hamilton


From Pac-12 media days, @Andy_Staples sees Todd Graham building a contender through stability at Arizona St.: http://t.co/qgtVd44exu #ASU
1 day ago

TheIrishTP

The Turning Point


Beautiful shot by @JoeRaymond52 #NDFB http://t.co/BXHgqnY4Aj
1 day ago

BGI_AndrewOwens

Andrew Owens


Player Projection: Mike McGlinchey, who is vying for the fifth starting spot on the #NotreDame OL: http://t.co/malLiqcOkq (VIP)
1 day ago

BGI_AndrewOwens

Andrew Owens


Some great aerial shots of the new turf at #NotreDame Stadium courtesy of @JoeRaymond52: http://t.co/pXLttKAufy
1 day ago

TomMendozaTalks

Tom Mendoza


In Jeff Samardzija's 17 starts with the Cubs they scored 41 runs. A's have scored 24 in 4 games. He must laugh himself to sleep now.
1 day ago

Matt_Fortuna

Matt Fortuna


Our mentions are similar RT @espn: Kliff Kingsbury has admirers. So we had him read flattering tweets about himself http://t.co/Bn2VS9Z6D2
1 day ago

Matt_Fortuna

Matt Fortuna


#NotreDame fans, @HannahStormESPN profiles @UnderArmour's Kevin Plank at 7 ET on In Focus http://t.co/cp034PUh8x
1 day ago

HannahStormESPN

Hannah Storm


Inside the @NotreDame war room at @UnderArmour tonight at 7 et with Kevin Plank #InFocus @notthefakeSVP @espngolic http://t.co/6AOEDFQnRg
1 day ago

BrianHamiltonSI

Brian Hamilton


Auto RT @JoanNiesen: Here is a story in which Peyton Manning tries to trick reporters into saying "blue balls." http://t.co/0CKhLVtAOt
1 day ago

chriswolf95

Chris Wolf


@mikew654321 loving his new @UnderArmour @FightingIrish gear. PROTECT THIS HOUSE #I WILL #UAContest http://t.co/s1kawlIE3C
1 day ago

FightingIrish

The Fighting Irish


Honorable mention, with 27% of the vote for "ND Best Dressed" at the @ESPYS was @ShowtimeTate! http://t.co/QuhoXAKjSJ
1 day ago

BrianHamiltonSI

Brian Hamilton


Via @si_ncaabb: #UNC will provide scholarships to former athletes who want to finish their degrees: http://t.co/Ueo8H1sDhB
1 day ago

FightingIrish

The Fighting Irish


It's official! With 29%, #NDNation voted @SkyDigg4 "ND Best Dressed" at the @ESPYS #GoIrish http://t.co/wrYPGJylTQ
1 day ago

FightingIrish

The Fighting Irish


10 mins until the #NDPhotoFaceOff closes for ND Best Dressed at the @ESPYS- http://t.co/lk6WzeH7li#GoIrish
1 day ago

Real_Big_Red

Redmond Reilly


Protect this house #UAContest #IWILL @UnderArmour @FightingIrish http://t.co/8obT9Byibv
1 day ago

NDFootball

Notre Dame Football


One of our good guys @joeschmidtiv nominated for the 2014 @Allstate @WeAreAFCA Good Works Team #uNDerConsideration http://t.co/4vi0PAZ6XQ
1 day ago

BrianHamiltonSI

Brian Hamilton


#Illinois coach John Groce gets a one- year extension and raise. Contract now runs through 2019 at $1.7 million per year.
1 day ago

Matt_Fortuna

Matt Fortuna


Our ACC Coastal Contenders series continues today with Georgia Tech. Why GT will/won't win it: http://t.co/ZAsy1c5QXi http://t.co/ssPHcdO4nX
1 day ago

FightingIrish

The Fighting Irish


1 hour left to vote for ND Best Dressed at the @ESPYS! Who's your pick? http://t.co/lk6WzeH7li #NDPhotoFaceOffWinner announced at 4 pm ET
1 day ago

hansenNDInsider

Eric Hansen


From Script Ohio to "Stripped "Ohio? MT @AP_Top25 Ohio State fires marching band director http://t.co/Ix1TvoNFIv #tOSU
1 day ago

MarkMoses959

Mark Moses


Moses Show Thursday Guests: 315-@KrestACCWriter3, 415-@SpiritChuck, 430-@Matt_Fortuna & 530-@osmattmurschel. 3-6pm on @SportsRadio959
1 day ago

mattcashore

Matt Cashore


The view down the tunnel has changed: http://t.co/CYsrmY6SVC
1 day ago

BrianHamiltonSI

Brian Hamilton


Here's @lukewinn on the Global Squad, a team of international hoops prospects in search of scholarships this summer: http://t.co/g5jhkknGCS
1 day ago

hansenNDInsider

Eric Hansen


#NotreDame football playing Navy at 8 pm ET on Nov. 1 (CBS-TV) keeps open the possibility of seven night games for the Irish in 2014.
1 day ago

RickyWatters

Ricky Watters


Ricky Watters Jr performing Hotel California: http://t.co/HwdASFO8mX via @YouTube
1 day ago

NDFootball

Notre Dame Football


Want to send a birthday shout out to our favorite Director of Media Relations, Michael Bertsch! Give him a follow @NDsidBertschy #NDFBFamily
1 day ago

FightingIrish

The Fighting Irish


In honor of @NDsidBertschy's birthday, today's #NDFollow highlights our Media Relations staff! @NDHeisler @NDsidRuss @NDsidSean @Lchval
1 day ago

Matt_Fortuna

Matt Fortuna


Video: #Duke LB Kelby Brown on building off last season and the program's recent strides http://t.co/9X4PtzJWx8 http://t.co/ZCTcX9njym
1 day ago

clairesmc

Claire E. Shely


@Underarmour @FightingIrish protect this house #IWill #UAcontest http://t.co/m1gh9VPztP
1 day ago

FightingIrish

The Fighting Irish


The winner's of the #UAContest Gold Box contest will be notified on Monday, but we will retweet some of our favorites #TeamUA
1 day ago

FightingIrish

The Fighting Irish


Great ND gear, and a few @UnderArmour surprises #IWill #UAContest "@JoeFraser11: @FightingIrish What is in the gold box?"
1 day ago

HannahStormESPN

Hannah Storm


@FightingIrish @_Breezy_Briii @ESPYS I vote Brianna! Hey check out the inside scoop on @UnderArmour @NotreDame tonight at 7 @espn #InFocus
1 day ago

FightingIrish

The Fighting Irish


Not a #TeamUA member yet? Check out the @UnderArmour gear at the online store- http://t.co/NdERXqySfe #GoIrish
1 day ago

FightingIrish

The Fighting Irish


Tweet @UnderArmour a pic of YOU in ND UA gear with "Protect This House #IWill #UAContest" http://t.co/ApeYEPIAVP to win a Gold Box #GoIrish
1 day ago

FightingIrish

The Fighting Irish


Want to win one of @UnderArmour's ND Gold Boxes? Here's how... http://t.co/b8HDTR3j2E
1 day ago

SInow

Sports Illustrated


Frank Caliendo reads @KingJames' homecoming announcement in Morgan Freeman's voice http://t.co/CcA3QELQbK http://t.co/uL9VVldB0f
1 day ago

UnderArmour

Under Armour


Details on how to win a UA @FightingIrish Gold Box are up soon! #TeamUA
1 day ago

Matt_Fortuna

Matt Fortuna


#NotreDame's Nov. 1 game at Navy at FedEx Field will air at 8 ET on CBS.
1 day ago

Matt_Fortuna

Matt Fortuna


RT @CollegeGameDay: The artificial turf has been installed at Notre Dame Stadium (via @NDFootball) http://t.co/AAFQVKNEQ2
1 day ago

FightingIrish

The Fighting Irish


Does @SkyDigg4 get extra points as ND Best Dressed because @Drake rocked her jersey at the @ESPYS? http://t.co/QEJyUyD52S #NDPhotoFaceOff
1 day ago

BGI_AndrewOwens

Andrew Owens


#NotreDame announces the Nov. 1 Navy game will be broadcast at 8 p.m.
1 day ago

FightingIrish

The Fighting Irish


Who had more suit game at the @ESPYS? @ShowtimeTate or Steve @NDLacrosse? You decide http://t.co/QEJyUyD52S #NDPhotoFaceOff
1 day ago

BrianHamiltonSI

Brian Hamilton


Bluegrass Successor Series posts: Who replaces Calipari (http://t.co/5zKbzkIGkY) and Pitino (http://t.co/dBC4DJ2n4A) #Kentucky #Louisville
1 day ago

FightingIrish

The Fighting Irish


Who looks more dapper in their tux? @MAX_sWELLy or Garrett from @NDFencing? You choose http://t.co/QEJyUyD52S #NDPhotoFaceOff
1 day ago

BrianHamiltonSI

Brian Hamilton


The Tobacco Road Successor Series posts: Who replaces Roy (http://t.co/U71Ji73DBZ) and Coach K (http://t.co/44Wod8u0av) #UNC #Duke
1 day ago

FightingIrish

The Fighting Irish


.@_Breezy_Briii & @HannahStormESPN both looked lovely in blue at the @ESPYS. Who gets your vote? http://t.co/QEJyUyD52S #NDPhotoFaceOff
1 day ago

FightingIrish

The Fighting Irish


Many awards were given at the @ESPYS last week, but we know the Red Carpet is where the real action is. Did you vote? http://t.co/QEJyUyD52S
1 day ago

DanWetzel

Dan Wetzel


Chuck Martin took a big pay cut to coach the worst team in college football. Column: http://t.co/A2nTETOLFO
1 day ago
2014 FBS Indep. STANDINGS
FBS INDEP. SCOREBOARD
Friday, 8/29
Saturday, 8/30
BLOG ARCHIVE:
CATEGORIES: