Video: Notre Dame CB KeiVarae Russell
November, 1, 2013
Nov 1
2:05
PM ET
By
ESPN.com staff
| ESPN.com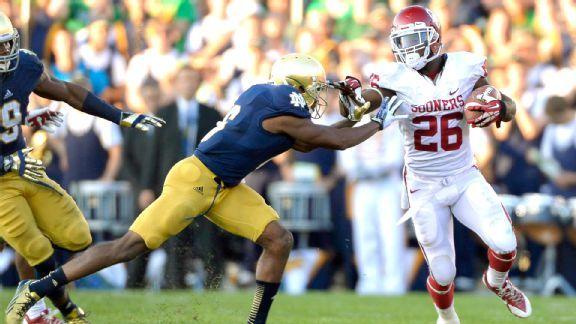 The Irish sophomore talks about his progress as a second-year starter, along with the defense's choice of music during practice.
Notre Dame Class Jumps Into Top 10
The addition of No. 1 tight end Tyler Luatua helps vault the Irish into the top 10. Notre Dame now has 23 commits in the 2014 class, eight of whom are ranked in the ESPN 300.
Notre Dame Class Jumps Into Top 10
VIDEO PLAYLIST
NOTRE DAME FB RECRUITING SCORECARD
Matt_Fortuna

Matt Fortuna


Meetings after 2014: 9/19/20 at #Purdue; 9/18/21 at #NotreDame; 9/14/24 at PU; 9/13/25 at ND; 2026 on a date and at a neutral site TBD later
less than a minute ago

irishbuzztap

Notre Dame Buzz


Irish Eyes (Scout) >> Springboard? http://t.co/k8DnA46gI6
less than a minute ago

BGInews

Blue and Gold News


RT @BGI_AndrewOwens: The schools will play in 2020, 2021, 2024 and 2025 and in 2026 at "a neutral site to be determined." http://t.co/OmAQZ…
about a minute ago

BGInews

Blue and Gold News


MT @BGI_AndrewOwens: The schools will not play again after the 2014 game until 2020: http://t.co/pAPwtcK283 #NotreDame
about a minute ago

BGInews

Blue and Gold News


MT @LTorbin: The Irish's Sept. 13, 2014 game against Purdue will be played at Lucas Oil Stadium in Indy.
2 minutes ago

BGInews

Blue and Gold News


Hilliard Staying Patient: Cincinnati (Ohio) St. Xavier five-star linebacker Justin Hilliard is remaining patie... http://t.co/ppGvvFngc2
4 minutes ago

BQ9

Brady Quinn


Check out what my essentials are for training @Sklz http://t.co/i1J2YgXUgN
11 minutes ago

Matt_Fortuna

Matt Fortuna


Officially official, per #Purdue: #NotreDame's Shamrock Series will be Sept. 13 in Indianapolis vs. the Boilermakers. http://t.co/1l2qldpEp8
15 minutes ago

FightingIrish

Notre Dame Athletics


30 minutes until @NDmbb's Weekly Press Conference! Tune in on @WatchND- http://t.co/LyYm5B1TPB #GoIrish
20 minutes ago

FightingIrish

Notre Dame Athletics


RT @NDSportsBlogger: Today's TIFI - FieldTurf, Coming Home to NJ, @Regis & @JustinTuckNYG91 talk Hunger Games and @NDFootball & More! http:…
21 minutes ago

irishbuzztap

Notre Dame Buzz


Irish Sports Daily >> Rutgers Stocking Stuffers http://t.co/VjdlEy7LFw
24 minutes ago

FightingIrish

Notre Dame Athletics


RT @NDMenSoccer: Senior Harrison Shipp was named the @NSCAA Scholar Player of the Year! Congrats Harry!
26 minutes ago

irishbuzztap

Notre Dame Buzz


CSNChicago >> Torii Hunter Jr. primed to make an impact on Notre Dame http://t.co/a1wtXx9ehs
44 minutes ago

hansenNDInsider

Eric Hansen


RT @BFeldmanCBS: Cool stat MT @joerexrode #MichSt CB Darqueze Dennard allowed avg of 0.8198 yds/pass att, lowest since Draft Report started…
48 minutes ago

BGInews

Blue and Gold News


5-Star Justin Hilliard talks with @TomLoy247 about #NotreDame and Coach Elston, as well as a few schools coming hard http://t.co/W2Ju7OYjqj
about an hour ago

BGInews

Blue and Gold News


RT @TomLoy247: Cincinnati (Ohio) St. Xavier five-star LB Justin Hilliard is remaining patient with recruiting process http://t.co/VpVgEkAH1…
about an hour ago

gamedayND

Notre Dame Game Day


#NDvsOKLA Tarean Folston rushed 36 yds for an #Irish 1st down. Drive ended with a TD pass to TJ Jones #ND2013fav http://t.co/ARZVqcvlDI
about an hour ago

irishbuzztap

Notre Dame Buzz


Irish Sports Daily >> 2015 N.C. RB Receiving Irish Interest http://t.co/HUkGyogL8k
about an hour ago

irishbuzztap

Notre Dame Buzz


Blue and Gold >> Three ND Questions For 2014: ILBs http://t.co/pcx30pUNLx
about 2 hours ago

Matt_Fortuna

Matt Fortuna


"I box my office up in the middle of the day." Our convo with #UConn's Bob Diaco, who talks #NotreDame, intros & more http://t.co/Z6QaqeKVvK
about 2 hours ago

FightingIrish

Notre Dame Athletics


.@NDVolleyball's Houser Receives AVCA Honorable Mention All-America Accolades- Junior is a 2-time honoree http://t.co/4A6vU4K9cq #GoIrish
about 2 hours ago

irishbuzztap

Notre Dame Buzz


One Foot Down >> College Football Viewer's Guide: Bowl Season, Part One http://t.co/Wp2sk8f5F9
about 2 hours ago

irishbuzztap

Notre Dame Buzz


Irish Sports Daily >> Hill's Huge Leap http://t.co/qL9HT8uY2c
about 2 hours ago

FightingIrish

Notre Dame Athletics


Today's Sched- @NDmbb's Weekly Presser 11:30am @WatchND http://t.co/zKbl7KrNyl- @NDMikeBrey Radio Show 7pm WatchND http://t.co/1EIiWurX2f
about 2 hours ago

BGInews

Blue and Gold News


Three ND Questions For 2014: ILBs: A thumbnail sketch of Notre Dame's outside linebacker situation as it heads... http://t.co/Qe6eMBoEAZ
about 2 hours ago

irishbuzztap

Notre Dame Buzz


South Bend Tribune >> College football: It's doable for Diaco at UConn http://t.co/Ey1gRxHi3y
about 4 hours ago

irishbuzztap

Notre Dame Buzz


South Bend Tribune >> Notre Dame football: Staff hires on fans' minds http://t.co/8yUtk3sFTf
about 4 hours ago

irishbuzztap

Notre Dame Buzz


Irish Illustrated (Rivals) >> R250 DB Nicholson ready to decide http://t.co/tYkDe373Hl
about 6 hours ago

irishbuzztap

Notre Dame Buzz


Irish Illustrated (Rivals) >> Around the Midwest: Irish after Morgan http://t.co/KRyxuYbGp1
about 6 hours ago

irishbuzztap

Notre Dame Buzz


Irish Illustrated (Rivals) >> Midwest Mail: Can Hoosiers make late push? http://t.co/kxuLQA7htK
about 6 hours ago

irishbuzztap

Notre Dame Buzz


Irish Illustrated (Rivals) >> Park, Wideman stand out at Shrine practice http://t.co/YZ432dYdgd
about 6 hours ago

irishbuzztap

Notre Dame Buzz


Irish Illustrated (Rivals) >> Collins, Dinkins lead N. Carolina 'D' http://t.co/UDxvCJrcOZ
about 6 hours ago

irishbuzztap

Notre Dame Buzz


Irish Illustrated (Rivals) >> Delp names two favorites http://t.co/gTilp5pgqm
about 6 hours ago

irishbuzztap

Notre Dame Buzz


Irish Illustrated (Rivals) >> Ezeagwu is one to watch http://t.co/VksNkRW6ly
about 6 hours ago

irishbuzztap

Notre Dame Buzz


Irish Illustrated (Rivals) >> PSU snags Rivals100 DT Holley http://t.co/8EeiXQaZkG
about 6 hours ago

irishbuzztap

Notre Dame Buzz


Irish Illustrated (Rivals) >> Dixon knows http://t.co/GZXZX0ujYi
about 6 hours ago

irishbuzztap

Notre Dame Buzz


Irish Illustrated (Rivals) >> Around the Midlands: Johnson's lean, UT fallout http://t.co/sfMOJce5qm
about 6 hours ago

irishbuzztap

Notre Dame Buzz


Irish Illustrated (Rivals) >> Hood rises up on Day 1 http://t.co/7TFJv0ibLw
about 6 hours ago

irishbuzztap

Notre Dame Buzz


Irish Illustrated (Rivals) >> Wideman a beast in practice http://t.co/o5Pi4QBn8S
about 6 hours ago

irishbuzztap

Notre Dame Buzz


Irish Illustrated (Rivals) >> Dickerson addresses ND situation http://t.co/gmlyXXNfsk
about 6 hours ago

irishbuzztap

Notre Dame Buzz


Irish Sports Daily >> Rutgers Preview: Special Teams http://t.co/nhQqHKQfy9
about 7 hours ago

irishbuzztap

Notre Dame Buzz


Irish Illustrated (Rivals) >> Irish offer Rivals250 DB http://t.co/Xqzo33HXIm
about 8 hours ago

irishbuzztap

Notre Dame Buzz


Irish Illustrated (Rivals) >> Vincent Sr. goes deep into Maryland visit http://t.co/mGjSo1W9Lc
about 8 hours ago

irishbuzztap

Notre Dame Buzz


Irish Illustrated (Rivals) >> Rubenzer looking to earn more offers http://t.co/jBrDCA9jkC
about 8 hours ago

irishbuzztap

Notre Dame Buzz


Irish Illustrated (Rivals) >> Rhule's camp draws some big names http://t.co/ycXy76GzKJ
about 8 hours ago

irishbuzztap

Notre Dame Buzz


Irish Illustrated (Rivals) >> Wilson still getting attention http://t.co/FvNXjIKUJc
about 8 hours ago

irishbuzztap

Notre Dame Buzz


Irish Illustrated (Rivals) >> Moore planning camps http://t.co/5oGRCSudQj
about 8 hours ago

irishbuzztap

Notre Dame Buzz


Irish Illustrated (Rivals) >> Recruiting marches on for Richardson http://t.co/j9d5zpT7BX
about 8 hours ago

hansenNDInsider

Eric Hansen


RT @jvs3: @RivalsWoody @Volquest_Paul it isn't if the PSA's name isn't mentioned or isn't clearly identified. Plenty of DT from KY. @JR_San…
about 11 hours ago

hansenNDInsider

Eric Hansen


Thanks for all the great tips on the smartphones. I feel like @FballIsLife69, except I will be announcing my decision tomorrow sans the hats
about 12 hours ago

hansenNDInsider

Eric Hansen


RT @DanWolken: Uh oh RT @joelklatt: Interesting read...former Sark assistant at UW being investigated by #USC and #UW http://t.co/UFCuTXB4…
about 13 hours ago

FightingIrish

Notre Dame Athletics


FINAL SALE ends at midnight, 20-40% off Irish gear- http://t.co/gJdKPkTzMg#GetYours
about 13 hours ago

hansenNDInsider

Eric Hansen


RT @FballIsLife69: Everyone Is In For A Surprising..Heartbreaking..Crazy.. Show On Jan 4th !! Huge Surprise Coming Your Way !!😎😎😏#Bama #GoI…
about 13 hours ago

irishbuzztap

Notre Dame Buzz


Inside the Irish (NBC Sports) >> Postseason Mailbag: Now Open (Christmas giveaway bonus!) http://t.co/pJzwMyoeOj
about 14 hours ago

hansenNDInsider

Eric Hansen


Looking to upgrade, any body have a quick review on HTC One of Galaxy 4S? Thanks in advance.
about 14 hours ago

Matt_Fortuna

Matt Fortuna


How does the Bear Bryant award — presented by American Heart Assoc., no less! — leave David Cutcliffe off finalists? http://t.co/Oejljnftay
about 15 hours ago

irishbuzztap

Notre Dame Buzz


Blue and Gold >> Irish in the Pros: Week 15 http://t.co/cGsDrx0wcH
about 15 hours ago

BGInews

Blue and Gold News


Irish in the Pros: Week 15: Here's a roundup of former Notre Dame players and how they are faring in 2013. Thi... http://t.co/SiV3fjMqwJ
about 15 hours ago

irishbuzztap

Notre Dame Buzz


Irish Insights >> Notre Dame, IU to clash in Fort Wayne http://t.co/4Il4Kg8DhI
about 15 hours ago

FightingIrish

Notre Dame Athletics


If you are in the South Bend area, head down to O'Rourke's at 7pm ET on Thursday to watch @NDMikeBrey's Radio Show live. #GoIrish
about 16 hours ago

FightingIrish

Notre Dame Athletics


.@NDmbb's Weekly Presser & @NDMikeBrey's Radio Show are ThursdayPress 11:30am http://t.co/zKbl7KrNylRadio Show 7pm http://t.co/1EIiWurX2f
about 16 hours ago

irishbuzztap

Notre Dame Buzz


South Bend Tribune >> Notre Dame football: A healthy Hunter in the WR hunt http://t.co/glIidffV8b
about 16 hours ago

irishbuzztap

Notre Dame Buzz


Inside the Irish (NBC Sports) >> Pinstripe Bowl practice report breakdown http://t.co/SLyqmdNeKC
about 16 hours ago

CoachBrianKelly

Brian Kelly


On my way home but stopped thru @NDFootball locker room. 9 days and counting @PinstripeBowl http://t.co/peAwO2bZRT
about 16 hours ago

Matt_Fortuna

Matt Fortuna


RT @P_Woo: #hookem RT @evilbillobrien expecting this by @mdent05 starts making it's way deep in the heart of Texas http://t.co/GuxV2pAz8z"
about 17 hours ago

FightingIrish

Notre Dame Athletics


FINAL DAY for the online store sale! 20-40% off selected items http://t.co/gJdKPkTzMg#GetYours
about 17 hours ago

irishbuzztap

Notre Dame Buzz


Irish Illustrated (Rivals) >> R250 DB Nicholson ready to decide http://t.co/HcYvL3rVtV
about 17 hours ago

irishbuzztap

Notre Dame Buzz


Irish Illustrated (Rivals) >> Around the Midwest: Irish after Morgan http://t.co/JKiJiaouXA
about 17 hours ago

irishbuzztap

Notre Dame Buzz


Irish Illustrated (Rivals) >> Midwest Mail: Can Hoosiers make late push? http://t.co/cH4V2iPbzx
about 17 hours ago

irishbuzztap

Notre Dame Buzz


Irish Illustrated (Rivals) >> Park, Wideman stand out at Shrine practice http://t.co/qHz4TM0azC
about 17 hours ago

irishbuzztap

Notre Dame Buzz


Irish Illustrated (Rivals) >> Collins, Dinkins lead N. Carolina 'D' http://t.co/Cr0wfIoGNO
about 17 hours ago

irishbuzztap

Notre Dame Buzz


Irish Illustrated (Rivals) >> Delp names two favorites http://t.co/1I4ZgX1ln4
about 17 hours ago

irishbuzztap

Notre Dame Buzz


Irish Illustrated (Rivals) >> Ezeagwu is one to watch http://t.co/u11lKoW9QA
about 17 hours ago

irishbuzztap

Notre Dame Buzz


Irish Illustrated (Rivals) >> PSU snags Rivals100 DT Holley http://t.co/eTUueDDjMs
about 17 hours ago

irishbuzztap

Notre Dame Buzz


Irish Illustrated (Rivals) >> Dixon knows http://t.co/HgaZP0Ftsh
about 17 hours ago

irishbuzztap

Notre Dame Buzz


Irish Illustrated (Rivals) >> Around the Midlands: Johnson's lean, UT fallout http://t.co/lVCaWKy0Z8
about 17 hours ago

irishbuzztap

Notre Dame Buzz


Irish Illustrated (Rivals) >> Hood rises up on Day 1 http://t.co/sKZfJWesFg
about 17 hours ago

irishbuzztap

Notre Dame Buzz


Irish Illustrated (Rivals) >> Wideman a beast in practice http://t.co/yPQGjIJPlB
about 17 hours ago

irishbuzztap

Notre Dame Buzz


Irish Illustrated (Rivals) >> Dickerson addresses ND situation http://t.co/Sh4nbD1Zy4
about 17 hours ago

Matt_Fortuna

Matt Fortuna


Was just thinking this. #MACtion ain't going anywhere MT @martinrickman: matt johnson-dino babers at BG should throw for over 4000 yards
about 18 hours ago

FightingIrish

Notre Dame Athletics


ICYMI @NDFIDM's full coverage of @NDMenSoccer's National Championship Weekend http://t.co/8quE70UwYm#WeAreND
about 18 hours ago

irishbuzztap

Notre Dame Buzz


Irish Illustrated (Rivals) >> Around the Southwest: A&M's roll continues http://t.co/syDbXwP1rm
about 18 hours ago

irishbuzztap

Notre Dame Buzz


Irish Illustrated (Rivals) >> Southwest Mailbag: The Robinson watch http://t.co/hyMpZRIYw3
about 18 hours ago

irishbuzztap

Notre Dame Buzz


Irish Illustrated (Rivals) >> USC bridges the gap for McQuay http://t.co/GLOPDUTyH9
about 18 hours ago

Matt_Fortuna

Matt Fortuna


Great hire for the Falcons RT @schadjoe: Bowling Green has hired Dino Babers of Eastern Illinois as head coach per source
about 18 hours ago

irishbuzztap

Notre Dame Buzz


Inside the Irish (NBC Sports) >> Diaco talks UConn, philosophy and leaving Notre Dame http://t.co/081X6nrnfz
about 18 hours ago

irishbuzztap

Notre Dame Buzz


Irish Sports Daily >> Rutgers Preview: Defense http://t.co/7p0t4m4aWZ
about 18 hours ago

gamedayND

Notre Dame Game Day


RT @NDFootball: .@Forbes credits ND for "providing support to academic programming that's unmatched by any team in college football," http:…
about 18 hours ago

gamedayND

Notre Dame Game Day


RT @NDFootball: .@Forbes also says ND is "best example of how significant the economic impact can be … for surrounding communities." http:/…
about 18 hours ago

gamedayND

Notre Dame Game Day


RT @NotreDame: Looks like some of our students found a fun way to take a break from finals this week! #LoveND http://t.co/Z5ERDqFHX7
about 18 hours ago

BGInews

Blue and Gold News


Irish Fill Out 2014 Hockey Class: Five players sign letters of intent to play for the Irish on a youth-laden 2... http://t.co/VeBEtZnmkw
about 19 hours ago

irishbuzztap

Notre Dame Buzz


Notre Dame Fighting Irish (Official Site) >> W. Volleyball. Houser Receives AVCA Honorable Mention All-America http://t.co/GwyIUMQ24N
about 19 hours ago

irishbuzztap

Notre Dame Buzz


Blue and Gold >> Irish Fill Out 2014 Hockey Class http://t.co/RlVvDZbU3S
about 19 hours ago

FightingIrish

Notre Dame Athletics


Last week we teamed up w/ @KellyCares and @Meijer to provide some Christmas fun for some very special kids http://t.co/YVG4YURkdD #NDFamily
about 19 hours ago

hansenNDInsider

Eric Hansen


ESPN analyst Todd McShay's mock draft has #NotreDame's Nix 12th to Pitt, Tuitt 16th to Dallas, Martin 31st to Denver: http://t.co/9j3RIancMV
about 19 hours ago

FightingIrish

Notre Dame Athletics


RT @NDvolleyball: Congratulations to JR Jeni Houser on earning AVCA honorable mention All-America honors! http://t.co/Bv4gvFO9xm
about 19 hours ago

irishbuzztap

Notre Dame Buzz


Irish Sports Daily >> Hiers Hoping For More http://t.co/8tujFD942b
about 19 hours ago

hansenNDInsider

Eric Hansen


RT @Lowood23: The number one thing I will miss at ND is the #Grotto and the people that walk with me to it and shared many great memories/s…
about 20 hours ago

FightingIrish

Notre Dame Athletics


WEDNESDAY'S TIFI – Clark Cops CoY, Q&A With Martin, Fenway Sweaters, Mo-Wards, Beards & More! http://t.co/YAqRDQsMdK by the @NDSportsBlogger
about 20 hours ago

ChiTribHamilton

Brian Hamilton


@ZuckermanCSN Zuck, Zuck, Zuck...thanks.
about 20 hours ago
2013 FBS Indep. STANDINGS
FBS INDEP. SCOREBOARD
Saturday, 12/21
Monday, 12/23
Tuesday, 12/24
Thursday, 12/26
Friday, 12/27
Saturday, 12/28
Monday, 12/30
Tuesday, 12/31
Wednesday, 1/1
Thursday, 1/2
Friday, 1/3
Saturday, 1/4
Sunday, 1/5
Monday, 1/6
BLOG ARCHIVE:
CATEGORIES: