July, 23, 2014
Jul 23
10:00
AM ET
By
ESPN.com staff
| ESPN.com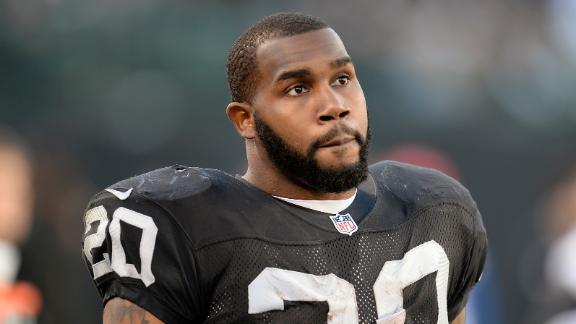 ESPN.com
Oakland Raiders
reporter Paul Gutierrez talks about how to divide carries to get the play-action pass going.
July, 22, 2014
Jul 22
10:00
AM ET
Don't adjust your computer screens.
That's right, ESPN.com's "NFL Nation TV" normally airs live at 10 a.m. ET each Tuesday, but we are taking a couple extra days before this week's show.
That is because we will be joined this Thursday by comedian and impressionist Frank Caliendo, the man behind the hilarious Jon Gruden and John Madden impressions, among many others. So make sure you come back this Thursday at 1 p.m. ET/10 a.m. PT when Caliendo chats with and does impressions for "NFL Nation TV" hosts Paul Gutierrez (
Oakland Raiders
reporter), Coley Harvey (
Cincinnati Bengals
reporter) and Episode 15's other guest, Kevin Seifert (ESPN.com national NFL writer).
We'll have more Thursday on what we'll discuss, but you can bet topics of conversation likely will include Tony Dungy's comments on avoiding drafting
Michael Sam
, debates about where the Oakland Raiders should play, updates as training camps start, and the final result of NFL Nation's "Memorable Play" tournament. As always, viewers are encouraged to create a Spreecast account (it's free and easy) and log in and ask the panelists questions as well as contribute in the chat feature.
See you then.
.
July, 22, 2014
Jul 22
8:00
AM ET
ESPN NFL Insider Ron Jaworski, who enjoyed a 15-season run as an NFL quarterback, has released his
NFL quarterback rankings

for the upcoming 2014 season.
"Since the
Seattle Seahawks
steamrolled the
Denver Broncos
43-8 in Super Bowl XLVIII," Jaworski wrote, "I've gone over every throw from every quarterback in the NFL to properly evaluate the best 32 on my QB Big Board."
Jaworski, it should be noted, did not include rookies in his rankings since they had not yet won a starting job.
So where did the
Oakland Raiders
' new quarterback,
Matt Schaub
-- a two-time Pro Bowler who has been called a top 10 quarterback by Raiders coach Dennis Allen -- land on Jaworski's list?
Schaub, who endured a nightmarish 2013 season in losing his job with the
Houston Texans
, was ranked 22
nd
.
"I can't remember a quarterback of Schaub's caliber having the kind of meltdown he did last season in Houston," Jaworski wrote. "It was painful to watch. His mind wasn't clear, his decision-making was poor, and he made throws he simply shouldn't make at this point in his career. He's been a great first-down passer during his career, particularly on play-action, but last year he was terrible at both. We'll see if he can regain his confidence in Oakland."
July, 22, 2014
Jul 22
12:34
AM ET
July, 21, 2014
Jul 21
9:36
AM ET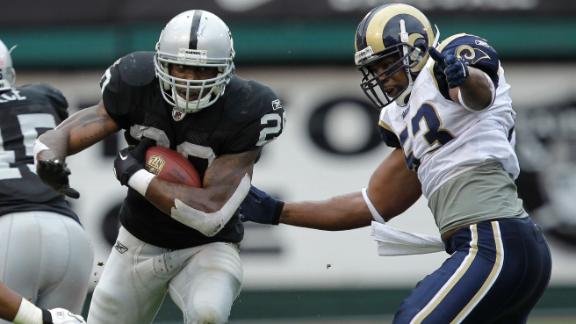 Although the Oakland Raiders' long-term plans for a home are muddy as ever -- the powers-that-be seem more interested in getting something done first for Major League Baseball's Athletics at O.co Coliseum -- a Hall of Famer who played for the silver and black thinks he can clear the waters.
Marcus Allen, the franchise's brightest star in the Raiders' star-crossed 13-year sojourn in Southern California, says he can see his first NFL team returning to Los Angeles.
"I know people in Oakland won't like this," Allen told NBC Sports Network this past weekend in Lake Tahoe at the American Century Celebrity Golf Championship.
"I think it's a viable option. ... We can't have them back at the [Los Angeles Memorial] Coliseum; the Coliseum is now USC's home. ... But there's some locations there that I know I've talked to a few owners [about] and I know that they've liked. I can't divulge my sources, though."
The Los Angeles Times reported Sunday that the league is looking at several sites in Los Angeles for a possible stadium and might even finance a new stadium itself rather than having an owner pay for it.
Patriots owner Robert Kraft said last week that he and his fellow NFL owners want a team to be based in Los Angeles.
"I think [NFL owners] collectively [are] very concerned that we don't have at least one team in downtown L.A., and would like to do everything they can to help facilitate that happening," he told reporters, according to TV Week.
Allen never played a home game in Northern California despite being drafted by the "Oakland" Raiders in 1982, just before the team moved to L.A. and stayed through 1994.
July, 18, 2014
Jul 18
11:00
AM ET
Examining the
Oakland Raiders
' roster:
QUARTERBACKS (3)
Matt Schaub
Derek Carr
Matt McGloin
Yes, Schaub was acquired to be the franchise quarterback, no ifs, ands or buts about about it. And still ... if Carr, who was elevated to second string in organized team activities, challenges Schaub, let alone replaces him, that is bad news for coach Dennis Allen and general manager Reggie McKenzie, who would have missed on yet another quarterback decision. The irony would be in Carr shining and thus potentially saving Allen and McKenzie. Stay tuned.
RUNNING BACKS (4)
Darren McFadden
Maurice Jones-Drew
Latavius Murray
George Atkinson III
McFadden and Jones-Drew have no doubt seen better days, but the plan is to keep each healthy by spelling the other. Yet the two need reps to get going. Murray is enticing after missing his rookie season with injury, and Atkinson is a legacy in silver-and-blackdom who would make his bones returning kickoffs. CFL Grey Cup MVP
Kory Sheets
might be the odd man out.
FULLBACKS (2)
Marcel Reece
Jamize Olawale
Reece's versatility has paid off with a pair of Pro Bowl appearances even if, critics point out, he is underused in the offense and not a great blocker. Good things usually happen, though, when the ball is in his hands. Olawale is surprisingly fast for a fullback.
RECEIVERS (6)
James Jones
Denarius Moore
Rod Streater
Andre Holmes
Brice Butler
Juron Criner
No, the Raiders do not have that prototypical No. 1 receiver (Jones would seem to be the best fit), nor do they have a slot man (Moore?). What they have is a group of young, hungry pass-catchers with similar skill sets. Streater looks ready to take that next step and Criner showed flashes of his old motivated rookie-camp self in offseason workouts.
TIGHT ENDS (2)
Mychal Rivera
David Ausberry
To quote Jimi Hendrix: "Are you experienced?" To answer for this group: No. Much is expected of Ausberry, who missed last season with a shoulder injury, and Rivera surprised as a rookie. It would not be shocking to see the Raiders add a vet here at the end of camp.
OFFENSIVE LINEMEN (9)
Donald Penn
Gabe Jackson
Stefen Wisniewski
Austin Howard
Menelik Watson
Khalif Barnes
Tony Bergstrom
Matt McCants
Kevin Boothe
A rebuilt offensive line -- Wisniewski at center would be the lone returning starter -- promises to be a physical unit, even with a rookie at left guard (Jackson) and a second-year player at right tackle (Watson). In fact, a line of Penn, Jackson, Wisniewski, Howard and Watson would average 6-foot-4, 326 pounds.
DEFENSIVE LINEMEN (8)
Justin Tuck
Antonio Smith
Pat Sims
LaMarr Woodley
Stacy McGee
Jack Crawford
C.J. Wilson
Justin Ellis
Tuck and Woodley bring experience and Super Bowl rings, even as Woodley is making the conversion from 3-4 outside linebacker to 4-3 defensive end, which he last played in college. Smith did not practice at all in the offseason while recovering from a procedure following a weight room mishap and Ellis, the Raiders' first fourth-round draft pick, is the most intriguing interior prospect.
LINEBACKERS (6)
Sio Moore
Nick Roach
Khalil Mack
Kaluka Maiava
Miles Burris
Kaelin Burnett
The arrival of Mack as the No. 5 overall pick moved Moore from strongside linebacker to the weak side, and has purportedly made injured and expensive veteran
Kevin Burnett
expendable. Burris was seeing first-team reps at Will linebacker in the final OTA session and Maiava is hoping to bounce back from an injury-plagued season. Kaelin Burnett's play on special teams might save his roster spot.
CORNERBACKS (5)
Tarell Brown
D.J. Hayden
Carlos Rogers
Keith McGill
Taiwan Jones
That's a big question mark, rather than a dark cloud, over the head of Hayden, who missed the last two OTA sessions and minicamp with an ankle injury and thus, fell behind in his development. Again. The Raiders do have big plans for last year's top draft pick. Rogers figures to be the slot cornerback while McGill, a fourth-rounder, is a big-bodied corner and Jones' standing as a gunner on special teams belies his improvement at corner.
SAFETIES (5)
Tyvon Branch
Charles Woodson
Jonathan Dowling
Brandian Ross
T.J. Carrie
Woodson played just one full game with Branch, who was lost for the season with a broken leg in Week 2, so it will be interesting to see how they co-exist. Dowling and Carrie were revelations in minicamp, with Carrie primed to make his mark as the punt returner. Ross, thrust into action because of Branch's injury last season, will be pushed by
Usama Young
.
SPECIALISTS (3)
Sebastian Janikowski
Marquette King
Jon Condo
Surely Janikowski's issues with King as his first-year holder last season are a thing of the past, right?
July, 18, 2014
Jul 18
8:00
AM ET
What had been an offseason semi-staple -- #ThrowbackThursday pictures from Raiders games I covered when they called Los Angeles home – has taken residence on another day.
Let's call it #FlashbackFriday. At least for today. Following, then, are shots I took while stringing for my local newspaper, the Barstow (Calif.) Desert Dispatch.
In this black and white pic taken during the Raiders' 16-13 overtime victory over the eventual AFC champion Denver Broncos on Dec. 3, 1989, Howie Long tries to apply pressure on John Elway, who would be sacked three times (by Long, Scott Davis and Thomas Benson) and throw a pair of interceptions (both picks coming courtesy of Lionel Washington).
#Raiders #TBT pic from my @DDispatchNews days, #HowieLong rushes #Broncos @johnelway in 1989, @Ky1eLong, @JOEL9ONE. pic.twitter.com/d7ZiGcWWyX

— Paul Gutierrez (@PGutierrezESPN) July 4, 2014
Here, following that same game, Long processes a reporter's question at his locker. Hey, he did have a sack, after all.
Final #Raiders #TBT pic of day, Howie Long is not amused with ur line of questioning, @JOEL9ONE @Ky1eLong pic.twitter.com/I7aCsvZqTq

— Paul Gutierrez (@PGutierrezESPN) July 4, 2014
This is from Marcus Allen's final home game as a Raider, a 36-14 loss to the San Diego Chargers on Dec. 20, 1992. Allen, who was drafted by the Raiders in 1982, carried the ball just two times for 12 yards on this day, including in this picture, and caught one pass for 13 yards.
#Raiders #TBT, @MarcusAllenHOF looks to turn the corner behind Steve Smith's block against the #Chargers. pic.twitter.com/Cc5seme439

— Paul Gutierrez (@PGutierrezESPN) July 4, 2014
Hey, Arsenio Hall was still running things in 1992, so file this under Hall's "Things that make you go Hmmm." As in, future Hall of Fame running back/Raider-for-a-season Eric Dickerson lining up as a receiver in, yes, 1992. Hmmm, indeed.
#TBT #Raiders pic I took of @EricDickerson in my @DDispatchNews correspondent days lining up...as a receiver? pic.twitter.com/DF85OePBob

— Paul Gutierrez (@PGutierrezESPN) July 10, 2014
July, 17, 2014
Jul 17
10:00
AM ET
»
NFC Preview:
East
|
West
|
North
|
South
»
AFC:
East
|
West
|
North
|
South
NFL Nation's Paul Gutierrez examines the three biggest issues facing the
Oakland Raiders
heading into training camp.
Matt Schaub
: Dennis Allen told anyone who would listen this offseason that Schaub, a two-time Pro Bowler who once passed for 4,770 yards but is coming off a nightmarish final season in Houston, is a top-10 quarterback. And even if a project by ESPN.com found that NFL insiders ranked Schaub 25th in the 32-team NFL, that will not dissuade Allen. Far from it. Schaub is his guy. Still, the question of Schaub's confidence after he threw 14 interceptions (with four pick-sixes in four straight games) and lost his job with the Texans will continue to hound Schaub and the Raiders until he proves it is
not
an issue. To his credit, Schaub, who looked impressive in the offseason non-padded practices open to the media, insists it's in the past. Besides, a change of scenery might do wonders for him. It's not like the Raiders are putting everything on the 10-year veteran; a running attack spearheaded by
Darren McFadden
and
Maurice Jones-Drew
should get the play-action passing game going … unless Schaub is shot. Which brings us to the intriguing figure that is
Derek Carr
, Oakland's second-round draft pick who was elevated to second string in minicamp. But Allen appears ready to ride or die with Schaub, for better or worse.
Khalil Mack
: You could say that Mack, whom many saw as the most versatile defensive player in the draft, simply fell into the Raiders' lap at No. 5 overall. And that would be just fine with Oakland. Because in remaking the defense, Allen has compared Mack to
Denver Broncos
All-Pro linebacker
Von Miller
, whom Allen coached as a rookie. If Mack, who has stepped in at strongside linebacker, shows a smidgen of Miller's pass rushing acumen -- 35 sacks in 40 career games -- the Raiders have a cornerstone. Mack's blend of size, speed and athleticism were evident in the offseason workouts as he appeared to be a physical marvel with quick feet and balance. Alas, the game will change in camp when the pads come on. No, he's not nervous; Mack is looking forward to knocking heads with the pros. Or did you miss his declaration that he is most looking forward to sacking the Broncos'
Peyton Manning
? Mack has impressed the staff and teammates alike by constantly being in veterans' ears, picking the brain of players such as
Justin Tuck
. Mack is a sponge. Yes, similar praise was heaped upon Rolando McClain when the middle linebacker was drafted in 2010. This just
feels
different.
D.J. Hayden
: The Raiders were impressed enough with Hayden to make him their top pick last year, even though he was still recovering from the practice injury to his heart at the University of Houston that nearly killed him. After an up-and-down rookie season that ended with a trip to injured reserve, Hayden again hit a speed bump. This time, he missed the second and third organized team activities (OTAs) sessions as well as minicamp due to a sprained ankle. Allen has said that the only player he expects to be a question mark health-wise entering camp is offensive lineman
Lucas Nix
. But with so many hopes tied into Hayden -- he was penciled in to start at right cornerback -- his injury history has to have Oakland worried. Even if he is a full go at the start of camp, he missed valuable reps in the offseason. Sure, Hayden got mental reps, but they are not nearly as important or effective, especially for a player who many in the organization see as a bonus draft pick since he appeared in only eight games (two starts) last season.
July, 17, 2014
Jul 17
5:02
PM ET
ESPN.com news services
[+] Enlarge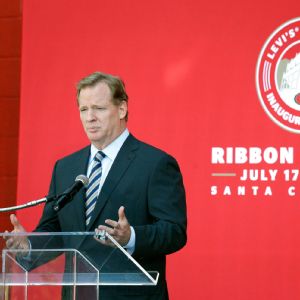 AP Photo/Eric RisbergRoger Goodell, at the ribbon-cutting ceremony for the 49ers' Levi's Stadium, took the opportunity to put some pressure on the Raiders to find a new home, as well.
Roger Goodell added a twist to the ribbon-cutting ceremony at Levi's Stadium on Thursday by addressing the looming stadium issue just up the road in Oakland, California, where the Raiders have long been searching for a replacement to the outdated O.co Coliseum.
Goodell said it's up to the Raiders to decide whether they want to try to build a stadium in Oakland or share the facility at Levi's Stadium with the 49ers -- an idea Niners CEO Jed York never has dismissed.
Raiders owner Mark Davis has said he doesn't want to be a renter in the 49ers' facility, which is now fitted with red seats and posters of past and present San Francisco greats.
"They have to make that determination, whether they're in a new stadium in Oakland or whether they feel that it's best to join this stadium," Goodell said, according to the Bay Area Sports Guy, who tweeted the commissioner's remarks. "We're working on that, and that's one of the decisions they'll have to make."
The Raiders are in the final year of their lease at the Coliseum and are interested in building a new stadium at the site.
July, 17, 2014
Jul 17
1:19
PM ET
Associated Press
CANTON, Ohio -- Former coaching greats John Madden and Marv Levy will highlight the list of seven presenters during the Pro Football Hall of Fame induction ceremonies.
Madden will present former Oakland Raiders punter Ray Guy. Levy will introduce former Buffalo Bills receiver Andre Reed.
Defensive end Michael Strahan chose long-time friend and Fox-TV broadcaster Jay Glazer.
The four remaining inductees selected family members as presenters at the ceremony on Aug. 2.
Linebacker Derrick Brooks chose his son, Decalon Brooks. Tackle Walter Jones also selected his son, Walterius Jones. Defensive end Claude Humphrey went with his daughter, Cheyenne Humphrey-Robinson.
Defensive back Aeneas Williams chose his father, Lawrence Williams.
July, 16, 2014
Jul 16
10:00
AM ET
By
ESPN.com staff
| ESPN.com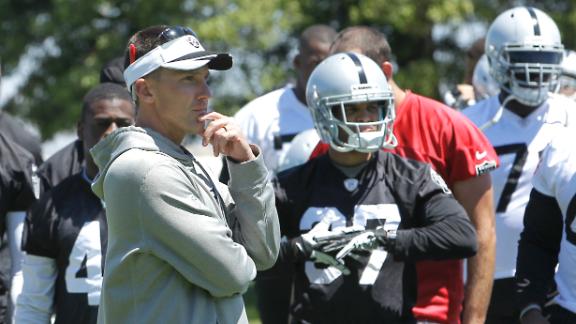 ESPN.com
Oakland Raiders
reporter Paul Gutierrez says continuity will be the key for the team over the next three years.