December, 23, 2014
Dec 23
2:24
PM ET
By
Christopher Chavez
| ESPN.com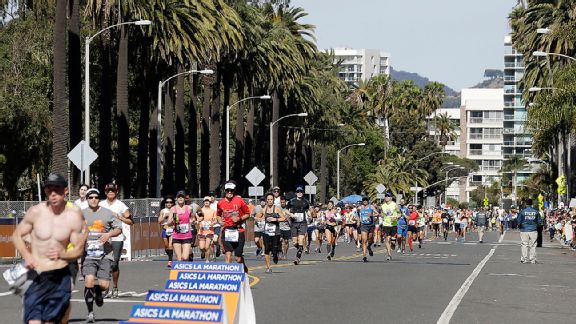 AP Photo/Reed SaxonL.A.'s marathon course could act as a showcase for a possible 2024 Summer Olympics bid.
As Los Angeles begins work on a potential bid for the 2024 Summer Olympics, Asics L.A. Marathon CEO Tracey Russell and other organizers are already preparing for the 2016 U.S. Olympic Trials Marathon on Feb. 16, 2016.
The course design for the trials has not been finalized, but may be revealed by the March 15 running of the 2015 LA Marathon. It is expected to be a criterium-style course with a two-mile first loop and then four six-mile loops run central to downtown Los Angeles.
"We originally wanted to do a course that would emulate [the 2016 Olympic course in Rio de Janiero], but as of a few months ago they did not have anything finalized," Russell said during a recent conversation with ESPN.com. "We debated waiting for them or moving forward. With a major city like Los Angeles, we wanted to get all of the necessary approvals with plenty of time for athletes to come in and run some of the course."
United States Track and Field and L.A. Marathon organizers decided to move forward and design a course that appeals to athletes, spectators and television. The course will feature Los Angeles Memorial Coliseum, where Joan Benoit Samuelson won the first women's Olympic marathon in 1984.
"It's being designed where we can showcase our runners and showcase our city," Russell said.