Jamaica keeps bobsled faith
February, 21, 2014
2/21/14
5:50
PM ET
SOCHI, Russia -- Jamaica will not compete in the four-man bobsled this weekend but it was represented in the two-man competition here. And team president Chris Stokes says the country not only will be back in 2018, it could be on the podium.
"Within the next four years, I expect to have an athlete on World Cup podium and maybe an Olympic medal in four to eight years,'' he said. "And I mean that sincerely.''
[+] Enlarge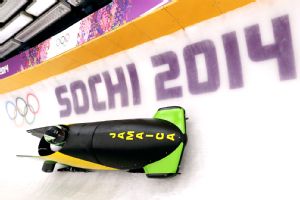 AP Photo/Michael SohnThe Jamaican bobsled team gained fame from the movie "Cool Runnings."
Stokes might be sincere but that would be an amazing accomplishment, even if
Usain Bolt
was pulling the sled as well. Winston Watts and
Marvin Dixon
finished last in the two-man this week.
Stokes was on the original 1988 Jamaican team that inspired the movie, "Cool Runnings,'' and turned the squad into a world-wide cultural phenomenon. Which is interesting considering that Jamaica is not the only warm-weather country competing in the sport.
"People talk about Jamaica being this warm-weather country in the Caribbean. But when I entered the sport in 1988, I came and saw warm weather countries,'' Stokes said. "I saw Mexico, I saw Puerto Rico. I saw the U.S. Virgin Islands. But the brand Jamaica is so strong that it represented something else and people took to it.
"I think it's important for Olympics to be world wide. When our sprinters go to the Summer Olympics, we don't say, 'Why is this Swedish guy or this Austrian guy here to run a 10.5 in the 100?' It's the Olympics, it's participation. The appeal of the Winter Olympics is going to depend on its appeal globally, not just for cold weather countries. And we're working very hard on that.''
Jamaica competed in the Olympics from 1988 to 2002 but failed to qualify in 2006 and 2010. Much of that was due to a lack of funding in a sport that is very, very expensive. Even when it qualified for these Games, it still needed to raise money in a hurry to cover the expenses. And it did so, receiving enough money within mere days.
"Funding was the hardest thing,'' Watts said. "In the end, we got funding from our friends and fans. I'm so happy they made it possible. We were able to show the world, that Jamaica is still alive.''
When it comes to bobsled, however, Jamaica has more support and popularity beyond the island than on it.
"Our coverage is much greater overseas than in Jamaica,'' Stoke said. "It is a business problem in Jamaica. I've been a little perplexed on this. I've been talking to a lot of companies about sponsoring this and they say, 'How do we connect our product to people who watch the team?' ''
Stokes pointed to the team fundraising campaign that netted more than $30,000 in two days and eventually more than $100,000 from people in every U.S. state and 52 countries as evidence that this "should be an easy problem to solve."
"They need to have more confidence we're here and here to stay and are serious athletes,'' he said. "I'm confident we will have a lot more stable, long-term funding rather than just trying to save the day from week to week.''