September, 18, 2014
Sep 18
12:00
PM ET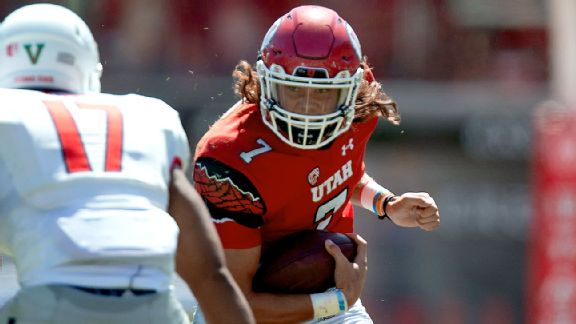 Russ Isabella/USA TODAY SportsTravis Wilson's is one of five Pac-12 quarterbacks who have not thrown an interception this season.
The old saying goes that you don't really know what you have until it's gone. And for Utah quarterback
Travis Wilson
, that time came last season.
During the Arizona State game on Nov. 9, Wilson took a bad hit. It wasn't until the following day that Wilson started feeling sick and dizzy, displaying concussion-like symptoms. That Monday, he took a concussion test and failed, prompting a CT scan of Wilson's head the next day.
"I didn't think it was any big deal," Wilson said. "I just thought it was just a concussion and maybe I'd have to sit out a week. I didn't think it was anything more than that."
The scan revealed an enlarged intracranial artery that had calcified.
Wilson's parents flew in from San Clemente, California. But even with the family there, the doctors really weren't able to give them very much information because it wasn't available. They didn't know when the injury had occurred. There wasn't much information regarding young people with this type of injury. They didn't know if football had played a part in it. They didn't know if he'd ever be able to play again.
"It was difficult," Utah coach Kyle Whittingham said. "But football was a distant second in our minds as far as making sure that he was going to be healthy for the duration of his life and not have something like this have an impact on his quality of life. That was the main concern."
The decision was made to have Wilson sit out for three months -- with his only activity being running and lifting -- and do another CT scan to see if anything changed when football was taken out of the equation. He would act as a glorified student-coach for the Utes, helping back up
Adam Schulz
.
"All I could really do was try to coach," Wilson said. "It was tough not being able to play. I felt sick to my stomach not being able to play. It didn't feel right just standing on the sidelines and not being able to do anything."
In February, the scan revealed no changes and the doctors said that Wilson could return to football with no-contact. Pending another scan in June, he'd be able to return for good.
He went through spring ball without contact, glad to be playing a non-contact form of football. And when his June results still showed no change, Wilson was able to get back into full football form.
"I was very grateful," Wilson said. "I got a second opportunity to play this game."
"When the potential was there for him to never play again, I think he realized how much he loved it," Whittingham said.
Wilson has wasted no time in making his mark with the Utes, who are 2-0 going into a huge matchup with Michigan on Saturday in Ann Arbor.
Wilson has the second highest passer efficiency rating in the country this season and is averaging 11.7 yards per attempt. He's also one of five Pac-12 quarterbacks who has yet to throw an interception this season.
Though the Big House and the Wolverines offer a different test than one he has seen in his career, he knows that the Wilson that steps on the field now is far different than the one that stepped on the field before.
"I'm definitely playing more calm," Wilson said. "I'm just really happy with the overall success [of the team]. I think we'll continue to get better as well."