February, 27, 2015
Feb 27
10:00
AM ET
As the Sun Devils gear up for spring ball later next month, offensive coordinator Mike Norvell took a few minutes to chat with the Pac-12 blog about the 2015 season, his future with the program and some of the priorities for spring ball. He also weighs in on the phenomenon gripping the nation known as
BERCO-ing
.
Can we just go ahead and assume Mike Bercovici is penciled in as the starter?
[+] Enlarge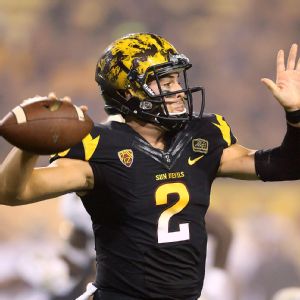 Mark J. Rebilas/USA TODAY SportsMike Bercovici begins the spring at the top of Arizona State's depth chart.
Mike Norvell:
Mike is going to be coming in as our starter. I'm excited about the guys that are there behind him and there to push him. But I think, when you look at what he did this last season, he's a guy that can lead this football team and we're excited about what he can bring this year.
Physically, we know what he brings. And it's a little different than Taylor Kelly. Mentally, how is he different?
MN
: Much like Taylor, he's a very intelligent football player. He knows the offense better than anybody we have here. He loves that part of the game. He loves studying film. He understands all the different progressions and the things we ask quarterbacks to do here. He's a true student of the game in that sense. We're excited about what he does physically, but the mental aspect of how he plays, we feel is a huge advantage for us.
Coach [Todd] Graham has already said D.J. Foster would be moving to wide receiver. Have you ever been part of a program where a 1,000-yard rusher moves to the outside?
MN
: No, and I think that shows you how special of an athlete D.J. is. We've got tremendous confidence in the guys we have in the backfield. We have a tremendous stable of running backs.
Demario Richard
,
Kalen Ballage
, a guy people don't really know about is De'Chavon Hayes. He's a guy that was a junior college guy that wasn't cleared this past year, but will be ready to go this fall. D.J. will help us with matchups on the perimeter, but you'll still see the ball in his hands from time to time. We'll make sure he gets plenty of opportunities.
Without giving away the playbook, can we assume we'll see him on speed sweeps and some fly stuff, a la Brandin Cooks?
MN
: Yeah. He's a guy that, no question, you have to get the ball in his hands. How many different opportunities and ways we can do that is what makes it fun to be a play caller and make sure we can utilize all his skills and talent.
You have to replace two tackles on the offensive line. Is that priority No. 1 in the spring?
MN
: Yeah. We're continuing to build that depth up front. We feel good about the guys we have up there, but we're also getting a better sense of getting what that five-man unit is going to be. I'd love to say we have six or seven guys we view as starters. If we can get to that point, we'll have some great competition. We're trying to get to that point as quickly as possible.
You're entering the fourth year of the system. Is this where you saw the offense being when you guys came in and mapped it out?
MN
: It's multiple. We've made some great strides with what we're trying to do and where we're trying to go. I think we're on track. Have we hit every goal that we want to accomplish? No, we've not. Is the future bright and do we have a lot of pieces in place to have high expectations for this year? Yes, we do. I'm looking forward to this year and the guys that we have. I love seeing the continuity and the growth that we have at each position. I think we're going to have a special group. We just have to continue to work and have some guys step up and develop the young guys we have.
I know you don't love talking about yourself, but you have been pursued by several teams over the last few years. Is there ever a right time for a coordinator to branch out and take over his own program? How much thought have you given that?
MN
: I think every situation, you have to look at it. That's the only way to be fair to myself and my family. It's a tremendous compliment to the young men that we have and the coaching staff that we have here when people do express interest. I can't tell you what that opportunity is going to be. You look at each situation and you see what the fit is. But it's a tremendous compliment to the program we have here and Coach Graham, someone I've worked with going on nine or 10 years. I believe in the vision. I believe in how we treat our players. I believe in everything we do here and I'm excited to be a part of it. The brightest days are in front of us. Does that mean there might be an opportunity one day when I can lead a team? I don't know. Right now, we have a tremendous program and a tremendous opportunity here and I'm extremely fortunate to be able to lead this offense.
What are your thoughts on "Berco-ing?" And have you ever done it?
MN
: (Extended laugh) I've never done it. But if it's
after that result
, I'm all about it. I might do it with him next time.