October, 21, 2014
Oct 21
9:00
AM ET
Oregon has one game left before the College Football Playoff committee releases its first rankings of the year.
Currently, the Ducks sit at sixth in the AP Poll, but with a strong showing Friday night they could certainly move up. However, there probably won't be any major leaps considering the slates of the five teams that sit ahead of Oregon (No. 1 Mississippi State at Kentucky, No. 2 FSU at Louisville, No. 3 Ole Miss at No. 24 LSU, No. 4 Alabama at Tennessee and No. 5 Auburn vs. South Carolina).
But the committee has said that they're going to give a look to any team in the top 20. So even if Oregon doesn't move up, that doesn't count them out of the committee's first ranking for the group of four. It also doesn't count out No.'s 7-20, either, though. So a strong performance this weekend is necessary in order to leave the committee with a good impression of these Ducks.
And in order to do that, here are four key playmakers -- outside of
Marcus Mariota
-- that need to have big games on Friday against Cal.
1. WR Byron Marshall
Strange to call a guy who had a 1,000-yard rushing season "emerging," but he has a new role on this team. So in a big way he is emerging as a new kind of playmaker for the Ducks. Marshall gives the Oregon offensive the ability to mess with defensive coordinators. When defensive coordinators call their defensive sets, it's based on the offensive personnel. And when Marshall is in there, DC's need to basically guess at whether he's going to rush or split out. Technically, the Ducks are referring to him as a wide receiver , but against Washington he recorded just as many rushes (five) as he did catches. Marshall needs to continue to prove his versatility in the offense and be that headache for opposing defenses.
[+] Enlarge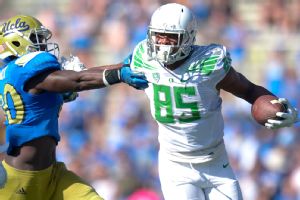 Robert Hanashiro/USA TODAY SportsPharaoh Brown causes match-up problems for defensive coordinators.
2. TE Pharaoh Brown
Of late, Brown has sort of been similar to Marshall in the fact that defensive coordinators don't really know what he's going to do. He led the Ducks in receiving yardage against UW. In the last two games he has accounted for more receiving yards than he did in Oregon's first five games (note: he didn't play against Michigan State). Oregon coach Mark Helfrich has complimented Brown for how much he has matured in the past year and though his silly penalties the last two weeks might not show that, if Brown continues to mature -- both emotionally and as a player -- he's going to be a guy that can tear defenses up. The committee would like to see that.
3. LT Jake Fisher
Fans can play the "What if" game with Oregon's offensive line all day but it won't change what the Ducks have now, and Fisher is a huge part of that. In the three games that Fisher missed (he left early in the Wyoming game so we'll count that), the Ducks didn't exceed expectations against the given defenses. Coming into the Oregon game, Washington State had given up 4.0 yards per rush and the Ducks averaged 4.1 yards per rush in that game. Coming into the Arizona match up, the Wildcats had given up 3.6 yards per rush, Oregon averaged 3.5 yards per rush that game. On top of that, Mariota was sacked 12 times in those two games. Since, the Oregon run game has excelled -- the Ducks averaged 6.3 yards per rush against UCLA, the Bruins had given up 4.0 yards per rush coming into that game; the Ducks averaged 4.4 yards per rush against Washington, which had only given up 3.1 yards per rush -- and Mariota has only been sacked three times. Keep Mariota healthy and the Ducks have playoff hopes. A lot of that falls on Fisher.
4. DL Arik Armstead
The Ducks needed to rebuild its defensive front coming into this season and Armstead was supposed to be a huge part. And he has played a good role in that effort. After accounting for just 17 tackles last season, the junior has already matched that total through seven games. He has also tallied four tackles for a loss, one sack and four quarterback hurries. But it's not enough if the Ducks want to have a dominant defense. Oregon needs to be much, much better up front and Armstead needs to play a bigger role. The Ducks are giving up 5.6 yards per play and are allowing teams to convert on 30.8 percent of their plays (96th nationally). He has had a solid season so far but the Ducks need a playmaker on the defensive line, one that can do it all. With his combination of size and athleticism, he seems to be a great candidate. But, the proof is in the pudding and the committee is going to need to see some bigger plays -- especially up front -- out of this Oregon defense.