July, 27, 2014
Jul 27
6:30
PM ET
LATROBE, Pa. -- A daily review of the hot topics coming out of
Pittsburgh Steelers
training camp.
Le'Veon Bell left practice Sunday afternoon after experiencing tightness in his hamstring but the second-year running back may not miss any additional practice time, Steelers coach Mike Tomlin said. The Steelers ended Bell's day early as a precaution, giving more repetitions to LeGarrette Blount and rookie Dri Archer. Archer, the fastest player on the team, drew one of the biggest cheers from the fans at St. Vincent College when he made a nifty cut and flashed through a hole. Archer has been every bit as fast as advertised and he has lined up in a variety of different positions.
In other injury news, wide receiver Martavis Bryant did not practice because of a groin issue while wide receiver C.J. Goodwin left practice early after falling on his shoulder. Neither player is dealing with a significant injury, Tomlin said. Center/guard David Snow broke his foot Friday during the Steelers' first practice and he will need surgery.
Tomlin may as well as be a kid the night before Christmas. The non-contact practices in shorts are behind the Steelers as the team is allowed to wear pads and hit for the rest of training camp. Per the collective bargaining agreement all teams are required to conduct two non-contract practices at the start of training camp and the Steelers completed their second one Sunday afternoon though storms forced Tomlin end practice a little bit early. Tomlin said the Steelers will tackle in practice on Monday and that the players who are competing for jobs and roster spots will start to separate themselves. "It's not football-like. It's football," Tomlin said of the practices that will largely take place the rest of training camp. "I'm always excited about who ascends in those situations and who shrinks in those situations. It's a big step in the process."
Wide receiver Justin Brown continued to catch everything thrown in his direction though the most notable grab during the Steelers' second practice of camp may have been turned in by tight end David Paulson. The third-year man stopped a Bruce Gradkowski pass with his outstretched right hand and then pulled it in for a catch in the middle of the field. Paulson needs to have a strong camp as he could be the odd man out at tight end if rookie Rob Blanchflower makes the 53-man roster.
Cam Thomas played left defensive end with the first-team defense on Sunday. Chris Hubbard, who spent last season on the Steelers' practice squad, played left guard with the first-team offense in place of Ramon Foster. Foster has yet to report to camp because of the death of his mother.
July, 27, 2014
Jul 27
4:15
PM ET
LATROBE, Pa. -- When the
Pittsburgh Steelers
made
Lawrence Timmons
the first draft pick of the Mike Tomlin era, they liked the Florida State product in part because he had the versatility and speed to play inside or outside.
Timmons, after a slow start to his Steelers career, has established himself as one of the top inside linebackers in the NFL. And he probably should have realized by now his lifelong dream of going to Hawaii to play in the Pro Bowl.
Timmons has indeed been that good the last two seasons.
Timmons, who has started 53 consecutive regular-season games, has played outside linebacker during his career when injuries necessitated a move. But the eighth-year veteran doesn't see that happening this season even though the Steelers have little proven depth at the position.
"I think we've got enough outside linebackers now to where I'm not needed there anymore," said Timmons, who led the Steelers with 126 tackles last season. "I'm strictly inside."
Timmons singled out
Vic So'oto
, who signed a futures contract with the Steelers last January, and rookie
Howard Jones
as two outside linebackers who have a chance to provide depth along with
Arthur Moats
and
Chris Carter
.
So'oto has NFL experience, having played in six games with three different teams. Jones is an intriguing prospect; the undrafted free agent entered Shepherd University, a Division II school in West Virginia, as a wide receiver and left as an outside linebacker -- and with the school's record for career sacks (35).
Timmons' belief that he will strictly play inside linebacker reinforces my belief that the Steelers won't have any interest in bringing back
James Harrison
unless injuries change the outlook at outside linebacker.
Harrison would strictly provide depth, and the five-time Pro Bowler is not a special-teams player at this point of his career. The Steelers, meanwhile, will apparently try to build depth at outside linebacker through younger players who may also be able to help them on special teams.
July, 27, 2014
Jul 27
2:10
PM ET
LATROBE, Pa. -- A groin injury has sidelined
Mike Mitchell
for the first part of training camp but the Steelers, starting free safety said the setback is not a significant one.
"I can sharpen myself in the film room, take every mental rep [in practice] which I wouldn't do if I was practicing," Mitchell said Sunday. "Now I literally pay attention on every snap. To have [football] taken away it's kind of frustrating. It's making me hungrier."
Mitchell said he had never injured his groin before getting hurt between the end of offseason practices and the start of training camp. He wouldn't offer any details on how he got hurt other than that it happened while he was preparing for his first training camp with the Steelers.
Mitchell, who signed a five-year, $25 million contract with the Steelers in March, has been standing next to Carnell Lake in practice to get the defensive backs coach's view of drills and so he can ask Lake questions.
Coach Mike Tomlin said at the start of camp that Mitchell, who is on the physically unable to perform (PUP) list, will likely miss the first week of practice.
The biggest downside to Mitchell's injury is it cuts into the on-field work he will get with strong safety
Troy Polamalu
. The two only practiced together during minicamp last month since Polamalu didn't take part in the organized team activities.
It is critical that the two build a strong rapport, but Mitchell said that won't be an issue.
"I know the playbook very, very well and you've just got to get out there and practice and when I'm back, we'll be fine," Mitchell said. "But we talk a lot, and I think our relationship is getting better every single day. When you've got one of the best safeties in the league to play with, your job isn't that hard."
July, 26, 2014
Jul 26
8:10
PM ET
LATROBE, Pa. -- A daily review of the hot topics coming out of
Pittsburgh Steelers
training camp.
Martavis Bryant broke inside as a pass sailed over his head during the Steelers' first practice of training camp. "Don't come in that way!" quarterback Ben Roethlisberger yelled Saturday afternoon to the rookie wide receiver. Roethlisberger proceeded to gesture to Bryant how he should have retraced his steps and run back toward the quarterback instead of cutting toward the middle of the field. No other sequence better epitomized how hands-on Roethlisberger was with a young receiving corps that has to replace two of its top three wideouts from last season. Expect the on-field instruction and dialogue with his receivers to continue during camp and throughout the preseason. "He has full control over the whole team, really, and he doesn't take that lightly," veteran tight end Heath Miller said of Roethlisberger. "He takes a lot of pride in that. He's the unquestionable leader of this team."
The wide receivers looked really good as a group during the first practice. The caveat, of course, is that the Steelers won't hit or wear pads until Monday. But the wide receivers drew oohs and aahs from fans who watched from the hillsides or the bleachers at Chuck Noll Field. Darrius Heyward-Bey made an over-the-shoulder grab of a Roethlisberger deep ball during a seven-on-seven drill. Justin Brown made a leaping catch of a pass that Roethlisberger delivered with some serious heat. Markus Wheaton made a handful of nice catches. Wheaton and Antonio Brown were the starters at wide receiver when the Steelers went 11-on-11 and Lance Moore was the No. 3 wide receiver.
Roethlisberger wore No. 99 for the first part of practice in honor of his former teammate and good friend Brett Keisel. Keisel, who played for Pittsburgh from 2002-13, remains unsigned and is hoping to return to the Steelers. "That's my boy," Roethlisberger said. "We were suitemates, he's been one of my closest friends, been in my wedding. I miss him." The Steelers could bring Keisel back if it is determined that the defense misses player who started the previous eight seasons at right defensive end. Cameron Heyward played mostly at right defensive end during the Steelers' first practice. Cam Thomas, Brian Arnfelt and Stephon Tuitt all received repetitions with the first-team defense at left defensive end.
Coach Mike Tomlin started to address the one injury that occurred during the Steelers' first practice when he realized he had referred to center/guard David Snow by the wrong name. "I call him Jon Snow because I'm a 'Game of Thrones' guy," Tomlin said of the popular TV series. David Snow suffered an ankle or foot injury on Saturday, though Tomlin said he did not know the extent or severity of the injury. Other than Snow's injury, Tomlin said, "We got through [practice] pretty clean and I liked the effort."
July, 26, 2014
Jul 26
6:54
PM ET
July, 26, 2014
Jul 26
6:23
PM ET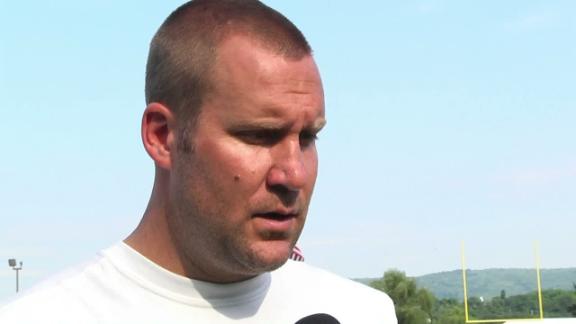 LATROBE, Pa. -- Pittsburgh Steelers quarterback Ben Roethlisberger said his focus is on football, not his contract situation, and he expressed confidence that the two sides will reach an agreement on a long-term deal after this season.
The Steelers recently informed Roethlisberger that they won't sign him to a new contract even though he has two years on his current deal, which is when they traditionally sign their starting quarterback to a long-term contract.
Steelers president Art Rooney II told Steelers.com earlier this week that the team will wait until after the season to re-sign Roethlisberger, since the salary cap is expected to spike again and so the organization won't risk losing key players who are entering the final year of their contracts.
"I have faith that the Steelers will do what we need to do when it's time and that's putting people on the field through free agency, trades, drafts to make us the best team that we can possibly be," Roethlisberger said Saturday after the Steelers' first practice of training camp. "When we get here there is no contract talk. When we get to camp it's time to play football and that's what I'm excited about."
Roethlisberger, one of only three active quarterbacks to win multiple Super Bowls, will make $12.1 million in base salary this season, according to ESPN Stats & Information, and his salary cap hit is $18.895 million.
July, 26, 2014
Jul 26
3:00
PM ET
LATROBE, Pa. -- The opportunity that
Troy Polamalu
has rarely if ever offered one of his younger teammates can be traced to a text message.
Shamarko Thomas
sent one to his mentor, telling Polamalu that he wanted to be great. That led to Polamalu talking to the second-year man about how he carries himself off the field. And the eight-time Pro Bowler eventually extended an invitation to Thomas to work out with him in California.
[+] Enlarge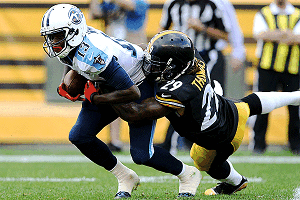 Jason Bridge/USA TODAY SportsShamarko Thomas is looking to benefit after participating in recent workouts with Troy Polamalu.
Thomas took Polamalu up on the offer and the two safeties trained together for a week between the end of offseason practices and the start of training camp.
"It felt like a month because he trains so hard," Thomas said. "For a guy like that who's going to be a Hall of Famer to take me out there and show me the ropes, it was an amazing experience."
The player whom cornerback
Ike Taylor
nicknamed "Headache" around this time last year because of his hitting ability is expected to make a big jump in 2014.
Thomas has shown how serious he is about emerging in his second NFL season by doing things such as traveling across the country to train with one of the game's premier safeties. What also bodes well for Thomas is that Polamalu apparently thinks the 5-foot-9, 217-pounder has as much promise as the Steelers do.
Hence, the extra attention he has paid to Thomas since the Steelers took the Syracuse product in the fourth round of the 2013 draft.
"I was the first person ever to work out with him [in California]," Thomas said. "I changed a lot from my first year to my second year and that's from Troy talking to me every day or staying in my ear about God or the way I train and carry myself."
Thomas played a significant number of snaps in the first half of last season. He barely saw the field in the season half of the season -- except for special teams -- after spraining his ankle and falling behind veteran
Will Allen
on the depth chart.
Thomas will be given every opportunity to become the Steelers' primary backup at safety this season, and he will get extra work through the first week of camp with starting free safety
Mike Mitchell
sidelined by a groin injury.
"Everything's slowed down and I'm confident and I'm just ready to play," Thomas said. "Last year it was a fast game and there were a lot of things going through your head. It's calming down and I'm just ready for everything. I've matured a lot."
The training sessions with Polamalu have been a part of the maturation process and they left a lasting impression on Thomas for several reasons.
"They were like a karate movie," Thomas said. "It's like some ninja stuff, but it works for him and I felt like it worked for me, too."
July, 26, 2014
Jul 26
2:22
PM ET
[+] Enlarge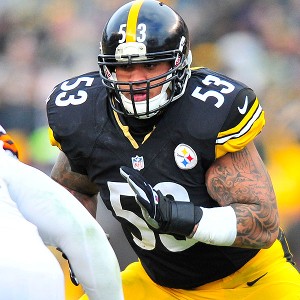 David Dermer/Diamond Images/Getty ImagesMaurkice Pouncey denied involvement in an alleged assault earlier this month and called the allegations "hurtful."
LATROBE, Pa. -- Maurkice Pouncey denied having any involvement in assaults that allegedly occurred at a South Beach nightclub earlier this month during a birthday party for the Pittsburgh Steelers center and his twin brother Mike.
"Any time I've made a mistake in my NFL career I've admitted to it," Maurkice Pouncey said Saturday, prior to the Steelers' first practice of training camp. "For something like this to happen and have no involvement is upsetting and hurtful to me and it's on my mind like crazy."
Three people allege that the Pounceys assaulted them at around 4 a.m. ET on July 12. They have filed a civil suit against the brothers as well as Cameo nightclub and are seeking $15,000 in damages.
Neither brother has been charged by police.
Their lawyer released a statement last week that claimed allegations against the brothers were for financial gain and he threatened to countersue. Maurkice Pouncey said neither he nor his brother, a center for the Miami Dolphins, were involved in any fight on the night in question.
July, 26, 2014
Jul 26
10:00
AM ET
LATROBE, Pa. – Find me a football coach who doesn't covet speed, and I'll walk from St. Vincent College to Heinz Field in Pittsburgh.

Tomlin
And that is with rookie defensive tackle
Daniel McCullers
, who is listed at 6-foot-7 and 352 pounds, sitting on my shoulders.
But speed can apparently be overvalued in football, even when it comes to the defensive side of the ball.
"Good defense is really predicated on being where it is you're supposed to be and good tackling," Steelers coach Mike Tomlin said. "Speed is an awesome asset but it's not going to be the defining asset for us. It's going to be our ability to play smart collectively and be a good tackling group. It's football. It's not a track meet."
The Steelers' improved speed on defense emerged as one of the early themes of training camp as several players, including veteran cornerback
Ike Taylor
, talked about it after reporting to St. Vincent College.
Taylor said the Steelers' speed on defense reminds him of the 2004 and 2005 teams. Defensive end
Cameron Heyward
said the speed that the Steelers have added through the draft and free agency stood out during offseason practices.
"I think that's the one thing you can take from OTAs and minicamp," Heyward said, "but I think I think you want to see the speed with the physicality of it and see how the wear and tear goes being in pads full-time now."
The Steelers will see plenty of that.
Tomlin has already said that it will be a physical camp and he hinted that there could be tackling as early as Monday – the first day that the Steelers are allowed to hit.
As for all of that speed on defense, Tomlin said, "Obviously we've got some young people that are capable of infusing some speed into the unit, but we're not going to be talking too much about it. It seems like too much has been talked about it already."
July, 26, 2014
Jul 26
9:00
AM ET
By
ESPN.com staff
| ESPN.com
Welcome to
Pittsburgh Steelers
training camp! ESPN.com reporter Scott Brown has live updates and the latest news from Latrobe, Pennsylvania.
July, 25, 2014
Jul 25
6:45
PM ET
LATROBE, Pa. -- The
Pittsburgh Steelers
suffered a setback before the start of training camp when free safety
Mike Mitchell
hurt his groin while working out.
Mitchell
Mitchell, the Steelers' most significant signing this offseason, and running back
Alvester Alexander
have been placed on the physically unable to perform (PUP) list.
Alexander, who spent last season on the Steelers' practice squad, is also nursing an injured groin.
Both can come off the PUP list at any time, and coach Mike Tomlin said the Steelers expect Mitchell to be sidelined for the first week of training camp.
"We'll monitor him day to day," Tomlin said late Friday afternoon.
Two Steelers players did not report to camp by the 4 p.m. ET deadline and each was excused by the team. Punter
Adam Podlesh
is staying with his wife until she gives birth to their child, and starting left guard
Ramon Foster
is coping with the death of his mother.
Tomlin did not give a timetable for the return of either player.
Tomlin addressed the media after the Steelers' conditioning test, and he seemed pleased with his first look at the players since the end of offseason practices.
"I like the look in the eye of the group," the eighth-year coach said, "and the way that they performed at the run test was impressive."
Also of note from Tomlin's first news conference of training camp.
Tomlin plans on running a physical camp after watching the players take part in non-contact practices during the offseason.

"I enjoyed the spring and summer, but that's the spring and summer. Now that we're here in training camp we're going to do what we do in this type of setting, which is compete," Tomlin said.

When asked if there will be tackling, Tomlin smiled.

"Absolutely," he said. "See you on Monday."

Monday is the first that that the Steelers are allowed to practice in full pads and hits. The team will conduct non-contract practices on Saturday and Sunday, something that is mandated by the collective bargaining agreement.
Tomlin said he won't take a slower approach to installing the playbook despite the Steelers' youth, particularly on defense.

"We expect those guys to catch up. It's professional football, they don't have an academic workload to worry about," Tomlin said. "Obviously we're willing to adjust when it's time to play football in September. It's just smart football to do what your guys are capable of doing, but as we step into Latrobe we do not have that mentality. We need to see what they're capable of handling. And in order to so that we're going to install at our normal pace."
Center Maurkice Pouncey won't be eased into practice even though he is still less than a year removed from tearing the ACL in his right knee.

The Steelers gave Pouncey periodic days off during the offseason practices as a precaution, but Tomlin said the three-time Pro Bowler won't be limited in camp.

"He's ready to go," Tomlin said.
July, 25, 2014
Jul 25
4:20
PM ET
LATROBE, PA. -- His entrance lacked subtlety and
Ike Taylor
owned it the way he once did wide receivers who lined up across from him.
Taylor, after reporting Friday afternoon for his 12
th
training camp at bucolic St. Vincent College, said he does not think the days of him shutting down wide receivers are bygone ones despite his struggles last season. And while he acknowledged that he is not getting any younger, Taylor said he wants to play beyond this season, which happens to be the last one on his
Pittsburgh Steelers
contract.
Taylor
"I feel like a newborn baby," Taylor, who turned 34 in May, said in his own inimitable way. "All I need is a pacifier and mama's milk."
That Taylor arrived for camp in good spirits not to mention a star shaved into his head == "superstar," he said with a smile -- is a good sign considering how ticked off he seemed last month when he went on the Jim Rome Show and sounded off about having to accept a pay cut to return to the Steelers.
Taylor shrugged off his comments as just venting and said his unhappiness over taking a pay cut won't affect his preparation during camp or his play this season.
"You pout about it and you handle yourself on the field," said Taylor, whose base salary this season was cut from $7 million to $2.5 million. "I can't see myself nowhere else. I live and bleed Pittsburgh. I'm a yinzer. The only thing I don't really do to be a yinzer is eat Primanti Brothers."
(Note: Yinzer is a term often applied to hardcore Pittsburgh residents and Primanti Brothers' most famous sandwich includes coleslaw and fries on a hamburger and is considered a Pittsburgh signature).
"Other than that I'm Pittsburgh all the way down. I wear my 412 clothing. I've got a 412 [area code), my nickname is 'Lil Rooney.' What else you want from me?"
Taylor said he hasn't felt this good physically in years and that renowned speed coach Tom Shaw, whom he works with during the offseason, actually had to tell him to ease up on his training.
If this is his last season with the Steelers -- the 6-foot-2, 195-pounder intends on playing somewhere in 2015 -- Taylor feels good about making a run at his third Super Bowl ring.
"This team as far as young guys and the energy it's like the [2004-05] feeling," Taylor said in reference to the seasons in which the Steelers made the AFC championship game and won the Super Bowl. "We talked about speed on defense and from OTAs through minicamp you saw the speed on defense and I think in '04 and '05 we were pretty speedy on defense."
July, 25, 2014
Jul 25
1:30
PM ET
The meandering path to Tim Worley's second NFL act was paved with cemetery headstones, marked by hazy stretches and cemented by a sobering stay in jail.
Worley wore a long-sleeved collared shirt and black slacks when he told his story to
Tennessee Titans
rookies on June 6. But he hit just as hard as when he wore shoulder pads and a helmet on the way to becoming an All-America running back at Georgia and the seventh overall pick of the 1989 NFL draft.
Worley, who never lived up to his immense promise while with the
Pittsburgh Steelers
, shined an unsparing light on himself as he told the Titans rookies how he frittered away a playing career through a toxic confluence of youth, money and fame.
[+] Enlarge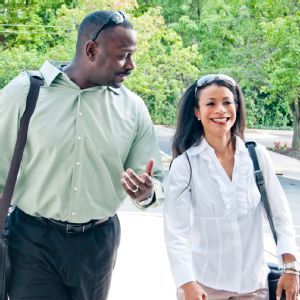 Courtesy Tim Worley Tim Worley and his wife, Dee, teach young players to learn from his mistakes.
"That's the thing you want to do when you're in a position like that," said Tennessee director of player engagement Tre Stallings, who has twice brought in Worley to talk to Titans rookies. "Tim's very detailed with everything he shared with the group, and I think that's the kind of message you want to bring."
The message Worley, 47, is spreading has allowed him to get his foot back in the door of the league he couldn't wait to exit almost two decades ago.
He is pursuing a career as a life skills consultant for NFL rookies through Worley Global Enterprises, the company he owns with his wife, Dee. It is a calling as much as anything since the repercussions of throwing away his NFL career nearly crushed him.
"It took my going down the gutter and almost to the point of death to realize who I am," Worley said.
Crashing and burning
The Steelers had been searching for a rightful heir to Franco Harris for nearly a decade by the time they drafted Worley in 1989, four picks after the
Detroit Lions
selected Barry Sanders. And it looked they like they might have found Harris' successor after Worley, who had size and sprinter's speed, rushed for 770 yards and five touchdowns as a rookie.
Worley, however, regressed instead of building on a promising rookie campaign.
A propensity for fumbling led to him quickly falling out of favor in Pittsburgh -- he played four seasons for the Steelers and two more for the
Chicago Bears
-- but that was just a symptom of a larger problem.
A nightlife replete with drinking, drugs, women and new so-called friends beckoned the young millionaire in a city where the Steelers are worshipped. And Worley eventually got caught in the undertow of it.
"I was given an opportunity to set the tone for my life and the people that loved me, and I blew it," said Worley, the first rookie in Steelers history to receive a million-dollar signing bonus.
Worley bounced around after retiring from football in 1996, working in various factories and warehouses, dabbling in coaching and making a living from 2003 through 2005 digging graves in his hometown of Lumberton, North Carolina.
"I buried people for almost three years," he said.
The cruel irony of that job: Worley almost buried himself. He continued to drink and abuse cocaine and said he spent about 10 years "in a fog."
The former NFL bonus baby bottomed out on April 23, 2008 -- a date that Worley will never forget.
Pulled over after leaving an Atlanta club in the wee hours of the morning, Worley took a swing at a police officer. Worley spent the next 23 days behind bars and said he has been totally clean since he got out of jail.
"I got down on my knees in my jail cell and I rededicated myself to the Lord," Worley said. "It's by the grace of God that I am here."
A second chance
Dee Foster was 12 years old when she was summoned to the office of legendary Alabama football coach Paul "Bear" Bryant.
Bryant had read about Foster becoming the first elite gymnast in the history of the state and that she trained with Alabama women's gymnastics coach Sara Patterson in Tuscaloosa.
He congratulated the young girl, who was with her equally wide-eyed father, and told her he expected her to compete for the Crimson Tide one day.
Foster never forgot that meeting and later became a 17-time All-American at Alabama as well as an individual national champion. Despite all of that success, Foster lost the love of her life when Worley ended their relationship while she was still in school.
The two had met at Georgia when Worley was a student there and Foster was competing at a meet in Athens while still in high school. But they lost touch after Worley broke things off while he was with the Steelers.
The two reconnected through Facebook after 18 years apart, right as Worley was pulling his life together. They got married a year later, in 2010, adding another layer to Worley's story of redemption.
The Worleys, who live in Huntsville, Alabama, share a strong faith, and Dee Worley has helped her husband confront the guilt that he had not been able to shake after washing out in the NFL.
"Tim went through a lot of years of severe depression because he felt that he had not provided the proper return on what the Steelers and Bears invested in him," Dee Worley said. "It tore him up."
She is helping him try to repay that debt through their consulting company (she rolled her marketing and public relations company into Worley Global Enterprises in 2010). Worley's focus is on public speaking, while his wife handles marketing and other promotional aspects of the company.
Worley and his wife have designed a multipronged program that includes talking to rookies during training camp and throughout the season and also making himself available for one-on-one sessions with players.
Worley's message to young players can be distilled into something simple yet powerful.
"Let my wisdom that I learned from my mistakes be your teacher," Worley said. "Don't let pain that will come from your negative choices be your teacher, because I learned the hard way."