July, 23, 2014
Jul 23
10:00
AM ET
By
ESPN.com staff
| ESPN.com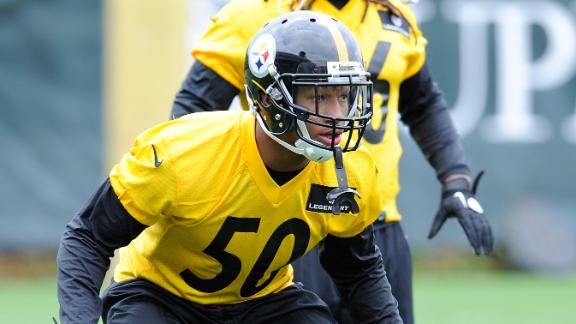 ESPN.com
Pittsburgh Steelers
reporter Scott Brown discusses what the rookies can expect in camp.
July, 22, 2014
Jul 22
4:04
PM ET
[+] Enlarge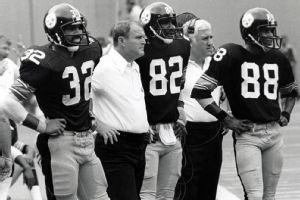 Malcolm Emmons/USA TODAY SportsChuck Noll led the Steelers to four Super Bowl titles from 1974-79, transforming an also-ran franchise into a championship one.
PITTSBURGH -- The Steelers will wear Chuck Noll's initials on their helmets this year as a tribute to the only coach to win four Super Bowls.
Team president Art Rooney II revealed during an interview Tuesday with Steelers Nation Radio the initials are one way in which the organization plans to honor Noll, who passed away on June 13 at the age of 82.
"The team will be, for the first time, wearing a decal with Chuck's initials on it," said Rooney, who served as a pallbearer at Noll's funeral. "We will have some other ways to commemorate Chuck and really remember, I think, one of the greatest coaches of all time, and certainly it's an appropriate time to mark the passing of one of the greatest Steelers of all time."
Noll, a little-known assistant coach when the Rooney family hired him in 1969, transformed an also-ran franchise into a championship one, leading the Steelers to four Super Bowl titles from 1974-79.
The rise of the Steelers, who had never won a playoff game prior to Noll's arrival, coincided with the collapse of the steel mill industry, and gave Pittsburghers something to rally around. The migration from Pittsburgh after jobs dried up in the area fueled the national following the Steelers can legitimately claim.
July, 22, 2014
Jul 22
4:00
PM ET
PITTSBURGH – This is the second of two posts recapping the
Pittsburgh Steelers
' offseason in the words of the coaches and the players.
Here is what the coaches said during the offseason practices.

Tomlin
"They've done a nice job but you can convince yourself of anything this time of year. I'm not interested in telling a story to myself. This isn't football. It's football-like and it's a great opportunity to improve and learn and develop, gain cohesion and understanding. That's what this is about as opposed to evaluating performance." –
coach Mike Tomlin on the progress the Steelers made during offseason practices
"I don't like to play rookies because defensive football there's two things that can get you beat. One of them is missed tackles. The other one is mental mistakes. Normally when you try to learn this defense it's going to take you a little while to do it. He understands concepts and picks things up a little bit easier than most rookies. I think
Lawrence Timmons
will help him and some of the other guys will help him learn to run this defense. We don't have a choice whether we can play him or not. We've got to play him and we've got to be faster and we've got to win." –
linebackers coach Keith Butler on rookie inside linebacker Ryan Shazier
"He's a stud. Really nobody was happier when Coach Tomlin, Kevin Colbert and Mr. Rooney were able to pull off getting him to come on board. He's a great teacher. He's great at what he does, the best in the league in my opinion. He seamlessly transitioned into our staff. We've all hit it off." –
offensive coordinator Todd Haley on the addition of offensive line coach Mike Munchak
"I think he's been doing a great job. He's doing good at something on both sides as a third tackle pushing
Marcus [Gilbert]
, pushing
[Kelvin] Beachum
. And for a coach that's a great thing to have because those guys understand that we have some good talent at that position. Then two, I think it's a matter of him getting [better], but I think all three of them have gotten better. A lot of it is going to depend on the consistency when we get to training camp and then when you get in the preseason games to have the best guys out there playing. Obviously they all can't play so someone is going to be sitting so that's the hard part about this.." –
Munchak on Mike Adams and the Steelers' situation at offensive tackle.
"I can't see myself putting on s suit and tie and sitting behind a desk for eight hours. That would just drive me crazy. I need the smell of the grass. I need to be out here on a football field. I feel like I'm at my best when I'm out here. Even though I can't play anymore I still feel like I have a good opportunity to help kids who want to get there." –
new defensive assistant Joey Porter on pursuing a career in coaching
LeBeau
"Mike Mitchell is very fast and a good, solid tackler. An excellent blitzer actually. I looked at quite a bit of his tape during the free-agency period and you had to look pretty far to find any weaknesses." –
defensive coordinator Dick LeBeau on the Steelers' new starter at free safety.
"We feel like he can be our ace in the hole, or the joker, since we can use him in various positions. We can move him around. We can utilize his running ability as a running back and his receiving skills. I think it's up to Coach Haley and the offensive staff to put him in places where he can succeed. I think he's going to be a weapon for us." –
wide receivers coach Richard Mann on rookie Dri Archer's versatility
"Obviously Dri Archer is going to be a big factor. He has a lot to learn, a lot to work on and he does and he will. His speed speaks for itself but there will be a big pool of numbers and again you can never have enough of those kind of guys. We have more to choose from than we've had in the past. That's a great situation to be in." –
special teams coordinator Danny Smith on the Steelers' pool of potential kick returners
"It's as deep a group as I have been around, from top to bottom. I think some guys that are pretty good football players probably won't make the team. A guy like
Lance Moore
has come in and as advertised is a smart, sharp guy that has picked things up pretty quick. Then you have some guys like
Markus Wheaton
and
Justin Brown
that have been here, and you can see that they now have a year under their belt. They have a different confidence level in what they are doing and what we are doing." –
Haley on the Steelers' wide receivers
"
Arthur Moats
has done a good job for us and
Chris Carter
' has had a good offseason for us so we'll see when we get to camp. Things usually iron themselves out when we get to training camp and we'll have a better understanding of where we stand when it comes to depth." –
Butler on the Steelers' depth at outside linebacker
July, 22, 2014
Jul 22
12:00
PM ET
PITTSBURGH -- The
Pittsburgh Steelers
report to training camp in three days and it looks like coach Mike Tomlin has pre-ordered heat and humidity, two of his favorite ingredients for the practices that will take place at St. Vincent College in Latrobe, Pennsylvania.
Here is a different kind of primer for camp, and it is the first of two posts recapping the Steelers' offseason in the words of the coaches and the players.
Here is what the players said during the offseason practices.
Polamalu
"We could put Usain Bolt and the whole track team out there but that doesn't make us a good football team. So, we'll see how everything works out." –
strong safety Troy Polamalu on what an infusion of speed will mean for the defense
"I'm excited about this team and the direction we're headed. I think that we have a lot of speed. That's running the ball, that's throwing the ball, whatever. I want us to be fast and to put a lot of points on the board. I feel younger than ever." –
quarterback Ben Roethlisberger on expectations for the offense after the Steelers averaged just under 28 points in their final eight games last season
"You see guys finishing to the end zone, the whole defense running to the ball, everyone coaching each other. I think we're just a hungry young group that's aspiring to win games. When you've got a young motivated group that everyone bought into what we're trying to do it just speaks highly when you see it on the practice field." –
Pro Bowl wide receiver Antonio Brown on the urgency the Steelers showed during offseason practices
"I'm in his head every day, always asking questions, always trying to figure out the best way to do it. He's always on my butt about just grinding. Not saying that I don't push myself, but there's always a next level and that's what he's brought to our whole unit." –
outside linebacker Jarvis Jones on new defensive assistant Joey Porter
Miller
"I expect to be better than last year for sure. That's better because I should be able to put more preparation in, should be able to work like I'm used to working. Last year was about trying to find a new normal for myself and I'm a creature of habit so that wasn't easy for me." –
tight end Heath Miller on participating in offseason practices after missing them the previous year while recovering from a torn ACL
"You've got a few guys and there time is right now.
Cortez Allen
is one of those guys. Will Gay is still one of those guys regardless of what people don't want to say about him. The man's real solid.I think last year was the best year of his career. And Cortez Allen toward the end was breaking out to what we all thought he could be -- a ball hawk." –
veteran Ike Taylor on the Steelers' cornerbacks
"It's nothing right now and I say that in the sense that that's been talked about the last few years. The talent is there but if we come out here and [falter] we'll be saying the same thing next year. You can't just say because we have the high-round talent or guys that have experience that it's supposed to be special. We've got to make it that way." –
left guard Ramon Foster on the whether offensive line's strong finish in 2013 will translate into a big season for the unit this year
"He's one of my better friends on the team now. It's crazy the relationship I built with him over the last couple of months. He's a lot like I am, outgoing, more jokes. Dri is the same way. It's crazy how we all mesh together and get along." –
starting running back Le'Veon Bell on new backfield additions LeGarrette Blount and Dri Archer

"Think about it. You've got a Hall of Famer in waiting and I'm coming in to play right after him. That's pressure. Everybody knows what Casey was. He's on a top five defense his whole career. I've seen the man play. There's nothing else like him. I'm far from Casey. I'm never going to try to be Casey. The only thing I can do is work every day, do my best and just be the best Steve that I can be." –
nose tackle Steve McLendon on replacing five-time Pro Bowler Casey Hampton last season
Mitchell
"I don't really care about Pro Bowl. I want to be All-Pro. I have to do what I did last year again plus get better. A lot of times last year people were talking about the front seven I played with and they were very talented but this defense here is very talented. Sometimes you're overlooked but that's just another chip to put on my shoulder and play football." –
new free safety Mike Mitchell on his goal for this season
"He's like a sponge right now. The coaches tell him, 'Don't say much at all. Just try and soak everything up right now.' It's going to be tough on him but he's the type of athletic he can do it. He's willing and able to do whatever it takes." –
inside linebacker Lawrence Timmons on first-round draft pick Ryan Shazier
"I feel like I was overlooked by a lot of teams. A lot of guys that went ahead of me aren't even on teams right now so that gives me a chip on my shoulder every day. When I get to the point where I'm that No. 1 guy and I'm an All-Pro cornerback I'm going to think back to the days when I was sad because I didn't get drafted." –
cornerback Antwon Blake on what drives him
"I've gotten a chance to see who wore this number before me and the person who wore the number before me was a great player for the Steelers. With that comes a great opportunity to become the best and that's somebody I want to become as great as or greater than. I love pressure. I thrive off that." –
rookie defensive end Stephon Tuitt on wearing No. 91, Aaron Smith's old number
"Ben is strong-armed with a sense of boldness. He's going to throw some balls that maybe some other guys wouldn't, even guys with strong arms. I love that as a receiver." –
new wide receiver Lance Moore on playing with Roethlisberger
"He's like Paul Bunyan. He's huge. He's thick but he's definitely agile. I think we can get a lot out of him. His potential is out of the roof. It's about getting him to the next level." –
defensive end Cameron Heyward on rookie defensive tackle Dan McCullers
July, 21, 2014
Jul 21
3:00
PM ET
I wrote following a fan vote for the most memorable play in
Pittsburgh Steelers
history that all were vying for second place behind Franco Harris' "Immaculate Reception."
That turned out to be true for every other NFL team as well.
Harris' galloping touchdown after making a shoestring catch of a desperation pass – one that had caromed backwards -- won ESPN.com's bracket challenge for the most memorable play in NFL history.
The Immaculate Reception beat Dwight Clark's touchdown catch that launched the San Francisco 49ers' dynasty in the early 1980s, capturing 52 percent of the fan vote over a three-day period.
Harris' play was the last one standing despite some stiff competition, confirming how enduring it is -- and that it transcends the Steelers and even Pittsburgh.
The play as ESPN.com NFL columnist
Kevin Seifert wrote
had a little bit of everything: drama, a great individual effort and intrigue.
We may never know if Terry Bradshaw's pass first touched Steelers running back Frenchy Fuqua, which would have made Harris' reception an illegal one, despite Zapruderesque dissection of the play.
The controversy over the final play -- and the Steelers' 13-7 win over the Raiders at Three Rivers Stadium -- touched off a rivalry that shaped the 1970s.
And while the Steelers lost the following week in the AFC championship game to the
Miami Dolphins
no less an authority than Dan Rooney has said Harris' catch and game-winning touchdown gave the franchise hope and belief.
It might be difficult for a younger generation of Steelers fans to believe but Pittsburgh was badly in need of both before the Immaculate Reception. The Steelers had never won a playoff game before Harris' miraculous catch and run.
Since beating the Raiders in 1972, two days before Christmas, the Steelers have won 32 times in the postseason and six Super Bowls.
July, 21, 2014
Jul 21
11:00
AM ET
This is the latest
Pittsburgh Steelers
' mailbag. If you have a question for the pre-training camp mailbag that will run Friday, the day the Steelers report to St. Vincent College in Latrobe, please send to
@ScottBrown_ESPN
with the #steelersmail.
And away we go...
@ScottBrown_ESPN Dwyer/Jones had 97/387/0 last season. RB potential this yr turns some losses from last year into wins right? #steelersmail

— Joseph Olmeda (@jowayway) July 6, 2014
@ScottBrown_ESPN:
There is no question the Steelers' situation at running back is much more promising going into this season.
Le'Veon Bell
, for one, should be better after starting 13 games as a rookie in 2013 and getting used to the speed of the game at this level. Just as significant is the Steelers are much better equipped to deal with an injury to Bell as
LeGarrette Blount
has proven he can be an effective workhorse. If Bell and Blount stay healthy, they should make for a nice 1-2 punch at running back. Rookie
Dri Archer
complements the two with his explosive speed, and his versatility should allow offensive coordinator Todd Haley to be creative in using the third-round draft pick. I'm real curious to see how the Steelers divvy up the touches among their three running backs. And I'm hard-pressed to think of a position where the Steelers have done more to improve themselves, at least on paper.
@ScottBrown_ESPN I haven't heard anymore on poss James Harrison signing. Would love to see him back in Steeler Nation. Any word? #Steelers

— Christine (@SteelersFBFan) July 15, 2014
@ScottBrown_ESPN:
The speculation about Harrison re-signing with the Steelers has been fueled almost entirely by Harrison himself -- and the perceived need that the Steelers have at outside linebacker. The former five-time Pro Bowler made no secret of his desire to return to Pittsburgh during the offseason, and I don't think it has been ruled out by the Steelers. I would not, however, expect anything to happen on that front before the start of training camp. The Steelers want to see what they have at outside linebacker in Latrobe, and the reality that they have gotten younger at defense doesn't bode well for Harrison coming back for a second stint with the team. One injury at a position where the Steelers are not particularly deep could change everything and lead to Harrison donning the black and gold again.
@ScottBrown_ESPN With LeBeau year to year and Butler tagged as next DC, do you think Porter might be auditioning for LB Coach?#steelersmail

— avery arnold (@averyarnold3) June 29, 2014
@ScottBrown_ESPN:
Don't forget about Jerry Olsavsky, who is entering his fifth season with the Steelers and reportedly drew consideration from the
Buffalo Bills
when they had an opening for a linebackers coach. I would think Olsavsky is next in line if and when current linebackers coach
Keith Butler
succeeds Dick LeBeau as the Steelers' defensive coordinator. That said, Joey Porter is very serious about coaching and making a career out of it. This is not a case of a former player taking a shot at coaching as he tries to figure out what he wants to do with the rest of his life. Porter's passion and willingness to learn from the rest of the coaches' on the Steelers' staff could put him on a fast track. And former Steelers linebacker
Larry Foote
has said he thinks Porter could be a head coach in the NFL one day. The Steelers would love nothing more than for Porter to rise through the coaching ranks in Pittsburgh, but it will require patience on his part.
@ScottBrown_ESPN Lambert, Lloyd, Porter, Harrison. Who'll bring the attitude, respect & fear back to our D? #steelersmail #bringbackHarrison

— Mel Fabros (@BodysportLV) June 29, 2014
@ScottBrown_ESPN:
I'm tempted to say
Ryan Shazier
because I think the first-round pick could emerge as a real playmaker on defense. Whether Shazier has the nastiness that defined the players you mentioned, however, remains to be seen. Defensive end
Cameron Heyward
, as outgoing as he is away from the field, seems to have that in him, and I think he is going to assume a real leadership role this season. It wouldn't surprise me a bit, in fact, if Heyward's teammates vote him a captain. The former first-round pick is well aware of the Steelers' history and how rooted it is in hard-hitting defense. Heyward also knows the Steelers have to re-establish that fear factor on defense, and he is in a position to help them do so after breaking out with five sacks and 31 quarterback pressures last season.
@ScottBrown_ESPN The possibility of LaGarrette Blount getting 8-10 touches per game. Reasonable or a pipe dream? #steelersmail

— Scott Cromer (@wolfpac4ever) June 27, 2014
@ScottBrown_ESPN:
That is a great question and perhaps the biggest one I have when it comes to the Steelers' backfield. Are there going to be enough carries to keep both Bell and Blount happy and make Archer a viable threat in the offense and not just a gimmick? It is easy in May and June to envision all kind of scenarios in which the Steelers get their three running backs involved in the offense. But the reality is the Steelers averaged just under 64 plays per game in 2013 and this has increasingly become a passing league. My concerns with the Steelers keeping their top two running backs happy are tempered by the fast friendship formed by Bell and Blount, as well as the former's versatility. Bell can be utilized as a weapon in the passing game and his receiving skills could allow the Steelers to play him and Blount and at the same time in different packages. I think Blount should get around eight carries per game but that could mean four to five one week and 10-12 the next.
July, 18, 2014
Jul 18
3:00
PM ET
The final one in a series that looks at every position on offense and defense with training camp approaching, we take a look at the Steelers' safeties.
Returning starter:
Troy Polamalu
. The eight-time Pro Bowler played every game last season and, as usual, did a little bit of everything for the Steelers. Polamalu recorded 69 tackles, forced a career-high five fumbles and tied for the team lead with two interceptions. The durability that Polamalu exhibited while playing a team-high 1,041 snaps in 2013 was especially impressive considering he often played inside linebacker on passing downs.
New face:
Mike Mitchell
. The Steelers moved quickly to get younger and faster on the back end of their defense, signing Mitchell to a five-year, $25 million contract on the first day of free agency. Mitchell, who turned 27 last month, enjoyed a breakout season with the
Carolina Panthers
after four mostly nondescript ones in Oakland. Mitchell intercepted four passes and notched 3.5 sacks while making 66 tackles for the Panthers in 2013. He should be a significant upgrade over
Ryan Clark
at free safety.
On the bubble:
Robert Golden
and
Ross Ventrone
. The Steelers appear to be set as far as their top four safeties with veteran
Will Allen
and second-year man
Shamarko Thomas
providing depth behind Polamalu and Mitchell. Golden and Ventrone are among those battling for a roster spot based on their special-teams play and Golden has the clear advantage here.
By the numbers:
The previous two seasons that Polamalu played every game (2008 and 2011) he suited up for five and seven games, respectively, the following seasons. Polamalu, 33, has not played every game in back-to-back seasons since 2004-05.
Did you know:
Ventrone only played one year of high school football at Chartiers Valley, which is in the Pittsburgh suburb of Bridgeville. He played in eight games for the
New England Patriots
in 2011 and his brother, Ray, is a safety for the
San Francisco 49ers
.
Quotable:
"I don't think it's been hard at all. Coach (Dick) LeBeau and coach (Carnell) Lake are both great teachers and I don't want to say it's been easy but they've made it easier on me to pick up the playbook. It's not rocket science." – Mitchell on learning the Steelers' defense.
Outlook:
Age and the grind of 11 NFL seasons has caught up with Polamalu a little bit, but he is still a top-tier safety as well as one of the few proven playmakers that the Steelers have on defense. Mitchell should make Polamalu better and the addition of inside linebacker
Ryan Shazier
should free up Polamalu to play all over the field. Thomas is expected to make a big jump in his second season and he could overtake Allen as the No. 3 safety.
July, 18, 2014
Jul 18
11:00
AM ET
Examining the
Pittsburgh Steelers
' roster:
QUARTERBACKS (3)
The Steelers are set at their No. 1 and No. 2 spots on the depth chart. Rookie Brendon Kaye has an outside shot of beating out Jones, but the undrafted free agent is likely using the preseason games to audition for other teams.
RUNNING BACKS (4)
This is the one position where someone under the radar has a chance to play his way onto the 53-man roster. The Steelers can probably afford to go with three running backs -- Johnson is a fullback/tight end -- and stash a back or two on the practice squad in the event of injuries.
WIDE RECEIVERS (5)
Darrius Heyward-Bey
makes the team if the Steelers keep six wide receivers because of his ability to play special teams. The Steelers may need an extra spot at wide receiver this year if Bryant isn't ready to contribute as a rookie.
TIGHT ENDS (3)
I went a little light here because Johnson could play a significant amount at tight end this season.
David Paulson
and
Michael Palmer
are incumbents but neither has shown enough to hold off Blanchflower, who could be another late-round find for the Steelers.
OFFENSIVE LINEMEN (9)
I could see the Steelers going with eight offensive linemen if they think they can sneak Johnson, a fifth-round draft pick, onto their practice squad. This group will be among the hardest to crack given how many returners the Steelers have up front.
DEFENSIVE LINEMEN (7)
Yep, I see Keisel making the Steelers' 53-man roster, whether the Steelers re-sign the 12th-year veteran before the start of training camp or during it. A surprise player or two always makes the team. I'm thinking Lapuaho has a chance to be that guy with sixth-round pick
Daniel McCullers
needing a year on the practice squad.
LINEBACKERS (8)
The Steelers could have some tough choices at linebacker, especially if Spence's knee holds up during training camp and the former third-round pick looks as good practicing in pads as he did in shorts.
Terence Garvin
may be the odd man out inside while veteran outside linebacker
Chris Carter
could get bumped from the roster by Zumwalt.
CORNERBACKS (6)
McCain could be in trouble here if the Steelers go with five cornerbacks because Blake is so valuable on special teams. Richardson is no lock to make the roster after Terry Hawthorne, the cornerback the Steelers drafted in the fifth round in 2013, didn't even make the practice squad last year.
SAFETIES (5)
I think the first four safeties are set barring injury. A couple of spots are reserved every year based solely on special-teams play. That's how Golden makes the 53-man roster again this season.
SPECIALISTS (3)
The only battle is at punter where Podlesh will try to hold off
Brad Wing
. The latter is an intriguing prospect because of his physical ability and his past work at LSU. Given that Podlesh has a track record in the NFL, Wing will have to clearly outperform him to make the team.
July, 17, 2014
Jul 17
3:00
PM ET
Next in a series that looks at every position on offense and defense with training camp approaching, we take a look at the Steelers' cornerbacks.
Returning starters:
Ike Taylor
and
Cortez Allen
. Taylor enters his 10th season as a starter and with something to prove. The 6-2, 195-pounder struggled to keep pace with marquee wide receivers in 2013 and the Steelers stopped moving him around the field late in the season. Allen has the size and balls skills to succeed Taylor as the Steelers' No. 1 cornerback but he has to put it together for an entire season.
New faces:
Brice McCain
and
Shaquille Richardson
. McCain signed a one-year, $795,000 contract with the Steelers after falling out of favor in Houston. The Steelers used the first of their two fifth-round picks on Richardson, the only cornerback they selected in the draft.
On the bubble:
Isaiah Green
and
Devin Smith
. Green spent nine games on the 53-man roster last season but played in just three of them. Smith was on and off the Steelers' practice squad in 2013.
By the numbers:
Steelers cornerbacks have combined for 18 interceptions in the last five seasons.
Washington Redskins
cornerback
DeAngelo Hall
has 21 interceptions during that span.
Did you know:
Rod Woodson is the last Steelers cornerback to make the Pro Bowl and that happened in 1997. Mel Blount and Woodson are the only two Steelers' cornerbacks to earn a Pro Bowl selection since 1979.
Quotable:
"I've had an opportunity to be around great veterans who taught me and who have been here for a number of years. That's what makes us a special group. We're so close, there's no ego and it helps us get better as a whole." – Allen.
Outlook:
This group will be closely scrutinized after the Steelers did little, at least on paper, to improve it. Taylor, who is 34, isn't getting any younger, but he keeps himself in excellent shape and is plenty motivated after having to accept a pay cut to return to the Steelers.
William Gay
is a solid No. 3 cornerback who is essentially a starter with how often the Steelers employ their nickel defense.
Antwon Blake
is poised for a bigger role after playing primarily on special teams and McCain, 27, is young enough to bounce back after regressing last season in Houston. The Steelers need more interceptions from their cornerbacks, and Allen taking another step this season -- and staying healthy -- could go a long way toward the position producing more takeaways.
July, 17, 2014
Jul 17
10:00
AM ET
»
NFC Preview:
East
|
West
|
North
|
South
»
AFC:
East
|
West
|
North
|
South
NFL Nation's Scott Brown examines the three biggest issues facing the
Pittsburgh Steelers
heading into training camp:
Continued growth on offense:
The Steelers averaged 26.6 points in winning six of their final eight games last season, and the foundation is in place for them to build on that. It all starts with quarterback
Ben Roethlisberger
, who didn't miss a snap last season and is still in the prime of his career. Roethlisberger never looked more in control than when he was running the no-huddle offense, something the Steelers did frequently in the second half of the season. The offseason practices were critical for Roethlisberger and new wide receivers (
Lance Moore
) and younger ones (
Markus Wheaton
) to work together in the no-huddle offense. Roethlisberger said the Steelers will add to their no-huddle playbook during the offseason and training camp before picking the best plays. He must be in sync with the wide receivers;
Emmanuel Sanders
and
Jerricho Cotchery
must be replaced for the no-huddle attack to hum again. Repetitions during training camp and preseason practice are critical, especially because the players will be in pads and hitting one another. That means the Steelers' wide receivers especially have to stay relatively healthy during the most important time for team building, developing a rapport with Roethlisberger and earning his trust.
Getting after the quarterback:
The Steelers managed just 34 sacks last season, their lowest total since 1990, and they must get more production from their outside linebackers.
Jason Worilds
supplanted
LaMarr Woodley
at left outside linebacker the second half of last season and led the Steelers with eight sacks. Worilds, hampered by a nagging calf injury during offseason practices, has to show that he can be a pass-rushing force for more than half a season. The former second-round pick has no one blocking his path to the field with Woodley now in Oakland.
Jarvis Jones
has to justify the Steelers using the 17th overall pick of the 2013 draft on him. The former Georgia All-American managed just one sack as a rookie but has improved his strength both physically and in regard to his grasp of the playbook. Jones also has Joey Porter mentoring him, and the Steelers will give Jones every opportunity to succeed. Depth is a concern at outside linebacker, so in addition to providing a consistent pass rush, Worilds and Jones have to stay healthy. If general manager Kevin Colbert is looking to add depth, Steelers fans will be quick to remind him that
James Harrison
is only a phone call away. What would most help the defense, however, is if Jones can provide the same kind of pass rush that Harrison supplied from the right side of the Steelers' defense when Harrison made the Pro Bowl in five consecutive seasons.
Improving their run game and rushing defense:
The Steelers struggled running the ball and stopping it in 2013. Both still matter, even at a time when NFL teams are slinging the ball early and often and using the pass to set up the run.
Le'Veon Bell
should improve on his 3.5 yards per carry in his second season, and the Steelers have improved their overall talent at running back.
LeGarrette Blount
is a significant upgrade over
Jonathan Dwyer
and third-round pick
Dri Archer
is a burner who gives the Steelers a home-run threat in the backfield. The Steelers should significantly improve on the 86.4 rushing yards they averaged in 2013. Not as certain is whether the Steelers will be appreciably better in stopping the run after yielding 115.6 rushing yards per game last season. Nose tackle
Steve McLendon
has gotten bigger and appears ready to assert himself this season, but defensive end opposite
Cameron Heyward
is a question mark. First-round pick
Ryan Shazier
should be an upgrade at weakside inside linebacker, but he will inevitably endure some rookie struggles, even if he is ready to start this season. Everything with the Steelers' defense starts with shutting down the run, so it has to do a much better job this season.
July, 16, 2014
Jul 16
3:00
PM ET
Next in a series that looks at every position on offense and defense with training camp approaching, we take a look at the Steelers' outside linebackers.
Returning starters:
Jason Worilds
and
Jarvis Jones
. Worilds led the Steelers with eight sacks last season and finally enters a season entrenched as a starter. Jones, who started eight games as a rookie, is expected to make a big jump in his second season.
New faces:
Arthur Moats
,
Jordan Zumwalt
and
Howard Jones
. Moats signed a one-year, $795,000 contract after spending his first four seasons with the
Buffalo Bills
. The Steelers took Zumwalt with the first of their two sixth-round picks in the NFL draft and signed Jones as an undrafted free agent.
On the bubble:
Chris Carter
. The former fifth-round pick hasn't been much more than a special-teams contributor in his first three seasons and is still in search of his first NFL sack. One thing that bodes well for Carter is that linebackers coach Keith Butler singled him out for praise during offseason practices.
By the numbers:
The outside linebackers on the Steelers' roster have 24 career sacks --18 of those belonging to Worilds.
Did you know:
Moats ended one of the greatest streaks in NFL history with a jarring hit that knocked quarterback Brett Favre out of a 2010 game with a shoulder injury. Favre missed the Minnesota Vikings' next game, ending his consecutive games played streak at 297.
Quotable:
"Pass rush is all [about] believing that you can beat the guy and execute your craft. You've got to work on it. You just can't go out there and not do pass rush during the week and go out there and expect to get a sack on Sunday. It's not that easy, so you have to really work." – defensive assistant Joey Porter, who recorded 60 sacks while playing for the Steelers from 1999-2006.
Outlook:
Significant improvement on defense hinges on the Steelers getting a consistent pass rush from their outside linebackers. They need Worilds to build on what he did in the second half of last season and for Jones to come into his own as a pass-rusher. Moats is a solid reserve but the Steelers don't have much depth at outside linebacker. Fans would love for the Steelers to re-sign James Harrison but that is unlikely – at least before the start of training camp.
July, 16, 2014
Jul 16
12:19
PM ET
By
ESPN.com staff
| ESPN.com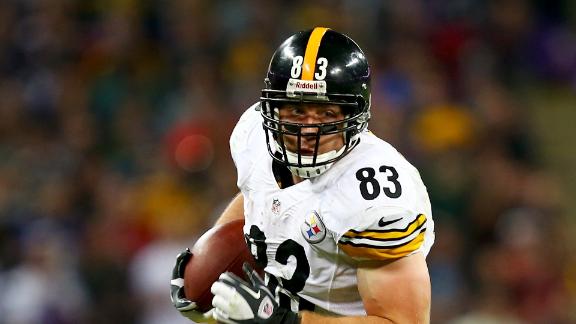 ESPN.com
Pittsburgh Steelers
reporter Scott Brown says tight end
Heath Miller
is poised for a big season, taking part in all of the offseason practices after missing them the previous season.
July, 15, 2014
Jul 15
3:00
PM ET
Next in a series that looks at every position on offense and defense with training camp approaching, we take a look at the Steelers' inside linebackers.
Returning starter:
Lawrence Timmons
. This became his group after
Larry Foote
went down with a ruptured bicep in the 2013 opener and Timmons responded with another Pro Bowl-caliber season. The former first-round pick led the Steelers with 126 tackles, and he also recorded three sacks and tied for the team lead with two interceptions.
New faces:
Ryan Shazier
. The Steelers drafted Shazier in the first round over a cornerback because they felt they were getting one of the best defensive playmakers in the draft. He opened offseason practices as the starter at weakside inside linebacker and the position will be his to lose at training camp.
On the bubble:
Terence Garvin
. The West Virginia product made the team last season as an undrafted free agent and played in all 15 games before missing the final contest with a knee injury. Garvin shined on special teams and played on passing downs later in the season. But he may be the odd man out at a position where the Steelers have a crowd if
Sean Spence
's knee holds up during training camp.
By the numbers:
Shazier led the Big Ten with 143 tackles and 22.5 tackles for losses last season. He is one of only 10 Ohio State players to lead the Buckeyes in tackles in consecutive seasons
Did you know:
All three times the Steelers have had the No. 15 pick in the NFL draft they have used it on a linebacker. Prior to Shazier they picked Timmons (2007) and Huey Richardson (1991).
Quotable:
"I love Ryan. He's a great kid. He loves this game of football, very dedicated to it. When he first got here I told him, 'Ninety-four (Timmons), man. Just follow him around everywhere you can. Ask all of the questions you can.' He's a playmaker. Everybody likes him and he's going to make a lot of plays for us this year." – outside linebacker
Jarvis Jones
, the Steelers' 2013 first-round pick, on Shazier.
Outlook:
The Steelers turned a position that had been a bit of a question mark into a strength by drafting Shazier. The 6-1, 237-pounder improves their team speed and gives defensive coordinator Dick LeBeau a versatile playmaker that he can move around. Shazier, assuming he plays as well in pads as he did during offseason practices, will start alongside Timmons in the season opener and eventually assume the defensive playcalling duties.
Vince Williams
, who started 11 games last season at weakside inside linebacker, gives the Steelers a quality reserve. More depth could come from Spence if the former third-round pick makes it all the way back from a career-threatening knee injury.