'MLB: The Show' releases top-rated players
February, 26, 2013
2/26/13
7:00
AM ET
By
Jon Robinson
| ESPN.com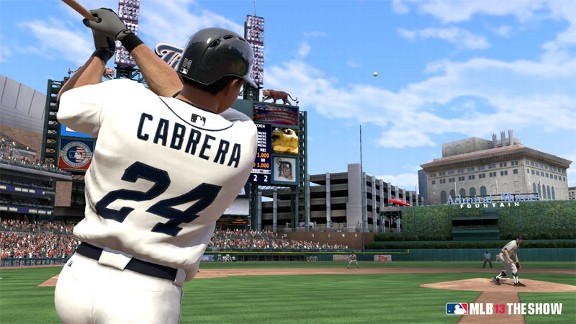 Courtesy of SonyMiguel Cabrera is one of 17 players given the illustrious 99 rating in "MLB 13: The Show."
With "MLB 13: The Show" hitting stores March 5, it's time to break down the highest-rated players in the upcoming game.
This year, Sony hooked up 17 superstars with 99 overall ratings, three of those coming from the Angels (Mike Trout, Josh Hamilton and Albert Pujols), giving them by far the most explosive virtual lineup in cyber sports. The Tigers and Dodgers are the only two teams to feature a 99-rated pitcher (Justin Verlander and Clayton Kershaw) and a 99-rated hitter (Miguel Cabrera and Matt Kemp), while the Rockies feature two 99s in their lineup (Troy Tulowitzki and Carlos Gonzalez), making them a much more dangerous virtual team than one might expect.
And while the Blue Jays' highest-rated player is Jose Bautista at 98, "MLB 13" community manager Ramone Russell says Joey Bats and crew might just be the most fun overall team to play as in the game this year.
"Toronto is stacked," Russell said when asked about which teams the game designers like to play as around the office. "They traded for a whole new team this year, plus, there are so many gamers out there who like to throw the knuckleball with R.A. Dickey, I think the Blue Jays are going to be one of the more popular teams online.
"The other two teams to look out for in the game this year are the Angels and Dodgers. The Angels, one through five, that lineup is a nightmare to handle. Then there's the Dodgers, who not only have the pitching, they have that pop in the lineup with Kemp that everyone wants to play as. To me, those are the top three teams in the game."
Here's the complete list of 99-rated players in "MLB 13: The Show":
Mike Trout (Angels)

Josh Hamilton (Angels)

Albert Pujols (Angels)

Craig Kimbrel (Braves)

Ryan Braun (Brewers)

Clayton Kershaw (Dodgers)

Matt Kemp (Dodgers)

Buster Posey (Giants)

Felix Hernandez (Mariners)

Stephen Strasburg (Nationals)

Andrew McCutchen (Pirates)

Aroldis Chapman (Reds)

Carlos Gonzalez (Rockies)

Troy Tulowitzki (Rockies)

Miguel Cabrera (Tigers)

Justin Verlander (Tigers)

Robinson Cano (Yankees)

ESPN ARCADE
The sequel to our most popular game is here. How's your return?

Run timed routes, beat DB's to the end zone and score.

Hit your receivers, dodge defenders and rack up TDs.