Glantz and Bari's Fantasy Poker guide
May, 21, 2013
5/21/13
8:35
AM ET
By
Matt Glantz
and
Allen Bari, Special to ESPN.com
| ESPN.com
Editor's note: Matt Glantz will be one of the drafters in ESPN.com's Fantasy Poker draft that will be held later this week. To assist in his preparation, he consulted with his friend Allen Bari with a hope of creating a cheat sheet on which he can rely. The percentages and opinions are based purely on their experiences playing with these individuals. While they'll admit they haven't included everyone, they feel that this is a strong list of players who will compete daily for WSOP gold this summer.
Phil Ivey
Matt Glantz (MG): Ivey is without a doubt the most overrated poker player in the world. That being said, he is also clearly the best of the best in poker. He plays all the mixed games, and while his fundamentals are slightly lacking, his sick sixth sense and red-eyed stare is like no other player out there.
(I'll give him a 35 percent chance to win a bracelet.)
Allen Bari (AB): For whatever reason, Ivey dominates poker tournaments. I have come to the conclusion that it is because he finds a secret way for everyone to play as badly as possible against him. His image at the table is his biggest advantage. Overall, he plays all the games well but does have significant fundamental flaws that he overcomes using all of the above.
(I'll give him a 38 percent chance to win a bracelet.)Daniel Negreanu
MG: Nobody tries harder than this guy. He's been around forever and is considered "old school," but he has been able to adapt to the changes in the game. Negreanu went from 0 to 60 in three years flat in terms of no-limit fundamentals and, like Ivey, he plays all the mixed games. After his WSOP Asia Pacific effort, he has a substantial lead for the WSOP Player of the Year and total focus on that goal will be his strength.
(37 percent)
AB: Negreanu has been on a heater lately and although I think he is even more overrated than Ivey, he plays no-limit well and has an amazing ability to read others and to get other players to do whatever he wants. It's almost a shame that he struggles at most of the other mixed games and doesn't realize it.
(26 percent)
[+] Enlarge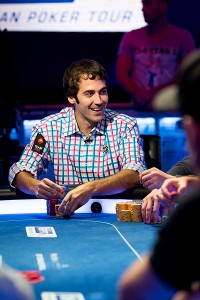 Neil Stoddart/PokerStarsJason Mercier has 31 career cashes at the WSOP.
Jason Mercier
MG: The guy wins tournaments. He wins tournaments like it's his job. It is his job. Mercier plays all the mixed games and has strong fundamentals in each discipline.
(34 percent)
AB: Hands down, the best pot-limit Omaha tournament player, and he has proven it with his two bracelet victories in the discipline. He is also an extremely fundamentally sound player in all other forms of poker. Mercier has spent an immense amount of hours grinding high-stakes mixed cash games both online and live and is due for a win in another form of poker beside pot-limit Omaha and no-limit hold 'em.
(32 percent)Barry Greenstein
MG: His nice demeanor at the table is very deceiving for younger players new to the game as Barry will run over his opponents if he feels he has the opportunity. He has a tremendous amount of experience in all the mixed games and a poker instinct rare for guys his age.
(17 percent)
AB: Nicest guy at the tables, but he seems as though he's lost a bit of the edge that he had in the past. However, his experience and overall skill and knowledge at the mixed games makes him a favorite over any mixed-game field at the WSOP. That and the fact that his image is usually crazy at the tables, while his style isn't, gives him a good edge.
(20 percent)Eugene Katchalov
MG: Katchalov travels the world nonstop for tournaments all year round and the WSOP is probably a nice change of pace for him to be in one place for six weeks straight. He plays all the games well and has a shot to reach the final table in every single tournament he enters this Series.
(26 percent)
AB: For a long period of time, Katchalov has accomplished much in all forms of poker He shows an immense amount of patience at the tables and has been on a recent health kick that should give him increased stamina during the long days this summer. He also speaks Russian so he'll be able to schmooze with the Russians at his tables during the high stakes mixed game events. There is an advantage there.
(23 percent)Michael Mizrachi
MG: Mizrachi displays a lack of fundamentals in all games, but has all the intangibles that make for a great tournament player. He has an understanding of his opponents' mindset better than anyone else in poker, and that has made him one of the most successful tournament players in poker history. He has won the Players Championship twice at the WSOP and is an unstoppable force when rushing at the poker table.
(19 percent)
AB: If you watch any video of him playing poker lately, you'd think he was in the middle of a "lose all your chips as fast as possible" competition. He should be thankful for the fact that he has won anything in poker, let alone two $50,000 buy-in Players Championships. If there were no luck in poker I would give him a 0 percent chance of winning a bracelet, but since he somehow manages to win here and there, I will give him a 6 percent chance.
(6 percent)
[+] Enlarge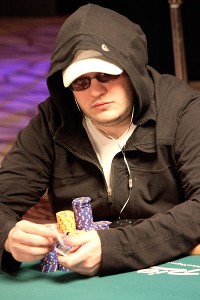 BLUFF Shawn Buchanan may be on top of the "Best without a bracelet" list.
Shawn Buchanan
MG: You hardly know Bucky is even at the table when playing poker with him. Usually hidden behind a hoodie and dark sunglasses, he's quiet as a mouse. He plays all the mixed games and is always paying attention and calculating his next move. That combination is what makes Bucky a great bet to final table any event.
(32 percent)
AB: He is by far the most underrated poker player out there that nobody really knows about. He is one of the best mixed game players I have ever played with, and has some of the best patience I have ever seen. He never lets anything at the table bother him or affect his game.
(34 percent)Erik Seidel
MG: Always the most mild-mannered guy at the table and is quite the no-limit beast for an older guy. He plays all the mixed games and has a way of getting players to react to him in the way he wants.
(17 percent)
AB: He has applied many things to no-limit that I personally think are innovative and perfect for today's young aggressive style that has become the norm. He seems to have less experience in the mixed games than the other old-time pros but seems pretty proficient nonetheless.
(24 percent)John Juanda
MG: Very deliberate in his actions, Juanda is one of the slowest players at the WSOP. He takes his time and yours making all decisions and plans hands out well in advance. He plays most of the mixed games well.
(14 percent)
AB: Juanda plays above average at no-limit and most of the other games from my experience. One of his biggest advantages is the fact that most people dislike him within minutes of playing with him which, if he takes advantage of, can benefit him.
(18 percent)Marvin Rettenmaier
MG: Crushing no-limit tournaments in Europe and on the World Poker Tour should give him confidence to do the same in the big bet events at the WSOP.
(10 percent)
AB: Rettenmaier has done well in no-limit events as of late, but he has little experience in the mixed games, so he has little shot to win a bracelet. If he somehow learned how to play mixed games in the next few weeks, I would imagine he would have a little bit better of a shot.
(8 percent)Phil Hellmuth
MG: Hellmuth has a total lack of fundamentals, but his unmatched determination combined with an incredible understanding of his opponents' thoughts make him the player that I think is most likely to win a bracelet in 2013. He amazing success is attributable to skills that are very hard to quantify.
(39 percent)
AB: Hellmuth is a complete anomaly that exists in poker. I don't care what anyone says, limping the button with 12 blinds with any hand, or any of the other plays he makes, is completely and utterly awful. However, he finds other ways to compensate for the fact that he chooses to do the exact opposite of everyone that has poker fundamentals. He also seems to play the mixed games overall well from my experience and finds really good spots to pull off good bluffs.
(28 percent)Scott Seiver
MG: Seiver is a beast at big bet games and reckless in mixed games. He's very smart and always a threat to play for stacks. He has a lot of determination at the table and makes for a good pick.
(24 percent)
AB: Seiver has curly hair, a beard and a good poker mind. Whether he chooses to apply that poker mind on any given day is the question. When he's on his A game, he is a big favorite over any field in any game.
(25 percent)Bertrand Grospellier
MG: Competitive drive combined with super high intelligence make "ElkY" a threat in any game. Not known for his mixed game prowess, he can find a way to win in any format. He's always friendly at the table and that makes his deception all that much easier for him to pull off. He is an artist.
(16 percent)
AB: Grospellier seems to play pretty standard from my experience with him, which might not be enough these days to overcome the advanced aggressive play out there. He has a lack of knowledge in mixed games, even though he somehow won a $10,000 stud event while playing it for the first time ever. He's smart and has a good poker mind, which gives him a decent chance to win a bracelet.
(14 percent)Daniel Alaei
MG: Alaei tries so hard to win at everything he does. He's always willing to gamble with small edges and he's become a true force at the table. Most players find him difficult to play against, and for good reason.
(23 percent)
AB: Alaei has one of the best images at the poker table I have seen. He also has a great poker mind and is very good at applying it to any game he plays.
(29 percent)Scott Clements
MG: A pot-limit Omaha beast, Clements is great at all the mixed games. He plays a more conservative style than most players on this list and has found much success in the past. Easy guy to root for.
(18 percent)
AB: Clements is a tough player with a good knowledge of all mixed games and a constant desire to learn more from other good players. Dresses well and is well-liked at the poker table.
(25 percent)Dan Kelly
MG: He's an online machine. DJK was crushing mixed games online before any other young kids even knew what mixed games were. He is like a younger, more scientific version of Shaun Deeb.
(35 percent)
AB: Plays all the mixed games well when he wants, but similar to a lot of other top players, he doesn't always seem to be there. However, his experience and overall skill edge over the soft mixed-game fields make him a big favorite. Not to mention he is a beast at no-limit as well.
(30 percent)John Racener
MG: Most people know John for his second-place finish in the main event a few years back, but not many realize he is a great all-around mixed-game player, which gives him a great shot to make a few final tables this summer. I would like to have a piece of this guy for the series.
(33 percent)
AB: A very underrated mixed-game player. I have a lot of experience talking and playing with him, and he is a huge favorite over these fields. That and his patience in all forms of poker, no matter how few chips he has (as shown in his main event final-table appearance), make him a good pick this summer.
(25 percent)Chris Klodnicki
MG: As I like to affectionately call him "my monkey," this kid has won me more money in the last two years with swaps and pieces than I care to admit. It is disgusting. He is truly one of the best no-limit minds in the world today and not so bad at mixed games either.
(33 percent)
AB: Runs like Mercier, plays almost as good as him, and looks good while doing it too. As long as the Open Face Chinese action isn't too crazy this summer, I expect him to finally win a bracelet. He has logged a lot of hours playing mixed cash games since Black Friday and has crushed no-limit since he started playing full time. He also talks poker with one of the greatest minds out there.
(30 percent)Alexander Kostritsyn
MG: Does anyone know if he is going to show up this year? He's a great all-around player and is super tough in all the mixed games. If he plays a full schedule ...
(30 percent)
AB: Doubt he will be around, let alone playing too many tournaments. Has a great poker mind, and has done well playing online cash.
(15 percent)
[+] Enlarge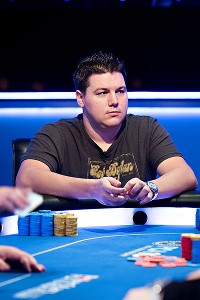 Neil Stoddart/PokerStars Can Shaun Deeb avoid the temptation of Open Face Chinese games to win a WSOP bracelet?
Shaun Deeb
MG: Of all the great young poker players, Shaun is the best. His table demeanor is his biggest asset. He plays tournaments well, cash games great and big-bet games at the highest level. He's competitive with the elite in mixed games and I love his chances this summer.
(37 percent)
AB: He is one of the greatest poker minds out there. Too bad his trigger finger can't help itself. He finds a way to spaz off in every tournament, even though lately he has found a way to control himself. Open Face Chinese action will determine his schedule this summer, but if he plays he has a good shot to win any tournament he buys into.
(30 percent)Isaac Haxton
MG: Such a poker savant. If game theory wasn't invented yet, this guy would have taken care of it. Fortunately, there is much variance in poker, which gives everyone else a chance. It's also fortunate that he doesn't venture into mixed games. He has the highest chance of winning a bracelet for anyone not playing mixed games.
(17 percent)
AB: A great poker player who has had a small amount of experience in mixed games. Hangs out with a bunch of other smart poker players in their mother's basement somewhere in Europe, which allows them to constantly throw poker ideas off each other. Only thing holding him back from winning a bracelet is his lack of hours in mixed games.
(15 percent)Phil Galfond
MG: One of the greatest minds in poker who holds the unique ability to teach poker well. He's tops in the big-bet games and decent in mixed games. He's a threat in every event he plays.
(27 percent)
AB: One of the most well-respected poker players and for good reason. Galfond has crushed online cash games since the day he created a screen name. He has a great demeanor at the poker tables and has a huge edge over most fields this summer.
(20 percent)Nick Schulman
MG: Always a tough competitor, Schulman plays all the games super well. He excels at both cash and tournaments. He's like a junior Ivey.
(33 percent)
AB: Nick has played poker for a long time and has been crushing since the start. He's logged many hours in mixed games and has consistently done well. He already owns two bracelets in 2-7 single draw.
(20 percent)David Sands
MG: Sands is the most confident no-limit player you will find in any tournament. He's very tough to play against, takes his time with every decision and plans well ahead. He falls into the elite group of highest chance to win a bracelet without mixed-game experience.
(17 percent)
AB: A great no-limit player, but has minimal experience in any other form of poker. The fact that he probably won't even buy into anything but no-limit and pot-limit Omaha make him a dog to make any real noise.
(6 percent)Jeffrey Lisandro
MG: Super tough in all forms of stud and is very good in the other mixed games. He's not too much of a threat in no-limit hold 'em, but is great in pot-limit Omaha.
(15 percent)
AB: Above average in mixed games, although he has leaks in his fundamentals. I'm not sure how much he will be playing this summer.
(15 percent)Sorel Mizzi
MG: Mizzi is always looking to get better. He takes the game seriously and is always improving. He's tough in all the mixed games but no-limit is his real bread and butter.
(21 percent)
AB: He's a relentless poker player who has been on a mini-heater lately due to his third-place finish in the 100,000 event in Monte Carlo. He has a limited, but fair amount of experience playing online mixed cash and various tournaments throughout the years, but has shown the ability to catch on to the strategy of any form of a poker tournament.
(20 percent)David "Bakes" Baker
MG: Very good at the mixed games and always seems to make it to the final table in those events. He's skilled at all games.
(23 percent)
AB: If there were only mixed-game tournaments at the WSOP, he would probably win all the money. However, through reading updates of recent no-limit events, it appears as though the constant three and four-betting has started to confuse him and he seems to find any opportunity to get massive amounts of chips in the middle with mediocre hands. Regardless, he is a big favorite over any non-NL field.
(30 percent)David "ODB" Baker
MG: David is basically a west coast version of myself, just slightly better in each game. He is likely to make at least two final tables and they could come in any game.
(32 percent)
AB: One of the most patient, talented poker players who has been around as long as he has. He is a beast at all mixed games and is also a favorite in any no-limit field. He's coming off a big summer at last year's WSOP which will be almost impossible to repeat, but I would bet on him to be able to repeat it.
(30 percent)John Monnette
MG: If all the tournaments were mixed games, John would be my pick. Unfortunately for John, there are many no-limit and pot-limit Omaha events, which are not his forte. Still love his chances.
(28 percent)
AB: Far and away one of the best mixed cash players to frequent the high stakes scene. If there were zero no-limit tournaments this summer, I would take him without thinking twice to be the No. 1 pick; however, the fact that his no-limit game is weak and that he is most likely going to be logging in a lot of cash game hours make him not as easy of a pick as most would think. He is also the most likely candidate of being banned from the Rio for ripping too many decks.
(25 percent)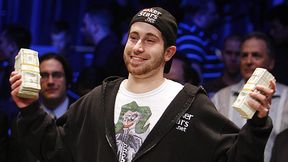 AP Photo/Isaac BrekkenJonathan Duhamel has $11.5 million in career tournament earnings.
Jonathan Duhamel
MG: Former main event champion and for good reason. One of the most skilled no-limit players on the circuit, his fundamentals are outstanding and he takes advantage of all opportunities presented to him at the table. High as I will go for a non-mixed games player.
(17 percent)
AB: His ability to crush no-limit tournaments since he broke through the scene after winning the main event does not make up for the fact that he has no shot in any mixed-game field. He has an amazing poker mind, but just has no need to log in the hours playing mixed cash.
(8 percent)Matt Matros
MG: Limit hold 'em is Matt's game and he's not too bad at no-limit either. He's one of the nicest guys in poker and a true pleasure to be with at the table. He's won a bracelet in each of the past three years, but even I can't make him 100 percent to win.
(21 percent)
AB: One of the overall smartest poker players out there, especially away from the table. He is relentless and constantly aware of everything going on at the tables. His feat of winning a bracelet three years in a row is amazing and a statistical anomaly, especially when he rarely plays mixed games. He's a massive favorite in the many soft no-limit/limit hold 'em fields this summer.
(12 percent)Brian Hastings
MG: Plays all the games and is very tough in no-limit and pot-limit Omaha. In mixed games, he is on another planet. All around super nice kid.
(19 percent)
AB: Hastings is a really good no-limit and pot-limit Omaha player. I'm unsure if his cash-game abilities transfer that well to tournaments. Very good at mixed games ... for the prize pool.
(11 percent)Vanessa Selbst
MG: One of the most feared women in all of poker. Just kidding. One of the most feared players in all of poker. Nobody wants to be on her right in a no-limit tournament. Now that she knows all the mixed games fairly well, she is a great threat to win another bracelet.
(23 percent)
AB: One of the greatest poker players in the world, male or female. I have said this before: I have never seen anyone fight for every pot they enter as she does. She has found and will find a way to win in any form of poker tournament. I just hope she doesn't find a way to punt it off in no-limit.
(24 percent)
[+] Enlarge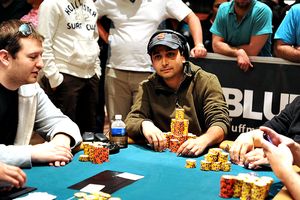 WSOP Allen Bari turned to the culinary world in 2013, but will still make an appearance at the Series this summer.
Matt Glantz
AB: As long as they replace all the bracelets this summer with bars of chocolate, he will fight until the bitter end. He has more hours of experience playing mixed game cash than anyone else out there. He looks old but plays like a young kid for the most part, and that allows him to accumulate chips in all forms of poker. Also, he hasn't won a bracelet, so he's hungry. Both literally and figuratively.
(30 percent)
Allen Bari
MG: Bari is only planning on being in Vegas for two weeks this summer, so while I won't say he has no shot to do any damage, it's going to be hard. He plays all the mixed games very well, but no-limit might have passed him by.
(4 percent)