September, 22, 2014
Sep 22
11:39
PM ET
Associated Press
[+] Enlarge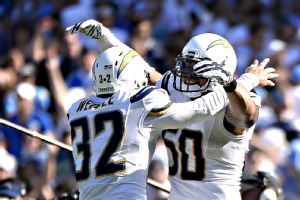 Harry How/Getty ImagesChargers linebacker Manti Te'o, right, has been slowed by foot injuries since entering the league.
SAN DIEGO -- San Diego Chargers linebacker Manti Te'o has a fractured right foot and is expected to miss significant time, a person with knowledge of the situation said Monday night.
The person spoke on condition of anonymity because the team hasn't made the news public.
Te'o was hurt in Sunday's 22-10 victory at Buffalo. He has been bothered by foot injuries. He missed the first three games of his rookie season in 2013 with what the team said was a sprained right foot. He had surgery on the foot in January.
Chargers coach Mike McCoy loathes discussing injuries. He has declined to give an injury report at his weekly Monday news conference, saying he meets with the team trainer after he meets with reporters. He also has refused to confirm when players have surgery.
Te'o, the team's second-round draft pick in 2013, missed time during training camp after spraining his left foot in the second exhibition game.
The latest injury was first reported by the U-T San Diego newspaper.
September, 22, 2014
Sep 22
7:50
PM ET
SAN DIEGO – A potential replacement for injured running back
Danny Woodhead
moved on to another team on Monday.
According to a source, running back
Marion Grice
, currently on the practice squad of the
San Diego Chargers
since the beginning of the regular season, will sign a two-year deal to join the
Arizona Cardinals
' active roster, pending the passing of a physical.
Grice was a sixth-round selection by the Chargers in this year's draft, but the team kept undrafted rookie free agent running back
Branden Oliver
on the active roster during final roster cutdowns and released Grice. The Houston native cleared waivers and was added to San Diego's practice squad.
The move is a homecoming of sorts for Grice, who played collegiately at Arizona State. Grice had his best game of his young career against the Cardinals in the final preseason game, finishing with 79 rushing yards.
At 6-foot and 208 pounds, Grice is a hard runner who also does a nice job catching the ball out of the backfield.
September, 22, 2014
Sep 22
5:34
PM ET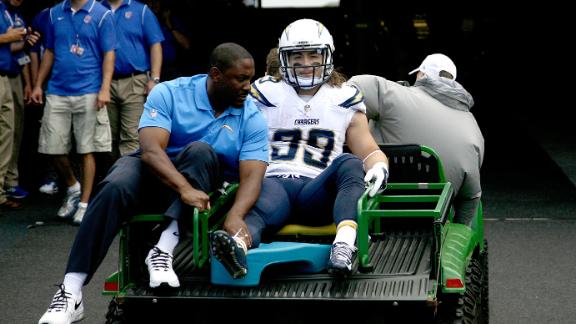 SAN DIEGO -- Chargers coach Mike McCoy confirmed that running back Danny Woodhead suffered a broken fibula in his right leg and has been placed on the season-ending injured reserve list.
Woodhead is the eighth San Diego player placed on the injured reserve list this season. Over the weekend, the Chargers placed outside linebacker Melvin Ingram on the injured reserve list with a hip injury, designated for return.
McCoy said losing Woodhead is a tough blow for the team.
"He's a true professional," McCoy said. "We're going to miss him, but we've got to move on."
Woodhead, 29, signed a three-year, $7.25 million deal this offseason. With Woodhead out for the year and Ryan Mathews still at least four weeks away from returning from an MCL sprain, the Chargers have just two running backs on the active roster in Donald Brown and rookie Branden Oliver. San Diego also has sixth-round selection Marion Grice on the practice squad.
The Chargers have two vacant spots on the active roster to add depth at running back. However, McCoy said that he and general manager Tom Telesco are still evaluating their options and hope to make a couple of moves by the end of the day on Monday.
"Tom and I are going to make a couple decisions this afternoon on the roster," McCoy said.
September, 22, 2014
Sep 22
11:25
AM ET
SAN DIEGO -- An examination of the snap counts from the San Diego Chargers' 22-10 win over the
Buffalo Bills
.
OFFENSE (Based on 66 offensive snaps)
Quarterback
–
Philip Rivers
66
Running back
–
Donald Brown
, 59,
Branden Oliver
6,
Danny Woodhead
1
Wide receiver
–
Keenan Allen
65,
Malcom Floyd
59,
Eddie Royal
48,
Seyi Ajirotutu
4
Tight end
–
Antonio Gates
42,
Ladarius Green
21,
David Johnson
14,
John Phillips
11
Offensive line
–
D.J. Fluker
66,
Chad Rinehart
66,
Rich Ohrnberger
66,
Johnnie Troutman
66,
King Dunlap
66
Offensive analysis
– Green was targeted five times vs. Bills, finishing with four receptions for 64 yards. In the first two games of the season, Green was targeted just two times. ... Rivers finished 7-of-9 for 63 yards, one touchdown and no interceptions on third down vs. Bills. He was not sacked, and posted a 132.9 passer rating. ... For the season, Rivers has a 79.2 passer rating in the fourth quarter. ... Royal is San Diego's most targeted receiver through three games with 22 targets, followed by Gates (18), Allen (17) and Floyd (11). ... The Chargers are one of four NFL teams with one turnover or less given up through three games. San Diego is tied for seventh in the league with a plus-2 turnover differential.
DEFENSE (Based on 70 defensive snaps)
Line
–
Corey Liuget
47,
Kendall Reyes
47,
Sean Lissemore
26,
Lawrence Guy
20,
Tenny Palepoi
20.
Linebacker
–
Donald Butler
66,
Manti Te'o
59,
Dwight Freeney
49,
Jarret Johnson
48,
Reggie Walker
30,
Tourek Williams
15,
Jeremiah Attaochu
1,
Kavell Conner
1,
Andrew Gachkar
1.
Secondary
–
Eric Weddle
, 70,
Shareece Wright
70,
Brandon Flowers
70,
Marcus Gilchrist
68,
Richard Marshall
25,
Jason Verrett
22,
Jahleel Addae
11,
Darrell Stuckey
4.
Defensive analysis
– Through three games, Te'o leads the Chargers in tackles with a combined 19. ... Liuget and Freeney are tied for the team lead in sacks with two apiece. ... Nursing a nagging hamstring that kept him out of practice all week, Attaochu lasted just one play vs. the Bills. ... The Chargers are one of six teams in the league without an interception. ... San Diego has held opposing teams to just 16.3 points per contest, tied for No. 4 in the NFL.
September, 22, 2014
Sep 22
9:00
AM ET
Good morning.
Taking a quick look at the AFC West division standings
, the
San Diego Chargers
sit atop the AFC West, tied with the
Denver Broncos
at 2-1. The Broncos lost 26-20 to the
Seattle Seahawks
in overtime in a Super Bowl rematch at CenturyLink Field on Sunday.
The
Kansas City Chiefs
are next at 1-2 after getting their first win of the season against Miami, and the
Oakland Raiders
remain winless at 0-3 after a tough loss at New England.
The Chargers have a chance to string together some wins as they hit the soft part of their schedule. In the next four games, these are the four quarterbacks San Diego faces:
Blake Bortles
,
Geno Smith
,
Derek Carr
and
Alex Smith
-- all very beatable signal-callers.
San Diego also plays three of its next four games at Qualcomm Stadium, with back-to-back home games against Jacksonville and the
New York Jets
, then a contest at Oakland followed by a home date against Kansas City.
ESPN NFL Nation Bills beat reporter Mike Rodak
writes that Buffalo faltered against San Diego when forced to play from behind.
ESPN NFL Nation Jaguars beat writer Mike DiRocco
reports the Blake Bortles era has begun in Jacksonville, and the rookie quarterback will get his first start on the road against the Chargers.
The Chargers have been installed as
13.5-point favorites over the Jaguars.
Ricky Henne of Chargers.com
writes that San Diego used a killer instinct to finish off the Bills.
Michael Gehlken of U-T San Diego
reports that
Jason Verrett
suffered a hamstring injury and
Reggie Walker
had an ankle injury. Both left the game in the fourth quarter.
Kevin Acee of U-T San Diego
writes that the Chargers got a win against Buffalo, but it came with a cost after
Danny Woodhead
went down early with what appears to be a severe ankle injury.
Tom Krasovic of U-T San Diego
provides some analysis on what he saw in San Diego's win Sunday.
Cian Fahey of Bleacher Report
explains why
Philip Rivers
is leading the MVP race after three weeks.
September, 21, 2014
Sep 21
8:25
PM ET
BUFFALO --
Donald Brown
said he hadn't carried the ball that many times during a game since his days as a star running back in college at the University of Connecticut.
Well, he better get used to it. With
Ryan Mathews
out for at least four more weeks with an MCL sprain in his right knee and
Danny Woodhead
suffering an ankle injury that could potentially end his 2014 season, Brown is the last man standing in the
San Diego Chargers
' three-headed monster rotation the team touted during training camp.
[+] Enlarge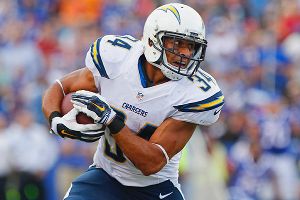 AP Photo/Bill WippertDonald Brown, the last running back standing from the Chargers' heralded training camp rotation, carried 31 times Sunday.
Brown earned every one of 62 yards on an NFL-high 31 carries. His longest run was 14 yards, but there were a whole lot more 1- and 2-yard runs. The 31 carries were the most for a San Diego running back since LaDainian Tomlinson ran for 131 yards on 31 carries in San Diego's 27-0 win over Oakland on Sept. 11, 2006.
It was just another day at the office for Brown.
"I feel good," Brown said. "I'll probably be sore, but whatever it takes to get a win. We knew it was going to be a grind, and it was."
The 31 carries by Brown was the most he carried the ball in a football game since Dec. 6, 2008, when he rushed 34 times for 189 yards in UConn's loss to Pittsburgh.
Brown also finished with a team-high five receptions for 27 yards. He touched the ball on 36 of San Diego's 63 plays.
"He stepped up big," Chargers receiver
Eddie Royal
said. "Donald was huge for us, just the way he runs the ball. I mean, he's a physical runner. He can get those tough yards, and you need a running back like that.
"We kind of missed that with Ryan [Mathews]; he's our physical back, but Donald stepped in there and got those tough yards."
Some NFL observers questioned Chargers general manager Tom Telesco's thinking for signing Brown to a three-year, $10.4 million deal as the team's top free-agent acquisition during the offseason. But fast forward to September, and the move appears prophetic for Telesco, with Brown ready to step in as the team's every-down back until others can get healthy.
"You look at the offseason and I didn't wonder -- but some people wondered -- why we went out and got another back," Chargers quarterback
Philip Rivers
said. "They got a couple backs, and thank goodness we did. That's already shown to be a good move here early in the season."
Along with Brown, the Chargers have undrafted rookie free agent
Branden Oliver
on the active roster and sixth-round selection
Marion Grice
on the practice squad. San Diego is a team that will lean on the run, so this group will now be pressed into duty moving forward.
However, the next step for San Diego's offense will be creating wider rushing lanes for the hard-running Brown and the rest of the running back group. The Chargers are still averaging a league-worst 2.43 yards per carry. San Diego needs to get back to the way they consistently ran the football last season.
"We have a lot of confidence in Donald," Chargers offensive coordinator Frank Reich said. "Obviously, we didn't run the ball as well as we wanted to today. The goal was to be patient with it, and you feel like we're going to break through. We'll just keep working at it, and try and get better."
Added San Diego offensive lineman
Chad Rinehart
: "Obviously, bringing him in as a free agent was a great call. You don't expect to use your third running back that much. And to see that he can carry the load and we can keep carrying on with the run game is great to see. But it's frustrating that the running game is not where it needs to be, or even close to that. Fortunately we got the win, but it definitely needs to improve."
September, 21, 2014
Sep 21
6:50
PM ET
BUFFALO -- A few takeaways from the
San Diego Chargers
' locker room after the team's 22-10 win over the
Buffalo Bills
:
Woodhead
" Chargers coach
Mike McCoy
provided few specifics on the right ankle injury of running back
Danny Woodhead
and said the team would run more tests on the injury in San Diego tonight, and he would have an update on Monday.
ESPN Insider Adam Schefter
reported Woodhead suffered a severe high-ankle sprain with a fractured fibula. The team has not confirmed this report.
If Woodhead and
Ryan Mathews
are both out for an extended period, San Diego's running back depth will be tested. The Chargers have just two healthy backs in
Donald Brown
and
Branden Oliver
on the active roster, along with rookie
Marion Grice
on the practice squad.
"Hey, we're going to keep rolling," McCoy said when asked about running back depth. "We have to keep going, and we're not going to make any excuses."
" The Chargers held talented Buffalo rookie receiver
Sammy Watkins
to two receptions for 19 yards, a week after he finished with eight catches for 117 yards and a touchdown against Miami. Watkins was targeted eight times. Chargers cornerback
Brandon Flowers
finished with four tackles and two pass breakups, along with a dropped potential interception in the third quarter. Flowers said he believes the Chargers have three No. 1 corners in himself,
Shareece Wright
and rookie
Jason Verrett
. All three spent time on Watkins. San Diego's secondary did not allow a wide receiver to catch a pass longer than 18 yards.
"Whoever lines up over you, our job is to not let them catch the ball," Flowers said. "That's what we get paid to do as cornerbacks, and we try to do it to the best of our ability when we're out there."
"
Eric Weddle
's bone-crushing hit on Buffalo receiver
Marquise Goodwin
exemplifies the type of toughness San Diego wants to play with each week. So far, defensive coordinator John Pagano's unit has been effective and held teams to 18.3 points per contest.
"I asked if he was all right, and he said he was good," Weddle said. "But any time you get a hit like that, it's not only good for the game, but it pumps the team up. And they know when you're going to run a crosser, we'll get you."
"
Philip Rivers
had on his trademark bolo tie for his interview with reporters after the game. The bolo tie was a cowboy and a cross,
which you can see here.
September, 21, 2014
Sep 21
6:34
PM ET
September, 21, 2014
Sep 21
4:06
PM ET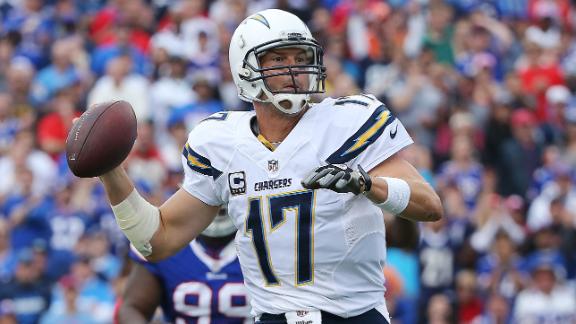 BUFFALO -- A few thoughts on the
San Diego Chargers
' 22-10
victory
over the
Buffalo Bills
in Week 3 at Ralph Wilson Stadium.
What it means:
With the win, San Diego moves to 2-1 on the season. Since 2013, the Chargers are now 5-2 in East Coast games that begin at 10 a.m. PT.
Bolts create explosive plays:
The Chargers had six passing plays of 20-plus yards and no passing plays of 40-plus yards heading into the Buffalo game. But that changed on Sunday.
Malcom Floyd
finished with two 49-yard catches.
Eddie Royal
had a catch for 23 yards and tight end
Ladarius Green
finished with catches for 26 and 20 yards.
Stock watch:
With
Ryan Mathews
out due to a knee injury and
Danny Woodhead
suffering an ankle injury on the first drive,
Donald Brown
shouldered the running back workload for the Chargers. Brown finished with 62 yards on 31 carries and also had five catches for 27 yards. It's the most carries Brown has had in a single game in his NFL career.
Energized Chargers:
Playing the
Seattle Seahawks
usually leaves the opposing team bruised and battered afterward. Entering Sunday's game, teams that played the Seahawks went 6-9-1 the following week, dating back to the start of the 2013 season, according to ESPN Stats & Information. (Note: That doesn't count Week 17 of 2013, when the Seahawks played the Rams, who did not make the playoffs.) While the Chargers dealt with their fair share of injuries this week, they traveled across the country and managed to earn a hard-fought road victory after defeating Seattle at home in Week 2.
Game ball:
Royal scored both touchdowns for the Chargers in the red zone on 3- and 5-yard receptions. San Diego has struggled in the red zone offensively this year. Royal's polished route running and toughness proved the difference on both plays. He finished with four receptions for 42 yards.
What's next:
The Chargers head back home to Qualcomm Stadium, where they will host the
Jacksonville Jaguars
in a Week 4 matchup at 4:05 p.m. ET.
September, 21, 2014
Sep 21
1:46
PM ET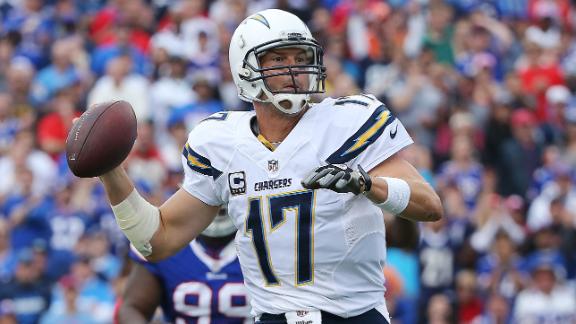 San Diego Chargers running back Danny Woodhead suffered a severe high ankle sprain with a fractured fibula, a source told ESPN Insider Adam Schefter.
Woodhead was carted off the field after hurting his right ankle early in the first quarter against the Buffalo Bills on Sunday.
Chargers head coach Mike McCoy had no update on Woodhead's ankle injury after the game. He said the team will run more tests Sunday night and provide more info Monday.
Woodhead was hurt on a 1-yard run, when he was stopped by diving defensive tackle Kyle Williams. Williams hit Woodhead directly in the right ankle, which appeared to twist underneath the player.
Woodhead was briefly treated on the field before being loaded into a cart.
The Chargers were already thin at running back heading into the contest, with Ryan Mathews out for four to five weeks with an MCL knee sprain. San Diego has just two healthy running backs on the active roster in Donald Brown and rookie Branden Oliver. The Chargers also have rookie Marion Grice available on the team's practice squad.
"Unfortunately, that's the nature of the sport, said Brown, who finished with 62 yards on 31 carries in San Diego's 22-10 win at Buffalo. "Guys are going to get hurt, and other guys have to step out and carry the load. Next man (up) is pretty much the mantra of this team."
With Woodhead and Mathews likely out for an extended period, San Diego's running back depth will be tested.